There are a plethora of things to do in Prague at night.
As the sun bids adieu to Prague's skyline, the ancient cobblestone streets of this gorgeous city begin to glow with the soft amber light of street lamps.
While Prague's beauty is undeniable during the day, its allure takes on an entirely different and magical ambience after dark.
If you are wondering What to see in Prague at night or What to do in Prague at night, I have covered your nocturnal cravings!
In this post, you will get an insight into Prague's diverse range of activities after the sun sets and some other valuable tips and resources.
You will learn about activites that showcase Prague nightlife for singles and Prague nightlife for couples.
So turn up the volume and make some unforgettable memories; it's time to embrace Prague's wild, vibrant, and utterly fabulous nights!
Book your car for rent at Rental Cars, which has a wide range of car options with affordable pricing.
Don't miss to book this Prague City Pass through which you can use unlimited public transport and Book CoolPass with access to 70+ attractions.
If you are looking for things to do at night in other major European cities, check out these posts:
TOP THINGS TO DO IN PRAGUE AT NIGHT
If you are in a hurry, I recommend booking these tours at the first place:
Delve in to discover the best Prague things to do at night!
BOOK AN EXQUISITE NIGHT TOUR
One of the top things to do in Prague at night is to discover the city's magic by embarking on an adventurous tour through its ancient streets. 
Prague offers a plethora of night tours catering to various interests.
Whether you seek mystery, history, or the city's sheer beauty at night, these tours have something for everyone.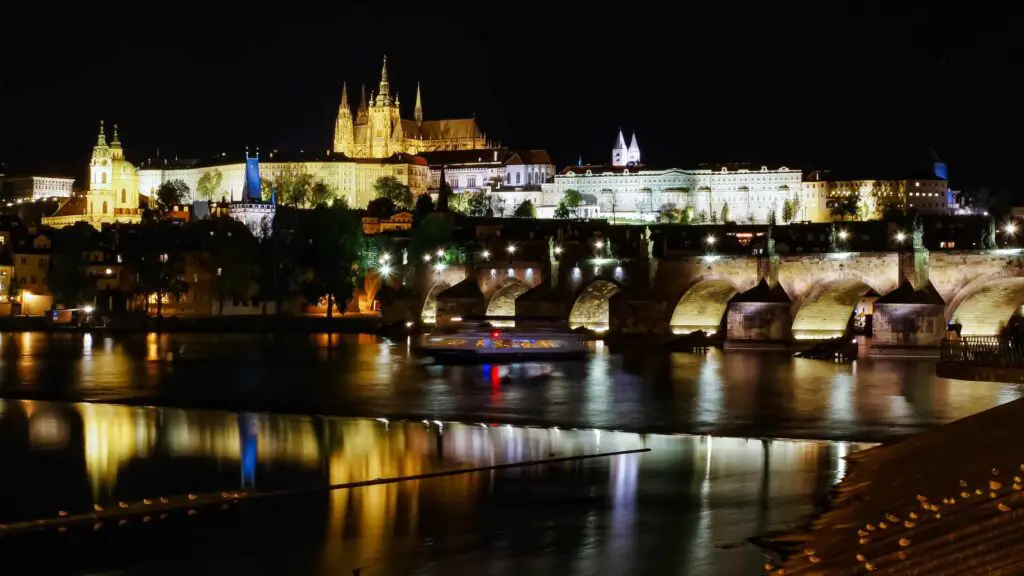 Book the Old Town Prague tour; you can wander through illuminated streets, unveil the best entertainment venues, or delve into the city's darkest legends, like the terrifying tale of the Prague golem. 
The area becomes even more spectacular at night with its historic landmarks, including the Old Town Hall, the Church of Our Lady before Tyn, and the Astronomical Clock.
Your guide will lead you through Old Town Square, Kampa Island, and the iconic Charles Bridge while sharing fascinating stories about Prague's rich past.
The night tour starts at 7 PM and spans three magical hours, providing an excellent option for those seeking an exciting night in Prague.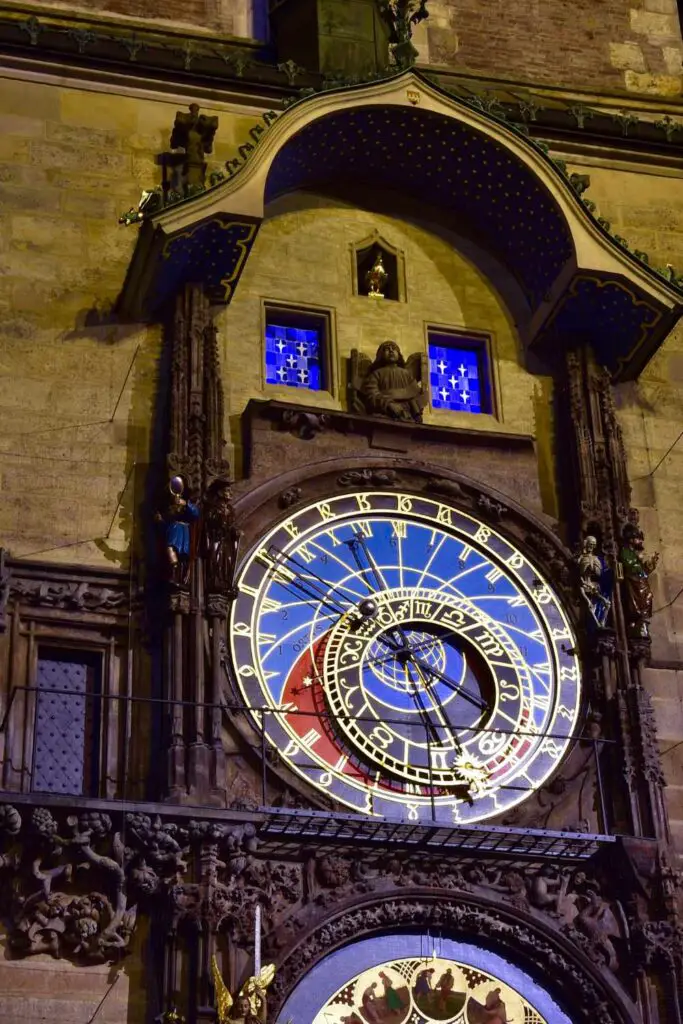 For photography enthusiasts, I recommend taking the photo tour; a professional photographer will guide you, and you will be taken to the best photo spots in Prague at night.
Book a night tour now and let the city's mystique and allure mesmerize you under the starlit skies.
Recommended Prague Night Walking Tours:
EXPLORE PRAGUE CASTLE AT NIGHT
One of the top things to do in Prague at night is to visit Prague Castle.
During the day, the Castle may be just another historical skyline, but by night, it becomes a spectacular beauty shining and illuminating its surroundings in the most romantic light.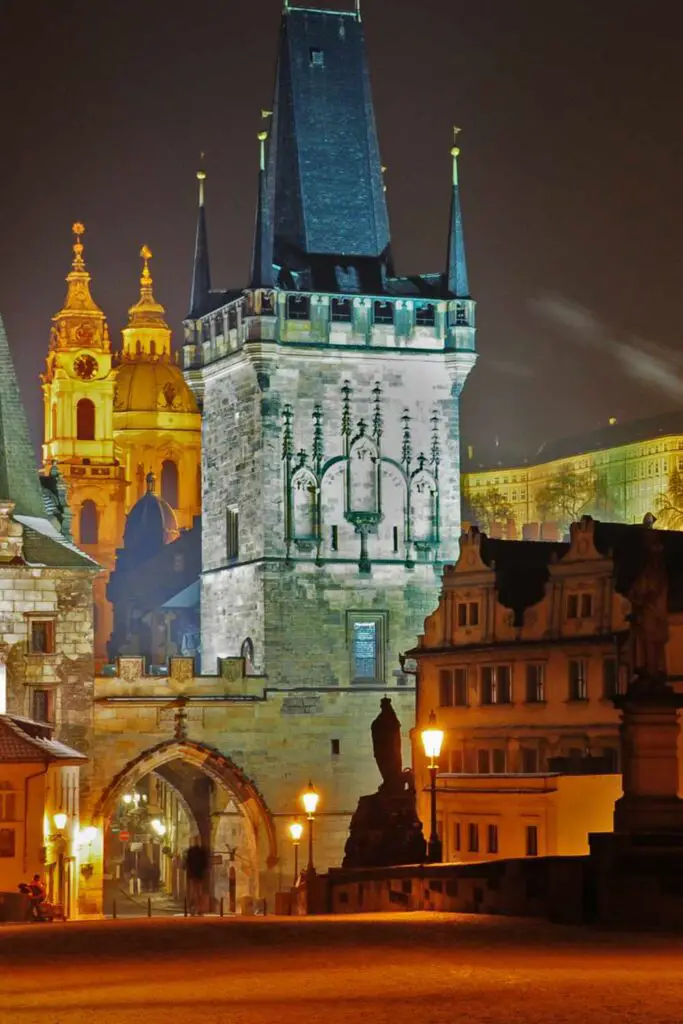 To avoid the crowds and truly savour the experience, consider visiting the Castle in the late afternoon and exploring this magnificent fortress in the early evening. 
There are many evening guided tours of the castle, which will take you through the castle's facilities during this magical time. 
Alternatively, venture independently and carefully select the perfect spot to witness Prague's illuminating transformation into a mesmerizing spectacle.
Prague Castle's opening hours are accommodating, often not closing until 10 PM, giving you ample time to immerse yourself in its grandeur.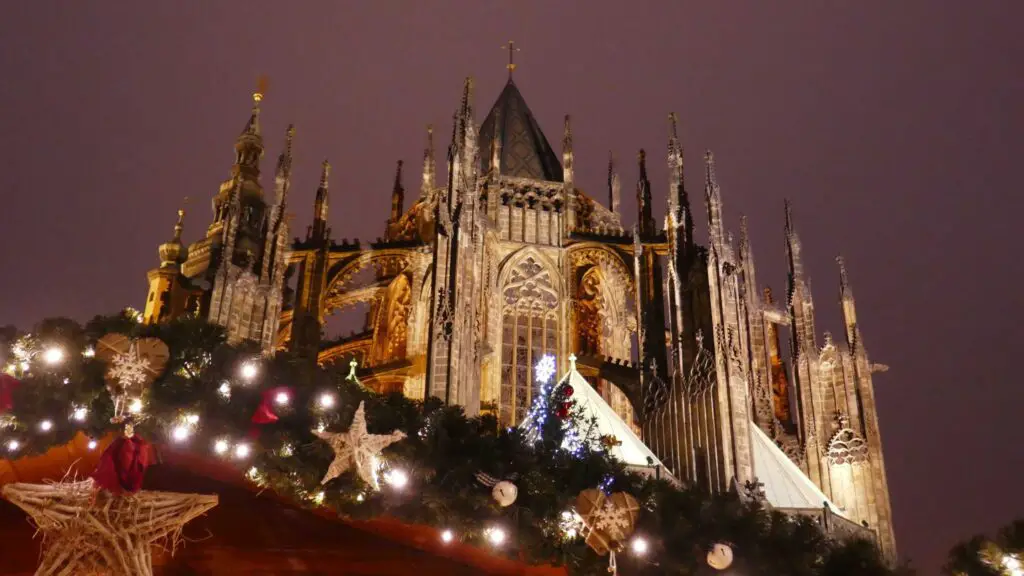 The castle's opening hours vary between summer and winter, with extended hours during the warmer months. 
Regardless of the season, seeing the Castle is one of the best Prague night activites.
Book your Castle Tour here.
Recommended Prague Castle Tours:
TAKE A TOUR OF ALCHEMY & MYSTERIES OF PRAGUE CASTLE
On my solo trip to Prague, I was looking on my list for things to do in Prague today and decided to visit the famous touristy spot of the city, Prague Castle.
It is one of the exciting things to do in Prague at night to see the moonlit Prague Castle standing like a guardian of secrets, its ancient stones bathed in a soft glow that ignites the imagination.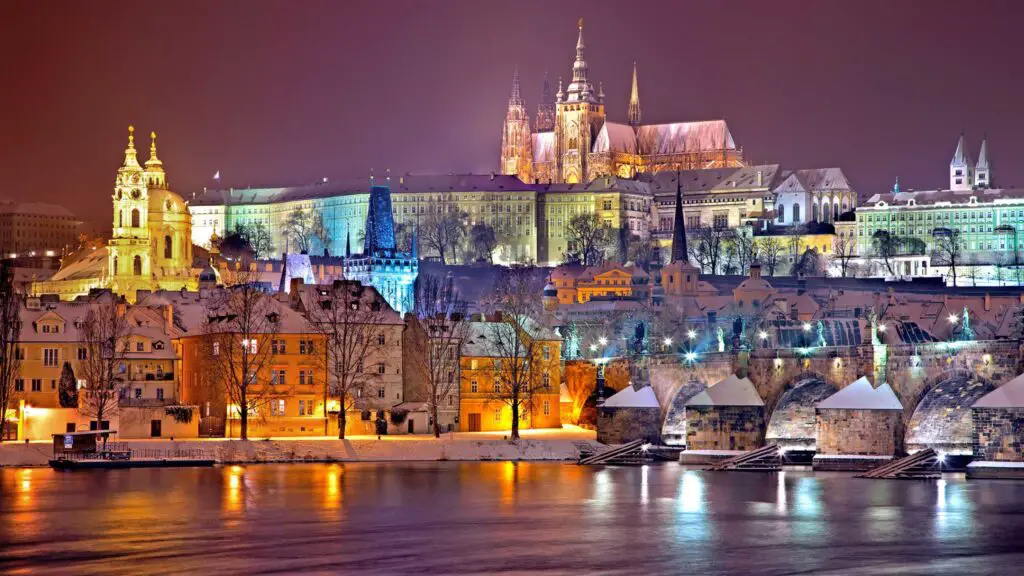 Book your Alchemy & Mysteries of Prague Castle tour here that will take you on a beautiful evening adventure and leave you spellbound.
Delve into the enigmatic heart of this iconic fortress, uncovering hidden stories, dark legends, and the whispers of alchemy that have woven their spell throughout its centuries-old halls. 
This isn't just a tour; it's an invitation to explore the secrets that lie beneath the surface, the mysteries that have shrouded the Castle in an aura of intrigue for generations.
Led by expert guides who are the keepers of Prague's hidden history, you will step into a world where alchemy isn't just a concept – it's a living, breathing part of the Castle's past.
You will hear the stories that send shivers down your spine – legends of ghosts that linger in the shadows, enigmatic symbols that hold the keys to mysteries untold.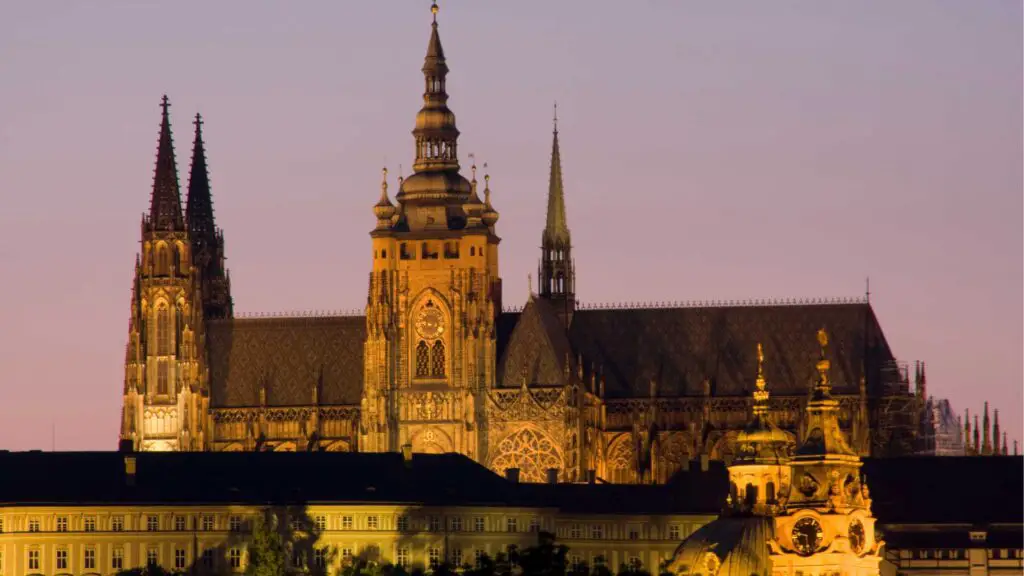 And then, there are the views. Oh, the views! Stand on the castle grounds and witness Prague transform into a tapestry of light, its bridges, spires, and winding alleys illuminated in a spectacular dance of colours.  
So, book your tour here to unlock the door to an unforgettable evening where history and mystery intertwine.
Recommended Tour: 3-Hour Tour of Alchemy and Mysteries of Prague Castle
VISIT PETRIN TOWER
One of the unique things to do in Prague at night is to visit Petrin Tower, perched sixty meters atop a hill which offers gorgeous city vistas.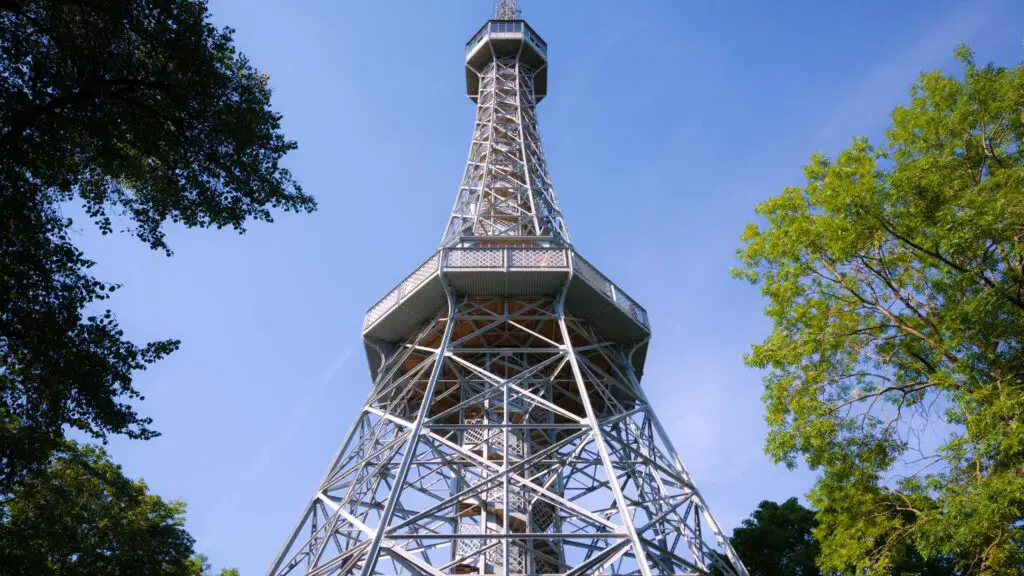 Also known as "Prague's Eiffel Tower," Petrin Tower is a popular tourist hotspot and one of the best places to enjoy Prague nightlife for couples.
Take the 299 steps from the base or opt for a convenient elevator ride to reach the top of Petrin Tower.
From the top of the tower, you will be greeted with views of nearby Saint Lawrence Church, Prague Castle, and the iconic Žižkov Television Tower. 
On clear nights, you can even catch a glimpse of the Sněžka Mountain, which borders Poland.
Many other beautiful attractions surround the tower, including a delightful park with various interests.
After taking in the breathtaking nighttime views, venture into the captivating mirror maze or take a leisurely stroll through the peaceful gardens.
Book your combined tickets for the tower and the mirror maze here.
The tower and its surrounding park are trendy spots to watch the sunset.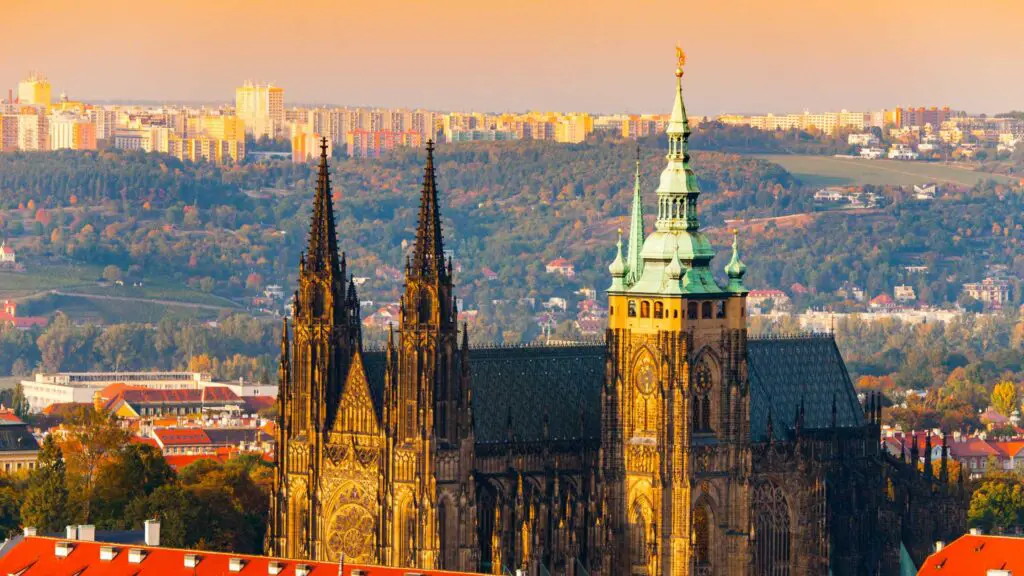 The sight of Charles Bridge and the Old Town illuminated by the setting sun makes the trek to the tower even more rewarding.
Grab your favourite drink from the nearest bars around the tower to complete your evening with a memorable experience.
Recommended: Prague: Petřín Lookout Tower and Mirror Maze Entry Ticket
EXPLORE ŠTEFÁNIK OBSERVATORY
If you are looking for romantic things to do in Prague at night, visit the Štefánik Observatory at Petrin Park, which offers incredible insight into astronomy.
The Observatory is named after Czechia's co-founder, astronomer Milan R. Štefánik. 
Established in 1928, the complex comprises three domes. 
The main dome at the centre features a double Zeiss astrograph used for public viewing during clear weather.
All three domes are equipped with powerful telescopes which provide a stellar opportunity to gaze upon the moon and planets of our solar system.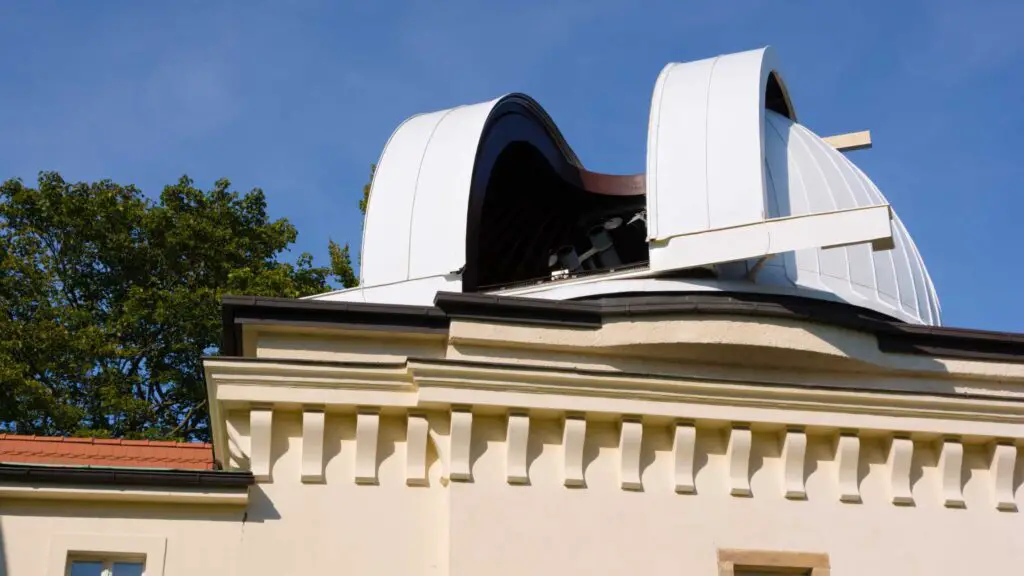 During the day, the observatory equips its astrograph with a chromospheric telescope, allowing visitors to observe sunspots and solar flares.
Learn about astronomical instruments and discover a collection of meteorites and tektites.
Before your visit, check the observatory's opening hours, entrance fees, and other essential information. 
VISIT THE MUNICIPAL HOUSE
If you are interested in architecture, visit the Municipal House, a renowned architectural gem in Prague boasting stunning Art Nouveau design from 1912. 
Not only its intricate architecture awaits you but there is so much within its ornate walls, making it one of the top things to do in Prague at night.
Indulge in a gastronomic delight as you dine at one of the two exquisite restaurants. 
Treat your taste buds to delectable French cuisine at one of the world's most beautiful Art Nouveau restaurants.
Savour the authentic flavours of Czech cuisine in the underground Pilsen Restaurant, accompanied by the enchanting melody of live accordion music.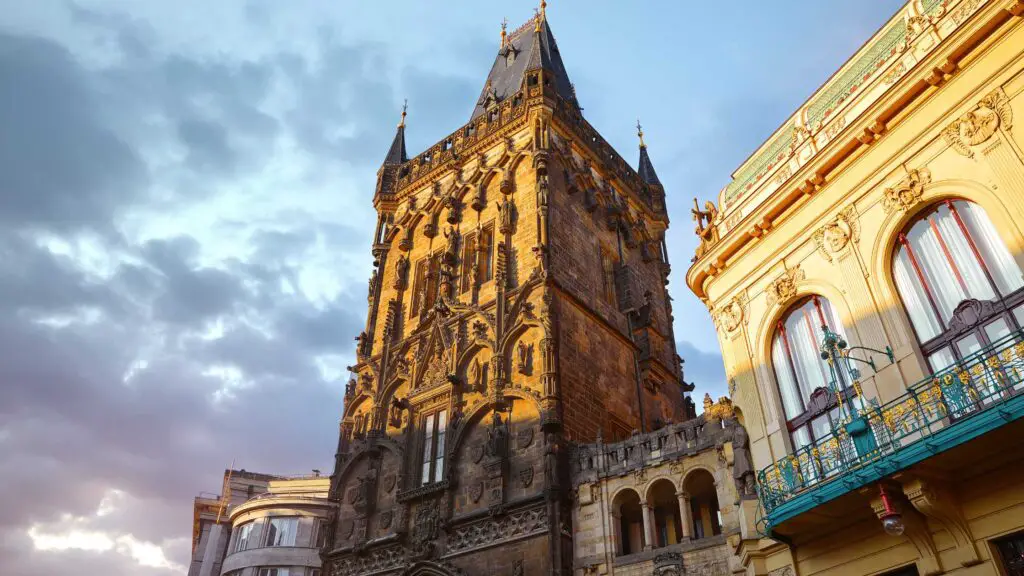 After your delicious meal, head to the historic American Bar, the oldest in Prague and the second oldest in Europe, for a delightful cocktail or two.
Don't miss the beautiful performance in the stunning Smetana Hall. 
Be captivated by the melodies of a thrilling orchestra as they fill the air with beautiful classical music.
The Municipal House's beautiful interior also hosts a myriad of events, exhibitions, and performances throughout the year, adding to the excitement of your night.
Book your spot here in advance and experience the magic of Municipal House in all its glory.
Recommended: Prague: iMucha Exhibition Ticket at Prague's Municipal House
CAPTURE PRAGUE'S NIGHTTIME SPLENDOR
Are you a photography enthusiast or a budding photographer willing to create a stunning collection of nighttime photos showcasing Prague's allure? 
Check out this evening photography tour, one of the best things to do in Prague at night.
It is an excellent option for all snap-happy travelers looking to capture the city's magic after sunset.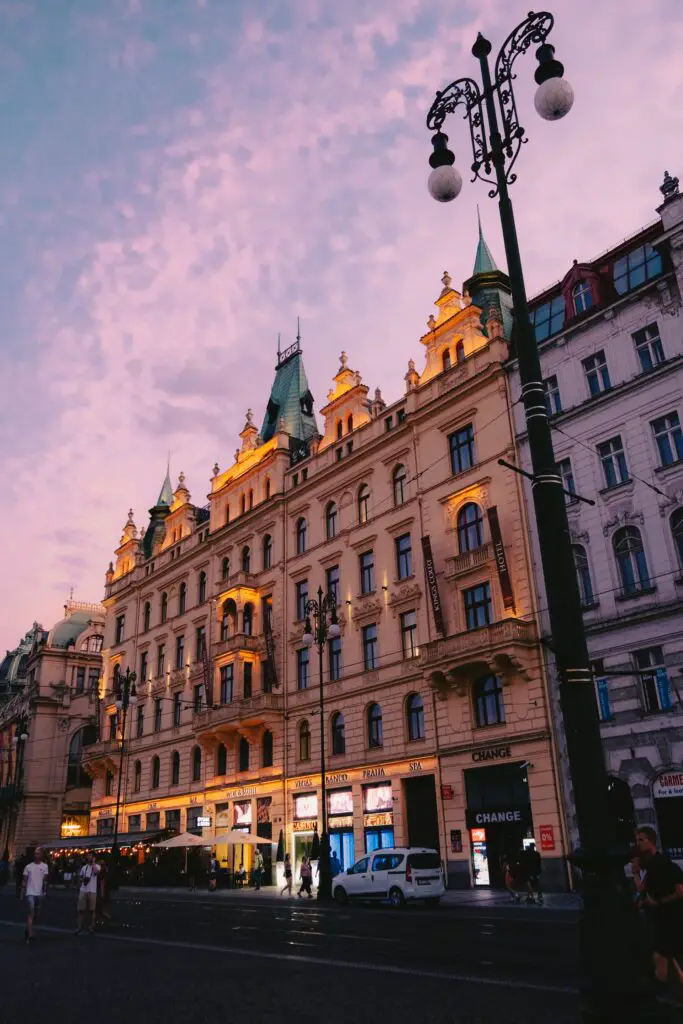 Led by a professional photographer, this tour will take you to some of Prague's most stunning photo spots, including the captivating Old Town Square, Letna Park and the iconic Charles Bridge.
What sets this tour apart is that it's conducted by car, allowing you to cover a lot of ground in just two hours.
With the guidance of a skilled photographer, you will learn valuable tips and techniques to elevate your night photography skills.
Book the Evening Photography Tour now and embark on a mesmerizing visual journey.
Recommended Photo Tour:
ENJOY A BEER BATH & MASSAGE
We all have heard of the famous quirky line, "Save Water, Drink Beer!". Prague has taken this a bit seriously!
You will not only get to drink beer in Prague, but also you can get a beer massage and bath.
Lol! Imagine yourself getting pampered in a bathtub full of foamed beer. When in Prague, you will realize why it is called the beer-loving capital of the world.
Visit the Beer Bath & Massage at Beer Spa Bernard in the luxurious Majestic Plaza Hotel, one of the top things to do in Prague at night.
Immerse yourself in a tub filled with warm, soothing beer while sipping on unlimited Bernard Beer – a treat for beer enthusiasts and curious souls! 
Do you know that Beer baths have been a traditional practice since the Middle Age
It is believed to offer a range of health benefits, from improved circulation to moisturized skin and detoxification.
What makes this experience even more enjoyable is that it's a private soak, perfect for sharing with a loved one or a friend. 
Feel free to wear your swimsuit or pop off your clothes – the choice is entirely yours!
As you unwind in the beer-filled bliss, you have the option to enhance your relaxation with a delightful massage. 
Be sure to book your spot ahead of your trip. Raise your glass (or, in this case, soak in it) to the Beer Bath & Massage for a one-of-a-kind adventure in the heart of Prague.
Recommended Tours:
ENJOY A ROYAL FEAST
Are you a foodie like me looking for a culinary adventure?
Why not enjoy it in a royal way? I mean literally Royal, medieval style.
Step into a time machine and return to the stunning Middle Ages with a medieval dinner experience.
This is one of the popular things to do in Prague at night. Having said that, don't let that deter you from indulging in an evening of pure fun and gastronomic delights.
Located conveniently near the Old Town Square, this dinner activity is one of the top Prague attractions at night. 
The subway floors will usually be packed, and you might have to wait a while if you haven't booked ahead of your trip.
You will be treated like true medieval royalty as soon as you enter these places. You will be waited on by wenches and knights. Cool right?
Enjoy the bliss of sitting in a candlelit tavern reminiscent of centuries past, surrounded by the lovely ambience of old-world charm. 
Feast like a noble with a five-course lunch that showcases Prague's deeply rooted specialties.
Savor traditional Czech dishes paired perfectly with wine or beer to tantalize your taste buds. But this isn't just a dinner; it's a full-fledged show!
As you dine, you will be entertained by jugglers and sworders who grace the stage with dazzling skills with medieval music in the background.
Whether you are traveling solo or with friends and family, this 2.5-hour medieval dinner and show promises unforgettable memories and laughter for all. 
The festivities begin just before 8 PM, making this one of the most popular evening activities in Prague.
Recommended Tours:
Check out my blog about things to do in Dallas at night, another popular place in the US, where you will get a similar kind of Medieval dinner experience.
VISIT ALLURING NIGHT MARKETS
On my trips, I usually don't miss visiting night markets; one is because I get to see the vibrant charm of the city at night, and secondly, I can go on retail therapy and a shopping spree talking to the locals.
Visiting night markets was one of the best things to do at night in Prague during my trip.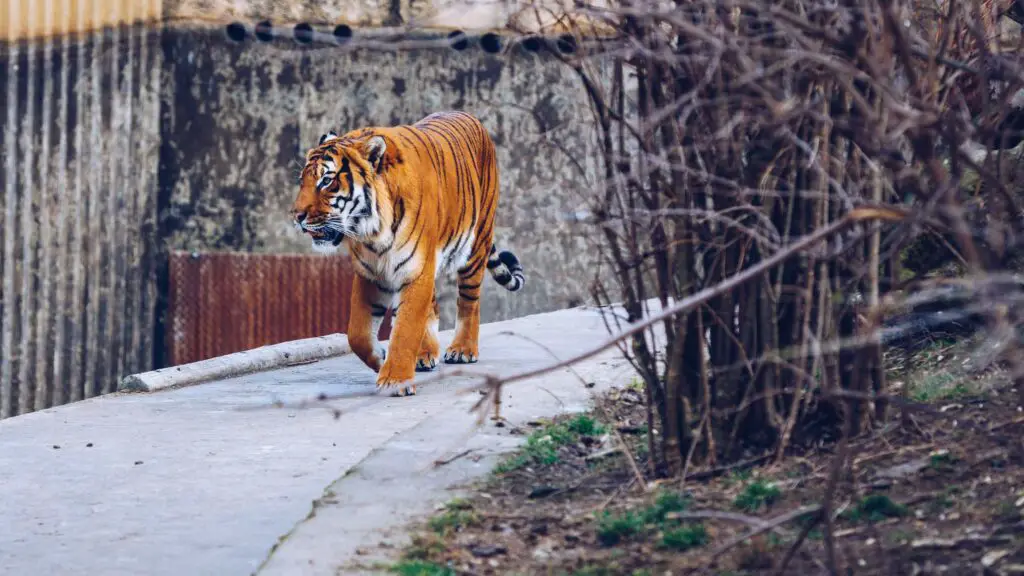 During the day, check out the farmer's markets which offer fresh and locally sourced produce, or explore flea markets adorned with vintage and antique treasures waiting to be discovered.
When the sun goes down, explore the bustling squares and lively streets that undergo a magical transformation, giving rise to vibrant night markets brimming with local delights and handmade treasures. 
Stepping into this world of food and crafts in Prague night market is an experience, as the air fills with the aroma of delicious dishes and the buzz of lively street performances.
Sample delectable delicacies, find that perfect souvenir, or simply revel in the vibrant energy surrounding you.
These night markets are one of the best places to visit in Prague at night during the Christmas season.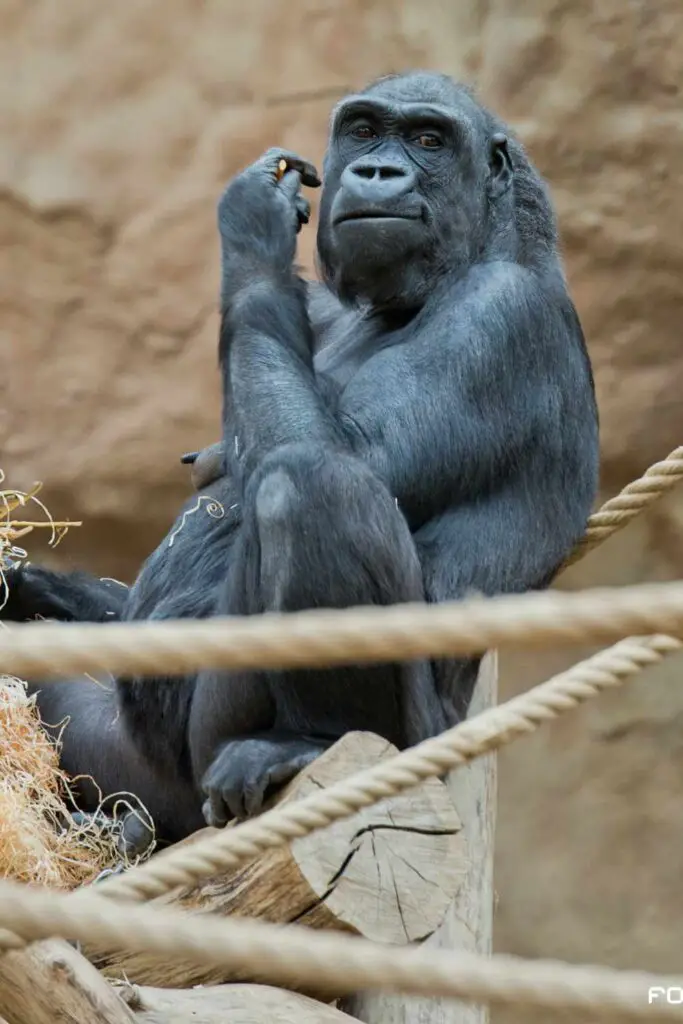 Picture Wenceslas Square adorned with twinkling lights and festive ornaments, while stalls offer a delightful array of traditional Christmas foods.
To make the most of your night market adventure, check the various locations and dates of these lively gatherings and take this guided night market tour.
TAKE A NIGHT TOUR OF THE ZOO
If you want unique things to do in Prague at night, visit the Prague Zoo.
Most visitors tend to explore the zoo during the day, but there's something extraordinary about witnessing the nocturnal behaviors of the animals under the moonlight.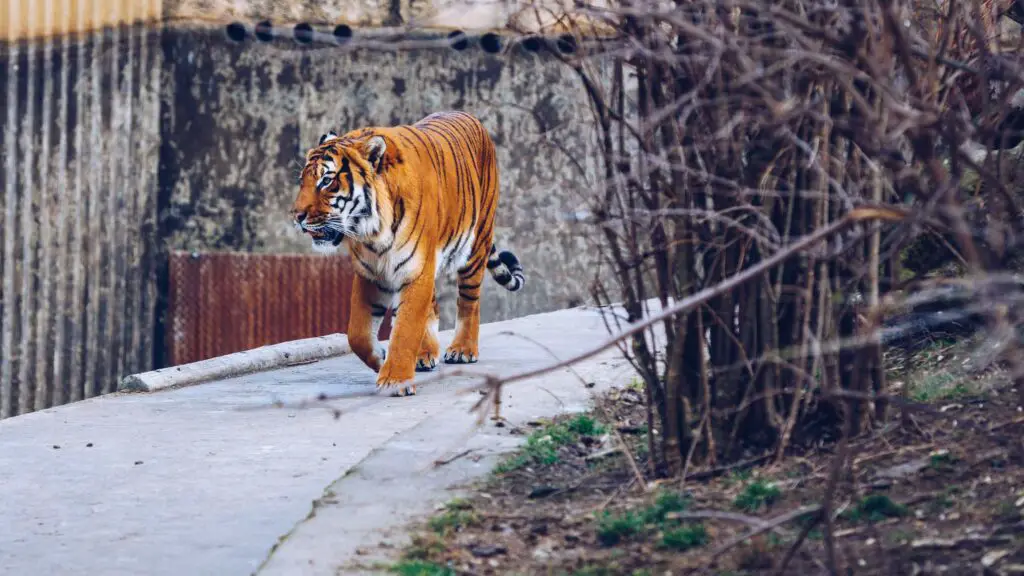 Prague Zoo opens its gates for two exclusive evening sessions, one family-focused. Take a guided tour of the zoo to have the best experience.
The night tours offer a more intimate and private experience, as they cannot enhance the wonder of the moment. 
To secure your spot, make sure to book in advance, and you will be rewarded with a unique journey into the secret lives of these magnificent creatures.
Recommended: Prague: Boat Ride to the Zoo and Admission Ticket
VISIT ROYAL THEATRE AND CLUB CHIC
One of the cool things to do in Prague is to visit the Royal Theatre and Club Chic.
The Royal Theatre and Club Chic is a dazzling gem which invites you to experience a neo-burlesque show like no other.
You will see a stage adorned with elaborate costumes that shimmer with a thousand hues.
Experience a symphony of upbeat melodies filling the air, and admire the lighting that sets the mood for a theatrical extravaganza. 
Here, the art of burlesque is reimagined, bringing forth an electrifying performance that tantalizes the senses and captures the imagination.
Originally a cinema from the glamorous 1920s, this historic building retains its charm, transporting you back to when the nation's newfound independence was celebrated.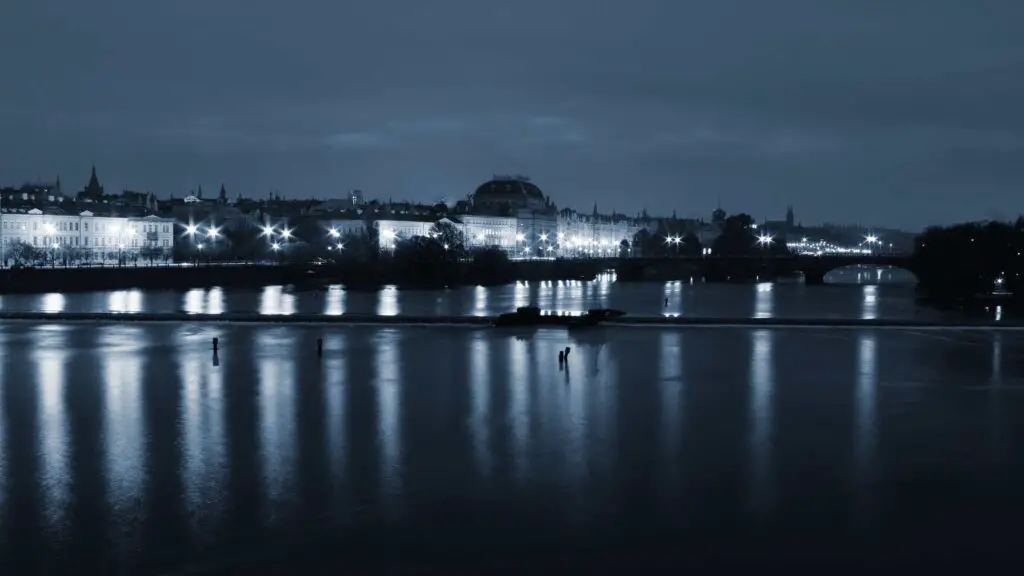 The theatre's interior, adorned with intricate stained-glass windows and ornate lighting fixtures, is a time capsule of a bygone era.
The Prague Burlesque troupe infuses the redesigned interior with a beautiful blend of modern art deco and opulent baroque elements. 
The result is a visual spectacle that seamlessly merges history with contemporary flair, creating an immersive experience.
Book your tickets here to witness the neo-burlesque shows.
Recommended Tours:
VISIT THE CZECH NATIONAL THEATRE
One of the fantastic things to do in Prague at night, especially if you are a theatre buff, is to visit the Czech National Theatre.
Located East of the Vltava River, the theatre stands proudly beside the Legion Bridge.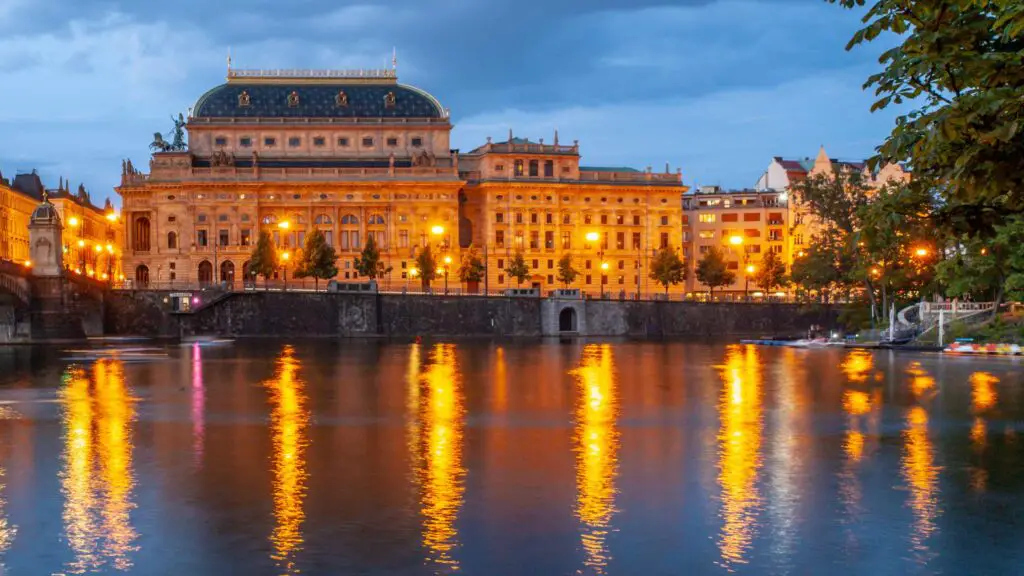 Soaked in a legacy of musical brilliance and gorgeous dance, this iconic venue promises an unforgettable experience that will amaze you.
The Czech National Theatre is where culture and art intertwine to create moments of pure magic.
From classical masterpieces to stunning operas and orchestral renditions, the theatre's repertoire is a testament to its commitment to diverse art forms.
But it's not just about the performances but the experience itself. The theatre's opulent architecture, a masterpiece from the late 1800s, is a sight to behold.
Every corner exudes elegance and history, inviting you to return in time.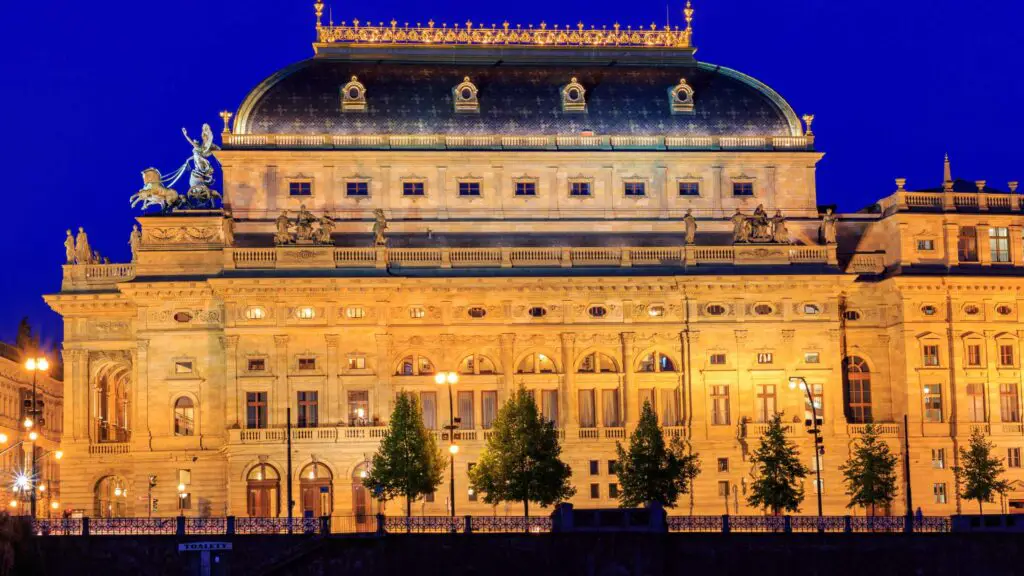 If you are curious about the inner workings of this cultural gem, indulge in a guided tour to uncover its fascinating stories.
On the guided tour, you will notice the exterior adorned with over 2 kg of pure gold, setting the stage for the luxury that awaits.
Behold stately gold and red decor, a mesmerizing gilded chandelier, and intricately painted ceilings that add a touch of grandeur to every moment.
ENJOY LIGHT AND WATER AT KŘIŽÍK FOUNTAIN
One of the top touristy things to do in Prague at night is to visit the Křižík Fountain in the Výstaviště Praha in the Bubeneč district.
The Krizik Fountain, built in 1891 by František Křižík for the Prague Jubilee Exhibition, beckons you to witness a spectacle that transcends the ordinary.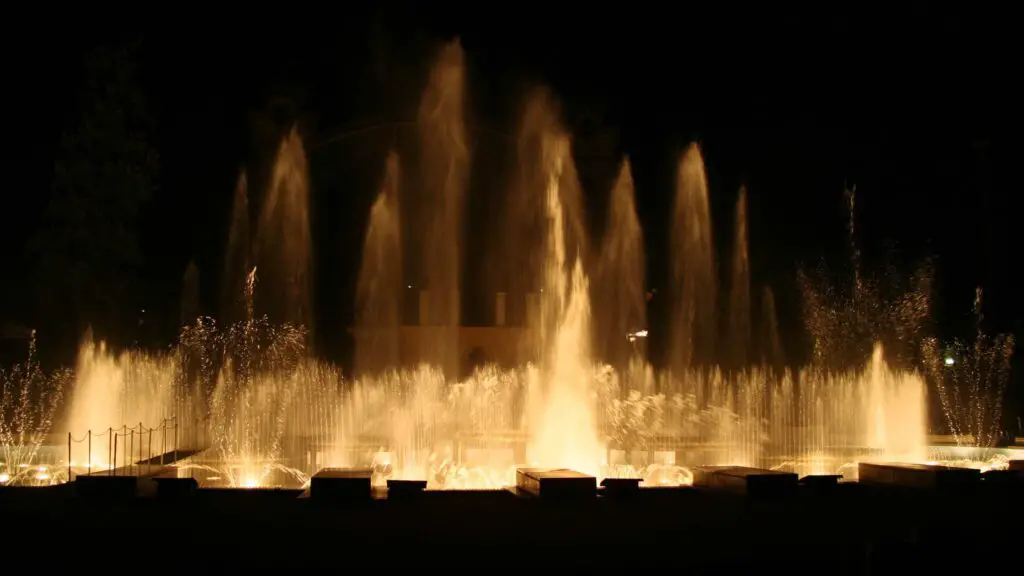 It's not just a display – a masterpiece of water and light dancing to enchanting melodies' rhythms.
Witness over three thousand water jets and a thousand lights, meticulously choreographed to orchestrate a spectacular ballet of water and light. 
As twilight descends, the fountain awakens, its multicolored lights casting an ethereal glow that transforms the surroundings into a magical dreamscape.
It is a visual treat to see the fountain that leaps, twirls, and cascades in perfect harmony and synchronizes with the music's rhythm.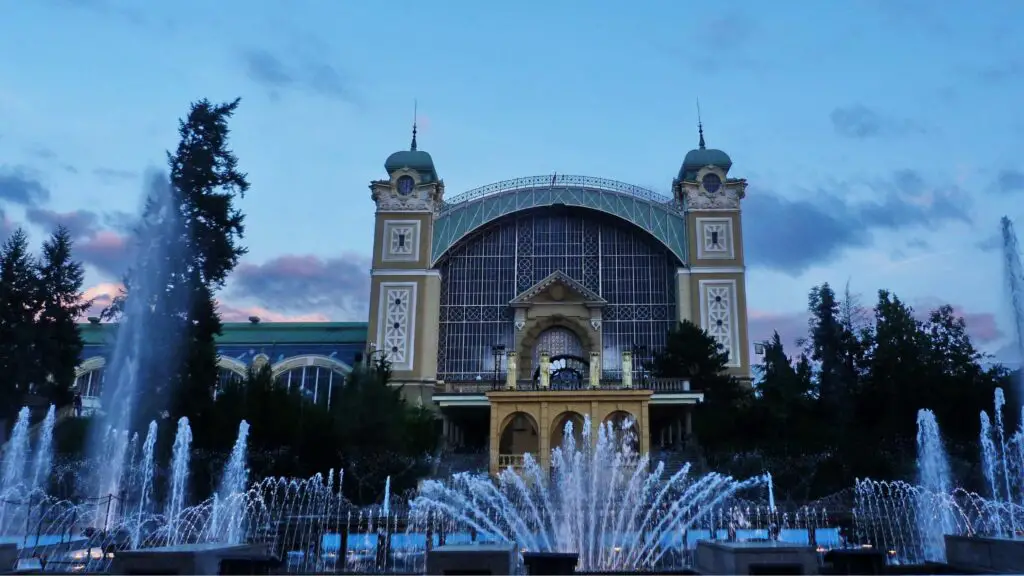 Every splash, every shimmering droplet, every burst of light – they all tell a story, a story of artistry and emotion that transcends language.
Let yourself be swept away by the allure of its aquatic ballet.
SWAY TO THE TUNES OF JAZZ
One of the best things to do at night in Prague is to visit the Jazz Dock on the Vltava River.
Whether gazing at the sunset-kissed skyline or tapping your foot to the rhythm, Jazz Dock is where Prague's nights come alive with live Jazz music.
Another main draw of this place is it is a floating bar. So you will get Prague's best riverside views, stylish decor, and stunning music.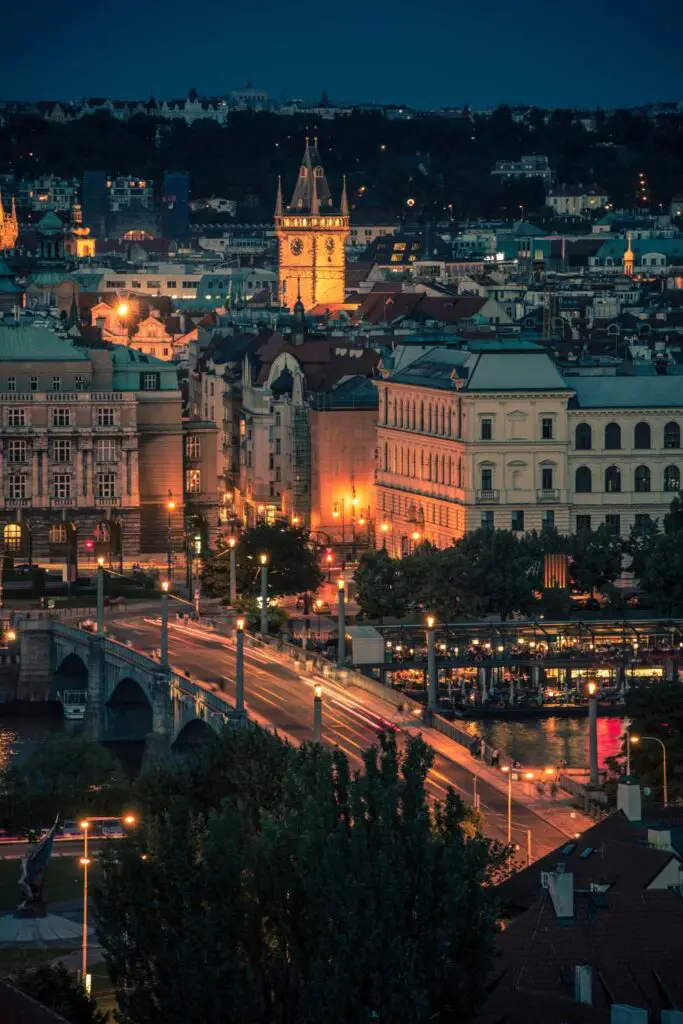 And as you sway to jazz rhythms, your culinary cravings won't go unnoticed. 
Take a break between melodies to indulge in delectable bites and sip on your favourite beverages. 
The riverfront restaurants offer a cosy retreat where the symphony of flavours complements the music in perfect harmony.
So, let the sounds of saxophones, pianos, and drums carry you away on a musical voyage. 
ENJOY JAZZ AT REDUTA JAZZ CLUB 
Another popular place to enjoy Jazz is the Reduta Jazz Club, located in the prime location of Prague.
Step into a world where melodies dance in the air, and the spirit of Jazz comes alive in every note.
Since its inception in 1957, Reduta Jazz Club has been the pulse of Czech jazz music and has become one of the top things to do in Prague at night.
A timeless haven for music lovers, both locals and travelers have been enchanted by its harmonious embrace for decades. 
The stage comes alive with the mesmerizing performances of Europe's finest jazz musicians, their instruments painting vivid stories.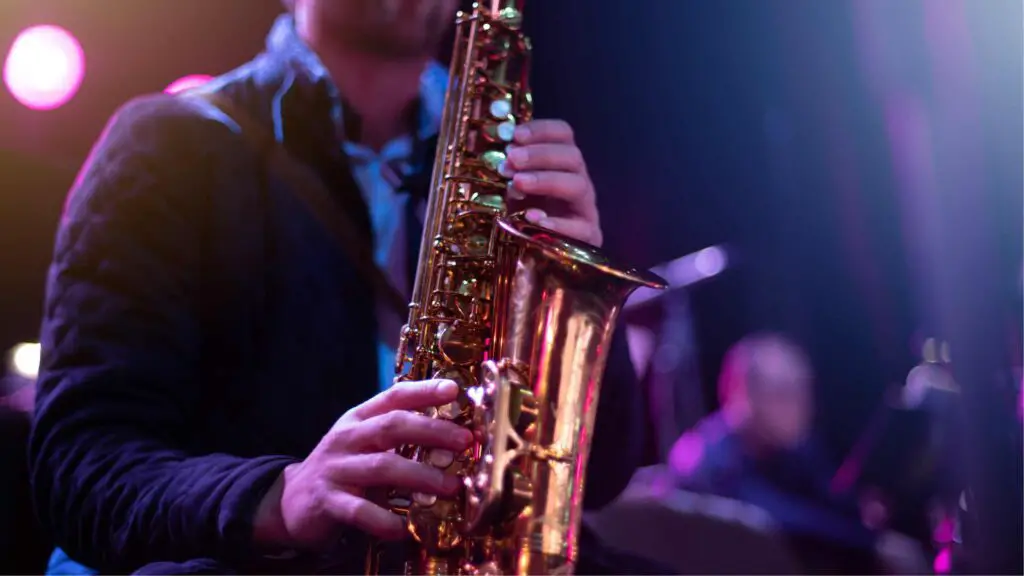 But the magic doesn't stop there—the Saxophone Bar beckons, offering you an unforgettable drinking experience. 
The main attraction of this place is that your beer is poured from a tap nestled within a golden saxophone.
It's the perfect fusion of art, music, and refreshment, and it's just one of the many unique delights that Reduta Jazz Club has to offer.
And here's the delightful twist – no age restrictions make it a fascinating experience for families seeking a night of unconventional entertainment.
Want to elevate your experience? VIP tickets await, treating you to a warm welcome drink and reserving the best seats in the house for you and your companions. 
Book your guided tour here and enjoy the best Jazz music in town.
Recommended Tour: Prague: Concert at Reduta Jazz Club
FUN THINGS TO DO IN PRAGUE AT NIGHT
UNRAVEL THE HAUNTING SECRETS OF PRAGUE
If you dare to venture into the mystical realm, brace yourself for a spine-tingling ghost tour adventure, one of the fun things to do in Prague at night.
On this guided ghost tour, you will hear chilling tales and haunted secrets that lurk in the shadows.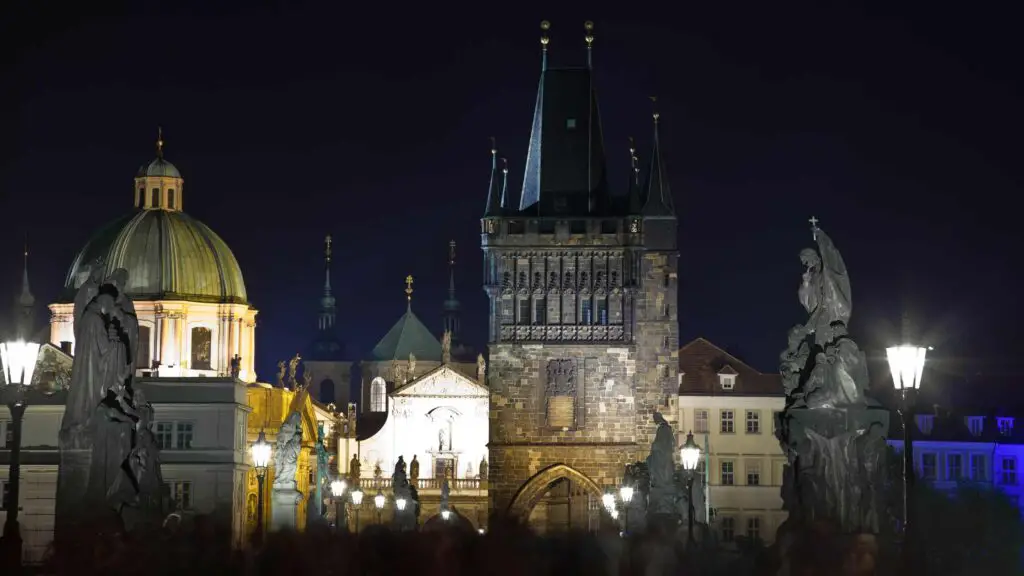 Prague's history is a tapestry woven with dark tragedies making it the perfect backdrop for a night of spine-chilling exploration.
As you traverse the cobblestone streets, you will be immersed in tales of dungeons and haunted castles, where the echoes of murder and dark secrets resonate through the ages. 
This isn't your average ghost tour; it's an exquisite blend of history and excitement, catering to solo travelers and families alike.
Join the Ghosts & Legends Walking Tour to delve deep into the heart of Prague's ghostly past. 
Wander through the ominous Jewish Cemetery, where legends speak of restless souls rising from their graves to roam the night.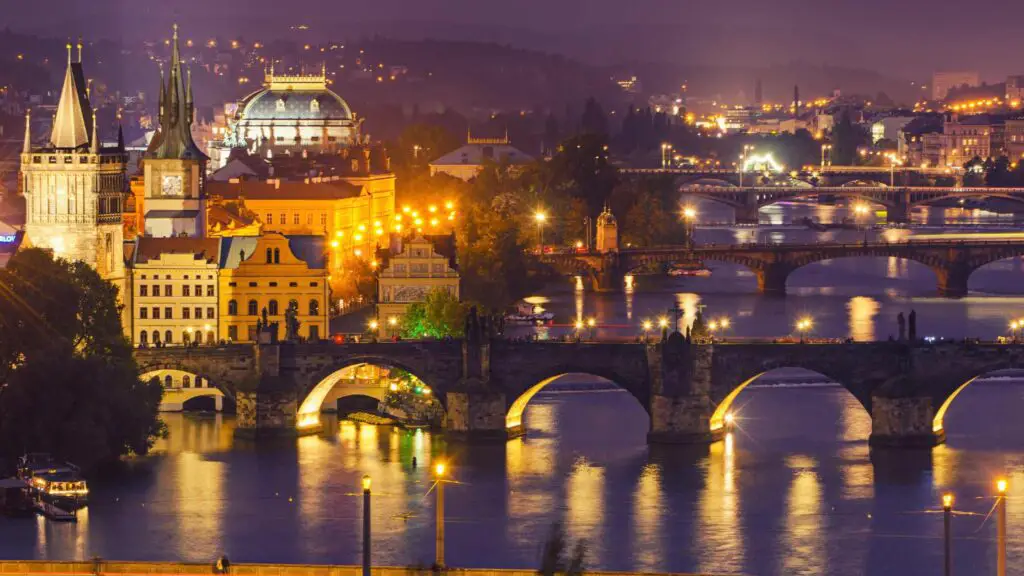 You may learn from your guide that most of the time, the echoes of a woman's cries for help are heard, which are said to emanate from the depths of the Old Town Hall's haunted basement.
This mysterious adventure promises to send shivers down your spine, leaving you with tales to recount and memories to last a lifetime.
Are you brave enough to face the spirits that linger in the shadows of Prague? Book your ghost tour here.
Recommended Tours:
TAKE A TOUR OF THE UNDERGROUND TUNNELS
On my trip, I was looking on my list for What to do in Prague tonight and with a brave heart, I decided to go on the underground tunnel tour.
I am a bit claustrophobic, so I was initially hesitant. But I am equally a history buff and wanted to experience and learn about these dungeons.
So I took this Underground and Dungeon tour, apparently one of the exciting things to do in Prague at night.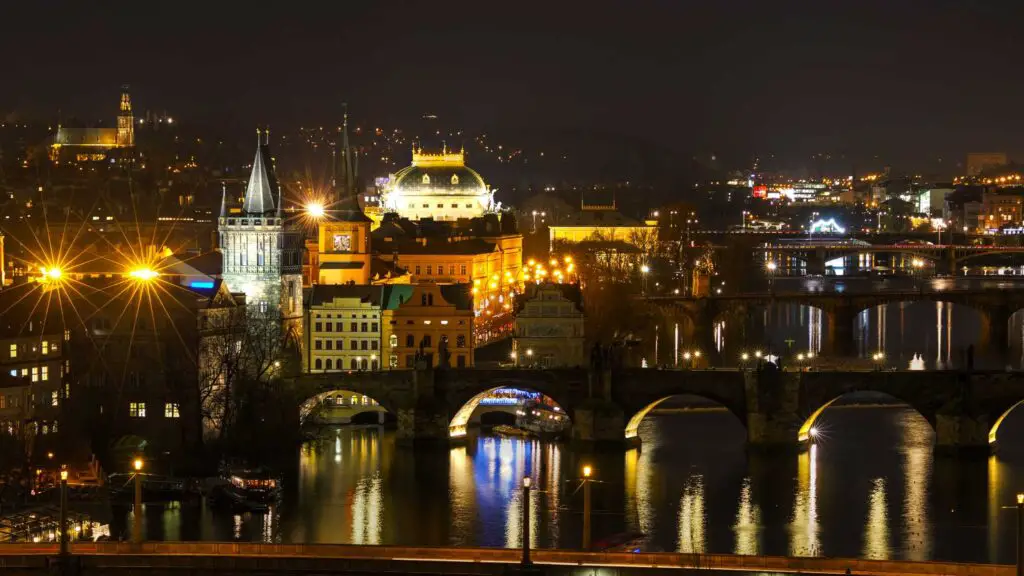 You will be amazed to learn that beneath Prague's historic streets lie underground pathways dating back to the 12th and 13th centuries. 
Originally constructed to combat flooding, these subterranean tunnels now hold a captivating and chilling history waiting to be explored.
You will learn about the dark secrets concealed within the underground chambers – a site once used for torture and execution. 
After my tour, I could never really wander around the city without thinking of the mysterious depths below.
So, book your Underground Tunnels Tour now and unlock the secrets hidden beneath the surface of this enchanting city. 
Recommended Tours:
UNVEIL THE MYSTERIES OF ALCHEMISTS MUSEUM
One of the unique things to do in Prague at night is to visit the Museum of Alchemists.
Learn about the secrets of the Museum of Alchemists and Magicians of Old Prague and soak in the dark and fascinating world of alchemy.
Step into a realm where alchemists once toiled with mysterious instruments, attempting the legendary feat of turning metals into gold. 
On a guided tour, learn about the history of this enigmatic practice and discover how it left an unforgettable mark on Prague.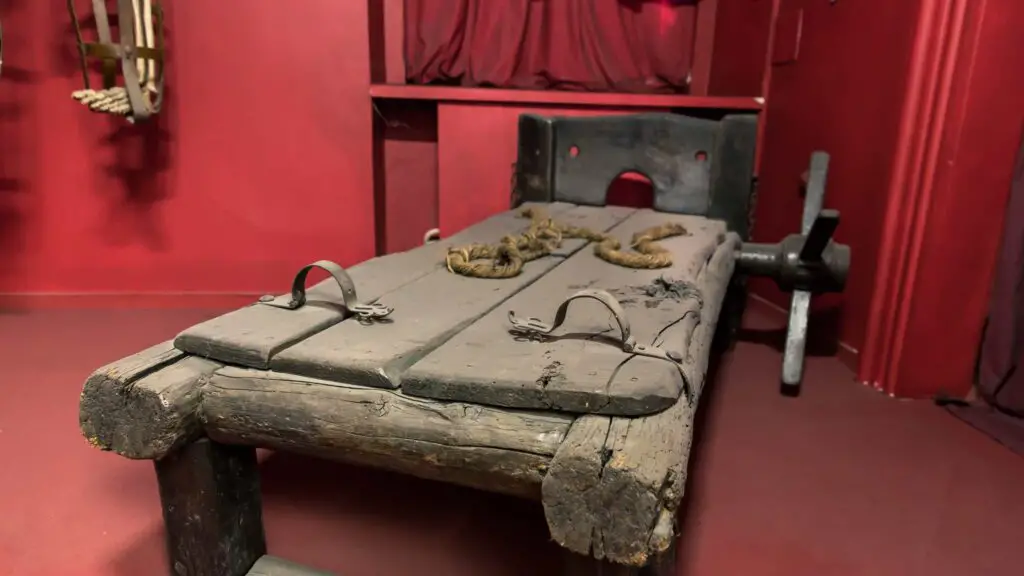 As you wander through the exhibits, you will encounter an impressive collection of old texts, artefacts, and samples from the city's intriguing alchemical past. 
The laboratory of the renowned alchemy master, Edward Kelley, has been preserved in the attic of the building, transporting you back in time to witness the secrets of his alchemical pursuits.
The Museum of Alchemists remains open until 8 PM making it one of the perfect Prague evening activites and an excellent choice for a pre-dinner activity.
TRY GOLFING IN THE DARK
One of the fun things to do in Prague at night, especially with kids, is to try Golfing.
Head to Prague Golf & Games, located 20 minutes from the city centre.
This quirky establishment features a mini golfing ground.
Step inside and be captivated by the curious interior, with each hole designed around different themes related to Prague.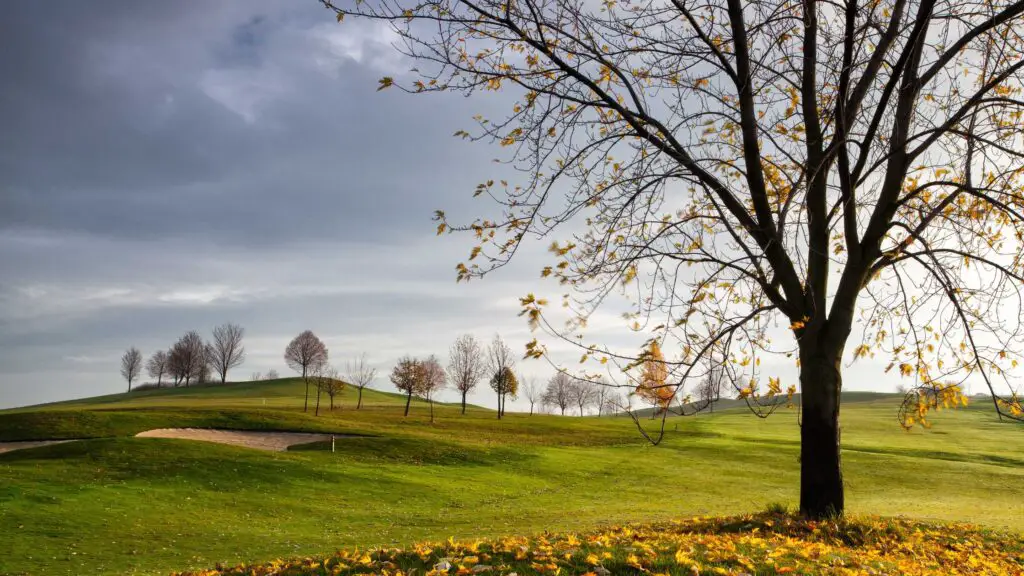 During the evening, the coloured lights illuminating the tracks are a sight to behold.
The thrill of not being able to see the ball adds an exciting element of surprise and challenge to the game.
The entrance fee, approximately 15€, includes a drink to enjoy on the premises, making it a delightful outing for the whole family.
Timings: 1 PM to 10 PM
Recommended: Prague: Glow Golf Mini Golf Game by UV Light
LEARN ABOUT PRAGUE'S HISTORY IN THE COMMUNISM AND NUCLEAR BUNKER
If you are a museum buff or a history enthusiast, take a guided tour to explore the nuclear bunkers and learn about the region's communist history, one of the exciting things to do in Prague at night.
Embark on a guided tour from the city centre, taking you through prime historical locations, including a secret police building and the intriguing StB Holding Cells.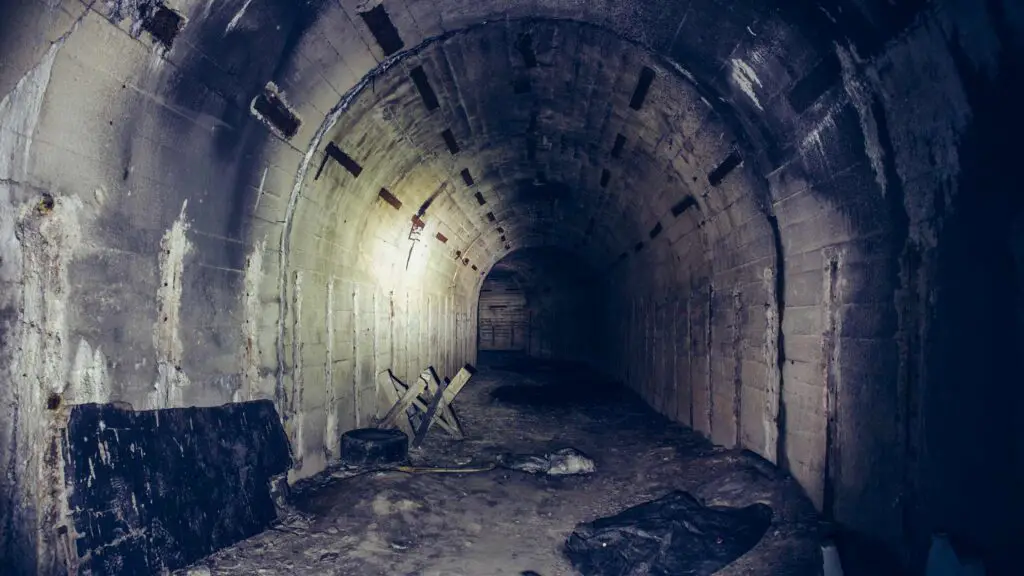 Your knowledgeable guide will provide insights into the events and intrigues that shaped Prague's communist history.
The tour gets interesting when you delve into a hidden underground nuclear bunker. 
You will travel back in time to learn about the dark secrets and intriguing stories of Prague's Soviet era. 
Your guides will reveal the mysteries and challenges faced by the people during those turbulent times, providing a deeper understanding of this historic chapter.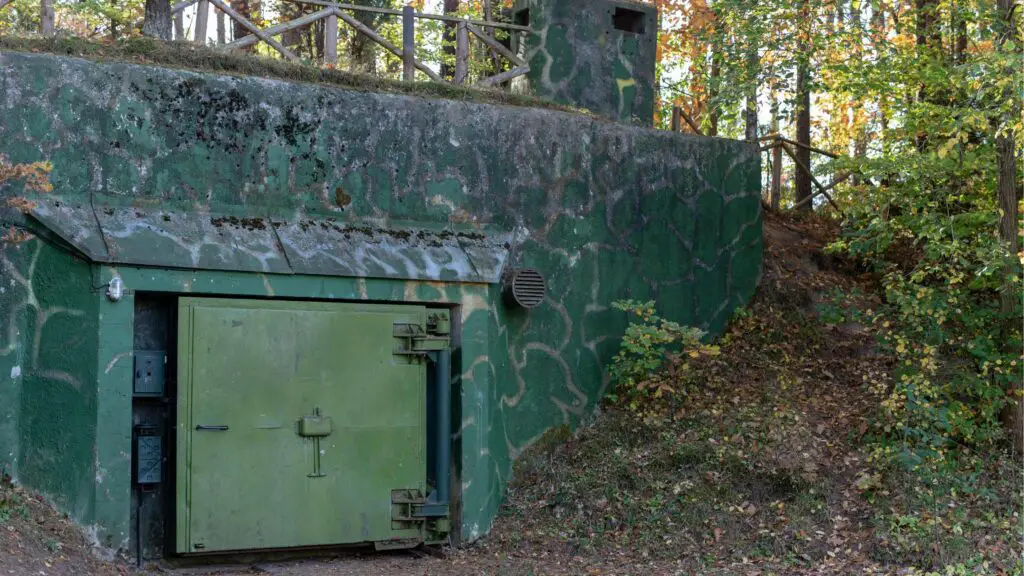 As a cherished memento of your experience, the price of your pre-booked ticket includes a photo book and bunker survival guide to take home. 
These keepsakes will remind you of the remarkable journey you have embarked upon.
Book your tour here.
Recommended Tours:
WATCH AN ICE HOCKEY MATCH
If you are looking for exciting things to do in Prague at night, watch an ice hockey match, the pride of the Czech Republic and a night activity that will leave you on the edge of your seat!
In the dynamic city of Prague, the ice hockey season isn't just a series of games; it's a phenomenon that electrifies the entire atmosphere. 
Spending time at the rink is easily one of the best Prague evening activities!
As the season kicks into high gear, the city becomes a hub of vibrant anticipation, and the air is charged with the electric energy of competition.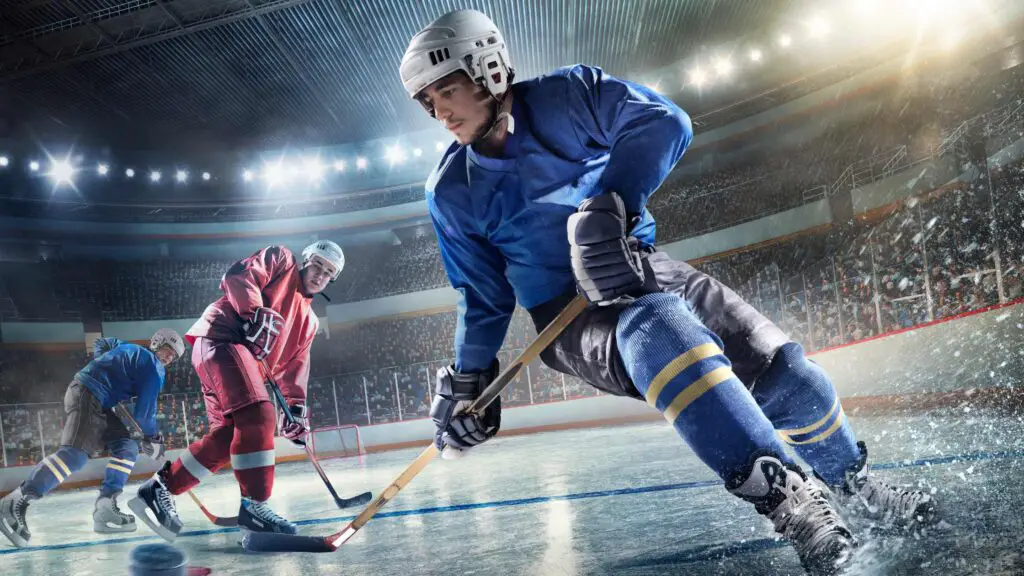 Enjoy amidst the roaring crowd, caught in the whirlwind of cheers and chants, as the ice rink transforms into a battleground of skill and strategy. 
The spotlight will be on HC Sparta Praha, the city's premier ice hockey team. Book your tickets here if you want a front-row ticket to witness their prowess in action.
Witnessing the arena comes alive with a symphony of clashing sticks, the swish of skates, and the triumphant echoes of goals is a vibrant sight. 
ENJOY VINTAGE GLAMOUR AT ROYAL CAFE THEATRE
Lights, camera, action! Get ready for a beautiful evening that seamlessly blends the glitz of Hollywood with the irresistible charm of Czech culture at the Royal Cafe Theatre, one of the fun things to do in Prague at night.
Nestled in the heart of Prague, the Royal Cafe Theatre was opened in 1929 and stands as a true gem that welcomes film aficionados.
As soon as you enter the theatre, you will notice 1920s elegance meeting the dazzling allure of Hollywood's golden era.
The theatre itself, a two-level masterpiece, is meticulously crafted to captivate your senses and transport you to a realm of cinematic grandeur.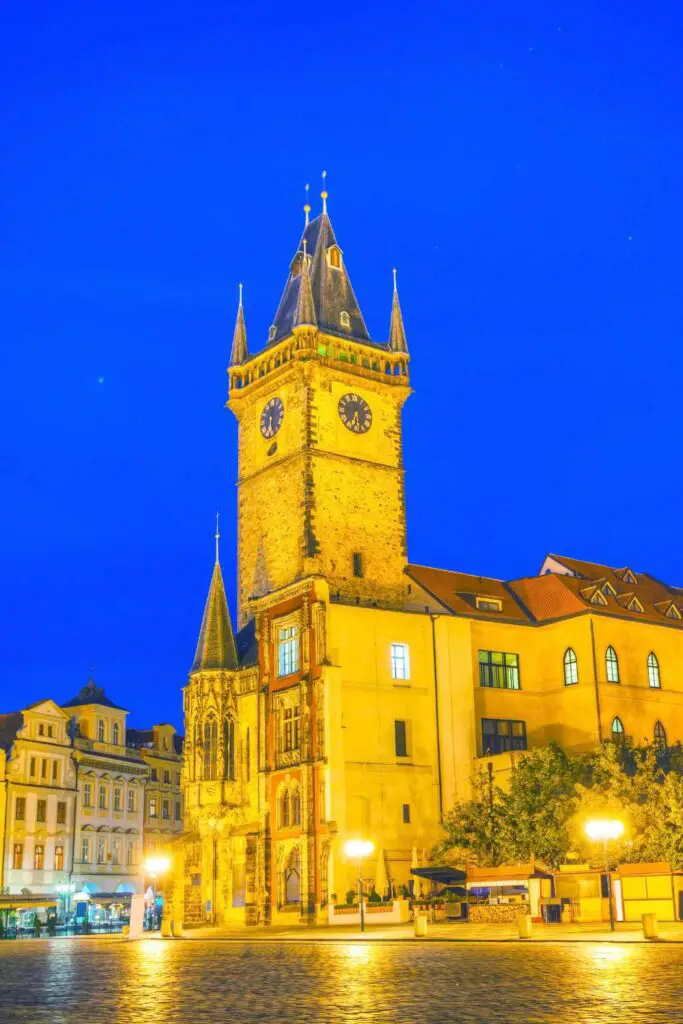 You will be welcomed by the intimate warmth of the theatre's design, round tables adorned with soft lights and plush velvet chairs that invite you to settle in for an unforgettable experience. 
Prepare to be treated like a VIP with the dinner theatre package tour, an evening of opulent indulgence that tantalizes your taste buds and ignites your imagination. 
Enjoy a movie screening or an enthralling theatre performance that will whisk you away to far-off worlds, timeless tales, and heartwarming narratives. 
Book your tickets here for one of the best evening activites in Prague.
WATCH A BLACK LIGHT THEATRE PERFORMANCE
If you are looking for unique things to do in Prague at night, witness a black-light theatre performance.
Prague's Black Light Theatre will take you on a spellbinding journey that will redefine your notion of theatrical brilliance.
The clock strikes 19:00, and the curtains rise to unveil a world of magic at the Ta Fantastika Theater, between the iconic Old Town Square and the Charles Bridge.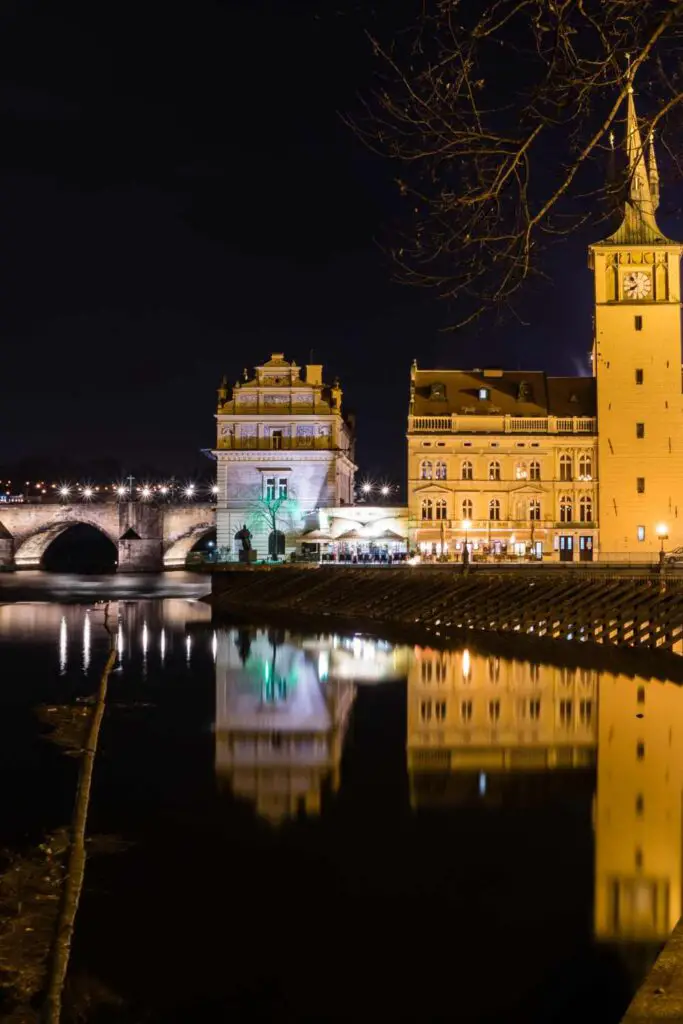 Darkness becomes a canvas, and ultraviolet light transforms into a brush, painting stories that dance before your eyes.
Black Light Theatre epitomises artistic innovation, blending pantomime's mystical allure, dance's grace, and the intrigue of shadows.
Enjoy this sensory feast, where every movement, every gesture, and every touch is magnified by the play of light and shadow, weaving narratives that are as mysterious as they are gorgeous.
Book your tickets here to watch this stunning theatrical performance.
GO ON A CYCLING TOUR 
One of the fun things to do in Prague at night is to go on a cycling tour.
Many guided cycling tours are available, letting you explore the city at your own pace and convenience.
Especially during the summertime, cycling is one of the best things to do in Prague in the evening.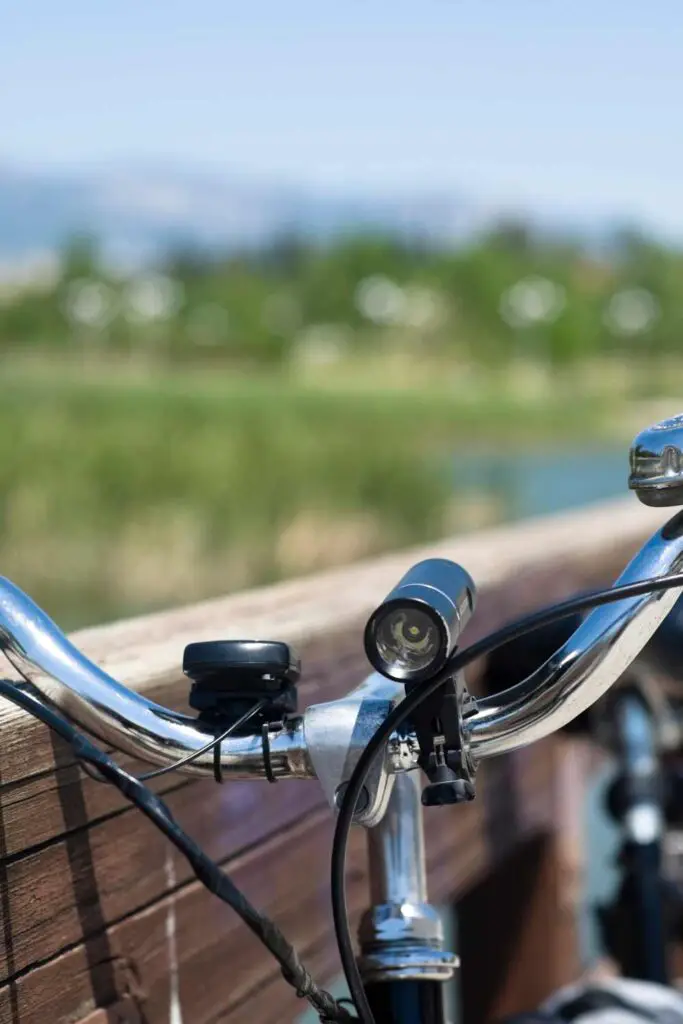 Pedal past the city's iconic landmarks, including Prague Castle, the cobbled alleys of the Old Town and the famous Charles Bridge.
Book your cycle here before your trip, since it is one of the popular activites in Prague at night.
ROAM AROUND THE OLD TOWN
One of the fun things to do in Prague at night is to roam around the Old town.
Visiting the city centre or Old Town is usually the first task on my trips.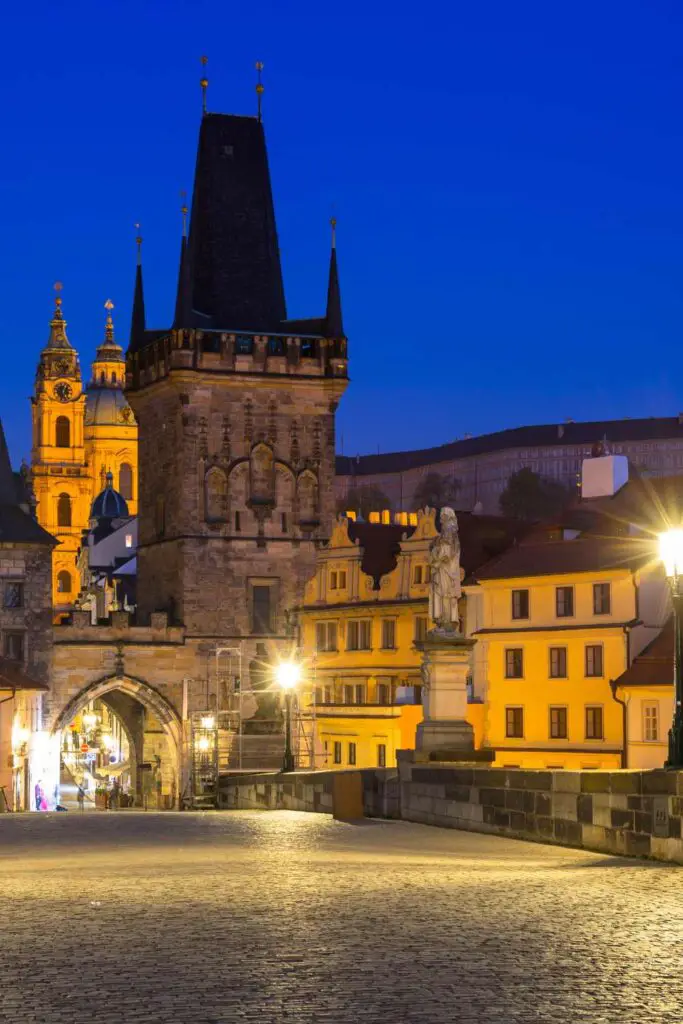 That's where I learned about the city's architecture, the blend of history and contemporary culture.
Delve into the hidden cafes and cosy bars, explore the unique buildings and admire its architecture, one of the perfect Prague evening activites.
CHEERS TO CZECH BEER EXPERIENCE
One of the exciting activites to do in Prague at night is to immerse yourself in the world of Czech beer.
Go on a beer tour to see the city's best breweries and bars, make new acquaintances, and sample the local beer and the best food pairing. 
Alternatively, independently venture to any local pub or bar to begin your beer-tasting adventure.
Prague's establishments boast an impressive selection of Czech beers, from refreshing light lagers to rich and robust dark ales.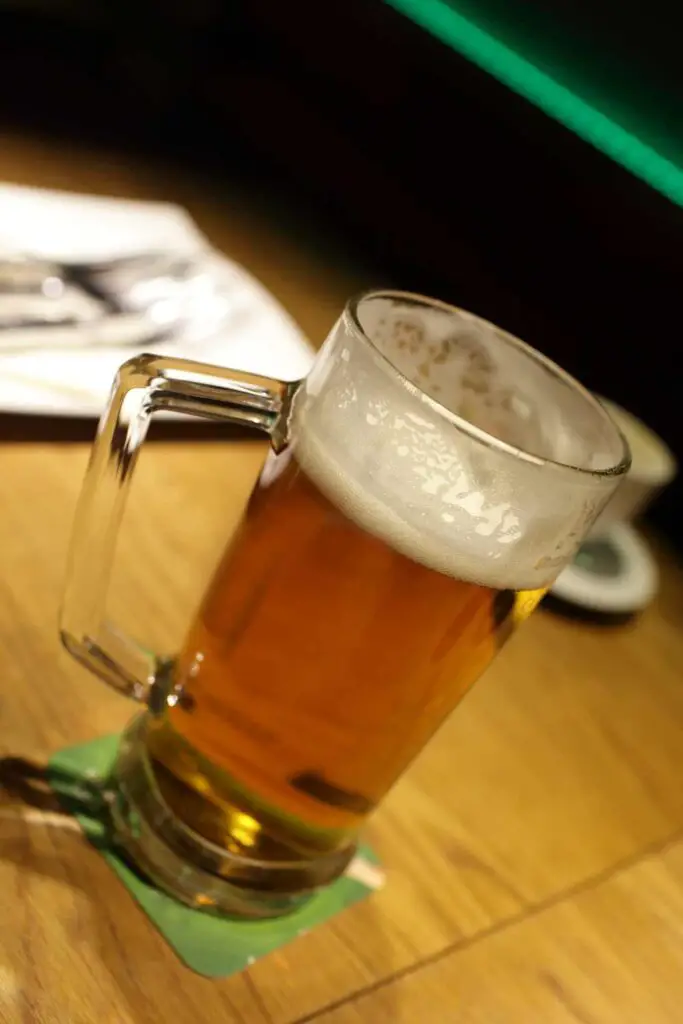 The venue's knowledgeable staff can help you find the perfect brews that match your taste preferences.
Try the variety of beers, including lagers, IPAs, and stouts, expertly paired with three types of Czech beer tapas served family style.
For foodies, I recommend exploring Prague's coolest neighbourhoods on a small group tour that takes you to the city's trendiest spots. 
Prefer a more intimate experience? Private tours allow you to savour the journey at your own pace.
Most of these tours begin in the early evening, allowing you to admire iconic landmarks across the city while discovering hidden culinary treasures.
Book your tickets here for the Czech beer tour and prepare for an unforgettable evening.
EMBARK ON A CULINARY ADVENTURE
One of the exciting things to do in Prague at night is to go on a walking food and tasting tour to treat your taste buds.
As you stroll through the charming streets of Prague, you will be guided not only by the twinkling stars but also by the tantalizing aromas that waft through the air.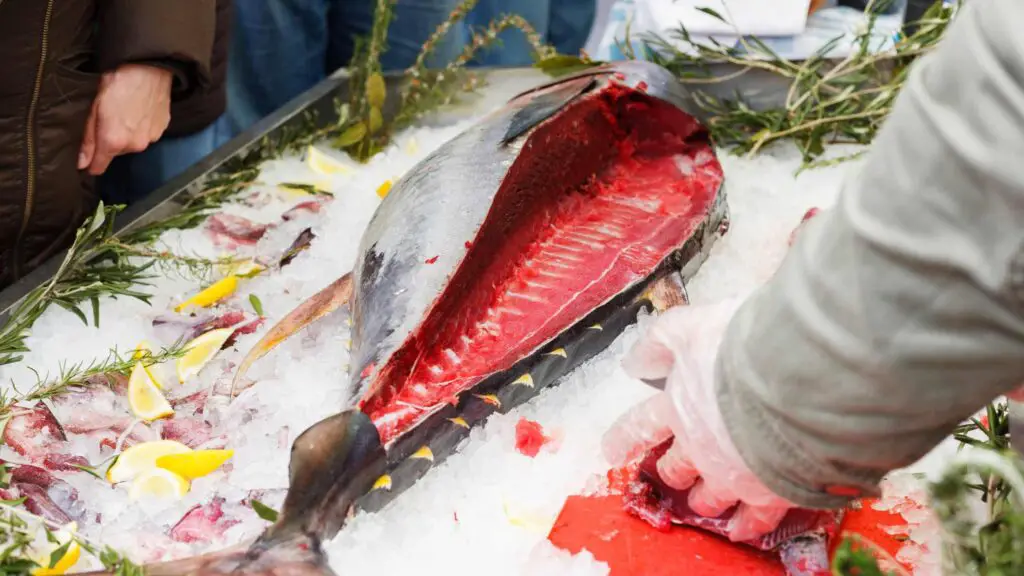 Witness Prague's culinary scene, where history, culture, and flavours converge to create an unforgettable experience. 
This is not just a food tour – it's a journey through Prague's gastronomic tapestry woven with tradition, innovation, and a dash of indulgence.
As you wander through the enchanting Malá Strana area, prepare to be treated to an array of Czech delicacies that are nothing short of divine. 
The journey unveils a carefully curated selection of restaurants, each with its story and flavours to share. 
From the iconic landmarks to the hidden gems, you will traverse a culinary landscape that's as diverse as it is delicious.
Your knowledgeable guide will amuse you with tales of how Prague's food culture evolved, painting a vivid picture of the past and present. 
As you savour each bite, you will also savour the stories behind the dishes.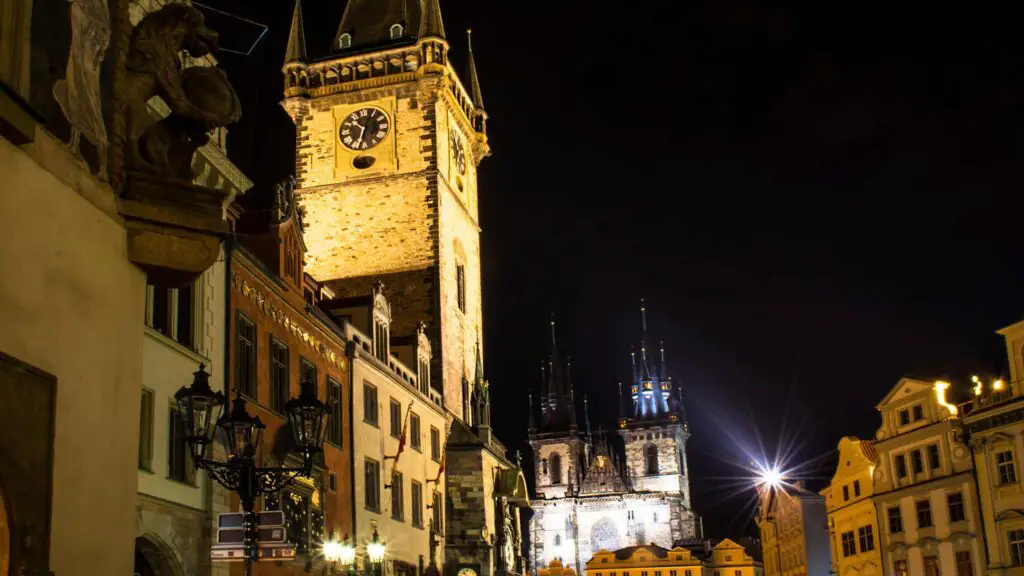 And if you happen to find yourself in Prague during the enchanting Christmas season, consider yourself lucky. 
The Advent evening walking food tour adds an extra sprinkle of magic to your culinary escapade. 
You will see the streets adorned with festive lights, the air infused with the warm embrace of roasted chestnuts and mulled wine. 
So, go on and book your walking food and tastings tour here.
GO ON A FOLKLORE RESTAURANT EXTRAVAGANZA
If you are a culture connoisseur looking to explore Prague in a unique way, you must visit the city's folklore restaurants which will transport you to the heart of Slavic traditions,
Indulge in an array of authentic Czech dishes, sip on local wines and beers, and dive into an entertainment extravaganza like no other at U Marčanů, an esteemed folklore hotspot.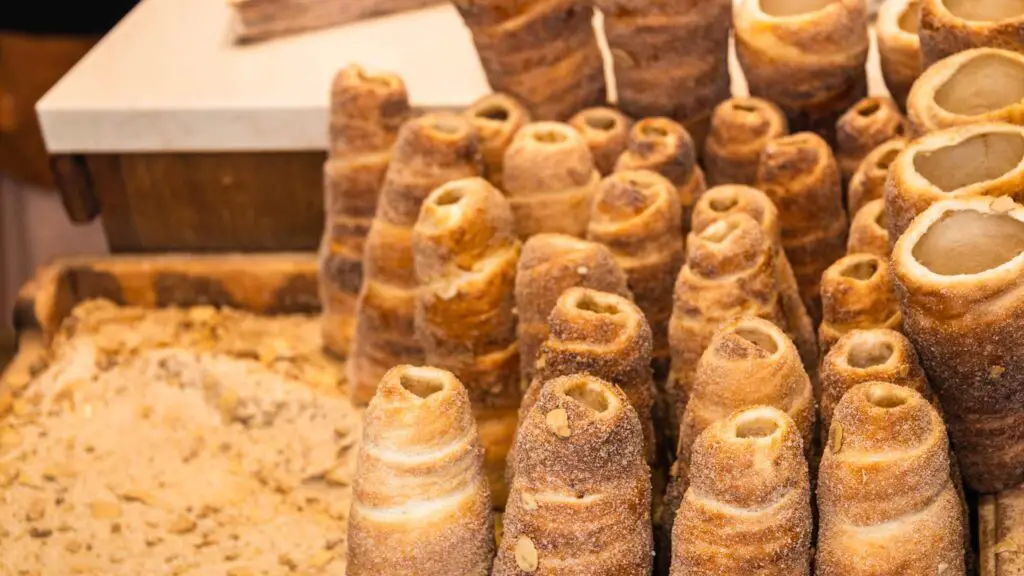 Delight your taste buds with a range of traditional dishes that carry the essence of Slavic culture. 
From hearty goulash to savoury dumplings, each bite is a journey into the rich tapestry of Czech culinary heritage. 
And what's a delicious meal without the perfect pairing? Savour local wines and beers that perfectly complement the flavours and transport you to the heart of the Czech countryside.
But wait, there's more to this evening than just the delicious fare.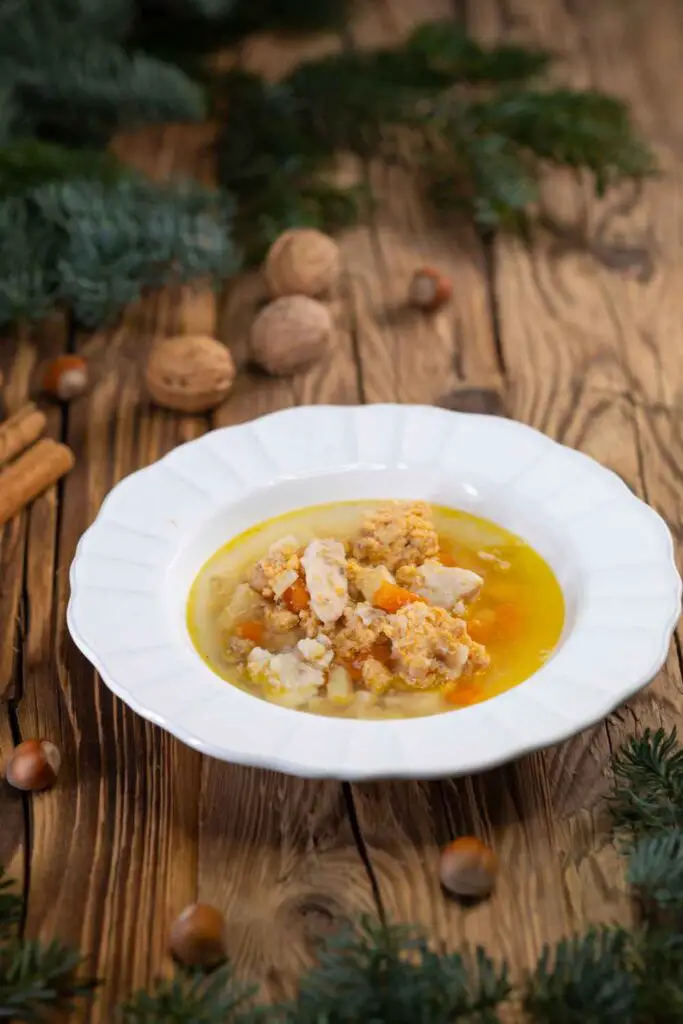 You will be serenaded by the soulful folk music strains echoing through the rustic walls. 
And here's the best part – you are not just a listener; you can also sing along.
Whether you are a seasoned dancer or a first-time twirler, the energy is infectious, and the memories will be everlasting.
GO ON A PUB CRAWLING TOUR
One of the fun things to do in Prague at night is to go on a Pub Crawling tour.
There are many guided tours available which will take you through the city's best pubs and bars.
Many pubs feature live music and dance floors to make your evening more memorable.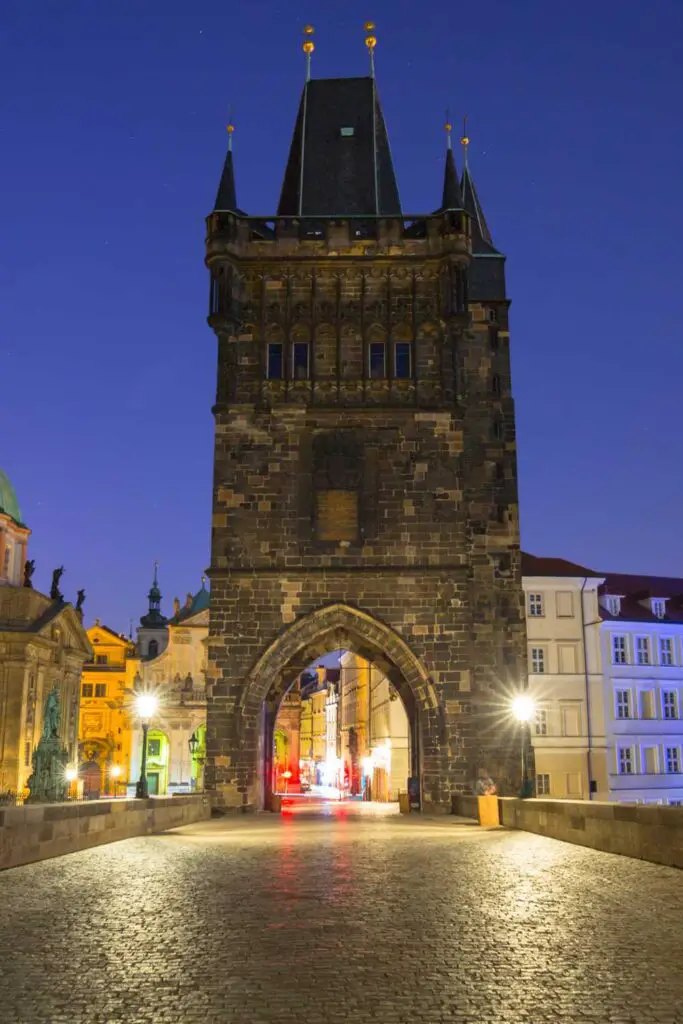 My favourite is the Drunken Monkey Pub Crawl which has also been featured on many popular TV channels.
Stroll along the Old Town Square you will end up with a plethora of pubbing and clubbing options.
Book your pub crawl tour here. Check out some of the popular bars and Clubs below that you should not miss on your trip to Prague at night.
Karlovy Lazne: the largest club in Central Europe. With five floors, each with its unique theme and music, you will be spoiled for choice. 
From hip-hop to old music, dance to lazying out, there is a rhythm for every soul at Karlovy Lazne.
The dazzling glass roof and the echoes of laughter and beats will guide you through the night until the dawn breaks.
Czech Beer Museum: Delve into the world of Czech beer, with over 30 varieties on tap at this museum. 
From traditional to novel, you will experience the true essence of Prague's brewing heritage. 
Enjoy an evening of fun and education as you sip on the golden nectar, learn about brewing, and bottle your beer to cherish.
Hemingway Bar:  One of the unique bars in Prague. Savour the art of mixology with exquisite absinthe-based drinks and classic cocktails here.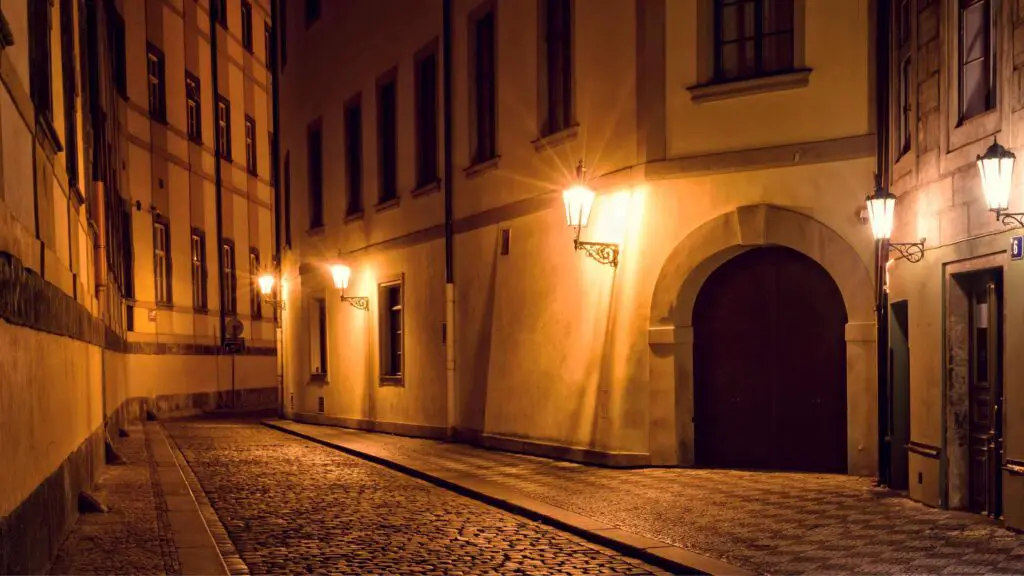 Inspired by the legendary Ernest Hemingway, this bar captures the essence of literary charm and sophistication. 
Roxy: One of the oldest dance rooms and entertainment venues in Prague. It also has an exclusive space to chill out if you are not dancing.
Chapeau Rouge: Descend into this underground haven where time stands still and party fills the air.
With three floors, four bars, live music, and electrifying DJ performances, Chapeau Rouge illustrates Prague's after-dark spirit. 
Dance, laugh, and revel in the electrifying atmosphere until the sun rises.
ROMANTIC THINGS TO DO IN PRAGUE AT NIGHT
TAKE A DINNER RIVER CRUISE
One of the romantic things to do in Prague at night is to go on a dinner river cruise on the gorgeous Vltava River.
As the sun sets, the city's skyline illuminates, offering a different and captivating perspective on this beautiful destination.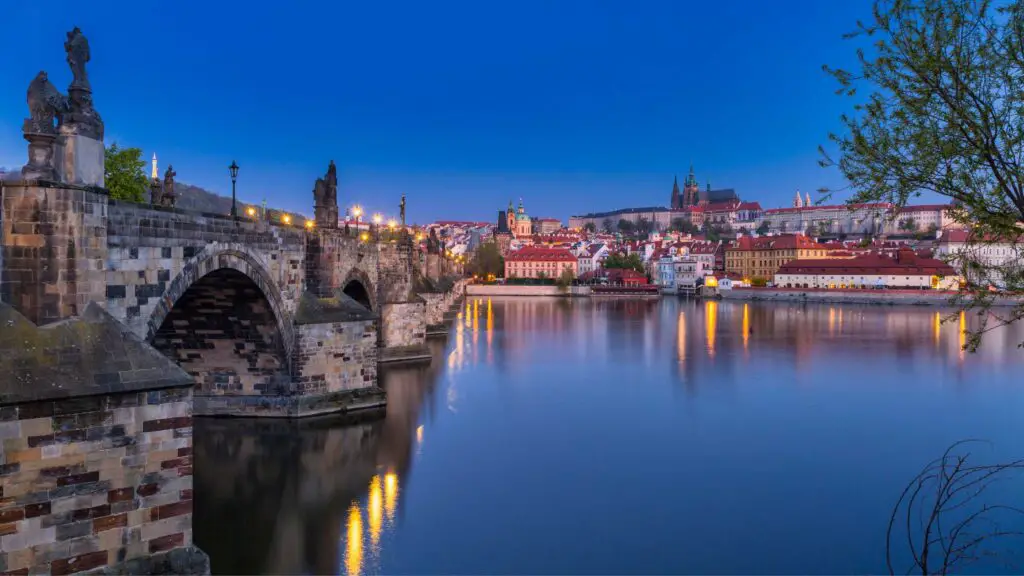 Choose from various cruise options to suit your budget and interests, ranging from short and sweet drinks cruises to lavish affairs with fine dining and entertainment.
Vltava River may not be as famous as its counterparts in other European cities, but the beauty of a night cruise in Prague leaves nothing to be desired. 
On this dinner cruise night tour, you will witness Prague's iconic historical sites, including Prague Castle, Petrin Hill, and Charles Bridge, against a backdrop of shimmering lights while sipping on a glass of wine or prosecco.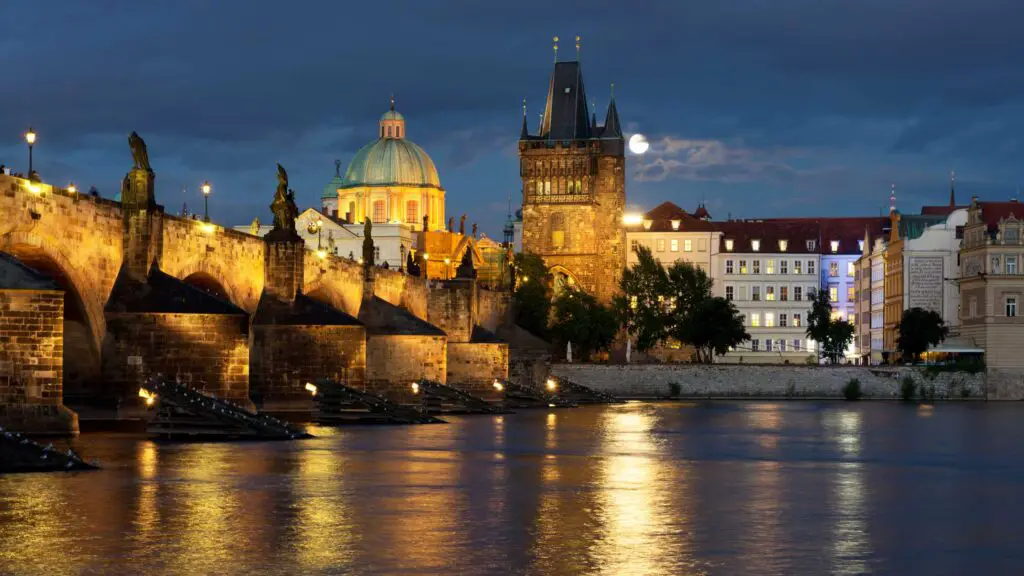 Savour a delectable buffet-style dinner in the most enchanting setting, with the illuminated Prague Castle gracing the horizon.
The live music in the background will add additional charm to the scene.
Most dinner cruises depart from the vicinity of the iconic Charles Bridge. Spot bookings are also allowed, but I recommend booking them before the tour trip to avoid last-minute hassles.
SAIL ON A RIVER CRUISE TO DEVIL'S CHANNEL 
One of the romantic things to do in Prague at night is to go on a moonlit voyage to Devil's Channel.
Amidst the twinkling stars and the gentle lap of the river, you will find a tranquil escapade that will leave you spellbound.
While daytime cruises hold their charm, the allure of Prague's nighttime panorama is unparalleled.
You will be left spellbound as you witness Prague's reflection shimmering in the water's embrace.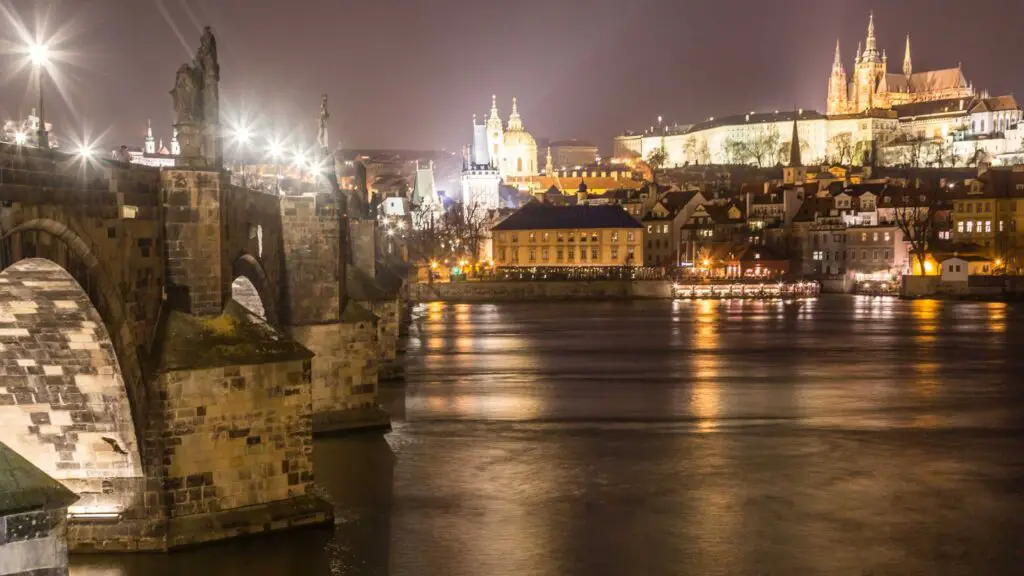 Step aboard the guided cruise, which lasts for about an hour and traverses the lesser-known waterways of Prague.
Witness the medieval buildings dotting the Vltava River, and discover its hidden corners and secret stories beneath the moon-kissed surface.
Many small cute boats offer a more customized and cosy experience.
Book your spot here to secure your place amidst the whispers of history and the lullaby of the Vltava River.
ENJOY A CONCERT IN THE SPANISH SYNAGOGUE
If you are looking for Prague things to do at night, visit the Spanish Synagogue, nestled within Prague's Jewish Quarter.
This place is a magnificent venue hosting exceptional concerts and classical performances year-round.
Spanish Synagogue was established in 1868 and was eventually meticulously restored to its former glory.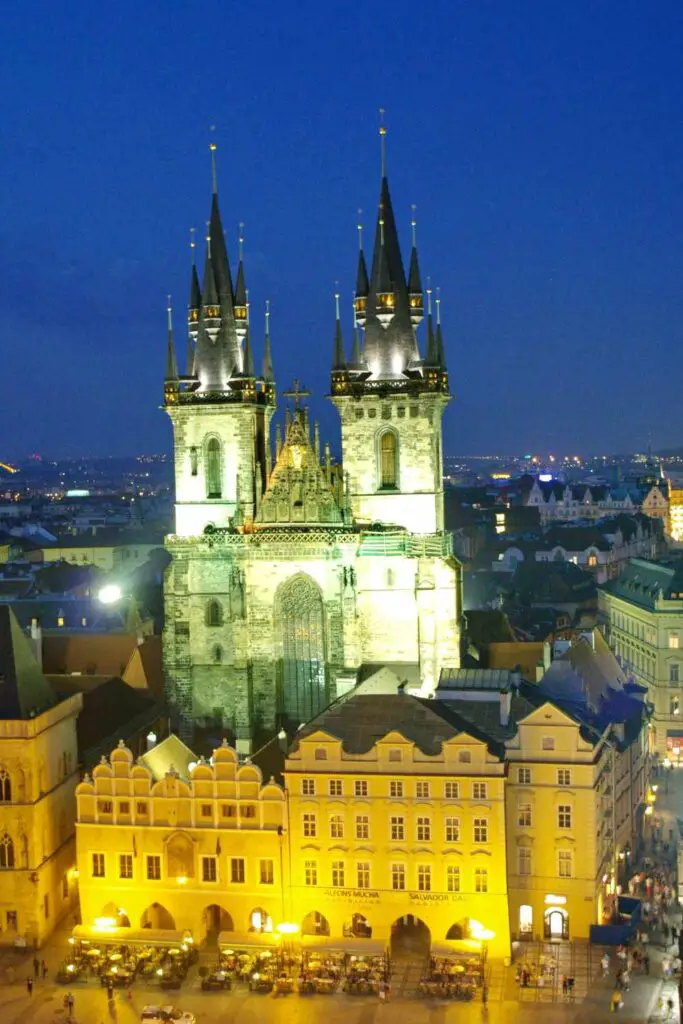 The stunning stained glass windows and intricate decor adorn the synagogue, transporting you to a time of grandeur and artistry.
As the lights dim and the music fills the air, you will be treated to an unforgettable evening of classical compositions in a setting that exudes timeless elegance. 
Beyond the soothing melodies, the concert immerses you in this majestic venue's rich history and cultural significance. 
Guided tours are available, offering fascinating insights into the architectural masterpiece that surrounds you.
ENJOY FINE DINING AND A PERFORMANCE AT THE MOZART BALLROOM CONCERT
For an unforgettable evening in Prague, visit the Mozart Ballroom Concert in Boccaccio Hall, Old Town Prague, home to classical music and an exquisite dining experience.
You will be welcomed with a lavish drink to settle into the historical Boccaccio Ballroom, a grand and luxuriously adorned venue. This is one of the romantic things to do in Prague at night.
Witness the large tables seating eight guests, creating a warm and convivial atmosphere.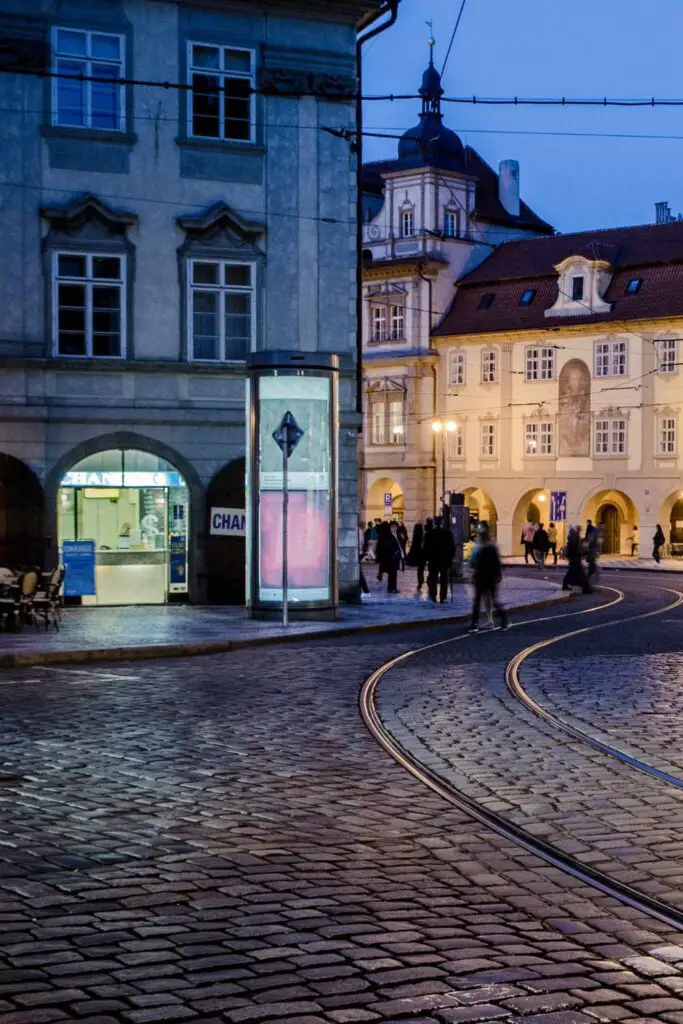 An upgrade option for a table for two is available for a more intimate setting.
The main draw is the delightful three-course Czech and Austrian dinner, prepared from locally sourced ingredients to tantalize your taste buds.
Savour each dish as the soothing melodies of Mozart's most iconic pieces fill the air.
Enjoy the mesmerizing performance of Mozart's repertoire from Prague's finest musicians and singers from Czech opera houses.
With the concert split into three 20-minute performances, there's ample time to savour the exquisite cuisine and fully immerse yourself in the musical magic.
ENJOY A CONCERT IN ST. NICHOLAS CHURCH
Enjoy a musical splendour at St. Nicholas Church in the city's Old Town Square if you want romantic things to do in Prague at night.
The concert hall provides an unparalleled experience, surrounded by the stunning beauty of baroque architecture, ornate sculptures, and decorations that have been preserved since 1735.
As you bask in the harmonies, let your imagination drift to the bygone era when St. Nicholas Church hosted some of history's greatest composers.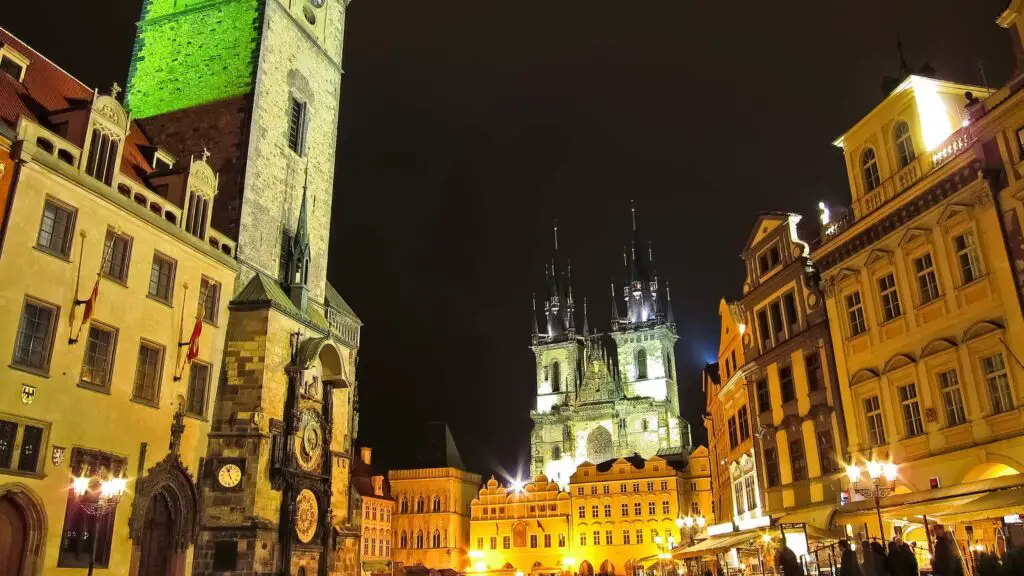 Legends like Mozart and Dvořák once graced this very stage, leaving their mark on the church's rich musical heritage.
Step into the historic church and be enchanted by the mesmerizing sounds of classical music performed by world-renowned European musicians. 
The fusion of music and the church's historical ambience will transport you to a world where art and beauty intertwine.
WATCH A LOVELY SUNSET
One of the most romantic things to do in the evenings in Prague is to catch a glimpse of the sunset.
There are many gorgeous vantage points in Prague that should be on your list of What to see in Prague by night.
Head to the Prague Castle. Apart from the best sunset, you will also see the illuminated castle after dark.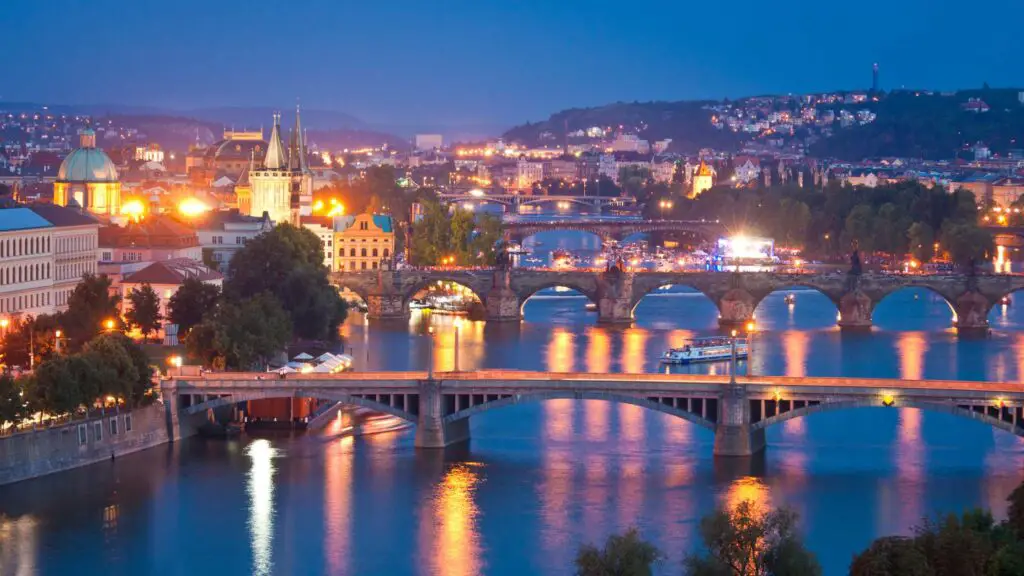 Hike the Petrin Hill and hop on its Observation Tower, which offers one of the city's most stunning views. 
Visit the Letná Park, kind of a hidden gem. You must cross the Jewish quarter and the Vltava and hike stairs to reach this magical place.
There is another popular viewpoint nearby with a bar and live music offering. 
Witness all of Prague's beautiful illuminated bridges, including the Charles Bridge, from this point.
CATCH A GLIMPSE OF THE CITY FROM ŽIŽKOV TELEVISION TOWER
One of the other romantic things to do in Prague and an alternative to the Petrin Tower is The Žižkov Television Tower.
Standing 93 meters tall, Žižkov Television Tower provides one of the best views of Prague's skyline.
Embrace the magic of the Golden Hour at dusk, a photogenic moment beloved by keen photographers, and watch the city transform in the soft, enchanting light.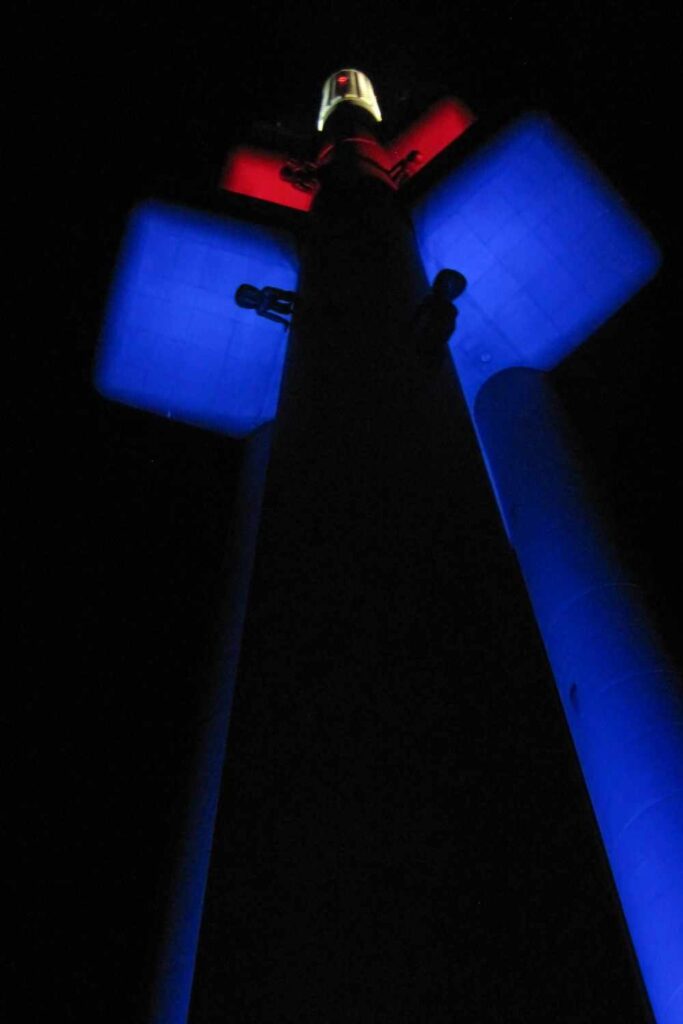 Inside the tower, you will find more than just a vantage point. 
Housing bars and a restaurant, the building provides ample entertainment and dining options, making it an enjoyable destination for both locals and tourists alike.
STROLL ALONG THE CHARLES BRIDGE
Get set for a beautiful evening as you embark on one of the most romantic things to do in Prague – a leisurely stroll along the Charles Bridge.
Charles Bridge is a timeless marvel that stands as a testament to centuries of history. 
As you set foot upon the cobblestones that have witnessed countless tales, you will be transported to a realm where history and legend intertwine. 
The Charles Bridge, an architectural masterpiece that has stood the test of time, unveils a different facet of its beauty as the sun dips below the horizon.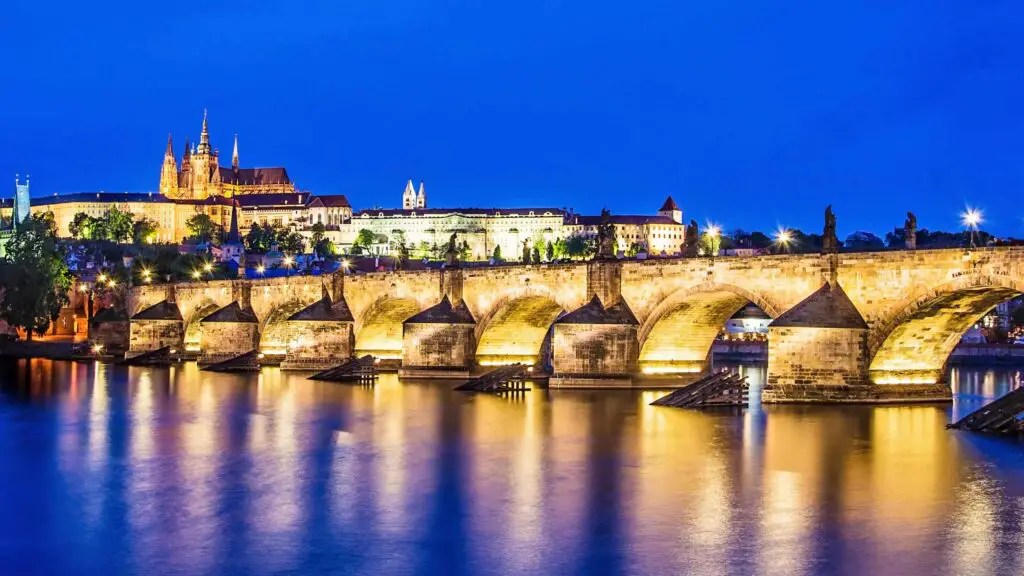 The city's lights twinkle like stars, gently radiating the Vltava River below.
But it's not just the view that captivates your senses.
The Charles Bridge comes alive at night, a stage where local artists showcase their talents and creativity. 
Watch in awe as painters transform blank canvases into vivid masterpieces, their brushes weaving tales of Prague's beauty. 
The air gets filled with melodies as local bands serenade passersby, their music weaving through the arches and echoing across the centuries.
Book your guided night tour here to see this timeless beauty.
HOW TO NAVIGATE AROUND PRAGUE AT NIGHT 
There are plenty of places to visit in Prague at night. Navigating around this charming city at night can be an exciting adventure.
Hop on to public transportation like trams or buses, which are more efficient and reliable.
Some trams and buses operate for extended hours at night, facilitating all the locals and tourists alike.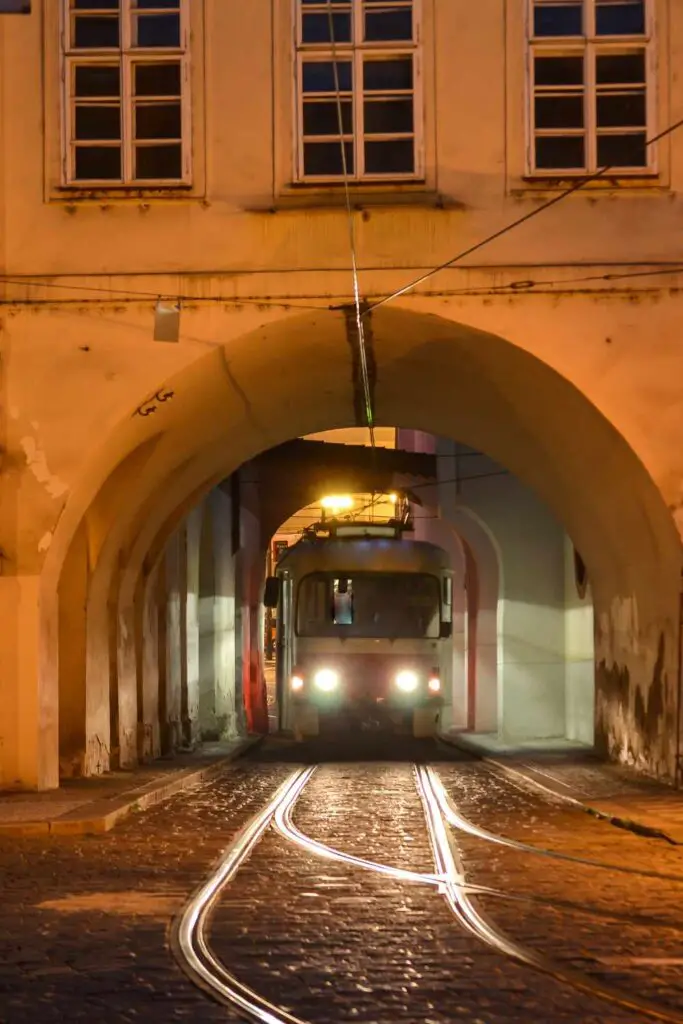 You can book your tickets on the Prague Public Transit site.
Although Prague has a Metro facility, the only drawback is that it does not operate between midnight and 4:45 AM.
So trams and buses take over the scene. You will witness bustling trams, which run every half hour until 4:30 in the morning.
Alternatively, you use taxi-sharing services like Uber or Bolt or book a car from Rental Cars. Rent a bike if you want to witness Prague nightlife in style. 
And by now you would have realised that there are always guided night walking tours and segway tours, one of the best things to do Prague at night.
MAP OF THINGS TO DO IN PRAGUE AT NIGHT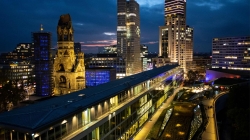 Latest posts by Anna Owen
(see all)