Excellent nightlife in Spain is why it is one of the most visited countries in Europe, attracting millions of tourists, including diverse crowds ranging from young groups looking for rave parties and couples dreaming of romantic getaways.
Diverse festivals year-round combined with excellent weather throughout the year, delicious food, fantastic beaches, lovely culture and friendly people are some of the reasons why you should head to Spain.
Spanish people are known for living life to the fullest, learning how to party and host wild parties.
So if you are thinking of going to Spain for your bachelor or bachelorette party or wild parties that go on until dawn with your friends, in this Spain nightlife guide, we bring you everything you need to know to explore Spain after dark, including practical tips.
NIGHTLIFE IN SPAIN – WHAT TO EXPECT?
The reason Spain is a popular destination for nightlife in Europe is that no matter how you prefer to explore the nightlife, you will be spoiled with choices, something available for every type of travel.
Spanish nightlife starts early but lasts all night, no matter the destination.
The Spanish are known for their light-hearted, fun, exciting culture, where late-night gatherings are a natural norm, whether meeting friends or hosting visitors.
From bustling party neighbourhoods packed with electrifying dance floors to fancy clubs, tapas bars, beach clubs or boat parties, you can choose your pleasure ways when enjoying the nightlife in Spain.
The Spanish Siesta is accurate, and you will find the shops closed and crowds minimized as locals take their afternoon naps, which is also a way to prepare for wild nights.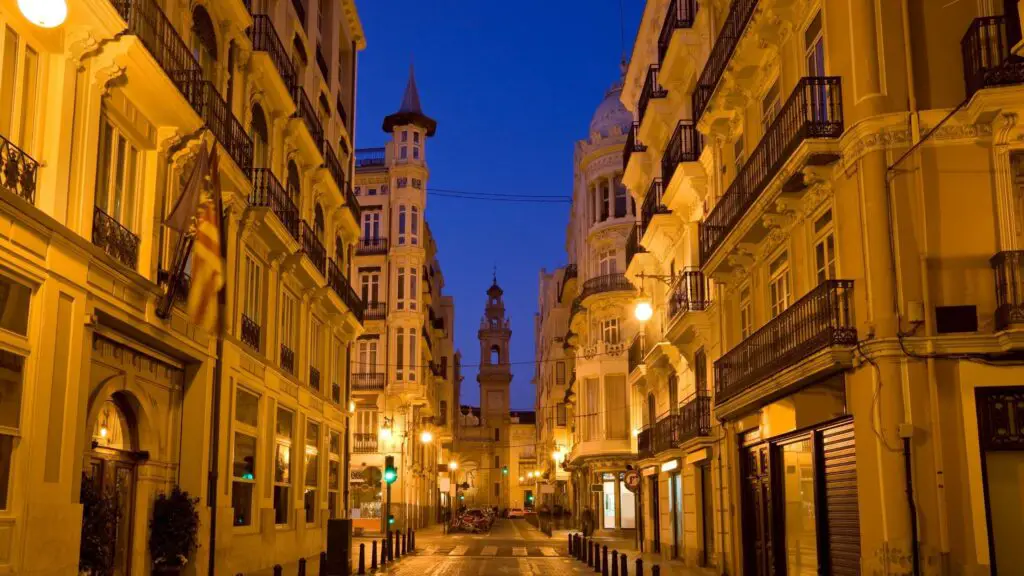 There is no fixed time around when to start parties as some clubs start happy hours early, around sunset, while some bars and pubs only begin partying past midnight.
So depending on how long and far you want to explore Spain nightlife, plan your nights.
The summer months are the most popular and crowded with all plazas and prominent streets in the cities packed with excited people.
Finding tables and entry into top places is hard, so you will have to plan a bit.
Spain also prides itself on one of the most varied nightlife scenes in Europe, and you can find the laid-back people enjoying themselves, welcoming you to join in their festivities.
The nightlife in Spain begins with hopping at tapas bars and then hitting local eateries or themed bars.
You can top these up by hitting the dance floors or attending parties that go on until the early hours of the morning.
NIGHTLIFE IN SPAIN – TOP DESTINATIONS
BARCELONA
Barcelona is one of the top party cities in Europe, and it is no surprise considering it is the most visited city in the country.
If you want to experience nightlife in Spain and don't know where to begin, pick Barcelona.
One of the most beautiful cities in Spain, Barcelona welcomes architecture buffs, history lovers, foodies, hipsters, and partygoers – a diverse and extensive (millions of visitors) annually.
Barcelona is another one of the best party destinations in Spain, comprising beaches, parties, pubs, and food.
Whatever you are looking for in a holiday, you will find it in Barcelona.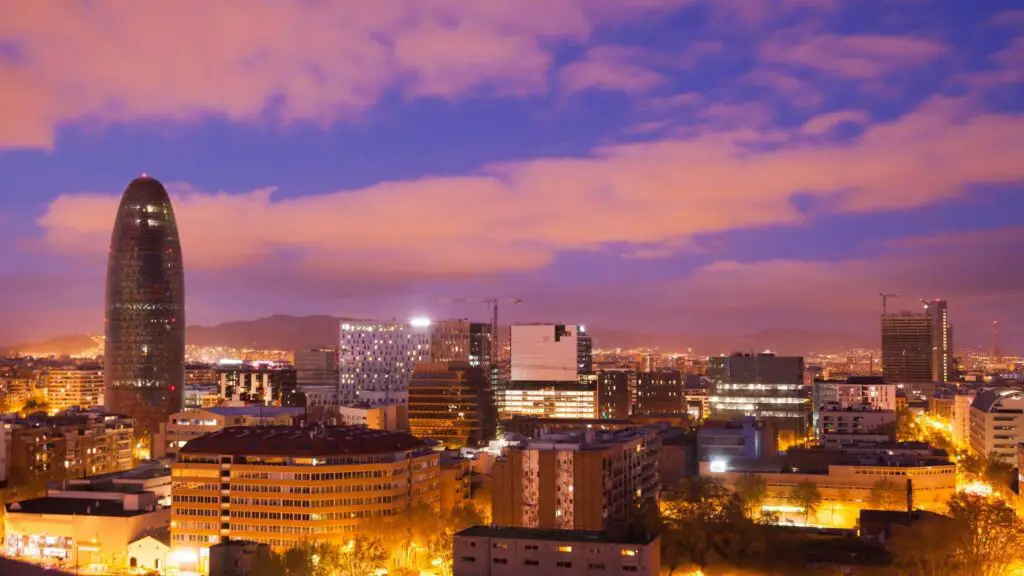 Whether you love crazy beach parties, uptown premium clubs, or cute rooftop bars offering stunning city views, you will find them all in Barcelona.
You can choose different activities to enjoy nights in Barcelona, including boat parties, night walking tours, or pub crawls.
Head to La Rambla, the heart of Barcelona, to begin your evening with some tapas accompanied by a cocktail.
This pedestrian-friendly pathway is lined with excellent bars and clubs. 
Thanks to many fantastic options ranging from street food to lavish fine dining, you will love shopping and dining here.
For beach parties, head to Barcelona beach, home to famous clubs like Moog and Pacha.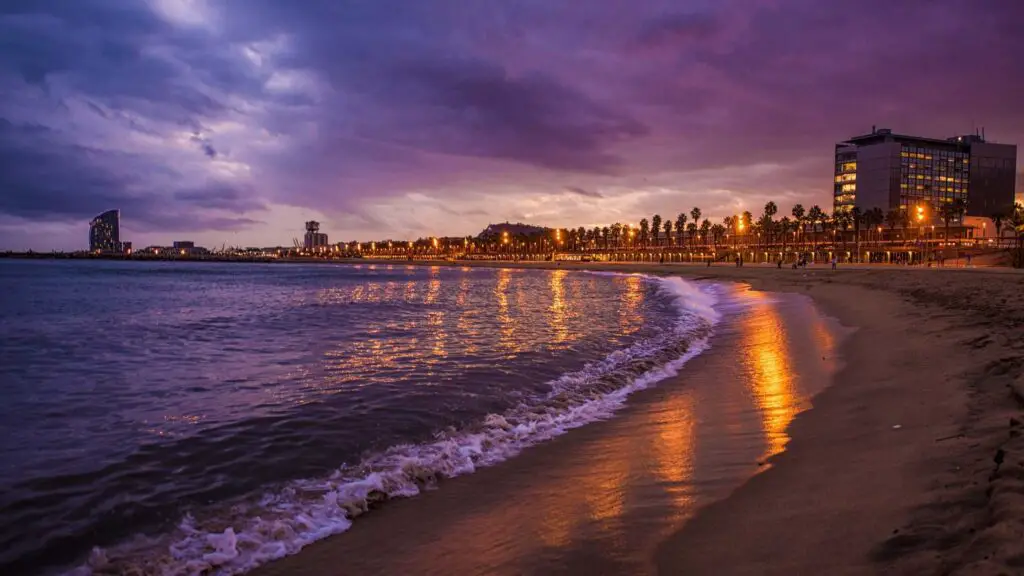 To get transported back in time, head to the Gothic Quarter, which transforms into a busy street as the many Irish pubs, dance bars, and clubs come alive.
Music is a significant thing when it comes to nightlife in this city so you will love it.
Check our guide to 50 Fantastic Things To Do In Barcelona(Besides Hopping Tapas Bars!)
Techno, R&B, Latin music, and even live music are prominent in Barcelona. 
Port Olimpic is where you need to go for great beach clubs if you prefer the locals' way, head to Garcia street, known for its tapas bars.
RECOMMENDED – 100+ QUOTES FOR NIGHTLIFE FOR YOUR PHOTO CAPTIONS
RECOMMENDED TOURS
BEST PRIVATE TOURS
BEST TAPAS BARS COMBO GUIDED TOURS
WHERE TO STAY?
Hotel El Palace Barcelona, Yurbban Passage Hotel & Spa, Hotel Boutique Mirlo Barcelona, Monument Hotel
IBIZA
You probably cannot think about nightlife in Spain without dreamy Ibiza, loved and loathed in equal measures.
No matter what, this gorgeous island of the Balearic draws millions of partygoers every year and is likely to remain a top destination.
Ibiza is not shy, pushing the limitations of what nightlife means, which is why it is the best destination to experience the wildest nightlife in Spain.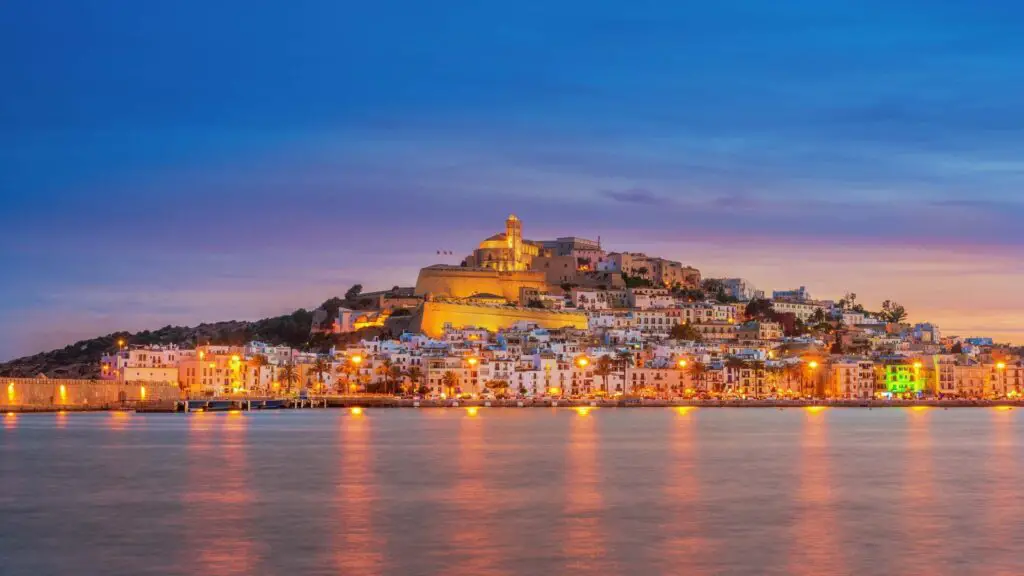 Often considered the best place in Spain to party, Ibiza attracts people from all over the world looking for the wildest nights of their lives, including indulging in boat parties, EDM beach parties, disco buses, bars, and great pool parties.
Although it is one of the most expensive party destinations in the world, it does not stop many from flocking to the shores as the sun goes down, which signals the start of packed nightlife.
For the most premium nightlife experiences, head to Ibiza town, home to high-end clubs that attract celebrities.
If budget is not your concern, enjoy nights in Ibiza hopping bars, trendy seaside pubs and checking out the dance floors grooving to thumping EDM music.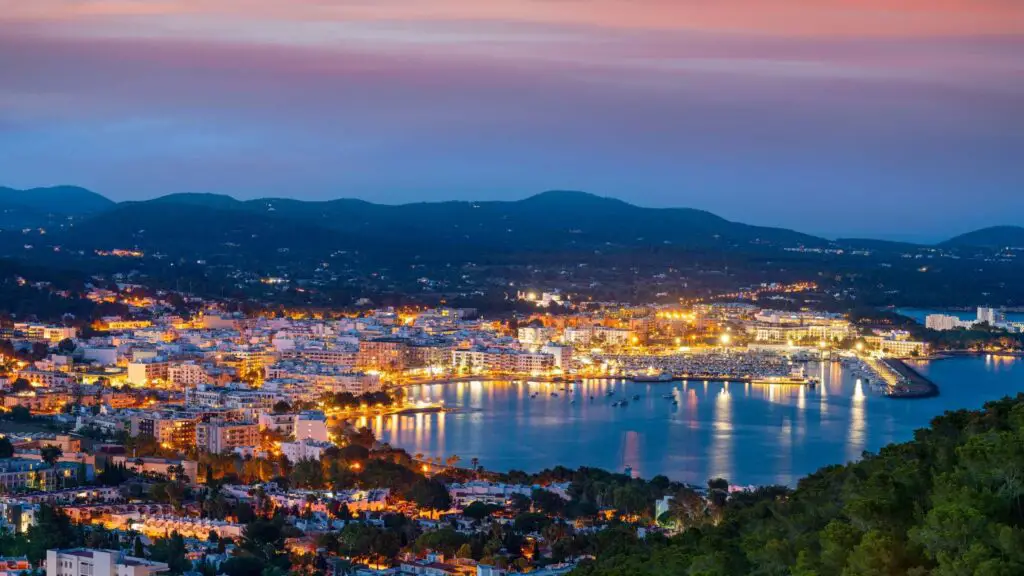 Playa d'en Bossa is the longest strip of beach on the island.
It is bursting with nightlife, making it another top spot for clubbing, home to Ushuaia and Hi Ibiza, a few of the largest clubs known for their stunning shows and famous DJ sets. 
San Antonio is the upcoming party destination in Ibiza.
Once a secret, it is now home to many cocktail bars, an array of restaurants, bars, and nightclubs.
If you want to party on a budget, go more local, with one of the islands being Santa Eulalia.
RECOMMENDED TOURS FOR YOU
WHERE TO STAY?
Can Jaume Private Villas by Ocean Drive, Casa Mamita Ibiza and Cas Gasi
MADRID
The capital is worth adding to the list of places for the best nightlife in Spain for many reasons.
Known for its sports-loving locals, rich architecture, history, iconic landmarks and attractions, Madrid is also known for its excellent nightlife.
The capital city of Spain is a mecca for partygoers thanks to its legendary all-night-long nightlife options.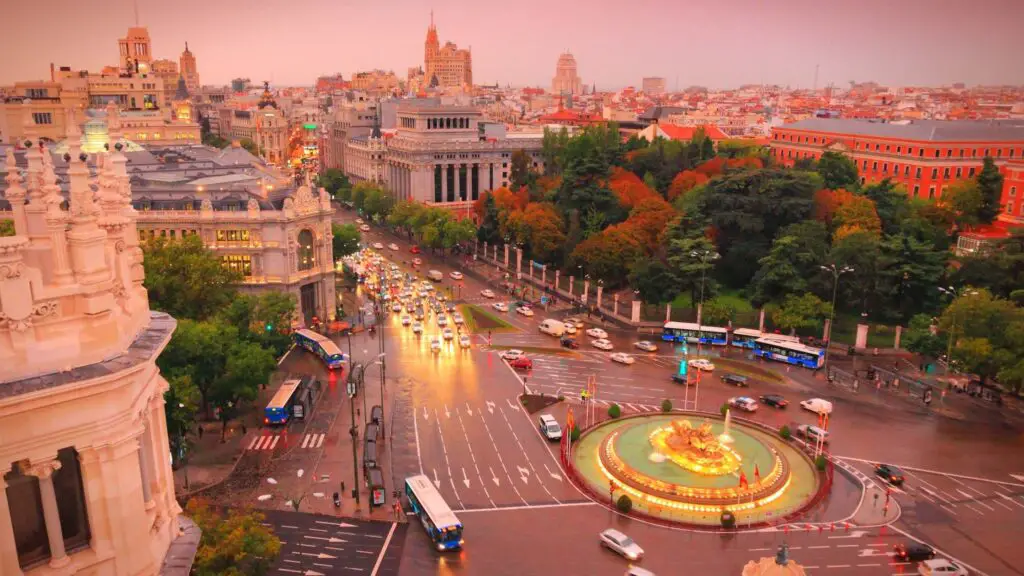 Since Madrid attracts a young and vibrant international crowd, Nightlife in Madrid can feel like a whole day event.
There is always something fun around every corner, from dance floors to clubs that only start after midnight, from flavourful and delectable cocktails to restaurants serving gourmet foods.
Also, when in Madrid, do as the locals do. Your party night ends at night or during the daytime after having a churro and a warm beverage!
Since Madrid is a big city, you will be spoilt with choices on how to enjoy your nights.
Calle Huertas neighbourhood is the most happening and popular among tourists.
Located in Madrid's Literary Quarter, Huertas is home to trendy bars, fancy clubs, cute rooftop bars, cocktail pubs, and dance floors.
There are plenty of eating options, including street food. 
But the top things to do here are visiting some brilliant taverns to try the best Spanish wine and tapas.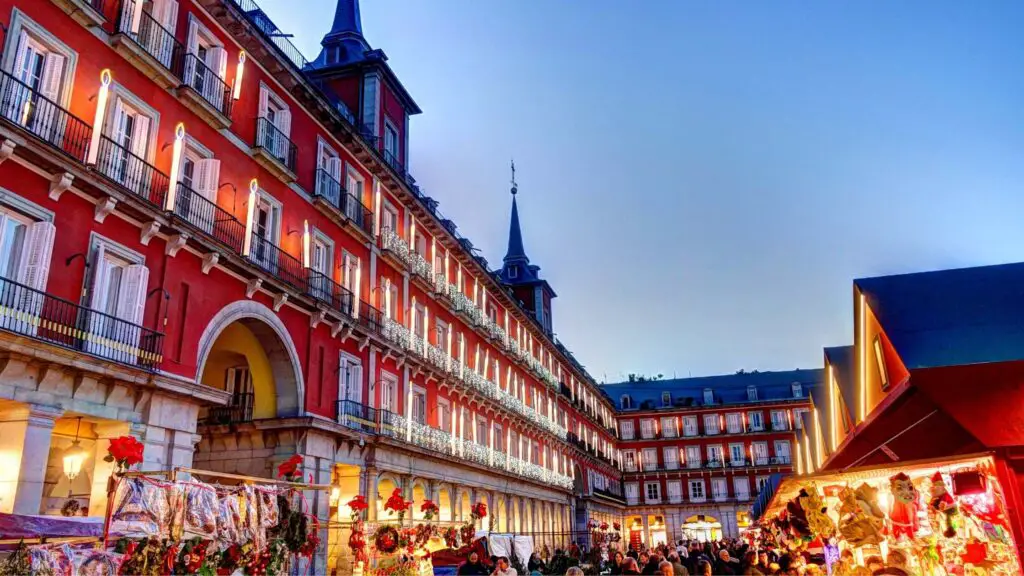 Malasaña is one of the trendiest neighbourhoods known for very cool bars.
And if you love music, you will love underground bars with rock and alternative pop here.
The Gay-friendly Chueca district comprises many LGBTQ clubs and niche bars offering a diverse culture.
The Chueca area also boasts edgy venues and famous techno clubs.
The Salamanca district is known for high-profile megaclubs, while Fuencarral is where you should go if dancing is your thing.
Avenida de Brasil, Lavapiesand Argüelles-Moncloa are other top districts for fun and entertainment in Madrid.
RECOMMENDED TOURS
GUIDED TOURS
WHERE TO STAY?
Mandarin Oriental, Palacio Tirso de Molina, Four Seasons Hotel Madrid, and Gran Hotel Inglés
VALENCIA
The port city of Valencia, located on the southeastern coast, is one of the best destinations to experience fantastic nightlife in Spain.
As one of the oldest cities in Spain with a history of over 2000 years, you can expect vibrant, thriving Spanish nightlife here, attracting diverse crowds.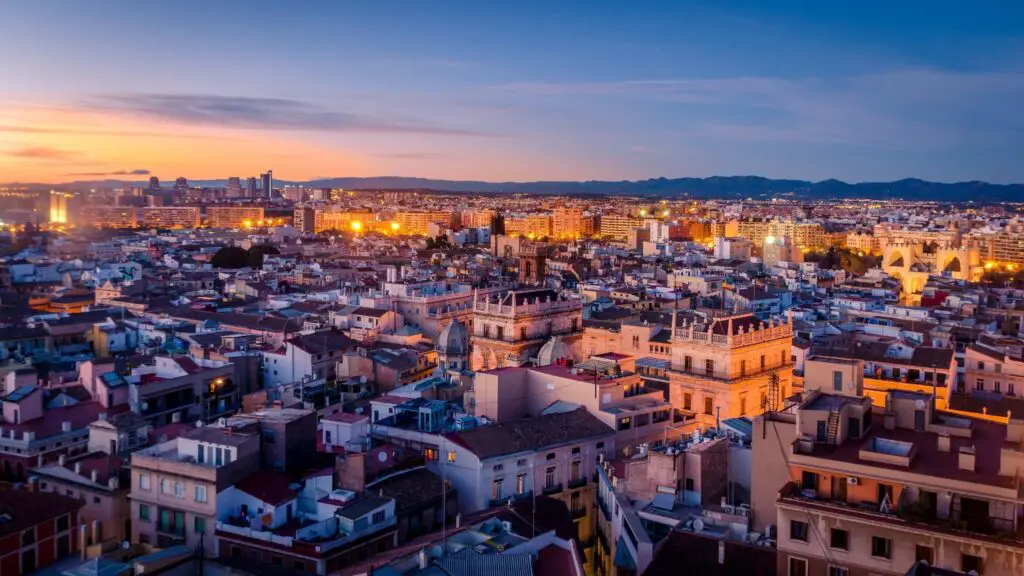 Famous for its bohemian hangouts, Valencia, the third largest city in the country, is home to stunning sandy beaches, excellent cuisines, rich history and architecture and arts.
Despite its well-established social and party scene, Valencia is the perfect party place to enjoy a more laid-back nightlife vibe you can experience at its many summer terraces and massive nightclubs throughout the city. 
Thanks to the excellent climate throughout the year and the exotic Mediterranean lifestyle, no matter when you plan your trip to Valencia, you will witness some thrilling festivals.
Nightclubs, themed cocktail bars, breweries, and tapas bars are scattered around Valencia so that you can explore the city for your picks of pleasures.
Downtown is the best place to begin and then head to the northeastern part of El Carmen.
You can find 90's parties in historic buildings turned into nightclubs on its narrow streets, which are also home to many diverse bars and clubs, open past dawn.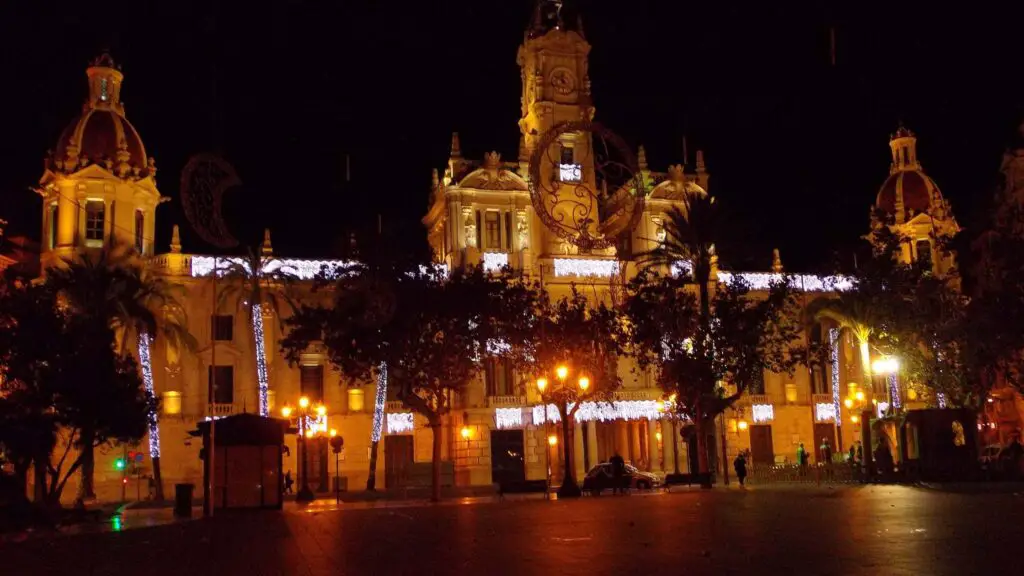 El Negrito and Aragon are more popular among the younger crowds flocking to its many rooftop bars and cool hangouts.
Valencia is one of the best destinations for nightlife in Spain for foodies.
Did you know? The famous rice dish Paella originates in Valencia.
Ruzafa neighbourhood is the best place to try all the delicacies as the district is full of bakeries, pizza shops, terraced bars and restaurants.
RECOMMENDED TOURS
WHERE TO STAY?
Palacio Vallier 5, Fetén, Helen Berger Boutique Hotel, and Marqués House Hotel Sup
MAJORCA
Another island destination for fantastic nightlife in Spain is Majorca, known for its wild nightlife that often gets too rowdy during peak seasons.
The sun-soaked resort town of Magaluf in Majorca is world famous for its nightlife along its long, fine-sand beaches.
These gorgeous beaches transform into a wild party paradise as the bars and cafes lining the promenade draw tourists with live music performances, DJ nights, and dance floors.
You can experience all quirky parties in Majorca, from neon paint to car wash parties.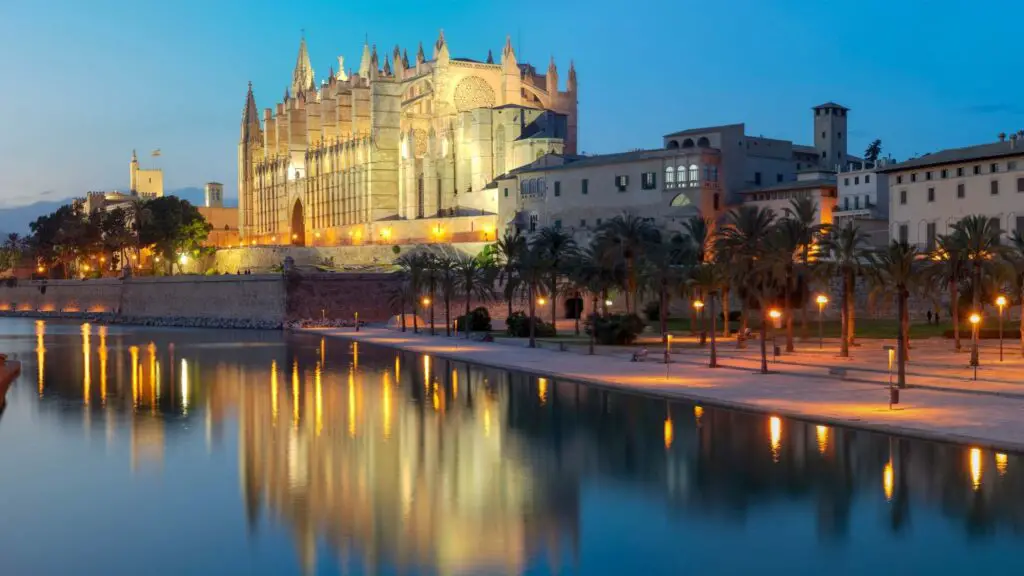 A top spot in Magaluf is the Puenta Baena or the Strip, a half a mile of pure notorious nightlife with over fifty trendy bars and five nightclubs.
BCM Planet Dance Magaluf, voted one of the top ten resort clubs in the world, is on this promenade and can accommodate at least 5000 partygoers on holidays. 
Sa Porrassa island offshore will be your type if you want to go for something milder and beyond drinking and clubbing.
This island is known for its unique theme parks hosting many night events.
WHERE TO STAY?
Ca's Cuscanti, The Salvia, Blue House Mallorca and Es Fasser
NIGHTLIFE IN SPAIN – WHERE TO GO FOR PARTIES
BENIDORM
If you are looking for destinations beyond Ibiza or Barcelona for parties, Benidorm is an excellent destination for experiencing bustling nightlife in Spain.
This seaside resort in eastern Spain in Costa Blanca was a beautiful tiny fishing village until the 1960s.
It has now become a popular Mediterranean holiday destination known for its nightlife.
The main areas where the parties happen are along its two sandy beaches, Levante Beach and Poniente Beach, 
Although it is a year-round destination, summer is the most popular season.
The streets and shores come alive with festivity everywhere, with over a hundred clubs hosting wild parties until the early morning.
RECOMMENDED TOUR
Benidorm: Show at Benidorm Palace
WHERE TO STAY?
Riviera Beachotel, Sonrisa Deluxe Apartments, and Hotel Boutique Villa Venecia
LLORET DE MAR
Costa Brava is one of the most beautiful regions in the country and a favourite among summer destinations.
Lloret De Mar, known for its gorgeous Mediterranean beaches, is one of the best destinations for nightlife in Spain if you want to party wildly.
The town boasts about 300 entertainment clubs, hundreds of bars, comedy nights, themed cocktail bars, and rooftop restaurants.
This is a large number given the size, making it the best place to go for nightlife on the Costa Brava in Coastal Spain.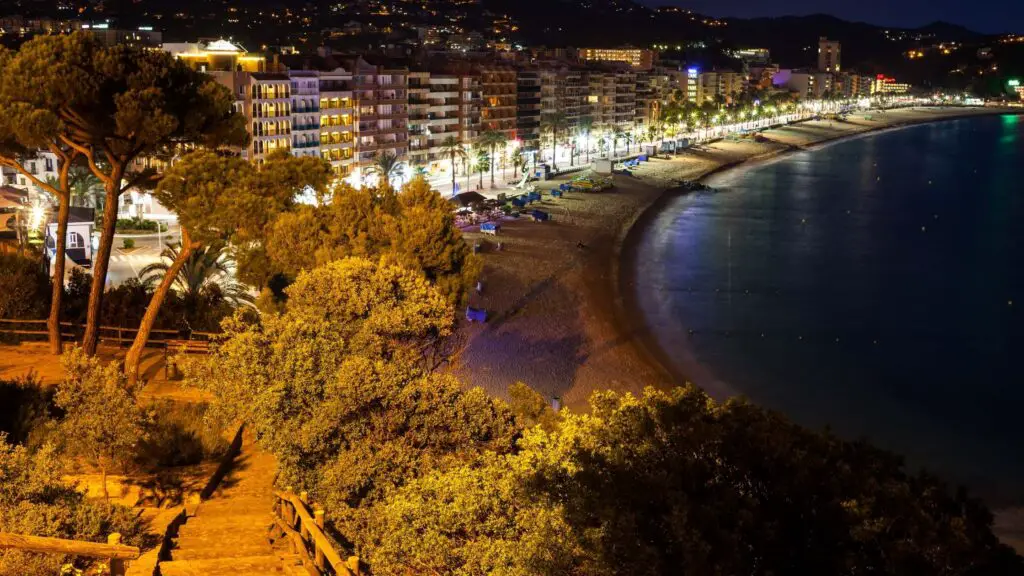 No matter the time of the year, you will get to dance away at the clubs, indulge in cocktails and tapas, and live your wildest nights in Lloret De Mar.
These are the reasons why it also has become a popular destination for bachelor and bachelorette parties.
Since it is far cheaper than Ibiza but still fun and lively, Lloret De Mar is your perfect choice to enjoy Spain's nightlife in authentic ways.
The shores of Lloret de Mar get glamorous at night, decked up with lit bars, nightclubs and pubs.
Disco bars of Lloret De Mar is very famous, and you should not miss visiting the top ones like Disco Colossos and Disco Tropics, where renowned DJs are regularly hosted.
WHERE TO STAY?
Hotel Santa Marta, Sant Pere del Bosc Hotel & Spa, and The 15th Boutique Hotel 4
GRANADA
One of the best nightlife cities in Spain that has become recently popular is Granada.
The student city is known for its stunning medieval architecture of gorgeous castles, rich history, and amazing views.
Ever since the influx of students, this youthful city has transformed into a party hub, with the list of nightclubs, tapas bars, and breweries getting longer each year.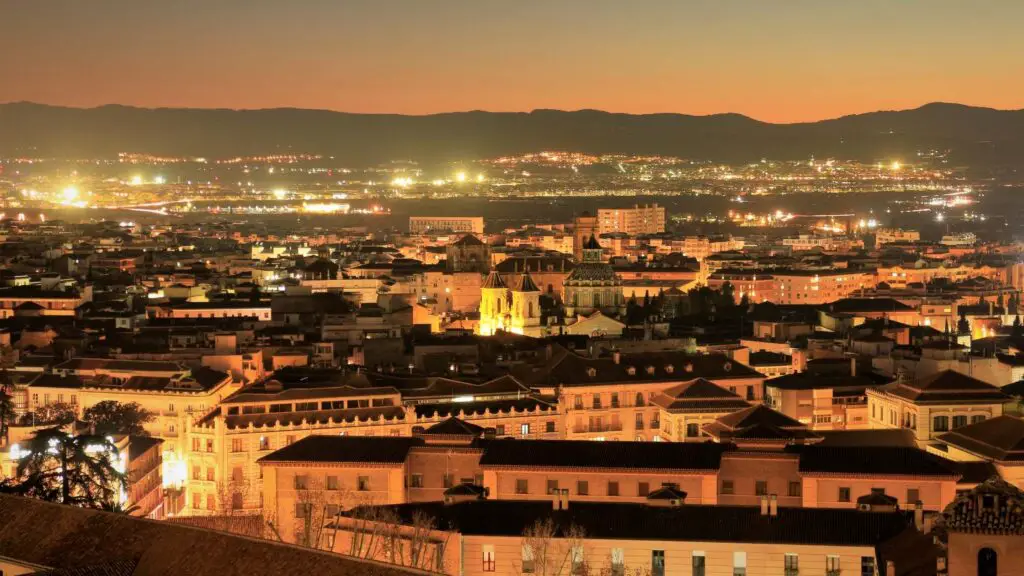 The best way to start your fun night in Granada is by checking out its many tapas bars such as Los Diamantes, and Niza.
Head to Pedro Antonio de Alarcón street for cocktail bars and rooftop restaurants.
If you prefer something fancy, head to the Realejo neighbourhood for visiting some of the most lavish pubs in the city.
WHERE TO STAY?
BiBo Suites San Agustín, Smart Suites Albaicin, ecoSmart Apartments Granada, and PATIOdeLUZ – Stylish apartments
SALAMANCA
If you are looking for another city with younger crowds, Salamanca is one of the best cities for experiencing nightlife in Spain.
It is known for its fantastic New Year's eve festival, drawing hundreds of thousands that come here for revelry, but Salamanca is one of the best destinations to experience nightlife in Spain.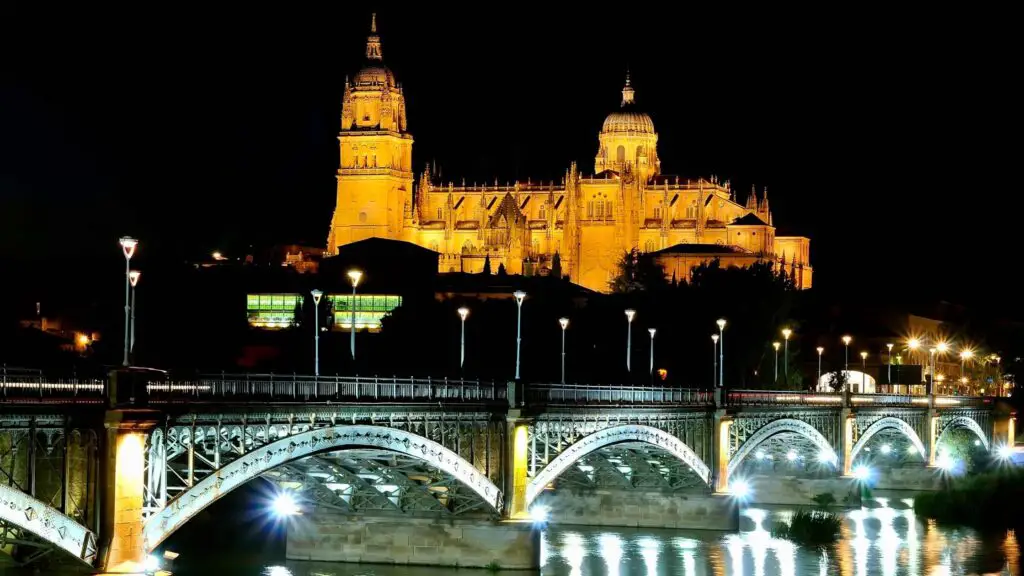 Head to the main square to find good bars, pubs and nightclubs, including the famous Gran Café Moderno and El Submarino.
Another street worth adding is Bordadores street home to speakeasy bars and nightclubs that go on all night.
BEST NIGHTLIFE IN SPAIN FOR COUPLES
SEVILLE
The largest city in the southern part of the country is known for its best nightlife in Spain.
Spend your evenings amidst ancient medieval buildings that make you go back in time with your favourite tapas and delicious food.
Seville in Andalusia is one of the most beautiful Spanish cities, synonymous with Moorish-medieval monuments, iconic landmarks and glamorous modern city vibes.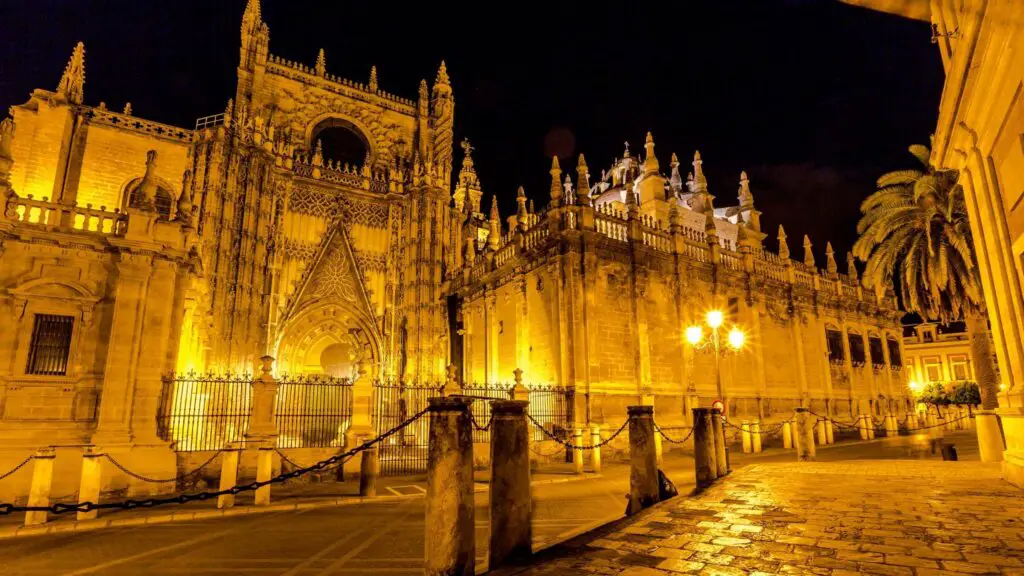 And it is also where you will love partying with your partner as the bustling nightlife is varied and romantic in the beautiful cobbled streets.
Whether you enjoy your night out in the club or want to dance and have fun, you can have it all at Seville.
One of the romantic nightlife experiences in Seville is taking a cruise along the River Guadalquivir at night for stunning views.
This Andalusian city is packed with over three thousand tapas bars in its labyrinthine old quarter streets as well as in its urban counterparts, with each tapas bar giving a unique offering.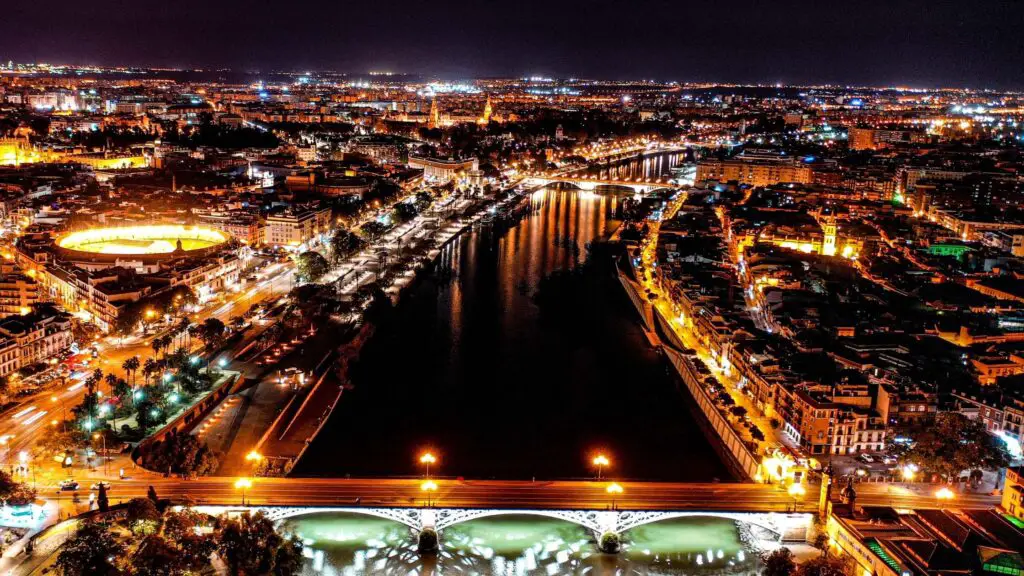 After the cruise, continue your romantic date night at Alameda De Hercules, the most famous plaza in the city, which gets crowded with locals and tourists exploring the many restaurants, bars, and nightclubs.
Your Seville nightlife is incomplete without witnessing the gorgeous flamenco dance shows. 
Hop from bar to bar along Calle Betis, including dance clubs. Head to the Metropol Parasol for gorgeous views. 
Salvadorian square is filled with popular bars, and so is the Nervion district, which is more prevalent among younger crowds.
RECOMMENDED TOURS
PRIVATE TOURS AND ENTRY TICKETS
GUIDED TOURS
WHERE TO STAY?
Hotel Gravina 51, Casa del Poeta Triana Suite & Homes, CH Apartments Boutique, and Aguilas5 SevillaSuites
ALICANTE 
Another port city ideal for enjoying the amazing nightlife in Spain is Alicante, located in southeastern Costa Blanca.
The capital of the Alicante province, this town is known for its ancient town, hilltop medieval castles and delicious food.
The Mediterranean coast of Alicante also offers bustling nightlife along its gorgeous beaches overlooking stunning views.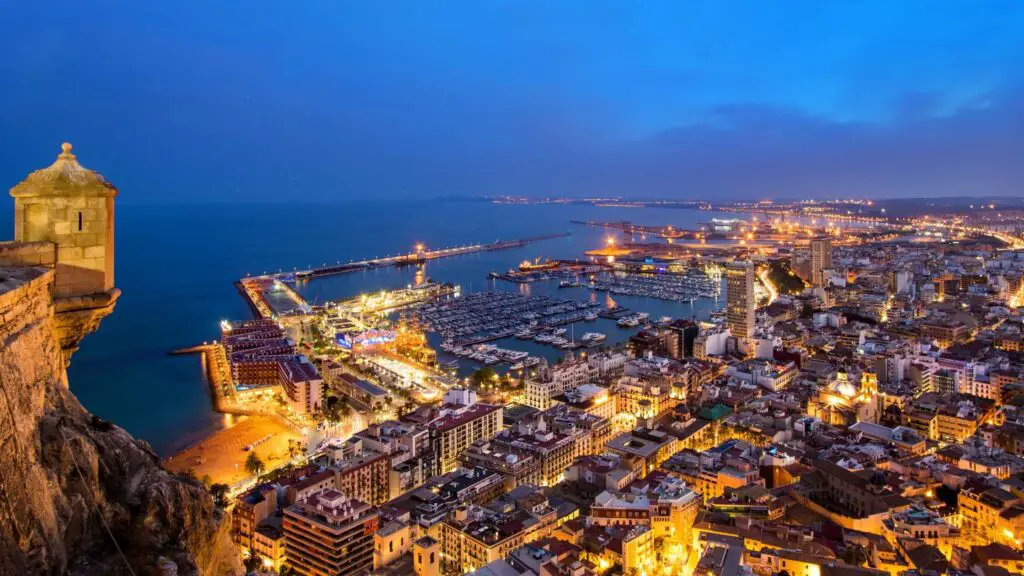 Thanks to the pleasant temperature and cheaper prices, Alicante is an alternative to Ibiza and is also a romantic getaway to enjoy beautiful date nights followed by partying all night.
You can choose from a variety of nightclubs, bars, and clubs dotted around the city.
Head to the Old District of El Barrio Antiguo, one of the liveliest areas in Alicante.
Stroll through its narrow lanes to explore the many fancy restaurants, high-spirited bars and trendy pubs.
If you fancy something high-end, late-night clubs are quite popular. 
For waterside nights, head to the port of Alicante at the foot of Santa Bárbara Castle, home to many nightclubs, restaurants, and also a casino.
RECOMMENDED GUIDED TOURS
WHERE TO STAY?
Palacio Salvetti Suites, Balmis Plaza Apartments, Tomate Rooms, and Atico Atalaya
MALAGA
Known for its student-friendly vibes and youthful crowds, not many equate Malaga, the port city, as one of the best destinations for nightlife in Spain for couples, but you can have romantic nights in this beautiful city.
Málaga on southern Spain's Costa del Sol is a famous summer destination attracting millions of visitors to its many high-rise hotels and resorts extending up from yellow-sand beaches. 
The Alcazaba and ruined Gibralfaro entice the travelers during the day with their opulent Moorish architecture and rich history during the day.
The beach promenades and downtown transform into a party paradise drawing the young and young at heart to Malaga.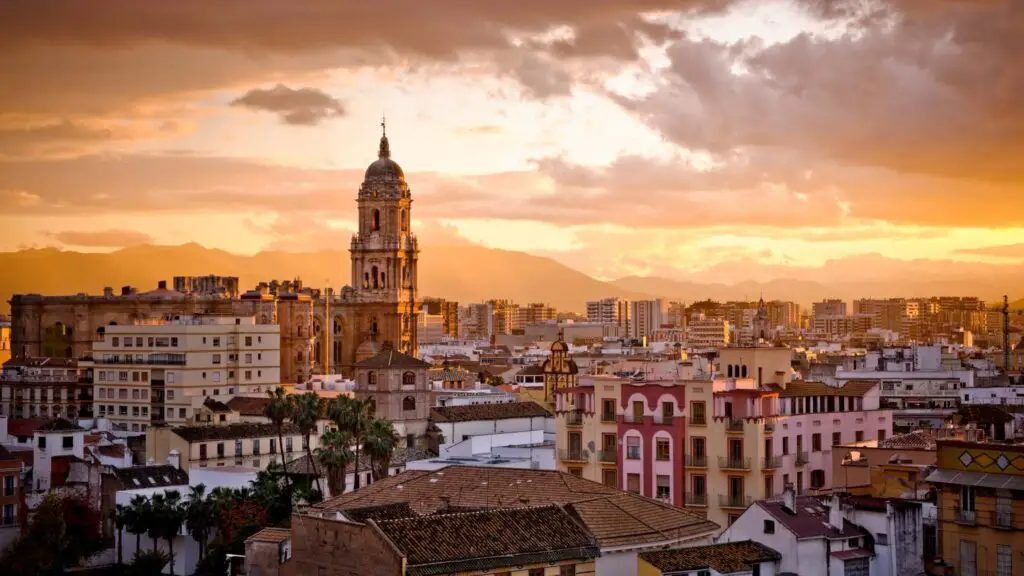 From delicious tapas bars and dance clubs to beach parties, you can choose your pleasures with your special one in Malaga.
There is nothing more romantic than going on a dinner overlooking stunning views in one of the many of Malaga's rooftop bars.
Start your night after witnessing gorgeous beach sunsets by heading to the colourful La Merced district for the best tapas bars. 
Plaza de Uncibay, Central Malaga and Plaza de La Merced are the entertainment centres in Malaga.
You will find the bustling dance floors at disco bars, the best beer and cocktail bars, rooftop restaurants, and famous nightclubs such as Sala Gold and Sala Wengé.
Check out Antigua Casa Guardia, the beautiful heritage and the oldest bar in the town.
RECOMMENDED TOURS
WHERE TO STAY?
Gran Hotel Miramar GL, Soho Boutique Castillo de Santa Catalina, Vincci Larios Diez, Be Mate Málaga Centro
SAN SEBASTIAN
The Basque country may not be your first or second choice when considering nightlife in Spain, but San Sebastian is one of the underrated destinations. 
This northern Spain city may not have the glitz of Barcelona or rowdy crowds as in Ibiza, but it has become one of the favourites among couples looking for romantic nights with a twist of parties to wind up the nights.
You will love San Sebastián if food is vital to you.
The city is celebrated for its gastronomy scenes and known for small snacks, or pintxos served in all the bars and pubs, a must with the drinks and music.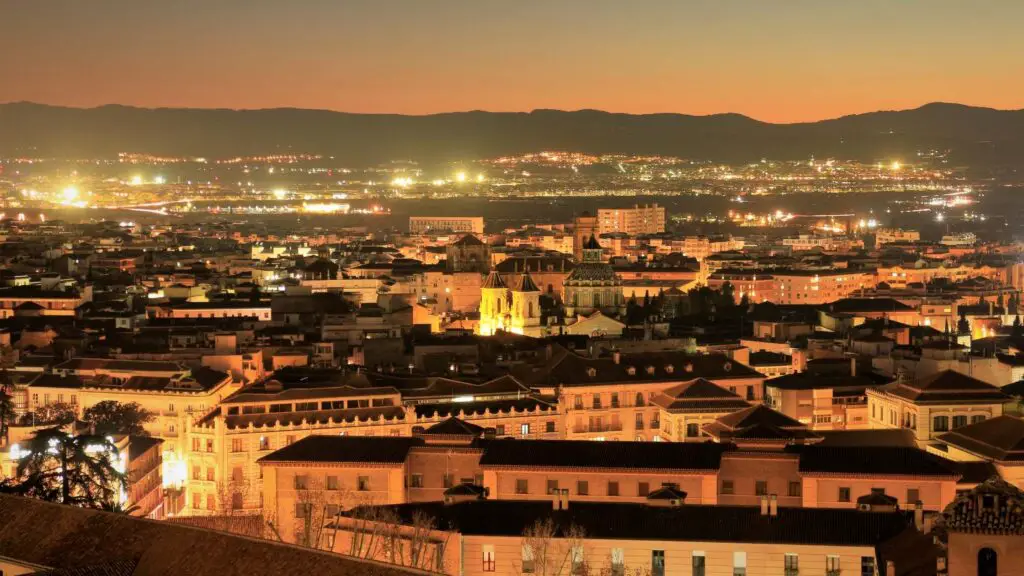 If you are more into clubs, you should check out some of the famous clubs: our Bataplan Disco and GU San Sebastián, both known for their fantastic locations and wild parties along the Atlantic Ocean until late at night.
Head downtown for local bars, and stylish pubs if clubbing is not your thing.
Do not miss trying the small snacks with your cocktails no matter when you go, because San Sebastian knows all about delicious food.
WHERE TO STAY?
Hotel Boutique Villa Favorita, Lasala Plaza Hotel, Hotel Maria Cristina, and Akelarre – Relais & Châteaux
MARBELLA
This resort town on southern Spain's Costa del Sol in the Andalusia region, surrounded by the gorgeous Sierra Blanca Mountains is famous for its long stretches of sandy Mediterranean beaches, villas, hotels, and golf courses. 
If you fancy a luxurious and romantic Spanish holiday, there is no better destination than Marbella.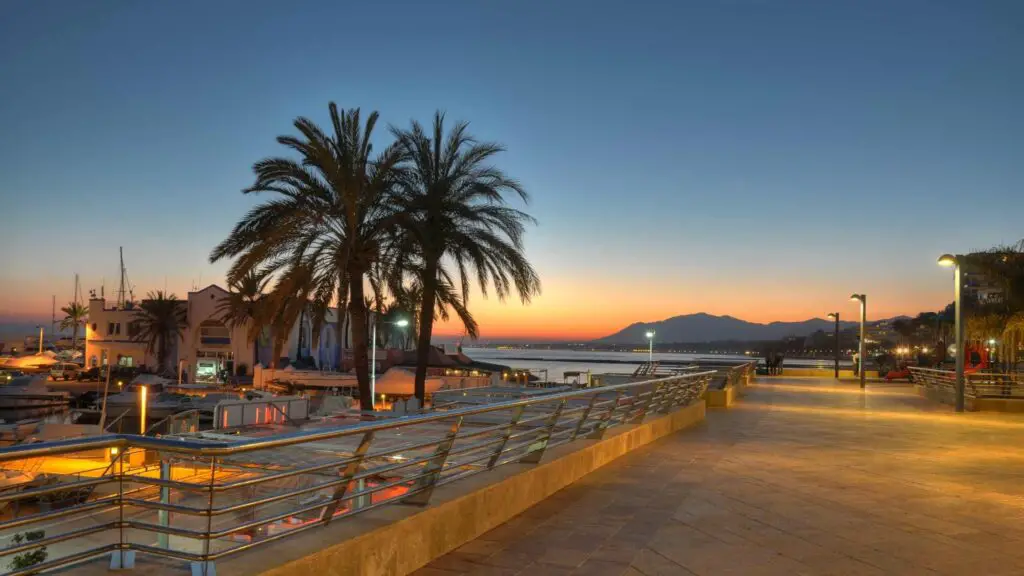 But entertainment makes it more well-known, thanks to its glitzy, glamorous nightlife encompassing prestigious nightclubs and world-famous bars. 
Head to West of Marbella town to indulge in lavish fun nights at the Golden Mile packed with fantastic late-night bars, music bars and nightclubs.
Puerto Banús marina is another area known for its upmarket boutiques and bars.
Here, find luxury yachts that you can rent for beach parties amidst pretty views.
WHERE TO STAY?
Hotel Claude Marbella, Nobu Hotel Marbella, Marbella Club Hotel · Golf Resort & Spa, and Cortijo Boutique Marbella
NIGHTLIFE IN SPAIN – BEST NIGHT TOURS 
IBIZA AND MORE
ANDALUSIA
MALAGA AND VALENCIA
CATALONIA
CANARY ISLANDS
MADRID
BASQUE COUNTRY
TIPS TO ENJOY NIGHTLIFE IN SPAIN
Here are some things about the nightlife in Spain to help you enjoy nights in Spain to the fullest.
DINNER AND NIGHTLIFE
People have dinner in Spain much later, usually at 9 PM, which is the norm.
Although in bigger cities, it is possible to dine earlier, do not be surprised if you see dinners going on all late at night.
It is customary to dine for longer hours, no matter lunch or dinner, as the Spanish consider it a big part of socialising.
So if you get invited by a local, allocate a few hours, and do not expect it to be just a formal dining invite – you will make friends.
Spaniards live life to its fullest. And you can see that in their customs around eating. For them, it's not what you eat for dinner, it's how you eat dinner.
Evening until dinner is when you can hop to tapas bars and try the best snacks with wine and beer, after which you can book your table for dinner.
Tapas bars aren't bars per se. They're restaurants and local hangouts for everyone at all times of the day.
Nightlife starts after midnight, usually after dinner. Hence it is common to find many bars not open until midnight, and many stay open until sunrise.
Wine and beer are loved by all, although when in Spain, there is no favourite.
There is no fixed time to drink, on the contrary, the Spaniards consider drinks to complement the food.
After-hour clubs are plenty in bigger cities, but you can still enjoy the nightlife in Spain in other towns at local bars and pubs until the early morning hours, which is why Spain is a popular country for wild parties and seemingly never-ending nightlife.
Drinking alcohol in public isn't legal in Spain, and depending on your destination, you will notice how stringent or lenient this rule is.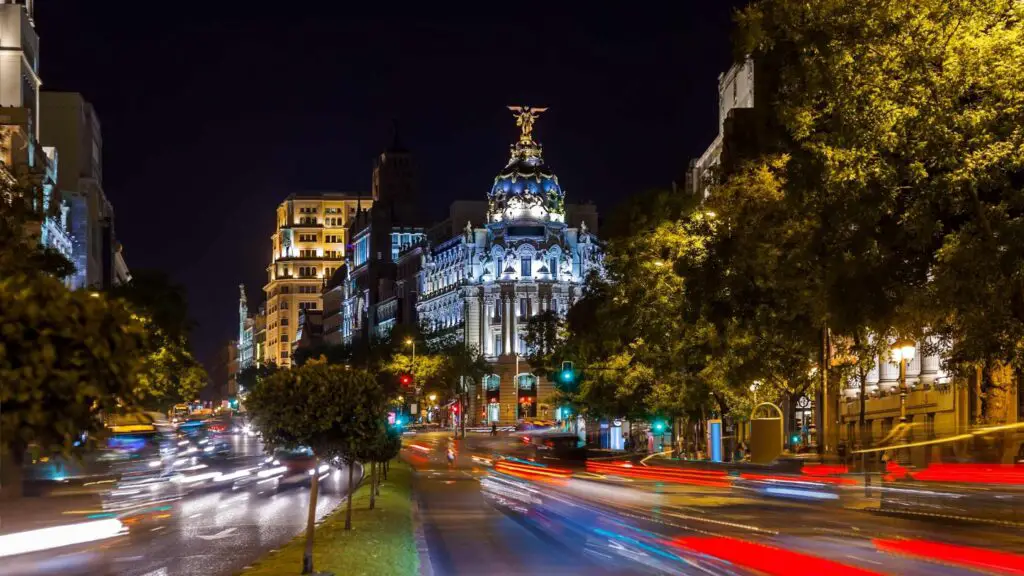 SPANISH FESTIVALS AND SHOWS
One of the biggest things about Spanish culture and nightlife is its many colourful festivals celebrated throughout the year.
When it is a Spanish festival, extravagant displays of lights, floats, dance performances, parades, loud music, drinks, a wide variety of food, endless options for entertainment and merriment are all the indispensable elements you will see.
And most holidays for these festivals go on for at least a week, so to see the complete holiday spirit and festive cheers, plan your trip during one of the Spanish carnivals.
You can find a flamenco show, one of the traditional nightlife experiences in all parts of Spain, but for authentic shows, head down south to Andalusia, where flamenco originated, specifically at Seville.
Having a breakfast of hot chocolate and churros after long hours of dancing and clubbing is also a Spanish thing.
NIGHTLIFE IN SPAIN MAP
FREQUENTLY ASKED QUESTIONS ABOUT NIGHTLIFE IN SPAIN
DOES SPAIN HAS A GOOD NIGHTLIFE?
Spain is one of the most visited countries in Europe, and one of the reasons for its high popularity is its incredible nightlife, which is a part of Spanish culture and celebrates late nights and loves social life.
WHAT IS THE PARTY CAPITAL OF SPAIN?
Based on its immense global popularity and a long history of being a renowned destination for endless wild entertainment, including 24 hours music, pool parties and clubbing, Ibiza is considered the party centre in Spain.
WHICH PART OF SPAIN IS BEST FOR NIGHTLIFE?
You can enjoy the excellent nightlife in Spain throughout the whole country.
But if you are looking for the wildest or the most popular destinations with packed crowds, coastal and southern Spain have the best to offer. 
WHAT ARE THE MOST POPULAR PARTY ISLANDS IN SPAIN?
If you are looking for island destinations, Ibiza and Gran Canaria are famous for young crowds, all-night beach and boat parties, and many clubs, bars, and pubs.
AT WHAT AGE CAN YOU GO CLUBBING IN SPAIN?
For getting entries into most clubs in Spain, the legal age of entry is 18.
It is best to carry your passport or any equivalent ID while hitting the pubs as you can expect to be asked for it in some high-profile or famous nightclubs, bars, and pubs.
Please note: This post contains affiliate links, meaning we may earn a commission if you purchase by clicking a link (at no extra cost to you). Learn more.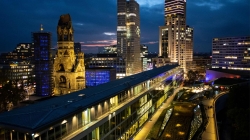 Latest posts by Anna Owen
(see all)