There are many things to do in Berlin at night. The city's nightlife is legendary, but its charm goes beyond its world-renowned clubs.
From vibrant markets to culinary delights, this city has transformed into a treasure trove of cultural opportunities after the fall of the Berlin Wall in 1989.
If you are looking for where to go in Berlin at night or things to do at night in Berlin, don't worry! 
This post will take you on a spectacular journey through Berlin's illuminated streets and hidden corners.
This city is a haven for history enthusiasts since you can get a chance to explore the UNESCO World Heritage Sites, one of the famous Berlin night activities.
Whether you are a night owl seeking the best dance floors, a culture enthusiast seeking exhibitions, or a foodie craving Berlin's delectable late-night bites, this guide will help you discover the best Berlin night attractions.
So turn up the volume and make some unforgettable memories; it's time to embrace Berlin's wild, vibrant, and utterly fabulous nights!
If you want to rent a car to explore Berlin city at night, check out Rental Cars, which has a wide range of car options with affordable pricing.
If you are looking for things to do at night in other major European cities, check out these posts:
TOP THINGS TO DO IN BERLIN AT NIGHT
ADMIRE THE STUNNING CITY VIEWS FROM THE BERLIN FERNSEHTURM
One of the most exciting things to do in Berlin at night is to take in the beautiful city vistas from Fernsehturm, the iconic TV Tower and the tallest building in Berlin in Panoramastraße 1A.
Originally conceived as a symbol of communist power, the Berlin TV Tower has since transformed into a representation of the city's strength and influence. 
Rising a staggering 368 meters into the night sky, it is not only Berlin's tallest structure but the tallest in the entire country.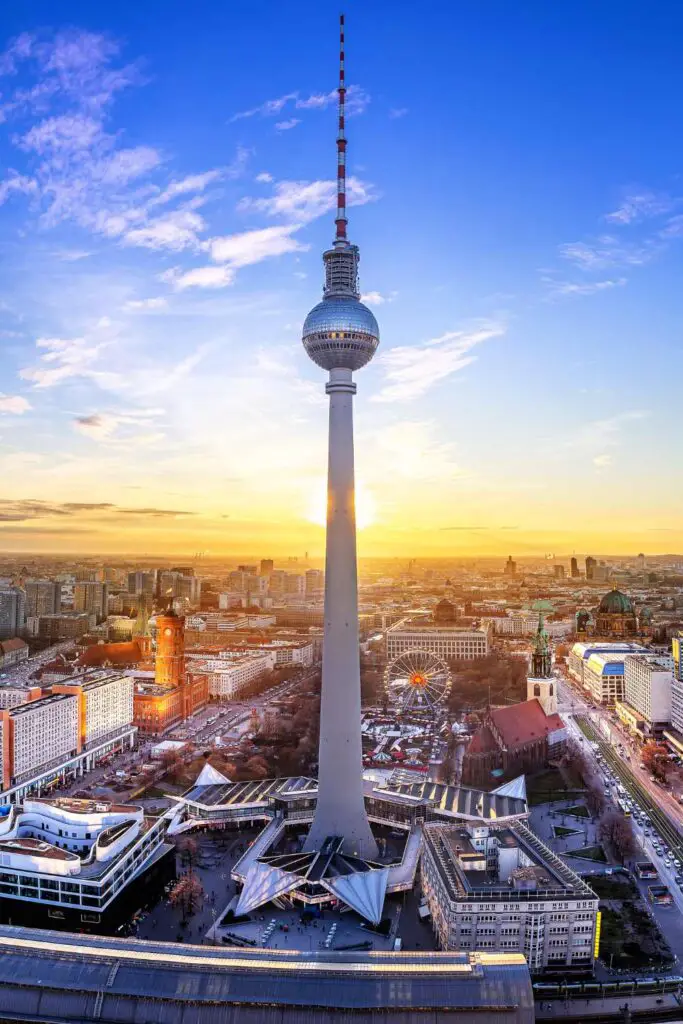 To reach the tower's summit, you have two options: climb 986 steps or opt for a swift elevator ride. 
Once at the top, just above the visitor's platform, you will find the Telecafe restaurant – a luxurious dining spot offering some of the most beautiful city vistas.
For an even more remarkable dining experience, consider the Window Table Restaurant Ticket at the Sphere restaurant. 
The restaurant hosts live music events featuring various artists and genres, making your meal an auditory delight.
You can even buy a ticket which covers admission, a welcome drink, and a sumptuous three-course meal. 
To make the most of your visit, don't miss Bar 203, perched a whopping 203 meters above the ground. 
This spectacular bar offers the ultimate vantage point to soak in Berlin's vibrant nightlife from a unique perspective. 
Its spacious, modern design allows you to fully immerse yourself in the ever-changing views that stretch out before you.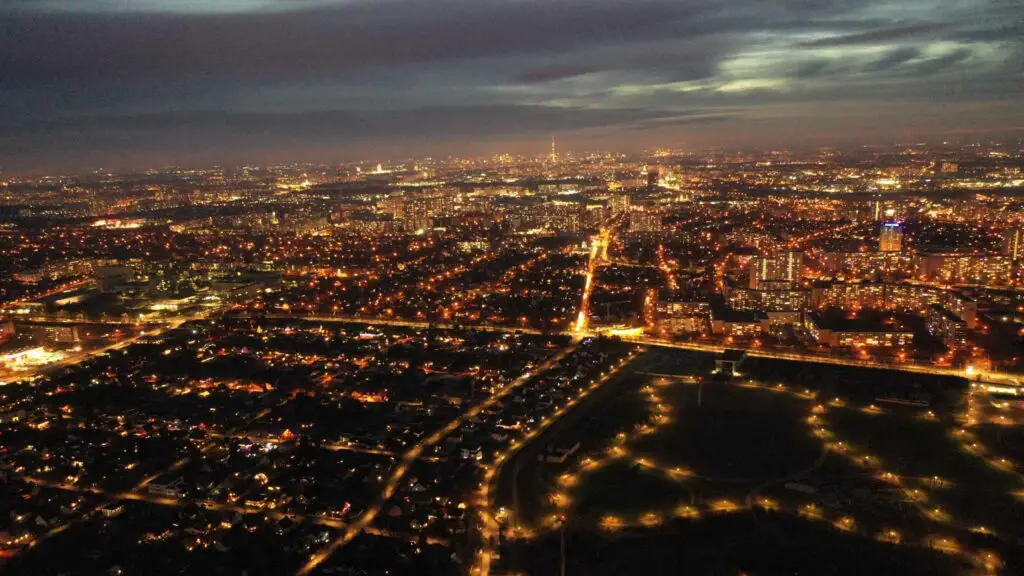 What sets Bar 203 apart is its 360-degree rotation every 30 minutes. 
As you sip your favourite cocktail, you will be treated to a mesmerizing tableau of Berlin's cityscape, evolving before your eyes.
Don't miss this chance to elevate your Berlin adventure to new heights – book your tickets here and prepare to be dazzled.
DINE AND DANCE AT CLÄRCHENS BALLHAUS
One of the best places to visit in Berlin at night for a state-of-the-art wine, dining and dance experience is Clärchens Ballhaus.
Clara Bühler and her husband Fritz founded Clärchens Ballhaus, which has served locals and tourists since 1913.
It has been a top-notch entertainment place for Berliners, making it one of the fun things to do in Berlin at night.
Throughout its rich history, Clärchens has delighted patrons with delectable dinners and hosted live band performances that ignite the dance floor.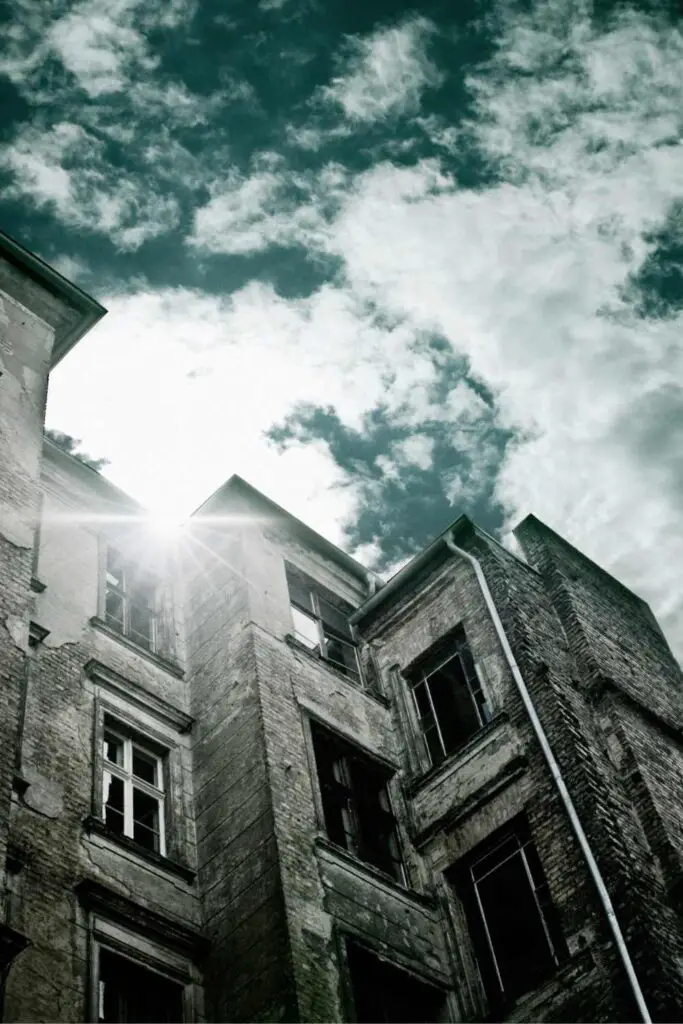 When you step inside, don't miss the opportunity to explore the Hall of Mirrors, meticulously preserved in its original splendour. 
If you are with your partner or loved one, you are in for a special romantic dinner and a few graceful dance moves.
Did you know that Clärchens is today the last surviving ball house from the twentieth century, a testament to its enduring legacy?
So don't miss visiting this one of the unique Berlin night activites.
CHILL OUT AT BERLIN ICE BAR EXPERIENCE 
One of the top things to do in Berlin at night is to visit the Ice Bar in Spandauer Straße.
Witness a frosty wonderland adorned with jaw-dropping ice sculptures.
At Ice Bar, everything is crafted from ice, from the seats to the glasses which will be served for your drinks.
The catch is its limited capacity. With space for only ten guests at a time, you will want to book your tickets in advance to secure your spot. Book here.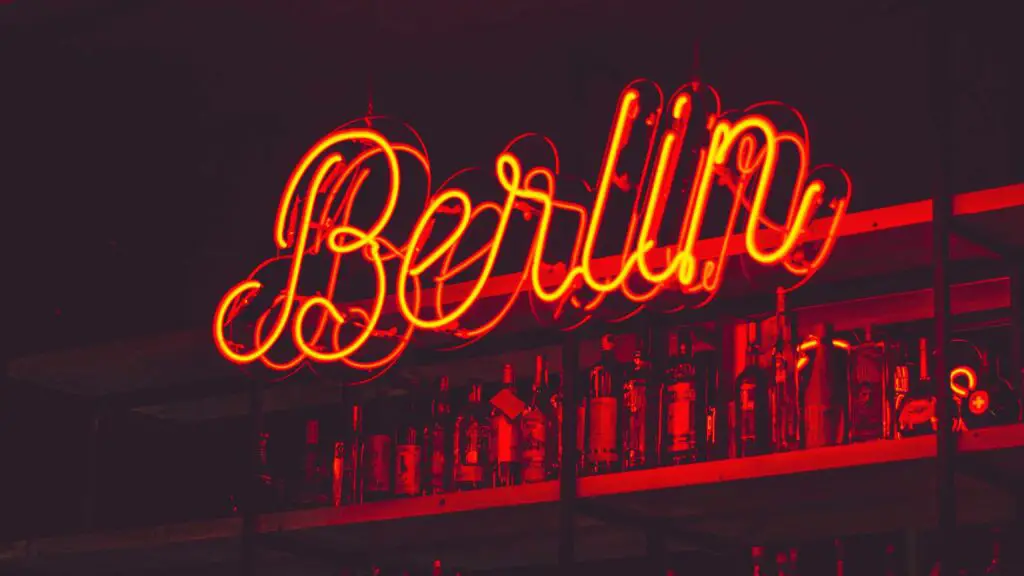 Your booking includes a welcome drink and two more icy concoctions, all served in the most fantastic setting in town.
And don't worry about the cold – they will provide warm jackets and gloves, so you can stay toasty while you chill.
The Ice bar will usually be open from 5 PM until midnight from Wednesday to Sunday, making it one of the famous Berlin evening activities.
VISIT THE PARLIaMENT BUILDiNG
One of the best things to do in Berlin at night is to visit the Parliament building, also called the Reichstag, located on Platz der Republik.
The Reichstag holds a special place in Berlin's history. 
It serves as the seat of the German parliament and represents a powerful symbol of democracy for the entire nation.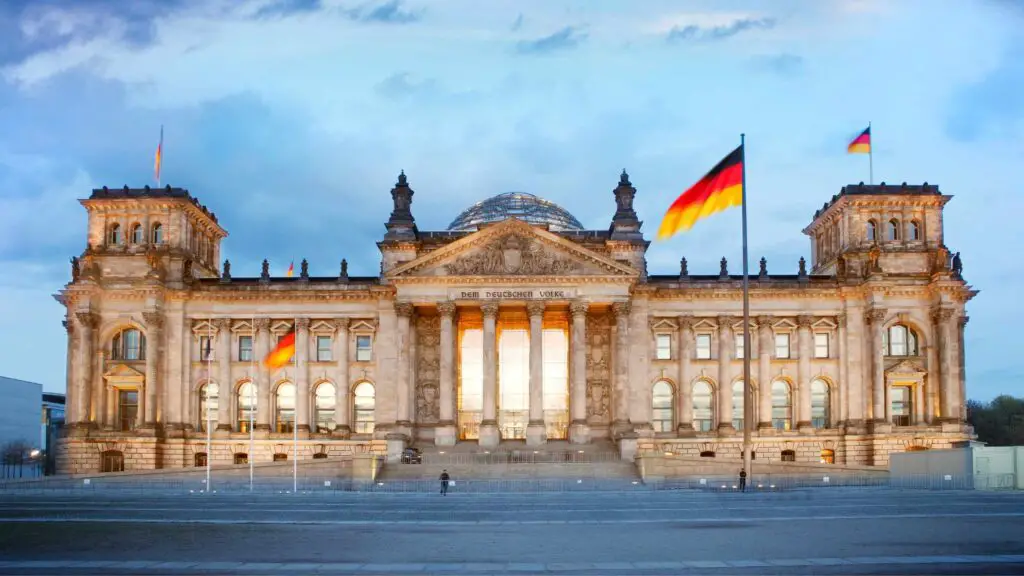 But visiting this monumental landmark at night unveils an entirely different and mesmerizing experience.
A massive mirrored fountain in the dome's heart creates a stunning spectacle, reflecting the dwindling sunlight, a sight to behold.
Initially constructed in 1894, the Reichstag faced a tragic fire that led to the complete collapse of its central dome in 1933. 
During the turbulent years of war, it endured brutal attacks, resulting in a complete reconstruction of the building in the 1960s, except for the dome.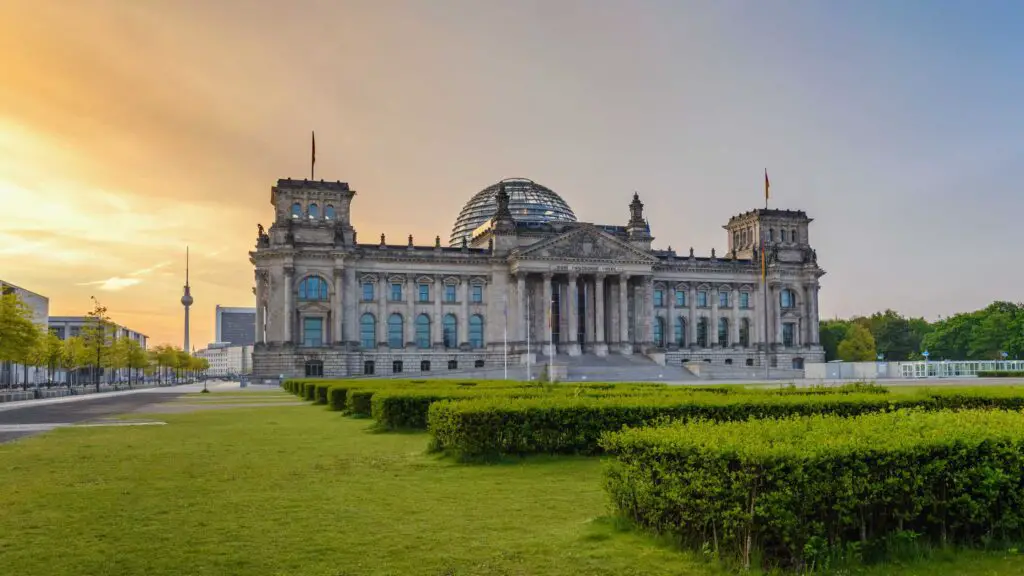 However, after the reunification of Germany in the 1990s, a marvellous modern dome was constructed, offering the panoramic view visitors adore today.
So, consider dining at the rooftop restaurant to make the most of your Reichstag experience. 
It offers a splendid vantage point to admire the illuminated cityscape below while enjoying a delightful meal.
Book your tickets here to witness this iconic landmark.
VISIT THE BRANDENBURG GATE 
If you are a history buff looking to explore the city's nook and corners to learn more about Berlin, head to Brandenburg Gate.
Inspired by the Acropolis in Athens, this monumental structure boasts twelve majestic neo-classical columns.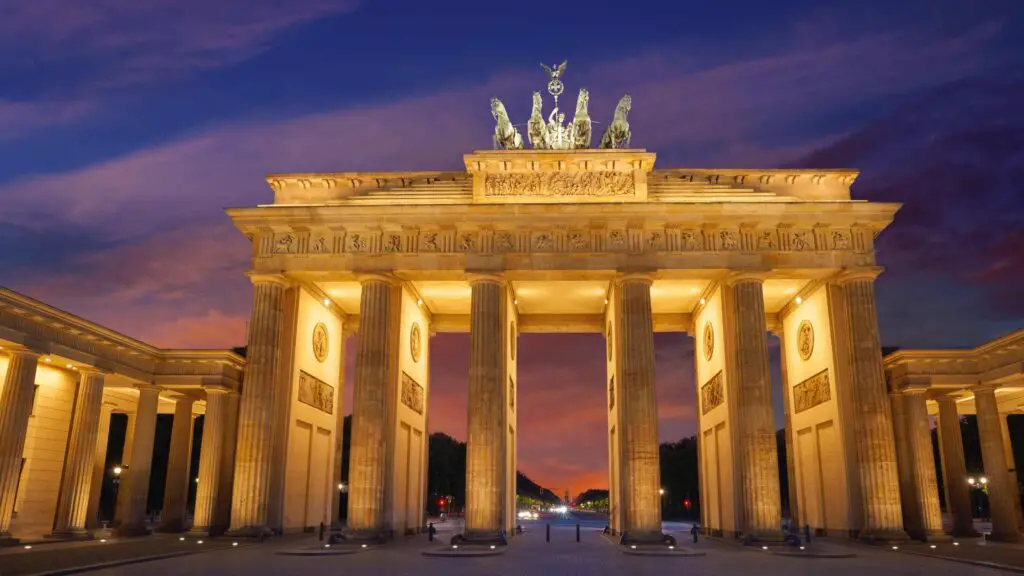 It holds a profound place in Berlin's history, making it one of the cool things to do in Berlin at night.
Built in 1791 under the patronage of the Prussian Hohenzollern monarchy, the gate served as a dramatic and ceremonial entrance to the Kingdom of Prussia.
Originally named the Peace Gate, it was commissioned by Frederick William II during the late 1700s.
The gate features five passageways, though citizens were initially only allowed to use the outer two on each side. 
On the top of the gate was Quadriga, a magnificent chariot bearing the goddess of peace drawn by four horses.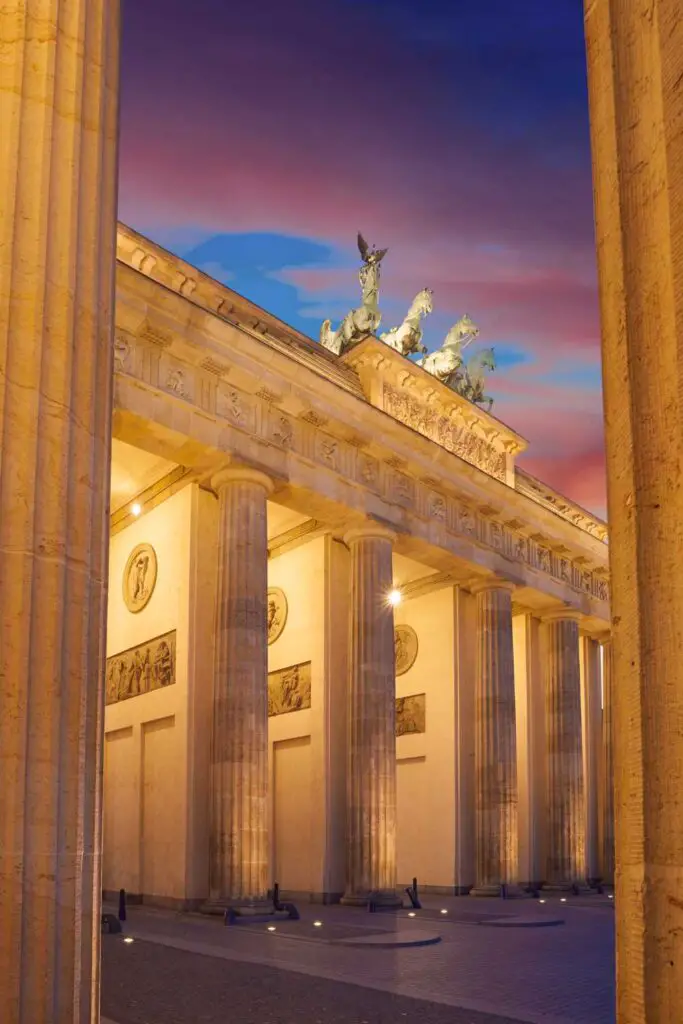 In 1806, after defeating the city, Napoleon made a triumphant entry through the gate and carried off Quadriga to France. 
Berlin eventually recovered it in 1814, transforming the gate and its triumphant goddess into a symbol of victory adorned with an iron cross and an eagle.
Subsequently, during the Nazi regime's rise to power, the gate was co-opted as a symbol for their party. 
Despite suffering damage during World War II, the Brandenburg Gate remained standing at the war's end. 
In 1989, it once again assumed a new role, symbolizing freedom and the reunification of Berlin when the Berlin Wall fell.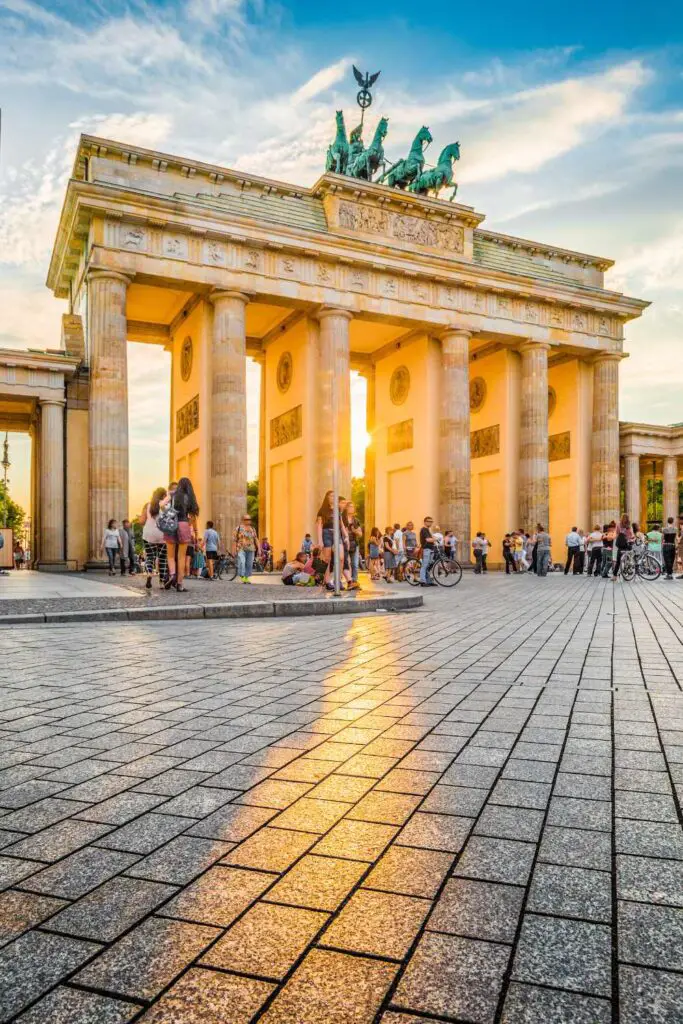 Today, the Brandenburg Gate transcends its historical roots, standing as a powerful symbol of European unity and peace. 
As you explore its imposing presence, please take a moment to reflect on its storied past and the enduring spirit of unity that it represents.
Check out these night tours to witness this piece of history.
DISCOVER THE ALLURE OF OBERBAUM BRIDGE ON A WALKING TOUR
Built as a symbol of reunification in the 1800s, the Oberbaum Bridge is another iconic attraction and is one of the cool places to visit in Berlin at night.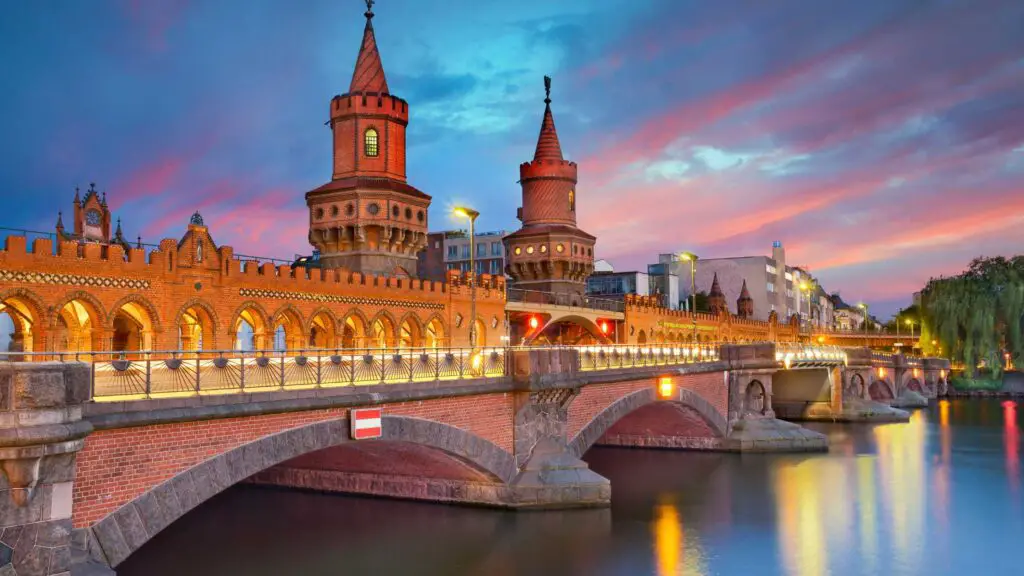 This magnificent bridge gracefully spans the peaceful River Spree, acting as a vital link between the vibrant neighbourhoods of Friedrichshain and Kreuzberg. 
Take a night walking tour to witness this architectural marvel adorned with medieval turrets and arches that harken back to a bygone era.
What adds to the Oberbaum Bridge's mystique is its adorned façade, a canvas for mesmerizing street art and graffiti.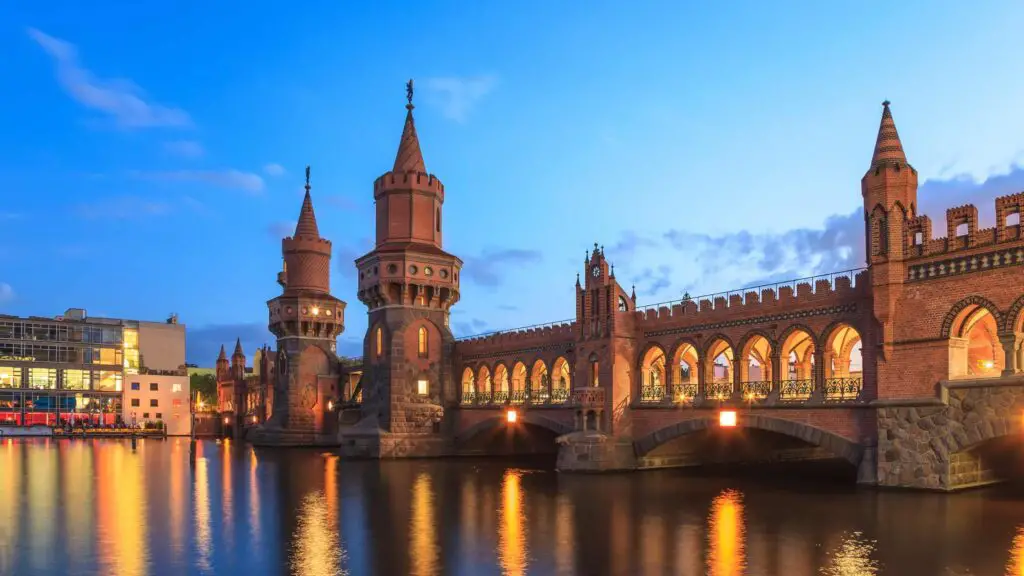 This infusion of urban creativity has led to its cameo appearances in renowned films like "Run Lola Run" and "The Bourne Supremacy."
Meet the locals around who can provide unique insights into the bridge's history and its enduring significance. 
EXPLORE THE MUSEUM ISLAND
One of the top and most exciting things to do in Berlin at night is to explore Museum Island, nestled along the banks of the beautiful River Spree in the heart of Berlin.
Museum Island is home to five of Berlin's most renowned museums, which include the New Museum, the Altes Museum, the Bode Museum, the Pergamon Museum and the Berlin National Gallery.
As a part of the UNESCO World Heritage Site, Museum Island captivates visitors with its architectural grandeur, illuminated under a tapestry of artificial lights.
Collectively, they form Berlin's Acropolis of the Arts, making it one of the cool Berlin things to do at night.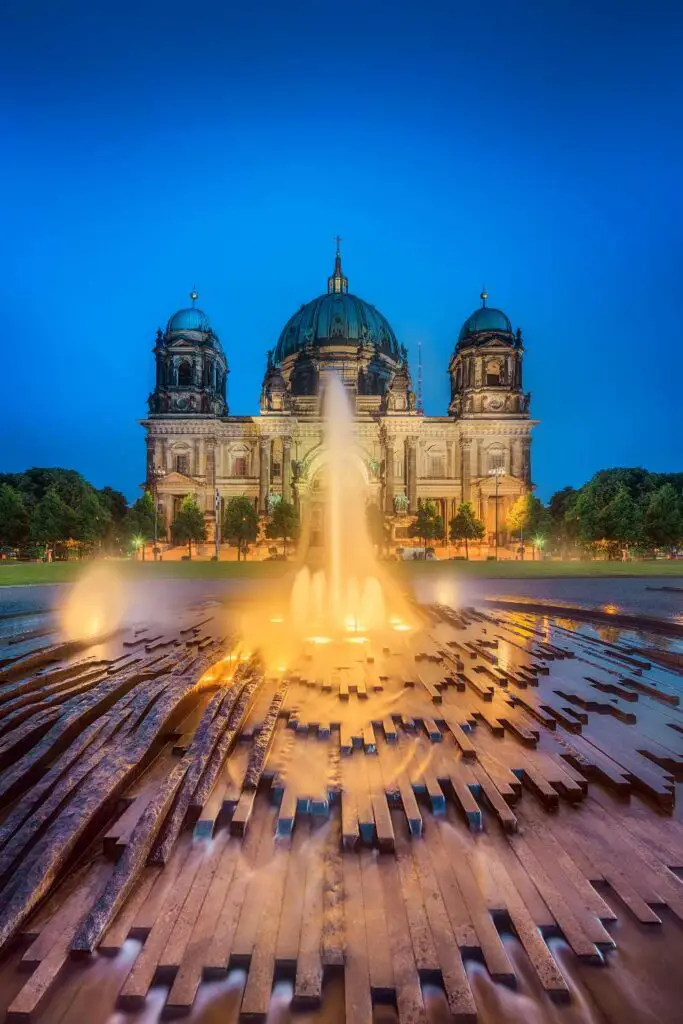 Their exhibits represent an invaluable cultural and architectural legacy given to the world.
Take the S-Bahn to Alexanderplatz or Hackescher Markt, both conveniently accessible gateways to this gorgeous realm of culture and history. 
GO ON MIDNIGHT EXPEDITION AT THE LONG NIGHT OF THE MUSEUMS
One of the best Berlin things to do at night is participate in the Long Night of the Museums.
This unique event, which started in 1997, unfurls once a year, typically in August, and is one of the top things to do in Berlin at night.
Around 75 museums swing open their doors to the public, inviting explorers to delve into art, history, and culture until the clock strikes 2 AM.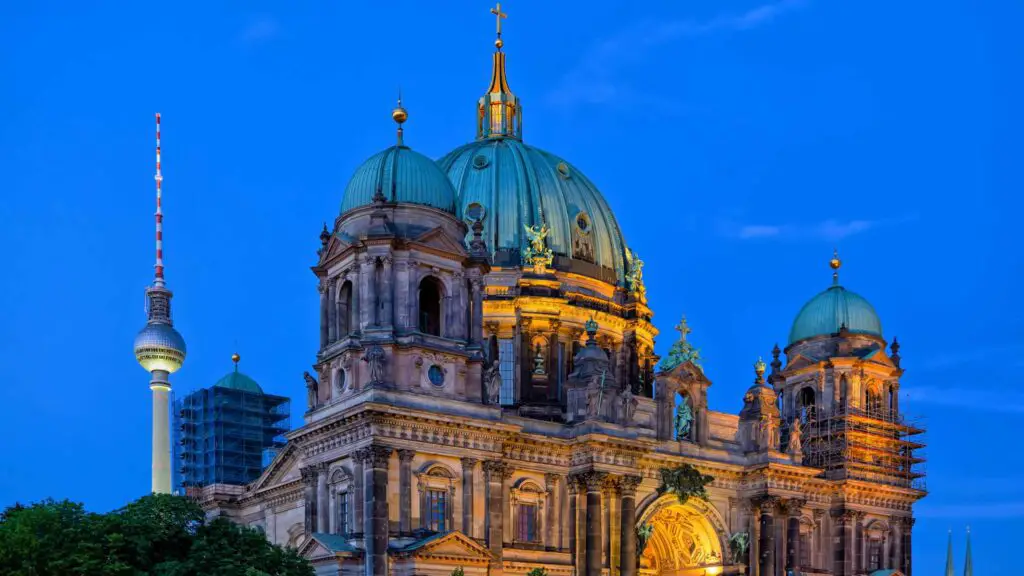 Museums taking part include many on Museum Island and exclusive gems like the Stasi Museum and the private Samurai Art Museum.
If you time your visit right, you will witness a treasure trove of rare artefacts often concealed from public view. 
These museums also treat visitors to engaging activities, from fascinating trivia sessions to exciting talks, all while indulging in delectable dishes that tantalize the taste buds.
I recommend booking your tickets here in advance since this is one of the best Berlin night activities.
CRUISE UNDER THE STARS 
One of the most romantic things to do in Berlin at night is to go on a boat tour along the River Spree.
You will be greeted with a German cuisine four-course meal and a complimentary welcome drink, beer or wine.
As you drift along the gorgeous 400 km River Spree, the lifeline of Berlin, you will be treated to a 2.5-hour guided boat tour that unveils fascinating insights about each iconic attraction you pass.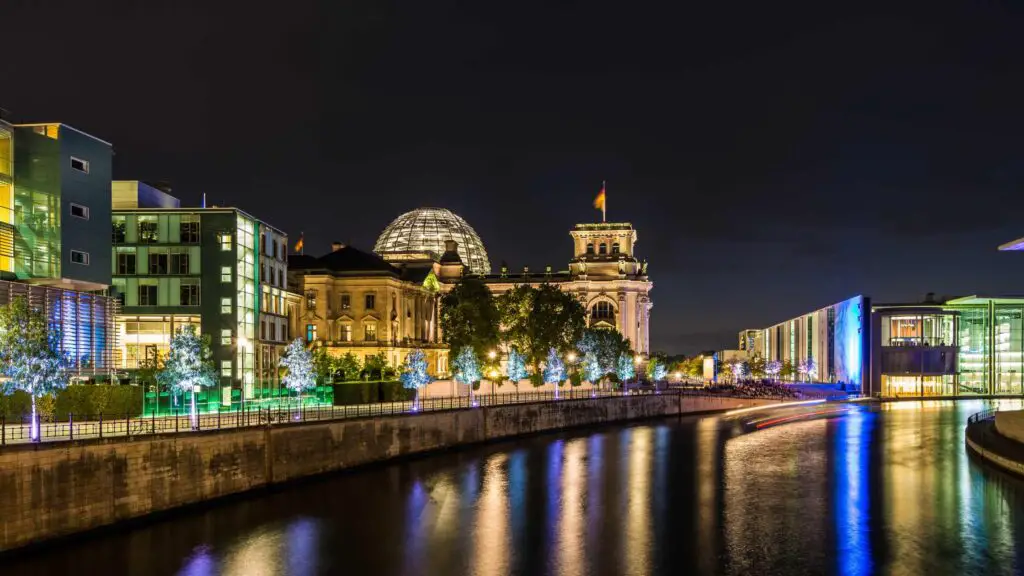 Admire the historic Museum Island, the captivating government district, the majestic Bellevue Palace, and the Reichstag Building, all beautifully illuminated against the dark canvas of the night.
Start your evening adventure by purchasing advance tickets here for the cruise. 
There are many customized cruise options available which offer various drinks and beverages.
Most of them set sail from the vibrant Friedrichstraße. 
Book your cruise here.
SEE THE SIGHTS ON AN EVENING SIGHTSEEING TOUR BY BUS 
One of the best things to do in Berlin at night is to hop aboard a sightseeing tour bus.
This enchanting 45-minute ride runs through the heart of the city and is one of the must-do Berlin night activities.
Sit on the top of the bus, feel the wind in your hair and witness the city's transformation into a dazzling masterpiece. 
Opt for an audio guide, which is usually available in multiple languages.
You will pass iconic landmarks like Checkpoint Charlie, Brandenburg Gate, Alexanderplatz, Potsdamer Platz and Museum Island.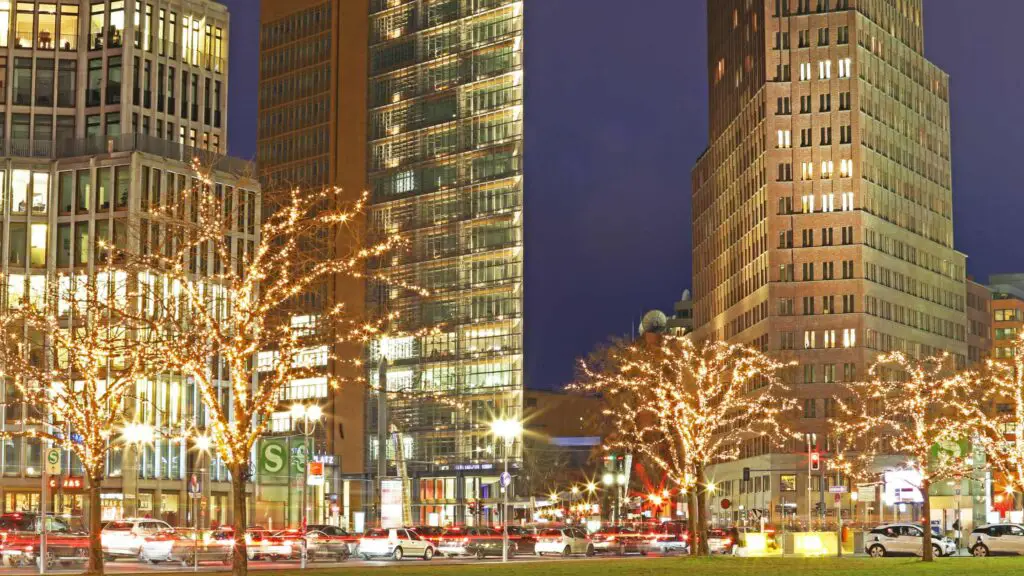 If you are wondering which Berlin places to visit at night, secure your tickets here for this extraordinary bus tour in advance and let the city's beauty captivate your heart.
Book your tickets for the Berlin night tour bus here.
ENJOY A DINNER IN THE DARK AT UNSICHT-BAR 
One of the unique things to do in Berlin at night is to embark on a culinary adventure at Unsicht Bar.
While Berlin city at night boasts diverse European cuisines, Unsicht-Bar is an extraordinary dining experience that redefines how you perceive food.
At Unsicht-Bar, one key element of the dining experience is intentionally removed: your sight. 
This unique restaurant invites you to explore the world of flavours, textures, and aromas with heightened senses, all while dining in complete darkness.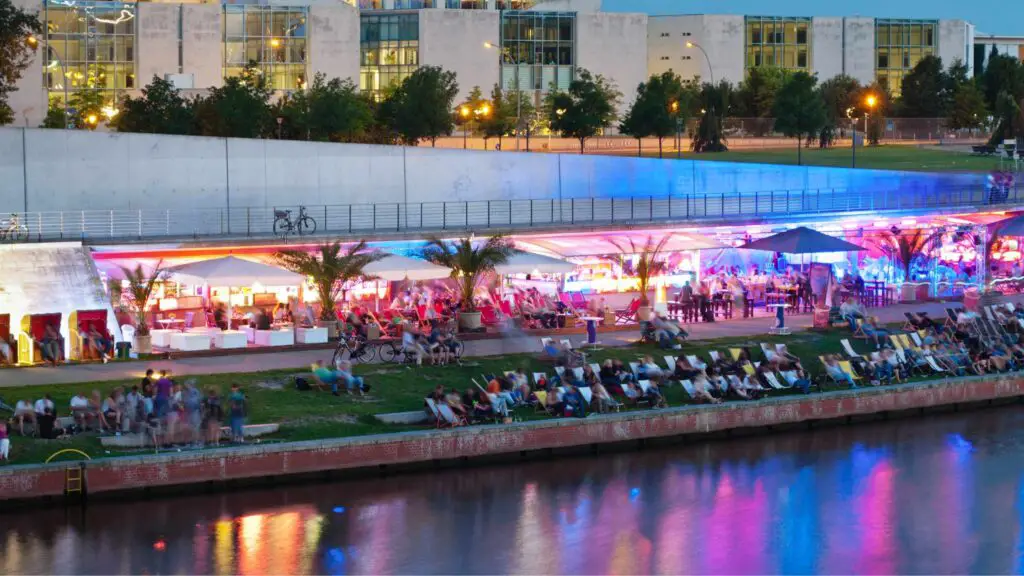 It's a journey that places your taste buds at the forefront.
Guiding you through this exceptional culinary experience are the restaurant's trustworthy guides, all blind or visually impaired. 
They skillfully navigate the dark place, assisting whenever needed.
Unsicht-Bar eliminates external distractions, such as lights and screens, allowing diners to fully immerse themselves in the sensations of taste, touch, and smell.
The three-course dinner promises to tantalize your senses and challenge your perceptions.
Book your tickets here for this unique adventure.
DISCOVER BERLIN'S DARK SECRETS ON A WALKING TOUR
One of the exciting things to do in Berlin at night, especially if you are a history buff, is to go on a medieval walking tour.
Exploring Berlin in the evening is a magical experience in itself.
But this spine-tingling experience takes you through Berlin's best-kept secrets, steeped in the eerie ambience of the Dark Ages.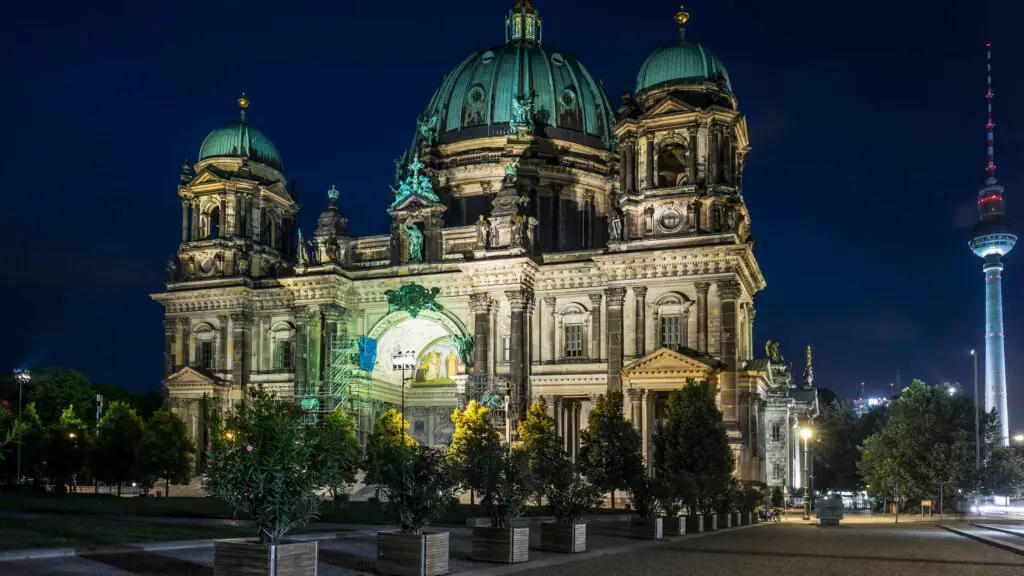 On this tour, your guide will escort you through contemporary Berlin.
Learn about the myths, legends, witch hunts, and medieval-style torture, all set against the backdrop of modern-day Berlin.
You will pass by intriguing sites like Alexanderplatz, also known as the "Devil's Pleasure Garden," where you will unravel the mysteries of Germanic witch hunts.
Throughout the tour, you will hear gripping stories of Berlin's resilience in the face of significant disasters.
If you have more time, head to the city centre to uncover its lesser-known attractions, hidden even from the locals.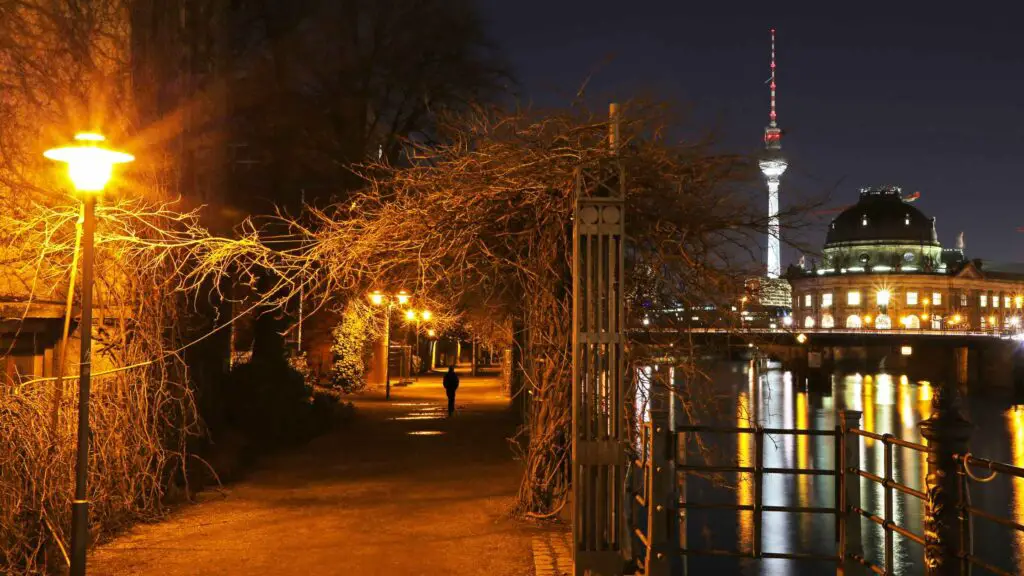 The tour usually starts in front of Commerzbank, opposite the Alexanderplatz S-Bahn station.
Book your tour here for this exciting Berlin evening activity.
ENJOY A ROYAL DINNER AT CHARLOTTENBURG PALACE
If you want to enter a bygone era of luxury and extravagance, visit the Charlottenburg Palace on Spandauer Damm, one of the cool things to do in Berlin at night.
At this palace, candlelight dances on gilded surfaces and the strains of classical music fill the air.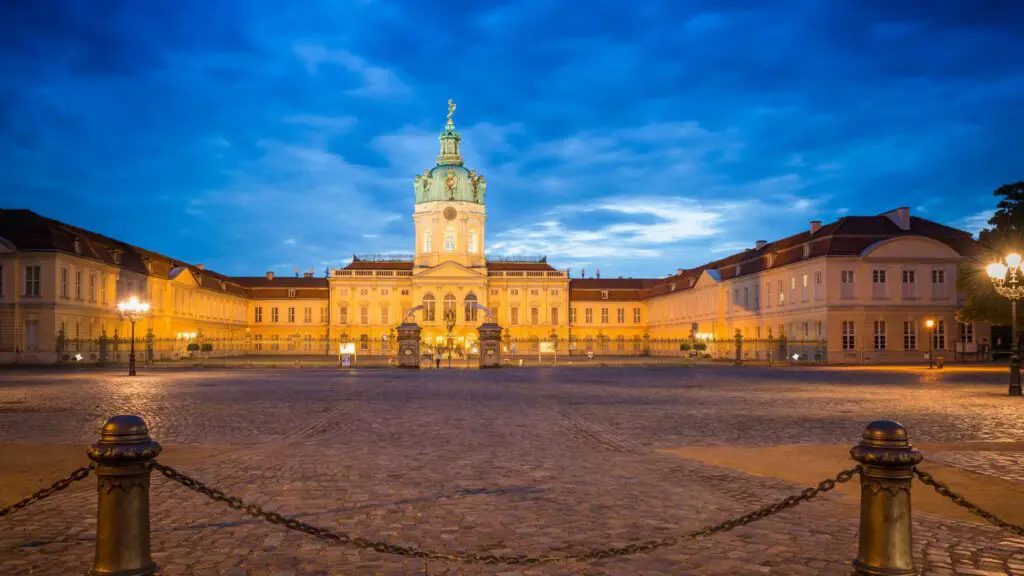 This architectural masterpiece, built in the 17th century in the grand German baroque and rococo style, stands as one of the city's most luxurious palaces. 
It bears the name of Prussia's first Queen consort, the accomplished harpsichord player and Italian opera singer Sophie Charlotte. 
Upon her death at 36, the palace and its surroundings were named Charlottenburg in her honour.
Your evening at Charlottenburg Palace unfolds with a sumptuous three-course dinner in the Palace Orangery. 
As you indulge in culinary delights by the soft glow of candlelight, you will be serenaded by the renowned Berlin Residence Orchestra. 
Their performances feature Bach, Handel, and Mozart's masterpieces, creating an atmosphere transcending time.
Adding to the magic, the orchestra's talented musicians often attire themselves in period costumes, complete with elaborate white wigs—an awe-inspiring sight. 
If you opt for a VIP ticket, you will receive a glass of champagne during the intermission.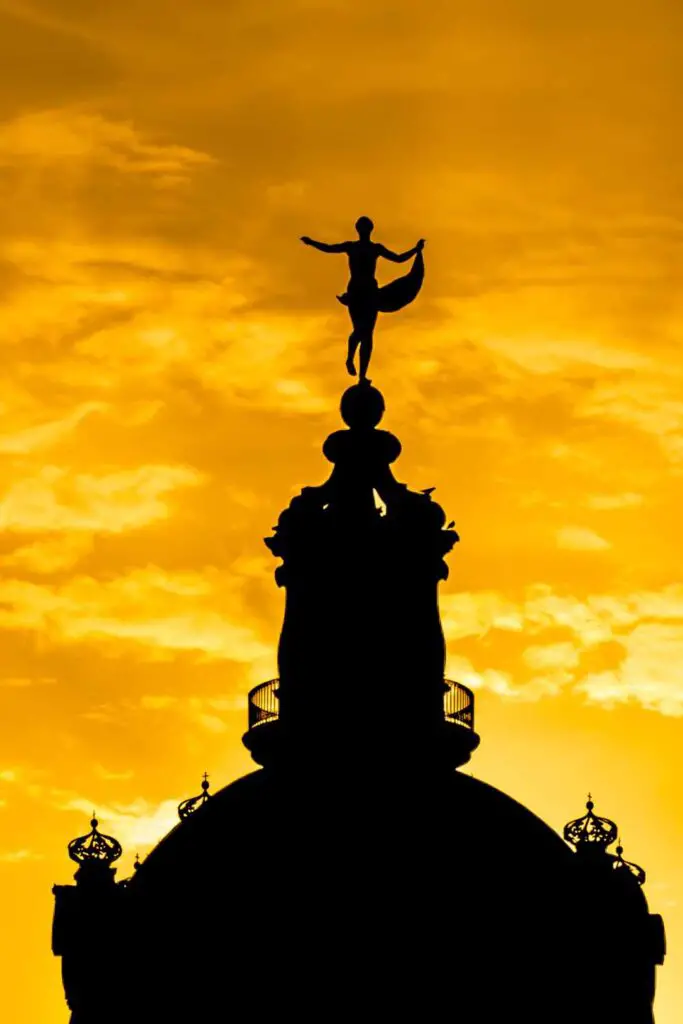 But the experience doesn't end there. Your ticket also grants you access to the palace for self-guided tours, where you can immerse yourself in history and culture.
As the night deepens, step out onto the terrace for panoramic views encompassing Bellevue Palace and the Reichstag.
To reach this lovely destination, hop on the metro and enter the nearby Richard-Wagner-Platz station. 
Book your tickets to this historical wonder here.
FUN THINGS TO DO IN BERLIN AT NIGHT
EXPLORE BERLIN'S HAUNTED PLACES
On my trip, I was looking on my list for things to do in Berlin tonight.
I am a history buff, and I usually don't miss any tours related to the city's history and dark past, especially in Europe.
So, I booked this ghost walking tour. You will be led to some of the city's lesser-known and more macabre locations.
You will unravel the city's darkest and most spine-tingling secrets through a live theatrical performance guiding you through Berlin's dimly lit streets.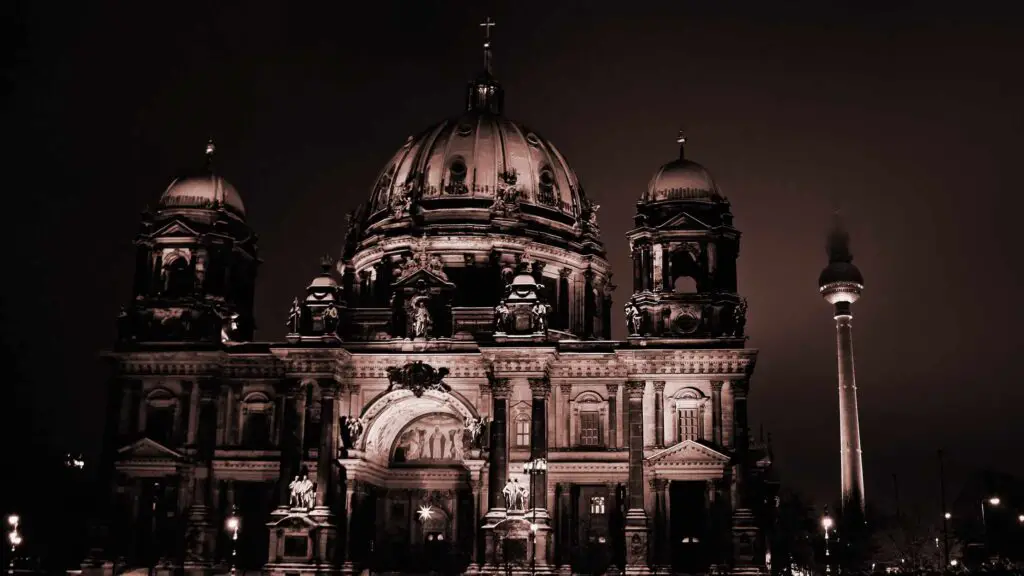 As you venture forth, your eerie guide, clad in chilling attire, will regale you with tales that will send shivers down your spine, making this one of the most exciting things to do in Berlin at night.
You will hear stories about notorious murders, cursed mummies and whatnot!
I recommend you book your tour here in advance. It usually starts from the Klosterruine at the U Klosterstraße subway station.
RELAX AT LIQUIDROM
If you are looking for one of the relaxing things to do in Berlin at night, treat yourself at the Liquidrom Spa in the heart of Berlin-Kreuzberg in Möckernstraße.
The iconic Unter den Linden boulevard and its historic buildings come to life when the sun dips below the horizon.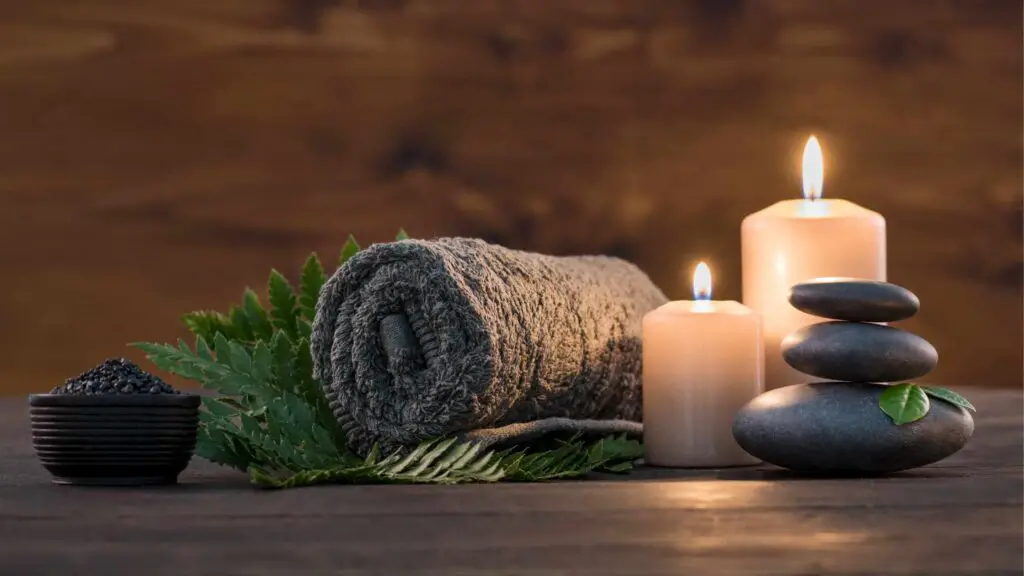 Liquidrom, housed in an abstract tent, greets you with its futuristic spa, where holistic therapies harmonize with pulsating techno beats.
On the guided tour, you will learn that this structure was a bustling train station during World War II.
You will have many options here to treat yourself, including various treatments, saunas, and baths.
However, the true gem of Liquidrom Spa is its expansive saltwater floating pool.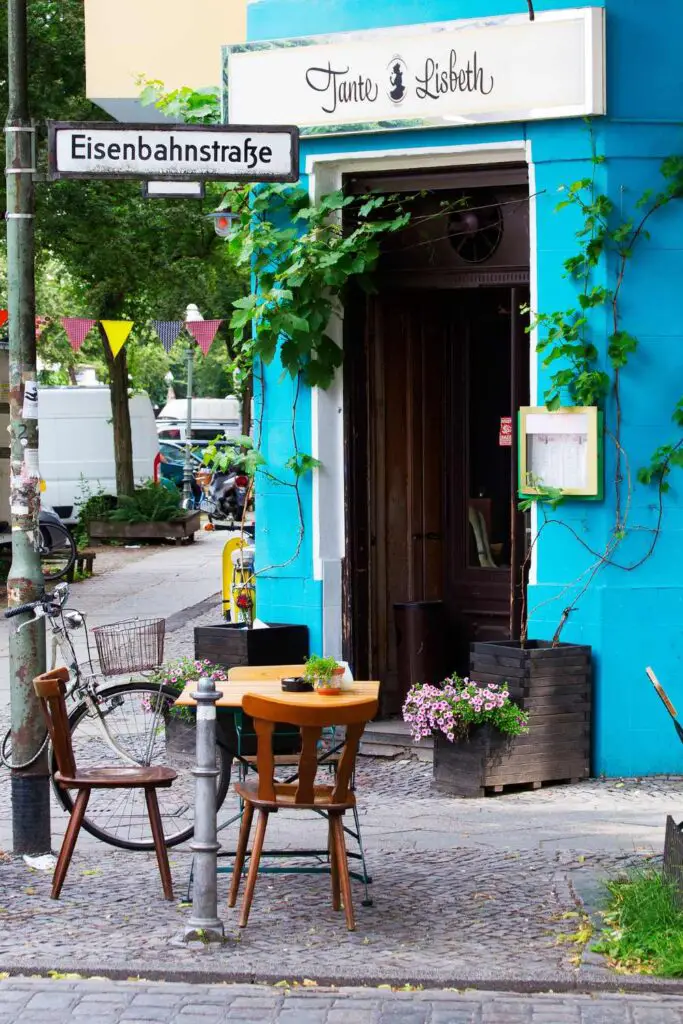 Take a refreshing dip in this pool surrounded by grand arches.
The pool is usually illuminated with dim lights, and the soft music adds charm to the scene.
The best part is you will also find the rhythm of the water synchronized with an eclectic soundtrack, spanning from classical melodies to electrifying techno tunes.
SWAY TO THE TUNES AT QUASIMODO
If you are looking for a cosy cafe with live music, head to Quasimodo, a stone's throw from Zoologischer Garten, one of the fun things to do in Berlin at night.
As the clock strikes five from Wednesday to Sunday, Quasimodo, Berlin's oldest live music pub, comes to life, serving a delightful assortment of beverages.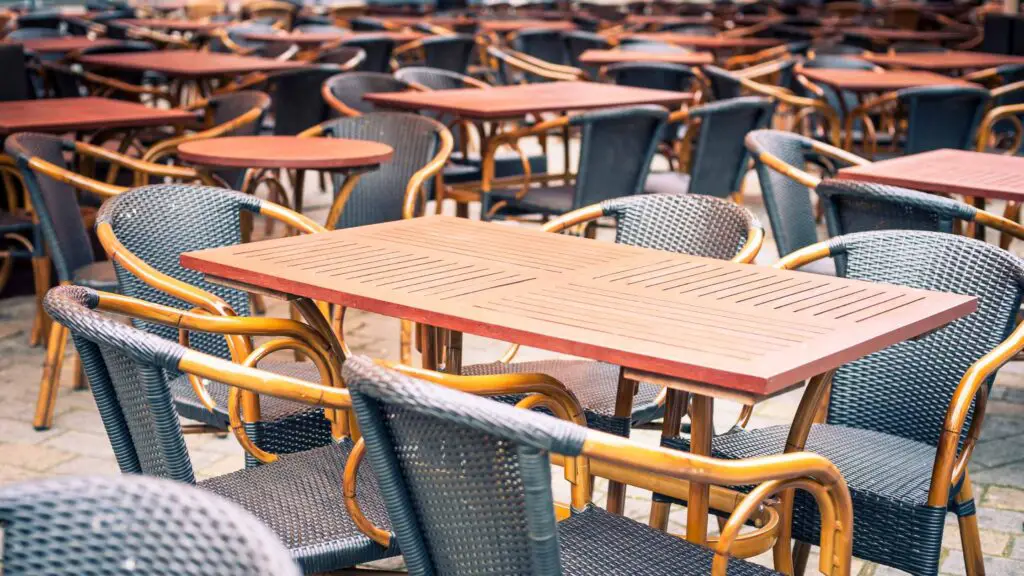 Check-in early and head to its idyllic patio, a perfect spot for an evening libation, especially on those balmy summer nights.
But the real magic unfolds below in the basement.
Since its inception in 1975, Quasimodo has been drawing music enthusiasts into its intimate underground venue.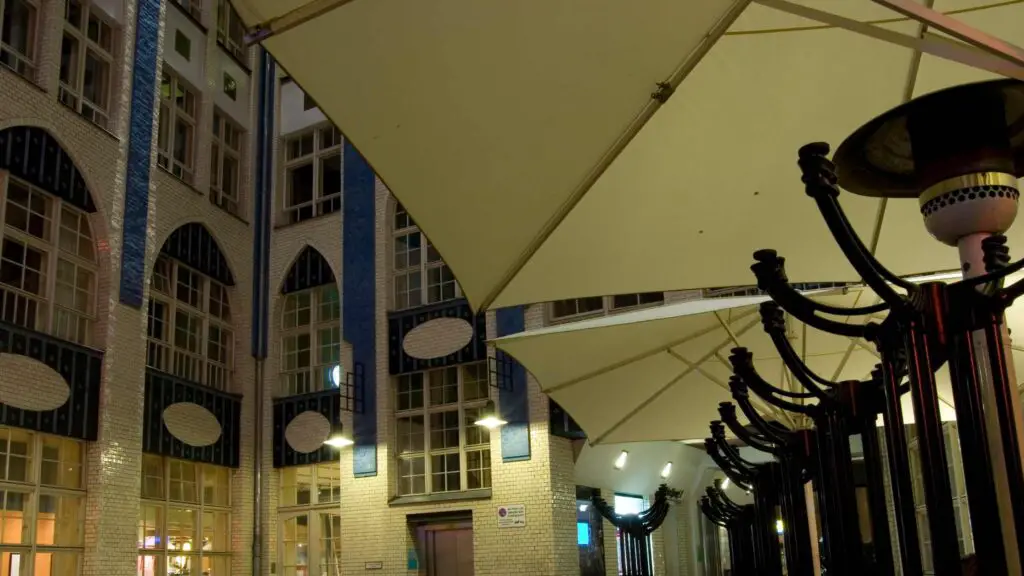 Enjoy various varieties of music and live bands featuring jazz, funk, blues, soul, and even a touch of Motown and indie pop. 
Drinks flow freely, the tunes are spot-on, and the crowd exudes an infectious energy. Isn't it a perfect recipe for an ideal Berlin Friday night?
EXPERIENCE THE COSMOS AT WILHELM-FOERSTER-STERNWARTE
One of the fun things to do in Berlin at night is to visit the Wilhelm-Foerster-Sternwarte Observatory at Munsterdamm, especially if you are into space and the cosmos.
Nestled at the base of a gorgeous hill, the Planetarium am Insulaner at this observatory beckons with its illustrious artificial starry sky, captivating 360-degree voyages through the night sky.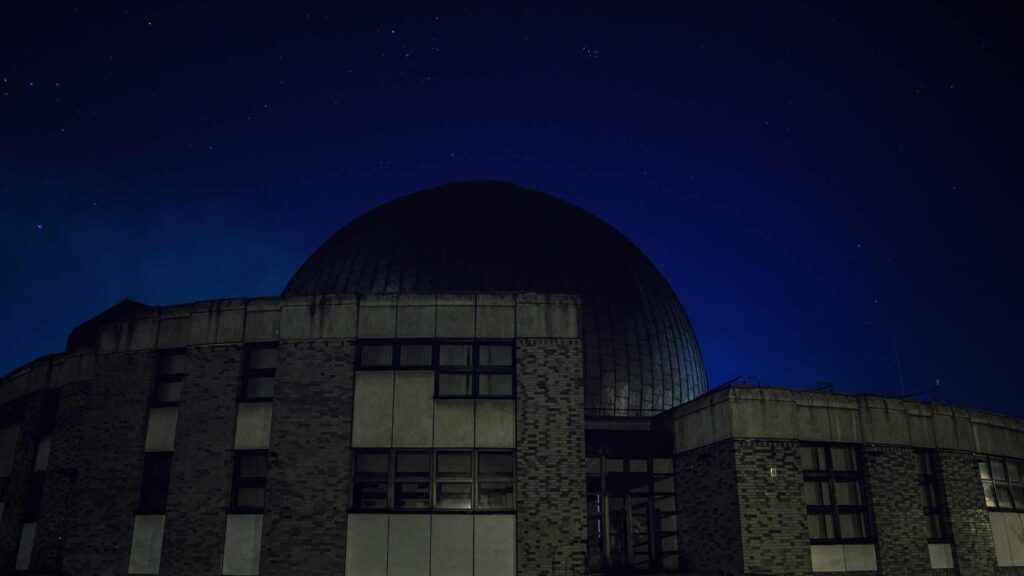 Don't miss the exclusive twilight sessions at this observatory, where the celestial canvas above is unveiled, and the secrets of the night sky are laid bare.
If you want more fun and gain a deeper understanding of the cosmos, there are powerful telescopes which are your gateway to the stars.
Prices for admission to the planetarium start at just €12. Book your tickets here.
VISIT BERLIN PHILHARMONIKER
If you are into theatres, you should visit Berlin Philharmoniker, between Tiergarten and Potsdamer Strasse, one of the fun things to do in Berlin at night.
Located in the city's heart, this building is the brainchild of the famous German Architect Hans Scharoun.
He sought to create not just a building but a vibrant cultural and theatrical hub at the heart of Berlin.
In 1963, his dream became a reality, and the result was extraordinary. 
Its distinctive tent-like shape, painted in a vibrant shade of yellow, captures the imagination even before you step inside.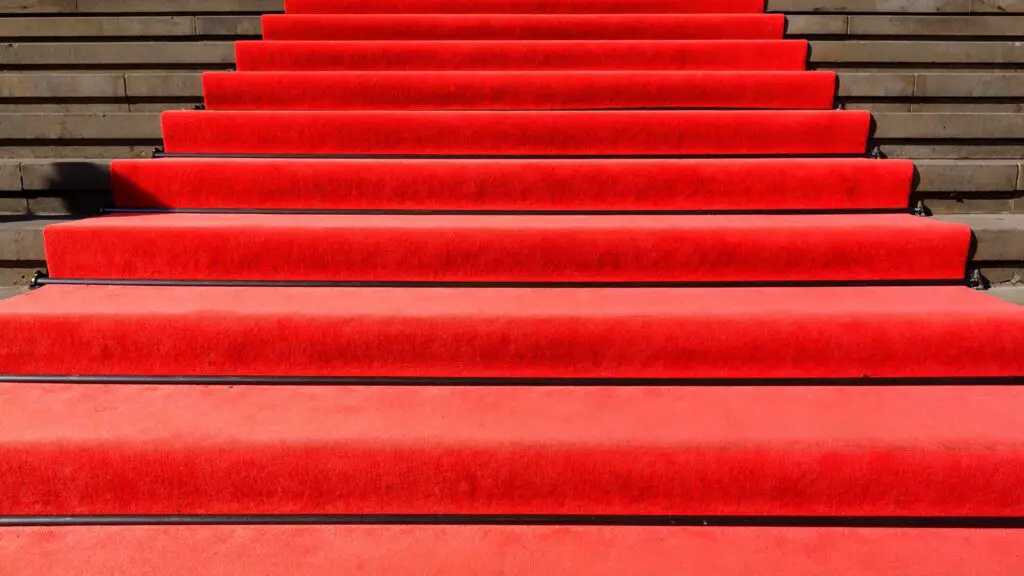 Enjoy a show of ballet, opera or any other theatrical performance by talented local artists.
Don't miss the renowned orchestra, which has proved its excellence in classical music for ages. 
Their repertoire is as diverse as it is enchanting, ranging from the timeless compositions of Tchaikovsky to the soul-stirring works of Brahms. 
They even feature special performances that spotlight their cellists or string sections, adding a unique touch to their shows.
Note that this is one of the famous Berlin evening activites. So the tickets sell out quickly. Book your tickets here.
GO ON A PUB CRAWL
If you want to get tipsy in Berlin, go on a Pub Crawl tour, one of the exciting things to do in Berlin at night.
It's an experience that seamlessly weaves the vibrant tapestry of Berlin's culture with its iconic beer scene, making it one of the fun things to do in Berlin for young adults.
Make new acquaintances on your Pub Crawl tour and explore Berlin's low-key bars, each with unique craft beers.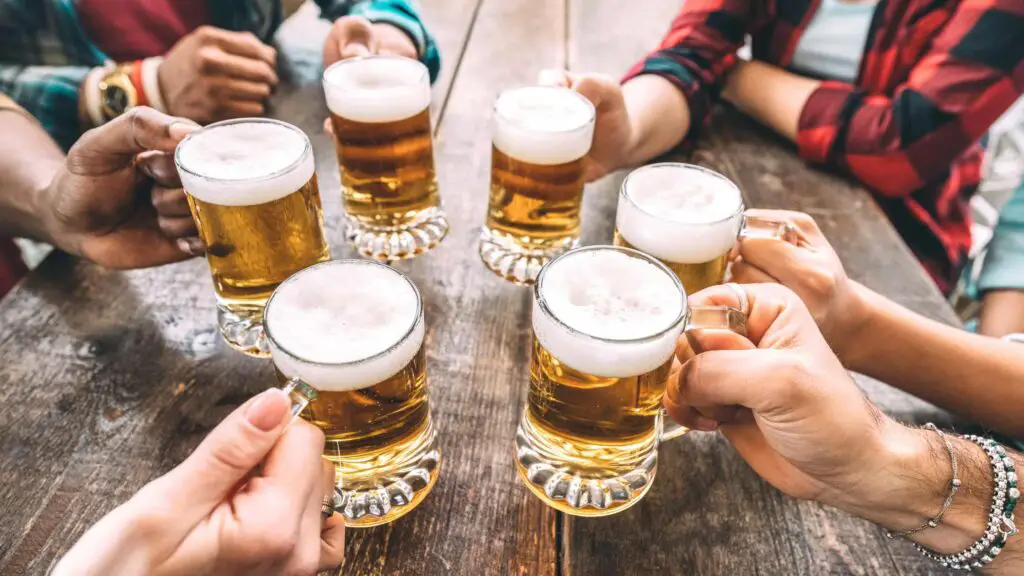 Visit shisha bars and electro lounges, with the grand finale at the 'big' club. 
These pub crawl tickets are incredibly reasonable and include complimentary shots.
Whether you call it a Pub or a Bar Crawl, this experience is about hopping from one fantastic establishment to another. 
Trust me, this will be one of the crazy things to do in Berlin, leaving you with memories to cherish forever.
Book your Original Berlin Pub Crawl tour here.
DINE AND UNWIND AT KULTURBRAUEREI
If you are looking for an all-in-one entertainment centre and a top-notch brewery, visit KulturBrauerie on the western side of Prenzlauerberg, one of the fun things to do in Berlin at night.
This sprawling 25000 square meter venue boasts six expansive courtyards and an ensemble of 20 red and yellow clinker buildings that pulse with the city's energy.
Soak in a world of clubs, bars, restaurants, cinemas, and museums, all under one roof. 
Dive into the legendary nightlife of Berlin at SODA, a prominent nightclub housed within the converted boiler house.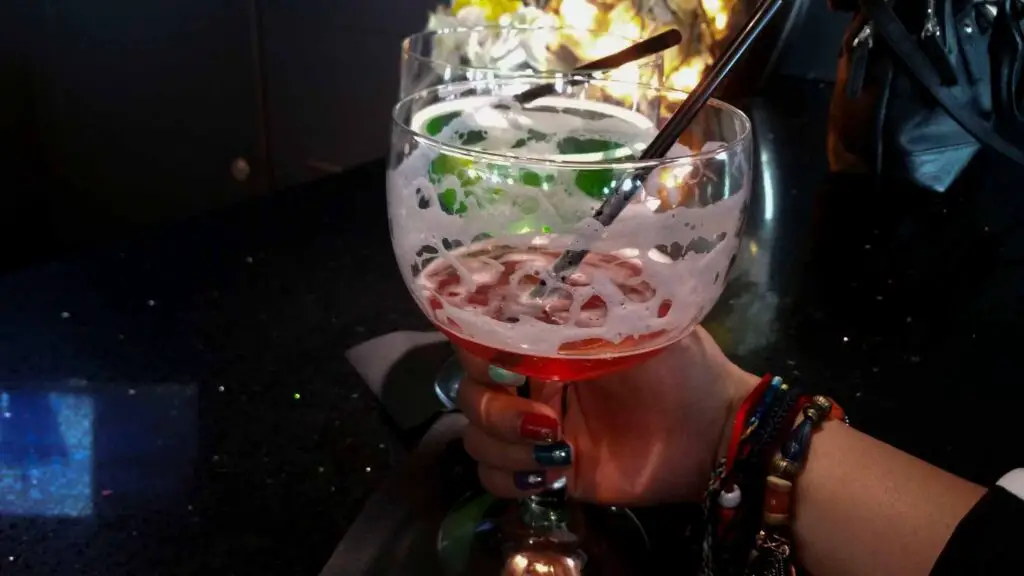 Discover Franz Club for the best experience that goes beyond a typical club. Here, you will find a restaurant, a beer garden, and a lounge all in one.
The best part is as the seasons change, so does the spirit of Kulturbrauerei. 
In the spring, witness the Walpurgis Night celebration, a joyous gathering featuring dances and a grand bonfire in the courtyard. 
When the holiday season arrives, immerse yourself in the enchanting Christmas markets at the venue. 
Stroll through the stalls, indulge in delectable food, and savour drinks that warm your spirits.
STEP BACK IN TIME AT TANTE LISBETH
If you are looking for one of the retro bars in Berlin, visit Tante Lisbeth in Kreuzberg.
Tante Lisbeth, which translates to 'Aunty Lisbeth', will take you back to the 70's with its interiors.
As you step inside, you will be greeted by the allure of retro furnishings, shag carpets and kitsch decor.
Tante Lisbeth offers two separate bowling zones that can be rented by the hour.
Don't miss to check out the area by the window adorned with captivating furniture and wallpaper that sets the perfect backdrop for your journey back in time. 
The bar's distinctive drinks cabinet, complete with closets and cupboards, evokes the ambience of an ardent alcoholic's cosy living room.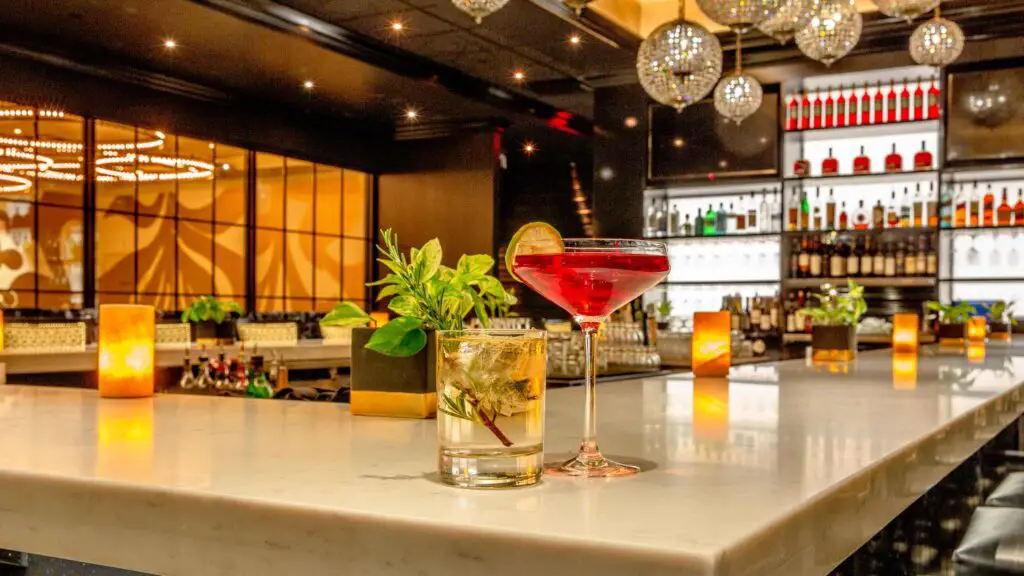 The catch is the bar's intimate setting can only accommodate around 60 patrons at a time. So, book your seats ahead of your travel. 
Also, please note that Tante Lisbeth operates on cash only.
Be sure to have plenty of euros on hand to savour their reasonably priced drinks and indulge in a few rounds of bowling.
VISIT FLEA MARKET AND ENJOY A KARAOKE IN THE MAUERPARK
One of the fun things to do in Berlin at night is to visit Mauerpark in Prenzlauer Berg district.
This vast green oasis, shaped as a linear park, is cherished among locals and visitors alike.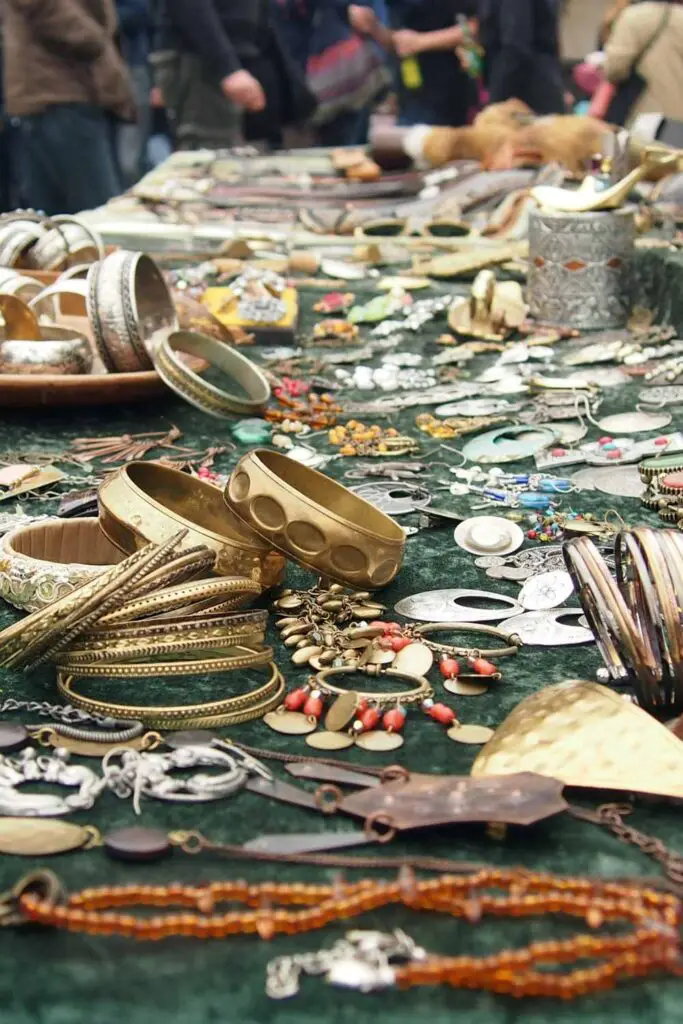 It's a place where nature, shopping, and entertainment come together to create a diverse nighttime adventure.
On Sunday afternoons, Mauerpark comes alive with its enchanting flea market, drawing tourists and residents for a delightful shopping and culinary experience. 
As you wander through this bustling marketplace, you will discover stalls filled with vintage clothing, unique accessories, and a wide array of curiosities. 
From retro fashion finds to one-of-a-kind treasures, the market caters to all tastes.
German street food is another highlight of the Mauerpark flea market. 
Satisfy your cravings with delicious local treats, offering a taste of Berlin's culinary diversity.
Head to the area where independent musicians gather to stage spontaneous performances.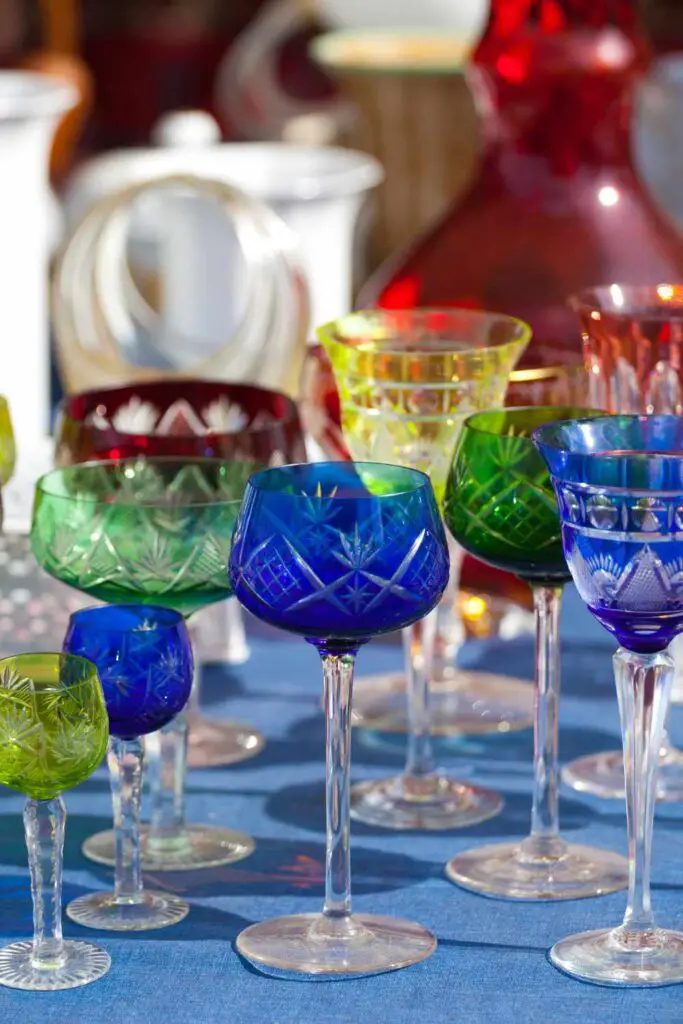 The park's amphitheatre serves as a hub for entertainment, hosting a unique form of karaoke known as Bearpit Karaoke.
Bearpit Karaoke is a fun-filled event that starts at 3 PM and continues into the early morning hours. 
Don't be shy – step onto the stage and share your vocal talents with an enthusiastic crowd.
The park is easily accessible by a 10-minute walk from the nearest underground station, Eberswalder Straße.
HOP ON A GASTRONOMICAL TOUR
One of the fun things to do in Berlin at night is to explore the German Gastronomy.
Many food tours take you through the prime locations across the city.
Savour authentic German cuisines or try other international cuisines with a tinch of German blend in the ingredients.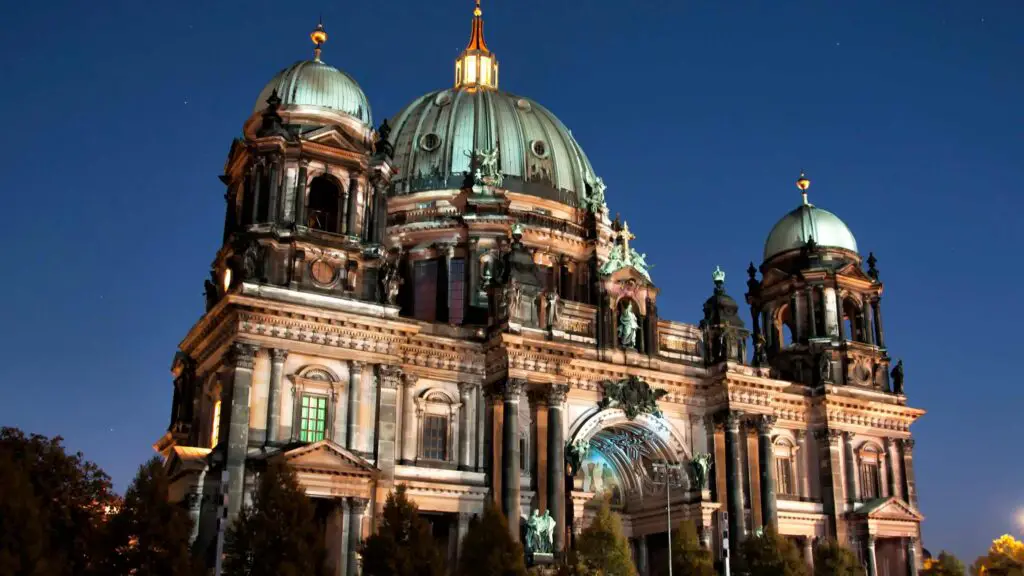 This is a must-do Berlin night activities, especially if you are a foodie.
Check out these tours, some of which last more than four hours and will take you through the local favourites and some hidden food gems across Berlin.
Some of these tours are dependent on the season. So book your tours here in advance to avoid last-minute hassle.
DISCOVER BERLIN'S RICH BEER CULTURE
Berlin is a renowned beer location, especially if you visit in October for the world-famous Oktoberfest.
There are various ways to immerse yourself in this delightful tradition, from guided beer tours to exploring Berlin's top biergartens independently.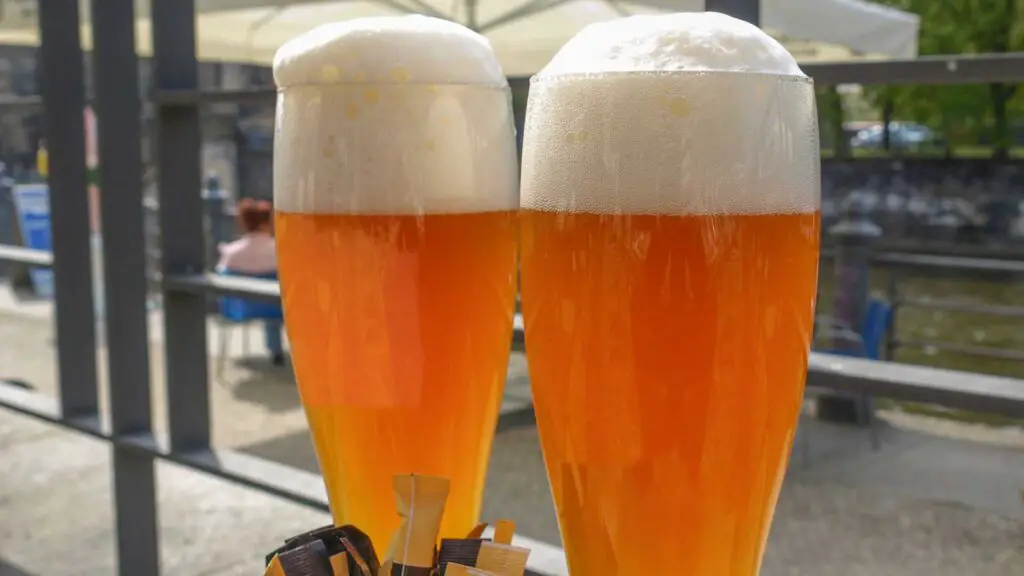 The guided beer tours take you to iconic breweries and beer halls, where you will learn about the city's brewing history, beer-making techniques, and the cultural significance of beer in Berlin.
The best part is some of these tours run all night until early morning, making it one of the exciting things to do in Berlin at night.
Engage your taste buds with various local brews and discover the nuances of German beer.
To elevate your beer experience, consider trying beer and food pairings at specialized venues. 
If you are looking to have the best Friday night in Berlin, check out these top beer tours which will make your weekend cherishable:
Berlin offers establishments that expertly pair different beers with carefully crafted dishes, enhancing the flavours of both.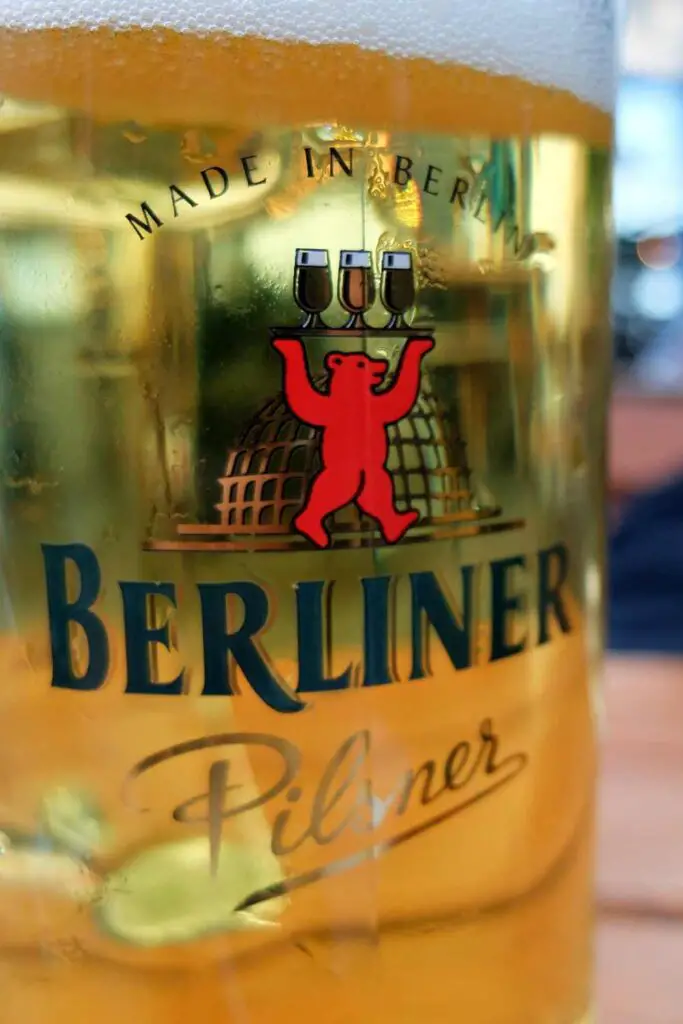 Check out some of my top venue recommendations to enjoy a pint or two in Berlin.
Zollpackhof: Situated near the Berlin Hauptbahnhof, Zollpackhof offers a large beer garden with stunning views of the Spree River and the Reichstag building.
Prater Garten: This is the oldest beer garden in the Prenzlauer Berg neighbourhood, dating back to 1837.
Enjoy an array of German beers and traditional food in a beautiful outdoor setting.
BRLO Brewhouse: Located in the former train depot at Gleisdreieck Park, BRLO Brewhouse is known for its incredible craft beers.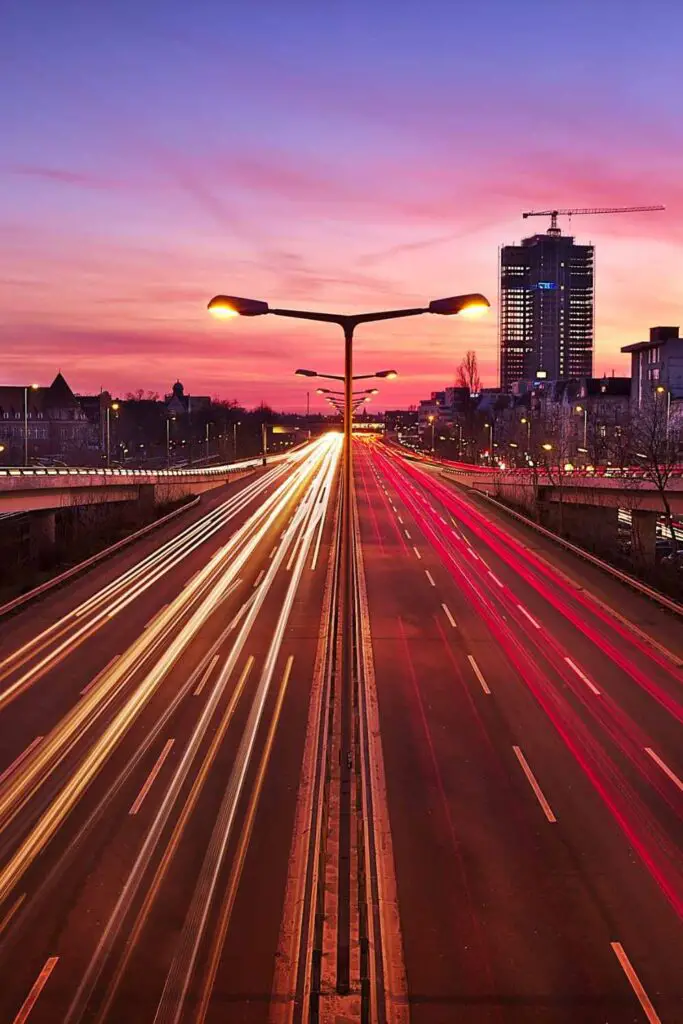 Tiergartenquelle: Located in the heart of Tiergarten Park, Tiergartenquelle offers a peaceful escape from the city's hustle and bustle.
It's a perfect place to unwind with friends and family after a busy day.
Raise a glass, share a toast with the locals, and savour the delicious brews that make Berlin a beer lover's paradise. Prost!
MAP OF THINGS TO DO IN BERLIN AT NIGHT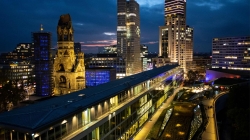 Latest posts by Anna Owen
(see all)