There are myriad things to do in Philadelphia at night. Philly's nightlife is an electrifying symphony of fun, culture, and endless possibilities.
Popularly called the "City of Brotherly Love", Philadelphia ranks as one of the largest cities in Pennsylvania.
Philly is also one of the first World Heritage Cities in the US.
If you are wondering What to do in Philly at night, this iconic city is home to a thriving art and cultural scene with its rich colonial history and intriguing haunted tales.
From sparkling cityscapes to irresistible flavours and stunning performances, prepare to discover the thrilling soul of Philadelphia after dark. 
Also, you will find places to indulge in delicious treats and witness the city come alive in a symphony of lights and laughter.
Read further to learn about the best things to do at night in Philadelphia, fun things to do in Philly at night and other helpful travel tips and resources.
Also, if you want to explore Philadelphia and its surroundings by car and looking for rental cars, check out Discover Cars, one of my favourite car rentals in the US.
Thanks to their many options and affordable prices. Book here.
Alternatively, you can book cars at Rental Cars. 
Are you planning a Trip To Other Cities In The USA? Check these nightlife things to do below.
Dive headfirst into a world of neon-lit streets, rhythmic beats, and unforgettable memories! It is Philly time!
TOP THINGS TO DO IN PHILADELPHIA AT NIGHT
EXPLORE THE HISTORIC DISTRICT
One of the top things to do in Philadelphia at night is to explore the historic district, which runs from Delaware River to 7th Street and Vine Street to Lombard Street.
As the sun sets, the historic district awakens with new energy.
Stroll along the streets and soak in the undeniable charm of the historic district.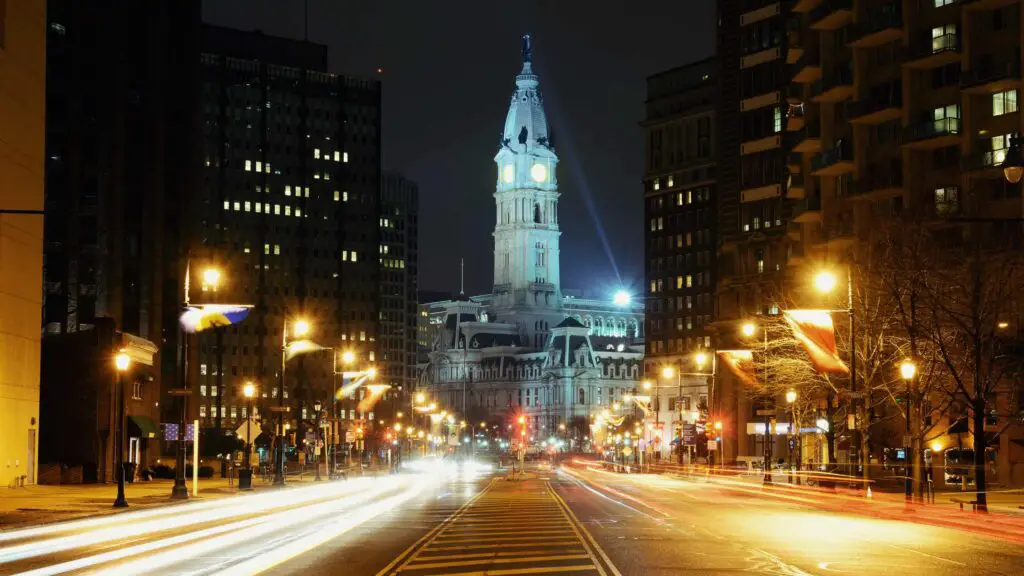 Discover trendy boutiques, tempting eateries, funky galleries that ignite your creativity, and hip bars that invite you to join the lively scene.
One of the popular things to do in Philly at night in the historic district is go on a ghost tour.
Wander through dimly lit alleyways, haunted houses, and secret gardens guided by experts who blend knowledge with humour.
Some ghost walking tours will take you through the iconic buildings of Philadelphia, including Independence Hall, Society Hill and Washington Square.
Whether you are a sceptic or a believer in the supernatural, these ghost tours will have you clutching your arms in fear and laughter at the same time.
Did you know the historic district, also called Old City, is where the Declaration of Independence and the US Constitution came to life?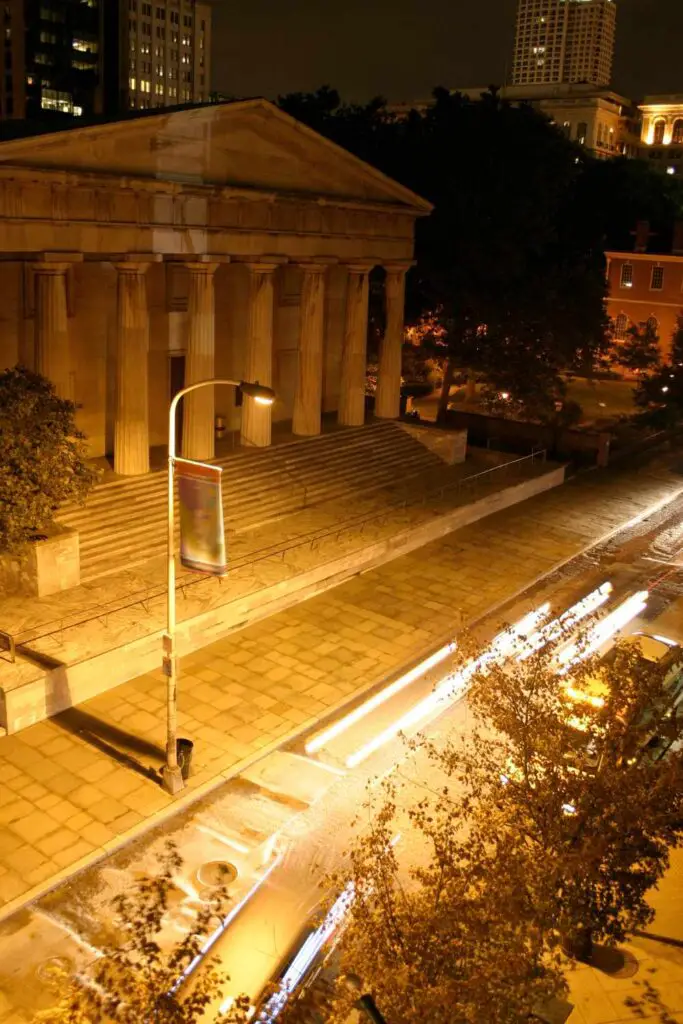 Don't miss the African American Museum, a groundbreaking establishment celebrating the rich tapestry of African-American history right in the heart of Old City. 
And if all this exploring makes you hungry, don't worry. Amid the sea of dining options, there's a gem waiting for you – The Fork.
Its delectable offerings will refuel you for more adventures.
TRY LEGENDARY CHEESESTEAK
Try the legendary cheesesteak sandwich if you are in for a quick bite in Philly at night.
This juicy, delectable delight was invented by a hot dog vendor named Pat Olivieri in the 1930s.
Little did he know that this humble invention would become the poster child of Philadelphia's culinary world.
So, what's the secret sauce? It's a long, crusty roll filled to the brim with thinly sliced, sautéed rib-eye steak and a generous cheese melt.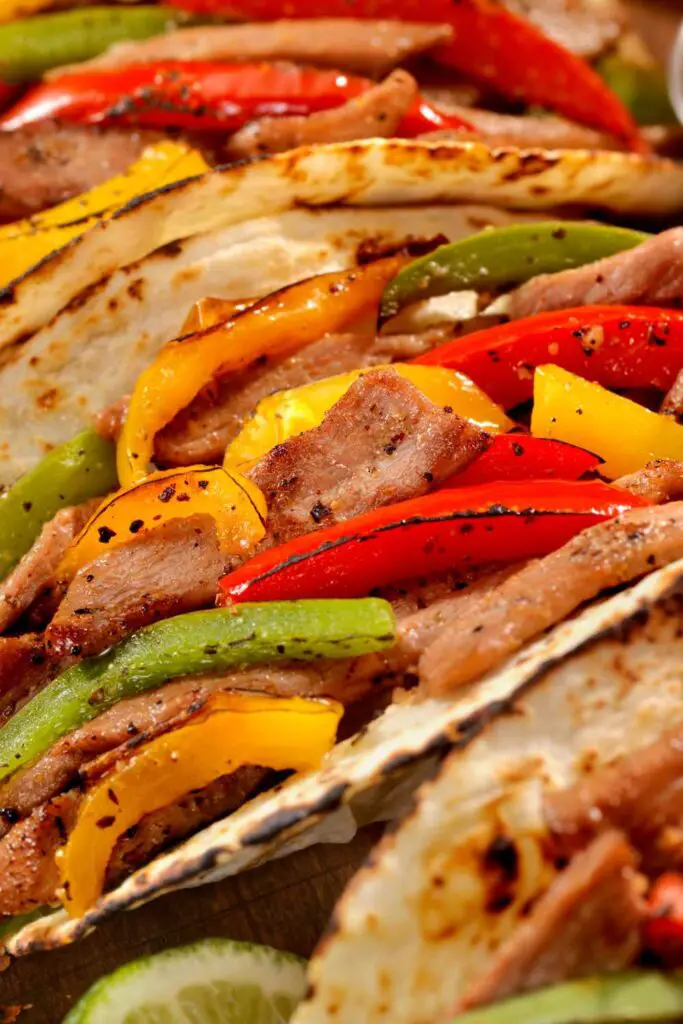 Only leave Philly by sinking your teeth into an authentic cheesesteak because this is one of the most popular things to do in Philadelphia at night.
Head to Sonny's, Pat's King of Steaks, Tony Luke's, Geno's Steaks or Jim's South Street. 
These spots are like the holy grail of cheesesteaks, each with its unique twist on this beloved classic.
The best part? You get to play the chef, too.
Customize your cheesesteak with toppings like sizzling fried onions, colourful peppers, sautéed mushrooms, and a dash of ketchup. 
But for an authentic cheesesteak experience, I recommend trying it from the food trucks.
These food trucks are a true Philly staple, serving up a variety of cuisines, from mouthwatering Mexican dishes to juicy burgers, leaving your taste buds dancing in delight.
WANDER AROUND FRANKLIN SQUARE
One of the top things to do in Philadelphia at night is to roam around Franklin Square, nestled among the city's iconic public squares.
Franklin Square is a testament to visionary English writer William Penn, who designed it in 1682 when the town was just a blueprint on paper.
Did you know that Franklin Square place is one of the five significant landmarks in Philly? 
Admire the Franklin Square Fountain, which sits in the centre of Franklin Square.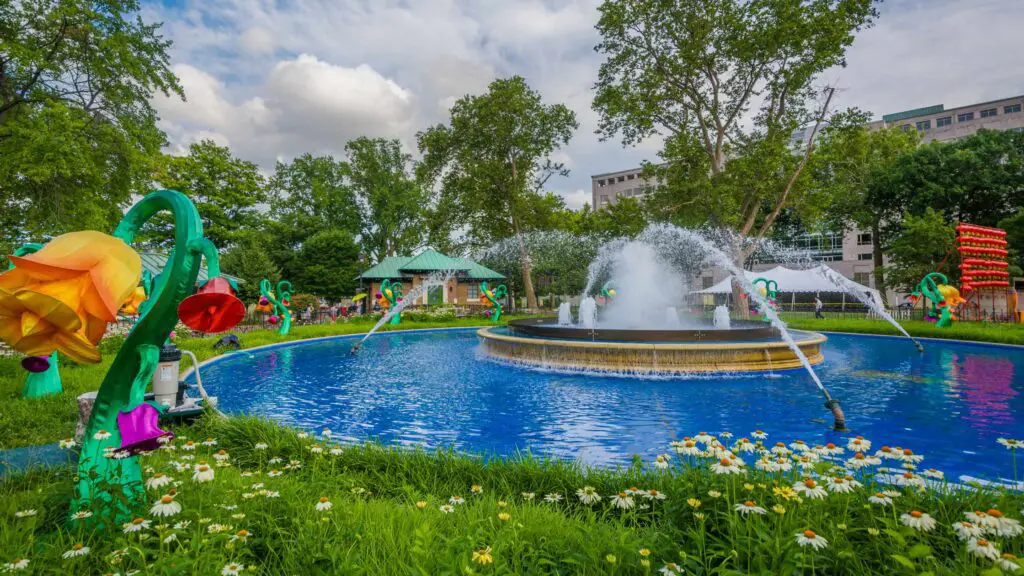 The mesmerizing blend of dancing water, colourful lights, and melodies that serenade the senses makes it one of the best places to go in Philly at night. 
But the fun doesn't stop there! Climb aboard the Parx Liberty Carousel and ride a lion, zebra, eagle or majestic dragon.
Test your Golfing skills at the Philly Mini Golf. You will find 18 holes inspired by Philadelphia's iconic landmarks, including the Ben Franklin Bridge, the Liberty Bell, the Love Statue and the vibrant Chinatown Friendship Arch. 
If you crave some delicious bites, SquareBurger has you covered. 
Devour mouthwatering burgers and indulge in thick, creamy shakes that are pure cake-like heaven. 
SNAP A PHOTO WITH ROCKY
If you are a cinema buff and especially into old movies, don't miss the iconic Rocky Statue in the Benjamin Franklin Parkway, one of the epic things to do in Philadelphia at night.
The statue made of Bronze immortalizes the one and only Rocky Balboa, the beloved character from the Rocky film series.
Initially crafted for the movie Rocky III in 1982, this statue became a piece of public art that captures the city's spirit and tenacity.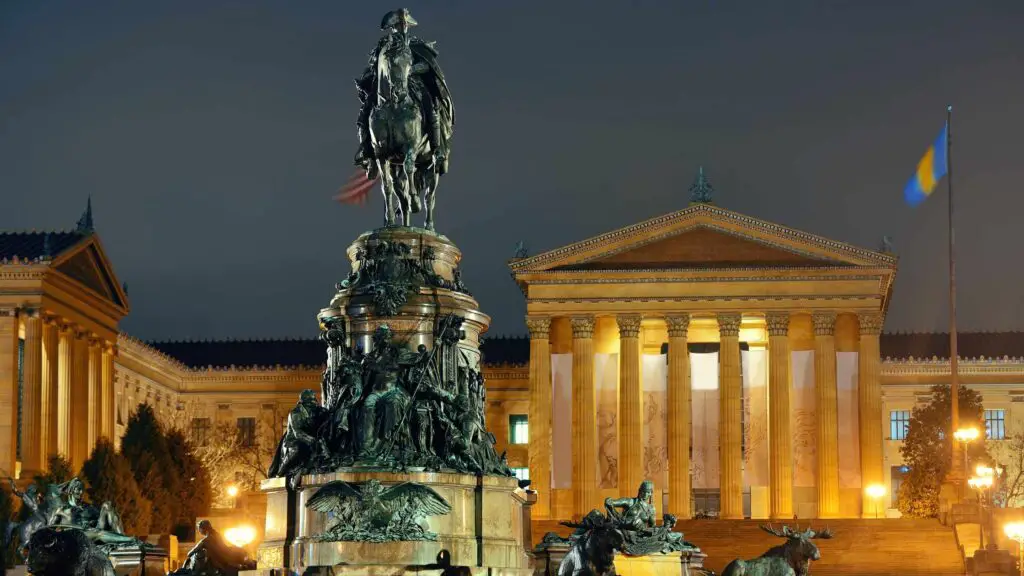 This statue will take you on a nostalgic trip to the timeless Rocky movies era.
You must ascend the 72 iconic Rocky Steps, just as the cinematic legend himself did.
And guess what? These steps lead you right up to the entrance of the Philadelphia Museum of Art. 
Strike your best Rocky pose, and capture a photo that makes you feel like a true Philly champ!
EXPLORE PHILADELPHIA MUSEUM OF ART
If you are looking for the best things to do Philadelphia tonight, visit the Philadelphia Museum of Art (PMA) on the Benjamin Franklin Parkway.
The PMA is a treasure trove for art enthusiasts, boasting an awe-inspiring collection that spans over 240,000 objects, a testament to 2,000 years of human expression.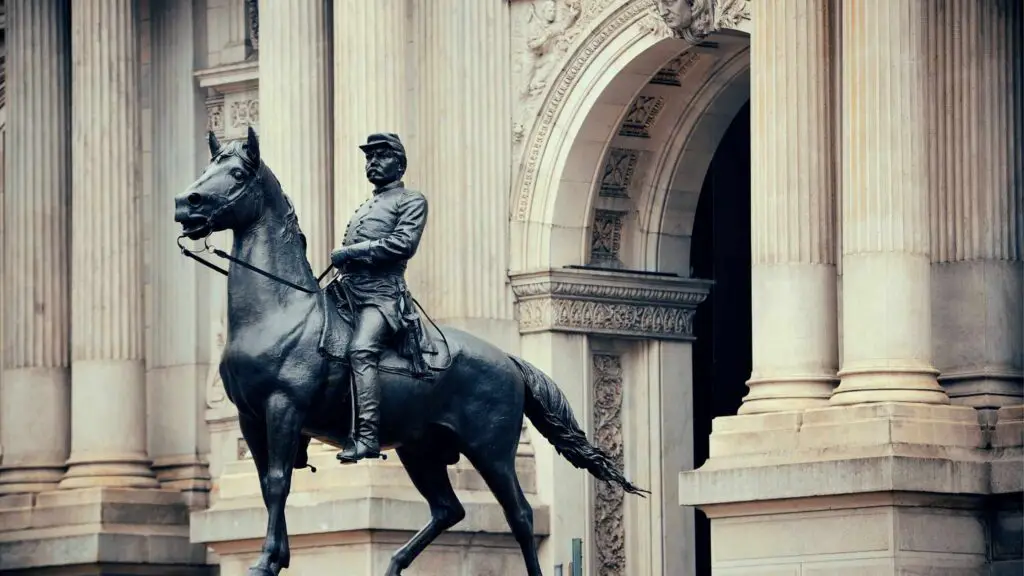 This museum houses everything from the ancient world to the Renaissance and the contemporary era.
Stroll through galleries adorned with priceless artefacts, gaze upon the brushstrokes of Picasso, Renoir and Van Gogh, and soak in the intricate beauty of a 14th-century Buddhist temple. 
But there's more – the PMA is not just one of the largest art museums in the United States; it's a cultural haven that continually reinvents itself.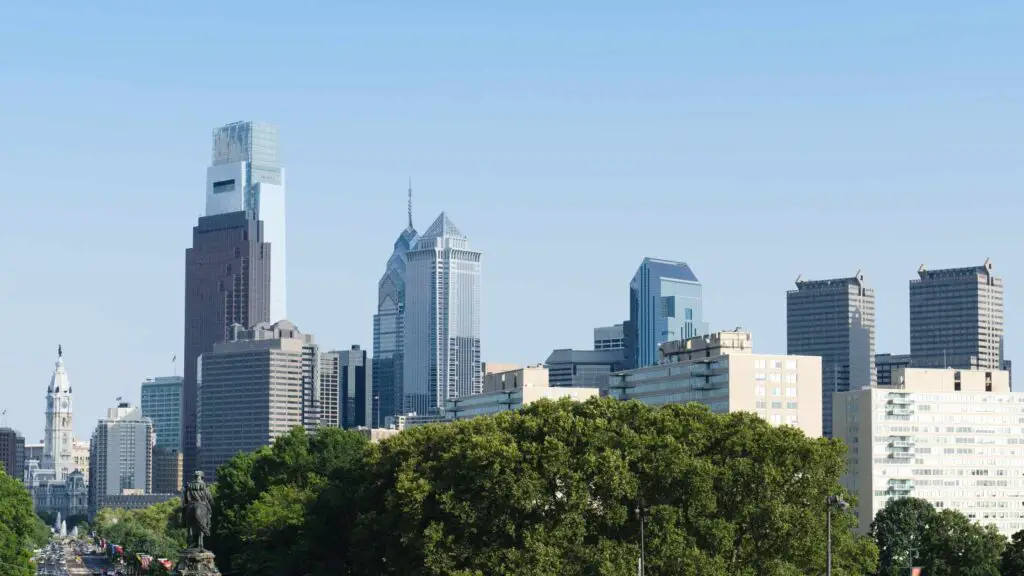 Special exhibitions, sourced from national and international museums, grace its halls throughout the year, adding a dash of surprise and novelty to every visit.
The PMA opens its doors until 8:45 PM on Friday nights, making it one of the ideal things to do in Philadelphia at night.
GO ON A HORSE-DRAWN CARRIAGE RIDE
One of the unique things to do in Philadelphia at night is to go on a horse-drawn carriage ride.
Did you know riding a horse-drawn carriage was one of the oldest ways to roam around this charming city?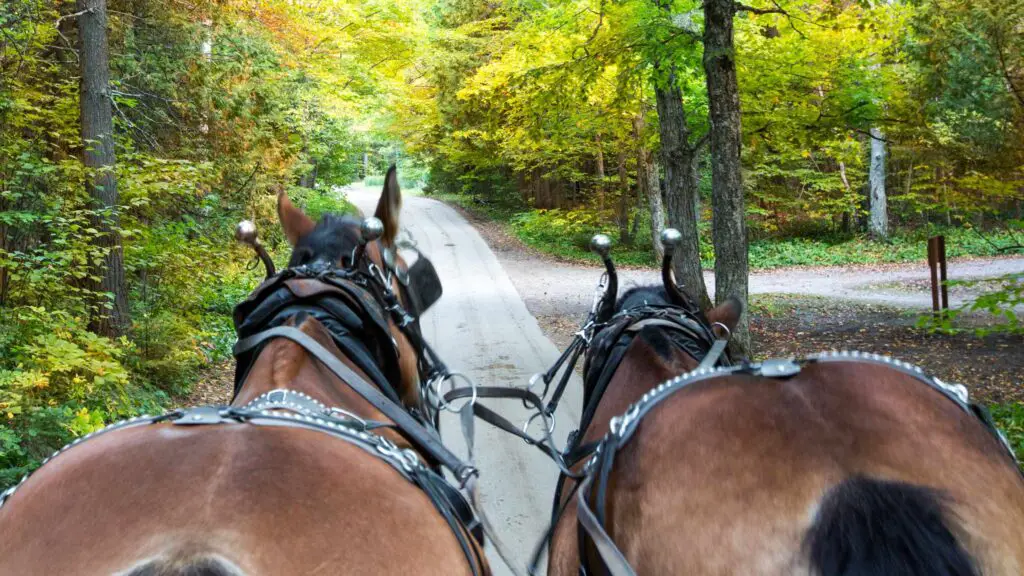 There are many lineups of guided horse-drawn carriage tours throughout the city that last for about one hour.
All these rides will take you on a nostalgic ride through the iconic attractions of Philly at night, which includes Independence Hall, Elfreth Alley and Liberty Bell.
As you meander through the cobblestone streets, the clip-clop of hooves provides the perfect soundtrack to your adventure.
You will be surrounded by a living tapestry of historic buildings that have witnessed centuries of stories.
Witness one of the true gems, the Society Hill, the first Roman Catholic church ever built in Philadelphia. 
But it's not just one building that captures your imagination; it's the entire neighbourhood.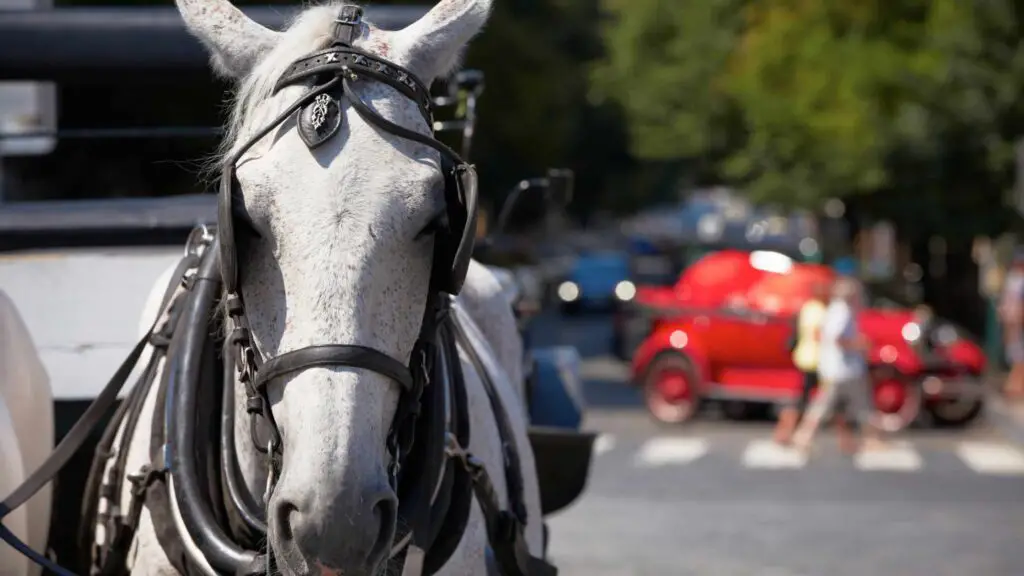 Each street and corner reveals a new chapter in Philadelphia's history. 
The Georgian and Federal-style homes, their facades adorned with intricate details, transport you to a bygone era.
Book your carriage ride here.
EXPLORE THE CITY FROM A DOUBLE-DECKER BUS
One of the exciting things to do in Philadelphia at night is to hop on a double-decker bus and enjoy the magical sight of the shimmering Philadelphia skyline at night.
There are many ways to explore the City of Brotherly Love, but climbing aboard a double-decker bus literally takes your night out to new heights! 
As you settle into your seat, prepare for a 90-minute loop that whisks you past 27 iconic landmarks.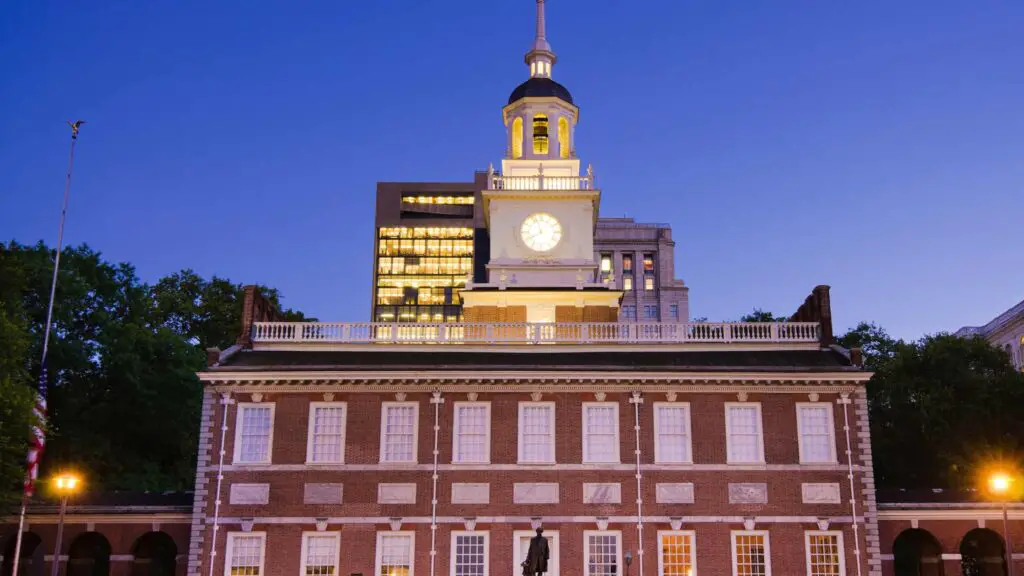 Admire the views of the hallowed Independence Hall, the revered Liberty Bell, the lively Penn's Landing, and the iconic Rocky Steps.
If you are a curious soul looking for more Philly nightlife, consider snagging a one or two-day pass. 
With this golden ticket, you can hop on and off at your leisure and explore the city's nooks and crannies to your heart's content. Book your pass here.
EXPERIENCE THE MAGIC OF PHILLY'S BEST THEATRES
Are you a theatre buff or inclined towards plays, history and culture?
Then, the thriving theatre scene of Philly beckons you with its lights, curtains and action!
The city is home to some of the country's oldest theatres and most prestigious theatre companies, making it one of the most exciting things to do in Philadelphia at night.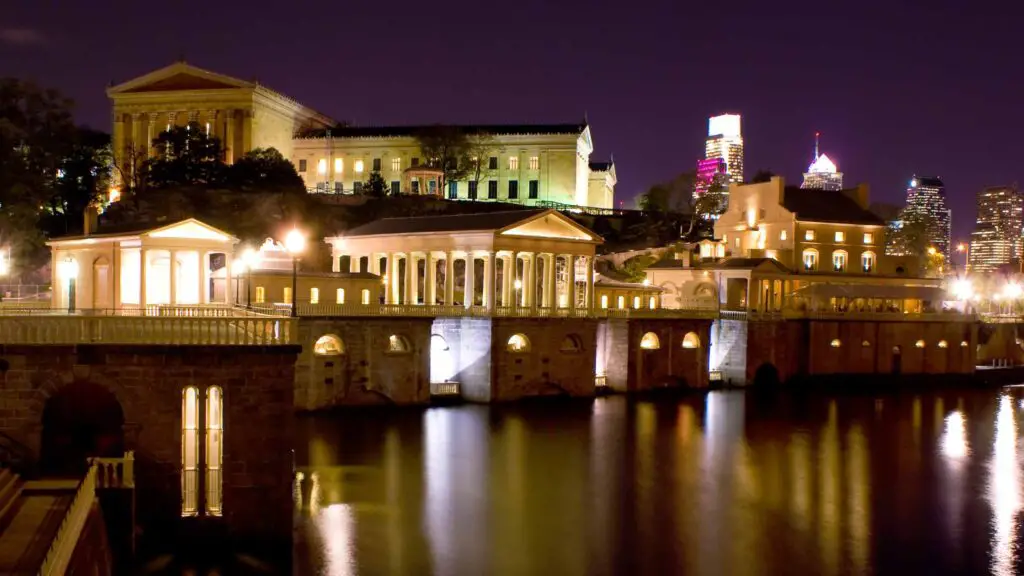 Philadelphia's theatres cater to a wide range of tastes.
Whether you are in the mood for classic opera, ballet, or Broadway extravaganzas or prefer contemporary and experimental performances, a theatre is waiting to transport you to another world.
I have recommended a few places that make it to the list of fun things to do in Philadelphia for couples at night.
Avenue of the Arts: The heart of Philadelphia's theatre district, located on South Broad Street near City Hall.
Here, you will discover a treasure trove of renowned theatres and entertainment venues, all within a few blocks of each other.
The Wilma Theater: to immerse yourself in a world of thought-provoking drama.
The Walnut Street Theatre: a historic gem, invites you to experience its rich legacy. 
The Academy of Music: with its opulent decor, hosts the Philadelphia Opera, Ballet, and a rotating lineup of Broadway shows. 
The Adrienne Theater: home to an eclectic mix of productions, including the noisy ComedySportz improv troupe.
The Kimmel Center for the Performing Arts: a modern marvel that stages an array of world-class performances.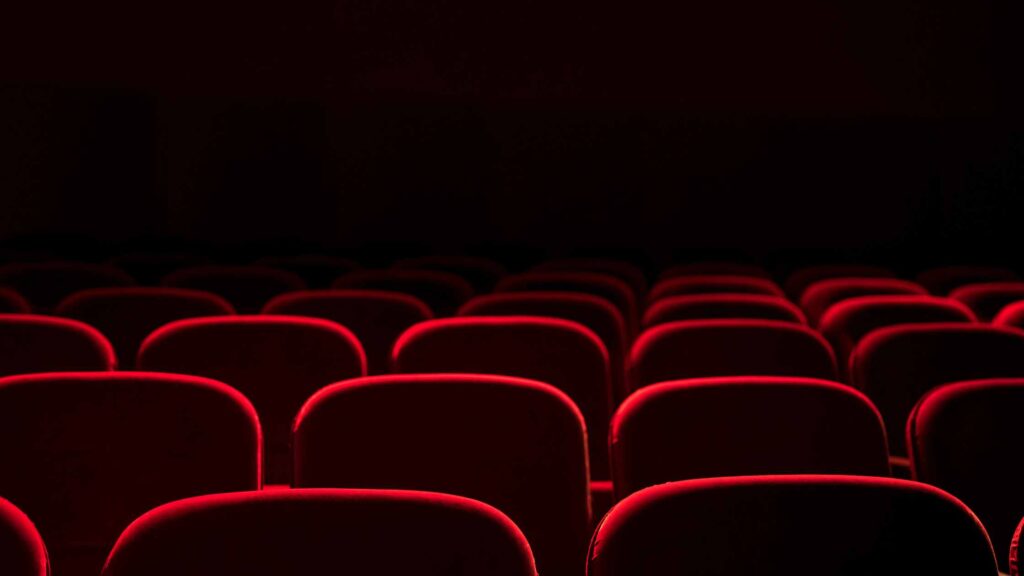 MacGuffin Theatre Company: exclusively built for children's entertainment. 
FringeArts: a small but vibrant theatre, your ticket to avant-garde and experimental events that push the boundaries of creativity. 
Merriam Theater: offers an intimate setting for captivating shows.
The Arden Theatre: a frequent recipient of the "Best of Philly" accolade, has garnered national recognition for its outstanding performances.
The best part is that you will find various restaurants and bars surrounding these theatres, making it easy to craft the perfect Philly evening itinerary. 
FUN THINGS TO DO IN PHILADELPHIA AT NIGHT
DISCOVER SPRUCE STREET HARBOR PARK
If you want fun things to do in Philadelphia at night, visit Spruce Street Harbor Park.
Nestled in Penn's landing at the heart of Philly, Spruce Street Harbor Park is like an urban oasis.
It brings together the best of relaxation, entertainment, and culinary delights along the scenic Delaware River waterfront.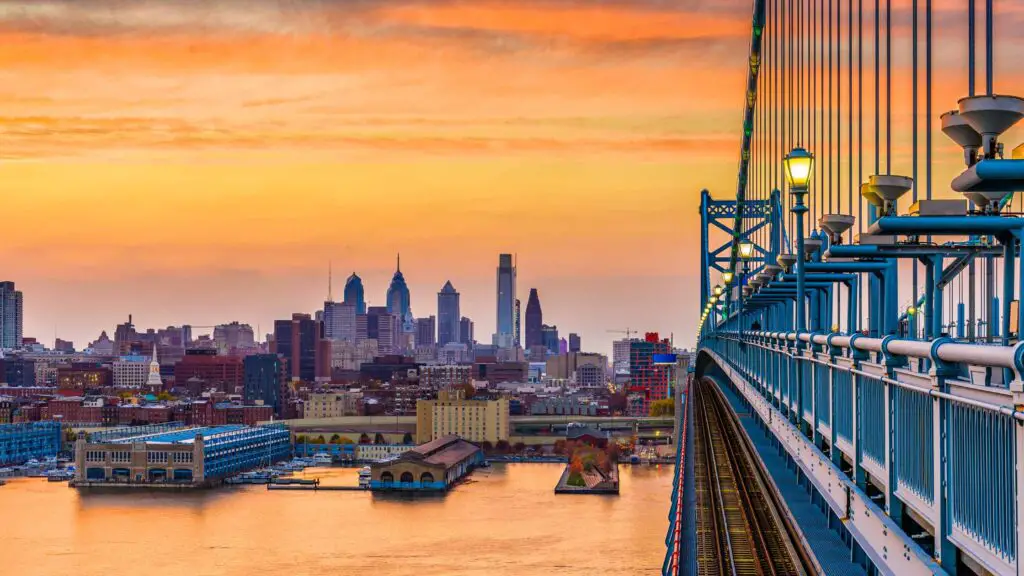 The park is home to Adirondack chair paradise and is complete with rainbow-striped hammocks that beckon you to sink in and unwind. 
Immerse yourself in an atmosphere of pure chill, where patio games, live music, and local treats set the stage for an unforgettable evening.
Hammocks, lounging under the trees and stars, swaying in and sipping refreshing drinks, watching the sky getting painted with purple and orange hues, magical, isn't it?
When the sun goes down, hundreds of LED lights are strewn between the trees, transforming the Spruce Street Harbor Park into a whimsical wonderland straight out of a fairy tale.
If you want more adventure, rent a kayak or paddleboard or embrace your inner swan with a charming swan boat ride.
Feel the thrill as you cruise along the clear waters, embracing the tranquil beauty of the Delaware River.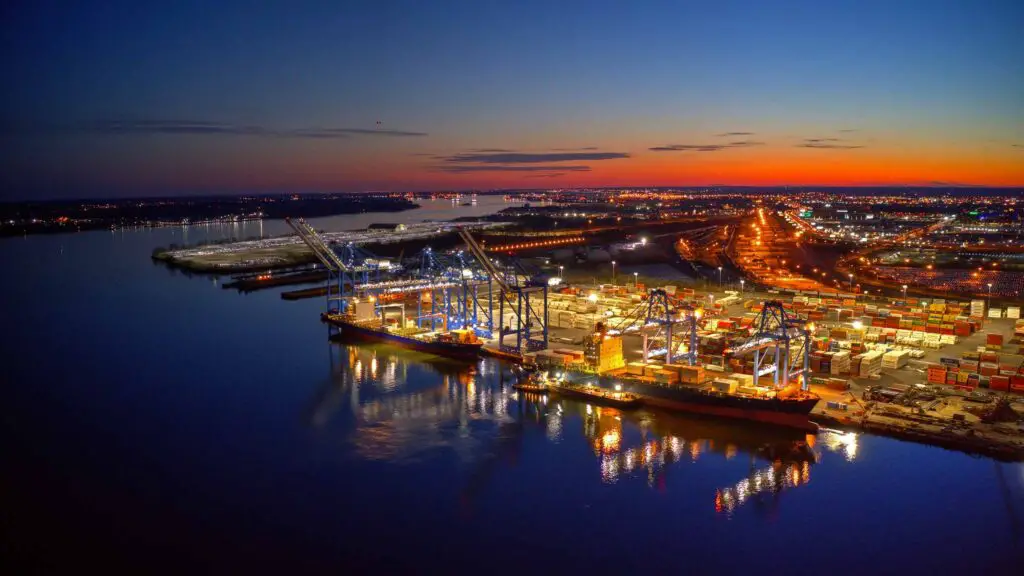 Engage in friendly competition with games like Jenga or unleash your skills with the lively play of Bocce ball. 
Witness the unique shipping containers transform into food havens, serving treats from food trucks and pop-up restaurants along the waterfront.
And guess what? This park is free to enter. 
With its prime location, Spruce Street Harbor Park is a short walk away from other iconic spots like Old City, Franklin Square, and the delicious Franklin Fountain.
GO ON AN ADULTS-ONLY NIGHT TOUR
One of the fun things to do in Philadelphia for adults at night is to go on a city night tour.
Delve into the intriguing secrets of Philly with an adults-only night tour, where the city's R-rated tales come to life under the shimmering night sky.
You will be enthralled by stories that go far beyond the guidebooks.
Your journey into Philadelphia's gritty past begins with raunchy tales of the red-light district, where scandalous escapades and colourful characters once reigned supreme.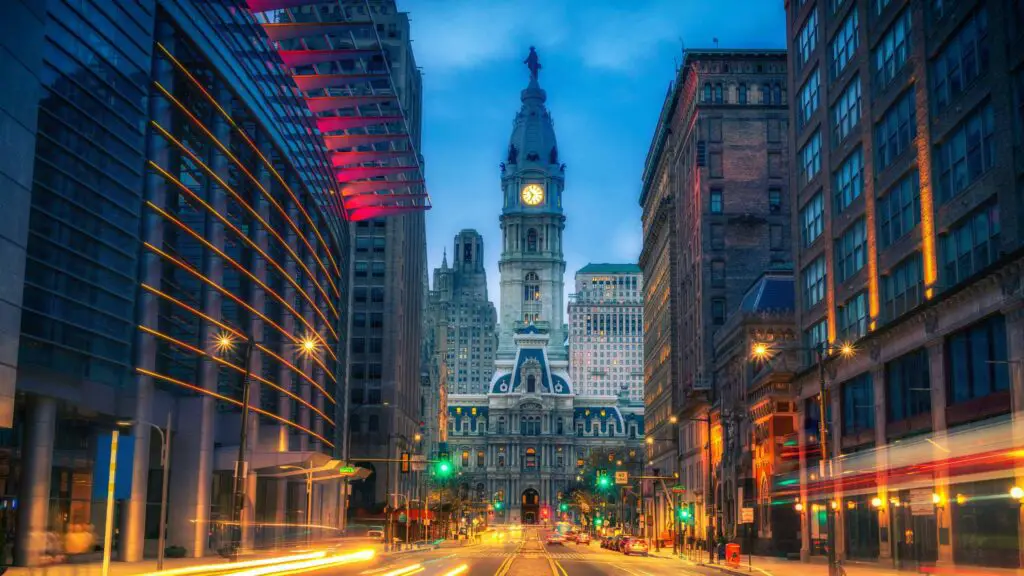 Brace yourself for spine-tingling stories of hauntings, executions, and even encounters with vampires. 
Locals will share stories about the dark underbelly of Philadelphia's history.
There are many night tours, but I recommend the Grim Philly Twilight Tours for the best nightlife in Philly, which departs at 8 PM from Market Street.
GO ON A THRILLING SCAVENGER HUNT GAME
One of the fun things to do in Philadelphia at night is to go on a scavenger hunt game.
Download themed interactive scavenger hunts that blend the thrill of a race with the joys of sightseeing.
Make new acquaintances, race against the clock, decipher clues, and embark on a city-wide adventure that's part game, part tour, and all fun. 
Check out a few recommendations that add more fun to your Philadelphia nightlife experience.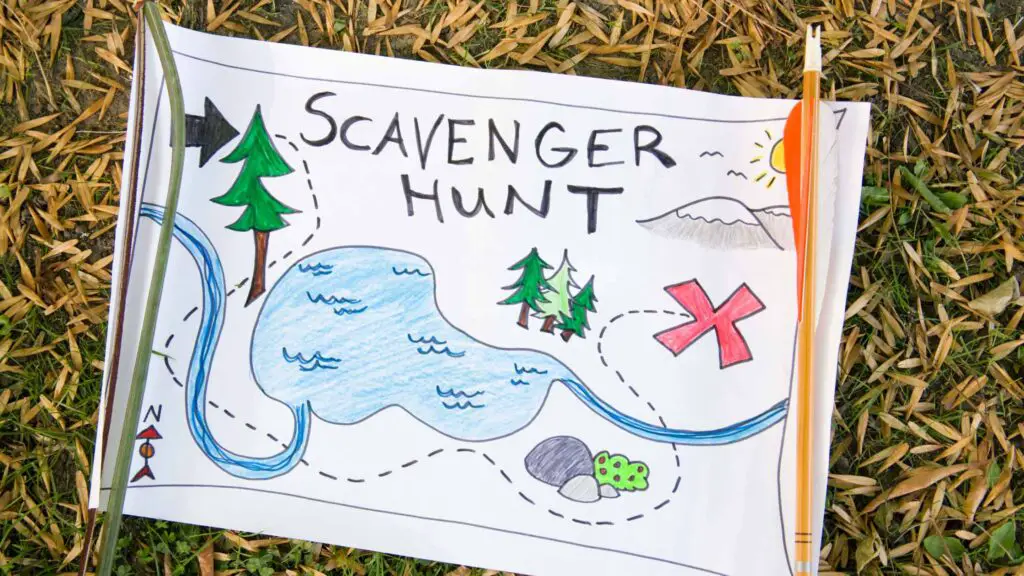 Self-Guided Scavenger Hunt in Philadelphia: Put your inner detective to work and solve a thrilling murder mystery as you are guided through the city's winding streets.
Stitched In Time: People Who Made America: This multiple-player game involves teamwork and discovery.
As you roam the city, you will learn about famous Philadelphians like the inventive Benjamin Franklin and the legendary William Penn.
Museums Scavenger Hunt: Venture through the museum district, from the grandeur of City Hall to the majesty of the Philadelphia Museum of Art. 
TAKE IN A DRAG SHOW 
If you are looking for one of the unique and fun things to do in Philadelphia at night, attend a drag show in Bob and Barbara's Lounge in the heart of Rittenhouse Square. 
Every Thursday, this lively venue sets the stage for a spectacular song and dance performance with an irreverent "shot-and-a-beer" atmosphere.
I have mentioned some of the renowned performances below, which add charm to the nightlife in Philadelphia.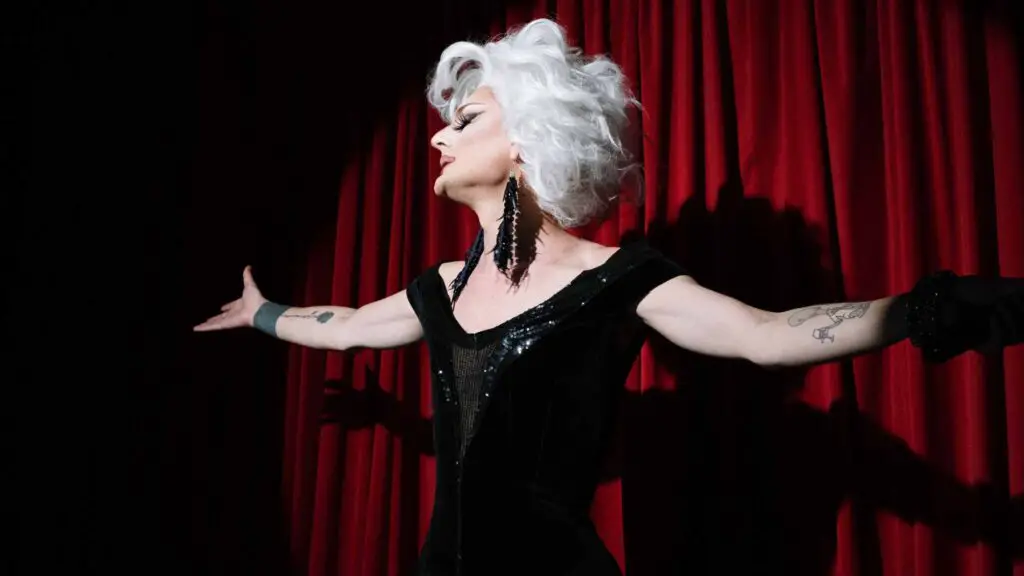 Venture into Washington Square West, and you will discover the electric energy of Tabu and Woody's.
The Drag Mafia, always on the move, brings their electrifying shows to different locations throughout the city, ensuring that every corner of Philadelphia gets a taste of the magic.
The Diva Royale Drag Queen Dinner Show offers a delectable feast for your senses, blending exquisite dining with jaw-dropping entertainment.
ENJOY AN ICE CREAM AT FRANKLIN FOUNTAIN
If you are looking for a scoop of pure happiness, look no further than the legendary Franklin Fountain store on Market Street, one of the fun things to do in Philadelphia at night.
The moonlit streets of Philadelphia, a warm breeze in the air and a delightful ice cream cone from none other than Franklin Fountain; this is not just a treat; it's an experience to savour.
For a reason, the Franklin Fountain has earned its stripes as one of the country's best ice cream parlours.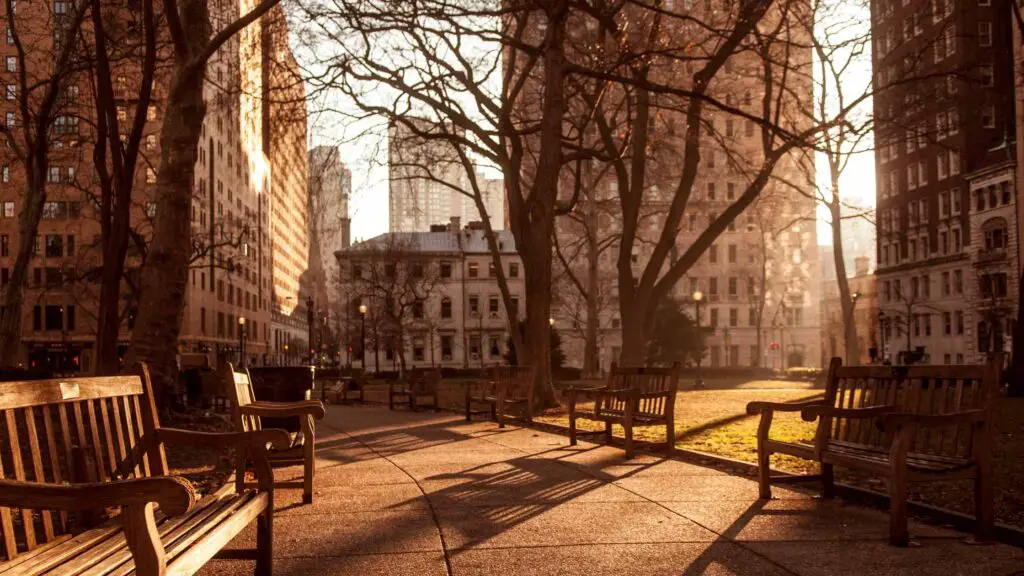 Prepare to be transported back in time as you enter a world where ice cream is an art form. 
The traditional methods used here transform the freshest ingredients into frozen perfection. 
And the flavours! From timeless classics to inventive delights, your taste buds are in for a real treat.
Try the banana splits or special ice creams with teaberry gum, Franklin mint chip and rum raisin.
Hot milkshakes and homemade pies are the best combination from Franklin Fountain, especially during colder months in Philadelphia.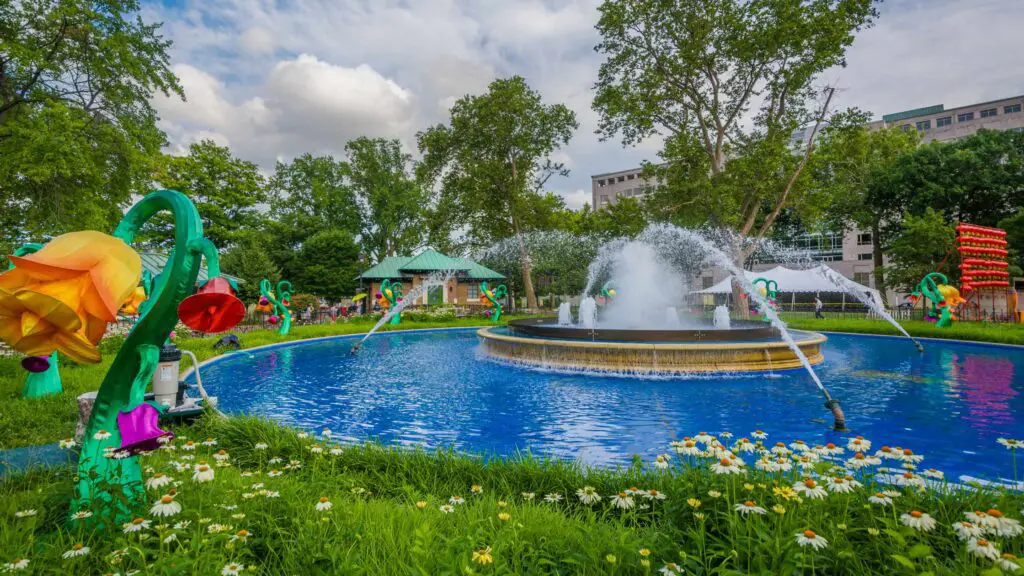 Witness vintage candy jars adorning the walls, adding a pop of colour and nostalgia to your ice cream indulgence. 
Another attraction here is the menu, a piece of art lovingly typed out on a vintage typewriter. 
So, don't miss the Franklin Fountain store, whether you are an ice cream lover or just someone seeking one of the fun things to do at night in Philadelphia.
RAISE A TOAST AT THE INDEPENDENCE BEER GARDEN
If you are looking for fun things to do in Philadelphia at night, the call of the Independence Beer Garden beckons! 
Nestled just opposite the historic Independence Mall and a few steps away from the Liberty Bell Center, this outdoor oasis is where the real fun begins.
This mall is a sprawling 20,000-square-foot outdoor paradise that oozes charm, with a zeppelin-inspired design that sets the stage for a unique and festive atmosphere.
The unique attraction of this beer garden is it features rocks, boulders, and shipping containers, transforming it into a lively hub for eating, drinking, and playing games.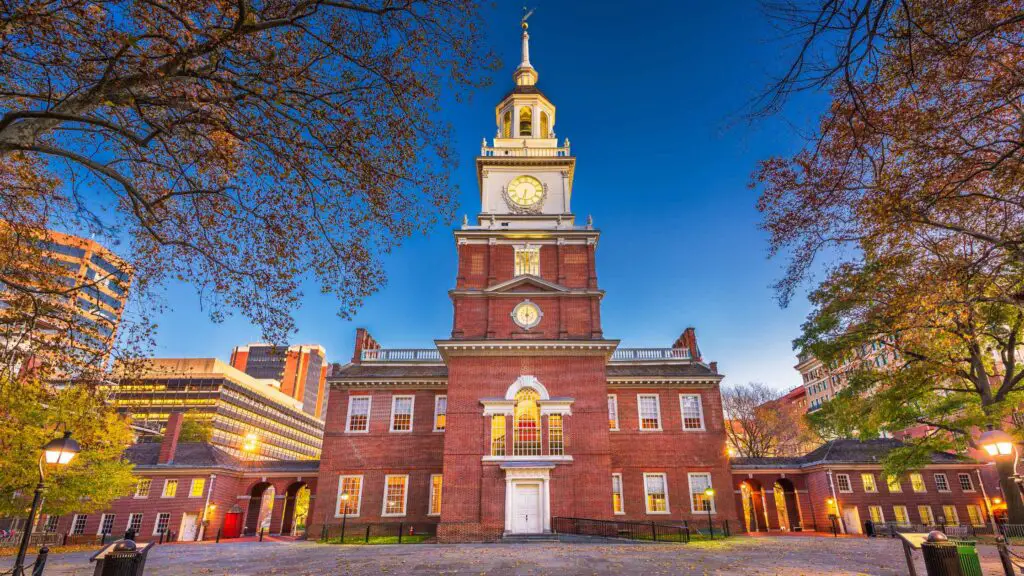 Talking about libations, the menu boasts a tempting array of local and international beers, along with wine and cider, to satisfy every palate. 
And if you are a foodie, you are in for a treat. The food lineup is just as impressive. 
Savour classic cheesesteaks, pretzels, and refreshing salads while sipping your favourite brew.
There are 40 regional and domestic beers, each waiting to be savoured. Make acquaintances with the locals and groove to the rhythms on select evenings. 
And for the cherry on top, don't miss the happy hour extravaganza from 3 PM to 7 PM.
EMBARK ON A PROHIBITION PUB CRAWL
One of the fun things to do in Philadelphia at night is to go on a Pub Crawl Tour.
Philadelphia boasts an abundance of bars and pubs to quench your thirst.
But there's something unique about joining a prohibition pub crawl tour led by a knowledgeable guide to have most of the Philadelphia pa nightlife.
As you traverse the city's cobblestone streets, your guide will regale you with tales from the Prohibition era, an era of secrets, speakeasies, and notorious gangsters like Al Capone and Leo Lanzetti.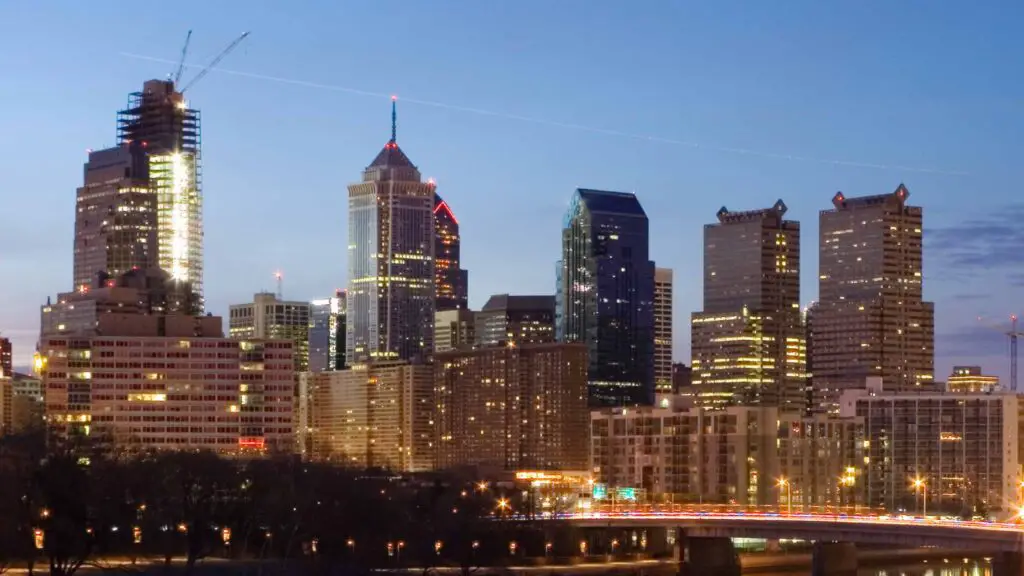 You will witness iconic landmarks that depict a bygone era, each with its own story.
From bootleggers who defied the law to pirates who sailed the high seas, you will meet a cast of colourful characters who once called Philadelphia home.
Their stories come alive as you walk from tavern to tavern, each a chapter in the city's rich and storied history.
Book your Pub Crawling tour here.
GO ON A BREWERY TOUR
You would have realized that Philadelphia is nothing short of a hoppy paradise by now.
With a thriving craft beer scene in Philly, a brewery tour has become one of the top things to do in Philadelphia at night.
For the best nightlife in Philadelphia, I recommend visiting these breweries.
Philadelphia Brewing Company: Nestled within the city's oldest and largest brewing facility, you will discover the secrets behind some of Philadelphia's most iconic beers.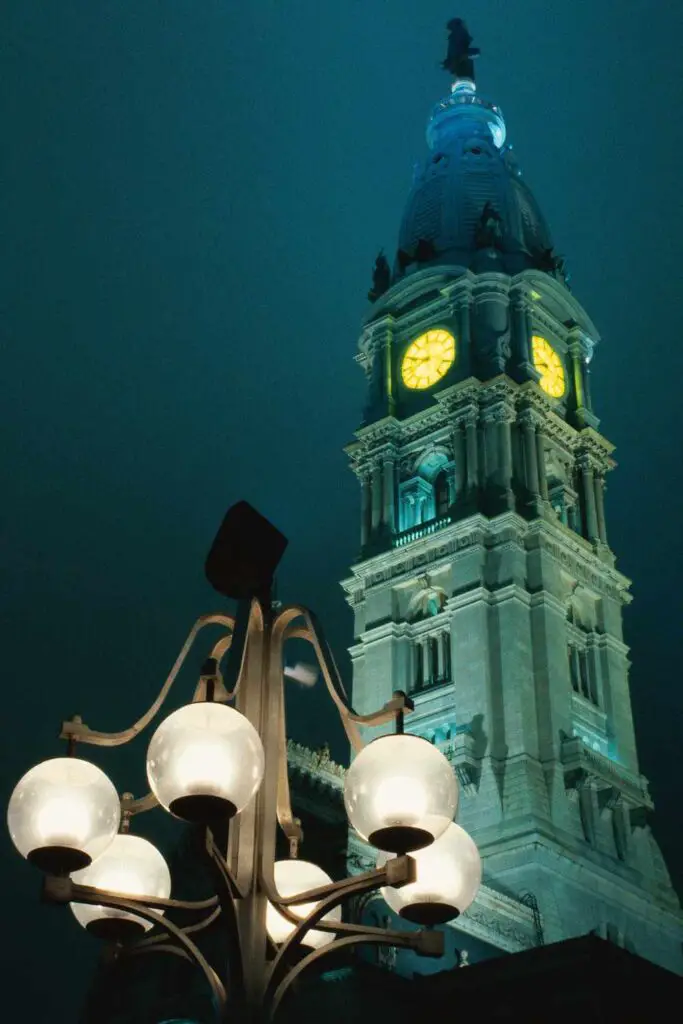 Yards Brewing Company: This massive brewery and taproom in Northern Liberties will introduce you to a world of flavour and craftsmanship that goes into creating a perfect brew.
2nd Story Brewing: This charming spot offers excellent beer and a glimpse into the historic neighbourhood's vibrant nightlife.
Joining a guided brewery tour allows you to chat with brewery owners, learn the art of crafting excellent beer, and gain insights into beer-making.
Many brewery tours include mouthwatering meals that pair perfectly with the brews, creating an unforgettable gastronomic experience.
ROLL THE DICE AT THE SUGAR HOUSE CASINO
If you feel the urge to test your luck in Philly, there is no better place than the SugarHouse Casino. 
Located right on the panoramic Delaware River in the vibrant neighbourhood of Fishtown, this 24-hour gaming destination has become one of the best things to do in Philadelphia at night.
From the endless thrill of slot machines to the strategic allure of table games, SugarHouse Casino is a gaming paradise where your fortunes can change instantly.
Try the delicious delicacies at one of the many upscale restaurants that promise culinary delights.
SugarHouse Casino also transforms into a stage for live concerts and uproarious comedy events on certain days.
So, don't miss this gamble of a lifetime. Who knows? Tonight might be your lucky night.
CRAFT YOUR GLASS ART
One of the unique things to do in Philadelphia at night is to attend the Glass Art class at the Jim Loewer Glass Company.
It's an opportunity to shape molten glass into stunning creations under the guidance of skilled artisans.
They offer one of the best glass-blowing classes in Philly for all levels of expertise.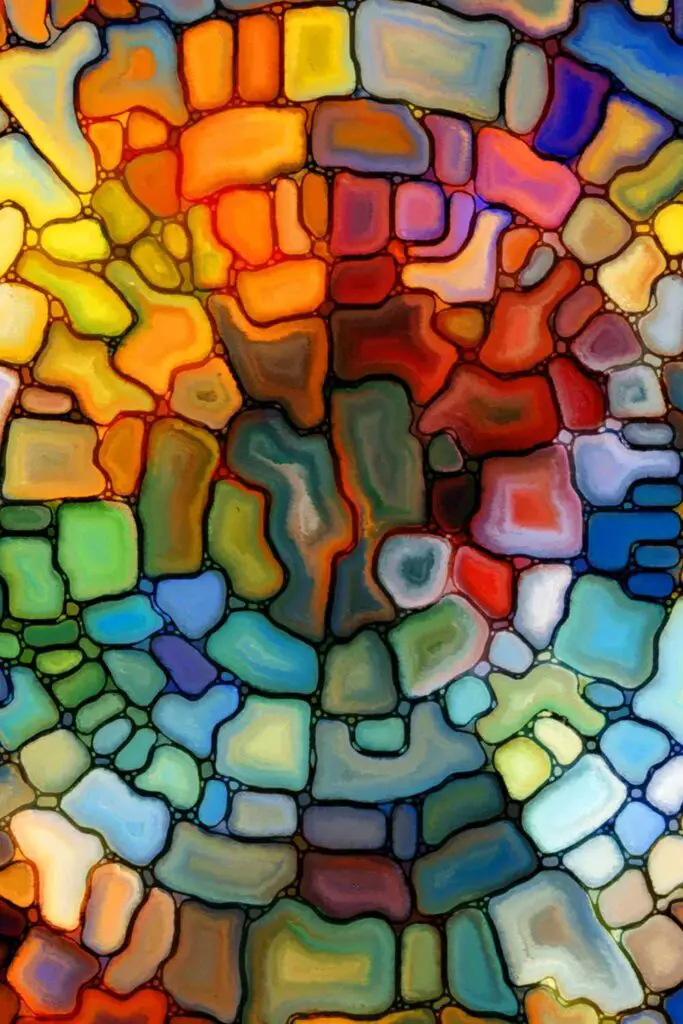 You will learn the art of manipulating glass-blowing rods and transforming raw materials into beautiful glass creations during your class. 
It's a hands-on experience that allows you to unleash your creativity and see your vision come to life.
You will leave the class with a tangible piece of art that you have personally crafted.
It's a unique souvenir that makes your Philadelphia at night trip memorable.
VISIT ARTSQUEST AT STEELSTACKS
If you are looking for one of the top and fun things to do in Philadelphia at night, visit Artsquest in the Lehigh Valley.
This vibrant cultural hub is part of the remarkable SteelStacks redevelopment project, which has breathed new life into the historic Bethlehem Steel factory.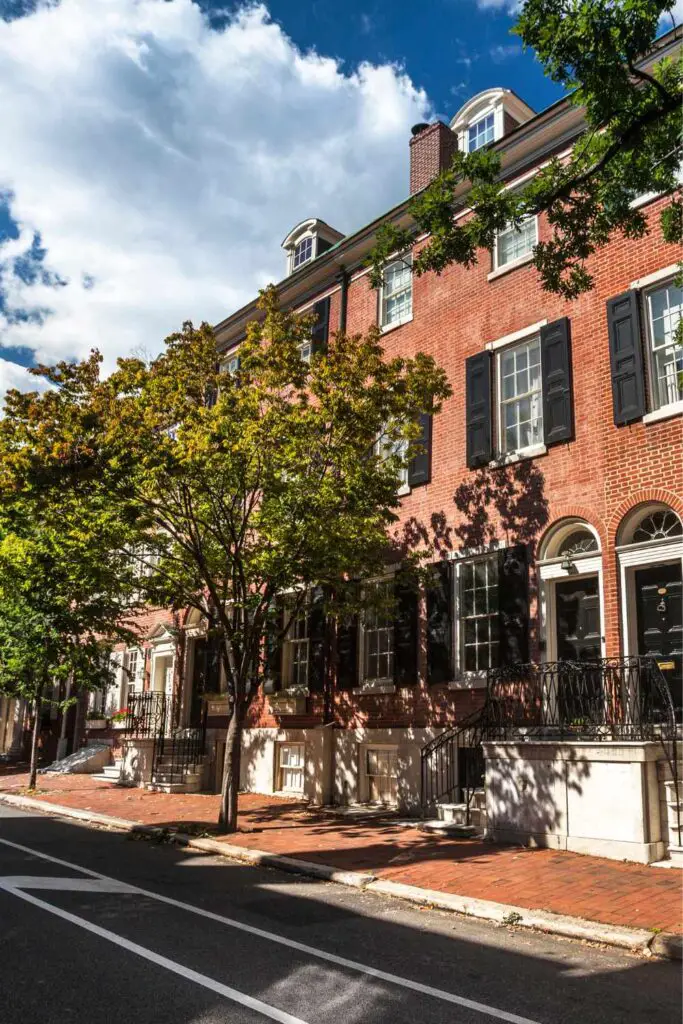 ArtsQuest hosts an array of events to suit every taste.
Groove to live music under the starry night sky, sip your favourite brew at an Oktoberfest beer garden party or immerse yourself in the magic of outdoor film screenings.
Every weekend during the spring and summer months, ArtsQuest pulls out all the stops to ensure your evenings are filled with excitement and entertainment. 
ROMANTIC THINGS TO DO IN PHILADELPHIA AT NIGHT
STROLL ALONG CHERRY STREET PIER
One of the romantic things to do in Philadelphia at night is to stroll along Cherry Street Pier, a repurposed shipping pier built on the Delaware River Waterfront. 
Cherry Street Pier is like a cultural centre of Philly; you will witness many budding artists captivating audiences with their mind-bending performances.
Check out the murals dotting the streets, which are the perfect backdrop for your social media pictures.
Treat your taste buds at the various multi-cuisine food food trucks.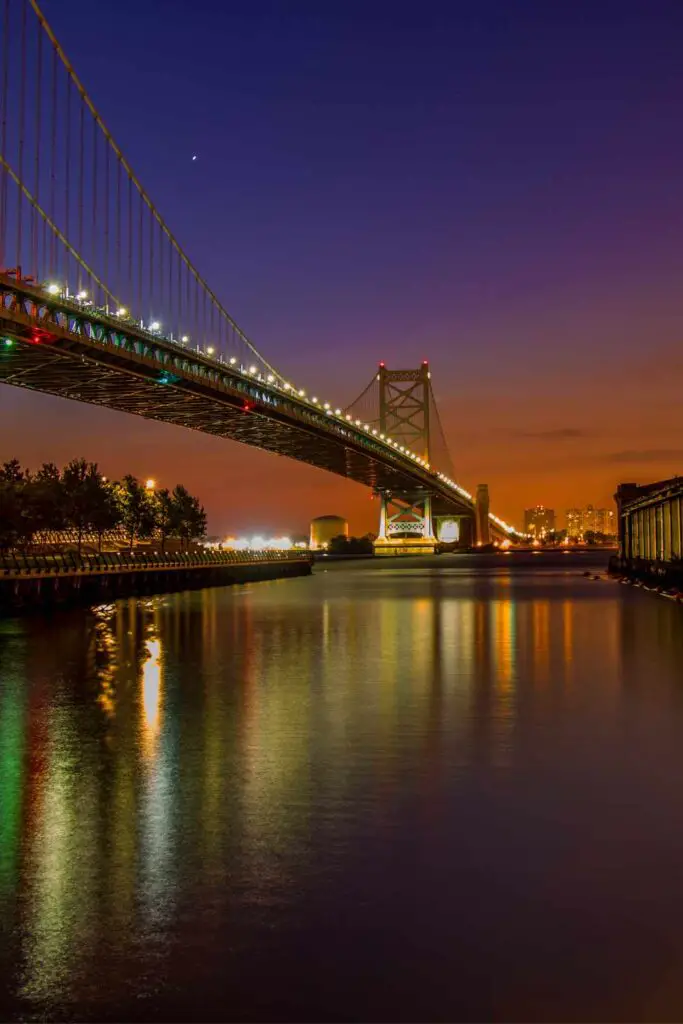 If you time your visit right, you may be able to catch up with one of the charming festivals.
The best part is that Cherry Street Pier hosts one or the other festivals throughout the year.
Unleash your inner child at the gaming arena, go on a shopping spree at the shopping complex, purchase some local produce and check out the theatrical performances and plays on the stage.
Cherry Street Pier is also one of the best vantage points, which offers stunning vistas of the Delaware River and the Benjamin Franklin Bridge.
Keep track of the events that happen on this street on social media.
STROLL ALONG BENJAMIN FRANKLIN BRIDGE
One of the romantic things to do in Philadelphia at night is to stroll along the Benjamin Franklin Bridge.
If you have some spare time and are looking for places to go in Philly at night, seize the moment and embark on an unforgettable journey across this historic marvel. 
Formerly known as the Delaware River Bridge, this suspension wonder links the vibrant Philadelphia in Pennsylvania to the charming town of Camden in New Jersey.
Did you know this bridge was initially crafted for the grand 1926 Sesqui-Centennial International Exposition?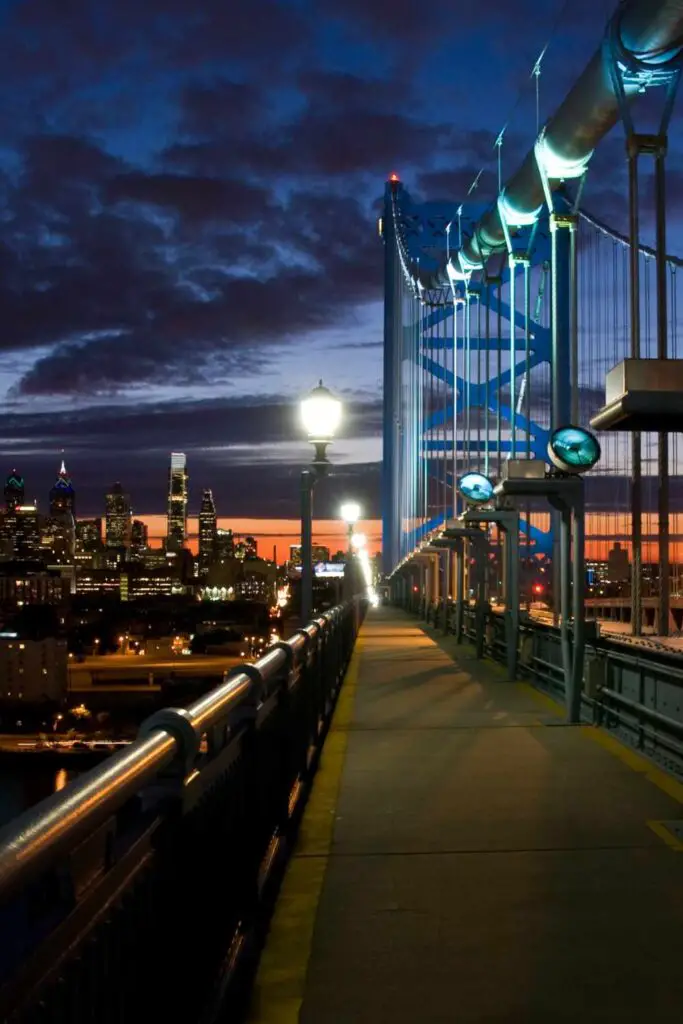 Back then, it boasted the most extensive single span of any suspension bridge worldwide until 1929 – quite an impressive feat, right?
As you traverse this architectural marvel, you will be treated to a sparkling panorama of the majestic Delaware River and the dazzling Philadelphia skyline. 
Alternatively, rent a cycle and pedal on this bridge, one of the popular Philadelphia things to do at night.
CLICK CANDIDS IN LOVE PARK
One of the romantic things to do in Philadelphia at night is to stroll in Love Park and capture cherishable memories on your lense.
This park is officially called John F. Kennedy Plaza.
Stroll hand in hand with your loved one; the city's enchanting lights will paint a perfect backdrop as you embark on a journey to create memories that will last a lifetime.
And what could be more iconic than the famous Love sign?
It's a symbol that not only represents Philadelphia but also embodies the universal language of love. 
As you step into Love Park, your eyes will immediately be drawn to Robert Indiana's magnificent LOVE sculpture.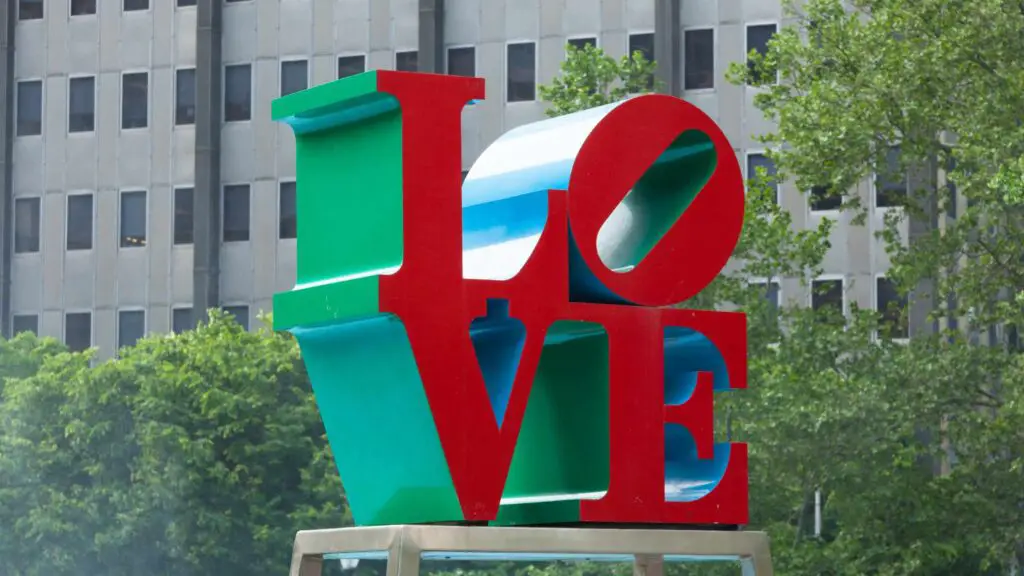 It's a masterpiece that radiates love and creativity, inviting you to take a piece of its magic home with you in every photograph.
The park boasts a tranquil water feature, a welcoming visitor centre, meandering walking paths, cosy seating nooks, and lush green spaces. 
And also, the park is the gateway to the Benjamin Franklin Parkway, a vibrant hub of art, culture, and history.
Don't forget to watch for the nearby food trucks, offering a delightful array of treats – from cupcakes and burgers to refreshing drinks.
STROLL ALONG MORGAN'S PIER 
If you want one of the romantic things to do in Philadelphia at night, stroll along Morgan's Pier.
This riverside haven owes its name to George C. Morgan, the first to venture across the Benjamin Franklin Bridge.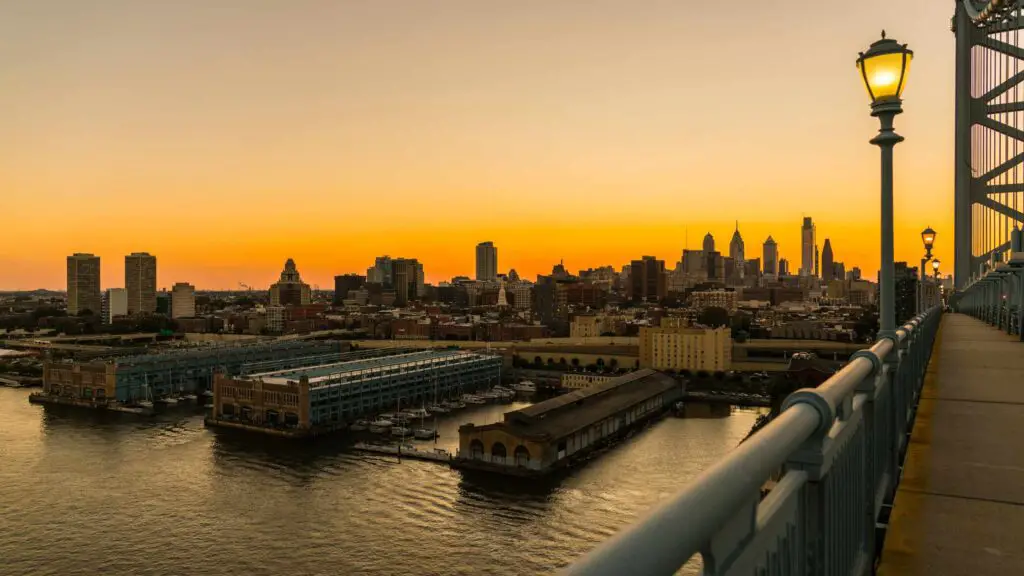 Enter Morgan's Pier, and you will be soaked in lush greenery, a refreshing escape from the urban hustle and bustle. 
It's a place where the city's energy mingles harmoniously with the serenity of the Delaware River.
Enjoy your favourite beer from the Craft beer stands that dot the pier.
And if you are in the mood for a culinary adventure, food trucks and ice cream vendors are at your service, ensuring a treat to your palate.
You can groove to live music and DJ sets on most Saturday nights.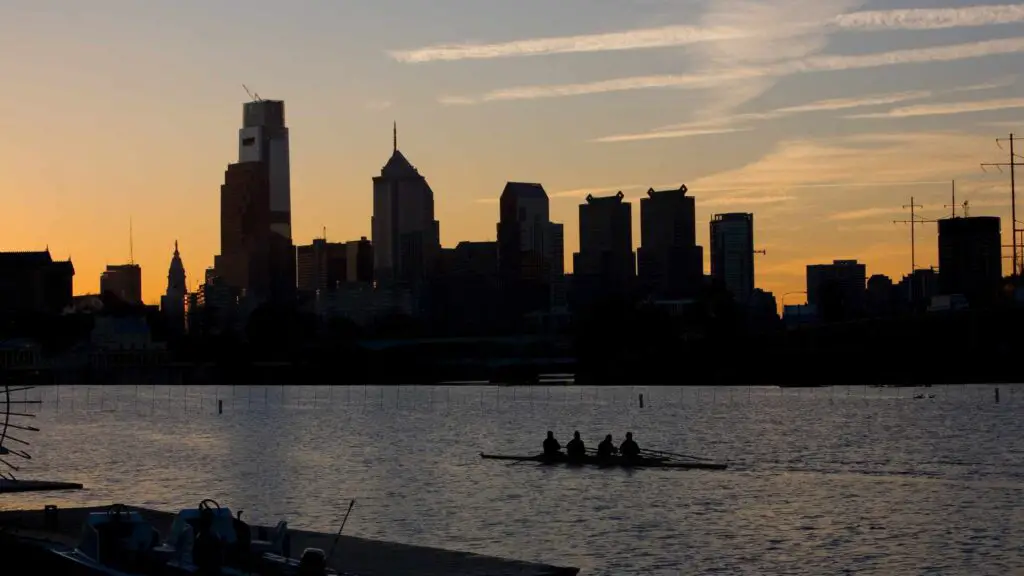 With Old City, Independence National Historical Park, and Franklin Square just a stone's throw away, Morgan's Pier sits at the top of the list of Philadelphia night activities.
Remember that Morgan's Pier is a seasonal delight, open from spring to summer, and they have a calendar brimming with exciting events. 
EXPLORE BOATHOUSE ROW
One of the romantic things to do in Philly at night is to enjoy the shimmering beauty of Boathouse Row.
Boathouse Row, a national historic landmark, is a testament to Philadelphia's rich history and enduring love affair with rowing. 
When the sun dips below the horizon, you will witness the mesmerizing dance of reflections of 15 Victorian-era buildings that grace Boathouse Row.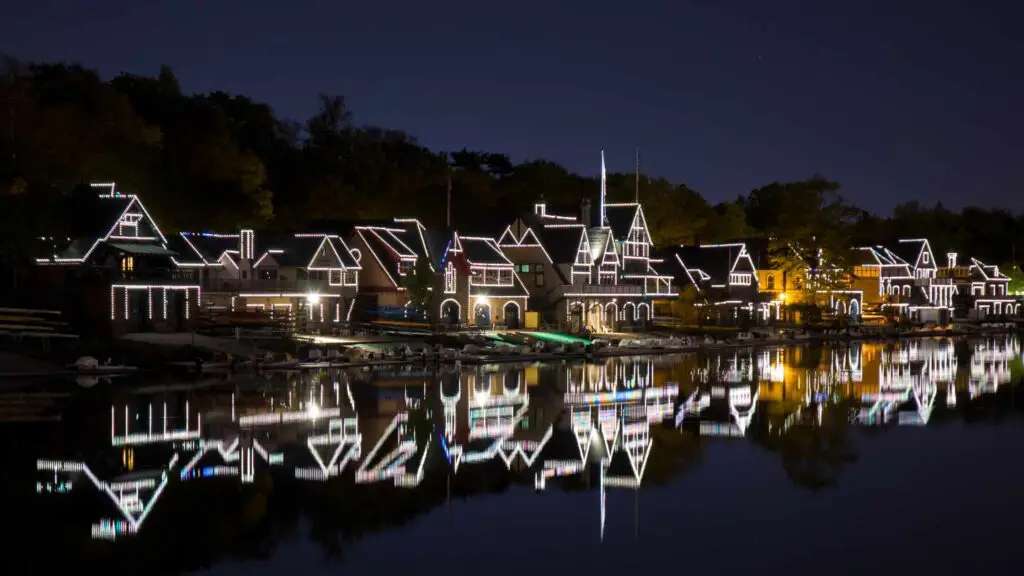 All these buildings date back to the mid-19th century to the Civil War era and line the Eastern bank of the Schuylkill River, just North of the Fairmount Waterworks.
The best part is these boathouses, with their colourful LEDs, transform the river into a twinkling fairyland, making it one of the top activites of Philly at night.
CRUISE THE DELAWARE RIVER
One of the most romantic things to do in Philadelphia at night is to go on a dinner cruise along the Delaware River.
Surround yourself with the glittering Philadelphia skyline, bathed in the soft glow of the night.
Enjoy the air filled with music melodies and the tantalizing aromas of a delectable feast. 
Your journey begins at Penn's Landing. As you step aboard, you will be greeted by the warm embrace of the river, setting the stage for a night to remember.
And what's a cruise without indulgence? Many dinner cruises offer all-you-can-eat buffets, where culinary delights await your discerning palate.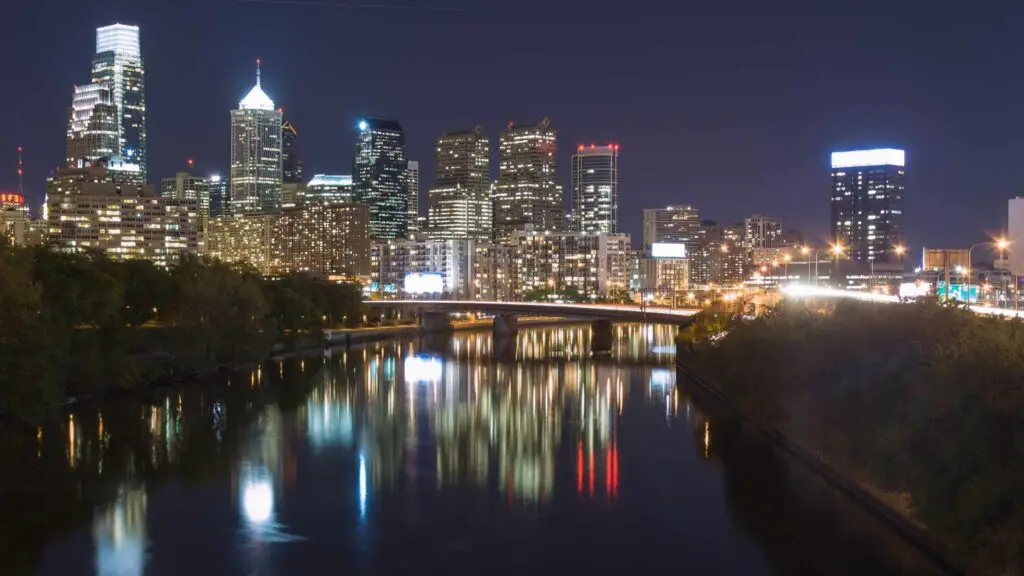 Savour every bite under the starry sky. The cherry on the top is an onboard DJ; the dance floor beckons you to sway to the rhythm of the night. 
And here's a tip for an even more magical experience: plan your cruise during seasonal celebrations. 
Whether it's the sparkle of New Year's Eve, the romance of Valentine's Day, the patriotic fervour of the Fourth of July or the Christmas Extravaganza, there's a dinner cruise to match the occasion.
MAP OF THINGS TO DO IN PHILADELPHIA AT NIGHT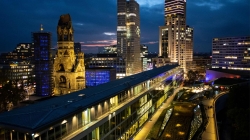 Latest posts by Anna Owen
(see all)