If you are wondering how to enjoy the best nightlife in the UK, you have come to the right place. Famous for rich culture, history, architecture, stunning cobbled villages and spectacular diverse landscapes, it may not appear that there are many party cities in the UK.
But if you know about Brits, you may see that they take their drinks and food seriously, which is proved by some fascinating cities with thousands of years of partying history and revelry, offering the best nightlife in the UK even to this day.
Whether you enjoy cocktails on a rooftop admiring gorgeous views or love grooving to all kinds of music until the early hours, England nightlife has something for every type of visitor.
For starters, the UK is renowned for many legendary festivals drawing millions of tourists every year. The UK is home to many fantastic bachelor or hen party destinations, and students worldwide love the best party cities in England.
The country's eclectic nightlife comprises speakeasies, swanky nightclubs, booming music pubs, themed bars, comedy clubs, live music, and so much more.
Whether you're planning for wild nights with friends or romantic date nights with your beloved in the cobbled alleys of England, or you're visiting the UK for the first time and researching where to go and what to do – In this guide to the best party cities in the UK, you can pick your nights of pleasure to enjoy the fascinating nightlife in the United Kingdom.
NIGHTLIFE IN THE UK – WHAT TO EXPECT?
Although you may not find the culture not as spirited or as free and outgoing as the nightlife in Spain, going on a night out is a big part of British culture, belonging to all age groups.
A typical weekend in the UK includes many fun ways to socialise with friends, hit the bars, taste the best brews, or watch football matches in the fantastic sports bar scattered throughout its cities.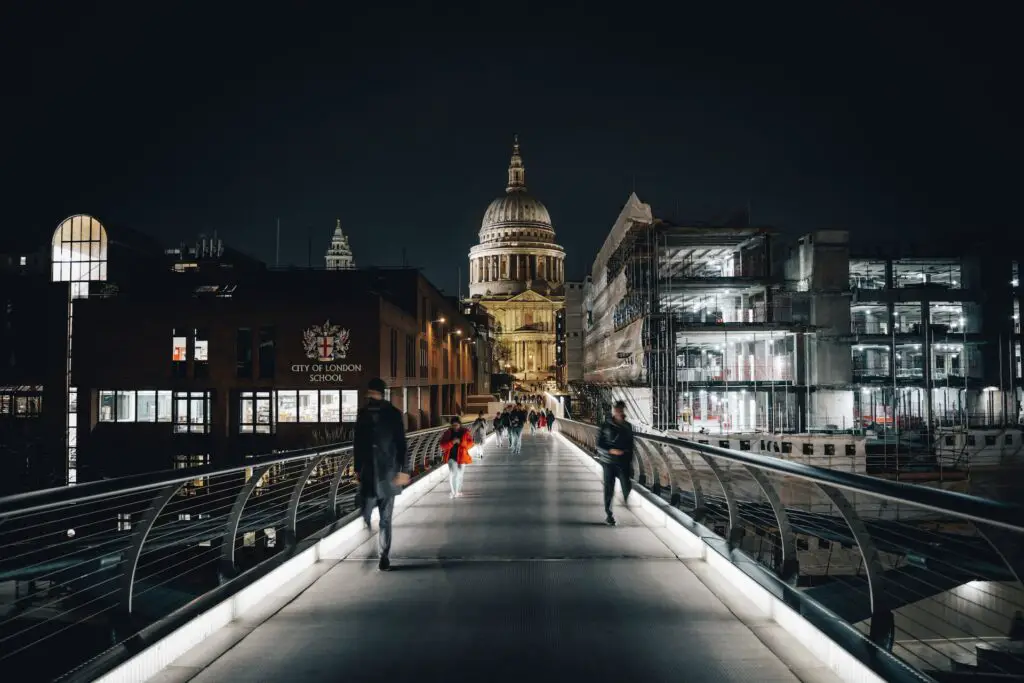 You can also enjoy a lot of theatres, which is a part of British culture. So if you love operas, you will be treated to fantastic shows highlighting the history, culture, and people through many legends and folklore enacted by the best artists.
Not all cities are expensive, so you can also enjoy the best nightlife in the UK on a budget. Plus, there are many incredible places to go out for quiet nights.
You can join many interesting night tours in London, Edinburgh, Manchester, and other cities, varying from pub crawls, workshops, and wine tasting to local food and segway tours.
NIGHTLIFE IN THE UK – TOP DESTINATIONS
LONDON
Known as one of the most diverse cities for its fascinating history, rich cosmopolitan culture, stunning architecture, and gorgeous skylines, it is no surprise that London is one of the best party cities in Europe, and of course, among the top destinations to enjoy the best nightlife in the UK.
Not surprisingly, London is the most pricey place in the UK for a stag or a hen weekend, but you have more nightlife options in London than anywhere else in the UK. So be assured of some of the wildest nights on your London trip in your life.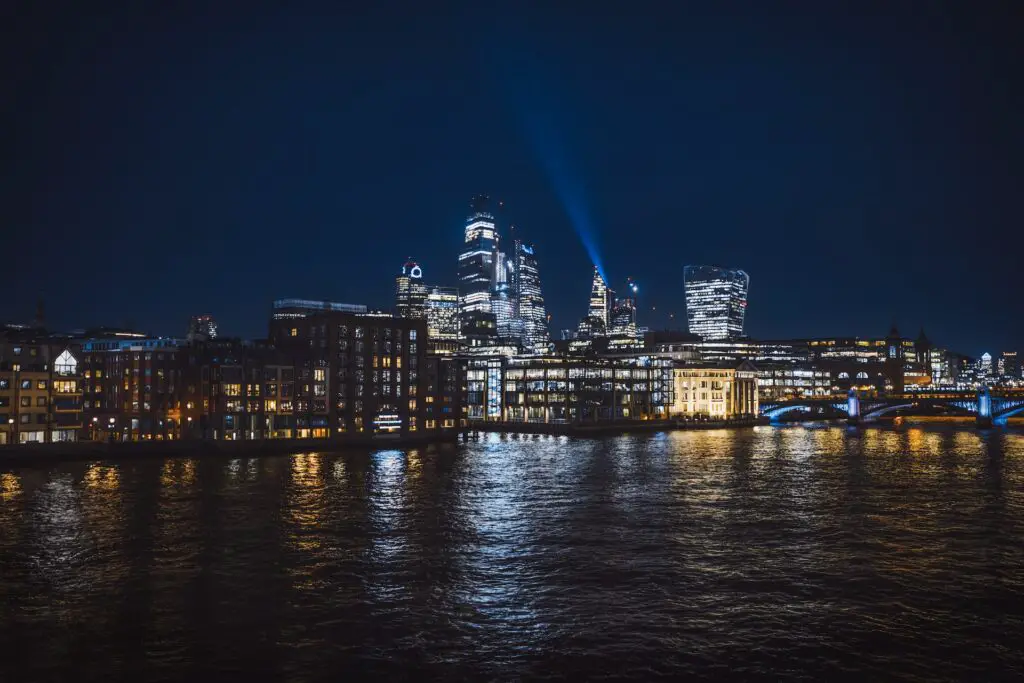 An excellent way to avoid digging deep into your pockets while planning to enjoy the fantastic nightlife in London is to prepare ahead.
Because if you search hard enough, you'll find some cheaper areas and hidden gems even if you want to host a stag or a hen weekend.
Brixton, Soho, Camden, Kensington, Shoreditch, and Hackney are some of the most famous neighbours to enjoy fun nights in London.
World-class bars and clubs are dotted all over the city to be chosen, depending on your personality of the night.
Soho, located in the heart of the city, is the most expensive district in London. It is known for its upmarket bars like Disrepute, extravagant clubs including the classic Fabric, and decadent discos, often frequented by celebrities.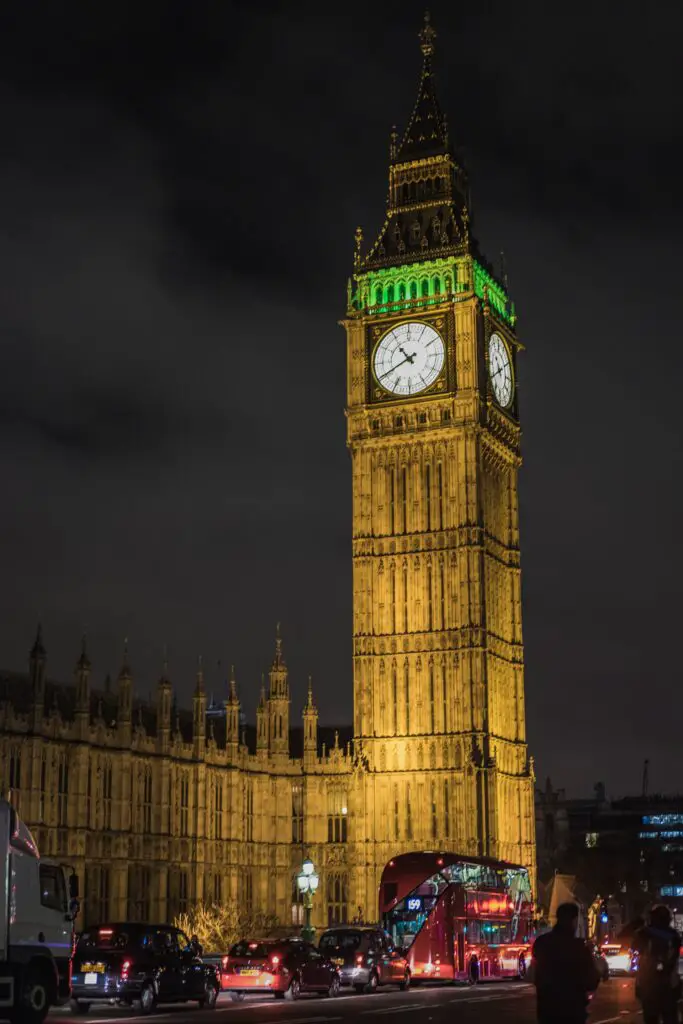 Mayfair is also known for its expensive clubs and lavish restaurants, but you can also find many excellent cocktail bars.
For something more alternative, head to Camden, famous for its fun underground clubs playing alternative hip-hop beats and glamorous cocktail bars.
For London's hipster vibes, head to Shoreditch, known for its comedy clubs, speakeasy-style bars, trendiest spots, fantastic outdoor marketplaces and edgy underground clubs.
Dalston is home to some of London's iconic music venues and influential gay bars.
RECOMMENDED TOURS
WHERE TO STAY?
Hotel Cafe Royal, Pan Pacific London, Shangri-La The Shard, London, The Ritz London, The Savoy
MANCHESTER
What better than the musical city to enjoy the best nightlife in the UK?
Manchester is all about different kinds of soulful music and seemingly-endless parties, thanks to the youth forming most of the crowds.
This northern city offers fabulous nightlife catering to all tastes and budgets.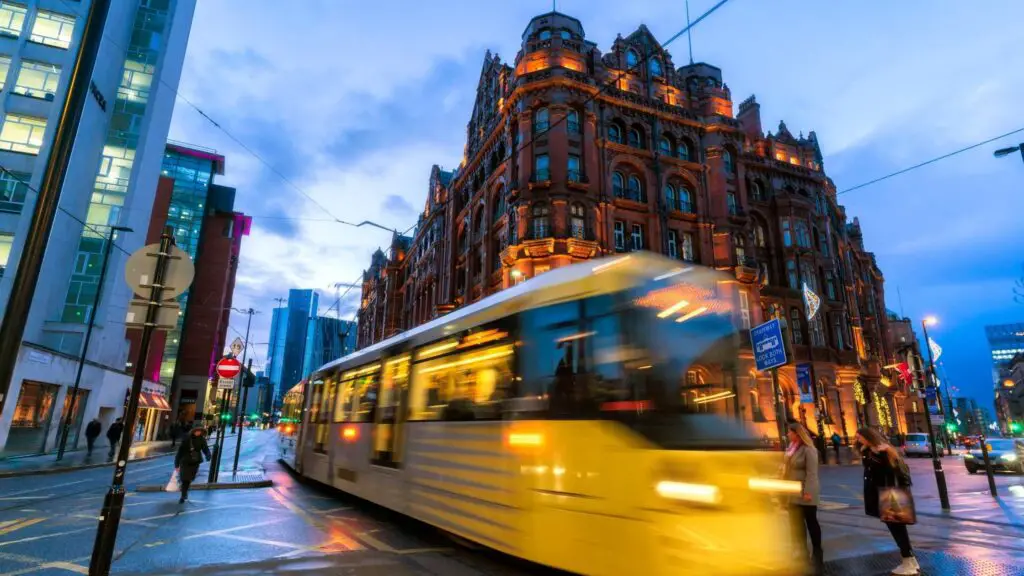 If you want to have luxurious night outs, head to the posh Spinningfields neighbourhood, known for its excellent cocktail connoisseurs serving the best at many quirky bars amidst neon lights and lots of music.
Warehouse Project is one of the top things about nightlife in the UK, and Manchester is the venue of this DJ event. For the uninitiated, The Warehouse Project is a series of club nights organised in Greater Manchester, England, since 2006.
Unlike most other clubs, it has a limited seasonal approach, usually from September through New Year's Day spread across many floors, including a lively rooftop. You'll find club nights packed during these months, attracting the best DJs of many genres.
There are many other great live music venues, some famous being Band on the Wall, Gorilla, and Night & Day. If you are more of the old-school type, seeking an underground Hacienda vibe, head to Depot Mayfield.
Join the large group of youngsters revelling on Fifth Avenue or Oxford Road, both home to dozens of live music and bars.
Northern Quarter is the place for alternative nightlife in Manchester as the district is packed with many excellent funky bars.
For more hipster, lowkey and different, Deansgate is the place to go for all classic chain bars, while the Gay Village is big on the LGBTQ scenes.
RECOMMENDED TOURS
WHERE TO STAY?
Luxury Penthouse Manchester With Balcony Views, Didsbury House Hotel, The Edwardian Manchester, A Radisson Collection Hotel, King Street Townhouse, BrewDog DogHouse Manchester, Stock Exchange Hotel
LIVERPOOL
No list of the best party cities in the UK could be complete without Liverpool, the birthplace of legendary rock band The Beatles and home to two prestigious football teams.
Another destination for the best nightlife in the UK for music and football lovers, this port city also attracts a large portion of younger crowds, but the city has something in store for all kinds of night-out activities.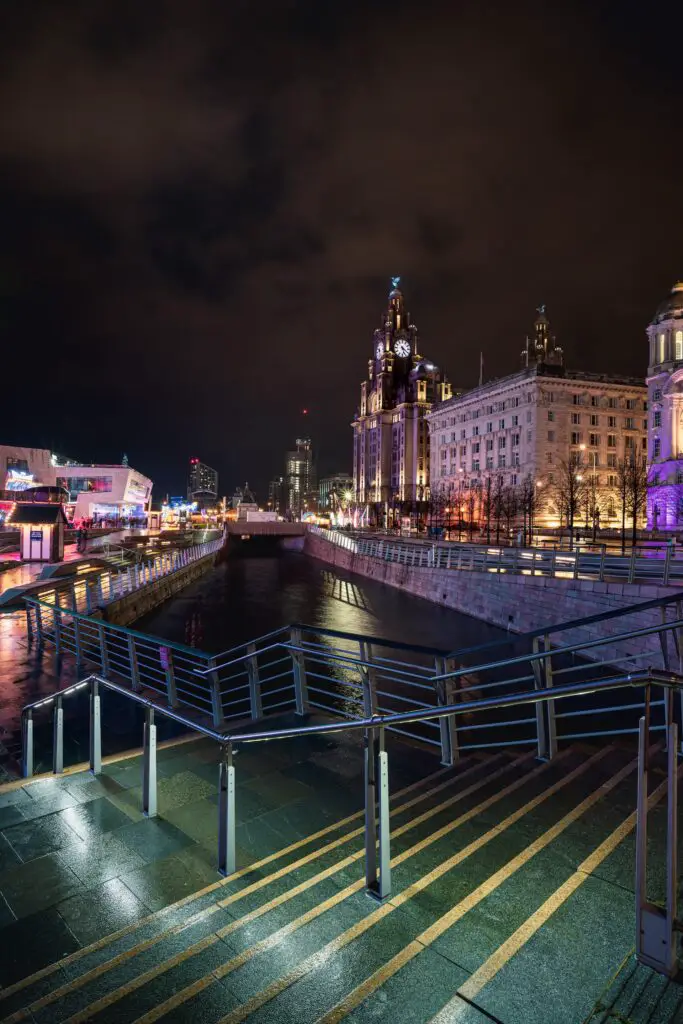 Unlike other cities, Liverpool's nightlife scene bustling with football scores, live music, and packed dance floors are all within a compact area, within walking distance of each other.
Start your night with a trip to Albert Dock, one of the most popular areas for nightlife in Liverpool, heading up the city's vibrant waterfront home to plenty of happy hour hot spots, classy bars and fancy cocktails. The area has become the venue for many weekend cultural and music shows.
Mathew Street and Merseyside are other most famous party places, including the classic Cavern Club, one of the country's most famous clubs and with live music all day. It was where the Beatles played regularly. So all fans must gather here.
Many cabarets and drag shows are happening in these nightlife districts in Liverpool, so keep an eye out for the shows if you want to add these to your stag weekend fun.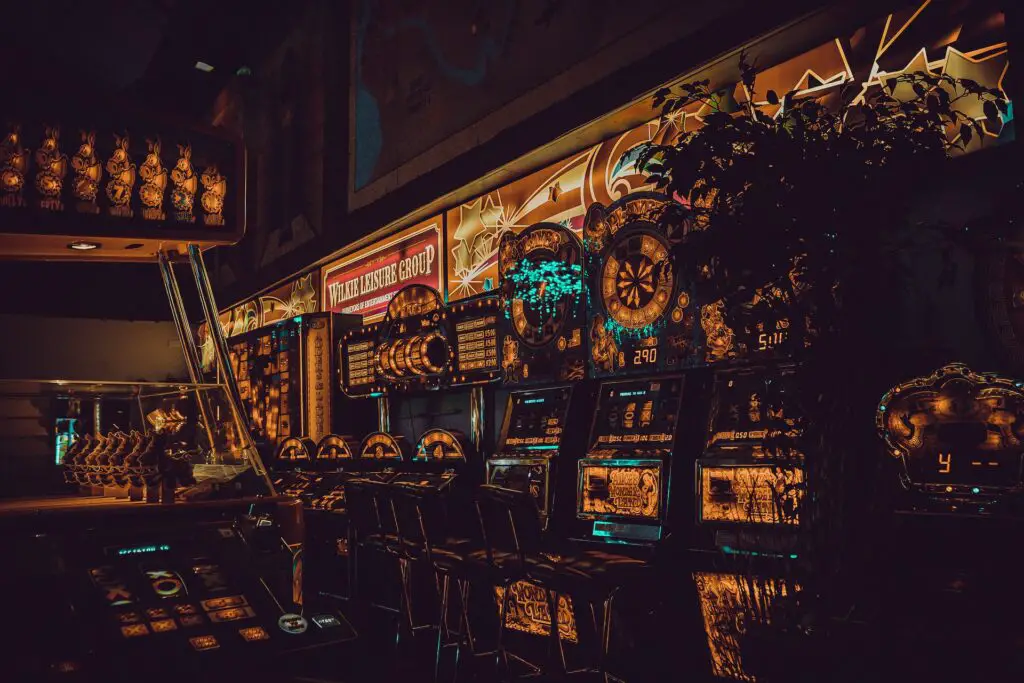 Concert Square is another famous square drawing lots of locals and visitors to its many outdoor bars and restaurants, perfect places during summer evenings.
If you prefer something more laid back, the Baltic area is where you need to go, where you can indulge in Mexican street food and dance the night away at many underground clubs.
WHERE TO STAY?
Eson House, FLATZY – Victoria Street Apartment – Heart of City Centre, The Georgian Quarters at Canning Street, Richmond Apartment, Alberts Apartments, York Street Studios, 88 Anfield Road, Hope Street Hotel, 19 Rodney Street Apartments
BRIGHTON
Known as the country's LGBTQ+ capital, one of the destinations for the best nightlife in the UK is Brighton. This city, a famous seaside town located on the south coast, is one of the popular bachelor and bachelorette destinations for raucous parties at the beach.
Its neighbourhoods offer the wildest and most fun nights comprising beach bars, Karaoke clubs, theatres, live music venues and fancy restaurants at every corner, attracting many locals and tourists.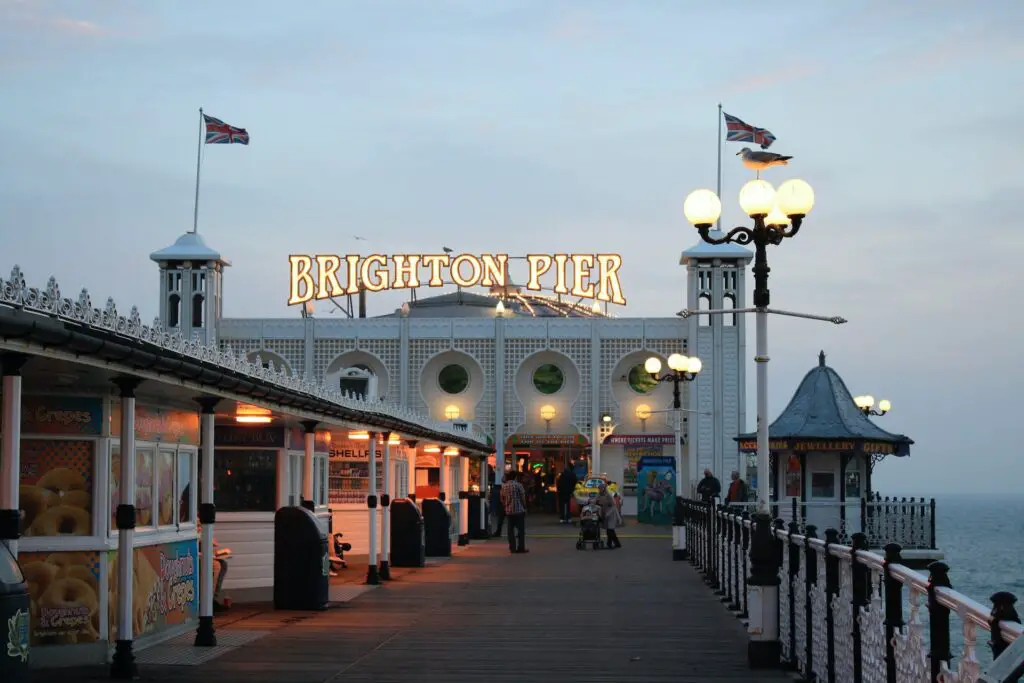 Kemptown is the gay quarter and the perfect place for unadulterated hedonism. The streets here overflow with gay clubs and bars, and there are also many cabaret clubs
Brighton is where the DJ Fatboy Slim to fame, and you can find many high-profile DJs hosting extravagant nights in the many clubs in Brighton.
Among the most famous nightclubs in Brighton is Club Revenge, one of the oldest and long-standing clubs in Brighton and a top club in the UK, home to three fantastic dance floors, seven VIP areas, and even a rooftop terrace.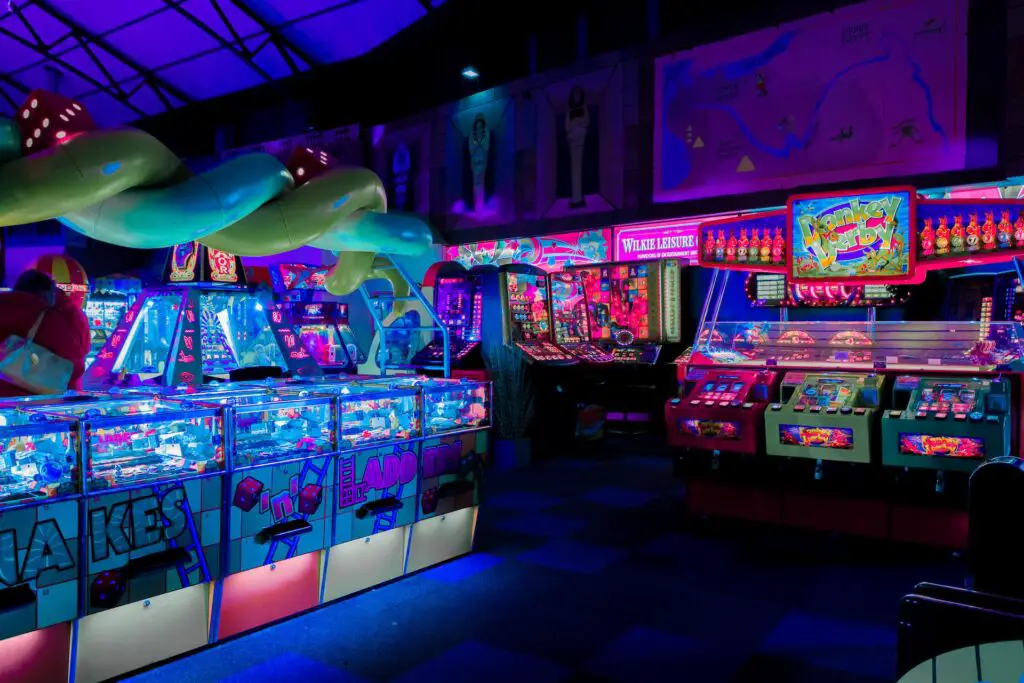 If you want something milder or less fancy, go to the beachfront lanes for many incredible cocktail bars overlooking ocean views or dine at one of the many fabulous restaurants playing an eclectic mix of music.
RECOMMENDED TOUR
Brighton: Bar Crawl of Five Venues with Drink Deals & Shots
WHERE TO STAY?
Seaview Apartment – Central Hove, The Ginger Pig, The Twenty One, Luxurious Apartment by Hove, Entire Apartment in the heart of Brighton Lanes
NIGHTLIFE IN THE UK – WHERE TO GO FOR PARTIES
BRISTOL
Beautiful Bristol, the South West's clubbing capital, is one of the beautiful destinations for enjoying the best nightlife in the UK.
Although the city is famous for its iconic clubbing, it is one of the few cities where you have plenty of ways to have fun at night, including karaoke, comedy nights, traditional speakeasies, jazz clubs and boat parties.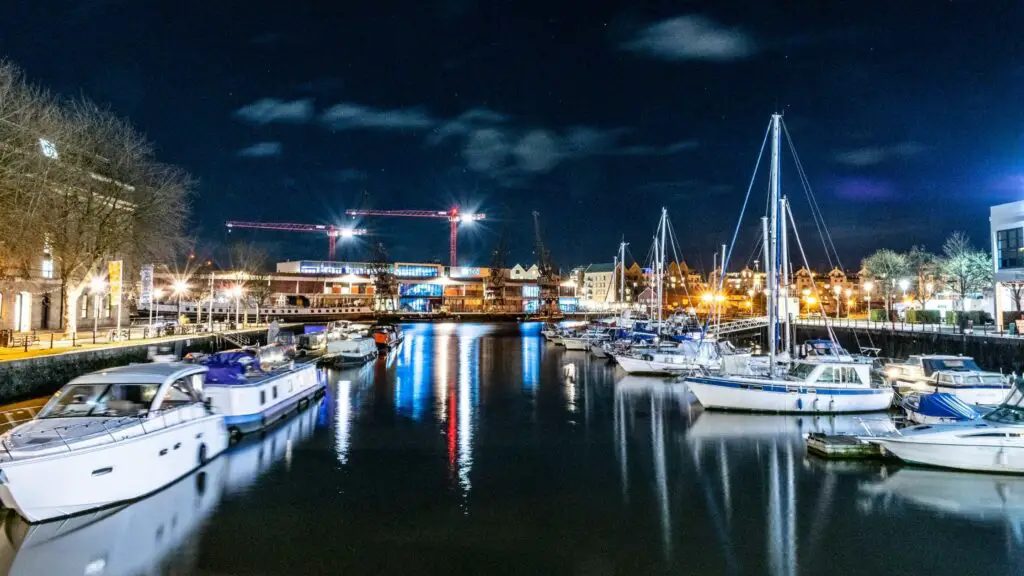 After watching gorgeous sunsets, stop by the waterfront area for pre-party drinks at its many cocktail bars and pubs with views before heading to top nightlife districts.
If you want to party until the early morning, head to Park Street.
Bristol is also known for its incredible LGBTQ scene, at its two separate gay villages, one in West End and another in Old Market Quarter, home to many clubs, drag shows, bars, and restaurants.
Among the many high-end clubs in Bristol, Motion, a nightclub in a warren of former warehouses, is the best place to indulge all-nighters.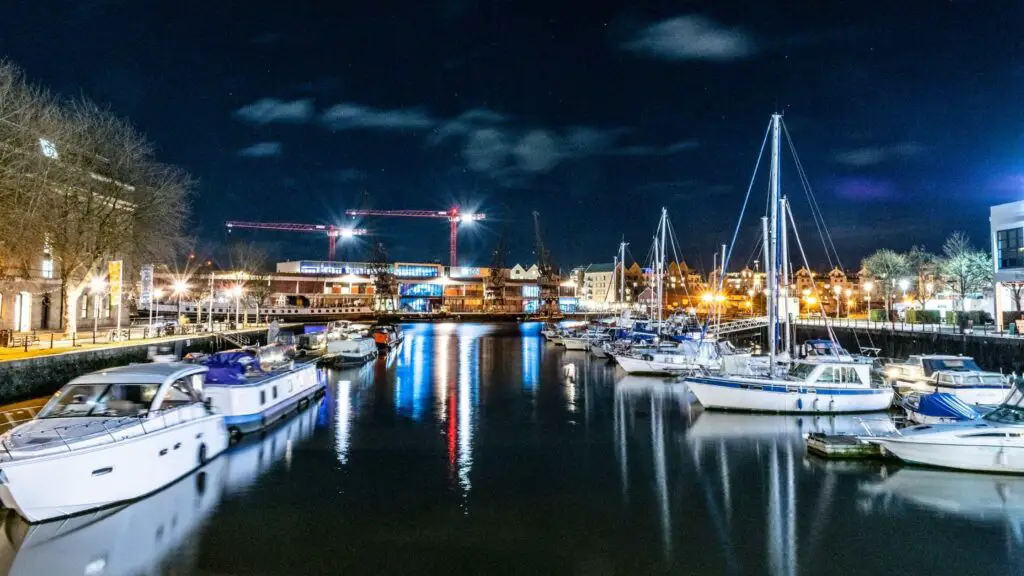 Hipsters and creative souls will love Stokes Croft, home to many great bars, pubs, and live music spots.
How about some live music on a boat bar? It is a must-thing in Bristol, so head to Thekla, a famous club aboard a converted German cargo ship moored in the harbour, hosting renowned musicians for over 30 years.
The Grain Barge is another boat known for its sunsets and excellent brews.
RECOMMENDED TOURS
WHERE TO STAY?
Coombe Lodge Farm House, Clayton Hotel Bristol City, Cleeves Cottage, Rosemary House Accommodation, Hotel du Vin Bristol, Artist Residence Bristol
GLASGOW
Scots know how to party and have the wildest nights. And if you love Scottish whiskey, it is another reason to head to Glasgow for the best nightlife in the UK.
Glasgow is the unofficial party capital of Scotland, and the city is vibrant, fun and affordable. If you love traditional pubs, you will love exploring the streets of Glasgow packed with dozens of them serving excellent craft beers and ale.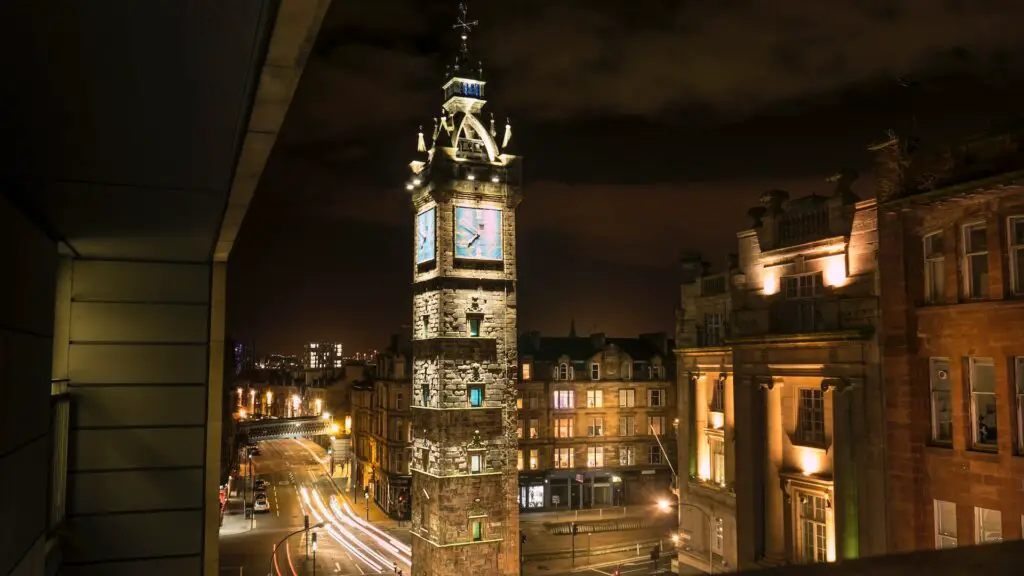 Brilliant bars, fancy restaurants, rooftop clubs and pubs are scattered throughout Glasgow, but if you wish to be at the heart of the city, head to the party streets of Sauchiehall Street, Bath Street, and West Regent Street packed with bars, clubs, and live music venues.
Your nightlife in Glasgow is incomplete without visiting Sub Club, the world's longest-running weekly underground club night.
WHERE TO STAY?
Dakota Glasgow, ComfySleep Apartments, One Devonshire Gardens a Hotel Du Vin, Apex City of Glasgow Hotel
SHEFFIELD
One of the latest additions to the cities with the best nightlife in the UK is Sheffield, mainly known for producing some big names in the music bands. Music and parties go hand-in-hand, and Sheffield is no exception.
Sheffield attracts many partygoers and student crowds with many restaurants, bars, clubs, comedy nights, and live music events in the vibrant city. But unlike many party cities in England listed here, it is cheaper to party in Sheffield, and we love it.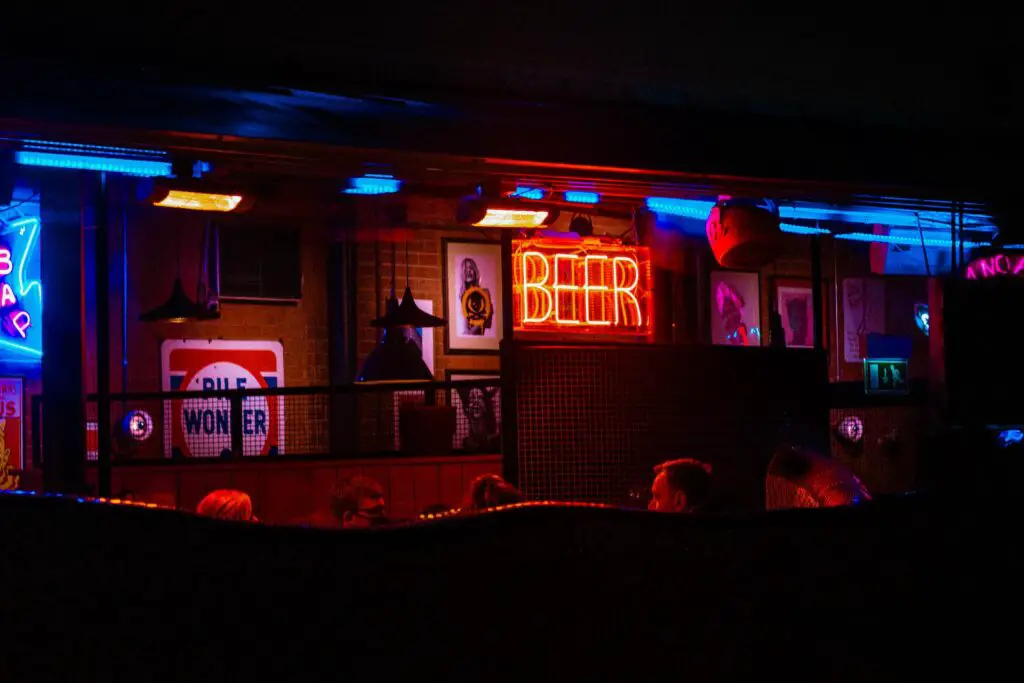 West Street, the most prominent and busiest street in Sheffield, is where you must go for a fantastic night out.
Carver Street is the alternative to West Street if you want to relax and take it slow.
Leopold Square is a place bustling with live music performances almost every day. You can expect a lively night here thanks to many cute cafes, rooftop bars, and restaurants.
WHERE TO STAY?
Brocco On The Park Boutique Hotel, Houseboat Hotels, Three Cranes Boutique Hotel, Royal Hotel
LEEDS
Another famous university that deserves a mention on the list of the cities for enjoying the best nightlife in the UK is Leeds.
Loaded with pubs, a wide range of themed bars, and crazy clubs drawing students like moths to the flames, Leeds is also one of the best destinations in the UK for bachelors and bachelorettes.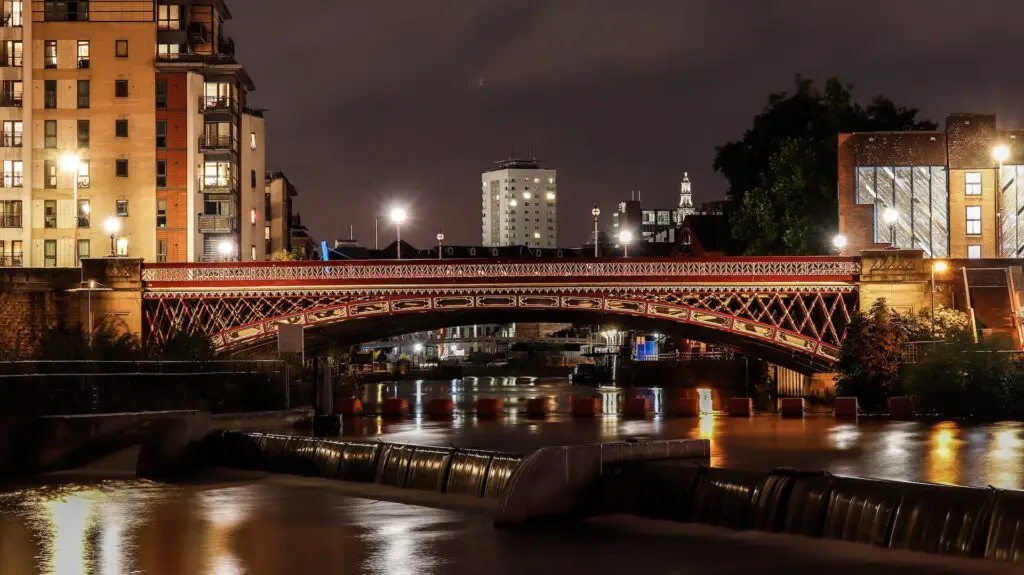 With the continuous addition of sophisticated rooftop restaurants, high-end clubs, cabaret, theatre, comedy nights, and karaoke nights, Leeds is also one of the top party destinations for tourists.
If you want to feel full of life but want to not overdo it, Leeds is where you should go. From sports bars to gin bars, and dive bars, Leeds has every bar you are looking for.
Call Lane is the heart of nightlife in Leeds, home to the best clubs and bars in the city, in the range of quirky, and independent bars. The wire is a popular underground haven which hosts amazing, budget-friendly club nights in Call Lane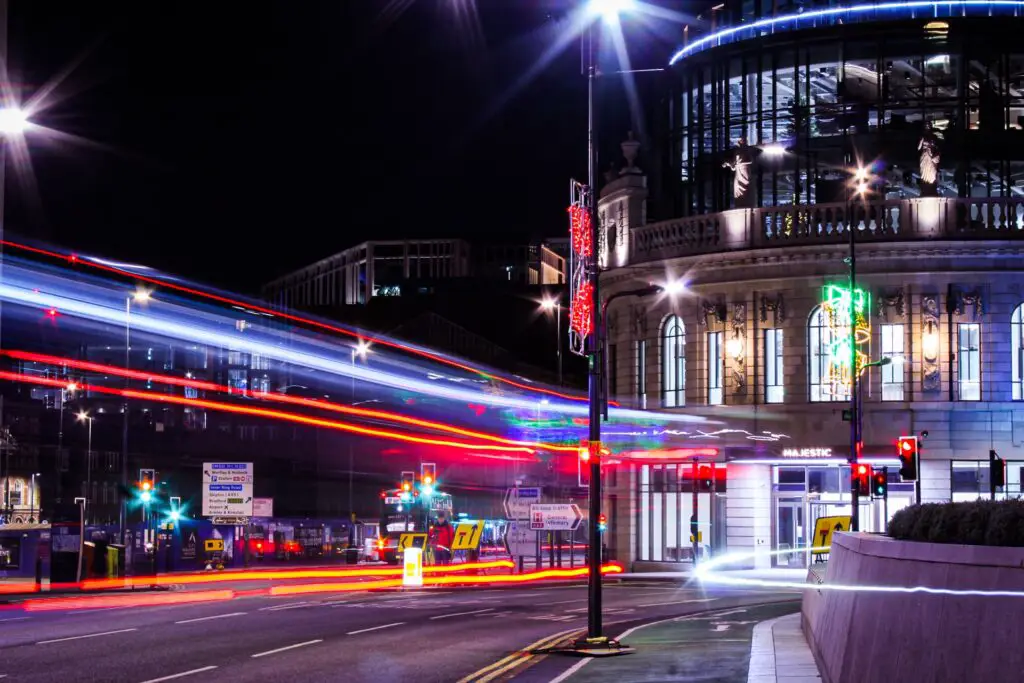 For fun-filled dancing and delicious cuisines, head to Neon Cactus.
If you love English warehouses, Beaver Works hosts some of the most hedonistic parties, including house, disco, and drum and bass DJ legends.
WHERE TO STAY?
The Bells, The Chambers, Quebecs Luxury Apartments, Leeds Super Luxurious Apartments, Maison Parfaite LS1 – Luxury City Centre Suites
NEW CASTLE
Newcastle, the most populous city in North East England, is one of the fantastic cities to enjoy the best nightlife in the UK.
Newcastle nightlife is famous for stag and hen parties, so you will always find groups of tourists having a blast at the many swanky bars or tasting the best whiskey, cocktails and brews at its plenty of city's crazy clubs and bars located in historic buildings.
Along with hens and stags, you will find plenty of younger crowds and rowdy parties that never seem to stop at the famous nightlife districts Jesmond, The Gate, Bigg Market, the Diamond Strip, Quayside, and Bigg Market.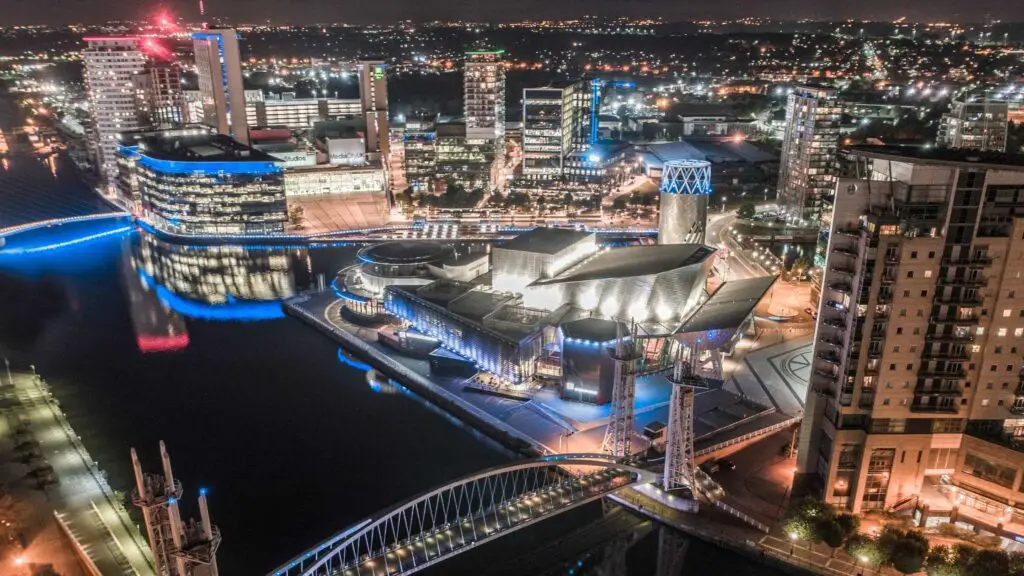 Most of the nightlife areas in New Castle are within walking distance from each other, which means you can attend the after-parties until dawn.
Some of the high-end clubs you should check are Tup Tup Palace, equipped with a dancing floor, VIP areas; and Digital, hosting iconic weekly parties involving music; and Flares, known for its funky decor.
Diamond Strip is a famous spot for pub crawls and serves the best cocktails and vodkas.
For a waterfront nightlife experience, go to Quayside for a string of bars, restaurants, and clubs overlooking the water. For live music, head to Riverside along the Tyne.
WHERE TO STAY?
Lymedale Suites Studios & Aparthotel, Clayhanger Guest House, The Victoria
BEST NIGHTLIFE IN THE UK FOR COUPLES
EDINBURGH
Scotland's capital, Edinburgh, is known for its fascinating architecture, iconic landmarks, stunning monuments with rich history and enchanting landscapes, which makes it a top-rated destination for tourists.
It is also one of the top cities for the best nightlife in the UK, thanks to the extraordinary number of bars, pubs, and clubs across Old Town and New Town.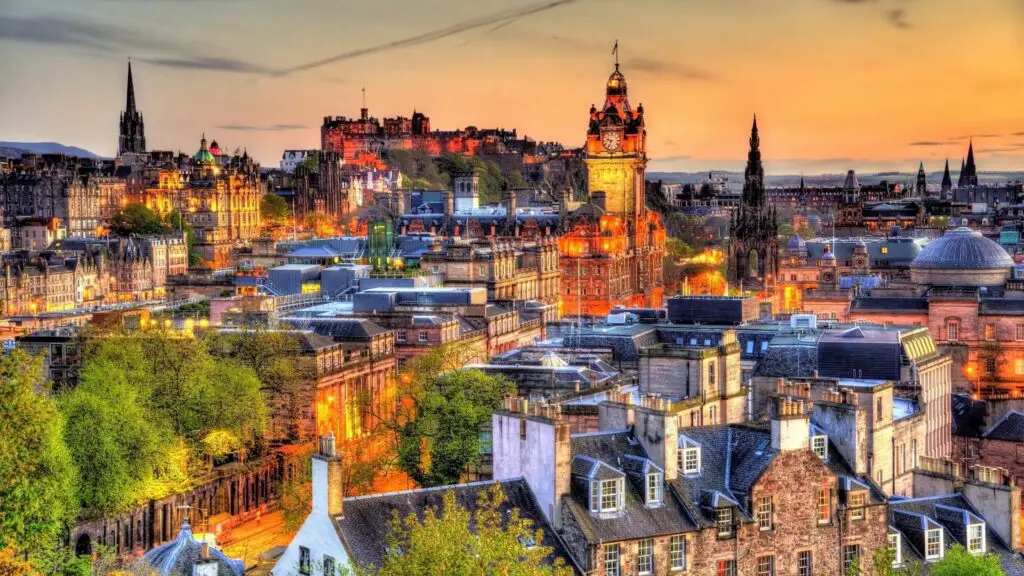 It is one of the most beautiful romantic destinations and a top city for a stag weekend. Edinburgh must be on your bucket list if you are looking for the best of everything.
Edinburgh seems to be a party-every-day city, whether it is the many activities, night tours, or pub crawls. Edinburgh comes alive every night as its tourists head for the best brews, cocktails and lavish nightclubs hosting famous DJs from Europe.
RECOMMENDED TOURS
WHERE TO STAY?
Cheval The Edinburgh Grand, The Balmoral Hotel, Destiny Scotland Charlotte Square Apartments, The Rutland Hotel & Apartments, Cheval Old Town Chambers, BrewDog DogHouse Edinburgh
CARDIFF
The capital of Wales certainly deserves a place among the cities for the best nightlife in the UK. Cardiff is compact and is one of the romantic getaways if you love exploring the nightlife in smaller cities full of life.
Whether you want to party hard before going home, or you wish to go on a romantic dinner date at one of the many pretty restaurants or prefer visiting many old-school pubs and classy cocktail bars, you can do all of these in Cardiff.
Canton Mile, Cowbridge East, and Westgate are some superb party venues, along with being home to lots of live music bars and dance pubs, letting you enjoy your nights to the fullest.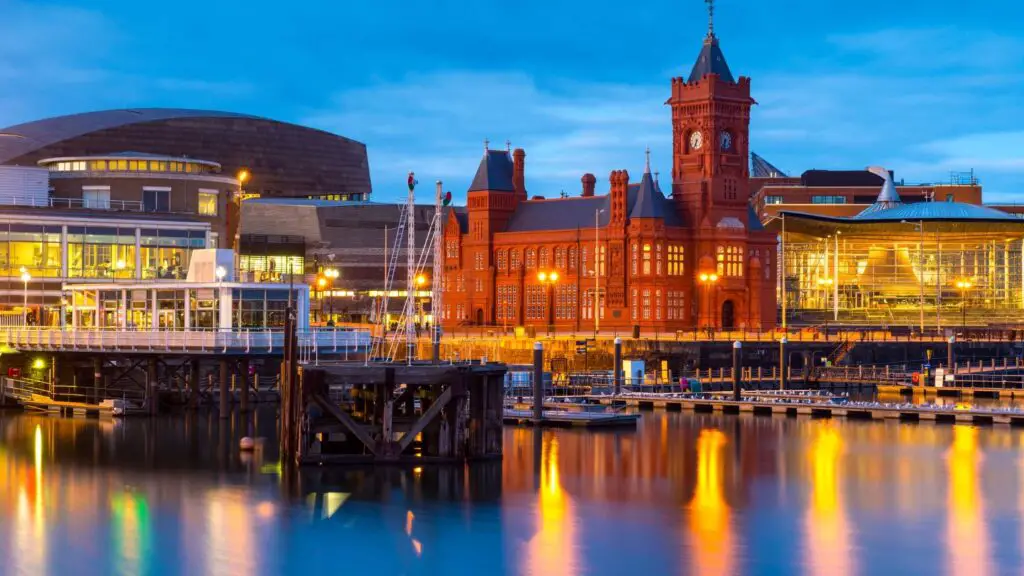 Start your bar hopping at Canton Mile, continue it at Cowbridge East, and finish off at one of the fun clubs at Westgate.
For classier cocktails and lively restaurants, head to the waterfront at Mermaid Quay in the Bay area for dining and drinking with wonderful city and water views.
If you want to join the younger crowds for wild nights, head to the Cathay district.
WHERE TO STAY?
Staybridge Suites – Cardiff, Hansen House Cardiff Apartment, Castell Haven Studio, The Parkgate Hotel
YORK
Among the underrated cities for enjoying the best nightlife in the UK is York. This compact city is one of the best-kept secrets of the Irish people, but that has changed in the last few years.
Although it has become one of the top spots for hen and stag weekends and students making it the weekend party getaway, York is surprisingly one of the best cities to party in the UK with your beloved.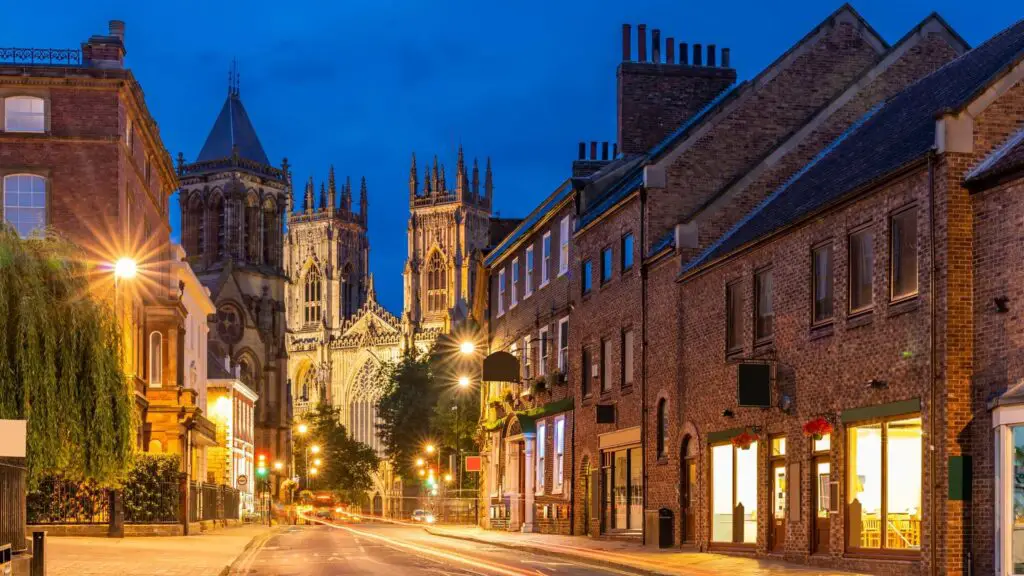 You are spoilt with loads of bars, pubs, dance floors, and nightclubs if you prefer to enjoy your nights hopping them, but beyond these, you can have the best nights enjoying a good laugh at comedy clubs, singing at karaoke bars, or savour delicious cuisines at fantastic restaurants.
No matter what you pick, you will love York for its vibes and are bound to be back. Please do not say we did not warn you!
RECOMMENDED TOURS
WHERE TO STAY?
City Apartments – The Light Well, Sandburn Hall, The Tickled Trout Inn Bilton-in-Ainsty
SWANSEA
Although Cardiff may be Wales' party capital, one of its neighbouring cities is an underrated destination for the best nightlife in the UK.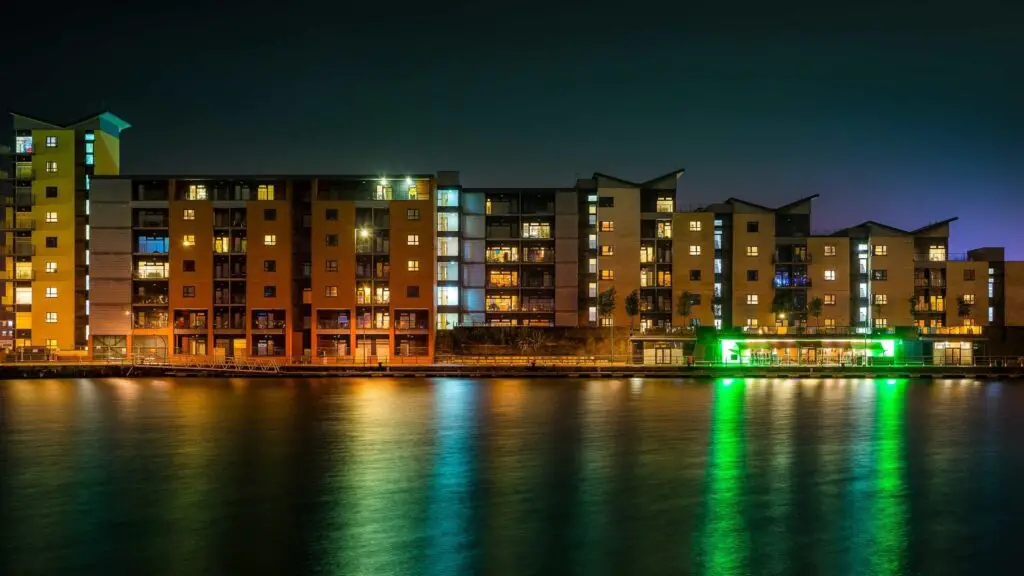 Swansea knows how to have a good time, and it has a beachfront Mumbles Mile, a mile-long stretch that transforms into a party paradise with its many intimate boat parties, beach-side events, and entertainment activities, you can have the best nights packed with fun.
WHERE TO STAY?
Willow Mews, Velvet SA 11 Family Guest House, Bright 3 Bedroom house
ABERDEEN
One of the noted party cities in the UK that often evades international tourists is the Irish Aberdeen city, which transforms at night into a haven for beer and whiskey lovers.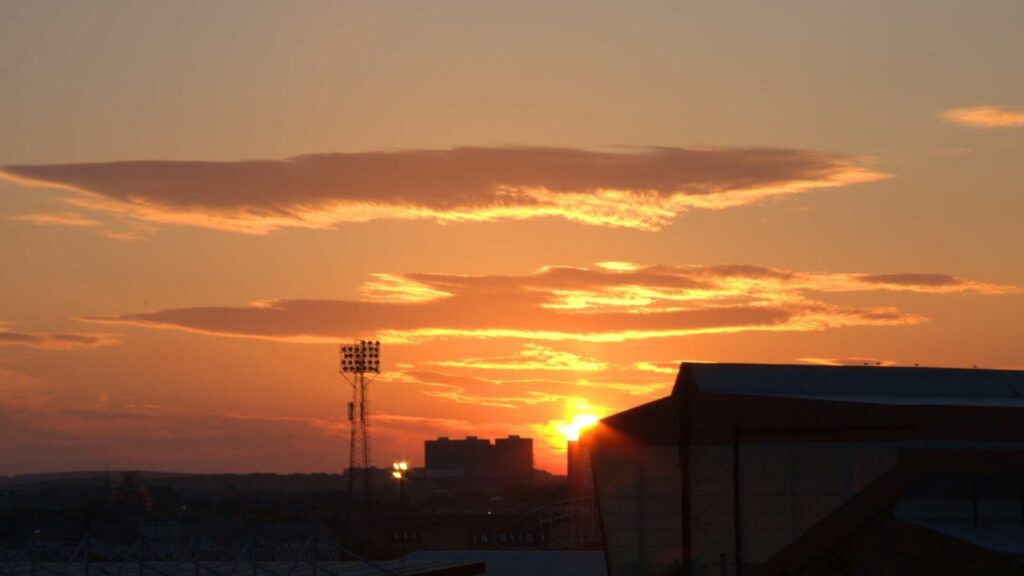 Aberdeen's gorgeous traditional pubs serve the best brews in the country that are best enjoyed with delicious local food. For enjoying the music, go bar hopping to explore its finest bars and nightclubs.
WHERE TO STAY?
Atholl Hotel, The Chester Hotel, Macdonald Norwood Hall Hotel, Sandman Signature Aberdeen Hotel & Spa, Malmaison Aberdeen
CHESTER
Suppose you are looking for a cheaper and offbeat alternative to bigger and more famous Liverpool or Manchester. In that case, one of the recommended destinations you should visit for the best nightlife in the UK is Chester.
During the day, it may draw the tourists for its glorious history and architecture, but Chester knows how to spend the nights fabulously after sundown.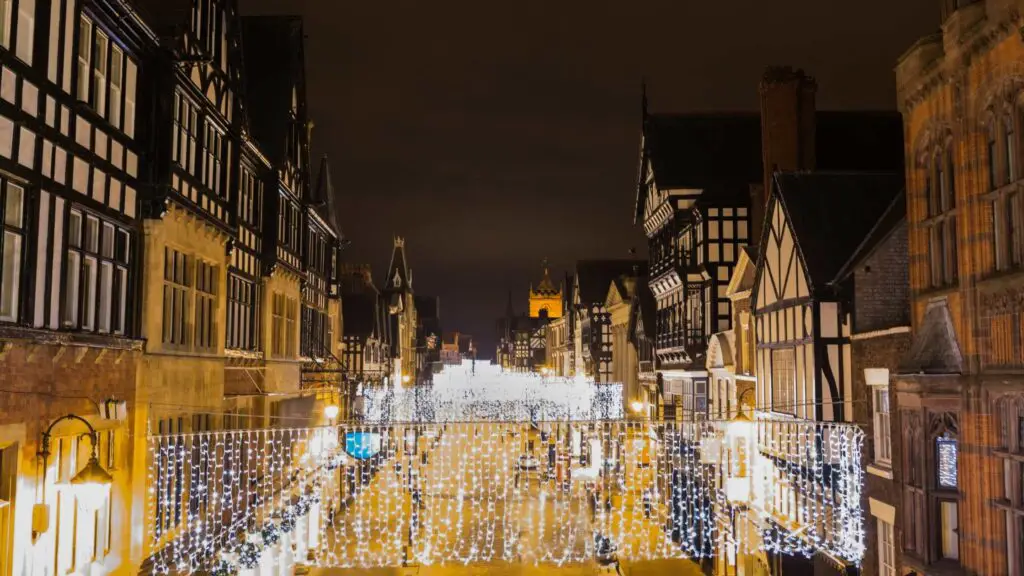 The racecourse in the middle of town becomes the hotspot on most days as it becomes the venue for many music concerts, DJ nights, and festivals. Not many know Chester is also home to posh nightclubs and fantastic rooftop restaurants perfect for special date nights.
WHERE TO STAY?
ch1 boutique stays – Deva suite, Hotel Indigo – Chester, an IHG Hotel, Chester Racecourse Townhouse, Domus House Studio Apartments, Chester Zoo Family Retreat
NIGHTLIFE IN THE UK – BEST NIGHT TOURS
NIGHTLIFE IN THE UK MAP
FREQUENTLY ASKED QUESTIONS ABOUT NIGHTLIFE IN THE UK
Which city has the biggest nightlife in the UK?
Although London and Manchester are the popular choices for enjoying the best nightlife in the UK, cities like York and Bristol draw more and more visitors each year.
How is the nightlife in the UK?
Although primarily known for being a popular tourist destination for its historical ruins, excellent architecture, rich history, heritage and literature, the UK is home to some fantastic party cities in Europe.
The UK cities are the centre for many famous festivals, musical concerts, and theatre as well, apart from being home to luxurious nightclubs, a wide range of bars and loads of entertainment options.
What is the party capital of the UK?
London, the capital city, is undoubtedly the party capital of the UK, offering diverse types of options, including festivals and events, and being home to some of the most luxurious and world-famous clubs.
What is the biggest nightclub in the UK?
The Warehouse Project in Manchester is one of the biggest nightclubs in the UK.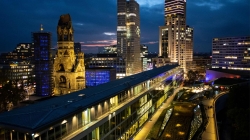 Latest posts by Anna Owen
(see all)