There are so many awesome things to do in Budapest at night that it is one of the best party destinations in Europe.
While you spend your day time taking the stunning medieval architecture, rich history, and diverse culture and exploring many landmarks, after sundown, the city draws the night owls to one of the best destinations in Europe for fantastic nightlife.
If you wonder what to do in Budapest at night, from ruin bars to romantic cruises on the Danube to pool parties and pub crawls – you have plenty to choose from.
Forget Berlin or London; Budapest is where you need to go to enjoy the fantastic nightlife without having to dig deep into your pockets.
Check this guide to do all things in Budapest at night.
THE BEST THINGS TO DO IN BUDAPEST AT NIGHT – TOP TOURS
TOP THINGS TO DO IN BUDAPEST AT NIGHT
WATCH THE SUNSET FROM GELLERT HILL
One of the best ways to start exploring Budapest at night is by watching the sunset and admiring the stunning city views from Gellért Hill, one of Budapest's most prominent landmarks. 
You can again take a long walk, or trams are available near the Liberty Bridge, which will drop you at the base of Gilbert Hill.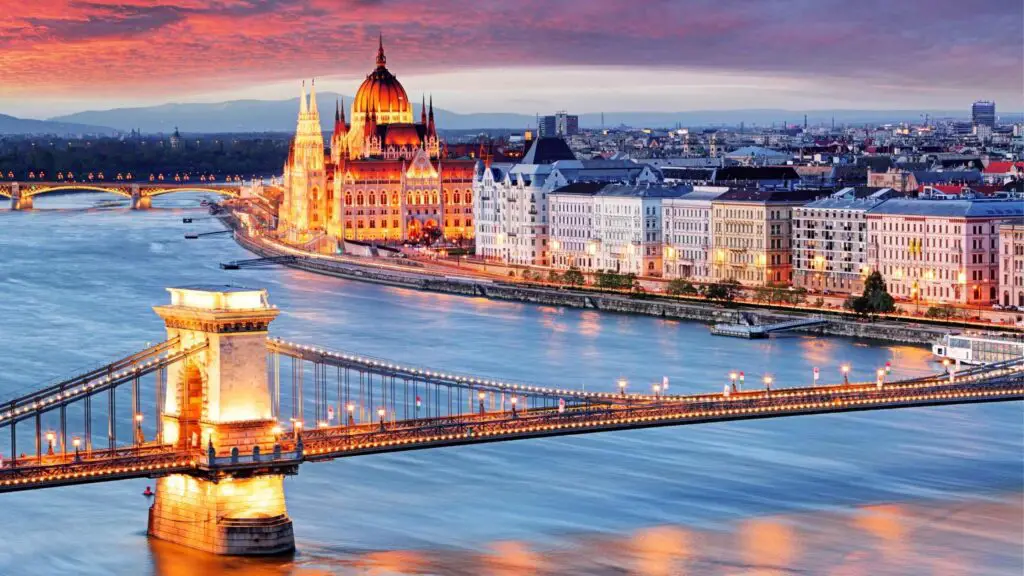 This 235-metre-high hill, rising from the riverbank of the Danube, offers some of the most beautiful views of the Hungarian capital, along with the lovely bridges.
RECOMMENDED – Budapest in 2 Days – The Perfect Itinerary For Hungary's Capital
Although you can enjoy fantastic city views from here, it is ever more vibrant when the colours of the setting sun cast a radiant glow over Budapest's iconic skyline. 
Check out the Citadella, the fortress and Gellert Baths, one of the top thermal pools at the base, which is open until 7 PM.
STROLL ALONG THE CHAIN BRIDGE
One of the free things to do in Budapest at night is to stroll along the river and its bridges, especially the landmark Chain Bridge, which is brilliantly lit to match the other glowing iconic structures in the city.
This intricately decorated historic bridge, the first to connect the towns of Buda and Pest, comprises lion statues, and the casting iron provides heavy support.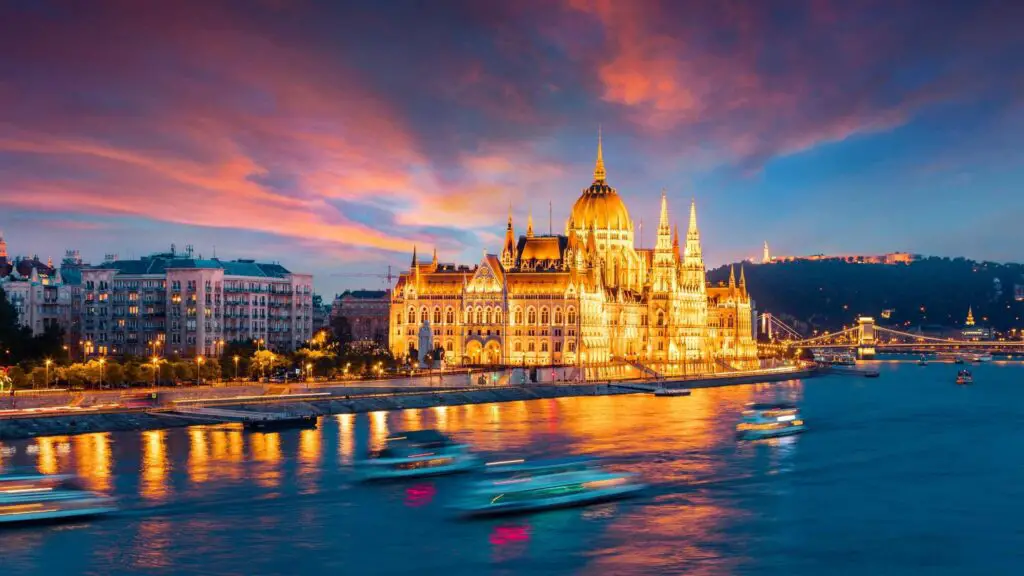 Admire the city lights and the bustling skyline as you pass through historic attractions including the parliament buildings, Gresham's Palace, now the Four Seasons Hotel, and castle hill.
You will have plenty of excellent opportunities to capture Insta-worthy pictures or late-night walks with your friends between clubbing.
WATCH OPERA AT HUNGARIAN STATE OPERA HOUSE
Among the most famous attractions in the city is the heritage Hungarian State Opera House, known for its gorgeous neo-Renaissance architecture and rich history, open to the public in 1884.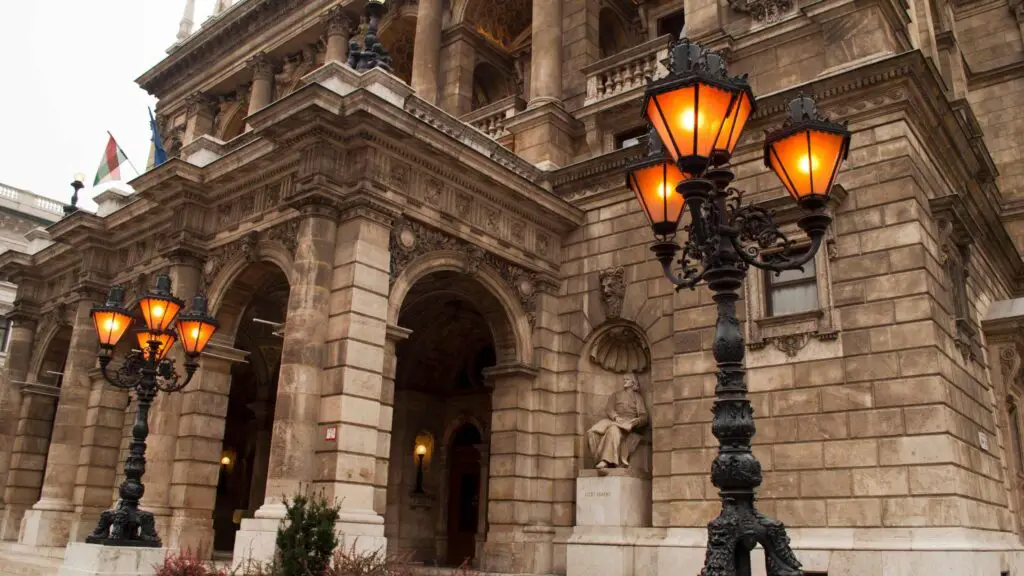 One of the best things to do in Budapest at night is head to the famous State Opera House in the city's heart to get your theatre fix.
You have plenty to choose from world-class Hungarian opera performances, recitals and ballet to festivals and live music.
GO HOPPING THE RUIN PUBS
Your exploration of Budapest at night is incomplete without walking into at least one of the world-famous ruin pubs in the city. 
Considered the oldest and most treasured area of Budapest, the Ruin Pub area is packed with ruined bars, or pubs in ruins. These are pubs housed in formerly abandoned but now well-preserved old buildings that have survived wars.
The ruined decor adds to the mystic ambience of these pubs, which are loved by the locals and tourists alike.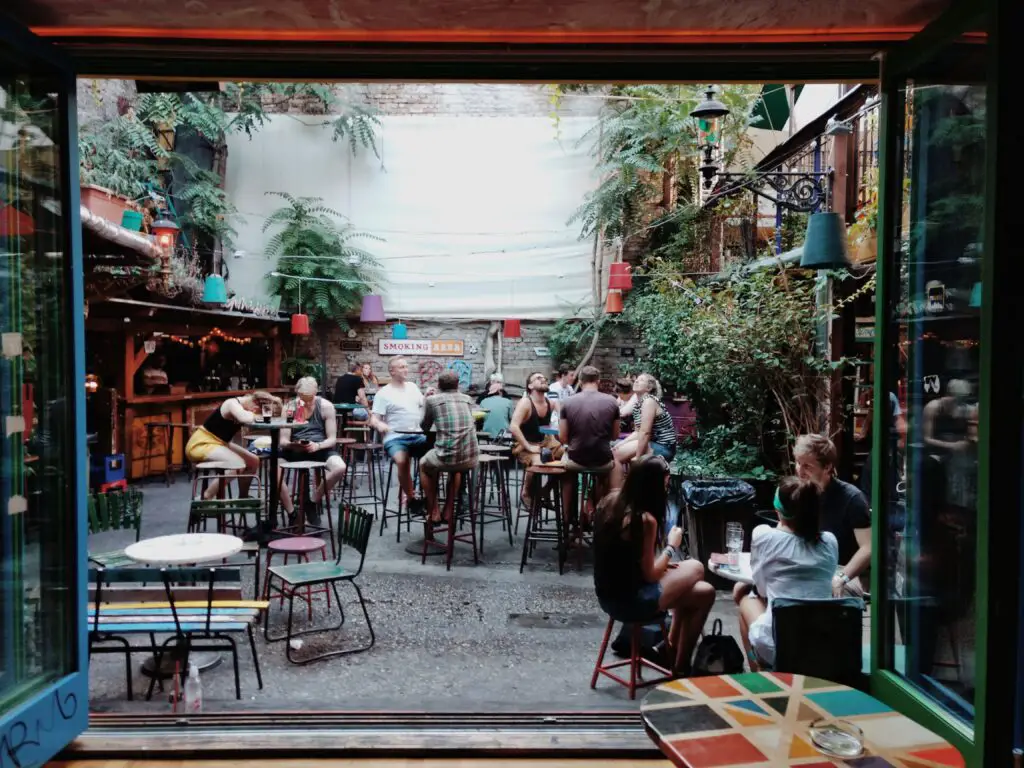 Szimpla Kert, a ruin pub started in 2002 is the city's oldest ruin bar located in the Jewish quarter in 2004, and is the epicentre of Budapest's nightlife scene. 
Check out why it is so famous, have a drink at its one or many themed rooms, listen to EDM or dance the night away – No matter what you prefer, do not miss visiting Szimpla Kert.
RECOMMENDED FOR YOU – 33 AWESOME PART CITIES IN THE UNITED STATES FOR YOUR BUCKET LIST
Csendes Létterem, with the busy vintage decor, is one of the most famous ruin bars in Budapest you should visit if you prefer a more laidback vibe and more popular among the locals.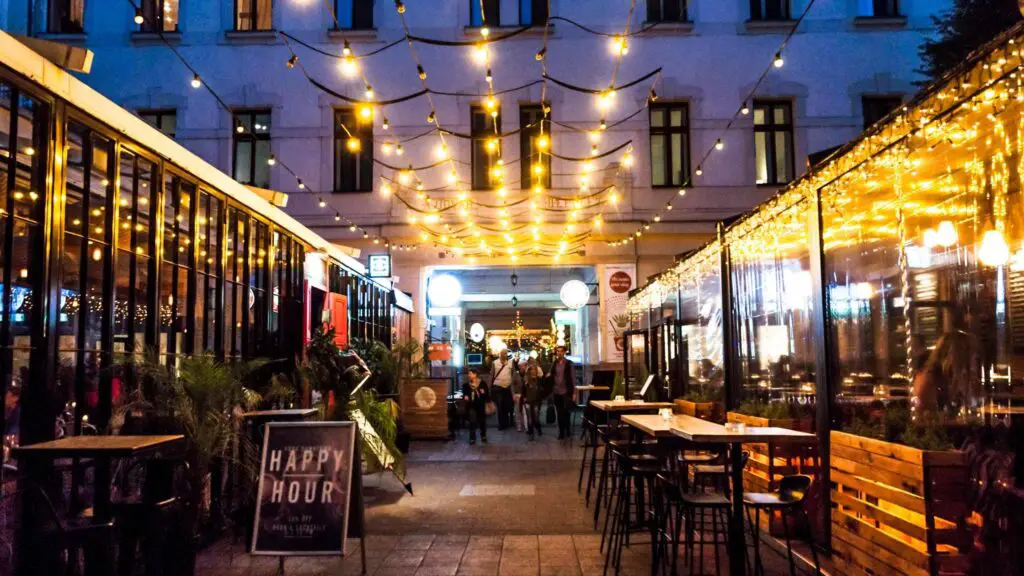 Racskert is another fabulous former car park converted into a relaxed ruin bar with graffiti-covered walls. It is another local's favourite offering cheap beer and live folk music.
EXPLORE GOZSDU PASSAGE
One of the best areas for enjoying the best of Budapest at night is heading to the party centre, Gozsdu Passage, located five minutes from Deák Square, at the beginning of Király Street.
It is an all-night open tunnel, with its passages and alleyways home to buzzing bars, karaoke and cocktails bars, wok and tapas bars, touristy pubs, pizzerias, and fancy restaurants draped in colourful lights.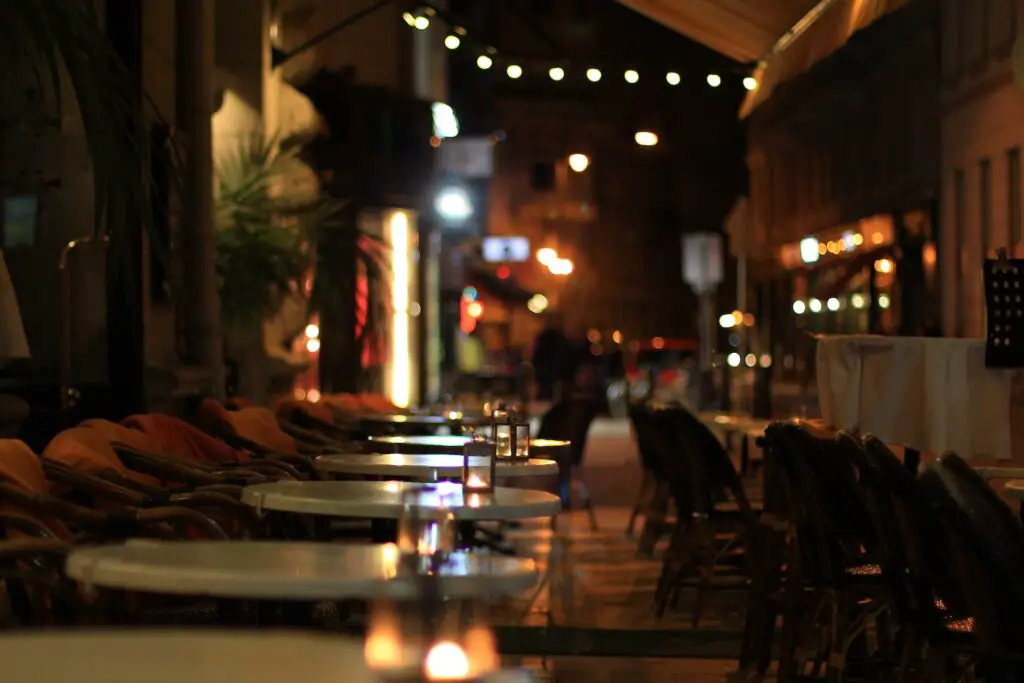 Enjoy high-quality foods and drinks at open-air spaces that spill out into airy courtyards and gardens in the centre of the trendy 7th District. 
It is not just food and drinks, but all-night entertainment in Gozsdu, with famous DJs hosting on crowded summer weekends.
JOIN CUSTOM NIGHT TOURS
You can appreciate the true magnificence and splendour of this gorgeous city by taking up one or more night tours in Budapest at night.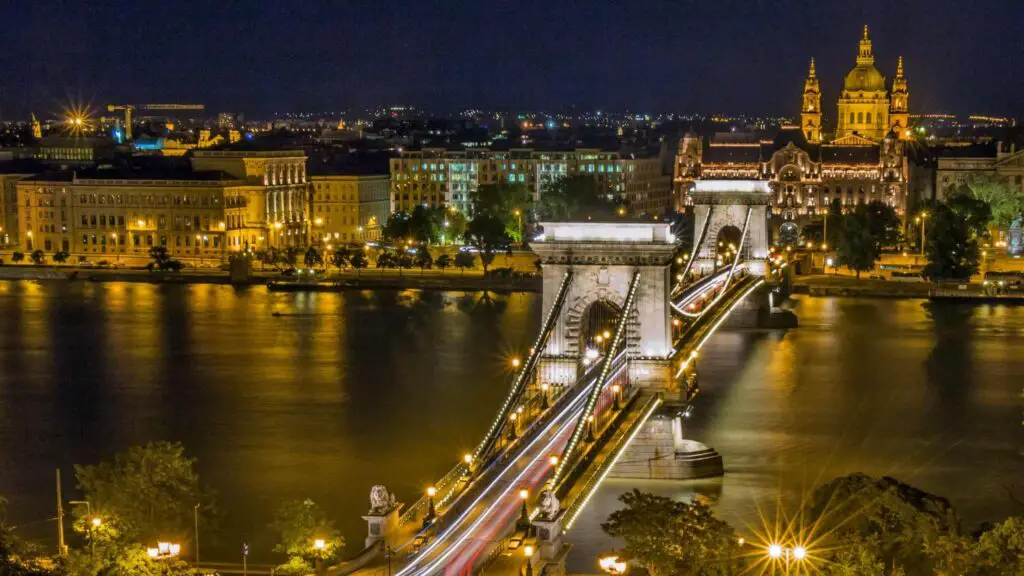 Apart from getting first-hand experiences from local experts, you will immerse in its history, culture, local food, drinks, and more on these customized tours.
From cruises to cooking classes to pub crawls and night walking tours, you will love getting to know the different sides of the city coming alive at night.
FUN THINGS TO DO IN BUDAPEST AT NIGHT
HAVE A RELAXING NIGHT AT A THERMAL BATH
How do you like bathing until the early morning hours?
One of the unique and fun things to do in Budapest at night is enjoying a relaxing thermal bath after a packed day of wandering around the significant landmarks and attractions.
If you do not know already, Budapest is home to over a hundred thermal baths scattered around the city, which are an indispensable part of its culture.
The bathing tradition dates back thousands of years, first used by the Ancient Romans and revived later by the Turks during their occupation of Hungary in the 16th Century.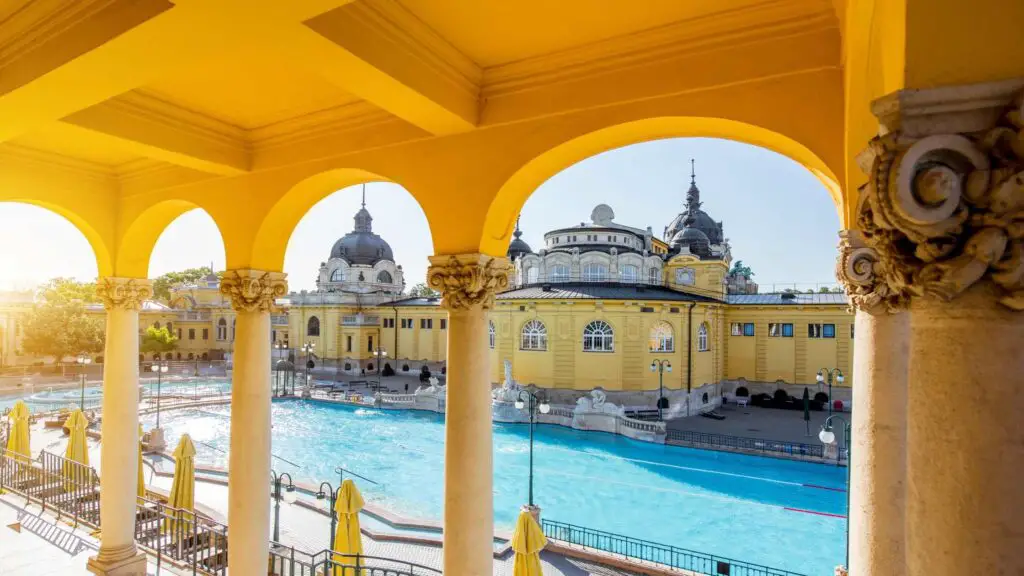 The Rudas Thermal Baths complex, a 16th-century structure, is known as a hammam and a thermal spring. On Fridays and Saturdays, the bath is open until 3 AM; after the night, entry begins at 10 PM.
You can enjoy the stunning views from the rooftop hot tub or bath in the historic octagonal pool.
If you prefer something fancier, check out Gellért Baths or the Neo-Baroque Szechenyi complex, although they close much earlier.
HAVE A FUN NIGHTOUT AT INSTANT-FOGS
You can have unlimited fun in Budapest at night with your gang at Instant-Fogs, a sprawling entertainment complex in Budapest that offers a party night filled with music, food, and drinks.
Instant-Fogas consists of not one or two but 18 bars, seven dance floors, and two outdoor gardens, making it one of the largest ruin pubs in Europe.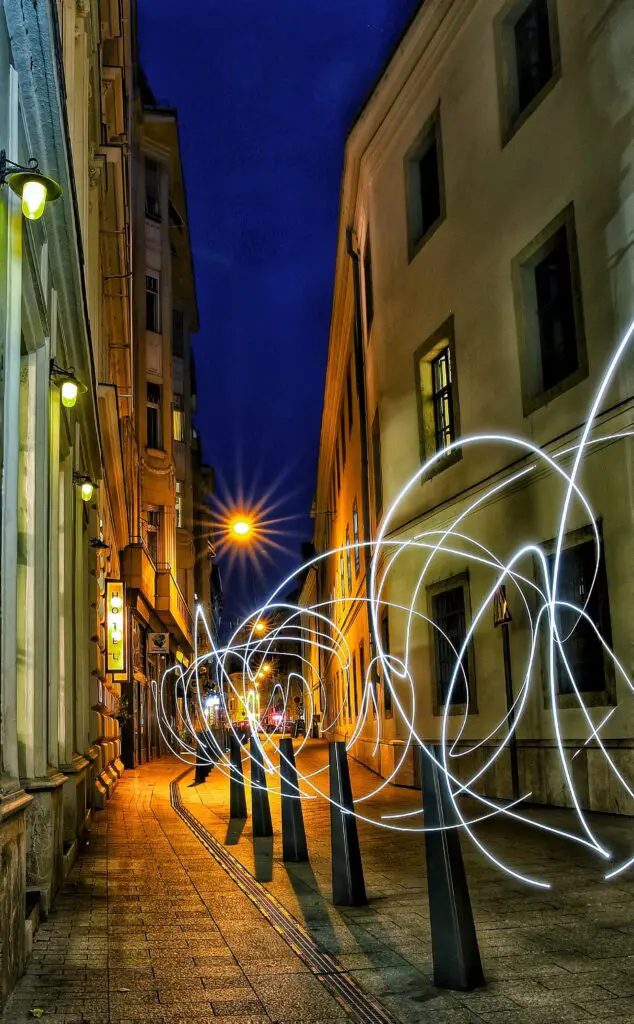 Whether you want the dance the night away or enjoy a beer in the outdoor gardens taste delicious food or want to play ping-pong area, you can do them all in this labyrinthine of rooms.  
It's free to enter Instant-Fogas. You will need to pay to attend concerts and events held here.
INDULGE IN SPARTIES
If you have not heard of Sparties before, let us introduce you to the city's signature pool parties, Sparties or Spa parties held across the many thermal baths, one of the fun activities to enjoy in Budapest at night for sure during the summer months.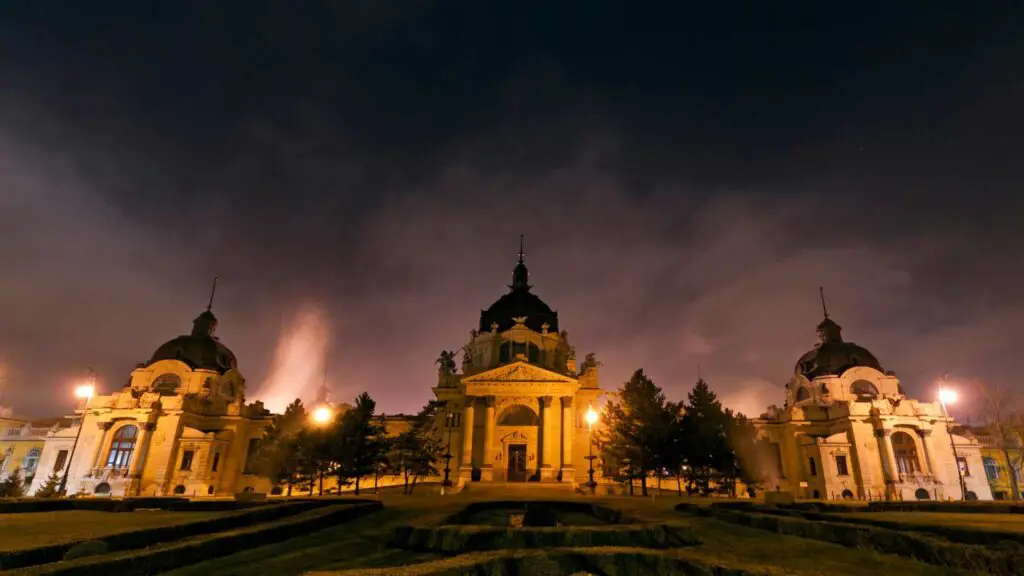 You will be accompanied by lots of people resting and relaxing in Jacuzzis and snack bars to hang out at Szechenyi Thermal Baths, where you can bathe, relax and drink from the poolside bar in two thermal springs. 
For the best experience of the famous baths in Budapest, we recommend visiting at night as special events are held in summer, especially at Széchenyi Baths every Saturday night to get into the groove while immersing yourself in Hungary's largest thermal bath. 
LEARN ABOUT THE VAMPIRES OF BUDAPEST
One of the fun things to do in Budapest at night is to learn about the Vampires of the city located in the shadow of Buda Castle.
On this 2-hour historical-ridden walking tour, you will unlock the the dark world of vampires beginning from the Zero Kilometre Stone, a guide will lead you around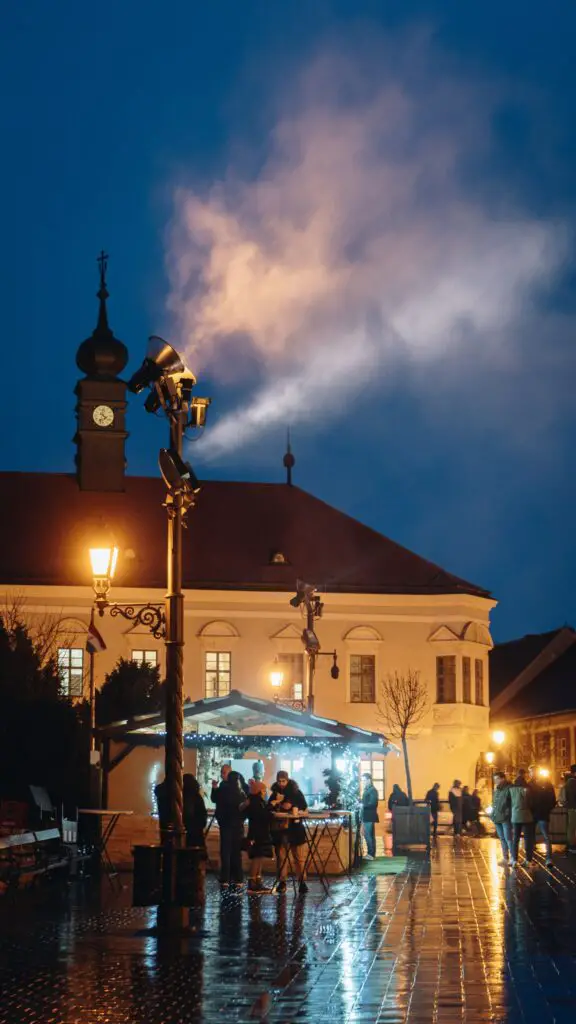 In this historic hilltop district, Gothic-adorned narrators tell you stories of war, as you will be transported to a time when Vlad the Impaler and Elizabeth Báthory terrorised residents between the 15th and 17th centuries, their bloody battles, folk stories from Hungary and legends.
ENJOY BOAT PARTIES
If you want something wilder on the Danube instead of the regular evening or night cruise, one of the must-do activities in Budapest at night is hopping on the party boats, departing from the heart of the city at around 10:30 PM every Friday and Saturday.
Dance floors, live music, excellent food, drinks, and gorgeous views of the Budapest skyline will keep you entertained late at night in Budapest.
GAMBLE THE NIGHT AWAY
It may not be Las Vegas, one of the top US party cities known for casinos, but if you love casinos, gambling away in Budapest at night is not a bad idea.
The most famous casinos and gambling centres are located in luxury hotels along Dunakorzó, between Chain Bridge and Elizabeth Bridge. Pick your poison for the night and go for a ride.
ATTEND FESTIVALS
One of the top venues for European and global level festivals, the chances of you travelling to Budapest in the middle of a festival are very high!
Every season, Budapest celebrates various festivals, from cultural to musical, with something in store for every type of traveler.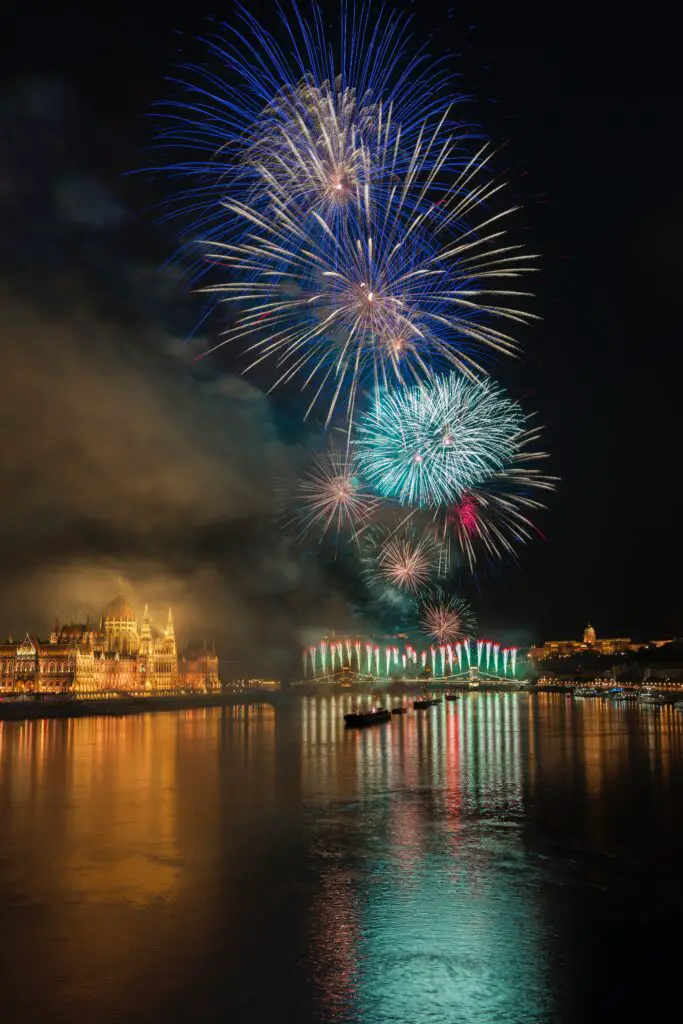 If you are in summer, which is the most popular season for visiting Budapest, enjoy concerts, musicals, ballet, and opera at the Summer Festival on Margaret Island.
Budapest Spring Festival is a must-visit if you are here in March or April.
Christmas holidays bring loads of local and international events and performances loved by travelers.
ENJOY LIVE MUSIC ON A RESTORED BOAT
There are many venues to enjoy live music in Budapest at night, but the most famous is A38, an unusual live music venue in a decommissioned ship from Ukraine permanently anchored on Petőfi Bridge, which crosses the Danube to the south of the city centre.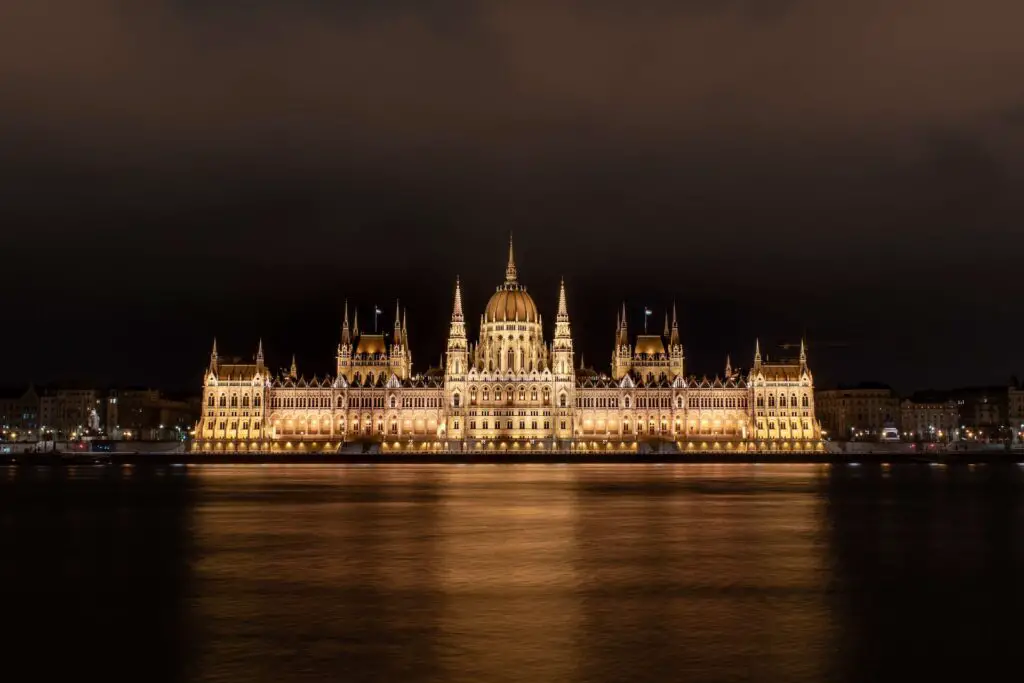 It's a popular venue for concerts throughout the year, but if you are not attending any, you will still witness film screenings and cultural events.
Or relax in the chill out space, dance on deck or head to the bistro onboard for snacking.
ROMANTIC THINGS TO DO IN BUDAPEST AT NIGHT
CRUISE THE DANUBE RIVER
Cruise the Danube River in the evening on a sightseeing cruise through Budapest at night, which is one of the best romantic date night ideas in the city.
Take in the sights of Budapest's famous attractions glowing along the banks of the river, deemed a UNESCO World Heritage site, with your favourite drink.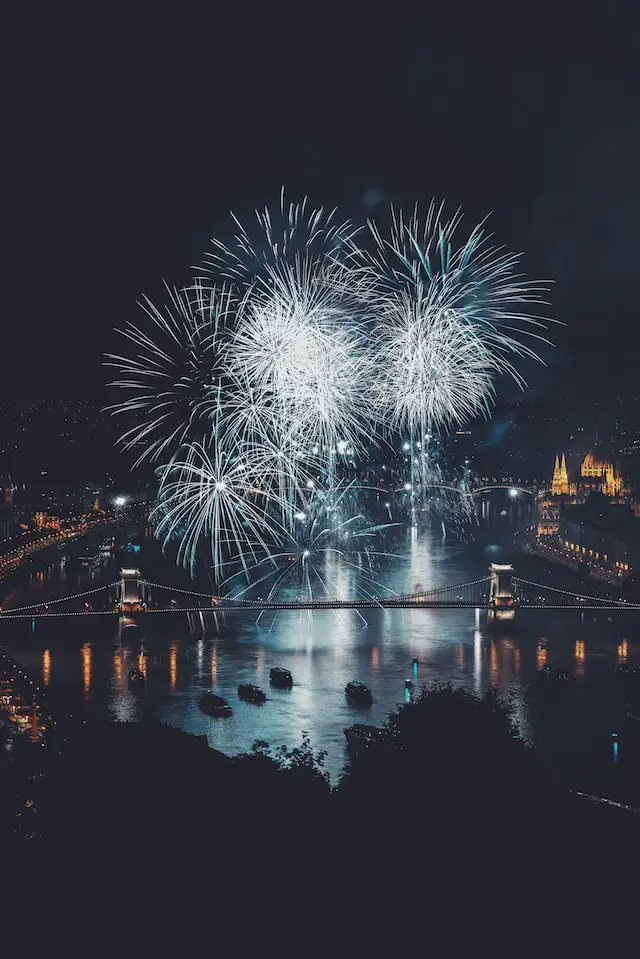 You can choose between cocktail cruises, live folk music, or opt for a cruise to watch a gorgeous sunset.
If you're visiting Budapest in August, you can enjoy a spectacular fireworks display from the water as part of the State Foundation Day of Hungary celebrations.
WATCH MOVIES UNDER THE STARS
One of the romantic things to do in Budapest at night is watching movies under the night sky with your loved one at The Budapest Rooftop Cinema, a seasonal movie theatre that shows films from the top of the Mammut shopping centre.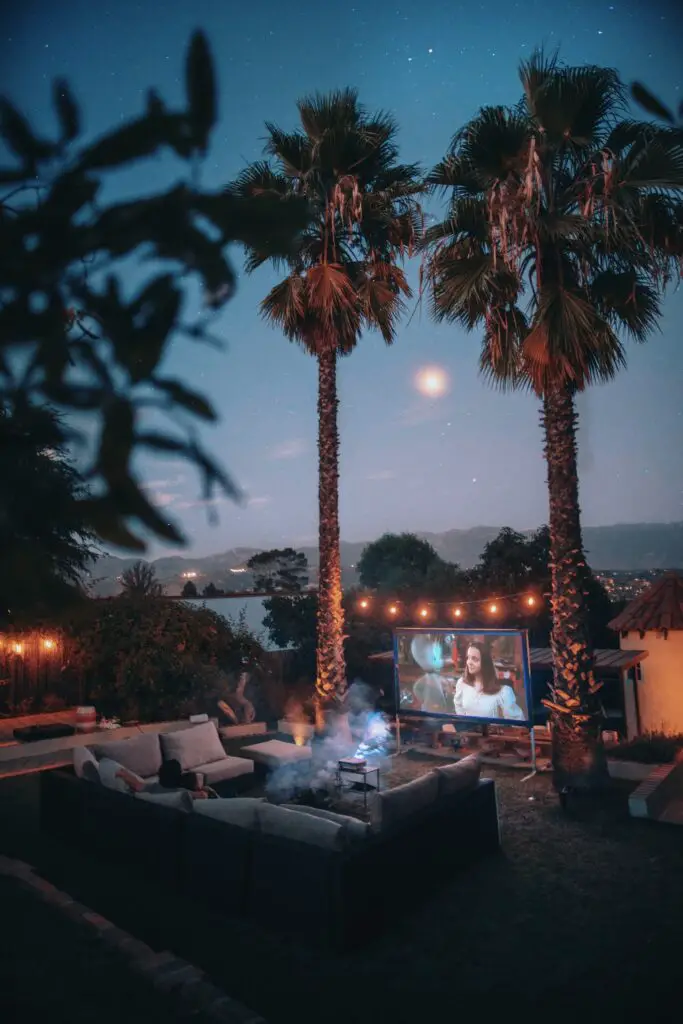 If you are in Budapest during summer, check out this theatre to watch a series of classic movies and recent hits in multiple languages best enjoyed with drinks and snacks you can buy at their bar.
You can even ask for a blanket if you feel chilly. Shows start around 8:30 PM.
ENJOY DINNER ON THE DANUBE WITH OPERA
To enjoy the best cruise on the Danube, opt for the exquisite Budapest Dinner Cruise, including opera and folk shows.
Enjoy the delicious cuisine comprising a four-course meal as some of the finest musicians in the Operetta genre and folk dancers perform for you.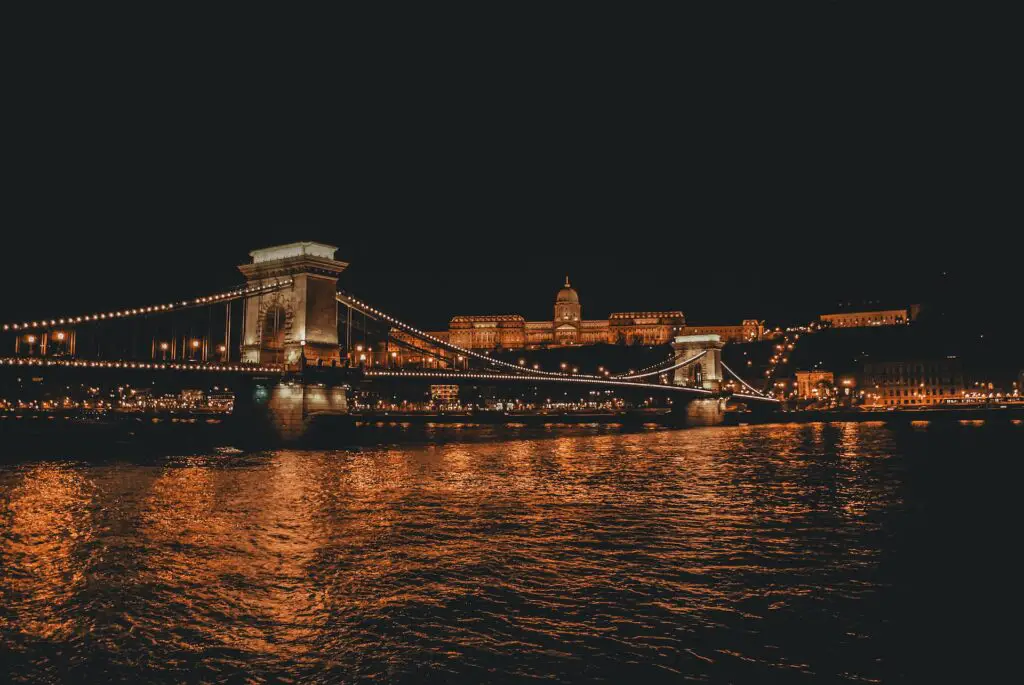 You will be treated to incredible sights, sounds, and flavours on this cruise, giving you glimpses into Hungarian music, folklore and dance. In this interactive performance, join the artists if you want for added fun.
MAP OF THE THINGS TO DO IN BUDAPEST AT NIGHT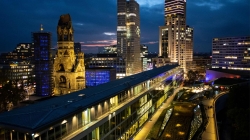 Latest posts by Anna Owen
(see all)