The party cities in Spain are everything you can think of, the ultimate dream destinations for the wildest nights you can imagine.
From never-ending boat parties to beachside pubs and bars playing thumping music to high-end nightclubs attracting younger crowds or travelers dancing all night at the famous disco clubs.
The Spanish people are known for their chilled and relaxed attitude, love for living life to the fullest and attending parties and festivals.
A reason why Spain party destinations are so popular is because of the excellent weather that makes it ideal for visiting not just in summer but almost throughout the year.
Whether you are looking for a perfect destination for bachelor or bachelorette parties, you want to have romantic, fun-filled nights with your special one, or you want the wildest nights with your friends, you can do them all in Spain.
The party destinations in Spain will make your trip the most memorable, offering fantastic experiences with something in store for every type of party lover.
In this post, we bring you the top 10 party cities in Spain, what they are famous for, why you should add them to your party bucket list destinations, and how to have the best of your time in these fantastic places to party in Spain.
CHECK THIS GUIDE FOR A DETAILED GUIDE TO THE NIGHTLIFE IN SPAIN
TOP 10 PARTY CITIES IN SPAIN
IBIZA
BEST FOR – COUPLES, YOUNG CROWDS
Ibiza is one of the top party cities in Spain that needs no introduction. This European island has consistently ranked top among the best party destinations worldwide, and it is no wonder.
Ibiza draws young and young at heart, including celebrities from around the world, thanks to its extravagant nightlife.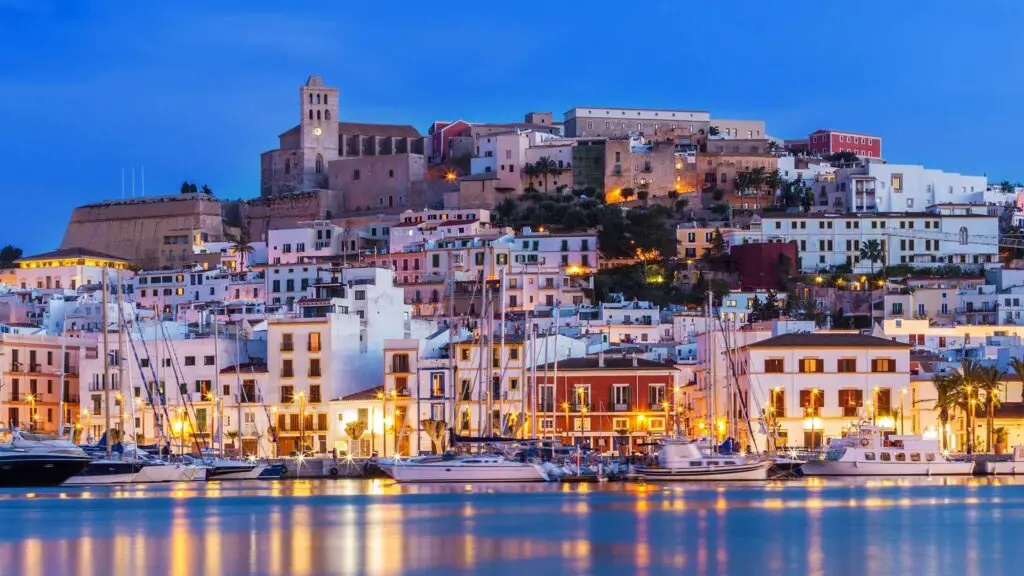 A night in Ibiza comprises wild beach parties, yacht and boat parties that go on until early morning hours, high-end clubs, swanky rooftop bars, themed pubs, and all sorts of wild, entertaining activities you can never imagine.
Ibiza is home to gorgeous beaches and splendid views you can enjoy from its cute fishing villages, but after sundown is when Ibiza transforms into a party paradise.
The beach shores and strips across the island illuminate as you hear thumping music from rock to electronic music amidst neon-lit bars and pubs.
Ibiza Town and Sant Antoni are the top entertainment districts home to major European nightclubs and world-class rooftop bars, pubs, and restaurants.
Come summer, the party capital of Spain, Ibiza, gets millions of young crowds and couples flocking to disco bars, beach shores, and pubs for their wildest nights.
You can party all night, dance and drink away until morning hours and then head straight to famous pools for pool parties to keep it going if you still got it in you!
RECOMMENDED – 25 DESTINATIONS FOR THE BEST EUROPEAN NIGHTLIFE
The island never sleeps or stops entertaining you, so it is up to you to plan your wild nights packed with tons of unique, entertaining activities, from pirate-themed parties to paint nights and raunchy strip clubs to everything in between.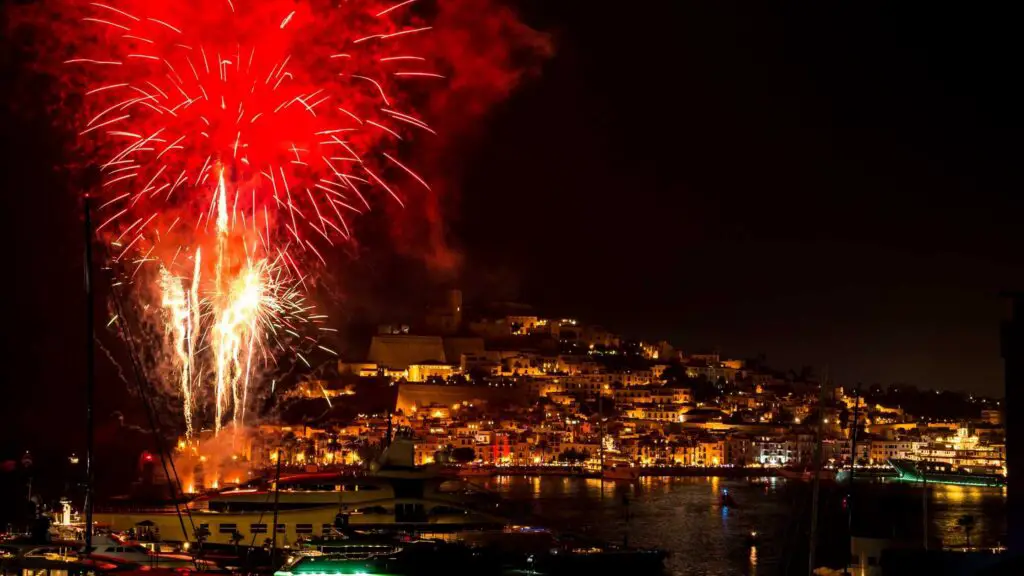 The world's best DJs come to Ibiza, so watch out if you want to attend shows at renowned nightclubs like Pacha and Amnesia.
The island also boasts some of the best cuisines in Spain that you can try at fine-dine restaurants or local markets and traditional bakeries.
Visit hippy markets, explore beach clubs, take the best sunset boat cruises, hop to tapas bars for local snacks, watch comedy shows, and stroll the beachside to join the crowds – There are plenty of ways to have fun nights when in Ibiza.
RECOMMENDED TOURS FOR YOU
WHERE TO STAY?
Can Jaume Private Villas by Ocean Drive, Casa Mamita Ibiza and Cas Gasi
BARCELONA
Whether you are traveling to Spain for the first time or the nth time, one of the destinations that will keep drawing you back is Barcelona, and why not? It is one of the best party cities in Spain loved by all.
Barcelona is a large party paradise drawing couples, youngsters, families, and friends thanks to its excellent nightlife packed with activities that will keep you occupied and entertained for many nights.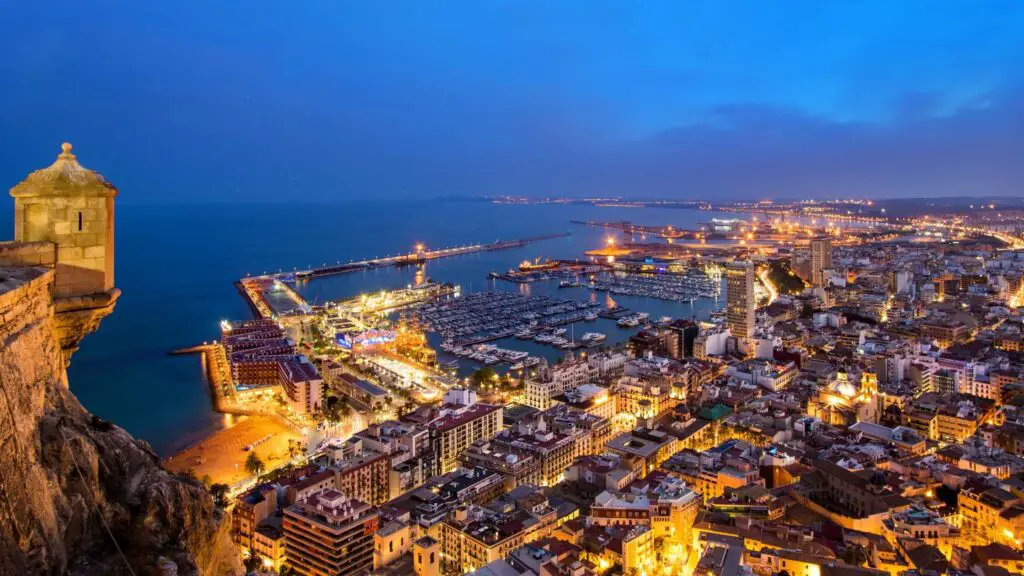 Barcelona tops when it comes to the most entertaining hen nights and stag parties, making it a top pre-wedding destination for many.
Las Ramblas isn't just a mere shopping street; it is where you will kick off your long nights by heading to tapas bars or tasting the street food.
Explore Las Ramblas on pub crawl tours, watch amazing shows, laugh at the many comedy clubs, and savour the best cocktails in its bustling bars.
RECOMMENDED – Check out this guide to the best day trips from Barcelona You Can Plan
It is jam-packed with people, especially during the summer months and stays that way until the early morning hours. 
Music is big in Barcelona, and you can pick your genre – R&B, hip-hop, Latin music, jazz, underground pop and rock, electronic music or live music.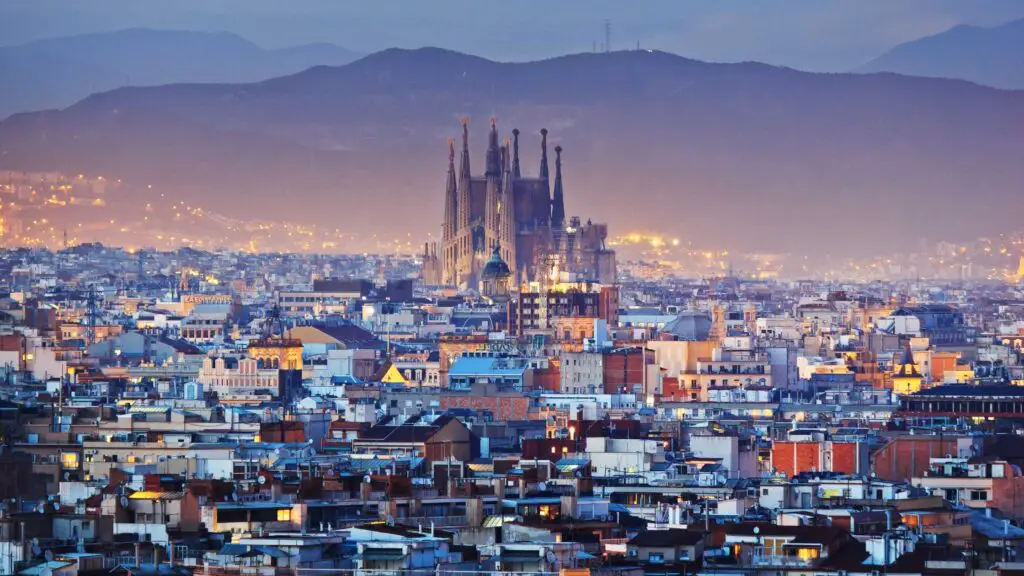 El Born, Barceloneta Beach and the Gothic Quarter districts are the top neighbourhoods for non-stop partying and fun in Barcelona. You'll find plenty of drinking spots, rooftop bars, tapas bars, breweries, and fancy nightclubs on the cobbled, winding streets. 
RECOMMENDED TOURS
BEST PRIVATE TOURS
BEST TAPAS BARS COMBO GUIDED TOURS
WHERE TO STAY?
Hotel El Palace Barcelona, Yurbban Passage Hotel & Spa, Hotel Boutique Mirlo Barcelona, Monument Hotel
TENERIFE
BEST FOR – COUPLES, STUDENTS AND YOUNG AT HEART
If you're looking for the best party Islands, Spain is where you want to look. After Ibiza, one of the best party cities in Spain is Tenerife, the biggest of the canary islands. 
Tenerife has stunning landscapes, incredible beaches, gorgeous views, many outdoor activities, and the best Spanish food.
After enjoying all these, stay tuned for the nightlife in Tenerife because it shines as one of the top entertainment destinations in Spain.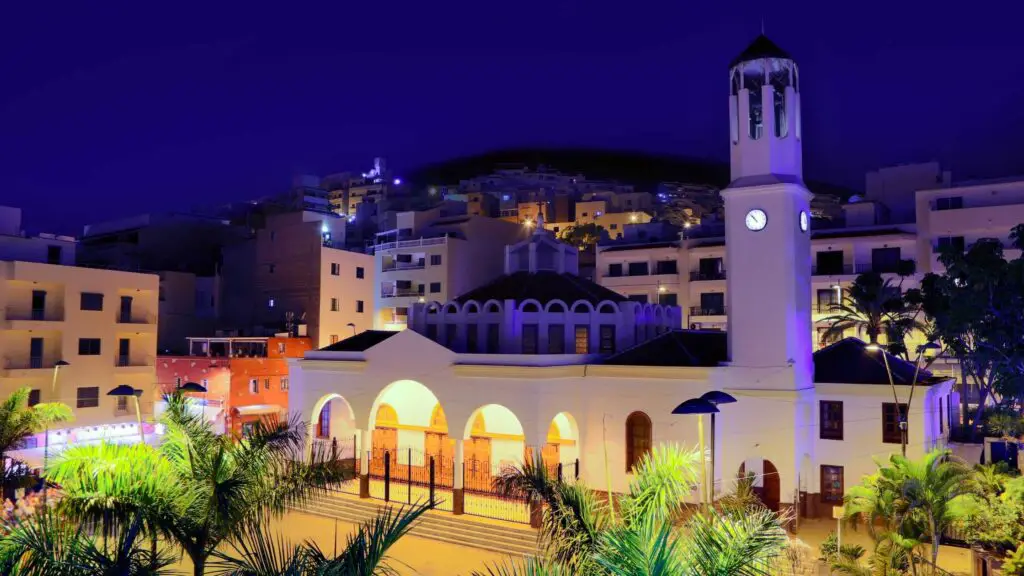 Gran Canaria has many islands ideal for partying, but Tenerife is where it all starts, attracting solo travellers, couples, and youngsters alike.
Tenerife is smaller, quieter, and more relaxed, so it has become a popular alternative to Ibiza. Except for the summer months, you can even expect to enjoy Tenerife nightlife on a budget.
From expensive nightclubs and fancy restaurants to rooftop bars and karaoke pubs, you have plenty to choose from to enjoy the nightlife in Tenerife, with the best spots along the famous beaches.
The gay scene here is famous, and so are the Irish pubs, drag shows, cabaret and strip clubs.
RECOMMENDED TOURS
PRIVATE TOURS
Tenerife: Private Luxury Motor Boat Sunset Cruise
GUIDED TOURS AND PARTY TICKETS
WHERE TO STAY?
Cottage Hibiscus among Avocados, Sweet Home Masca, La Finquita – Adeje, Don Rafael Luxury Suites
MADRID
The capital city, surprisingly, is one of the most fabulous party cities in Spain, loved by locals and its visitors.
Urban, upbeat, and hipster define the thriving nightlife in Madrid, and if you love partying in cosmopolitan cities amidst skyscrapers and city skylines, you will love drinking in Madrid.
Also, similar to Barcelona, Madrid takes its love for music seriously, so you will be treated to a wild crowd grooving to hip-hop, electronic music, and live concerts in the trendiest pubs, cocktail bars, and lavish nightclubs.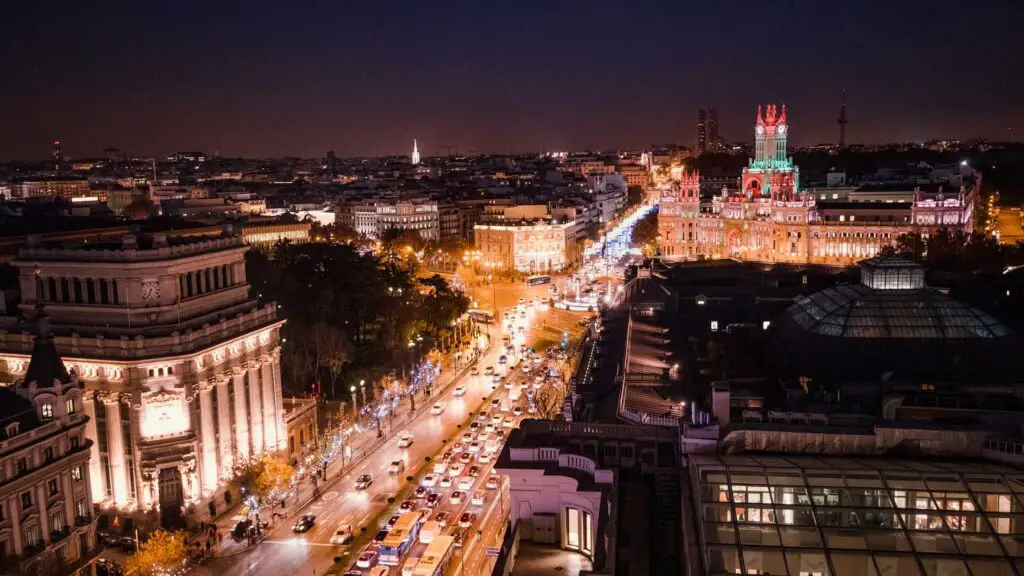 If Barcelona has Las Ramblas, Madrid has Fuencarral, the liveliest party district in the capital. Fuencarral boasts a wide variety of disco bars, breweries, and rooftop restaurants.
Gran Vía and Sol are known for great nightlife options, home to the best clubs hosting famous DJs.
Head to the Salamanca district if you want milder ambiences, which is home to many popular flamenco Tablaos, after which you can hop the tapas bars or enjoy shopping.
RECOMMENDED TOURS
GUIDED TOURS
WHERE TO STAY?
Mandarin Oriental, Palacio Tirso de Molina, Four Seasons Hotel Madrid, and Gran Hotel Inglés
MAGALUF
Located close to famous Ibiza, Magaluf, a resort town on the island of Majorca, is one of the best party cities in Spain, known for its wild dance nights at its famous nightclubs.
Magaluf nightlife is lively and colourful along its find-sand beach strips, home to hundreds of pubs, bars, rooftop cocktail bars, disco floors, excellent restaurants, and fun activities.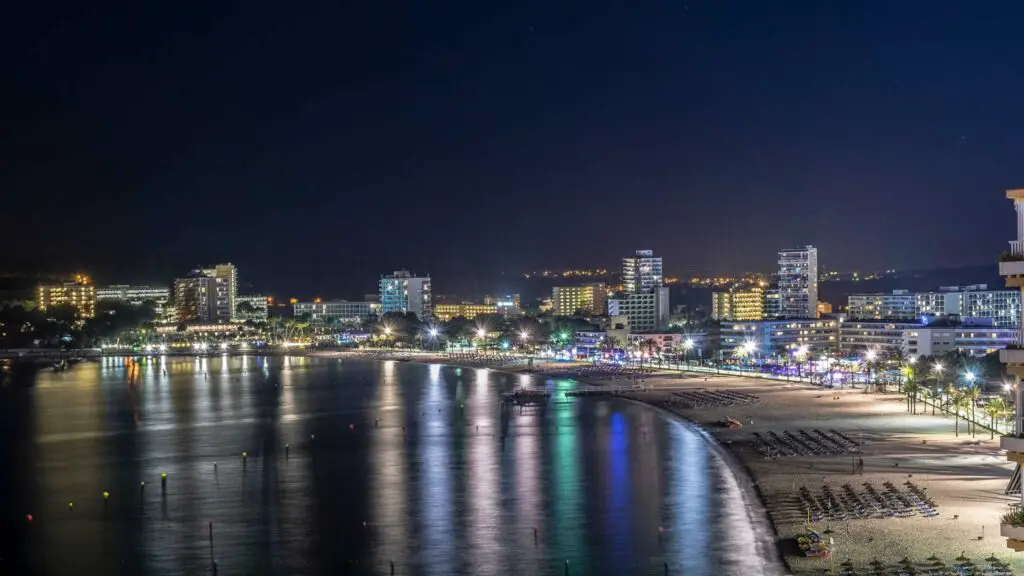 But Magaluf is famous for its BCM Planet Dance nightclub, which is one of the largest hosting thousands of partygoers that will dance away for loud, throbbing music in the summer months.
Start at the bars and cafes lining the seafront promenade, which is also a popular spot for boat parties and beach parties.
Magaluf is known for its quirky-themed parties, strip clubs, and comedy nights. You can also visit the theme parks for fun games and night events.
RECOMMENDED TOURS
WHERE TO STAY?
Bahia Principe Sunlight Coral Playa, Hotel Florida Magaluf, and INNSiDE Calviá Beach
SEVILLE
Seville, in the southern region of Andalusia, is one of the most beautiful party cities in Spain to enjoy traditional Spanish nightlife, which will give you glimpses into the party culture, and nightlife enjoyed by the locals.
While partying in Madrid, Barcelona, or Alicante is more cosmopolitan and urban, Seville has its old-warm charm.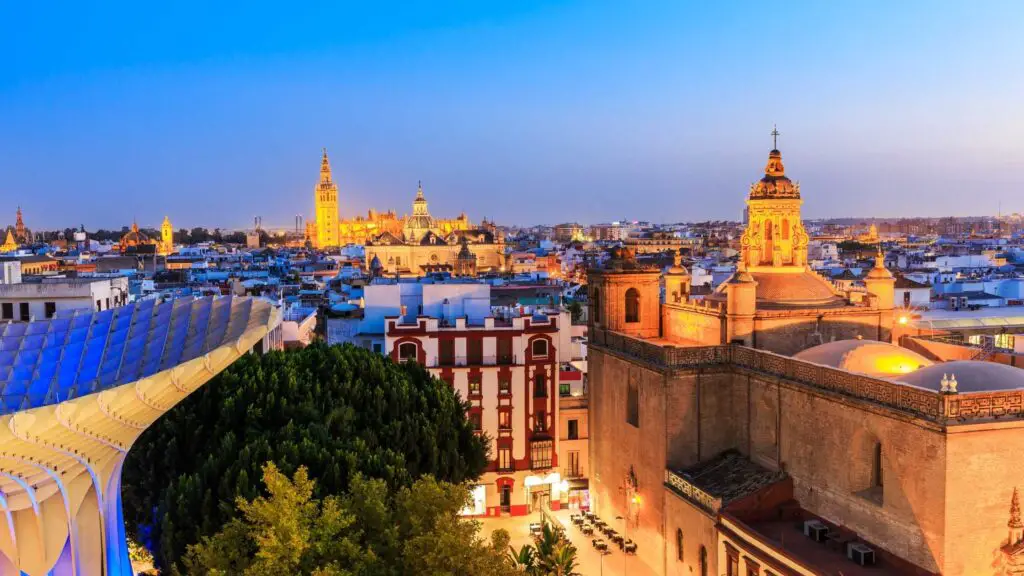 It is the birthplace of vibrant and famous flamenco dances, traditional tapas, bars, and winding streets packed with eateries, bodegas, and rooftop restaurants overlooking medieval monuments.
During day time, the labyrinthine narrow streets will make you fall in love with colourful and architecturally stunning Seville.
After sundown, the nightlife, which feels more intimate, transports you to old times in the old town or will charm you with contrasting hip culture in its modern neighbourhoods.
Seville is one of the few cities in Spain to experience the best of both worlds partying differently on the same night.
RECOMMENDED TOURS
PRIVATE TOURS AND ENTRY TICKETS
GUIDED TOURS
WHERE TO STAY?
Hotel Gravina 51, Casa del Poeta Triana Suite & Homes, CH Apartments Boutique, and Aguilas5 SevillaSuites
ALICANTE
If you are looking for modern party cities in Spain, Alicante, the port city in southeastern Costa Blanca, is worth adding to your bucket list.
The old town of Alicante, Barrio de la Santa Cruz, becomes the centre of nightlife and entertainment at night. Its winding, narrow streets with crowds enjoy the many pubs, nightclubs, and rooftop restaurants.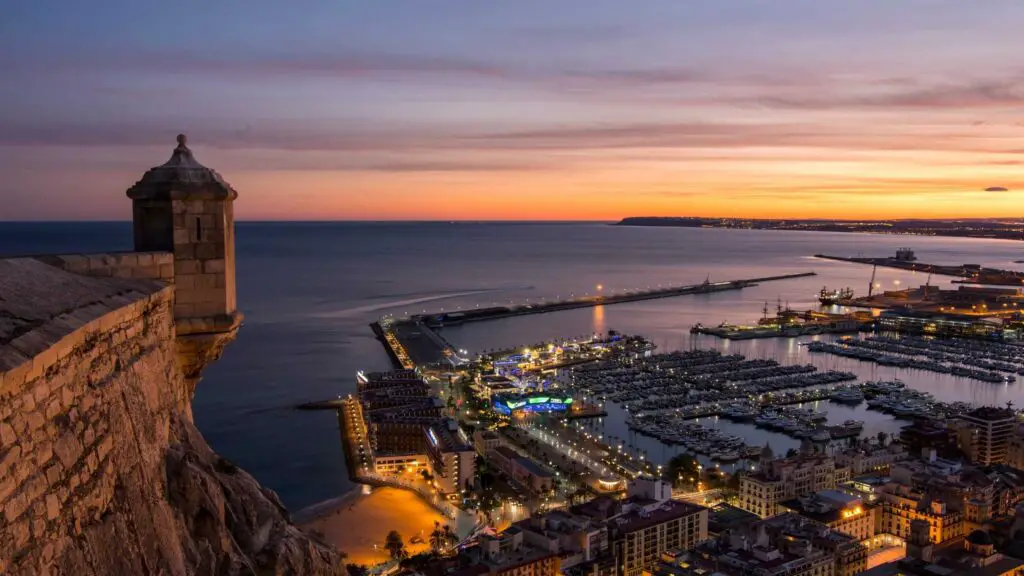 Alicante is one of the top shopping destinations in Spain, so make the most of your time and indulge in some shopping, too, after you have had your fill of cocktails and snacks at the tapas bars.
Enjoy spending downtime in one of the city's many beach bars for stunning coastal views of Alicante at night. 
Many beach and boat parties begin after sunset, so head there if you plan to rent a yacht or want to dance all night at the beach clubs.
RECOMMENDED GUIDED TOURS
WHERE TO STAY?
Palacio Salvetti Suites, Balmis Plaza Apartments, Tomate Rooms, and Atico Atalaya
BENIDORM
If you find Alicante too urban or crowded, you can drive to nearby Benidorm.
As one of the top party cities in Spain that has become increasingly popular recently is Benidorm, with mainly Europeans flocking to this city during the summer months.
It is one of the best-underrated party cities in Spain and is a perfect destination if you want to get off the beaten cities for unique nightlife in Spain, and it is only 40-minutes away from the bigger Alicante.
This seaside resort on the eastern coast of Spain in Costa Blanca is a former tiny fishing village till the 1960s.
It is now one of the best party destinations in Spain, along with its gorgeous Mediterranean beaches.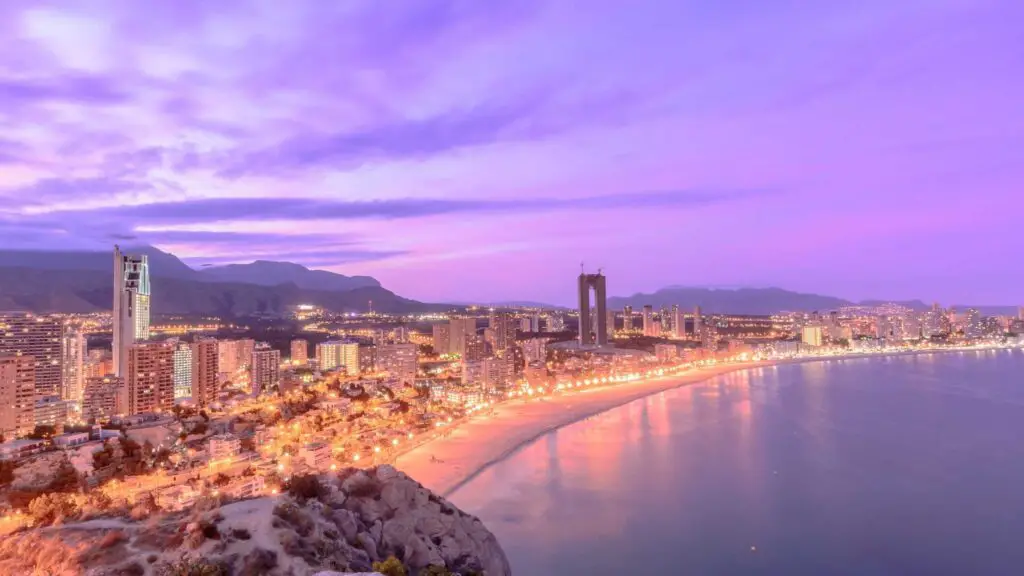 Levante Beach and Poniente Beach transform into neon-lit party hubs home to over 2000 bars, pubs and nightclubs.
One of the top things you should do in Benidorm includes hopping the local tapas bars where you should try delicious seafood and pintxos.
RECOMMENDED TOUR
Benidorm: Show at Benidorm Palace
WHERE TO STAY?
Riviera Beachotel, Sonrisa Deluxe Apartments, and Hotel Boutique Villa Venecia
VALENCIA
Valencia is one of Spain's most exciting and vibrant cities on the southeastern coast, where the Turia River meets the Mediterranean Sea. 
Known for its lovely Mediterranean beaches, gorgeous hilltop views, and colourful carnivals and festivals, it is one of the best party cities in Spain if you love festivities, food, and drinking.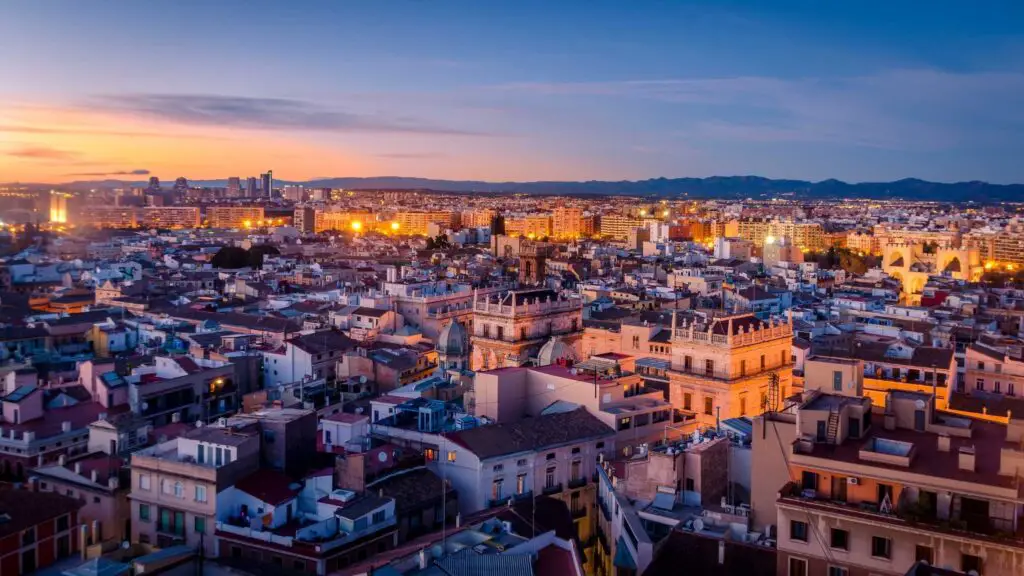 There are so many fantastic attractions to explore in Valencia during the day, thanks to its popularity as the city of modern architectural monuments and the centre for arts, science and culture.
At night, expect a more thrilling nightlife in Valencia, as the third-largest in the country city draws hundreds of thousands of revelers, youngsters, couples, and solo travelers to its incredible nightclubs, aid-back bars, coastal city vibes, splendid Mediterranean views, and delectable beverages. 
You can dance until early morning hours at beach parties or disco bars which begin at midnight, or go bar crawling and enjoy the diverse music scenes with special Sangria.
Head to the old quarter to Barrio del Carmen, the heart of nightlife in Valencia.
It has some fabulous restaurants for tasting delicious paella, excellent food markets for street food, and many rooftop bars for fine cocktails with stunning night views.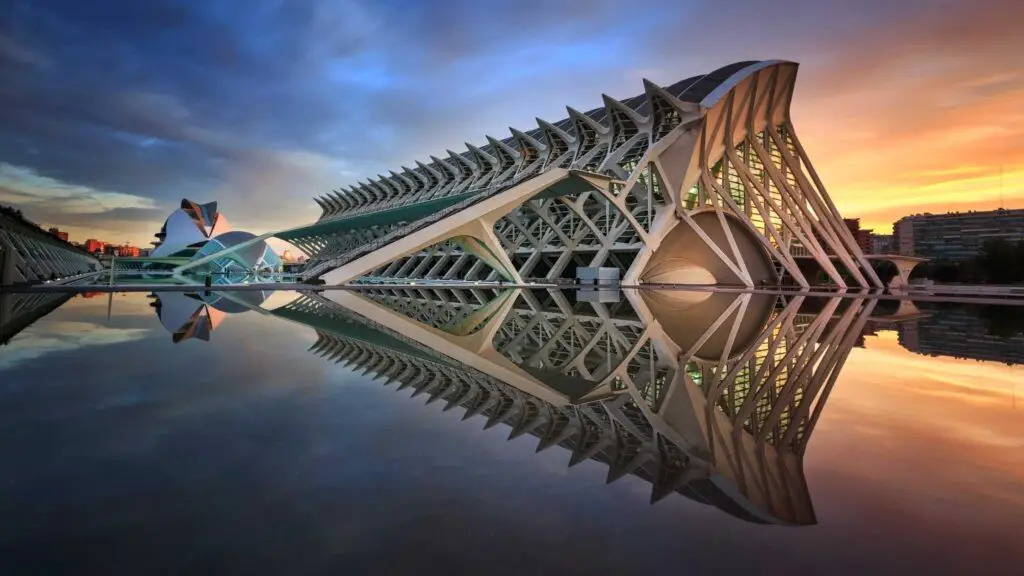 Valencia is the venue for the world-famous summer festival La Tomatina, a huge tomato-throwing festival held in the nearby town of Bunol, which you should not miss.
Or attend the Las Fallas festival's biggest event of the year, involving parades comprising colourful floats and statues, extravagant fireworks displays, dance, food, and games.
RECOMMENDED TOURS
WHERE TO STAY?
Palacio Vallier 5, Fetén, Helen Berger Boutique Hotel, and Marqués House Hotel Sup
MALAGA
Málaga is a beautiful city situated on the Costa del Sol in southern Spain in Andalusia.
This capital of Malaga province is famous for its Mediterranean vibes, gorgeous beaches, and glamorous nightlife scene.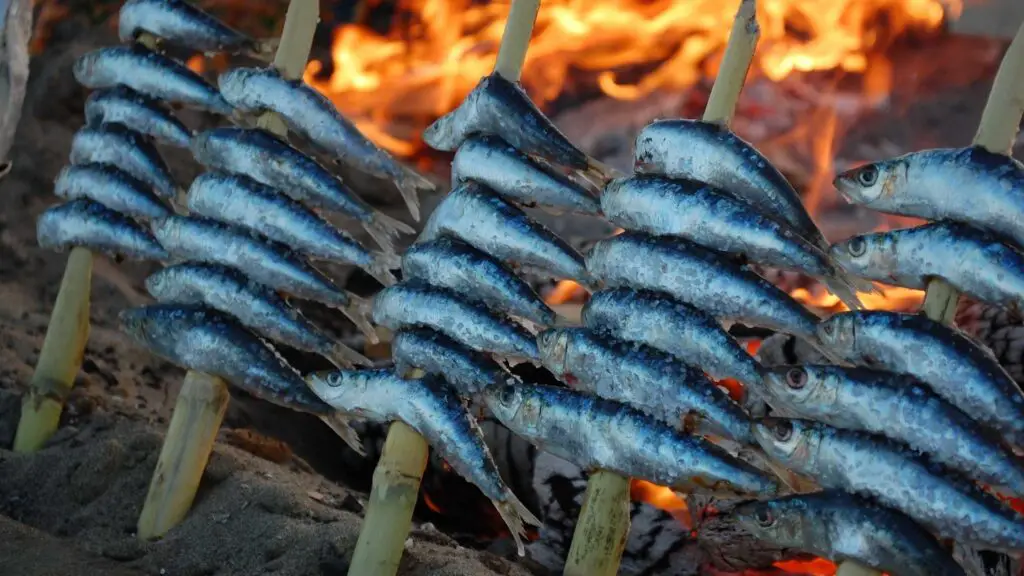 Malaga is one of the pretty party cities in Spain, offering you plenty of options to enjoy the Mediterranean nightlife to the fullest.
You can choose from a vast range of bars, nightclubs, breweries, cocktail bars, and pubs to suit all tastes and budgets. 
Whether you're looking to dance the night away or want to attend quirky comedy shows and events, you can party and have fun in Malaga in many ways.
RECOMMENDED TOURS
WHERE TO STAY?
Gran Hotel Miramar GL, Soho Boutique Castillo de Santa Catalina, Vincci Larios Diez, Be Mate Málaga Centro
MAP OF PARTY CITIES IN SPAIN
Please note: This post contains affiliate links, meaning we may earn a commission if you purchase by clicking a link (at no extra cost to you). Learn more.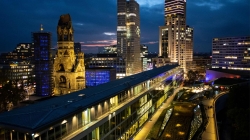 Latest posts by Anna Owen
(see all)