There are a myriad of things to do in Paris at night.
Paris is where romance and artistry intertwine. The night reveals a different facet of the city, beckoning you to explore its hidden treasures and embrace its unique charm.
As the sun bids adieu to the Parisian skyline, the ancient cobblestone streets of this gorgeous city begin to glow with its shimmering street lamps.
If you are wondering What to do in Paris at night, I have covered your nocturnal cravings!
In this post, you will get an insight into a diverse range of night activities the French capital has in store for you and some other valuable tips and resources.
So, don your beret, grab a baguette, and embark on a journey through Paris's enchanting nocturnal wonderland.
Book your car for rent at Rental Cars, which has a wide range of car options with affordable pricing.
Take advantage of this Paris City Pass and Paris Museum Pass; it saves you a lot of time and money!
If you are looking for things to do at night in other major European cities, check out these posts:
Check out my collections of nightlife quotes and party captions for Instagram if you want a quirky photo caption for your social media.
IS PARIS SAFE AT NIGHT?
Ah, Paris at night—the City of Lights truly lives up to its name! But is it safe to venture out when the sun sets?
The answer is a resounding yes! Paris is generally a safe city for nighttime exploration, but like any bustling metropolis, it's essential to keep a few things in mind.
Avoid the Scams: Watch out for common street scams, especially after dark. There are hustlers, and you don't want to fall for their tricks. 
Ever seen the cup and ball game on the streets? Don't get tempted to bet your hard-earned money—it's a classic scam!
Stay Vigilant: Keep your wits about you and trust your instincts. If something doesn't feel right, it probably isn't.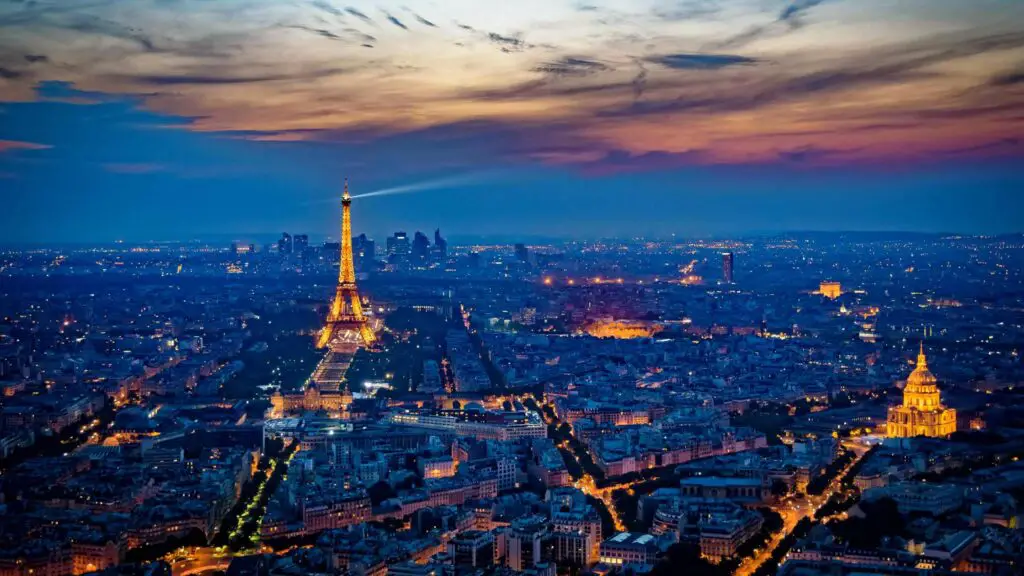 Stay aware of your surroundings and be cautious, especially in crowded places.
Know the Numbers: Familiarize yourself with local emergency numbers. Remember, it's 17 for police, 18 for fire, and 15 for medical services.
Respect the Rules: Understanding and respecting local laws and customs is essential. For example, open container laws can vary, so be mindful.
So, is Paris safe at night? Absolutely! 
Before diving further, check out these top ways to explore this beautiful city. Plan and book your tickets ahead of your trip.
HOW TO EXPLORE PARIS AT NIGHT?
I have listed some of the best ways I discovered from my trip to explore this beautiful city of lights.
Pro Tip: Whatever ways you choose, I recommend you book your tickets in advance since this sells like hotcakes.
WALKING TOURS
Exploring Paris at night is a magical experience, and taking a guided night walking tour is one of the best ways to immerse yourself in the city's nocturnal charm. 
A guided tour allows you to witness the Eiffel Tower, Louvre, Notre Dame Cathedral, and more in all their illuminated glory.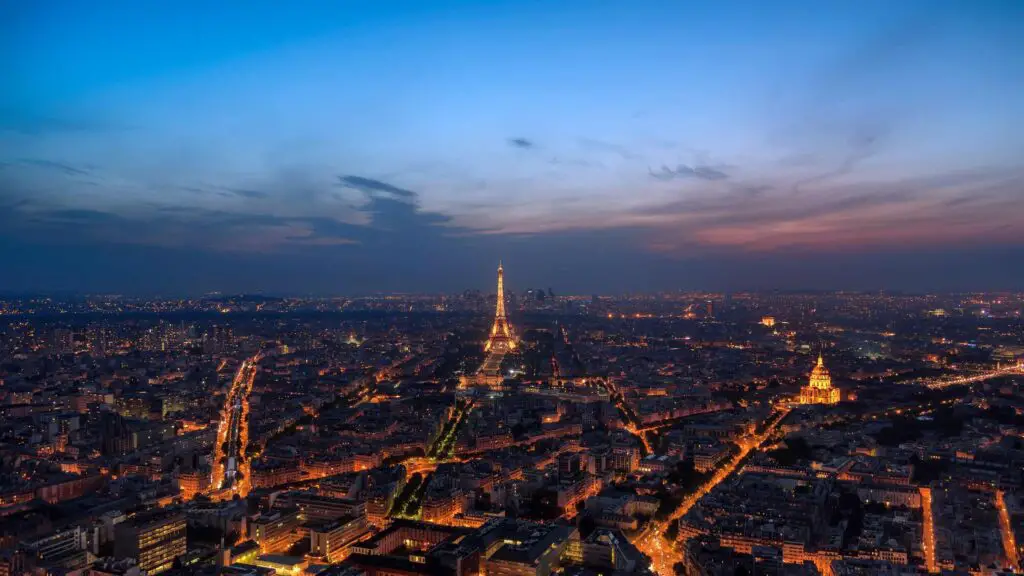 Knowledgeable and passionate local guides lead these tours.
They share fascinating stories, historical facts, and insider tips about Paris.
Some night walking tours in Paris have unique themes.
You can choose from ghost tours, gourmet food tours, or tours focused on specific neighbourhoods or historical periods.
Check out these renowned walking tours and book your tickets ahead of your trip.
BIKE TOURS
How about exploring this beautiful city on a bike? Hop on a bike tour and pedal around the city to appreciate the alluring charm of the iconic landmarks.
The best part is that the city has significantly improved its cycling infrastructure, including designated bike lanes and bike-friendly routes. 
Guided bike tours typically follow safe and well-planned paths, ensuring your safety while exploring the city.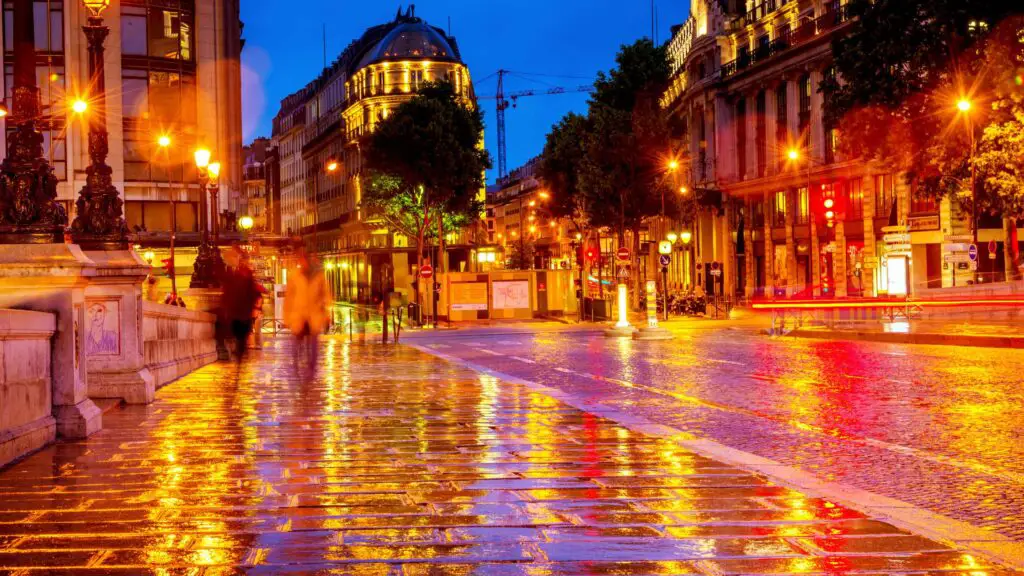 Paris offers a variety of bike tours catering to different interests and timeframes. 
You can choose from extensive evening tours that cover numerous landmarks or shorter, more focused tours.
Most bike tour operators provide a choice between regular bicycles and e-bikes. 
Depending on the tour, you may visit renowned landmarks such as the Eiffel Tower, Sainte-Chapelle, Louvre Museum, Notre-Dame Cathedral, Île Saint-Louis, Seine River and more. 
Book your bike tour here.
HOP-ON HOP-OFF BUS TOUR
One of the exciting things to do in Paris at night is to explore the city via a hop-on hop-off bus tour.
I took both the day and night buses. Sitting on top of a double-decker and feeling the wind in your hair with the fantastic views of the iconic landmarks is a treat to your senses.
A hop-on hop-off bus tour allows you to visit popular tourist destinations without the hassle of navigating public transportation or worrying about directions.
These tours typically include famous sights such as the Moulin Rouge, Champs-Élysées, the Louvre Museum, the Arc de Triomphe and many more.
Many bus tours offer the option to add extra time for sightseeing at the Eiffel Tower. 
An audio guide in multiple languages provides informative commentary during the tour. 
It's also a perfect opportunity for couples looking for a romantic night experience in Paris.
Consider boarding an open-top double-decker bus around 8 PM when planning your night bus tour. 
Book your bus tour here.
SEGWAY NIGHT TOUR
To explore the city's beauty while covering more ground than walking, consider going on a Segway night tour. 
With 20 arrondissements in Paris, exploring the entire city on foot can be exhausting. Rest your feet and glide through the city with ease via Segway.
Segway night tours offer a comprehensive itinerary that includes key points of interest and iconic landmarks.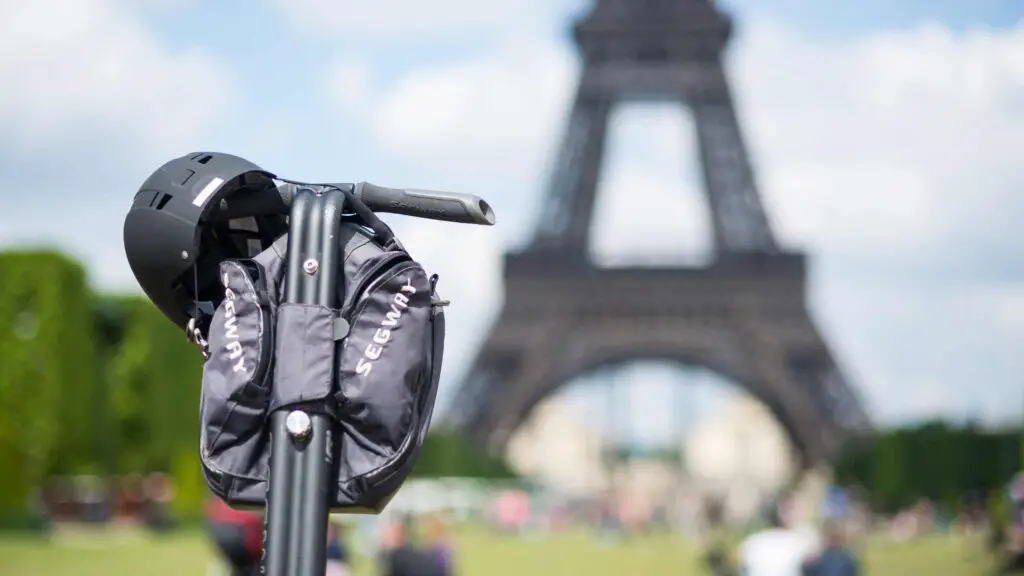 Some Segway tours start around sunset; you will be treated to stunning city views as the sun goes down. 
Please note that Segway tours are mostly suitable for older teens and adults and are not recommended for younger children. 
Book your Segway tour here.
SIDECAR TOUR
Transport yourself back to the charm and nostalgia of 1950s Paris with a sidecar tour, one of the cool things to do at night in Paris.
A sidecar is a small cart attached to the side of a motorcycle which can accommodate up to two passengers, with some offering space for a third rider.
Cruise through the streets of Paris, feeling like a local from a bygone era. The open-air experience adds a touch of romance to your sightseeing adventure.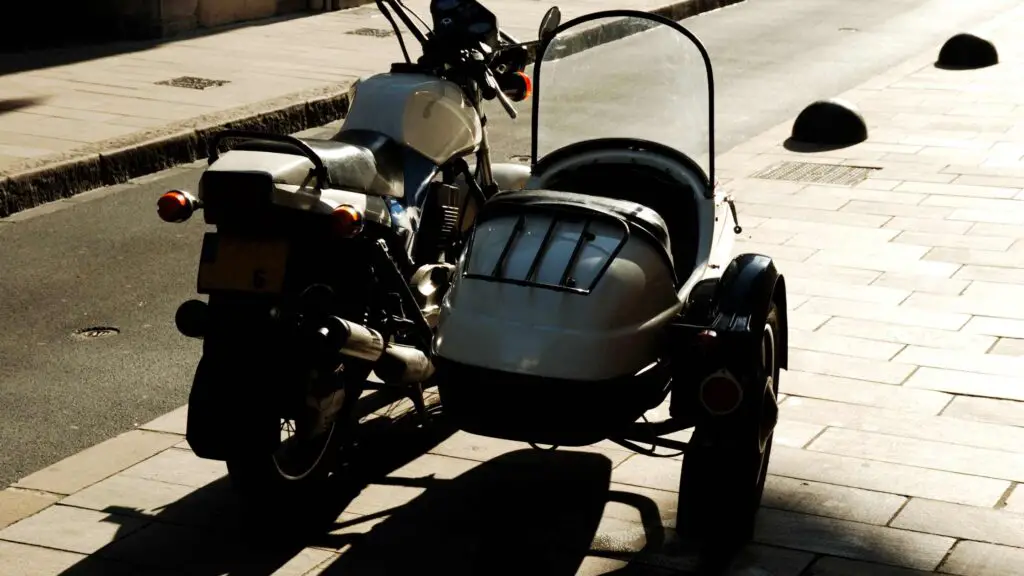 Some sidecar tours offer the option to enjoy a glass of champagne during your ride. 
Sipping champagne while exploring the City of Lights in a vintage sidecar adds a touch of luxury to your experience.
Sidecar tours typically last 1.5 to two hours, providing ample time to soak in the sights, take photos, and create lasting memories.
Book your sidecar tour here.
VINTAGE CAR TOUR
Cruise through the streets of Paris in a vintage French convertible car from the 1960s, one of the most stylish ways to explore this gorgeous city of lights.
Riding in a vintage French convertible car like the Citroën 2CV is an authentic and unforgettable way to explore Paris. 
The Citroën 2CV is an outstanding vintage French car, affectionately known as the "deux-chevaux" or "two horses" due to its horsepower. 
It accommodates four passengers and provides a comfortable and charming way to explore the city.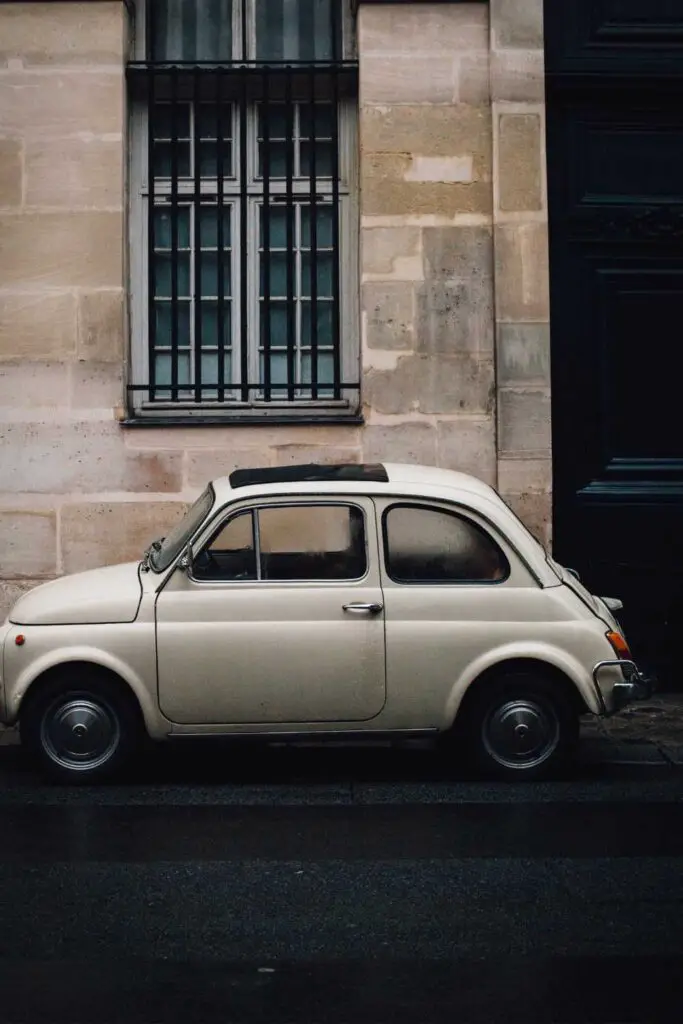 During this one-hour tour, you will enjoy the fresh Parisian air as you explore the city in a vintage convertible car. 
Your journey may include iconic stops like the oldest church in Saint-Germain-des-Près, a drive along the famous Champs-Élysées, and a visit to Concorde Square.
Spot the Eiffel Tower from various vantage points throughout the tour.
Your guide or driver will provide fascinating insights into each attraction you visit. 
Additionally, your driver might recommend exceptional restaurants and rooftop bars to enhance your Parisian experience.
Don't miss this unique and exciting way to explore Paris at night. Book your vintage car tour here.
Dive in and discover the best things to do in Paris at night!
TOP THINGS TO DO IN PARIS AT NIGHT
UNVEIL THE GORGEOUS LOUVRE
One of the top things to do in Paris at night is to visit the world-renowned Louvre Museum.
Until the 16th century, the Louvre was a noble palace.
But in 1682, Louis XIV moved his court during the French Revolution, and the National Assembly decided to convert this place from a castle to a national museum.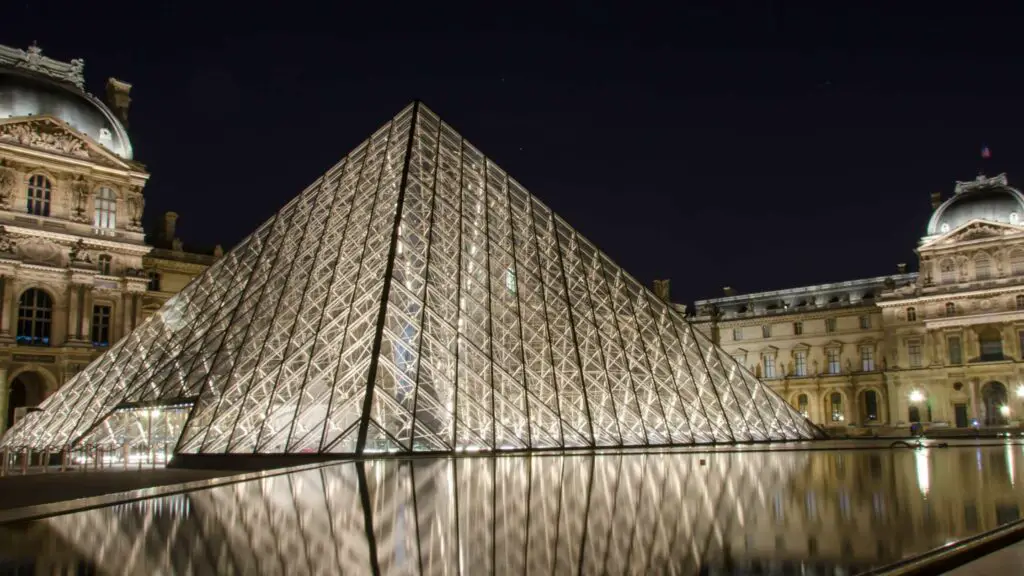 Today, the Louvre is a world-famous attraction, and witnessing this place at night is beautiful.
Immerse yourself in the Louvre's storied past, from its medieval origins to its royal legacy.
Spanning 45,000 square meters, you will be greeted by the iconic glass pyramid at the entrance, which stands tall as a beacon of art and wonder amidst the night. 
This massive museum is home to around 30,000 artworks and is divided into three wings: Richelieu, Sully and Denon, each promising a unique voyage through history and culture. 
Although you might need a day or two to explore the entire museum, I recommend not missing this place after dark to take in the glorious sight.
Navigate the Visitor's Trail, be it the Louvre's Masterpieces Trail or the Secret Treasures of the Richelieu Wing Trail, or opt for an expert-guided tour to add thrills to your adventure.
Be prepared to be awe-struck as you witness world-renowned masterpieces.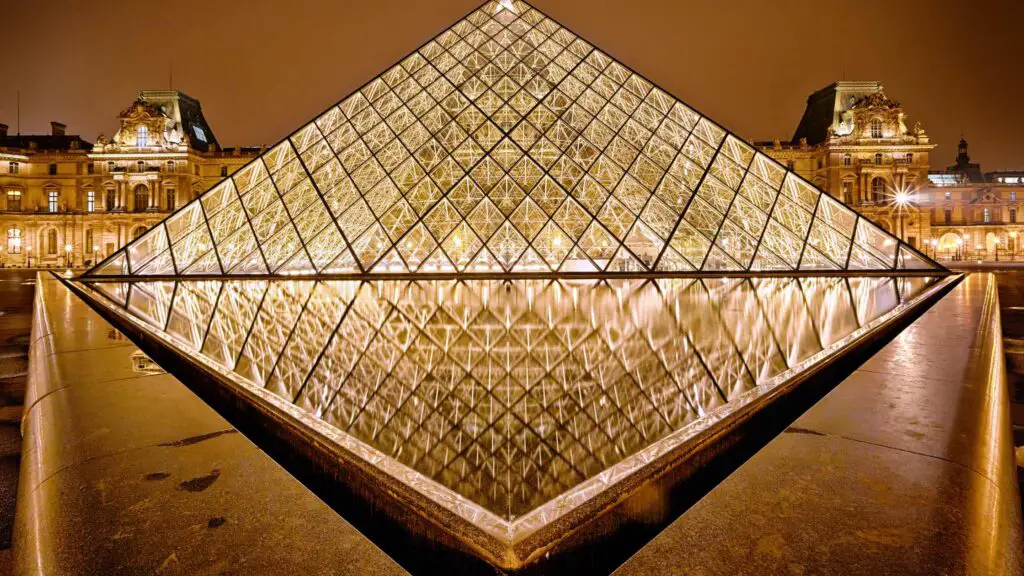 Check out Da Vinci's Mona Lisa, Paolo Veronese's The Wedding at Cana, Eugene Delacroix's Liberty Leading the People, and the timeless Venus de Milo, just a few of the radiant stars of the night.
Explore the nearby Tuileries Garden and the majestic Arc de Triomphe du Carrousel, which add a touch of elegance to your night. 
On Wednesdays and Fridays, the Louvre extends its hours until 9:45 PM, making this one of the top things to do at night in Paris.
Saturdays bring an extra dose of delight with a free late-night opening, tailor-made for couples and solo wanderers seeking a peaceful and mystical atmosphere.
Don't miss out on this unforgettable night of art, history, and adventure – reserve your Louvre experience here to avoid last-minute hassle.
ASCEND THE ARC DE TRIOMPHE
One of the top things to do in Paris at night is to perch atop the Arc De Triomphe to take in the majestic nocturnal city views.
Arc De Triomphe is located at the city centre in Charles de Gaule and easily accessible via a metro with an exit right below the arc.
The history of this monument is a journey in itself, with construction spanning from 1806 to 1836.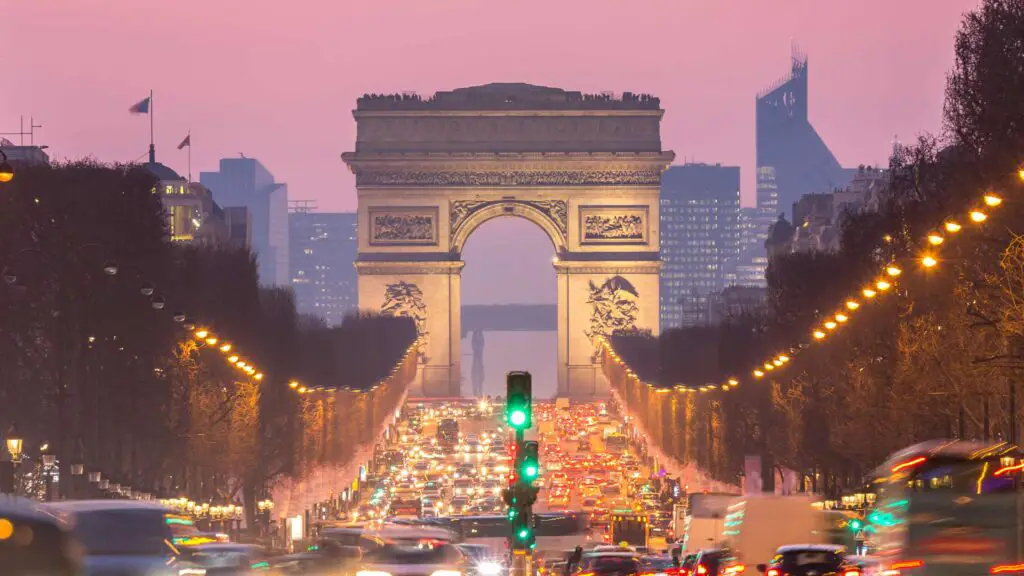 This 165-foot majestic monument was built to honour those who fought the French Revolution and the Napoleonic wars.
Inspired by Rome's L'Arc de Titus, the construction began under Napoleon's rule but was briefly halted during Louis XVIII's reign. 
Later, when King Louis-Philippe came into power, the rebuilding resumed and was finally completed in 1836.
The best part of Arc de Triomphe is its architectural illusion at play. Comprising four arches, it appears as one grand vault from a distance.
If you enter from the main 29.9-meter-high vault from the plaza, it only appears as if there is one. 
The four distinct entry points become apparent as you approach the structure. Two smaller vaults reach a towering 18.6 meters.
Walking beneath this historical arch feels like stepping back in time, and you can dive deeper into its story at the on-site museum. 
On a guided tour, you will learn about the tomb of the unknown soldier below the vault memorial.
For an even more exhilarating experience, climb 284 steps from the ground floor to reach the top terrace, doubling as a panoramic observation deck.
The Arc de Triomphe is a stunning vantage point to admire Paris at night. Take in the spectacular vistas of the Eiffel Tower and Champs-Élysées.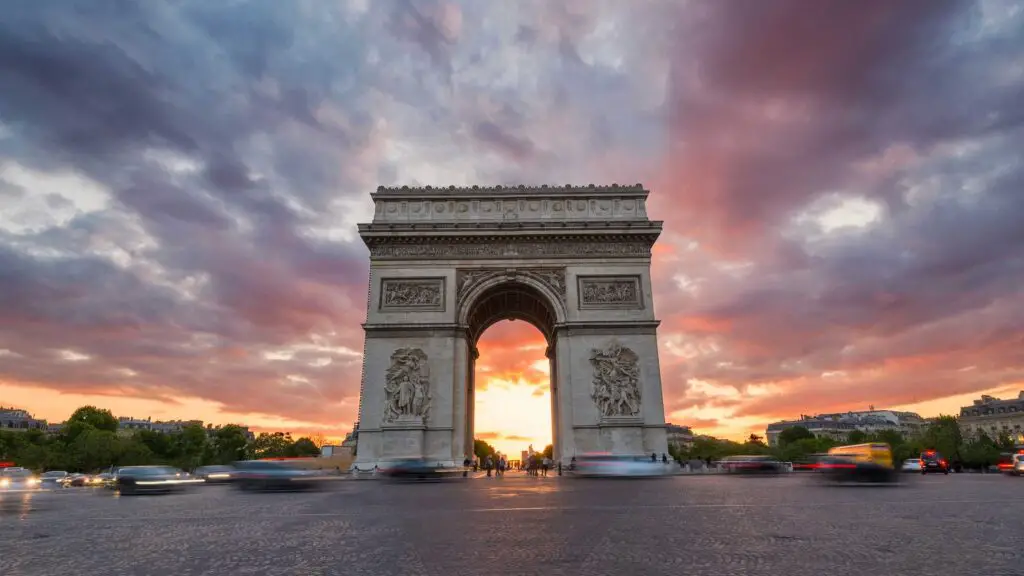 The arc also offers easy access to other captivating destinations, including Avenue des Ternes, the legendary Ladurée, the Balzac Cinema and Parc Monceau. 
Arc de Triomphe will be open until 10:30 PM daily, which makes it one of the best places to visit in Paris at night.
To make the most of your visit, consider grabbing this skip-the-line ticket ahead of your trip.
ADMIRE THE LIGHTS ON EIFFEL TOWER
When you think of Paris, what's the first thing that pops your head? Undoubtedly, it's the iconic Eiffel Tower, right? 
This was at the top of my list of Paris things to do at night on my trip.
Firstly, I recommend booking this skip-the-line ticket ahead of your trip. This will save you a lot of time and also a few bucks.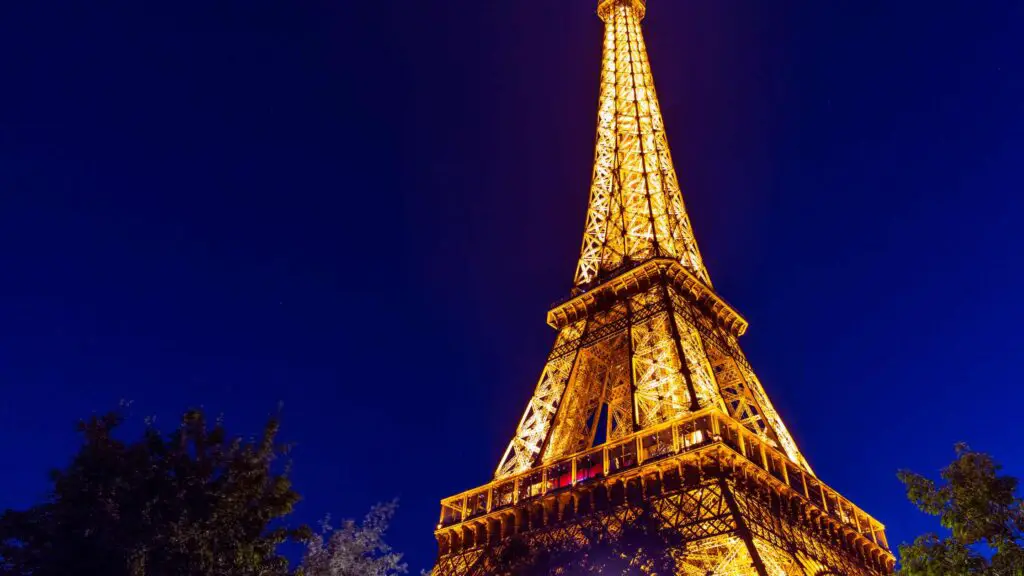 There are plenty of ways to experience this nighttime spectacle, which makes it one of the best things to do in Paris at night.
If you spend a night in Paris, you should not miss this iconic monument and its stunning lights.
Constructed in 1889 by the brilliant Gustave Eiffel, this 300-meter-tall iron giant is adorned with 20,000 light bulbs, of which 336 are golden projector bulbs.
The tower transforms into a glittering masterpiece with a mesmerizing light show every evening.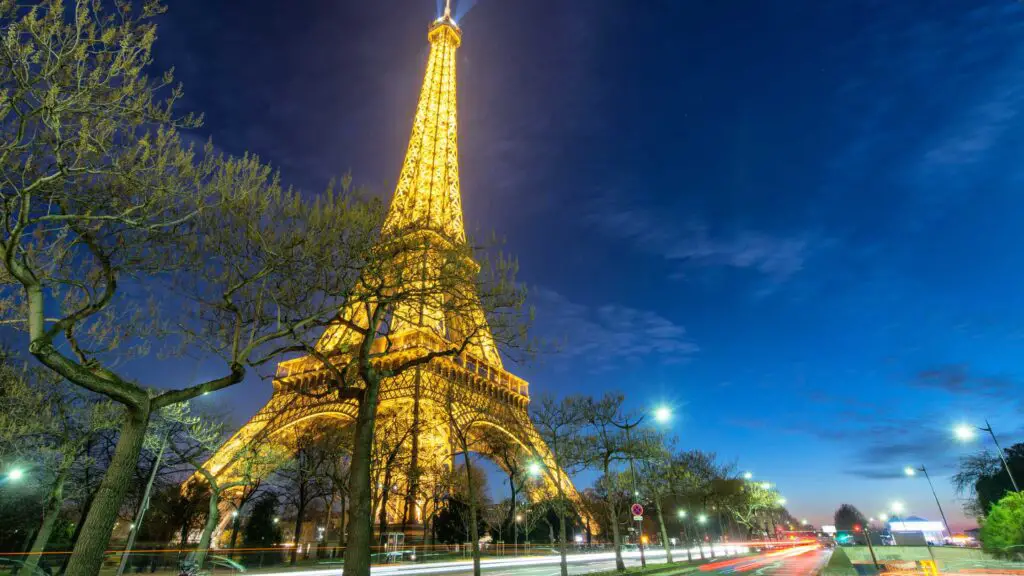 Inspired by camera flashes, it sparkles every hour for 5 minutes, turning the night into pure magic. This tradition has been in place since 1985.
The light beams from the two powerful cross beacons can be witnessed from any part of the city, which adds charm to the Paris night skyline.
The Eiffel Tower boasts three levels, each with its unique charm.
The Tower has 1,665 stairs, of which there are a mere 674 steps to reach the second floor.
That's a workout! But no worries, there are faster ways, like the lift, to access the first and second floors if you need assistance.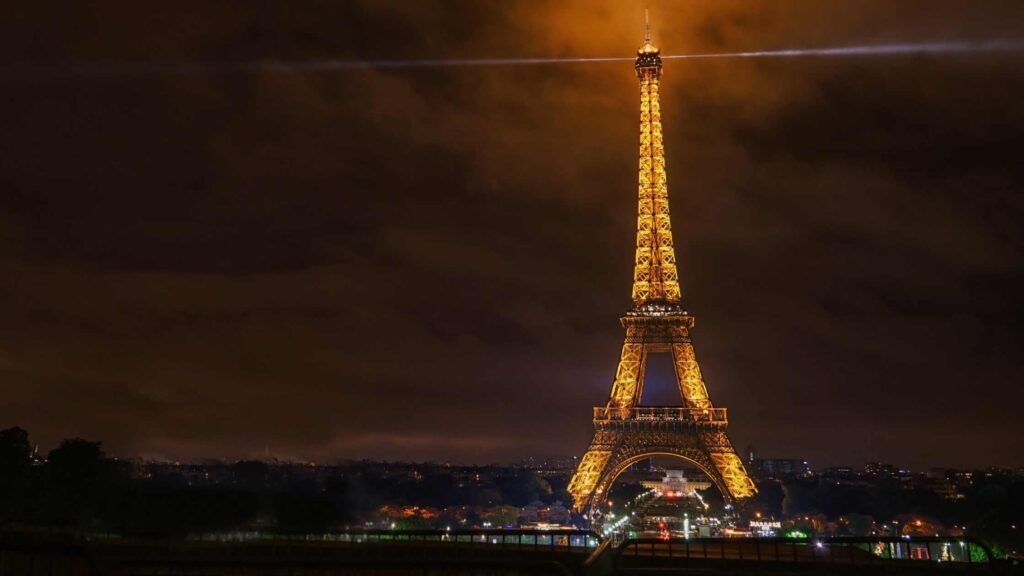 On the first floor, you can dive into the Eiffel Tower's history, stroll on glass floors, grab a bite at Madame Brasserie, and visit the Gustave Eiffel Reception Room. 
Fancy a Michelin-star dining experience with fantastic city vistas?
Head to the second floor, where Le Jules Verne Restaurant awaits – it is fabulous for couples for one of the romantic nights in Paris.
And the top level? That's where you will find a champagne bar with semi-indoor and outdoor viewing spots.
You go to the summit to take in the stunning city vistas or watch this beautiful structure from various vantage points across the city.
Enjoy a picnic under the tower on the lawn of Champ de Mars, one of the things to do in Paris at night with family.
Hop on a romantic night cruise along the Seine to witness the shimmering lights reflecting on the water's surface.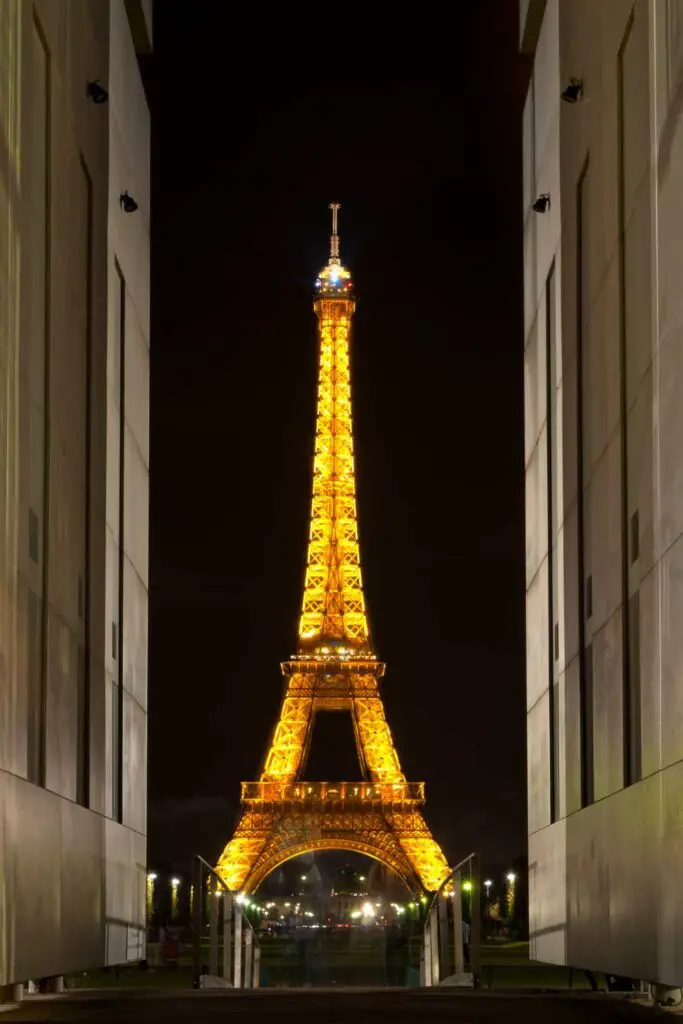 Gaze in awe from the Trocadéro, a lovely garden across the tower, to enjoy unobstructed views of the Iron Lady.
The Eiffel Tower can be visited on a day trip, but I recommend visiting during the second half of the day to enjoy gorgeous sunset views from the summit and the dazzling city lights after dark.
Book your Eiffel Tower Tickets here and get ready to raise a toast to the beautiful city views at the summit.
STEP INTO THE MAGICAL NOTRE DAME CATHEDRAL
One of the exciting things to do in Paris at night is to visit the Notre Dame Cathedral.
Well, it's not just a setting in the 1996 musical film "The Hunchback of Notre Dame." It's the real deal, standing tall since the 12th century.
The construction began in 1163, and it took over two centuries to complete this gorgeous masterpiece.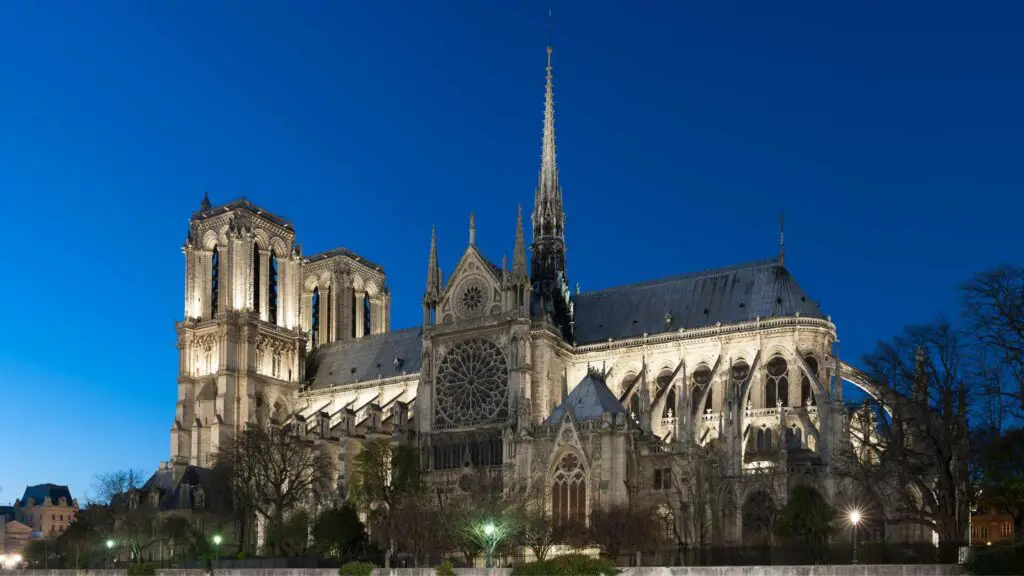 Notre Dame has undergone a few renovations, notably in the 18th and 19th centuries, but it remains the pinnacle of French Gothic architecture.
The best part is this is one of the free things to do in Paris at night alone. But if you want to explore the Tower and Crypt, you need to buy a ticket with a nominal fee.
Inside the Cathedral, light a candle, meditate, pick up the prayer texts, admire exquisite 17th and 18th-century paintings and learn about its fascinating history.
Did you know that Norte Dame Cathedral has been on the UNESCO World Heritage Sites list since 1991?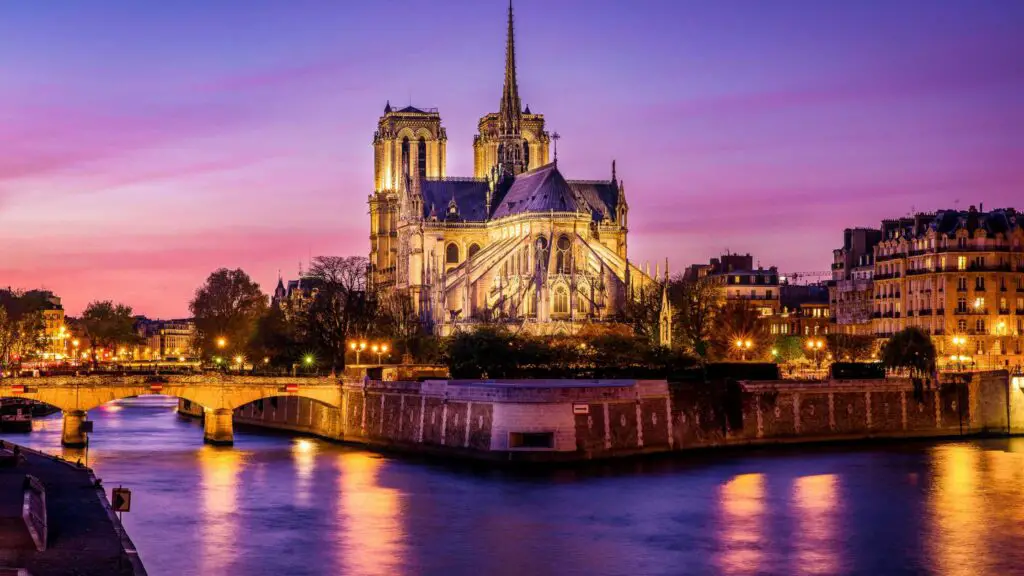 As the sun sets, Notre Dame Cathedral undergoes a magical transformation.
It is adorned with yellow-coloured bulbs which bathe its intricate Gothic architecture, enveloping it in an alluring aura.
The monument is currently closed due to the tragic fire of April 15th, 2019. 
However, here is the exciting part – it's set to reopen its doors in December 2024, and that's when the real fun begins anew!
EXPLORE THE SPOOKY CATACOMBS
One of the spooky things to do in Paris at night is to explore the catacombs, an underground adventure that's as eerie as it is enthralling. 
Hidden beneath the bustling streets of Paris, these catacombs hold the remains of approximately 6 million former Parisians in the 1.7-kilometer-long tunnel covering a total space of 11,000 square meters.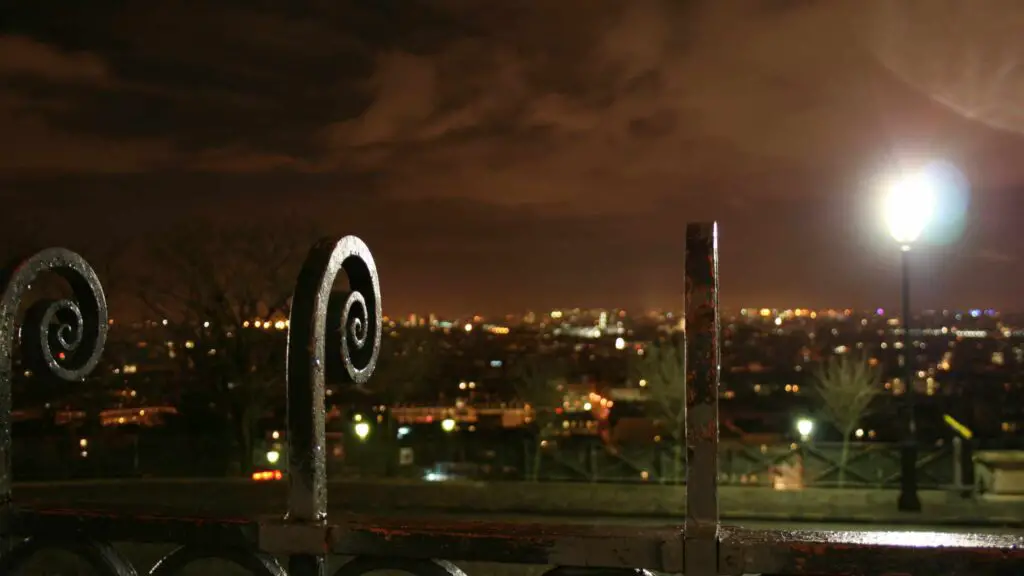 Due to health concerns, their skeletons were relocated here from the city's overflowing cemeteries during the late 18th to mid-19th centuries.
The catacombs opened for public exploration in 1874 and evolved into a living museum around 2013.
You need to descend 130 steps and venture 20 meters below Paris streets.
You will be greeted with a spine-chilling stone inscription: "Arrête! C'est ici l'empire de la Mort" (Stop! This is the Empire of the Dead). 
Keep going until you reach catacomb walls adorned with human bones and skulls, some arranged in patterns like the shape of a heart!
Take a guided tour of these catacombs for a thrilling Paris nightlife experience.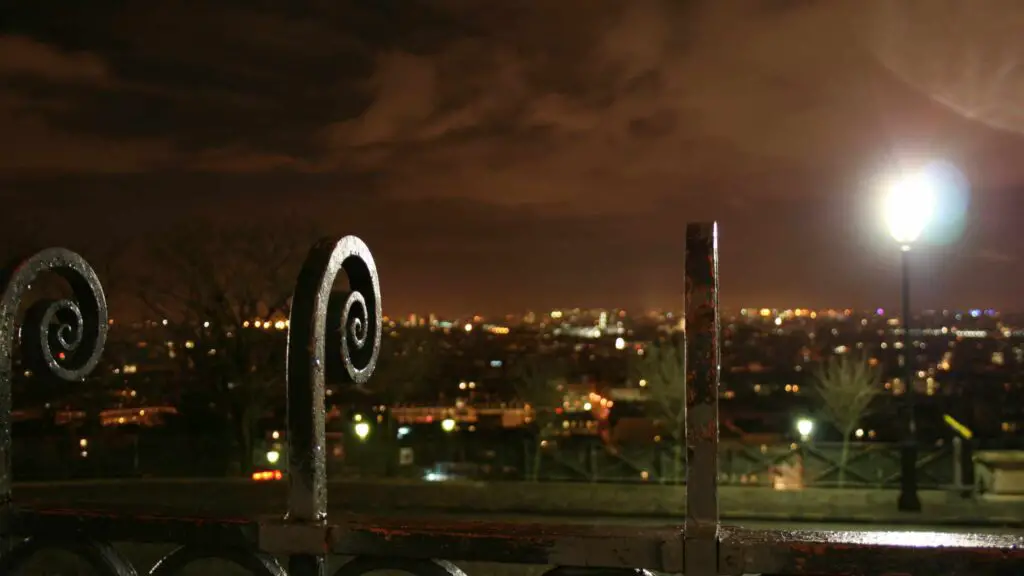 This intriguing tour lasts about an hour and is filled with fun facts and a bit of dirt, so wear comfortable clothing and shoes. 
I recommend starting this tour at around 5 PM to experience the eerie atmosphere that sets in.
ADMIRE THE VIEWS OF THE PALACE OF VERSAILLES
One of the top things to do in Paris at night is to visit the Palace of Versailles.
The massive palace, designed by the brilliant André Le Nôtre, has around fifteen groves connected by well-maintained walkways.
Take a guided tour to soak in the royalty. The palace features over 60,000 artworks and opulent rooms.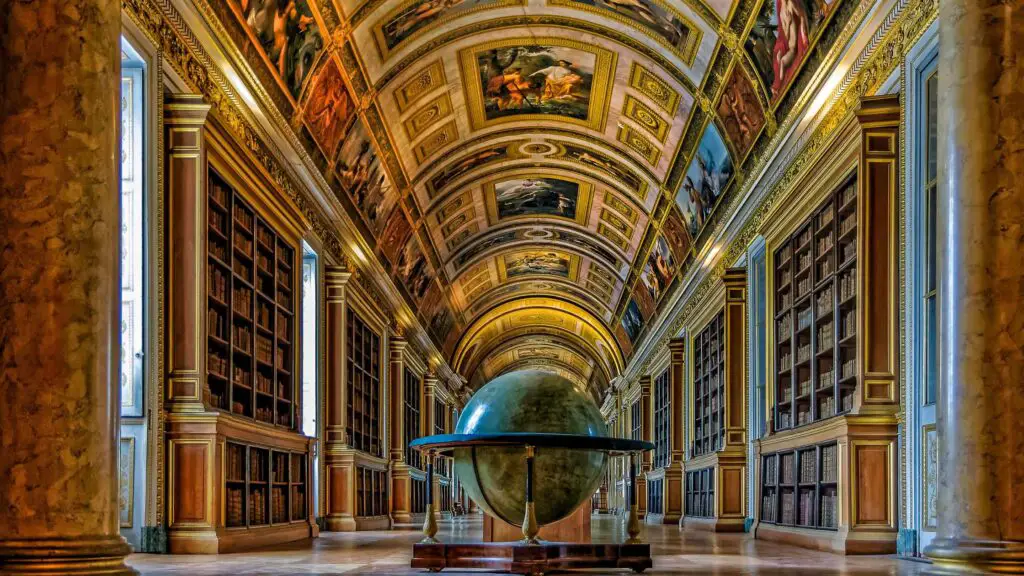 Explore the famous Hall of Mirrors, the King's State Apartments, the Queen's Apartments (including Marie-Antoinette's private chambers), the Royal Opera, and the spectacular gardens.
The garden comes alive in the evenings with vibrant lights and captivating music, creating a mesmerizing spectacle.
Another main draw of the Palace of Versailles is the Night Fountains Show. 
From April to October, you will be treated to a harmonious dance of water and light set to classical Baroque melodies.
But wait! The grandeur doesn't end there.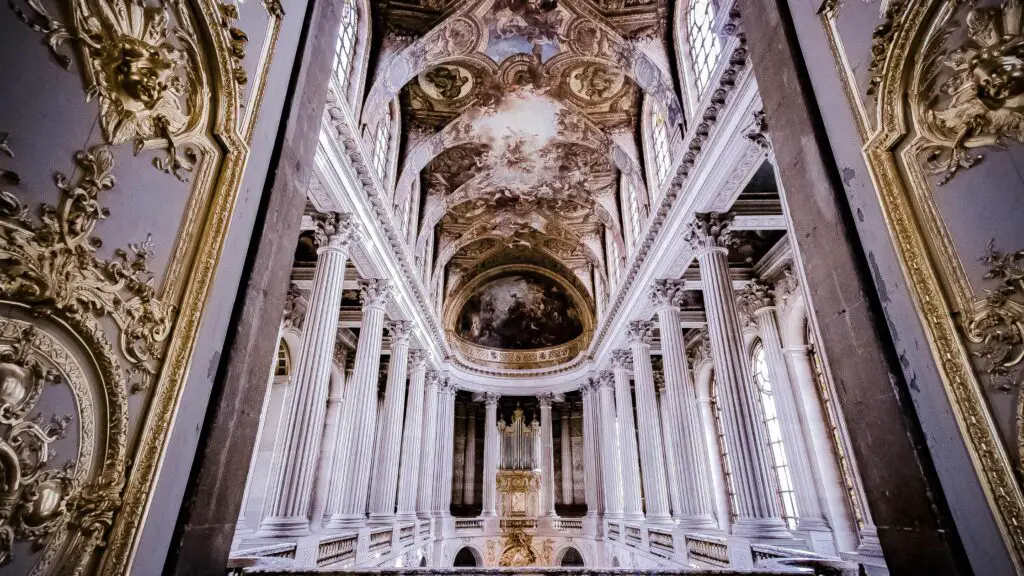 You will be in for a visual treat to witness dazzling fireworks above the Grand Canal that light up the night sky.
Don't miss the Ballroom Grove that glows with thousands of candles, adding to the magic of this unforgettable night at the Palace of Versailles.
Every summer, the Castle Gardens of Versailles extend their opening hours, which offer an array of spectacular events. 
Book your skip-the-line tickets here.
ENJOY AN OPERA SHOW
Put on your finest attire and prepare to attend a captivating opera show at the world's most iconic venues, undeniably one of the top things to do in Paris at night.
There are two magnificent opera houses at the heart of the city, the Palais Garnier and the Opera de Bastille.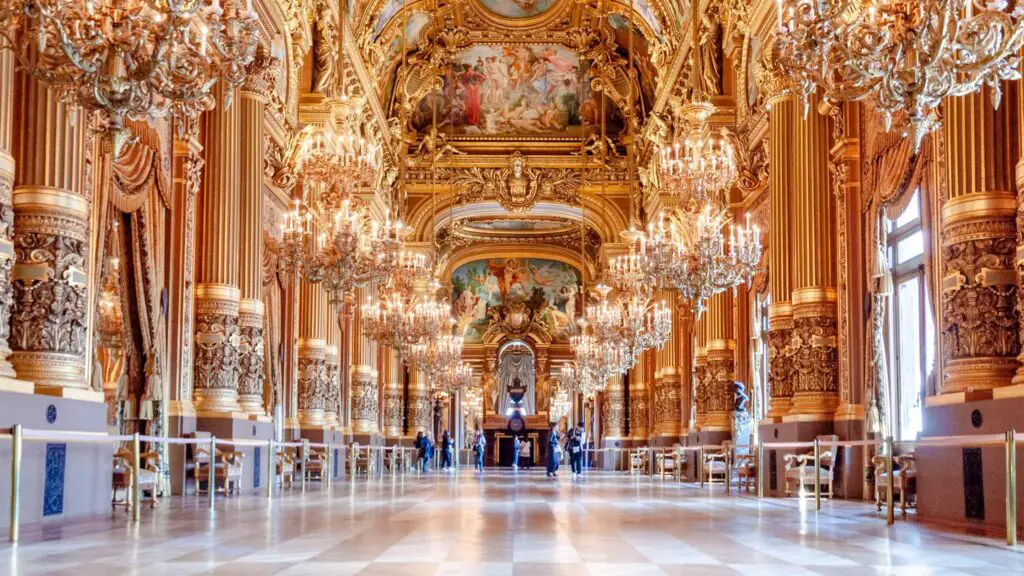 Both these venues are maintained and operated by the Opera de Paris, showcasing the crème de la crème of ballet and opera performances.
The Palais Garnier, an architectural marvel from the 18th century, designed by Charles Garnier and constructed at the behest of Emperor Napoleon III, is a visual feast both inside and out. 
Its bright exterior gleams under the night sky, and the gilded interiors shimmer with timeless elegance.
Delve into the architectural wonders of the Palais Garnier; guided and self-guided tours are available. 
Step inside to discover its stunning grand staircase and the magnificent "grand foyer," adorned with impressive paintings and opulent chandeliers. 
Explore the Library-Museum of the Opera, La Rotonde des abonnées, and the moon and sun salons.
While it seats 2,054 spectators and hosts opera concerts, its primary focus is on ballet.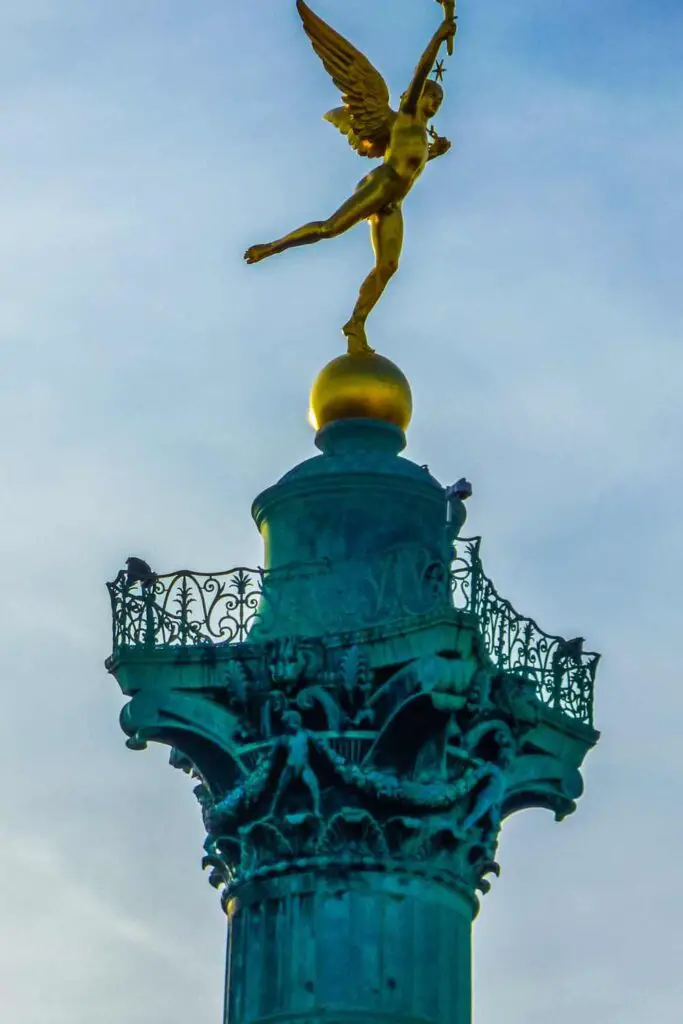 In contrast, the Opéra Bastille unveiled in 1989, boasts a modern 2,713-seat auditorium. 
It offers a contemporary theatrical experience and guided tours, which lets you discover the intricate inner workings.
Watching Opera is one of the popular things to do Paris at night. So book your tickets here ahead of your trip.
WATCH A CABARET SHOW
One of the top things to do in Paris for young adults is to watch a mesmerizing cabaret show, a quirky nighttime adventure in the City of Lights.
There are many places to witness this gorgeous Paris nighttime attraction. I have suggested some of the best places below.
Book these top Cabaret shows, one of the fun things to do in Paris at night:
Moulin Rouge: Nestled in the beautiful Montmartre district, this iconic venue transports you to a world of wonder and whimsy.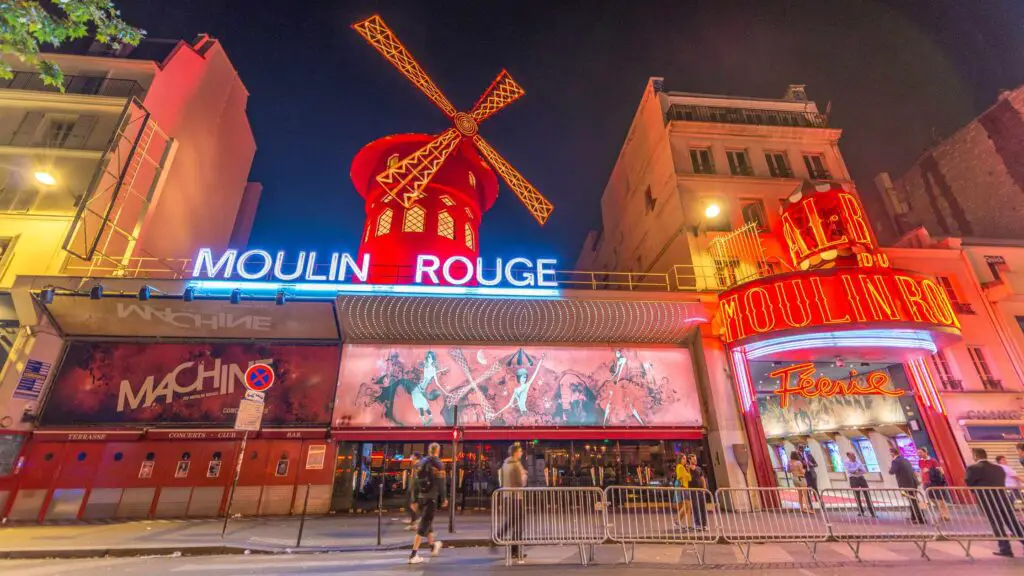 This mesmerizing spectacle features hundreds of talented artists bedecked in over a thousand costumes created by the renowned Corrado Collabucci. 
Founded in 1889, the Moulin Rouge is not just a show; it's the birthplace of the modern can-can dance. 
You will be enthralled by famous acts and stunning visual performances that have dazzled audiences for over a century; guess what? All this in just 90 minutes!
The shows run daily at 7 PM and 11 PM. Book your tickets here.
Paradise Latin: The oldest cabaret in the city opened its doors around 1889 in the vibrant Latin Quarter and is a haven for writers, actors, and artists.
Paradise Latin offers two exceptional cabaret shows, both directed and choreographed by Kamel Ouali.
"L'Oiseau Paradis" is a masterpiece that seamlessly combines tradition with cutting-edge technology. 
With 15 stage sets and a cast of dancers, acrobats, burlesque performers, comedians and singers, this 1.5-hour show takes you on a ravishing journey the moment you step inside, complete with a welcome drink.
Book a dinner show. Savour a meticulously crafted menu by a three-star Michelin chef, served in French haute cuisine.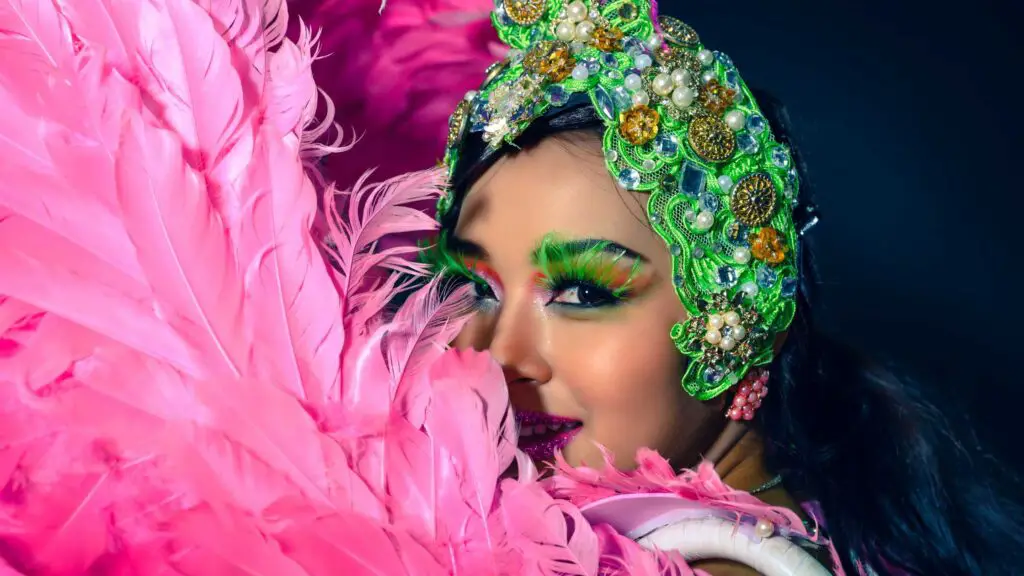 Mon Premier Cabaret: One of the family-friendly shows which offer a beautiful experience suitable for ages three and up. Book your tickets here.
Before the spectacle begins, explore the Feathermaker and Embroiderer's workshops and enjoy drinks at the rooftop terrace bar "Toit."
Crazy Horse Cabaret: Since its debut in 1951, this show has carved its place in history as a testament to creativity, artistic freedom, and legendary cabaret performers. 
Nestled in the prestigious Golden Triangle, or "Triangle D'or," it shares its beautiful neighbourhood with iconic fashion brands like Givenchy and Yves Saint Laurent.
These couture houses have joined forces with Crazy Horse, along with esteemed designers who have crafted costumes for the enthralling shows.
The original "Totally Crazy!" show, a 90-minute spectacle, transports you to a world of elegance and artistry that's impossible to forget.
If you want to elevate your evening to unprecedented heights, the VIP Experience offers an exclusive opportunity. 
The journey begins with a champagne reception, setting the tone for the night.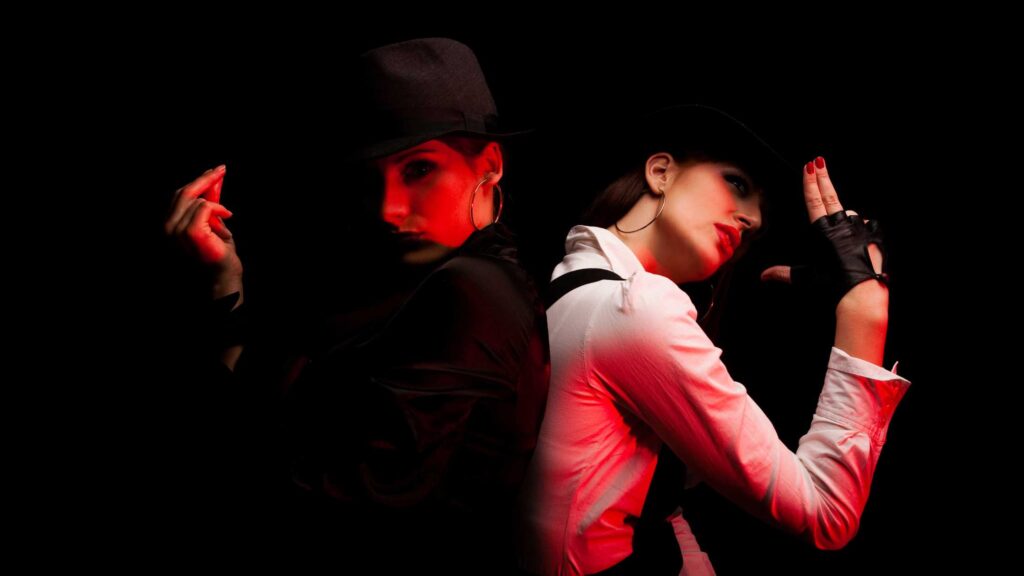 An hour and a half before the show, one of the illustrious Crazy Girls leads you on a backstage tour, unveiling the cabaret's inner sanctums, VIP booths and secret lounges. 
Learn about the rich history of cabaret and hear inspiring personal stories. 
Sip on more champagne and savour delectable amuse-bouches as you become part of the cabaret's world. Book your crazy cabaret tickets here.
STROLL THROUGH THE PARISIAN BLISS AT MONTMARTRE
One of the top things to do in Paris at night is to explore Montmartre.
Nestled in the 18th arrondissement, Montmartre is an enchanting neighbourhood that beckons you to explore its cobblestone alleyways, rolling hills, and iconic eateries under the moonlit sky. 
Montmartre has preserved its village-like atmosphere, captivating artists and dreamers for generations. 
Explore Rue Lepic, where Van Gogh once lived, and discover the many cafes and restaurants that line this charming street.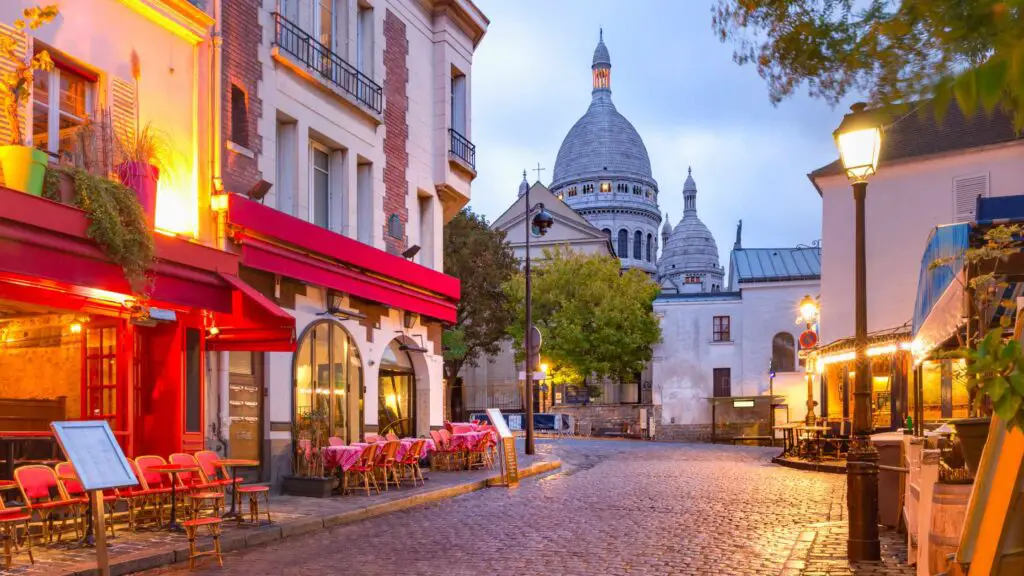 Descend to the Moulin Rouge, a symbol of Montmartre's lively spirit. 
At the hill's summit, you will find Le Moulin de la Galette, the famous restaurant where Renoir painted his masterpiece, "Bal du moulin de la Galette."
Don't miss the gorgeous Place des Abbesses square, a true gem of Montmartre. 
At the summit, you will encounter the iconic white dome of the Basilique du Sacré-Cœur de Montmartre. 
This spot is renowned for its stunning sunset views, attracting crowds at dusk.
EXPERIENCE THE BEST THEATRES IN THE CITY
One of the best things to do in Paris at night is to explore and experience the best theatres in town.
Check out these top theatres I visited on my trip to Paris. Book your tickets for the shows ahead of your trip.
Théâtre Mogador: Fresh from the Broadway circuit, the Théâtre Mogador is where significant productions like "The Lion King" take centre stage. 
Since 1919, it has been a hub for international concerts and grand spectacles, drawing crowds from near and far.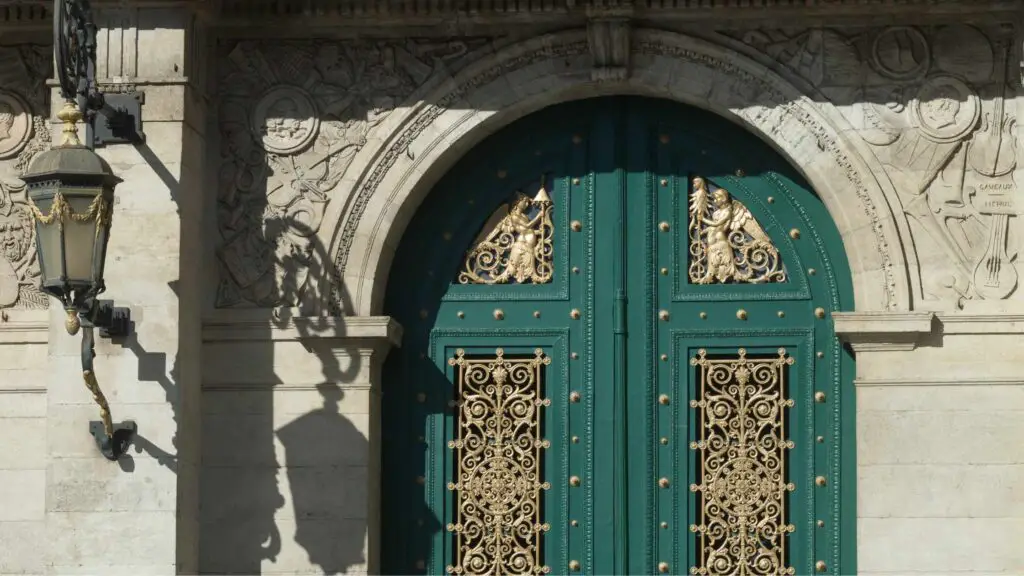 Théâtre des Nouveautés: This place has been delighting audiences with vaudevilles and comic operas since 1827.
Renowned for its comedic-inspired farces, this venue continues to tickle funny bones.
Le Grand Rex: A cinematic masterpiece, Le Grand Rex is not just a movie theatre but an entertainment destination. 
Hosting movie premieres, live shows, and concerts, the Great Hall inside the Grand Rex is a stage for memorable performances. 
Explore the Rex Studios for an interactive backstage tour, unveiling the magic of cinema.
INDULGE IN MICHELIN-STAR DINING
One of the unforgettable ways to spend an evening in the city of lights is by savouring a Michelin-starred meal. 
Paris boasts over 100 restaurants with Michelin stars, making it a haven for food connoisseurs, and this is one of the top things to do in Paris at night.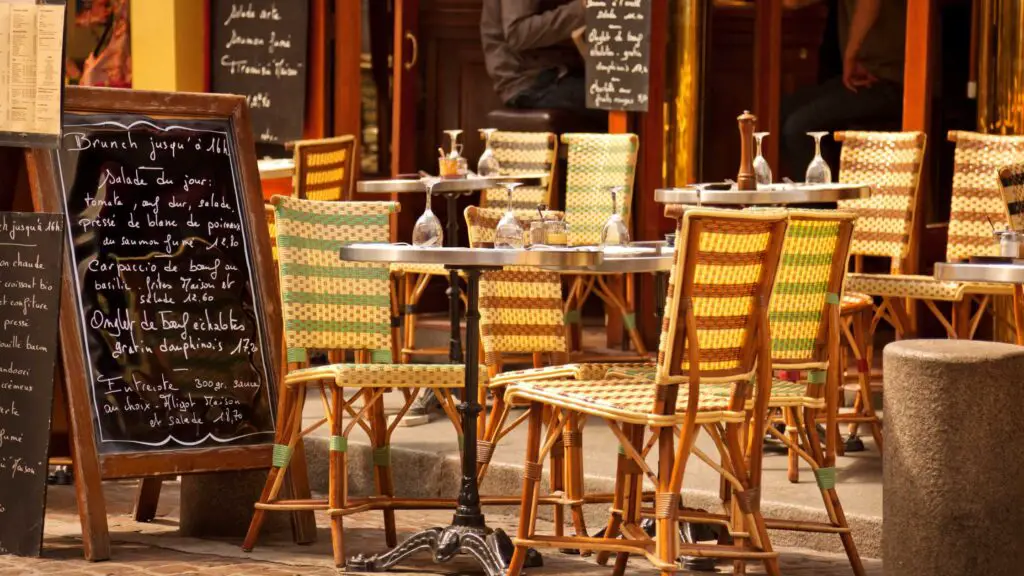 These establishments are known for their exceptional culinary artistry, creativity, impeccable service and dishes crafted by some of the world's most renowned chefs.
You can choose from traditional French haute cuisine, innovative contemporary dishes, or even exotic international flavours.
You will notice that these restaurants are often housed in beautiful historic buildings or contemporary spaces designed to enhance your dining experience. 
The ambience is elegant, romantic, and perfect for a special occasion.
Many Michelin-starred restaurants offer tasting menus that allow you to sample various dishes and flavours in one meal. It's a gastronomic journey for your taste buds.
The staff at Michelin-star restaurants are highly trained and attentive.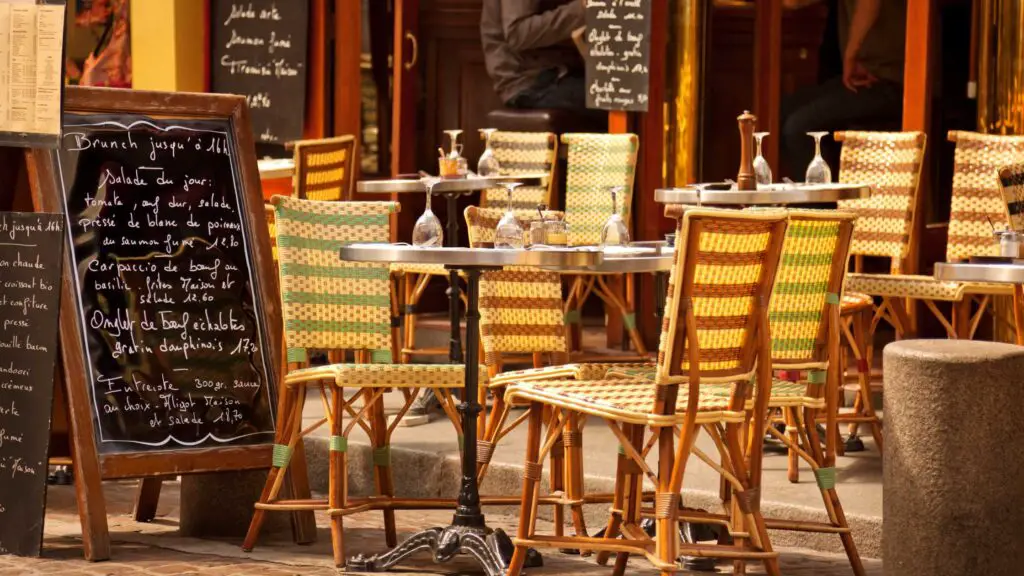 They ensure that every aspect of your dining experience is flawless, from entering until leaving.
Pair your meal with exquisite wines carefully selected by expert sommeliers. The wine pairings enhance the flavours of your dishes and add to the overall enjoyment.
Due to their popularity and limited seating, making reservations well in advance is advisable. Book your tickets here.
FUN THINGS TO DO IN PARIS AT NIGHT
GO ON A CULINARY ADVENTURE ALONG THE RUE MONTORGUEIL
If you are a foodie looking for a culinary adventure, visiting Rue Montorgueil should be on your list of fun things to do in Paris at night.
Located in the 1st and 2nd arrondissements, Rue Montorgueil is a bustling Parisian thoroughfare dotted with cosy bars, vibrant restaurants, charming cafes, and chic boutiques.
Take a guided tour, which starts with a visit to Stohrer, Paris's oldest bakery, to savour a pastry that boasts nearly 280 years of history. 
Pair it with a glass of fine wine at a nearby cafe, setting the stage for a delightful evening.
Explore a myriad of other gastronomic treasures, from frozen food markets to traditional bread shops brimming with French-inspired delights. 
Indulge in mini desserts and homemade appetizers that tantalize your taste buds.
For more adventure, catch a performance by a travelling theatre troupe at Le Mélo d'Amélie. 
If you want to go on a shopping spree, I recommend waiting until the late evenings for a leisurely shopping experience on Rue Montorgueil. 
For dinner, check out Marché Montorgueil, known for its exceptional Italian products, which stays open until 11 PM.
Book your food tour here.
ENJOY ART AND SUNSETS AT THE MUSEE D'ORSAY 
If you are an art buff, you should visit Musee d'Orsay, one of the exciting things to do in Paris at night.
The Musee d'Orsay has an extensive collection of mid-19th and 20th-century Western and European art.
Browse the masterpieces of renowned artists such as Monet, Renoir, Manet, Van Gogh, Auguste Rodin, Degas, and Gustave Courbet.
The museum keeps its offerings fresh with rotating temporary exhibits and permanent displays. 
This ensures that each visit is a unique experience, with the opportunity to discover new facets of art and culture.
Don't miss visiting the museum's iconic clock windows, a unique place to admire the sparkling lights of the Paris skyline.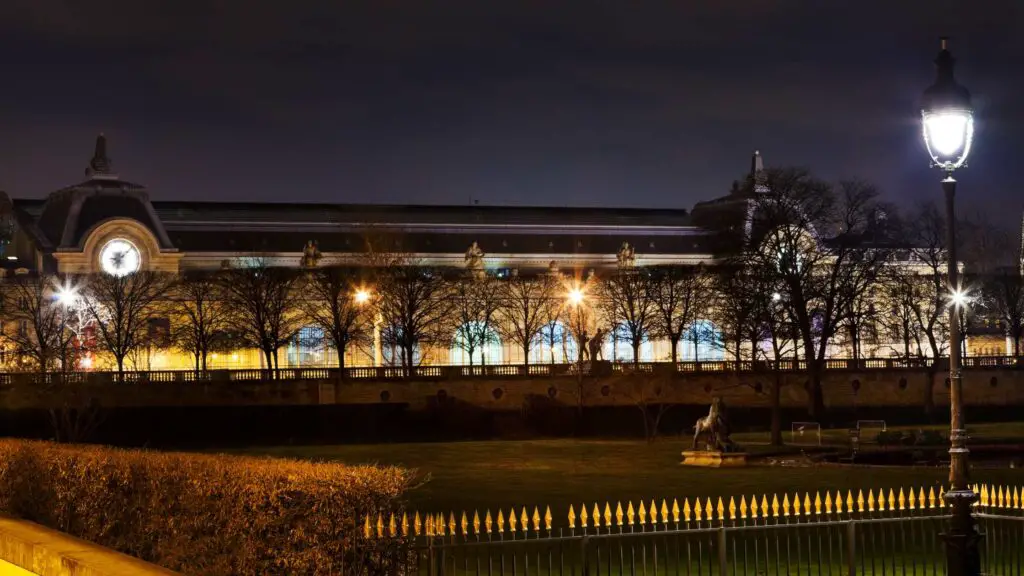 From certain spots within the museum, you can gaze all the way to the stunning Sacre-Coeur Basilica, creating a captivating juxtaposition of old and new.
The cool thing about Musee d'Orsay is its extended hours on Thursdays, open until 9:45 PM. 
This allows you to savour the beauty of art well into the night, making it a perfect activity for nighttime in Paris.
ADMIRE THE SOARING VIEWS OF THE CITY FROM THE FERRIS WHEEL
One of the unique things to do in Paris at night is to hop on the Ferris wheel to admire the gorgeous nighttime allure of the city.
The Ferris Wheel is at Place de la Concorde and offers an unparalleled opportunity to witness the magic of Paris illuminated by thousands of twinkling lights.
As you hop on the wheel and ascend into the night sky, the City of Light spreads out like a radiant jewel, each landmark bathed in a soft, inviting glow.
The Eiffel Tower, with its elegant iron lattice structure, stands tall against the night sky, while the Louvre, a symbol of art and history, takes on an otherworldly aura.
The Champs-Elysées, known for its grandeur, unfurls before you, and the Seine River glistens with reflections of the city's lights.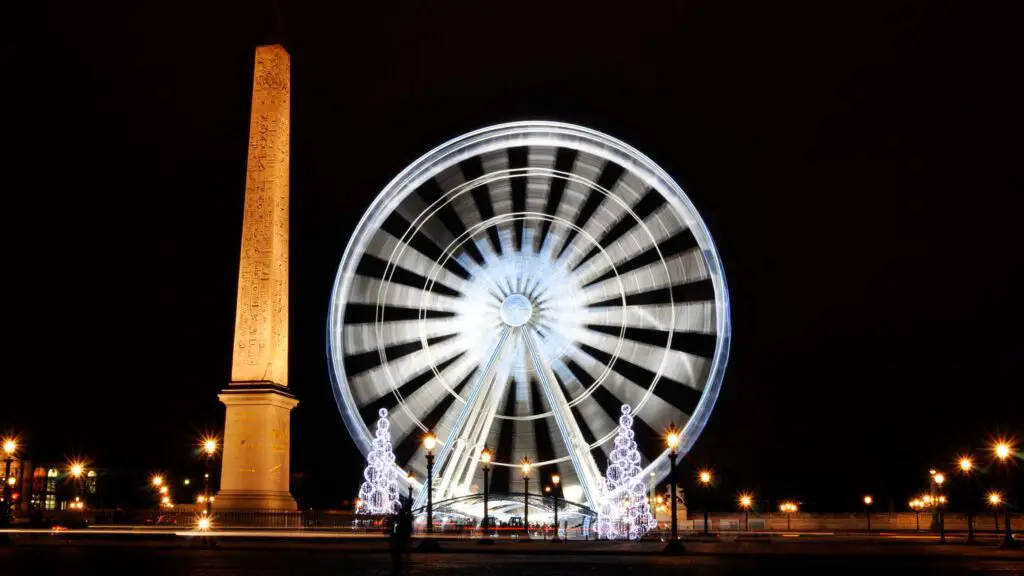 I recommend taking the sunset ride for a truly magical experience.
The city undergoes a mesmerizing transformation as the sun dips below the horizon. 
Visit during the winter months, from November to February, for a more fun experience.
The Ferris wheel continues to operate until midnight, allowing you to enjoy the spectacle of Paris under the starry night sky. 
The quietude of the night, the city's gentle hum, and the spectacular views combine to create an unforgettable memory.
EXPLORE PARIS COVERED PASSAGES
One of the exciting things to do in Paris at night is to explore the timeless beauty and romantic ambience of the historic covered passages. 
These hidden gems in the 9th arrondissement are reminiscent of the city's past and must-visit during your Paris night tour.
The glass-covered passages were first built in the 19th century and have preserved their unique charm and allure.
The passages, illuminated by soft ambient light, take on a magical quality in the evening.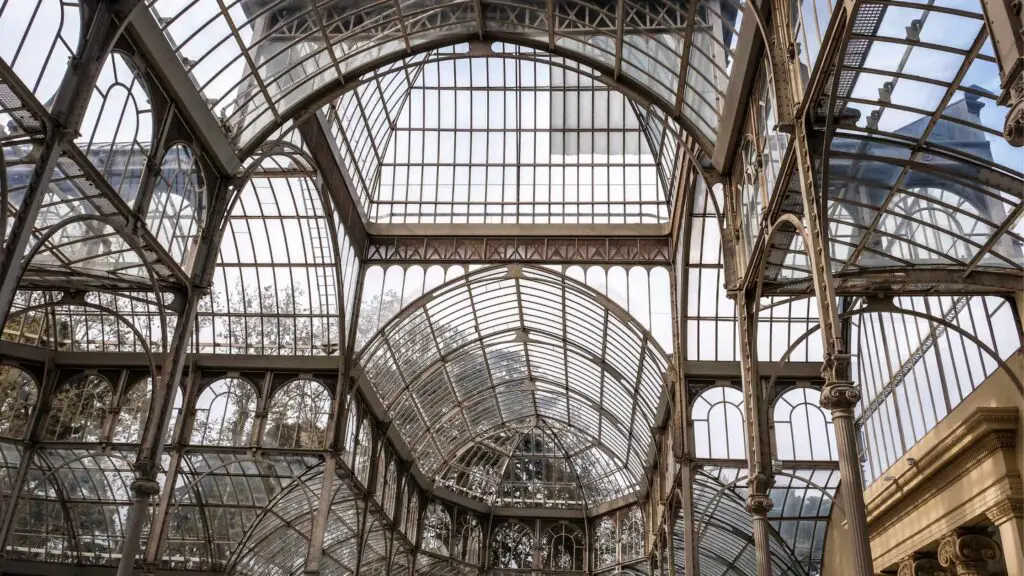 Gaze up at the night sky through the glass roofs while staying sheltered from the elements, creating a nostalgic and romantic atmosphere.
Within these passages, you will discover a treasure trove of boutiques, each offering a curated selection of goods.
From quaint bookstores to gourmet food shops wine cellars to artisanal craft boutiques, there's something to pique the interest of every visitor.
GO ON THE DARK CITY SECRET WALKING TOUR
One of the spooky things to do in Paris at night is to go on a secret walking tour.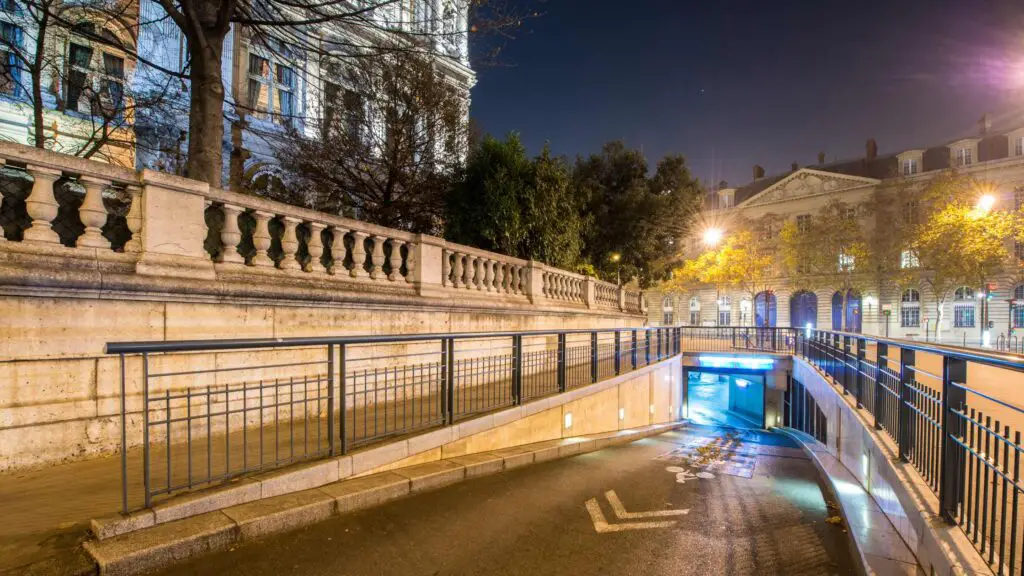 On this two-hour night Paris city tour, you will witness the public execution sites, hear spine-chilling paranormal stories and historical crimes, and learn about the legends that have created the story of this magnificent city. 
Take the Notre Dame Cathedral walking tour if you are wondering where to go in Paris at night for a more spine-tingling adventure.
DIVE INTO ELEGANCE AND ART AT THE PISCINE MOLITOR
One of the relaxing things to do in Paris at night is to dip in the Piscine Molitor, a historical swimming pool that has witnessed moments of glamour and innovation. 
Did you know this is where the world's first bikini made its public debut in 1946?
Opened in 1929 alongside the Molitor Hotel, this swimming pool complex has retained its vintage charm and boasts an Art Deco design that transports you to a bygone era of elegance and style.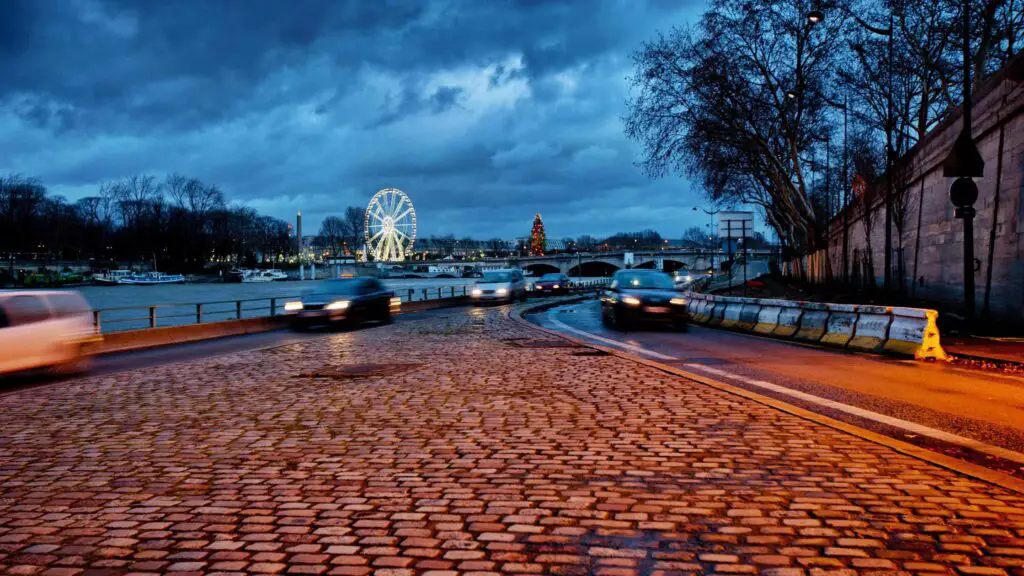 Visit the pool in the evening for more fun. The heated pools are perfect for chilly autumn nights and winter escapes. 
Enjoy your dinner from the rooftop restaurant, which offers lovely city views.
In the summer, The Rooftop Solarium keeps the party going until 12:30 AM on Fridays, with DJs spinning tunes and a lively atmosphere.
If you want a cosy spa to unwind in Paris, the hotel's Spa by Clarins awaits. 
Open until 8 PM, it offers a range of treatments to rejuvenate your body and spirit, providing the perfect ending to your evening.
ENJOY A MOVIE AT A CLASSIC VINTAGE THEATRE
Paris boasts a collection of classic movie theatres dating back to the early 20th century, and visiting them is one of the fun things to do in Paris at night.
Many of them screen classic movies in their original language, offering a dose of old Hollywood-style glamour for a perfect night out in Paris.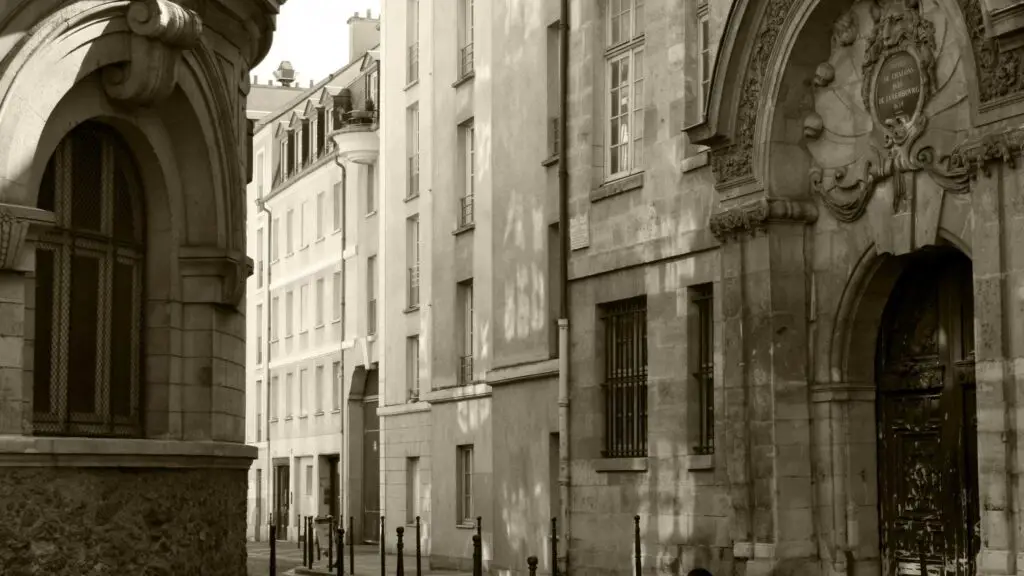 By now, looking at the beautiful buildings in Paris, you would have realized that the city has long been a hub for cinematic creativity.
From Jean-Luc Godard and Francois Truffaut's pioneering work in the 1960s to modern-day blockbusters set against iconic cityscapes like the Louvre Museum, Paris has always been the top choice for filmmakers.
The best part is that the language barriers won't hinder your cinematic exploration in Paris. 
There are theatres like "Lost in Frenchlation", which showcases the best French films with English subtitles. 
Check out these top theatres, which are absolutely fun to explore at night in Paris.
The Grand Action Cinema: captures the essence of old-school classic cinema houses. 
Its vibrant red entrance is an absolute beacon, and inside, you can enjoy a mix of English and French films, both old and new.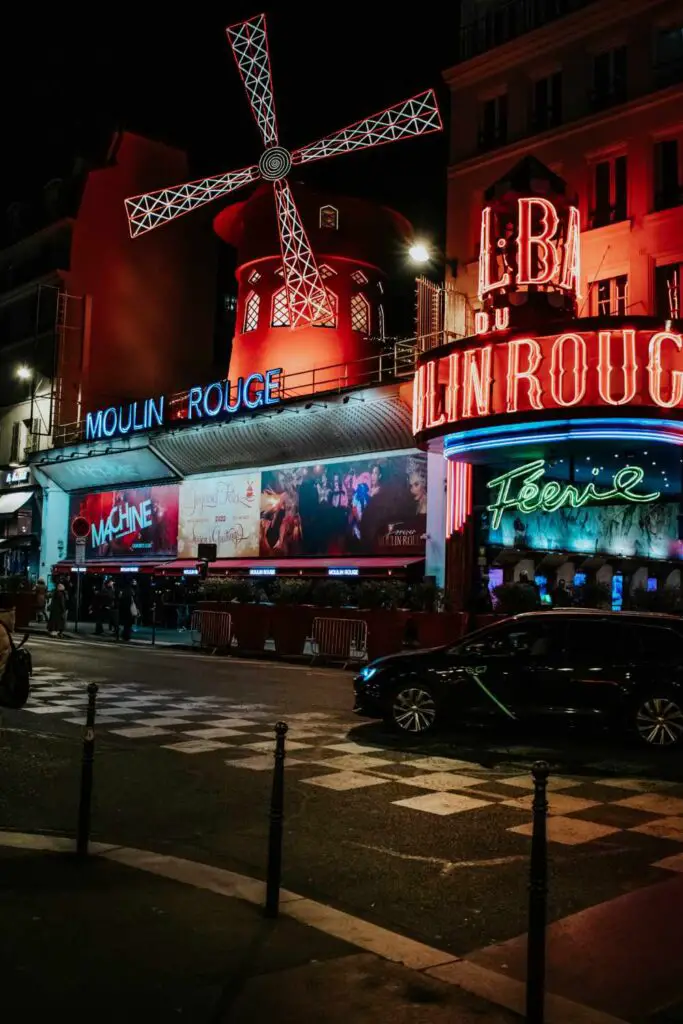 Le Champo: Established in 1938 in the Latin Quarter, this theatre is synonymous with cinema-nouveau-style movies, particularly outstanding French films.
The Grand Rex: For those who appreciate the grandeur of cinema, The Grand Rex stands tall in the city of lights.
With a colossal screen and a Great Hall, The Grand Rex also hosts Opera and concerts.
From the latest blockbusters to film premieres, this theatre offers an immersive cinematic experience.
GO ON A SPOOKY GHOST TOUR
One of the crazy and spooky things to do in Paris at night is to go on a ghost tour.
Beyond its vibrant streets and romantic allure, Paris harbours a dark and mysterious history that beckons to be explored. 
Take a guided ghost tour for a spine-chilling 1 night Paris experience.
Descend into the chilling depths of La Conciergerie, once a sinister dungeon that held the ill-fated Marie Antoinette captive. 
You will pass by The Palais du Justice, which, with its imposing presence, holds secrets beyond its grand façade.
Take the "Ghosts, Mysteries and Legends: Night Walking Tour of Paris", where you will witness iconic landmarks like Hotel de Ville and the Palace of Justice.
Step back in time to a Paris era where death sentences were common, and execution was a public spectacle. 
Book your spine-chilling adventure tour here.
ATTEND A SAINTE CHAPELLE CONCERT
If you are wondering what to do in Paris tonight, attend a concert in the Sainte Chapell, which sits on the Île de la Cité island on the River Seine. 
The church was built in 1248 by Louis IX to house relics of Christ's Crown of Thorns and a fragment of the Cross.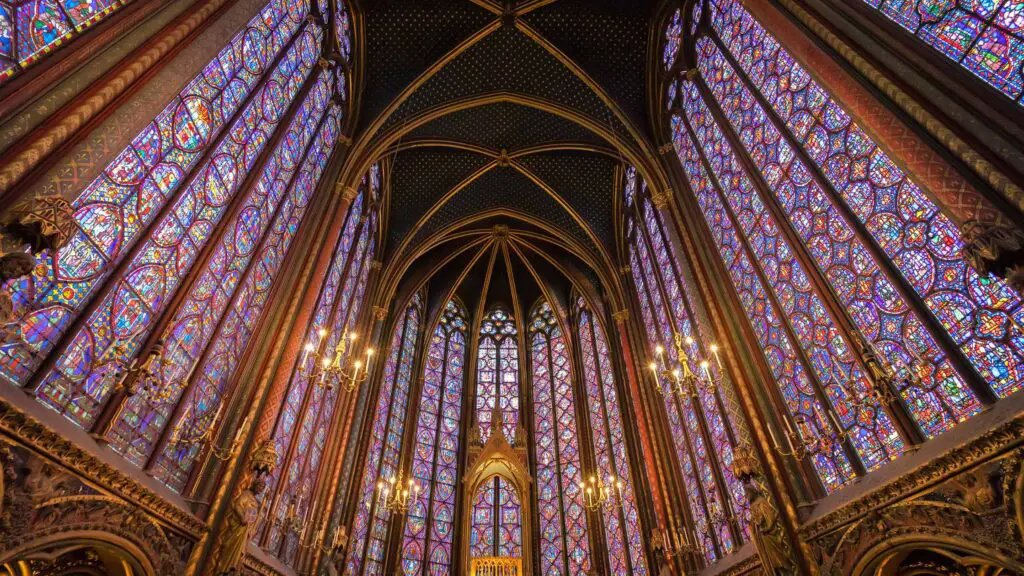 During the later years, the royal chapel was converted into a restoration workshop for the city's most historical monuments.
Take a tour and be mesmerized by the luminous 1,113 stained glass windows, each a masterpiece of artistry, reaching heights of 15 meters.
These windows narrate scenes from both the Old and New Testaments, captivating your senses.
Attending a concert here is one of the most exciting things to do in Paris at night.
From the enchanting Four Cousins performance to the soul-stirring compositions of Antonio Vivaldi, various musicians grace this historic stage.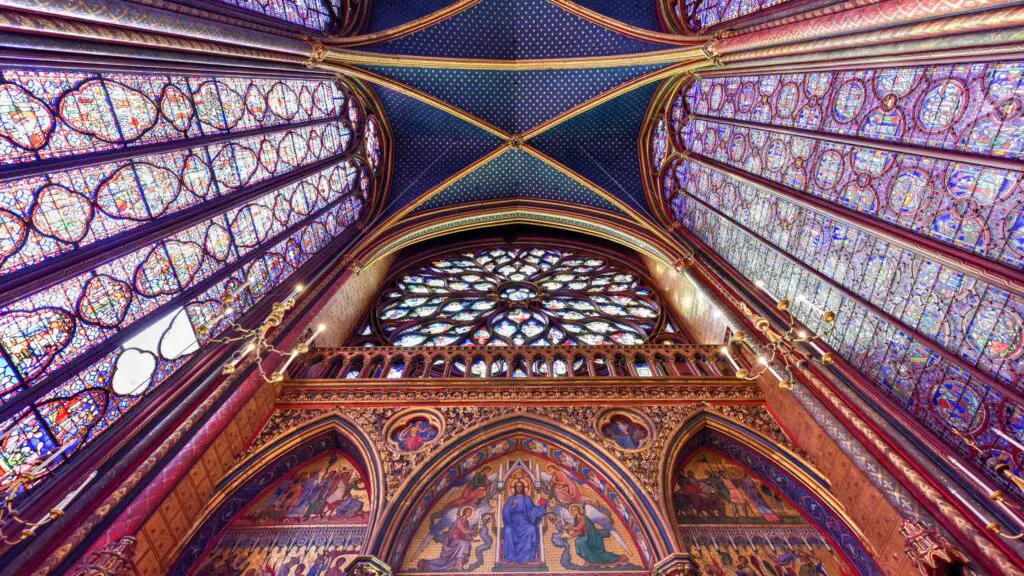 Immerse yourself in the melodic harmonies and enjoy watching French Orchestra performances and Euromusic Productions' enchanting shows.
Elevate your evening by choosing a ticket with wine and tapas, or indulge in a glass of champagne for the ultimate touch of sophistication.
Book your Sainte Chapelle concert experience and let the melodies transport you to another realm within its hallowed walls.
ATTEND LIVE MUSIC CONCERTS ACROSS THE CITY
If you want fun with a bit of romantic ambience and music in the background, check out the various live concerts across the city, one of the things to do in Paris at night.
Whether you are drawn to candlelit serenades, jazz clubs, classical piano, open mic sessions, or grand stadium shows, the city has it all.
Experience a musical tribute to legendary artists like Hans Zimmer, Jackson 5, the Rolling Stones and the best of 2000s RnB at the stunning Cour d'Honneur of the Palais Royal.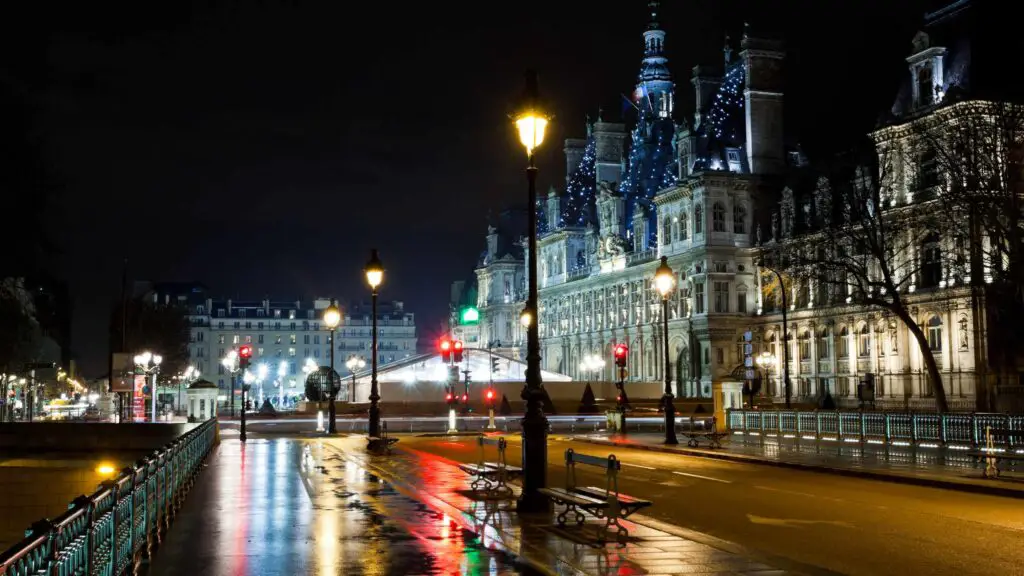 Delight in tributes to Coldplay, Queen and Anime Music at Cabaret Sauvage. 
The Gardens of the Montmartre Museum invite you to revel in Vivaldi's Four Seasons, while the Théâtre du Musée Grévin pays homage to Ludovico Einaudi and celebrates 100 years of Warner Bros.
Maison de l'Océan hosts unforgettable concerts dedicated to iconic acts like Pink Floyd and Ennio Morricone, promising epic musical journeys.
Book your concerts here.
SIP, SAVOR AND LEARN WINE-TASTING
If you are a wine enthusiast, there's no better way to soak yourself in French viticulture than a wine tasting. 
France is renowned for producing some of the world's finest wines.
Discover the secrets of French wines and their production, one of the fun things to do in Paris at night.
Immerse yourself in wine-tasting experiences often accompanied by gourmet dinners, a perfect fusion of Parisian gastronomy and oenology.
Take a French wine-tasting class led by a sommelier featuring three or four-course meals paired with exquisite wines.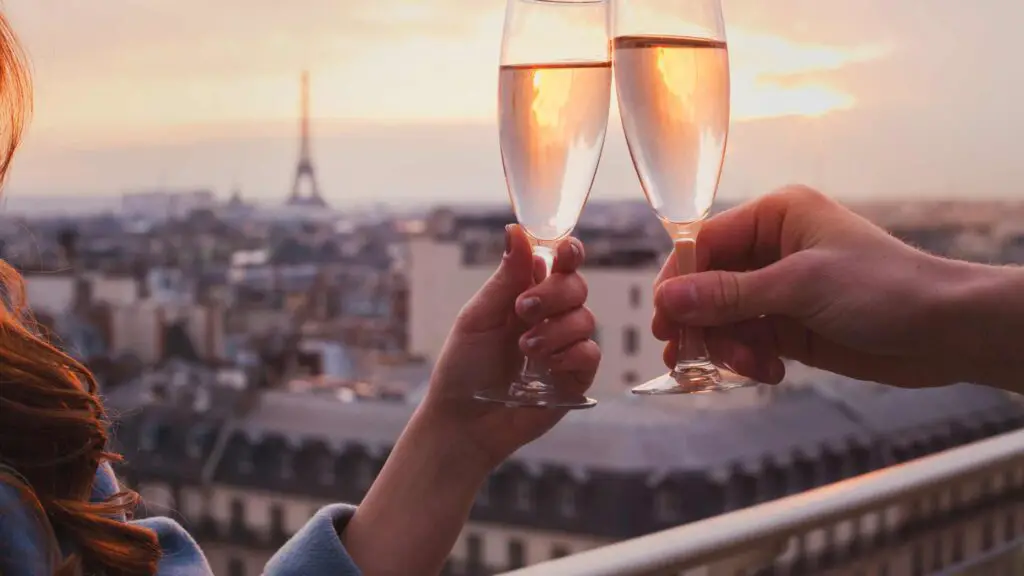 Expand your knowledge of tasting notes, learn the art of red and white wine pairing, and savour authentic French Champagne.
While the heart of Paris might lack vineyards, it more than compensates with the ability to sample wines from France's iconic regions. 
If you are with your loved one, choose a gourmet dinner cruise along the River Seine, complete with wine pairings. 
Bring home not only memories but also bottles of fine French wine to share with friends and family.
GO ON A PUB CRAWL
If you want one of the ultimate fun things to do in Paris at night, go on a Pub Crawl tour.
This thrilling experience invites you to hop from one vibrant bar to another, exploring the lively nightlife of the Latin Quarter.
You will be led by a team of friendly and internationally savvy night guides on a guided tour. 
The Pub Crawl Paris tour takes you to three distinct bars, each offering a unique atmosphere and drink selection. 
Stop at the renowned Long Hop bar, famous for its exciting nightlife and vibrant ambience.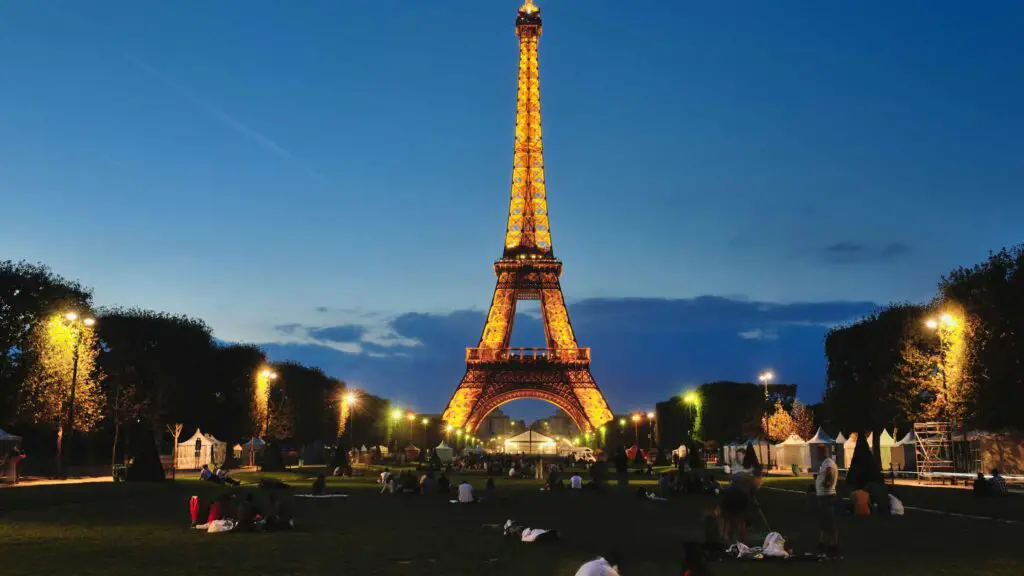 Weekend pub crawls are even more thrilling. You will be treated to three complimentary shots, one at each bar, along with free entries. 
If you are looking for an alternative scene to witness Paris at night club, check out Oberkampf, Ménilmontant, Rue de Buci, or the student-friendly vibe of the Latin Quarter around Rue Descartes or Rue de Pot de Fer.
For those seeking a non-touristy Paris nightlife experience, venture to the bars and restaurants near the Edgar Quinet Metro Station. 
Book your Pub Crawl tour here.
SWAY TO THE TUNES AT PARIS NIGHTCLUBS 
One of the fun things to do in Paris at night is to dance the night away at the nightclubs.
From the glamorous Pigalle to the historic Latin Quarter, Paris's nightlife is alive and thriving, offering a fun and unforgettable experience.
Explore the Bastille area, celebrated for its diverse nightlife options. 
Here, you will find an array of clubs, bars, and music venues, ensuring you find the perfect spot to suit your nocturnal desires.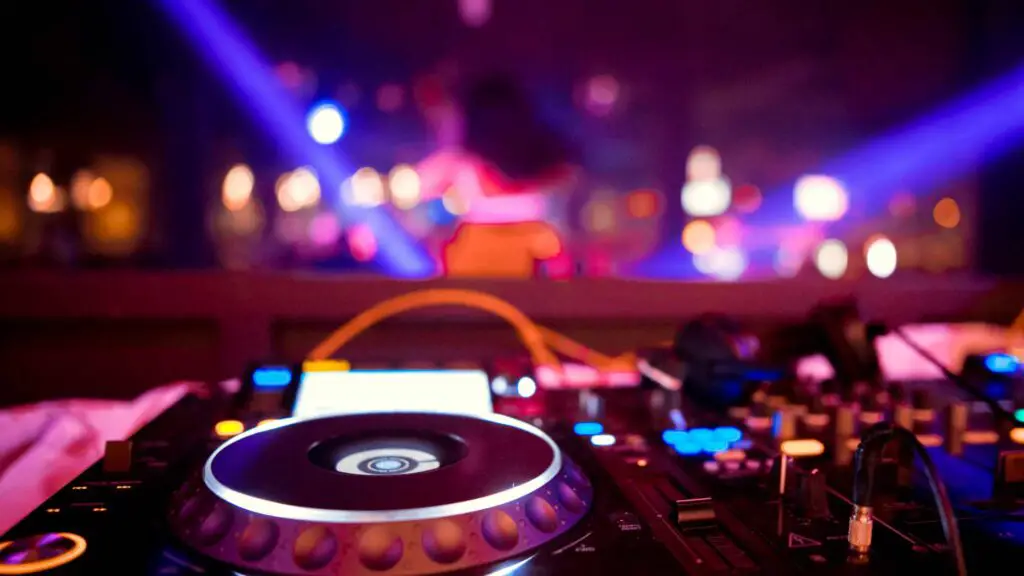 Whether you are a seasoned dancer or just looking to shake a leg, these clubs promise an endless dance floor and electrifying beats.
If dancing isn't your forte, Paris offers many bars where you can unwind with a few drinks.
As the temperatures become more inviting, the banks of the Seine transform into open-air dance floors. 
If you are looking for what to do in Paris at night for free, head to the Jardin Tino Rossi near the Jardin des Plantes and become part of an impromptu gathering of dancers and musicians.
SAMPLE CRAFT BEER
While France is renowned for its wines, the craft beer scene has been steadily gaining popularity.
Especially in Paris, if you search for what to do in Paris at night Reddit, you will understand Craft beer has become a beloved choice, especially among younger generations. 
So why not dive into the world of craft beer with the Paris Historical Craft Beer Walk? This is also one of the most popular and fun things to do in Paris at night.
Join this guided tour, which takes you on a beer-tasting journey to three exceptional craft beer bars in Paris.
This walking tour offers a personalised and immersive journey for those seeking an authentic experience and a chance to explore the best French brews.
Your adventure starts at 6 PM and unfolds over three hours, providing ample time to savour the flavours and history of craft beer in Paris.
Delve into the rich history of beer in France, which dates back to the Middle Ages.
Gain fascinating insights into the craft beer movement in Paris, where traditions meet innovation.
The best part is that the tastings are thoughtfully paired with charcuterie and cheese boards.
On the guided tour, you can visit iconic Parisian landmarks, such as Justice and Eglise St-Germain, adding charm to your craft beer exploration.
Book this tour here for an unforgettable evening of tasteful discoveries.
ROMANTIC THINGS TO DO IN PARIS AT NIGHT
MOONLIT STROLLS ALONG THE RIVER SEINE
One of the romantic things to do in Paris at night is to take a lovely moonlit stroll along the banks of the Seine River.
I would say a moonlit stroll along the charming Seine River and views of the iconic attractions around will be the perfect ingredients for your best evening in Paris.
As the moonlight gently caresses the calm waters of the Seine and the distant Eiffel Tower sparkles like a jewel, you will feel like the star of your very own fairytale.
Start your evening by strolling through the charming Le Marais district, where narrow medieval streets beckon you to explore.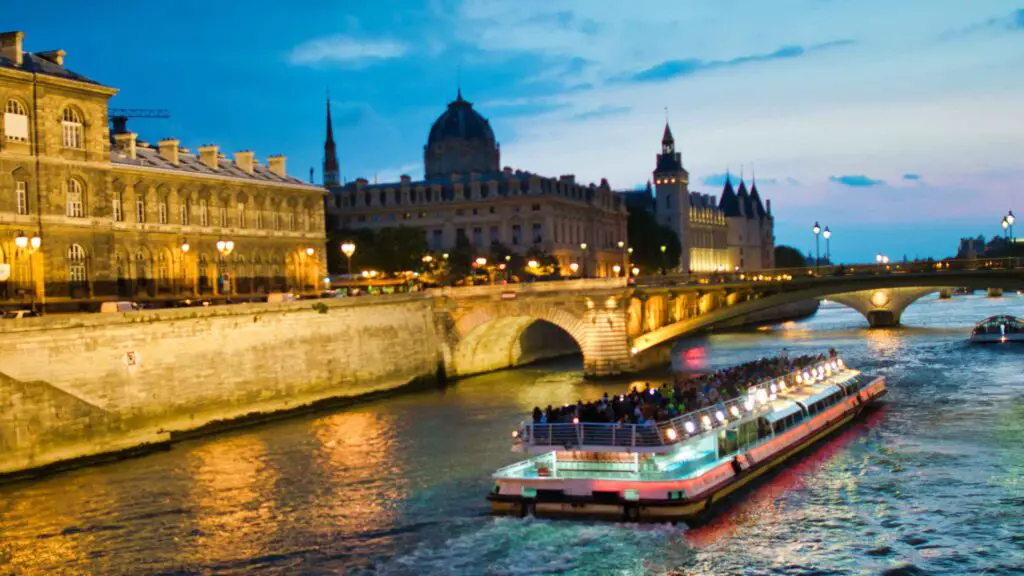 Then, follow your heart to a cosy bar or restaurant to culminate your Parisian night with a candlelit dinner accompanied by a glass of exquisite wine.
Stroll along Il de la Cite, a place that strikes the perfect balance—not too crowded, yet far from deserted. 
Here, you can make new friends, relish the splendid views of Notre Dame, and continue your journey down to the Louvre, all while crossing the dramatic Pont Neuf along the way.
Gazing at the peaceful flow of the Seine and sharing a romantic walk along its banks with your special someone- an ideal date night idea for a perfect Paris evening.
GLIDE ALONG THE SEINE RIVER ON A ROMANTIC CRUISE
One of the most romantic things to do in Paris at night is to take a cruise along the Seine River.
The Seine River, which spans flows for about 777 km across France, is the heart and highlight of France.
You will get to sail along 13 km of this natural wonder in this City of Lights. 
Sail on a dreamy night cruise under the illuminated and gorgeous 37 bridges, a popular activity for splendid nightlife in Paris for tourists and locals alike.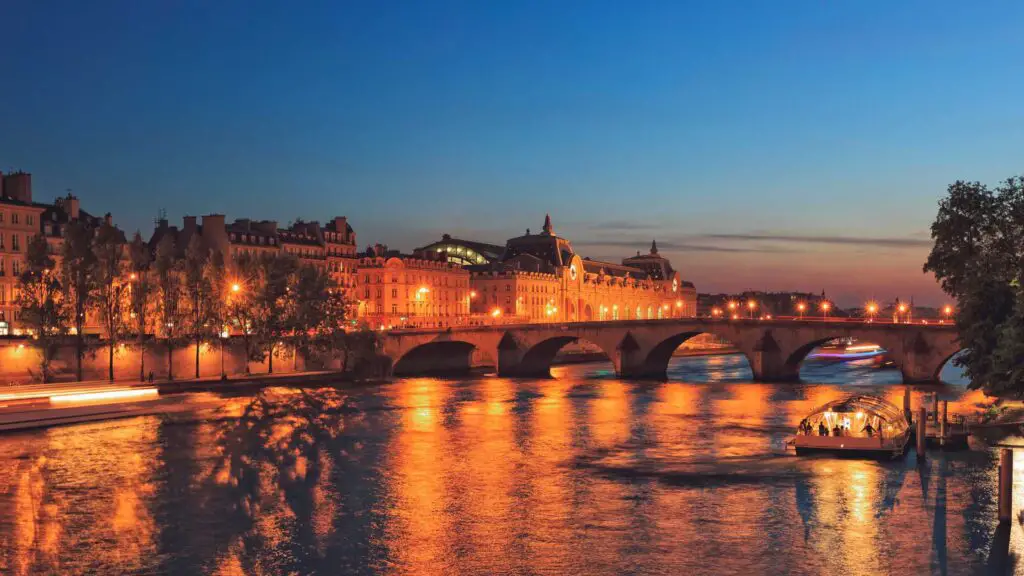 As your journey begins near the Eiffel Tower at Pont d'Iéna, you will glide past famous buildings like the Musée d'Orsay, Notre Dame Cathedral, and the Louvre Museum.
Departures occur hourly from 10:30 AM to 1:30 PM, followed by half-hour departures from 1:30 PM to 10:30 PM.
There are various cruise options available, catering to different preferences and budgets. 
For a truly magical experience, opt for a sunset Seine river cruise. 
If you are with your loved one, I recommend taking the dinner cruise, an unforgettable choice for a romantic evening on the Seine.
A two-hour cruise, with a three-course meal aboard a glass boat accompanied by flutes of champagne. Magical, isn't it?
The best part is that your cruise will conclude at the Eiffel Tower, timed perfectly to witness the dazzling lights.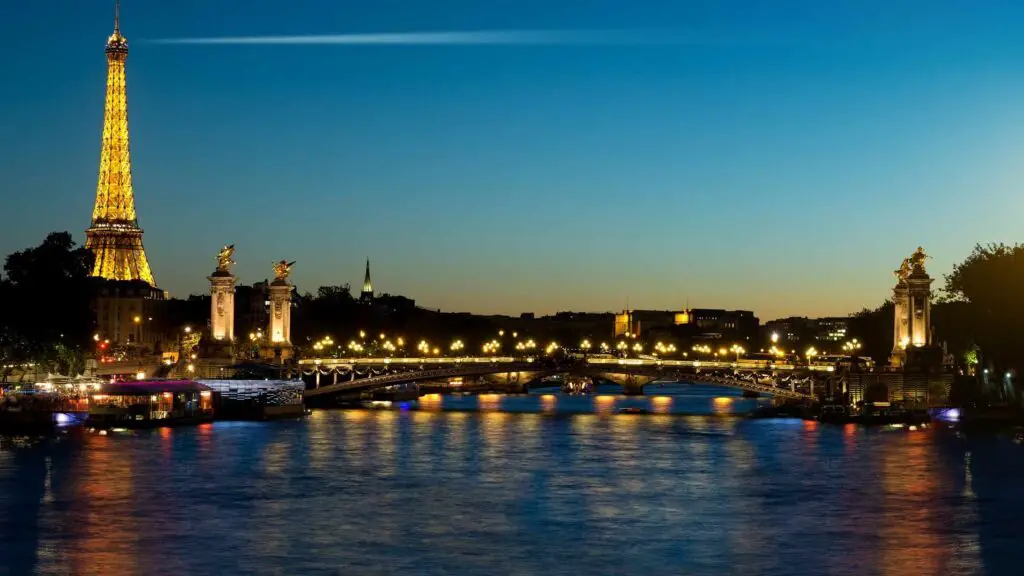 Most cruises also offer informative commentary, providing insights into the history of Paris and its iconic landmarks.
You can even enjoy themed dinner cruises on special occasions like New Year's Eve. 
This is one of the most popular things to do at night Paris. So book your cruise in advance here to secure your spot.
SAIL ALONG THE CANAL SAINT MARTIN
One of the romantic things to do in Paris at night and an alternative to the Seine River Cruise is to sail along the Canal Saint Martin.
This gorgeous 4.6 km 19th-century canal, nestled in the heart of the 10th arrondissement, is one of the off-beat activites in Paris at night time.
You will be greeted with its vibrant atmosphere, a delightful assortment of bars, romantic cafes, and delectable restaurants lining its shores. 
Check out the popular venues, including The Pink Flamingo and Chez Prune. 
On Sundays, Quai de Jemmapes and Quai de Valmy streets are close to traffic, transforming into lively hubs of activity.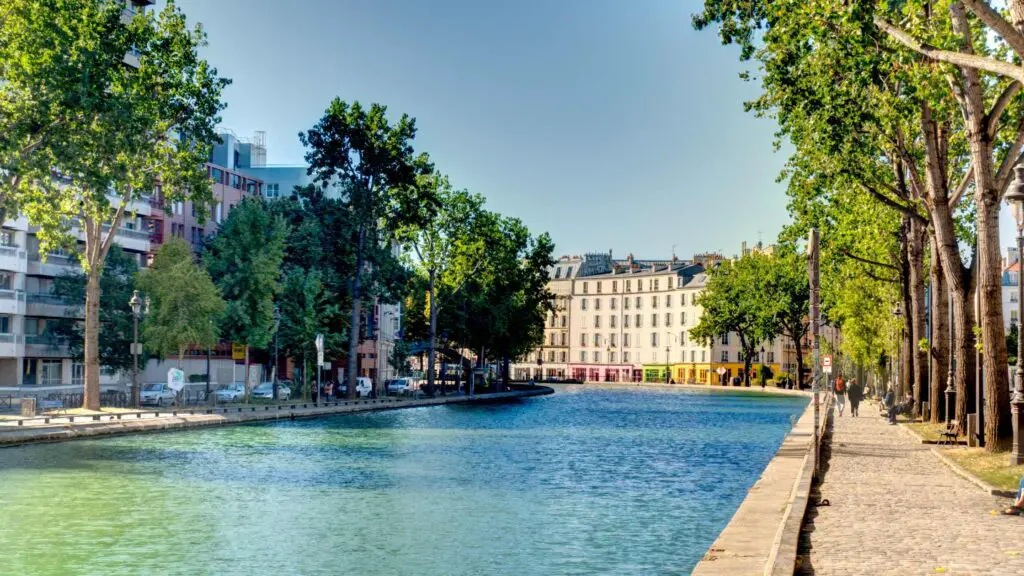 Indulge in a charcuterie-style feast with a bottle of fine wine and enjoy the fantastic music by the guitarists on board while basking in the canal's lively ambience.
The best part of this cruise is exploring the underground section, which takes you beneath Boulevard Jules Ferry and Boulevard Richard-Lenoir.
Don't miss out on visiting Point Ephémère, an exciting exhibition and concert venue, to explore boho-inspired boutiques and visit the famous Hôtel du Nord.
Book your leisurely dinner cruise or a simple sightseeing adventure here for a unique Parisian experience.
CHASE SUNSETS IN PARIS
One of the most romantic things to do in Paris at night is to enjoy mesmerizing sunset views.
The city offers many exquisite locations to witness the sun bidding adieu to the day. 
Visit these best vantage points here, one of the best things to do in Paris evening.
Sacré-Cœur: Perched atop Montmartre, Sacré-Cœur, a Roman Catholic Church, boasts one of the city's highest and most famous viewpoints.
I recommend arriving about an hour before the golden hour to secure a prime spot on the grass, ensuring an unobstructed view of this stunning natural spectacle.
Place du Trocadéro: For a panoramic sunset experience, head to Place du Trocadéro. Grab some snacks and a bottle of wine to complement the dramatic views. 
From this vantage point, you will witness the Eiffel Tower as it gradually transforms, catching the last rays of the setting sun before it illuminates the Parisian skyline.
Rooftop Bars: Sip on a cocktail, enjoy delicious food pairings with romantic songs in the background and watch the sunset from atop the roof.
Eiffel Tower: While it may be a popular choice, watching the sunset from the iconic Eiffel Tower is a classic Parisian experience.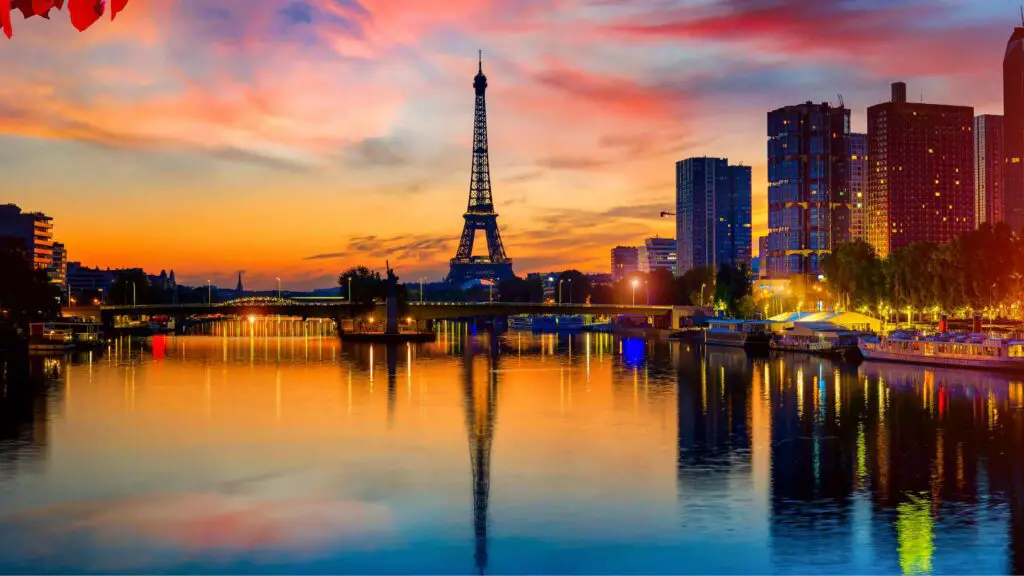 Notre Dame: Climb to the top of Notre Dame Cathedral for a unique perspective of the sunset over Paris. 
Galeries Lafayette Rooftop: The rooftop of Galeries Lafayette offers a less conventional but equally stunning sunset view. 
Seine River Cruise: Embarking on a Seine River Cruise during sunset is a unique and romantic way to enjoy this lovely city.
RAISE YOUR GLASS TO PARIS AND ENJOY THE VIEWS FROM ROOFTOP BARS
Paris is home to tons of rooftop bars, which redefines your night in Paris with their alluring city views.
Whether you seek romance, relaxation, or revelry, these elevated spots promise a night to remember amidst the iconic Parisian skyline.
Check out these best rooftop bars on your trip, one of the romantic things to do in Paris at night :
Terrass" Rooftop Bar: Located on the 7th floor of the Terrass" Hotel in the middle of Montmartre, this bar offers stunning city vistas at night.
Experience an intimate and cosy atmosphere, sip on lavish cocktails and soak in the Parisian skyline.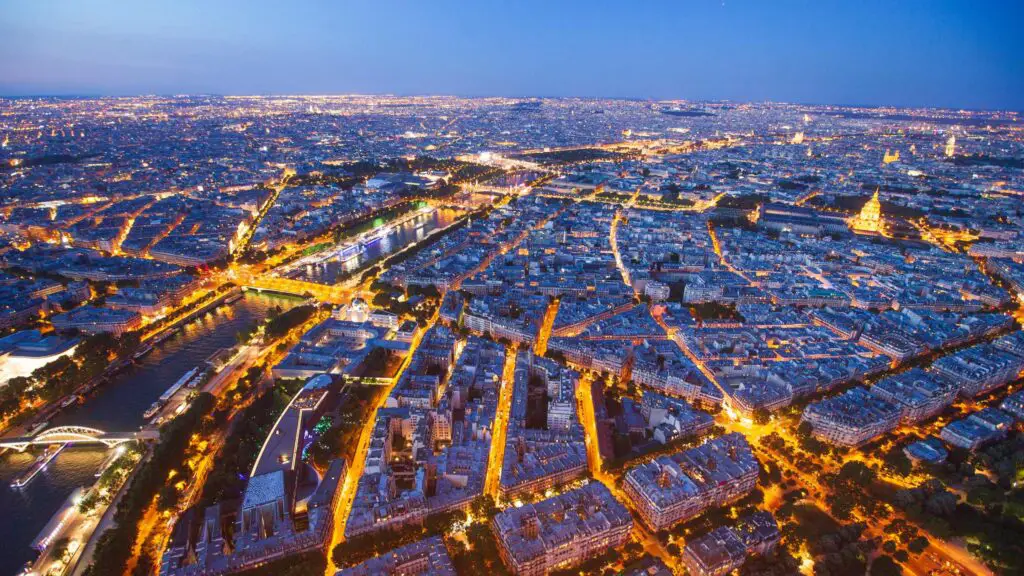 Créatures Paris: Located on the eighth floor of the Galeries Lafayette department store, Créatures Paris offers a 360-degree view of the city at night. 
Skybar on the Pullman Montparnasse Hotel: One of Paris' hippest rooftop bars, the Skybar boasts stunning views and handcrafted cocktails. 
Skybar Paris: This stylish rooftop bar, 114 meters above ground, is the perfect place to dress up and enjoy various cocktails while DJs spin mesmerizing tunes.
Laho Rooftop: This bar sits 60 meters high in the Gare de Lyon neighbourhood, offering vibrant drinks and colourful cuisine.
Le Perchoir Ménilmontant: Located on the seventh floor of an old industrial building, this cosy and ambient bar features DJs on different days.
Mama Shelter Paris East: Known for its fun and relaxed setting, this bar offers vibrant cocktails and a lively ambience, with everything from Balinese-style umbrellas to ping-pong tables.
To secure the best seats, especially when visiting with a group, it's advisable to book your rooftop bar experience in advance. 
THINGS TO DO IN PARIS AT NIGHT WITH KIDS
SPLASH AROUND AT AQUABOULEVARD WATER PARK
One of the fun things to do in Paris at night is to visit Aquaboulevard, an ultimate destination for aquatic fun and relaxation in the heart of Paris.
Splash in this watery wonderland, spanning 7,000 square meters. Explore thrilling features like waterfalls, slides, cannons, waves, jacuzzis, and outdoor pool areas.
Challenge yourself with wakeboarding at the Wake Box, navigate obstacle ropes above the water, or enjoy other water activites.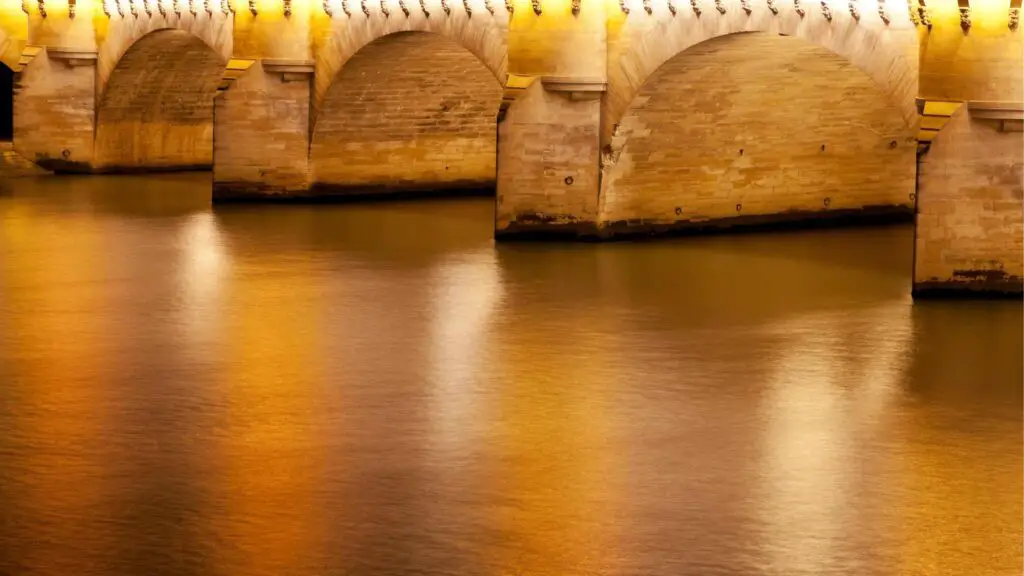 Especially if you are with kids, this is the best place in Paris to escape the summer heat or take a refreshing swim.
For families with young children, armbands and pool floats are available free of charge.
On Fridays and Saturdays, the park remains open until refreshing midnight, while the fun continues until 11 PM on the other weekdays.
Book your tickets here.
UNLOCK THE THRILL AT AN ESCAPE GAME
One of the mind-bending and most exciting things to do in Paris at night is to solve an Escape Game.
'The Game' in Paris presents an exceptional escape room adventure that transports you to a world of hidden clues, perplexing puzzles, and tantalizing mysteries. 
Your mission is simple yet daunting: escape within 60 minutes.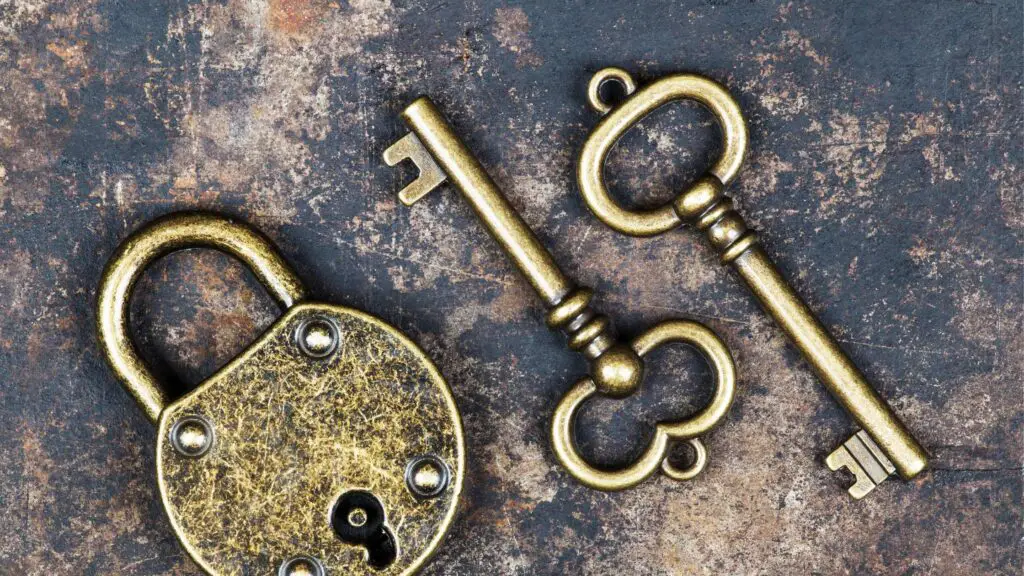 While 'The Game' is designed with adults in mind, older kids can also join in the excitement.
It's a perfect opportunity for families to bond and work together to overcome challenges.
If you want a unique Paris evening activity or a family adventure, this escape room promises an hour of suspense, laughter, and unforgettable fun. 
Can you unravel the mysteries and escape in time?
HAVE FUN WITH LASER TAG
If you want one of the adrenaline-fueled adventures and kid-friendly things to do in Paris at night, go on an epic round of laser tag that will leave you breathless and craving more.
Step into a dazzling arena that spans an impressive 500 square meters. 
Crafted by skilled artists, the laser tag battleground is a masterpiece of creativity, ensuring your gaming experience is as visually stunning as it is exhilarating.
Gear up with infrared-emitting light guns and seek refuge in an old cabaret club.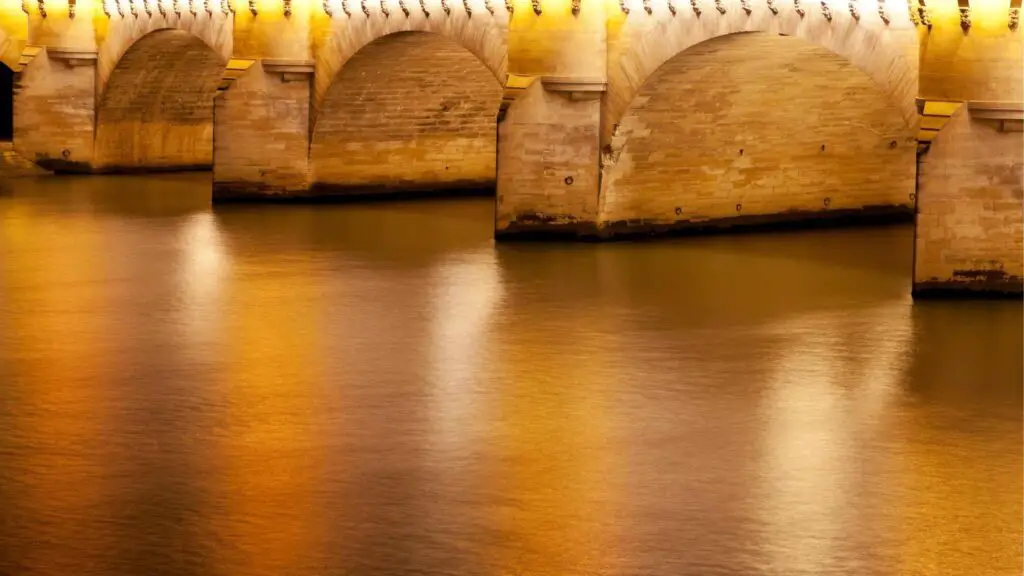 Strategize inside sloppy Parisian shops and navigate recreated abandoned Metro corridors. 
Each round lasts 20 heart-pounding minutes. All the essential equipment, from laser guns to safety vests, is provided for your convenience.
Don't worry! It's safe, high-tech, and promises an intense rush as you aim to outmanoeuvre opponents and hit targets precisely.
Share laughter, strategize with your team, and create unforgettable memories.
TEST YOUR KNOWLEDGE AT TRIVIA NIGHT
Do you consider yourself a trivia aficionado? Are you the reigning quiz champion among your friends? 
Put your intellect to the test and join a thrilling trivia night, one of the exciting things to do in Paris at night, especially if you are with kids!
Many local bars and pubs in Paris host this Mind-Boggling Fun activity.
Another cool thing about these trivia nights is that they are exclusively tailored for English speakers. You don't need to be fluent in French to join the fun. 
Check out some of these places for the ultimate fun experience in Paris at night.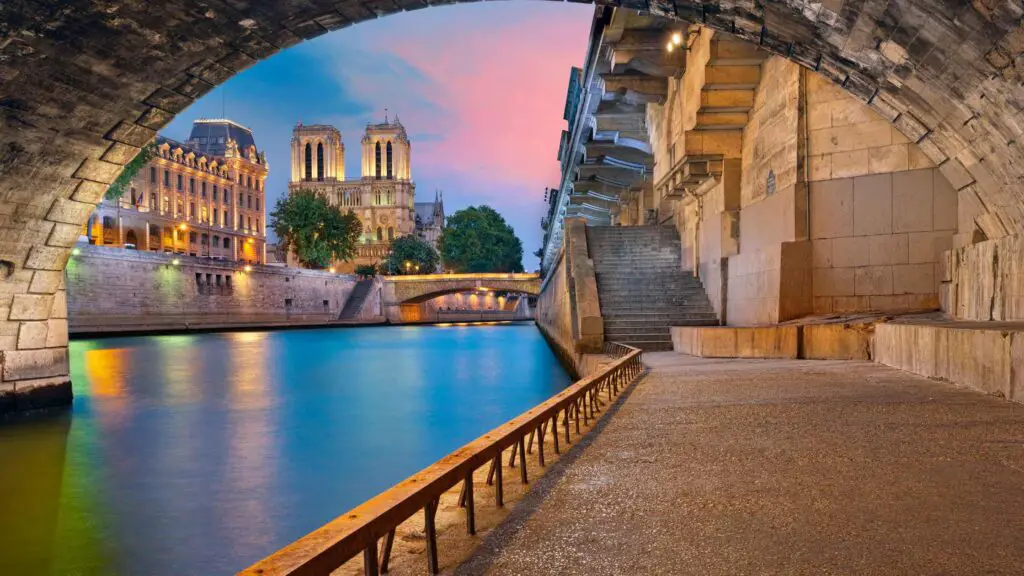 The Highlander's Musical Quiz: Join the weekly quiz night at The Highlander, a Scottish drinking establishment. 
Monday evenings are dedicated to musical genres, and the competition can get fierce.
Frog & Princess Entertainment: This pub is a hub for expats, sports enthusiasts, and students. 
Along with screening major football, rugby, and NFL matches, they host Sunday quiz nights followed by live music.
The Bombardier's Traditional Charm: If you want the ambience of a traditional English pub, this is the place to be. 
It exudes authentic British charm, from classic fish and chips to your favourite beverages. Join their Sunday trivia nights and catch thrilling sporting events on the big screen.
You never know. You might discover new interests and facts you never knew before. Book your trivia night here.
ENJOY A COMEDY SHOW
If you want one of the fun things to do in Paris at night, attend a comedy show. Some of the shows are kid-friendly!
These shows are a fantastic way to unwind, share a good laugh, and immerse in the humour and culture of the city. 
Comedy transcends language barriers. Even if you don't speak French fluently, you can still appreciate the humour and comedic timing.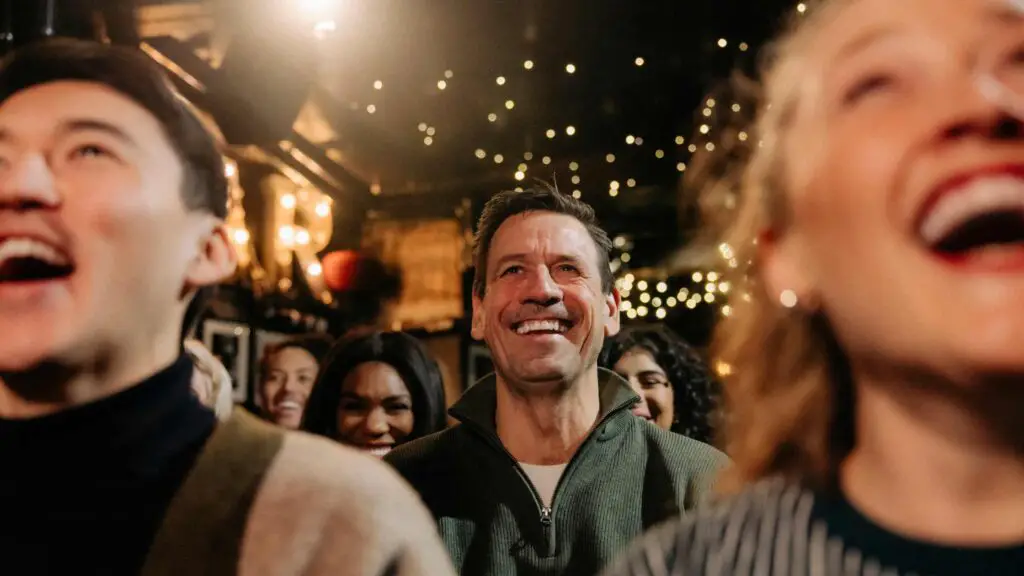 Parisians have a unique sense of humour, often poking fun at their daily hustle and bustle. 
Paris offers a variety of comedy shows, from stand-up comedy to theatrical comedies. 
You can choose the type of comedy that suits your preferences, whether you enjoy witty one-liners or comedic storytelling.
Some shows in Paris feature improvisational comedy, adding an element of unpredictability and spontaneity to the performance. You might even become part of the show!
It's an excellent opportunity to gain insight into the local mindset and laugh about life in Paris.
Book your tickets to comedy shows here.
WATCH A FOOTBALL MATCH AT THE PARC DES PRINCES STADIUM
If you are a football enthusiast, watch a Paris Saint-Germain Football Club (PSG) match at Parc des Princes Stadium, one of the fun things to do in Paris at night.
Parc des Princes Stadium itself is an iconic venue with a rich history. It has been home to PSG since 1974 and has seen countless memorable moments in football history.
The electric atmosphere, passionate fans, and the crowd's roar create an energy that's hard to match. 
Watching them in action on their home turf is a chance to witness world-class talent and skill up close.
Whether PSG is playing a domestic league match or competing in international tournaments like the UEFA Champions League, the matches are intense and full of drama. You will be on the edge of your seat throughout the game.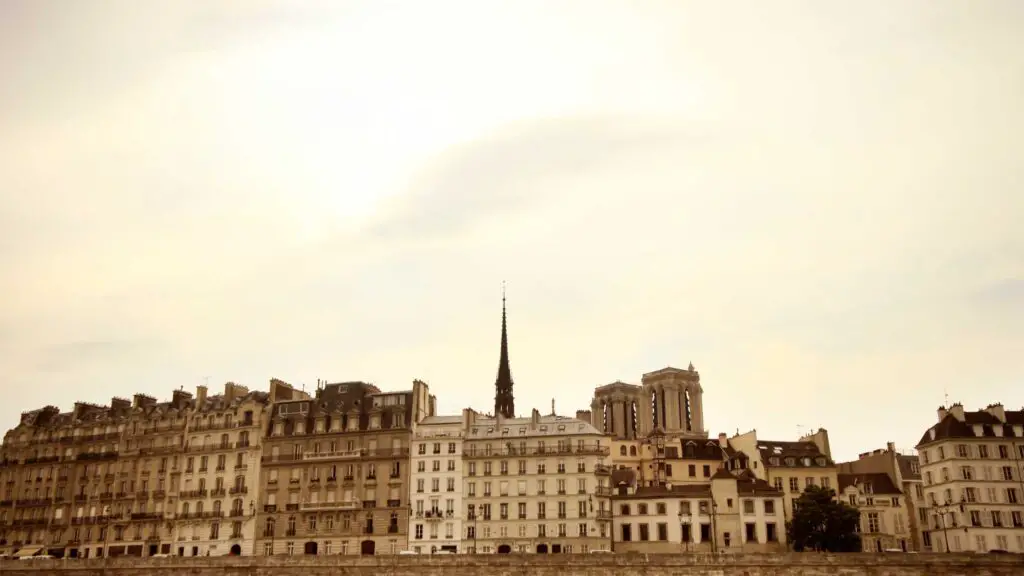 If you can't catch a live match, stadium tours are available. You can explore the stadium, visit the trophy room, and get a behind-the-scenes look at where the magic happens. The last tour typically begins at 5 PM.
While in Paris, you can also consider visiting the Stade de France, the national stadium of France. 
It hosts various sporting events, including football matches, and has a capacity of 80,698 spectators.
MAP OF THINGS TO DO IN PARIS AT NIGHT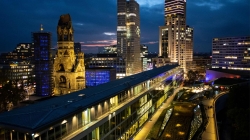 Latest posts by Anna Owen
(see all)