There are many things to do in Barcelona at Night. This vibrant capital of Catalonia is a hub of culture, art, and pure enjoyment, where the magic doesn't fade with the setting sun.
When you think of Barcelona at Night, what to do? The first things that come to mind might be the legendary parties, crazy people, incredible bars, and insane discos. 
And yes, this charming city certainly knows how to throw a wild party. But there are many more Barcelona things to do at Night after dark than just vodka shots and whiskey cocktails. 
If you are wondering if is it safe to walk in Barcelona at Night, trust me, that's the epic part of the city which I fell in love with. 
Many guided Barcelona night tours will offer the perfect opportunity to delve into the city's hidden gems and iconic landmarks.
Barcelona by Night offers a spectrum of experiences tailored to your preferences, ensuring there's something for every discerning traveler.
From unique dining adventures to strolls among monuments and beaches or even enjoying spectacular views from the city's best vantage points, you will find the perfect Barcelona night activity.
In this post, discover the best things to do in Barcelona tonight, unveil the hidden gems, and check out insider tips and helpful travel resources.
Let the magic of Barcelona at night guide you on an extraordinary journey of discovery and create memories that will linger long after your visit.
Check out this skip the line entry to six top art museums and Barcelona Card to access 25+ museums along with free public transportation.
If you are looking for car rentals in Barcelona for your night trip, check out Rental Cars, for affordable prices and best cars.
TOP THINGS TO DO IN BARCELONA AT NIGHT
If you are in a hurry , check out these top Barcelona tours!
STROLL ALONG LA RAMBLA
One of the top things to do in Barcelona at Night is to stroll along La Rambla, a pedestrian street that stretches from Placa de Catalunya to the Christopher Columbus Monument in Port Vell, the city's port.
La Rambla divides Barcelona into two parts, spanning from the Northeast to the Southwest, and this is one of the most famous Europe attractions.
Spanning 1.2 km (0.75 miles), the street is adorned with beautiful trees and enchanting booths brimming with various attractions, particularly at Night.
Spend your day shopping or simply relax on a bench, grab a churro (budget friend) and observe this gorgeous street's alluring atmosphere, local beauty and architecture.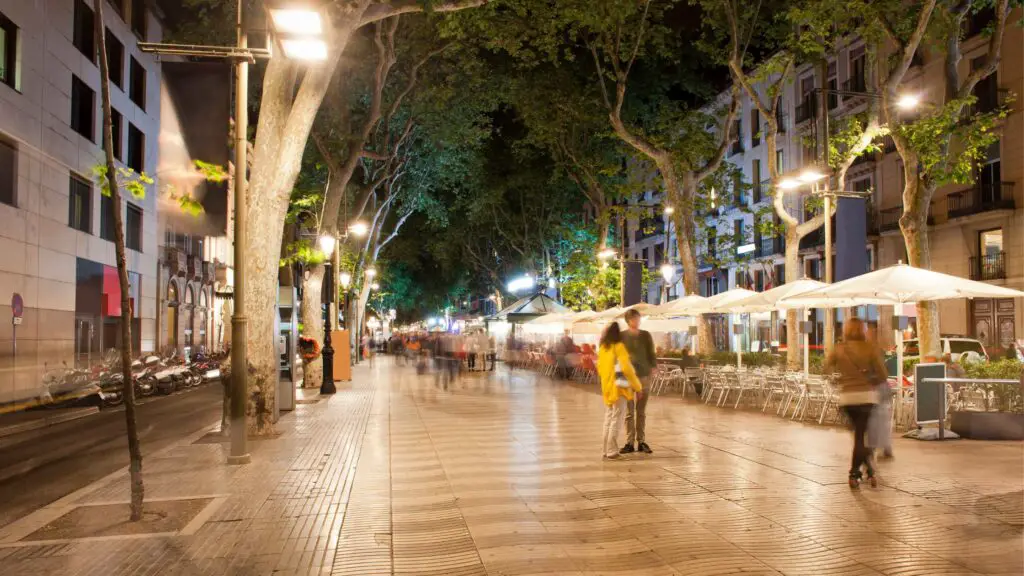 Indulge in delectable cuisine from food vendors and try mouthwatering Spanish food.
Check out this exclusive markets walking tour and make acquaintances with the locals to learn more about the day in the life of a Barcelonan.
Recommended Tour: Markets Walking Tour: Las Ramblas, La Boquería, and Beyond
You will witness great exquisite art, clothing and jewellery shops. Explore the offerings of the local artists at these shops and find unique Barcelona souvenirs that are less mainstream. 
You might even find cute and attractive souvenirs for less than €2. However, it is essential to note that while La Rambla provides various choices, there is no guarantee of authenticity or originality. 
For authentic Spanish souvenirs, exploring the local shops tucked away in the side streets around the city is advisable.
ENJOY A STUNNING SKY-HIGH SUNSET SPECTACLE 
Experience the spectacular sunset at Tibidabo, the highest point (520 m) in Barcelona, one of the top things to do in Barcelona at Night.
Situated in the Collserola mountain range, this spot is renowned as the Magic Mountain and offers one of the best vantage points in Barcelona.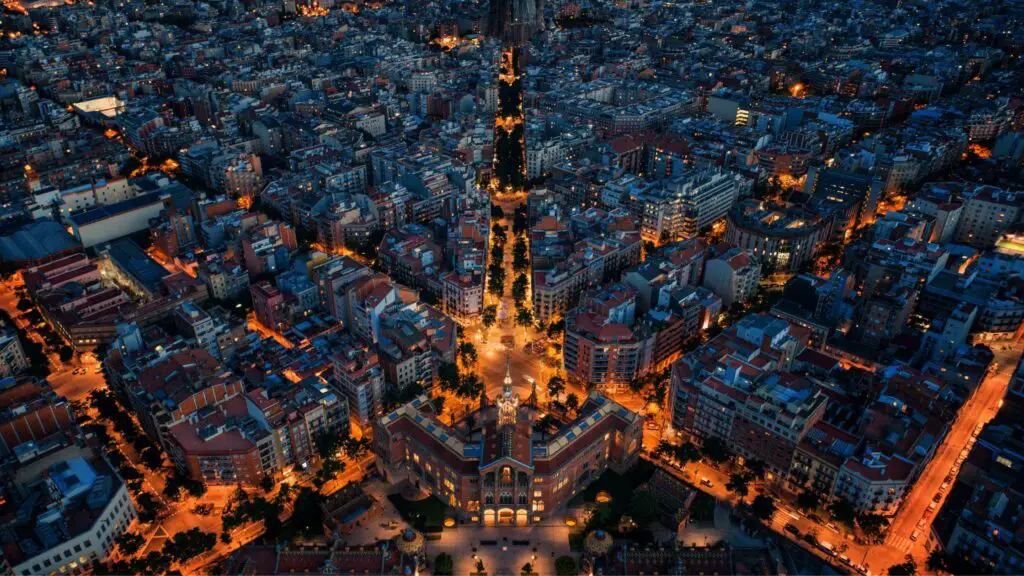 In addition to the stunning vistas, Tibidabo is home to one of the oldest amusement parks in the country. 
While it boasts incredible antique attractions, there are also modern roller coasters for an exciting evening in Barcelona.
This spot can be seen from various parts of the city, but being atop Tibidabo will leave you in awe.
Recommended Tour: Barcelona Hop-On Hop-Off Bus and FC Barcelona Immersive Tour
EXPLORE MUSEUMS AT NIGHT
One of the best things to do in Barcelona at Night is to explore the various museums to gain insights into Barcelona's art, culture and historical importance.
Check out these museums and some recommended tours which I like.
Also, I recommend to buy this Skip-the-Line Entry to 6 Top Art Museums ticket on which you can save up to 45% on ticket passes.
Alternatively, purchase this Barcelona card to visit 25+ museums along with free public transportation.
L'AQUARIUM BARCELONA
For those with a deep passion for the ocean and its creatures, visiting L'Aquarium in Barcelona is a must. 
This stunning attraction offers entertainment and education, making it a perfect choice for animal and ocean lovers.
One of the highlights of L'Aquarium is its convenient evening hours, as it remains open until 9:00 PM every Night of the week. 
This allows visitors to enjoy the beautiful marine world even after the sun sets, adding an extra touch of magic to the experience.
To make your visit even more worthwhile, consider taking advantage of the various tourist passes available, which often include free or discounted access to L'Aquarium.
Buy this skip the line admission ticket to the aquarium.
PICASSO MUSEUM
Explore the profound connection between Barcelona, painting, and the iconic artist Pablo Picasso at the renowned Picasso Museum. 
As Picasso's hometown, Barcelona holds a special place in his early years and artistic development.
Step into the museum and immerse yourself in the extensive collection of Picasso's masterpieces, allowing his revolutionary style and creativity to inspire you. Check out this guided tour.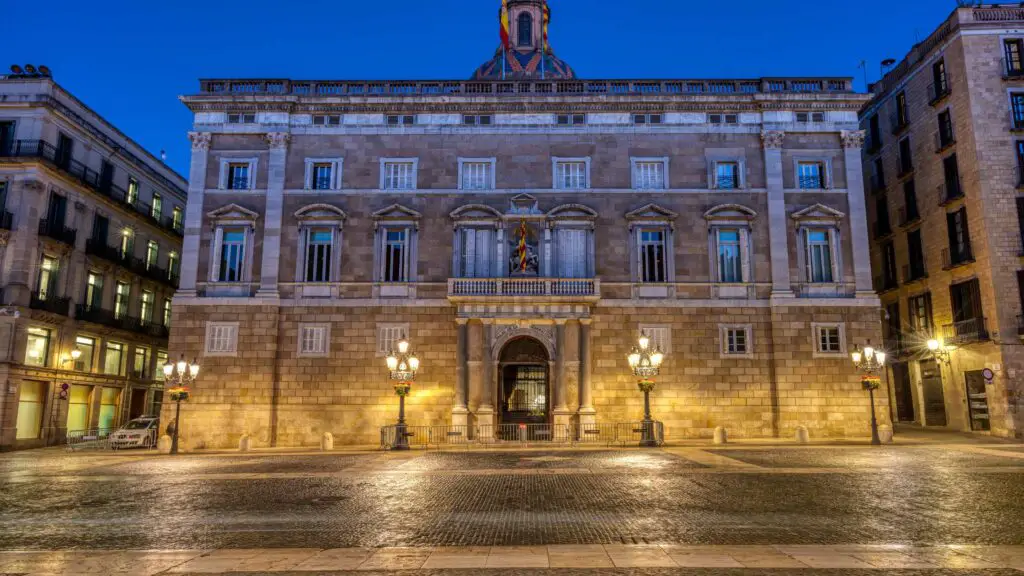 From stunning paintings to intriguing sculptures, the museum showcases the breadth and depth of Picasso's artistic journey.
Plus, take advantage of the opportunity to visit the museum for free or at a discounted rate with various tourist passes.
Timings: Thursdays(9:30 PM), Mondays (5 PM), and other nights(8:30 PM)
Recommended Tours:
MUSEUM OF THE HISTORY OF BARCELONA
Delve into the intriguing history of Barcelona, from its ancient Roman origins to its dynamic present, at the Museum of the History of Barcelona. 
Witness archaeological sites, marvel at preserved artefacts and uncover the city's spellbinding story as you engage with informative displays at this museum. Check out this guided tour.
Gain insights into its architectural heritage, cultural traditions, and significant historical events that have shaped the city into what it is today. Buy your entry tickets here.
Timings: 7:00 PM from Tuesday to Saturday (7:00 PM), Sundays (8:00 PM)
CENTER OF CONTEMPORARY CULTURE
Visit The Center of Contemporary Culture (CCCB), which primarily intends to create awareness about the importance of Art and culture in Barcelona.
The centre regularly hosts art exhibitions, film festivals, debates and other community-based workshops. Sometimes they put exceptional artwork on display to promote local talent.
Timings: Tuesday to Sunday (8:00 PM)
Recommended Tour: Barcelona: FC Barcelona Museum "Barça Immersive Tour" Ticket
COSMOCAIXA SCIENCE MUSEUM
Discover the wonders of science at CosmoCaixa, Europe's largest science museum, in the heart of Barcelona.
Explore interactive exhibits, delve into sustainable technologies, learn about their crucial role in preserving our planet, and engage in captivating hands-on workshops.
The museum offers a variety of exhibits that cater to both adults and children.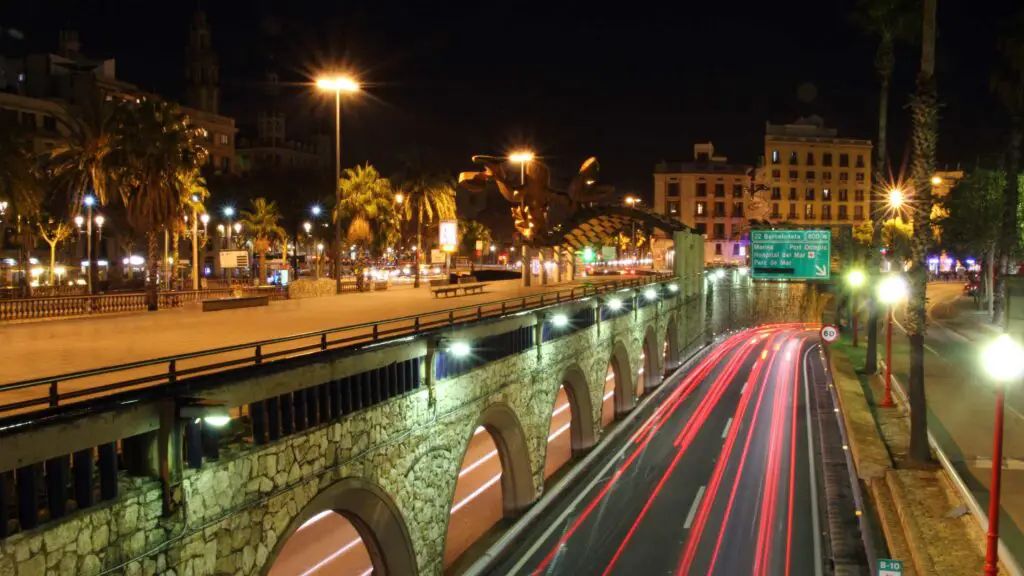 Kids will particularly enjoy the Planetarium show, which promises an immersive and educational experience.
Watch their curiosity ignite as they gaze up at the stars and uncover the mysteries of the universe.
Some group passes provide free tours or discounted access to this museum.
Timings: Everynight (8:00 PM)
MUSEU DE LA MUSICA
If you incline toward music, you should not miss the Museu de la musica, which features a variety of musical instruments from across the globe.
Witness various vintage musical instruments, learn about how ancient civilizations played music, and get astonished by how music has evolved over centuries.
The best part of this museum is that you might get free access or a discounted ticket with a multiple tourist pass.
Timings: Thursdays (8 PM)
ENJOY THE STUNNING VIEWS FROM BUNKERS DEL CARMEL
If you are looking for Barcelona things to do at Night, visit Bunkers del Carmel, a hidden gem which offers a dazzling 360º panoramic city view.
Perched atop "Turó de la Rovira" in the Carmel neighbourhood, this lookout stands 262 meters above sea level, providing an unrivalled vantage point to witness the vibrant colours of the sunset.
Bunkers Del Carmel was originally an anti-aircraft battery during the Spanish Civil War. The site has now been transformed into a popular destination for locals and travelers alike.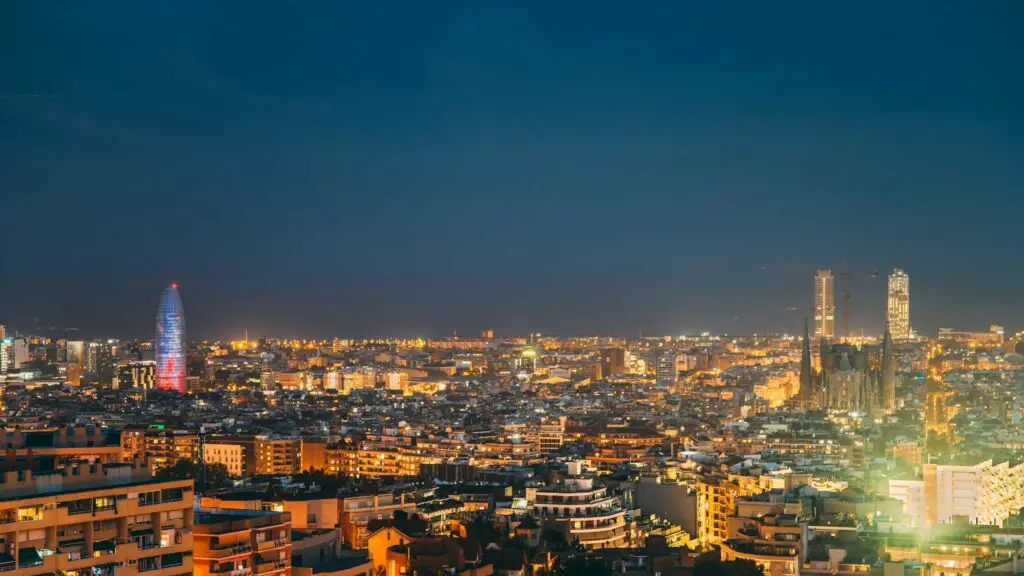 The reconditioned bunkers offer a glimpse into the city's history and an unforgettable experience of its vibrant nightlife.
Check this Icons & Panoramic Views Tour on which you can ride a colorful vespa to reach this place.
It has become a tradition for local students to gather here to capture Insta-worthy photos of the stunning vistas while enjoying affordable beer cans, Jamon Ruffles, and big packs of pipas.
Hop on bus 22 from the city center to reach this Barcelona hidden gem.
Recommended Tour: Barcelona: Icons & Panoramic Views Tour
EXPLORE GAUDI'S MASTERPIECE CASA MILA
Located on Paseo de Gracia, Casa Mila, also known as 'La Pedrera', is an architectural masterpiece by Antoni Gaudi, and visiting this is one of the cool things to do in Barcelona at Night.
With its wavy façade and gothic balconies resembling tree branches, this white building is a testament to Gaudí's genius. 
Explore the interior with an audio tour and skip the line during busy seasons.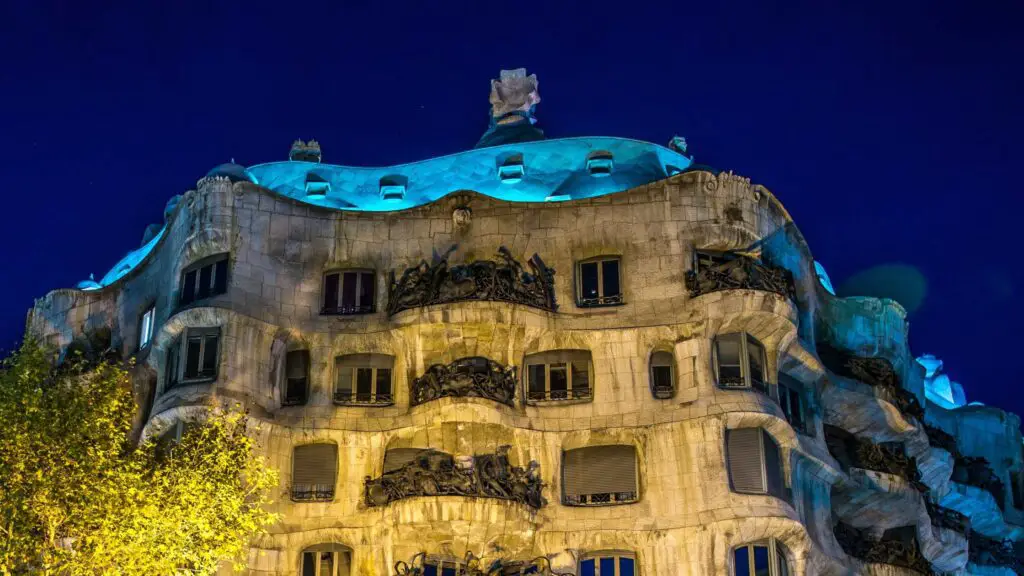 The highlight of Casa Milá is its rooftop, adorned with towering statues in various forms. 
You can climb the stairs or take the elevator to reach the roof. During the day, the sunlight illuminates the artwork, creating a mesmerizing play of light and shadows. 
For a unique Barcelona experience, visit Casa Milá at Night. Go on a special tour that unveils the building's nocturnal charm. 
And to enhance your evening, enjoy a glass of Catalan cava as you soak in the ambience.
Recommended Tours:
GO ON PUB CRAWLING TOURS
One of the best things to do in Barcelona at Night is to go on pub crawling tours, where you can make new acquaintances, discover hidden gems, and create memories that will last a lifetime.
Barcelona is known for a mix of traditional pubs and modern music bars featuring live music, dance floors, and a variety of drinks. 
Starting around 8 PM, this is one of the top late night activities in Barcelona, where you will have ample time to hop from one venue to another, soaking in the energetic atmosphere.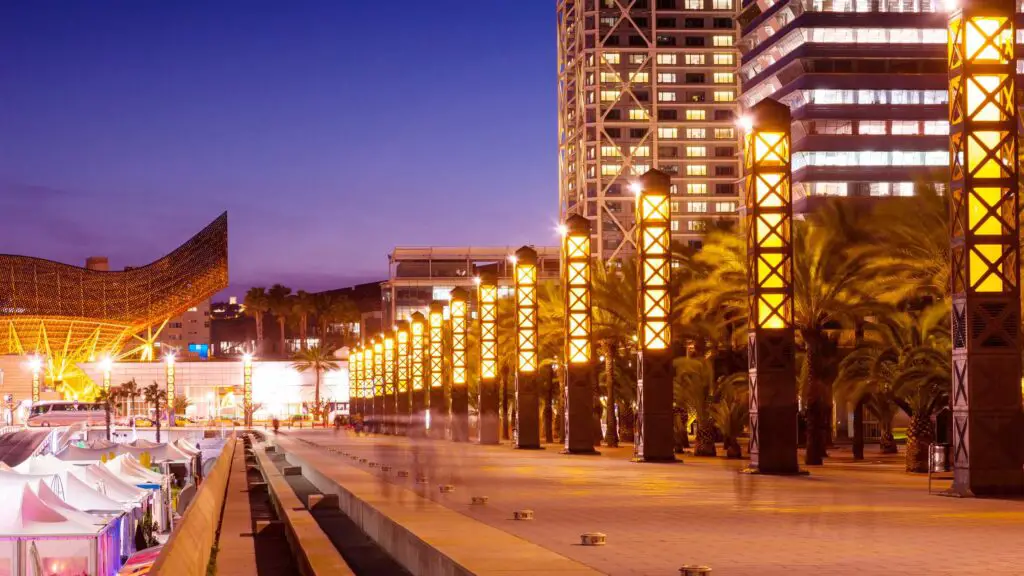 On these pub crawling tours, visit a selection of popular pubs, and gain free entry into a top club—all under the guidance of a friendly and knowledgeable local guide.
Stay on the lookout for thrilling games, and as the Night unfolds, you will witness people indulging in shots for an extra dose of excitement and enjoyment.
If you stay at a hostel, ask at the reception about their organized pub crawl, or alternatively, book your spot to secure your place on any of these exciting tours.
Recommended Tours:
UNLEASH THE NIGHT WITH A NIGHTLIFE ADVENTURE PASS
Maximize your Barcelona night tour experience with a nightlife adventure and tourist attraction discount pass.
The Barcelona Night Card is your ultimate ticket to explore the city's vibrant nightlife scene. 
With this card in hand, you will have free access to 20 popular nightclubs, ensuring you don't miss out on any of the excitement. 
Some fantastic clubs in the Barcelona Night Card include Catwalk, Soho, Sutton, The Room, Aire, and City Hall. 
These venues offer diverse music and atmospheres, catering to various tastes and preferences.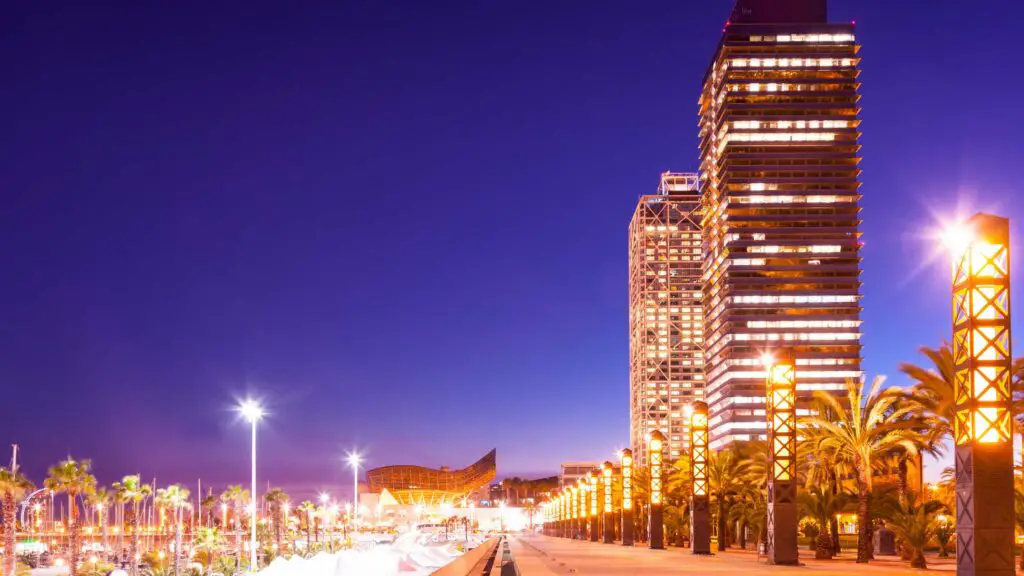 Please note that age restrictions apply, with entry limited to those who are either 18 or 21 years old, depending on the club.
With the Night Card, you have the freedom to hop between these hotspots at your own pace, immersing yourself in Barcelona's energetic nightlife.
To enhance your overall Barcelona experience, I also recommend a traditional city pass, which offers additional transportation options and access to various other attractions.
By purchasing the Barcelona Card, you gain more excellent sightseeing opportunities and enjoy a 25% discount on your Night Card purchase. 
EXPLORE ENCHANTING NIGHT TOURS
Experience the charm of Barcelona by embarking on beautiful tours through the city's old streets, one of the top things to do in Barcelona at Night. 
These tours offer a unique perspective, revealing Barcelona's history and intriguing stories. 
Wander through residential districts, browse the remnants of the old city walls, catch glimpses of the majestic cathedral, or stumble upon hidden artistic treasures.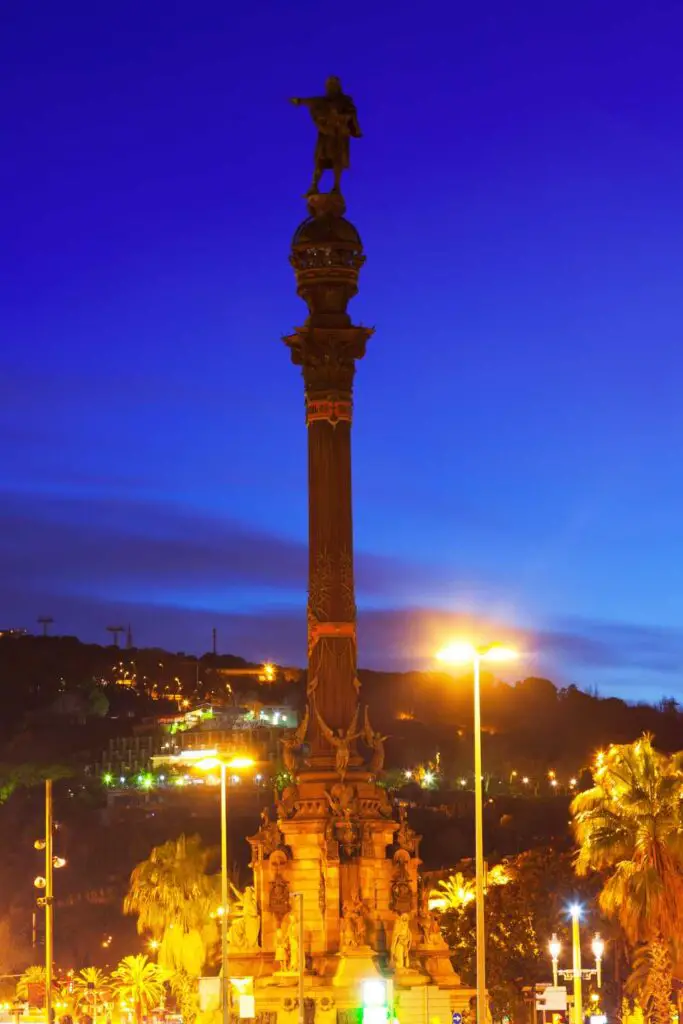 You can either go for the standard sightseeing routes or choose an unconventional tour.
Venture beyond the tourist hotspots and discover the daily lives of the locals in their vibrant neighborhoods.
You will be accompanied by knowledgeable guides who will take you through the authentic culinary scene, including savoring a variety of tapas and exquisite local wines.
Here are some of the recommended tours:
UNCOVER BARCELONA'S DARK PAST
Step into the shadows of Barcelona's past by going on a ravishing night walking tour, one of the interesting things to do in Barcelona at Night.
Join "The Dark Past Walking Tour", which begins at 9 PM during the summer.
You will be led by a knowledgeable guide who will shed light on sordid aspects of life in the past and about Barcelona's 14th-century haunting history.
Learn about how executions and torture were once common during the Spanish Inquisition.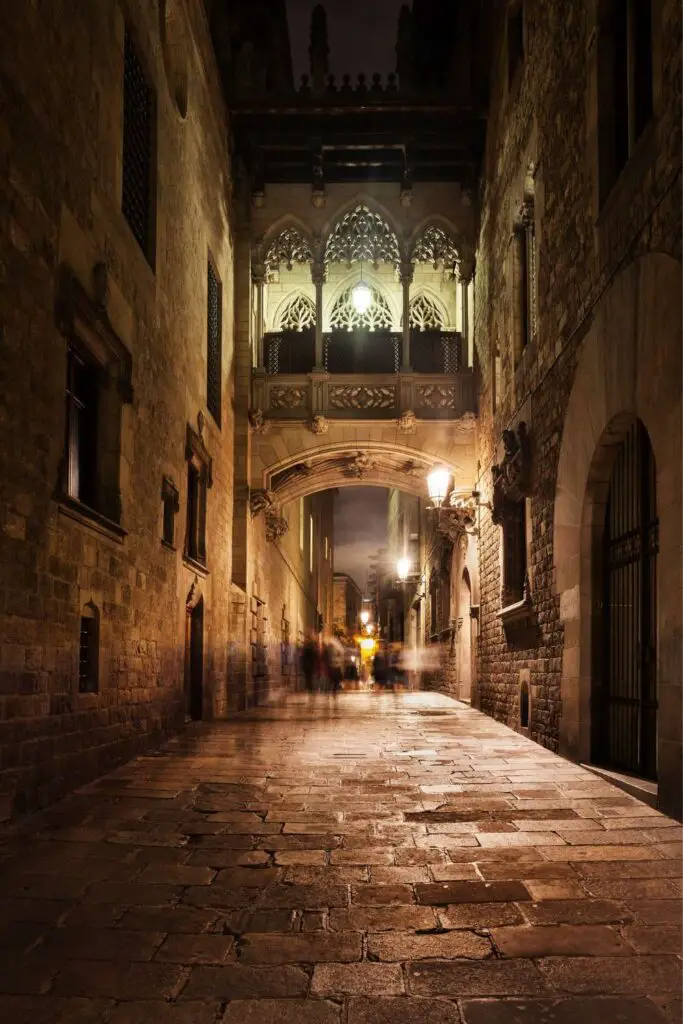 Delve into the stories and secrets of old neighbourhoods like El Born and La Ribera.
Please note that this tour may not be suitable for children under 14, ensuring participants a more immersive and mature experience. 
You must pre-book these tours since the groups will be in limited sizes and batches.
Recommended Tour:
For those seeking to explore the city's intriguing past further, the popular Netflix series "La Catedral del Mar" is a fictional but inspiring introduction to Barcelona's origins. 
ENJOY THE DAZZLING ILLUMINATION
One of the best places to go at Night in Barcelona is the colourful BruumRuum Night Light Show, a captivating LED installation near the Disseny Hub building.
You will be astonished to know how this beautiful piece of art works.
The LEDs come to life when it responds to sound, whether it's the bustling city ambience or the sound of your voice, which makes it one of the cool things to do in Barcelona at Night.
With 550 LEDs constantly shifting in colour and intensity, the light show creates a dynamic visual spectacle, now a popular Barcelona night attraction.
Timings: 9:30 PM to 11:00 PM
INDULGE IN THE MELODIES OF ELEGANCE 
Immerse yourself in the harmonious world of classical music at the iconic El Palau de la Música Catalan, one of the top things to do in Barcelona at Night. 
Built between 1905 and 1908, El Palau de la Música Catalana is a testament to Catalan Art Nouveau, recognized by UNESCO as a World Heritage Site. 
This magnificent building seamlessly combines the luxury of modernist design with contemporary minimalism, creating a visual spectacle that is sure to leave you in awe.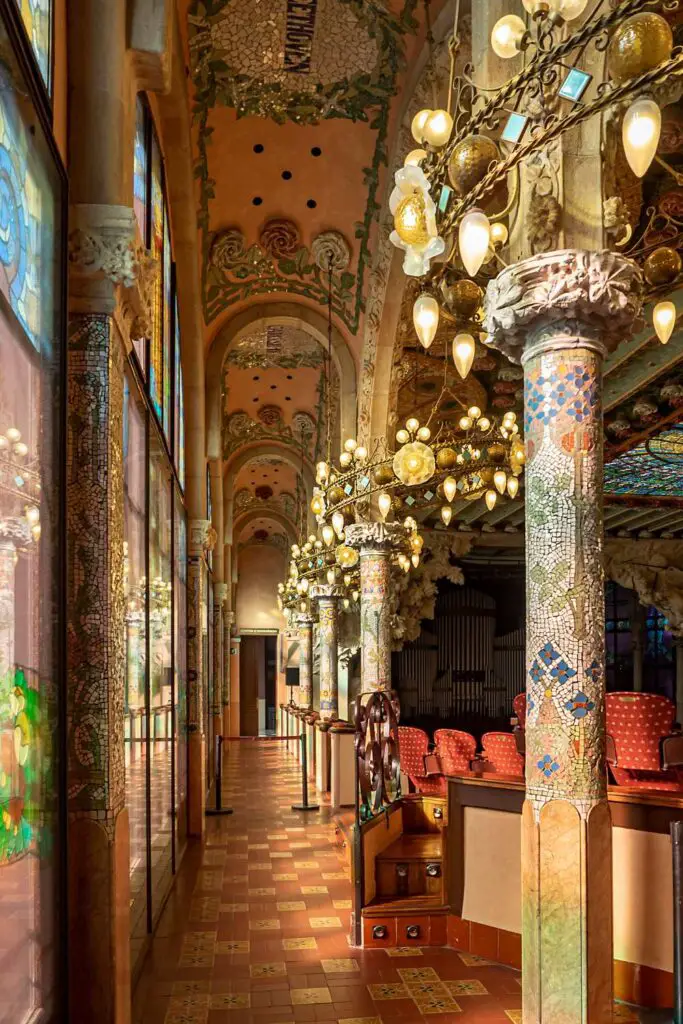 As you step inside, prepare to be mesmerized by the inverted, stained glass cupola adorning the main concert hall, a true masterpiece of architectural splendour.
Beyond its dazzling beauty, El Palau is renowned as Barcelona's premier destination for classical music.
Begin your visit with a guided tour to uncover this cultural gem's rich history and intricate details. 
Recommended Tour:
And as the evening unfolds, indulge in the charming melodies of a classical piano concert held within the hallowed walls of this architectural marvel.
Visit the official website of El Palau de la Música Catalana to explore concert programs and secure your tickets online. 
UNWIND OR STROLL ALONG THE BEACHES
If you are wondering what to do in Barcelona in the evening, stroll on the gorgeous beaches for one of the more relaxed and laid-back nights.
Barcelona's coast is dotted with well-maintained sandy beaches to explore. 
Head to the popular Sant Sebastià and Barcelona Beach at Night, conveniently close to the vibrant Port Vell area. Take a refreshing dip and enjoy the alluring vistas.
Grab beer or wine from a nearby supermarket, flaunt your swimsuit, and unwind on the warm sand. 
During the summer, the Mediterranean Sea remains inviting well into the Night. 
Vila Olimpica boasts numerous clubs and bars right on the beach for those who prefer a seaside dance floor.
Barceloneta Beach, particularly during summer, is a destination for locals and visitors alike. 
Remember, the closer you are to La Barceloneta, the livelier the atmosphere, so choose your spot accordingly.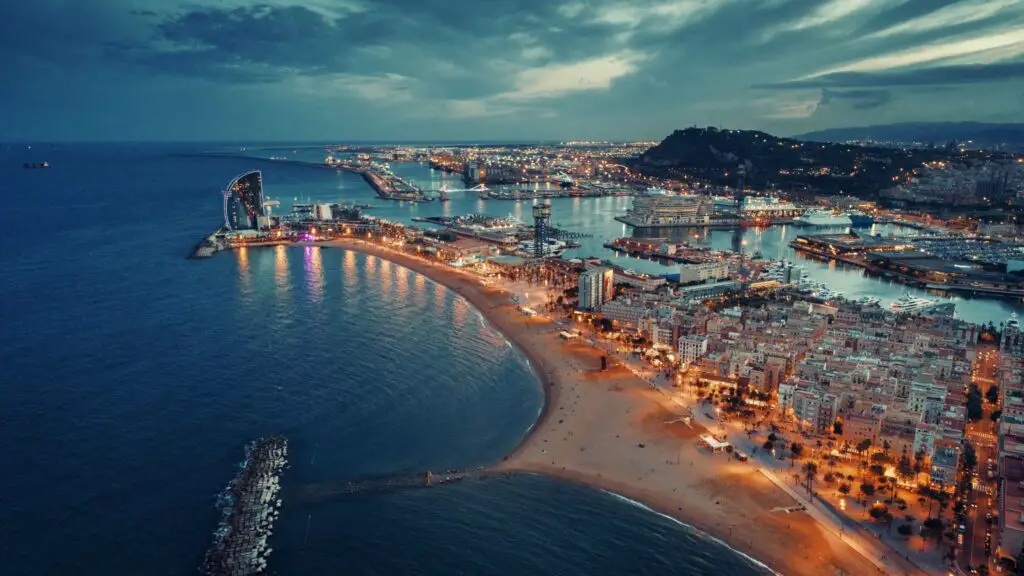 Not only can you indulge in Mediterranean bathing, but the vibrant atmosphere of Barceloneta sets it apart as one of the city's best spots to experience the nightlife. 
Along the shoreline, you will find an array of bars, restaurants, and beachfront establishments perfect for a breezy dinner. 
Take a leisurely stroll along the sand or promenade to complete the experience, a popular Barcelona beach night activity.
Barceloneta's prime location near the city centre and the iconic Rambla area, alongside the marina, adds to its allure.
And don't miss the opportunity to visit the renowned W Hotel at the end of Barceloneta, where the Eclipse bar awaits on the 26th floor, offering spectacular views.
ENJOY A MEDIEVAL SHOW AND DINNER AT THE REQUESENS PALACE
Step into the medieval world at Palau Requesens, a grand medieval palace and enjoy a mesmerizing combination of dinner and live entertainment, one of the best things to do in Barcelona at Night.
This dazzling experience happens on Friday and Saturday nights and lasts approximately 3.5 hours.
Begin your evening with a glass of Cava in the beautiful courtyard, setting the tone for an unforgettable journey through history.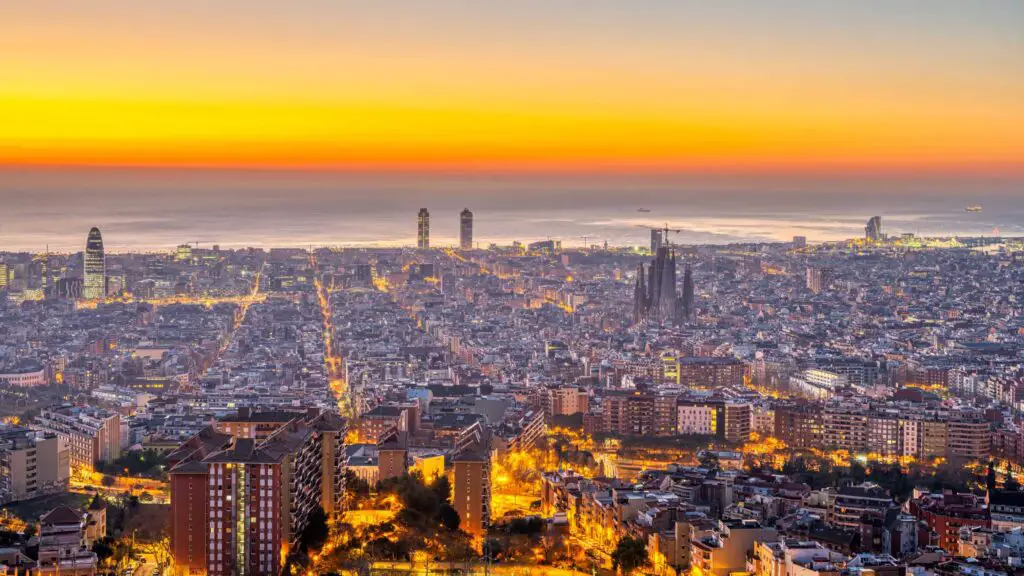 Take a guided tour led by knowledgeable historians, and delve into the fascinating life of Elisabeth of Requesens and discover the palace's secrets. 
Followed by the tour, enjoy a delicious dinner inspired by medieval Catalan cuisine, accompanied by soft melodies from the era. 
Witness a beautiful live show featuring sword-fighting, dancing, and juggling as the Night unfolds, transporting you back in time. 
Recommended Tour:
EXPERIENCE THE CLASSICS AT THE CLASSICS AT THE GRAND THEATRE
One of the best things to do in Barcelona at Night is to spend a beautiful evening at the prestigious Gran Teatre del Liceu in Barcelona. 
This historic opera house on the iconic La Rambla is an essential cultural institution in the city and holds international recognition as one of the world's most important opera venues.
Despite enduring two devastating fires, the theatre's interior has been beautifully restored, maintaining its architectural splendour. 
The venue's central location on La Rambla adds to its allure, offering a convenient and atmospheric setting for an unforgettable night of artistic excellence.
The Gran Teatre del Liceu has a rich history of hosting renowned composers and showcasing exceptional performances. 
From timeless operas by Verdi and Wagner to classical plays like Charles Dickens's A Christmas Carol, the theatre's diverse program ensures there's something for every lover of classical music and theatre.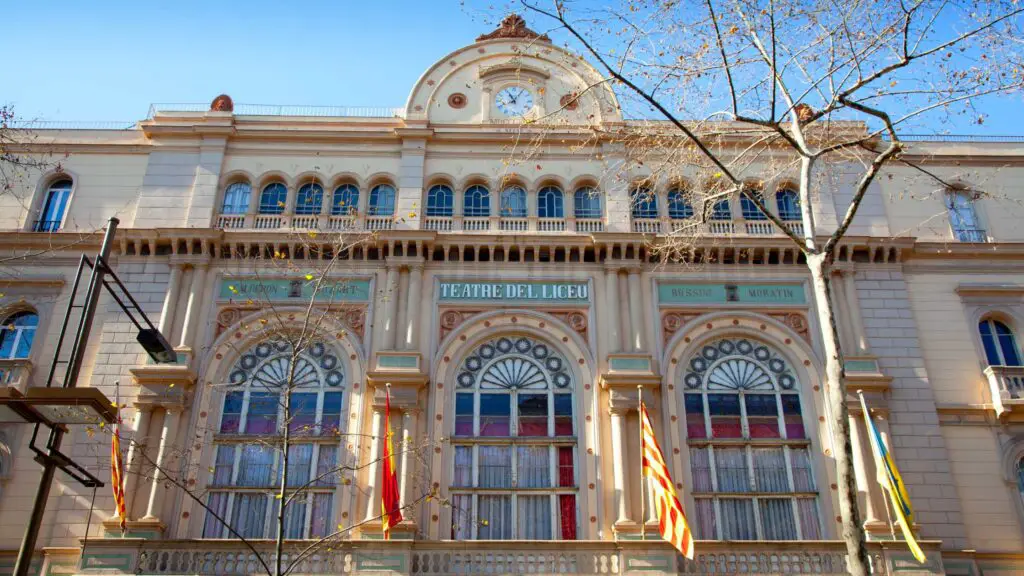 With a seating capacity of nearly 2,300 spread across six levels, you will have an intimate and immersive experience in the Gran Teatre del Liceu. 
Whether you are a seasoned opera enthusiast or new to the genre, you shouldn't miss attending a show at this esteemed venue for a magical evening, and it is one of the best things to do at Night in Barcelona.
If you are curious about the inner workings of the theatre, guided tours are also available, allowing you to explore its fascinating history and behind-the-scenes areas.
You will gain a deeper appreciation for the craftsmanship and dedication that have made the Gran Teatre del Liceu an enduring symbol of artistic excellence in Barcelona.
Recommended Tour:
VISIT SAGRADA FAMILIA AT NIGHT
If you are looking for Barcelona night attractions, visit the awe-inspiring Sagrada Familia.
This iconic masterpiece by Gaudí is a must-see attraction that will leave you speechless. 
Take a guided tour to witness the intricate details and symbolism that Gaudí infused into every aspect of the Sagrada Familia.
To make the most of your visit, it is advisable to reserve a time slot in advance to avoid disappointment. 
Doing so allows you to skip the queues and ensure a smooth entry into this architectural marvel.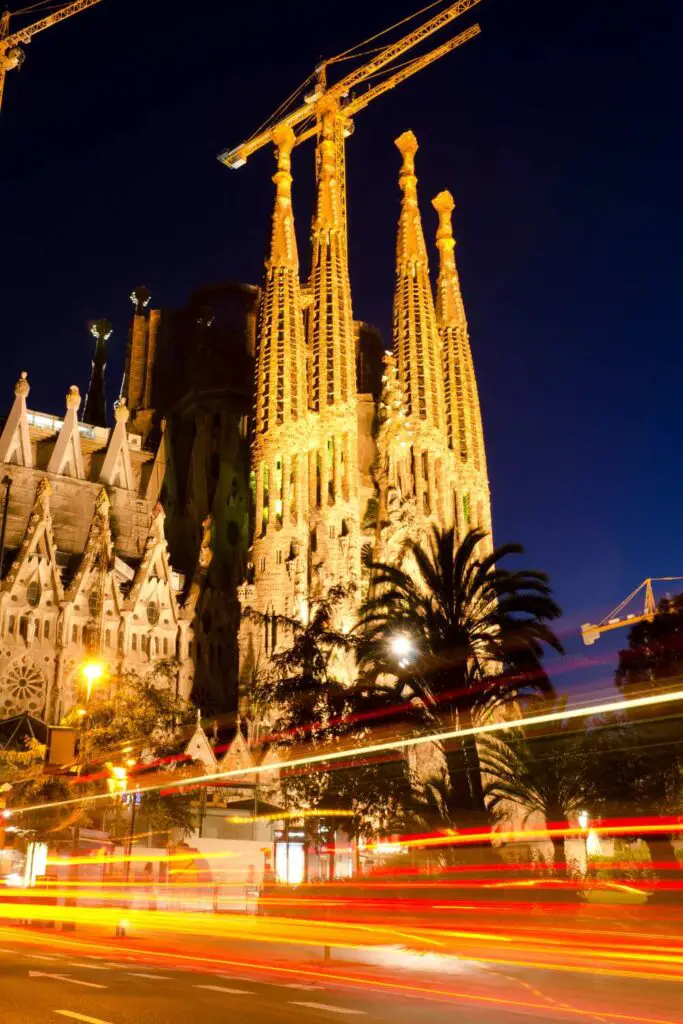 Recommended Tour:
Don't miss having a glimpse of the Sagrada Familia from the outside during the evening, which is a lovely experience. 
As the sun sets, the dyed glass windows come alive with a vibrant display of colours, adding an extra layer of magic to this already impressive structure.
Be sure to take a moment to admire the recent addition of a giant blue star on one of the towers, which adds an additional charm to the landmark's silhouette.
The Sagrada Familia is open until 6 PM during winter and extends its opening hours until 8 PM in the summer, giving you ample time to explore its grandeur.
You can reach Sagrada Familia via Metro lines L2 and L5 or by various buses like 19,33,34,44, and 50.
Alternatively, you can opt for a hop-on hop-ff bus pass so that you can explore the city at your own pace.
HOP, HOP, AND AWAY ON THE FUNKY BUS
Grab your hop-on hop-off bus ticket, sit back, and let the city unfold before your eyes; one of the top things to do in Barcelona at Night.
Hop-on, Hop-off buses let you visit all the best places at Night in Barcelona at your convenience.
These buses operate on a circular route, covering over 30 stops near important landmarks and attractions. 
Hop on to one of the vibrant red buses at any stop of your choice. 
Enjoy the spectacular skyline views and feel the wind in your hair on this Barcelona's Open-Top Deck!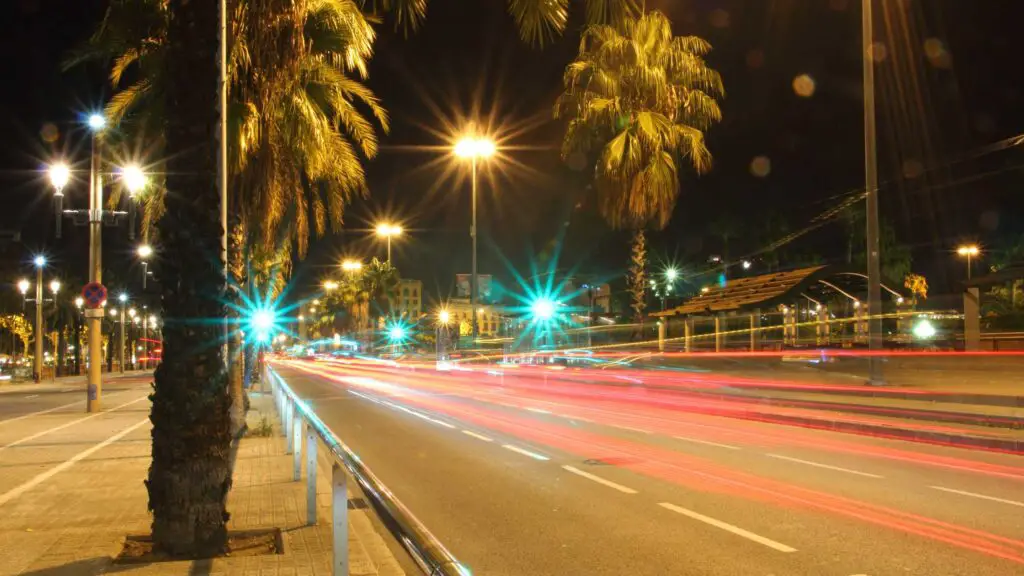 When you reach a destination you want to explore further, simply hop off the bus and take your time to discover the sights and sounds. 
When ready to explore the next location on your Barcelona night trip itinerary, just find the nearest bus stop and hop back on. 
It is a hassle-free way to navigate the city and maximize your time.
To ensure a smooth experience, you can conveniently book your tickets online. 
Plus, if your plans change, you can cancel your booking up to 24 hours before the tour starts and receive a full refund.
Recommended:
ROMANTIC THINGS TO DO IN BARCELONA AT NIGHT
ENJOY A PICNIC IN PARC DE LA CIUTADELLA
Experience the serenity of Parc de la Ciutadella by walking through its creatively designed pathways and enjoying its beautiful water fountains, one of the romantic things to do in Barcelona at Night.
Whether you visit during the day or at Night, the park offers a tranquil setting for a picnic on the lush green grass, accompanied by music and the warm Barcelona sun. 
You will bump into people of all age groups at Parc de la Ciutadella. Feeding the ducks and geese in the park is another enjoyable pastime, especially if you are with kids.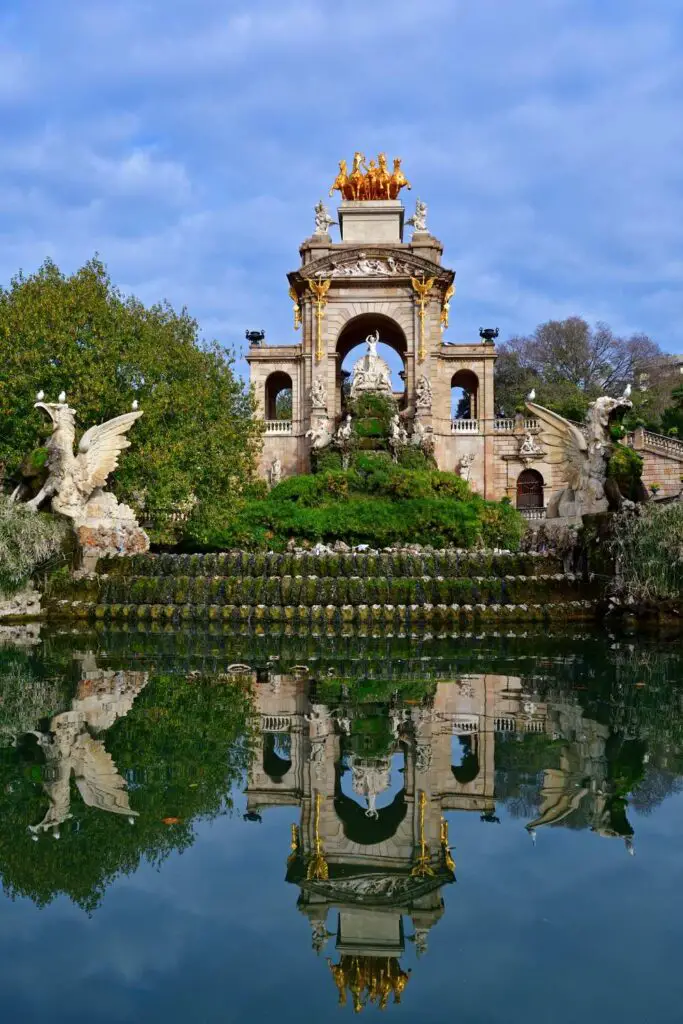 Be cautious, as these birds have been known to bite if approached too closely. 
Check out the local statues and sculptures. Don't miss to get a picture clicked with the sculpture of a giant mammoth, one of the famous attractions of Parc de la Ciutadella, which is often crowded.
For a more adventurous experience, consider renting a boat and rowing around the park's lake. 
You can rent the boats for around €6. Get some snacks to munch on as you cruise along the lake.
ENJOY A BEACHSIDE CINEMA UNDER THE STARS
Experience the magic of cinema under the night sky by watching a movie on the beach after sunset, one of the romantic things to do in Barcelona at Night.
Cinema Lliure a la Platja, a special summer event, transforms selected beaches along the Catalan coast into open-air cinemas for your ideal Barcelona beach night setting.
Enjoy this exquisite experience on San Sebastian Beach, located approximately 3.3 km Southeast of Ciutat Vella (Old City) Barcelona.
They showcase diverse films, from captivating dramas to thought-provoking documentaries.
The program offers a glimpse into Catalonia's vibrant independent film scene along with the local and international film festivals.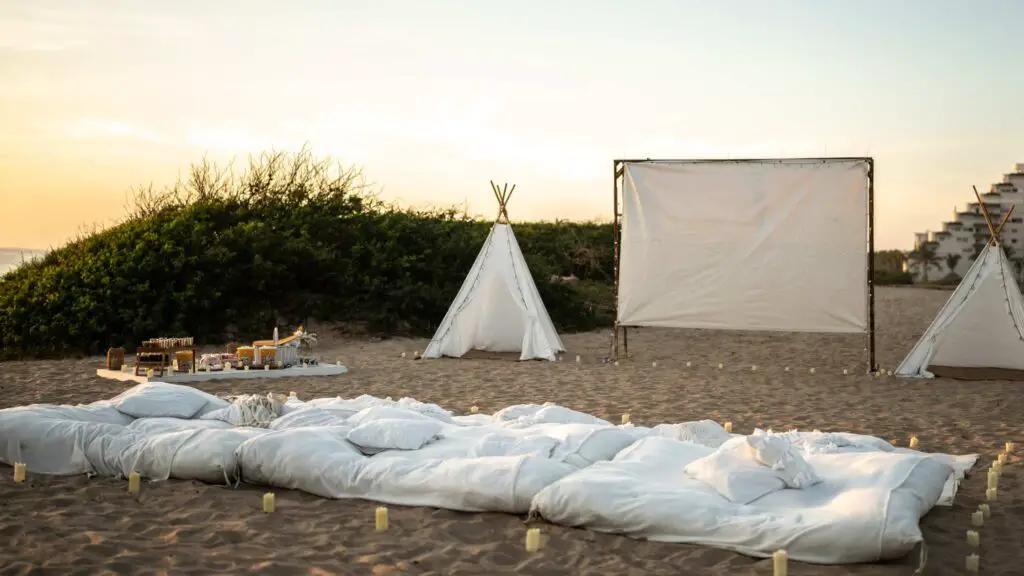 If you are not a beach bum but want to enjoy a movie in the open air, head to Montjuic Hall.
Located at the foot of a castle, you can relish spectacular views while watching a film and even catch a live music performance before the screening begins at Montjuic Hall.
Both locations check whether the movies are screened in English because most are screened in their original languages with Spanish subtitles.
Please note that seating is limited due to the event's popularity, so booking in advance or arriving early with your beach blanket is advisable to claim your spot. 
GO ON A LOVELY NIGHT ADVENTURE WITH THE MONTJUIC CABLE CAR
Experience the Montjuic Cable Car, a gorgeous ride from the port to Montjuic Hill, offering stunning panoramic views and access to the hill's attractions, one of the most romantic things to do in Barcelona at Night.
The hill of Montjuic played a significant role in Barcelona's history, hosting the 1992 Olympics and serving as a prime venue for various events. 
The Montjuic cable car station is located at Avinguda Miramar. The car can accommodate eight passengers, and the cable spans 750 meters, providing a unique perspective of Barcelona.
As you ascend, you will be greeted by the majestic Castell de Montjuic, an ancient military fortress with a rich history dating back to the 17th century.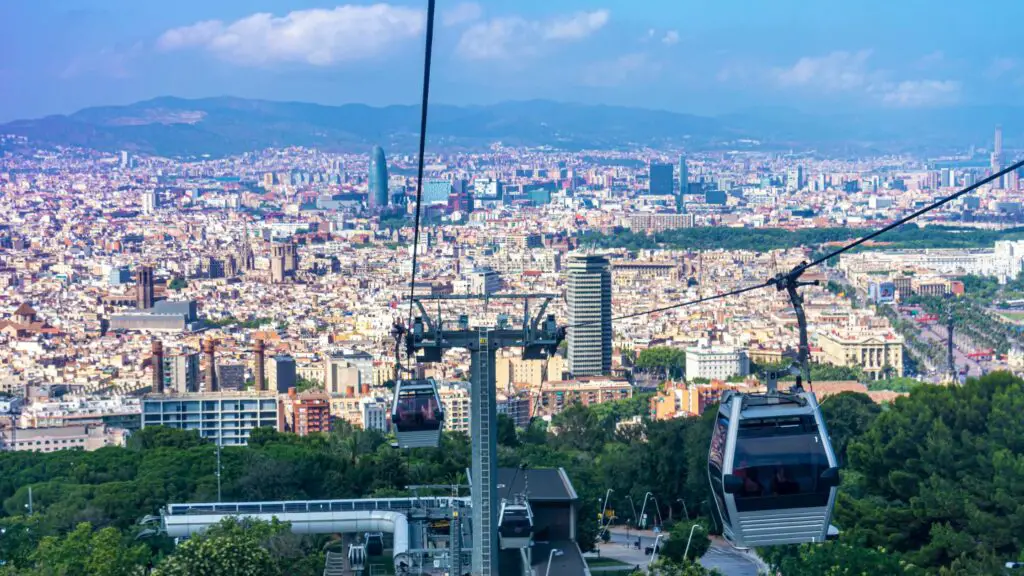 Wander through the ruins and soak in the history of the Castle. Please note that the castle closes at 8:00 PM during the summer season.
The remnants of the Barcelona International exposition, the 1929 World Fair, can also still be seen, with some buildings transformed into charming museums.
Consider joining a night tour that includes a cable car ride to witness the captivating sunset from Montjuic Mountain.
For those seeking an adventurous walk, explore the residential area, passing a football pitch and vibrant street art. 
You can also opt for a bus or metro service to conveniently reach Montjuic.
SAIL ON A ROMANTIC SUNSET CRUISE
One of the romantic things to do in Barcelona at Night is to enjoy a lovely evening aboard a classic sailing yacht with the Sunset Sailing Experience. 
Departing from the Olympic harbour, which served as the venue for sailing events during the 1992 Barcelona Olympics, these 2-hour cruises provide a unique perspective of the city's maritime heritage as the sun goes down.
Experience the beautiful sight of Barcelona's skyline adorned with an excellent fusion of orange and pink shades, all while savouring the exquisite taste of Cava, the renowned Catalan Champagne.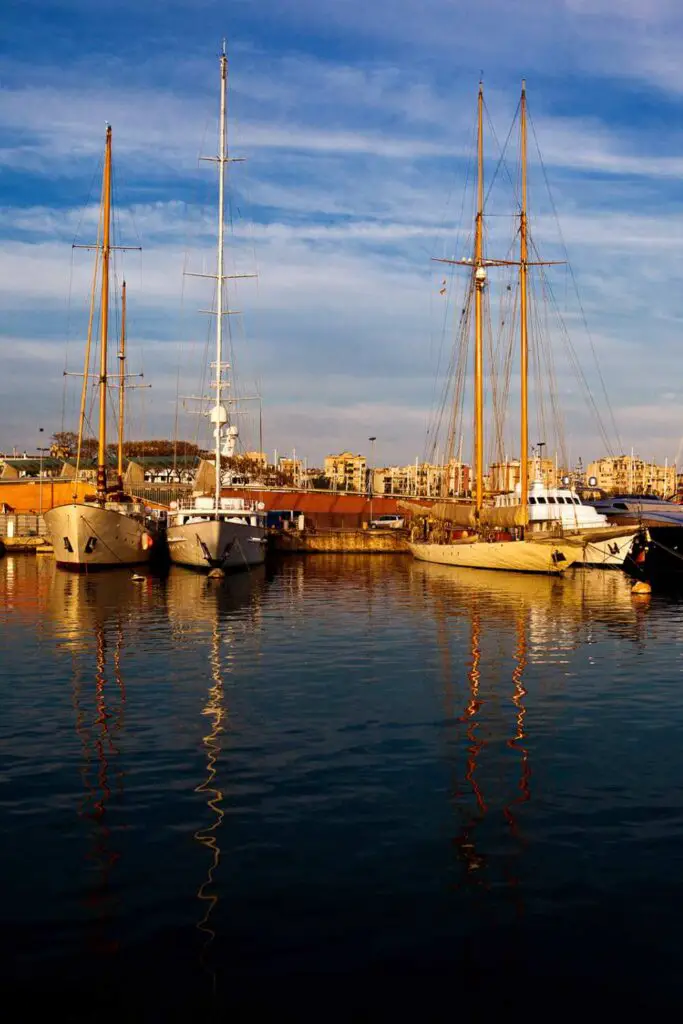 For as little as €69 per person (prices may vary depending on the season, reaching up to €88 during peak season), you can immerse yourself in this exquisite experience. 
Some cruises even offer a delicious dinner on board, accompanied by a DJ and drinks for a colourful sea party.
So, do not think twice when deciding what to do in Barcelona in the evening. Set sail in the timeless beauty of this yacht cruise and soak in the beautiful Mediterranean vistas.
WATCH THE MAGICAL FOUNTAINS GLOW IN LIGHTS
One of the most beautiful things to do in Barcelona at Night is to experience the mesmerizing spectacle of the Magic Fountain of Montjuïc. 
Located at the base of the National Art Museum of Catalonia, this grand fountain has been drawing people from across the globe since 1929.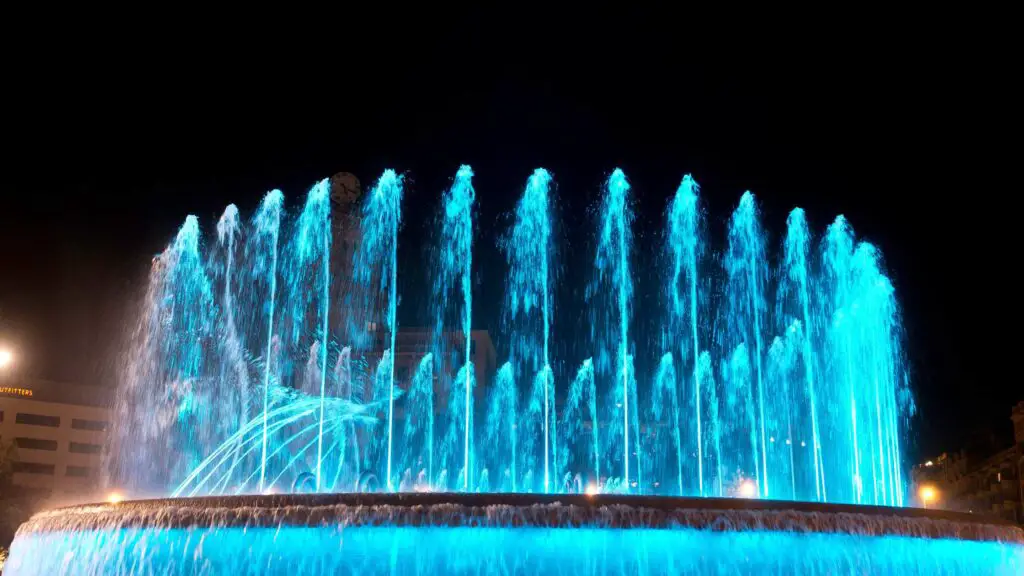 As Night falls, the fountain comes alive with an orchestrated choreography of water jets dancing to the rhythm of music, accompanied by a stunning display of lights. 
The water shoots up to an impressive height of 4 meters, perfectly synchronized with various musical genres, from classical melodies to iconic hits like "Barcelona" by Freddy Mercury and Montserrat Caballé, the anthem of the 1992 Olympic Games.
While the schedule may vary depending on the time of year, you can generally enjoy the magical shows multiple times a week. 
From March to May, shows occur on Thursdays, Fridays, and Saturdays between 8:00 PM and 9:30 PM.
During the peak tourist season from June to September, shows run from Wednesday to Sunday, with multiple start times between 9:30 PM and 10:00 PM.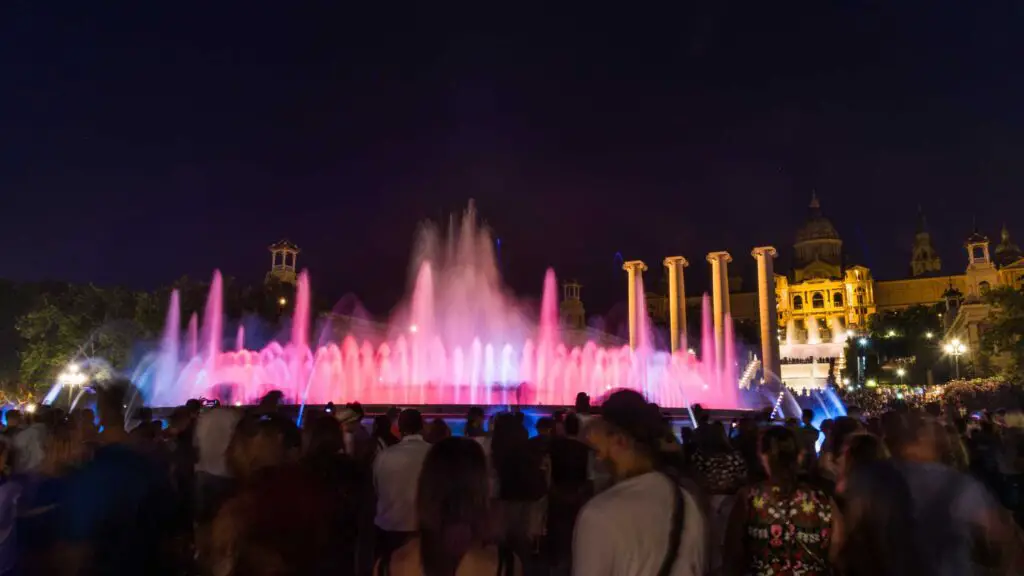 To witness this stunning display, head to Plaça de Carles Buigas in the middle of the fountain.
Although the entrance is free, arriving early to secure a good viewing spot is recommended, especially during busy periods. 
Note that the fountain undergoes maintenance from January to the end of February, so plan your visit accordingly.
DINE UNDER THE STARS AT FABRA OBSERVATORY
One of the unique things to do in Barcelona at Night is to visit Fabra Observatory, where celestial wonders merge with a delectable dining experience.
Nestled in the foothills of Tibidabo Mountain, the Fabra Observatory goes beyond its dedication to astrological observation. 
It invites you to witness an extraordinary dinner paired with the fascinating opportunity to gaze at the stars through their powerful telescopes.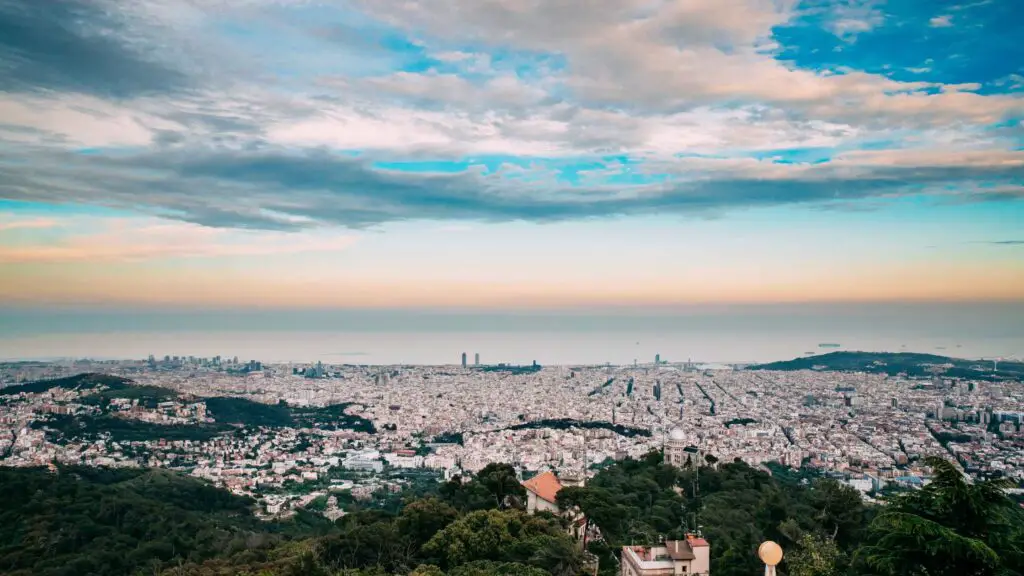 Imagine savouring a sumptuous meal on the observatory's terrace while the mesmerizing cityscape of Barcelona unfolds before you. 
So get ready to discover the wonders of the cosmos, enjoy a tantalizing dinner, and create memories that will last a lifetime.
Timings: 8 PM to 9 PM, Price: Starts from 35 euros
SAIL INTO BARCELONA'S NIGHTTIME SPLENDOR ON A NIGHT CRUISE
Experience the magic of Barcelona from a whole new perspective by going on a stunning catamaran night cruise, one of the romantic things to do in Barcelona at Night.
I recommend you put this two-hour tour on your things to do Barcelona Sunday night list; this cherishable experience will leave you rejuvenated and ready to conquer the week ahead.
Departing from the port of Barcelona, you will step aboard a gorgeous catamaran with a maximum capacity of 30 passengers.
Picture yourself on the deck of this spacious watercraft, basking in the warm evening breeze as you sail along the glistening waters of the Mediterranean.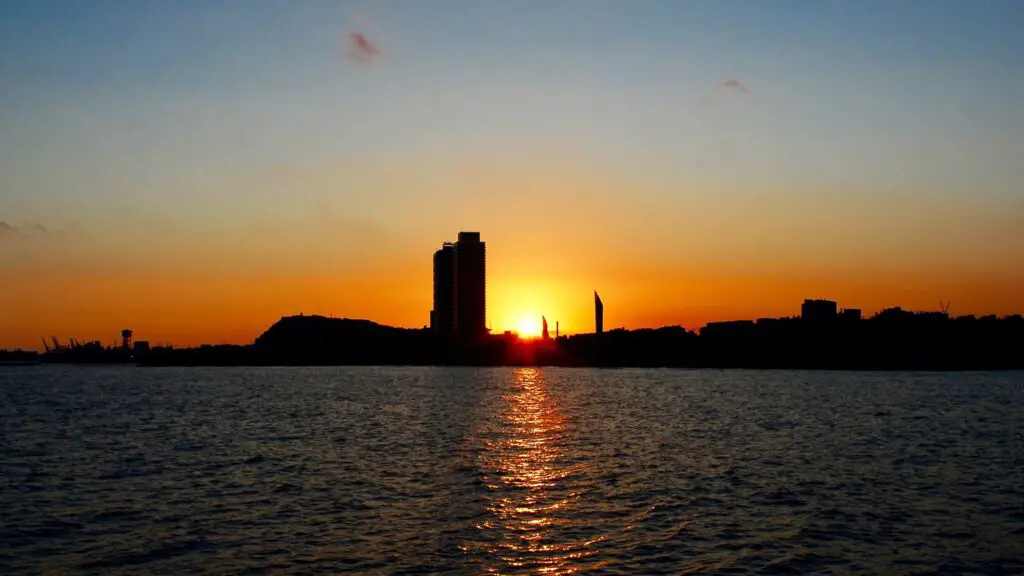 With a backdrop of Barcelona's iconic skyline, including the majestic Sagrada Familia and the enchanting Montjuic hill, this tour offers a truly magical setting. 
Enjoy a welcome drink, sip on refreshing beverages from the onboard bar, and unwind to the soothing melodies of background music.
Click candid photos with the spectacular ocean and catamaran background to flaunt your 'gram, create lasting memories, and make new friends as you cruise along.
The tours will usually be available from April to October. Book your catamaran night cruise here:
Recommended Tours:
ELEVATE YOUR EVENING WITH ROOFTOP DRINKS
Immerse yourself in the awe-inspiring Barcelona skyline by indulging in rooftop drinks at one of the city's vibrant rooftop bars, one of the fantastic things to do in Barcelona at Night.
I have discovered two great rooftop bars that offer more affordable entry with unparalleled views of either the majestic Sagrada Familia or the iconic Barcelona Cathedral: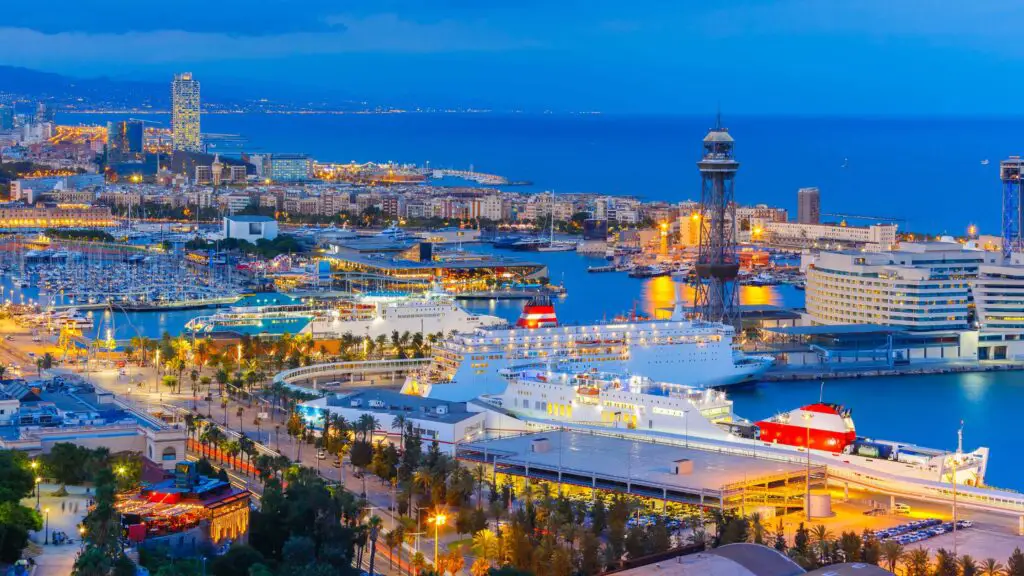 Hotel Colón: Located directly opposite Barcelona's cathedral, the Panoramic Terrace of Hotel Colón is an excellent spot to unwind and enjoy refreshing drinks amidst an alluring ambience.
You can directly walk in since reservations are not accepted at this hotel.
Hotel Ayre Rosselón: Situated right next to the Sagrada Familia, this hotel boasts a stunning rooftop terrace with gorgeous city vistas. To secure your spot, make a free reservation in advance.
FUN THINGS TO DO IN BARCELONA AT NIGHT
WATCH A GAME
How can someone miss Barça when in Barcelona, right?
Include the exhilarating experience of watching a Football game at the Nou Camp in your Barcelona travel itinerary, one of the fun things to do in Barcelona at Night.
You should definitely watch FC Barcelona in action if you are a die-hard football fan. The vibrant energy of night games adds an extra level of excitement, making it even more thrilling to be part of the crowd.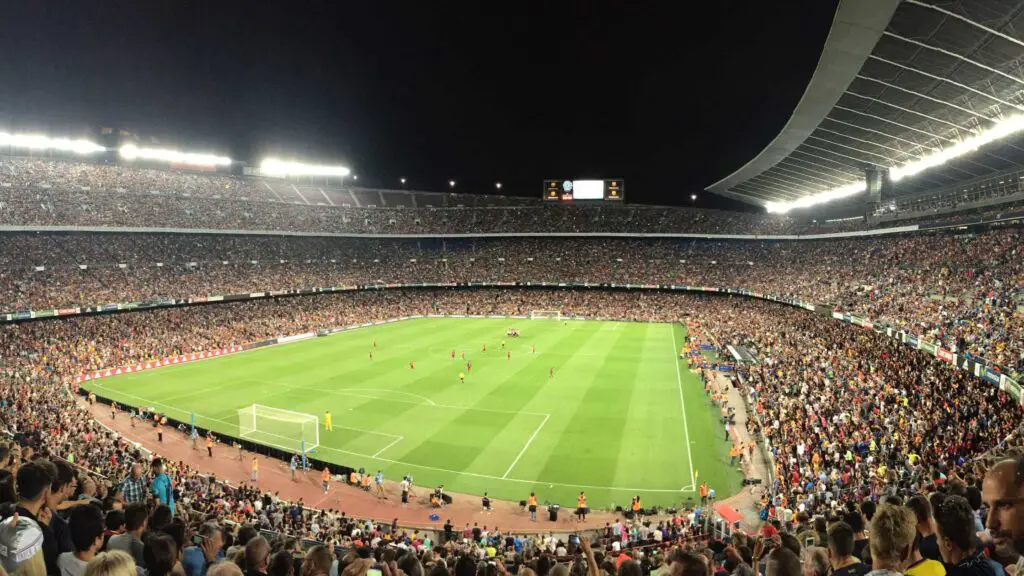 Attending a match at the iconic Nou Camp stadium, the largest stadium in Europe with a seating capacity exceeding 99,000, is a sensation in itself.
The Spanish football season runs from August to May, offering ample opportunities to catch a home game, and the best part of these matches is most of them kick off at around 8 PM.
EERIE BARCELONA: HAUNTING GHOST TOURS
Are you up for a spine-tingling adventure? Go on a guided ghost tour, one of the spooky things to do in Barcelona at Night.
Immerse yourself in the mysticism and mysterious allure of Barcelona's Gothic Quarter on a tour that reveals the secrets and legends hidden within its ancient streets.
As the oldest section of the city, dating back to 133 BC, the Gothic Quarter has witnessed countless dreadful events with a wealth of intriguing stories waiting to be discovered.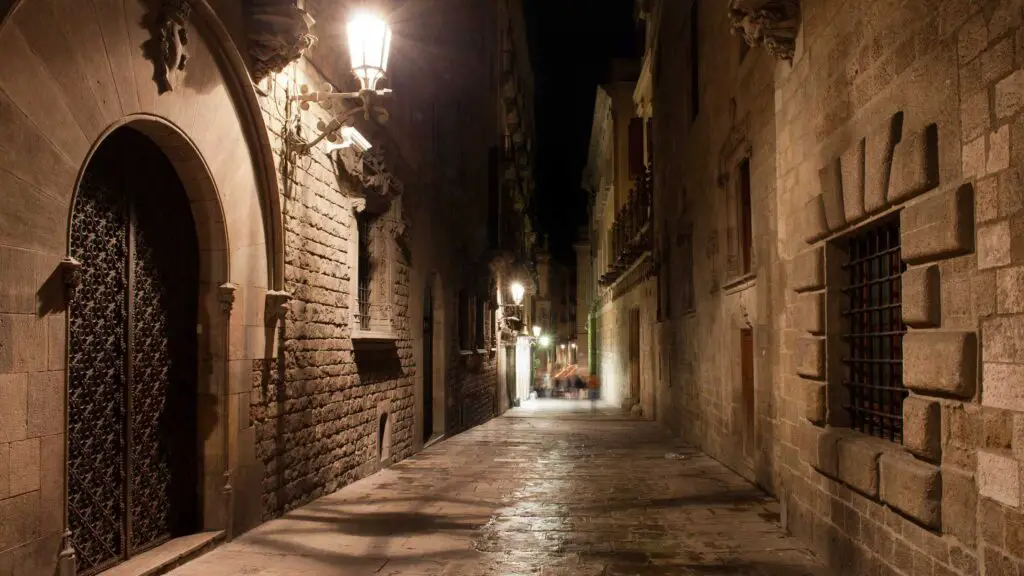 During the tour, you will explore the Gothic Quarter's narrow streets, where tales of vampires, ghosts, exorcists and ghouls await, with your guide weaving tales of mystery and magic.
You will learn about the gruesome stories of haunted churchyards and iconic landmarks such as the Gran Teatre del Liceu. 
You will hear some interesting stories about places like Sant Just Square, home to the city's first public fountain, which is believed to possess magical waters flowing from a hidden mountain spring. 
Nearby, Paradis Street showcases four Roman columns, rumoured to have been placed by Hercules himself when he founded the city.
On these tours, you will listen to the chilling ghostly experiences and have a great insight into Barcelona's origins and historical significance.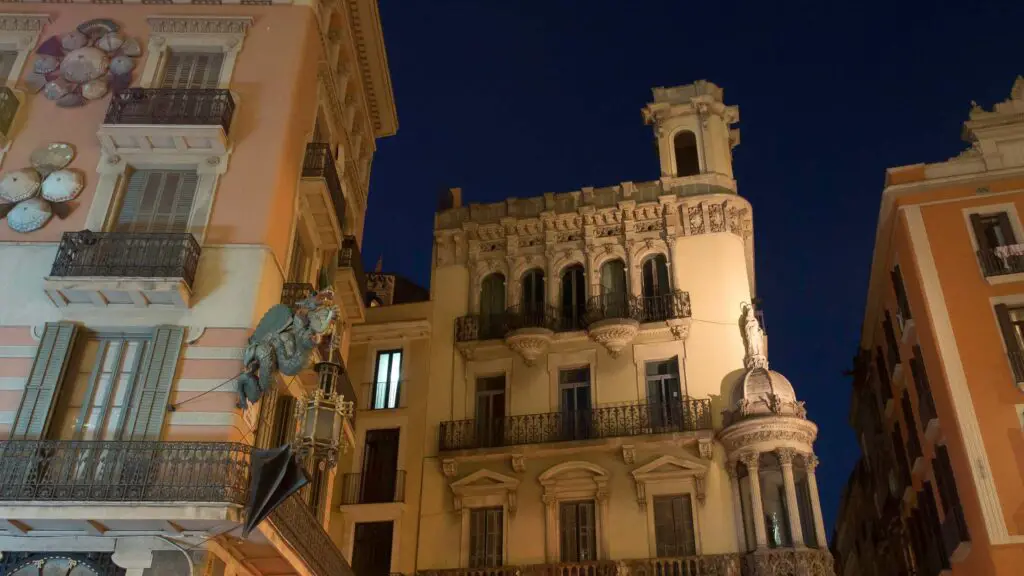 The ghost tour typically departs at 7:30 PM every day from Travel Bar, and you need to buy a ticket which costs €16.
Some tours even offer an interactive app, allowing you to explore the city's dull past further.
The Gothic Quarter is also a popular destination for late Night Barcelona attractions like the top-notch Barcelona nightclubs, where you can indulge in tapas and drinks while making acquaintances with the locals and fellow tourists.
DANCE THE NIGHT AWAY AT NIGHTCLUBS
Experience Barcelona's vibrant nightlife by hopping between its renowned nightclubs and bars, one of the fun things to do in Barcelona at Night.
Known for its bouncing nightlife and annual music festivals, the city offers diverse venues to satisfy every partygoer.
No wonder, Barcelona is among the top Spain party destinations!
However, I suggest steering clear of the touristy venues near the Port Olimpic waterfront, as they often lack distinctive music and charge exorbitant prices for drinks.
Check out the clubs like BCN Future Club, Zuu, Slow Club, Razzmatazz, and hidden gems like Plaza del Sol and Speakeasy Paridiso.
Razzmatazz stands out as one of the biggest nightclubs in Barcelona, featuring multiple floors with different genres of music to please everyone.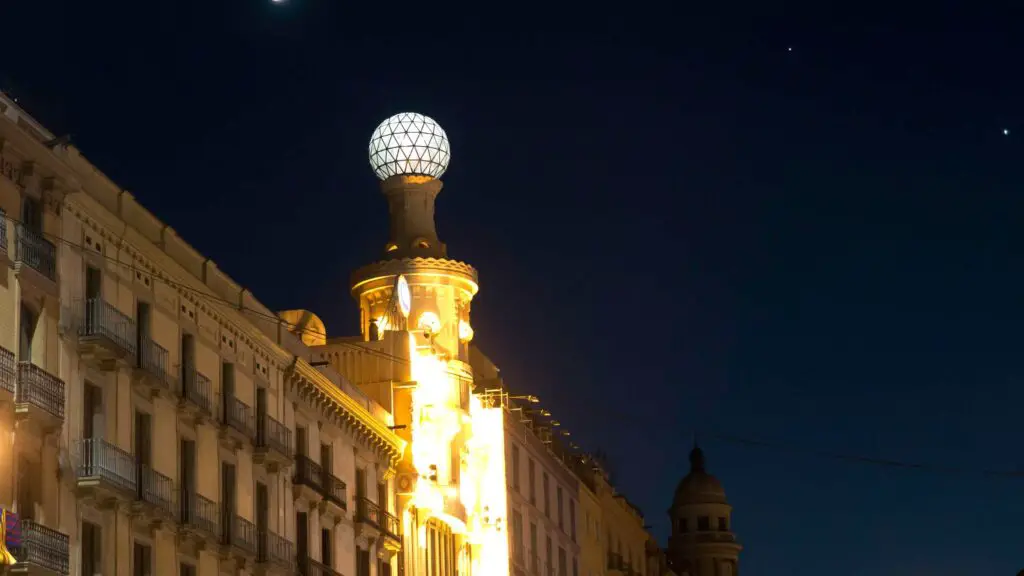 El Born neighborhood is an excellent choice for casual bar hopping, with spots like You're Super Super and Savannah offering a laid-back atmosphere. 
The Eixample Esquerra neighbourhood is a popular drinking street with quirky bar options, including alcohol-fueled book shops and craft breweries.
For a beachfront terrace experience with a sparkling glass of Cava, head to Pacha.
Opium is another famous beachfront club where you may bump into international partygoers.
Check out The Sutton Club, known for attracting famous celebrities. 
If you want open-air clubs or sky bars, head to La Terraza in the mountains of Montjuic or Hotel Central or the terrace of La Isabela in Hotel 1898.
If you are looking for music clubs, El Born delivers an eclectic mix of sounds, ranging from 1970s funk to deep house.
Moog provides a welcoming haven for techno enthusiasts. On the other hand, Jamboree is the ultimate destination for jazz and blues aficionados.
Also, check out the Apolo concert hall on Nou de la Rambla Street, renowned for its variety of music and entertainment.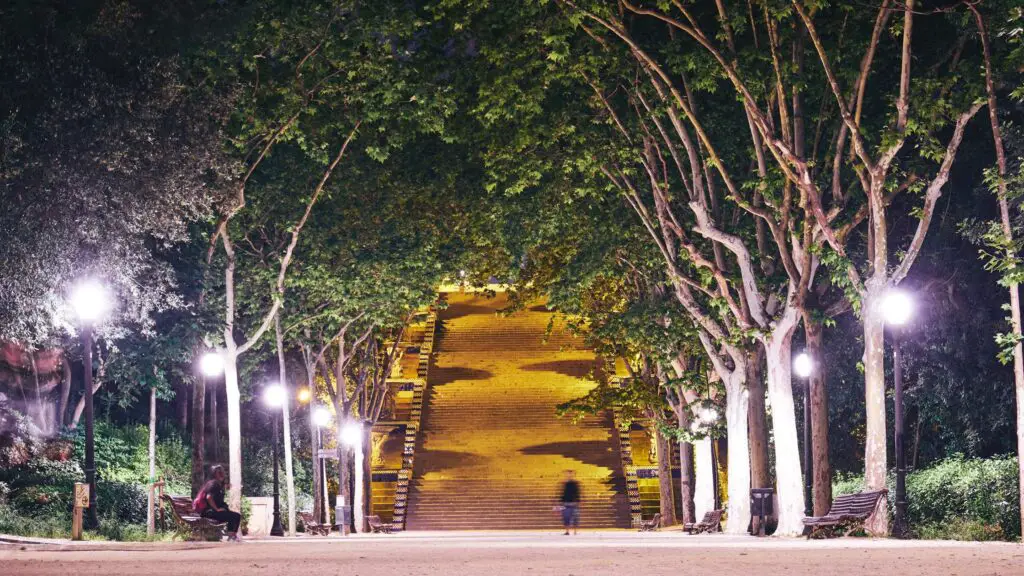 The beauty of Barcelona's nightclubs is that the party typically commences around 10 PM but truly ignites and comes to life around 2 AM. 
The energy builds gradually, reaching its peak in the early morning hours, ensuring the Night is filled with endless excitement and entertainment.
Remember to dress appropriately, as most clubs do not allow flip-flops.
To make the most of your partying experience, consider getting the Barcelona NightCard. 
Recommended:
This card offers fast-track entrance into the city's top clubs and is available for 2-day or 7-day durations, providing excellent value for money.
GO ICE SKATING
Lace up your skates and glide across the ice for a fun-filled night in Barcelona at FC Barcelona's Ice Rink. 
Located at Av. de Joan XXIII, this indoor attraction welcomes members and non-members throughout the year. 
For a unique and memorable experience, visit the rink from Friday to Sunday evening hours. You can enjoy ice skating under the night sky, one of the fun things to do in Barcelona at Night.
Don't worry if you don't have your skates, as rentals are available at the rink. 
GO ON A UNIQUE SHOPPING ADVENTURE AT FLEA MARKETS
One of the exciting things to do in Barcelona at Night is to check out flea markets.
Flea markets hold a special allure in Barcelona, offering a delightful experience beyond just shopping. 
The beauty of these markets lies in the freedom to explore without any pressure to make a purchase.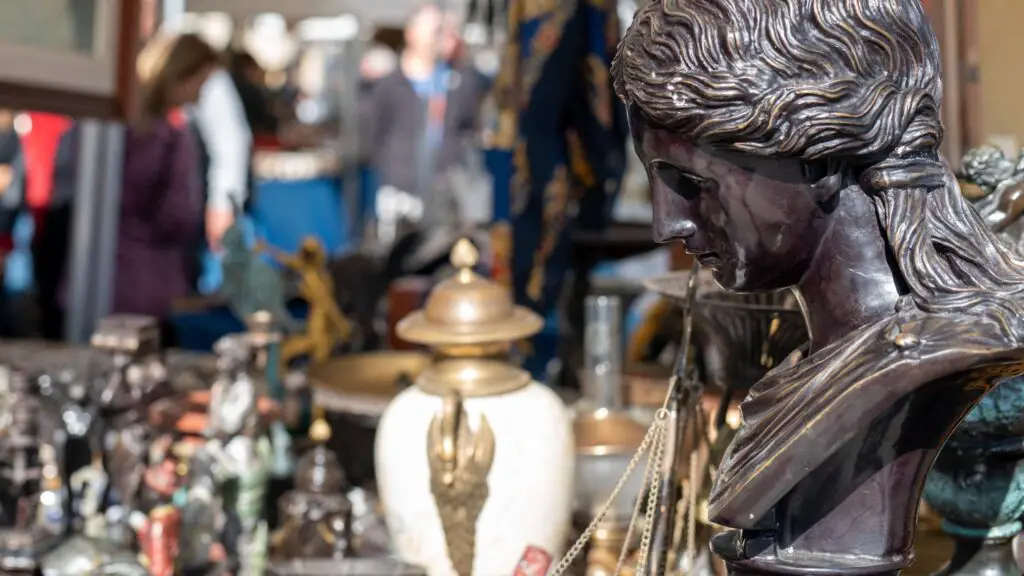 One notable flea market to visit is Mercat dels Encants de Barcelona, open on Mondays, Wednesdays, and weekends from 9:00 AM to 8:00 PM. 
You can immerse yourself in the vibrant atmosphere, browse through an array of intriguing items, and simply enjoy the thrill of discovery.
In these flea markets, you can stumble upon treasures like antique paintings, vintage books, traditional furniture, and an eclectic mix of goods. 
The allure lies in the element of surprise—you never know what unique finds await you at these markets, adding to the excitement of the experience.
Here, you will find an assortment of furnishings, clothing, and antiques, offering a glimpse into Barcelona's rich history and culture.
Another popular destination is Mercat Port Antic, an expansive open-air marketplace open from 10:00 AM to 8:00 PM.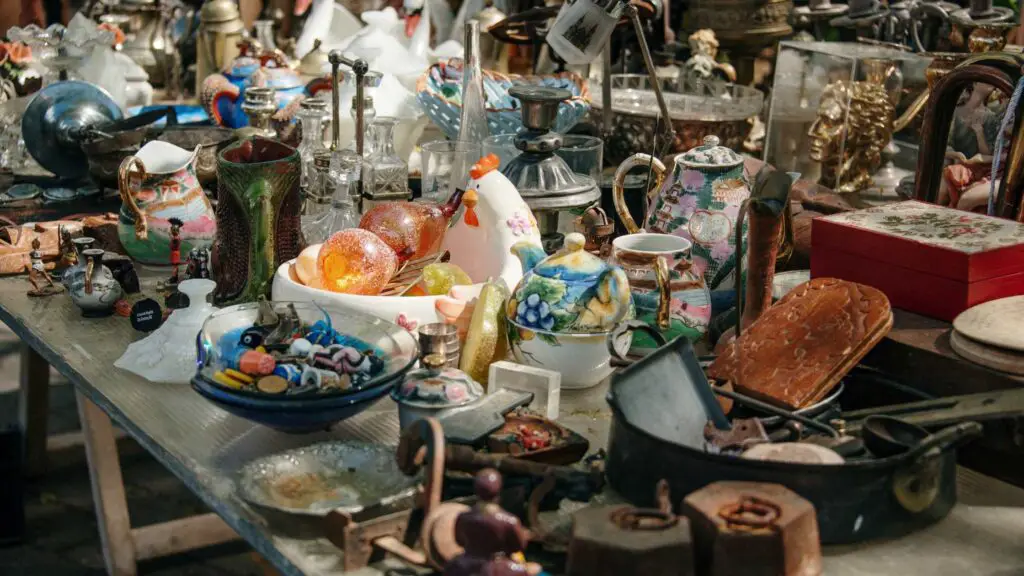 This market will be filled with antiques, furnishings, collectables, souvenirs, and jewellery. 
It is a lively hub that attracts locals and tourists alike, making it one of the excellent places to visit in Barcelona at Night.
If you have a penchant for antiques, exploring Barcelona's flea markets during peak season is a must.
Recommended Tour:
EXPLORE THE STREETS OF BARCELONA ON A BICYCLE
If you are looking for unique things to do in Barcelona at Night, grab your helmet, hop on a bicycle tour, and get ready to pedal through the enchanting streets of Barcelona, discovering its wonders at every turn.
On this tour, you can cover many Barcelona attractions and immerse yourself in the vibrant atmosphere of the city's various neighbourhoods. 
These tours typically take you through Ciutat Vella, the historic Old City, and its surrounding areas, allowing you to discover Barcelona's hidden gems.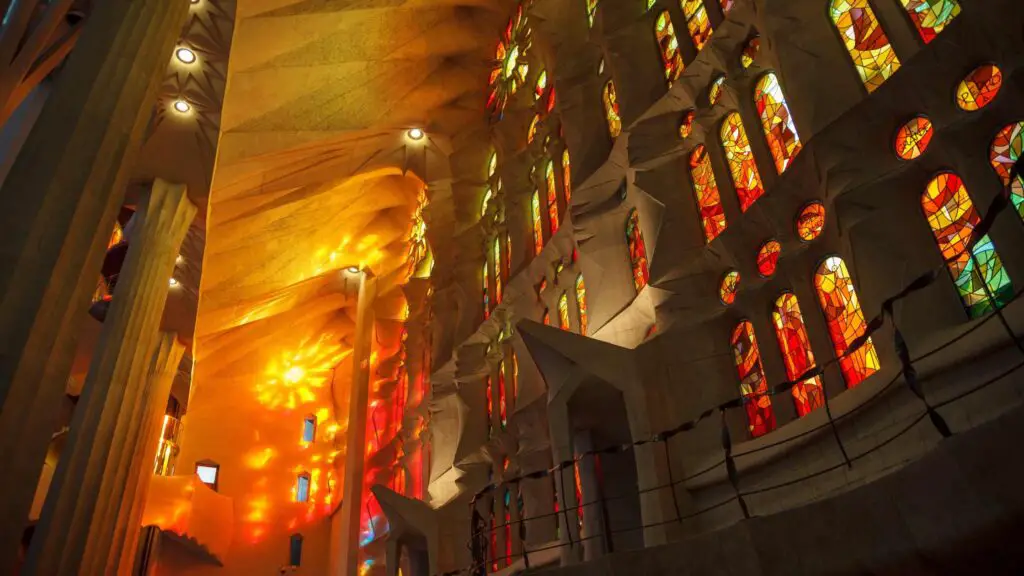 As you pedal through the streets, you will be treated to stunning views of renowned landmarks such as the majestic Basílica de la Sagrada Familia, the impressive Barcelona Cathedral, the artistic marvel of Park Güell, and the architectural masterpiece Casa Batlló. 
Each stop along the way offers a unique perspective on Barcelona's rich history and cultural heritage.
One of the highlights of a nighttime bicycle tour is the opportunity to indulge in the city's gastronomic delights.
Recommended Tour:
Along the route, you can visit some of Barcelona's most popular bars, where you can sample delicious tapas and sip on refreshing sangria.
It's a perfect way to immerse yourself in the local food and drink scene while enjoying the city's vibrant nightlife.
ENJOY MUSICAL EVENINGS AT CASA BATLLÓ
One of the fun things to do in Barcelona at Night is to go on a musical adventure at Casa Batlló, an architectural gem crafted by Gaudi.
Casa Batlló, established in 1904, is a UNESCO World Heritage site offering more than a stunning design.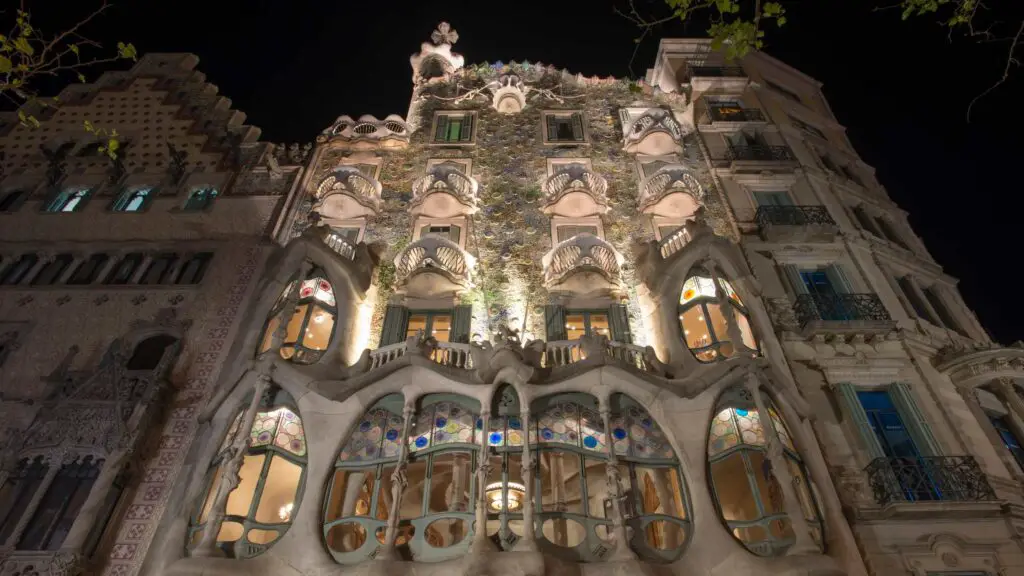 It is a charming venue for engaging musical performances showcasing diverse styles. 
From soulful jazz to fiery flamenco, each Night unveils a new enchantment.
Prepare for an unforgettable experience as you ascend to the open-air rooftop terrace, where the magic unfolds.
Aptly named "Magic Nights," this program treats you to glamorous performances under the starlit sky.
One of the main draws of Casa Batlló is its accessibility. You will notice a lift for wheelchair access, ensuring everyone can enjoy the extraordinary musical journey at this place. 
Marvel at the skeletal silhouette of Casa Batlló, affectionately known as the "House of Bones."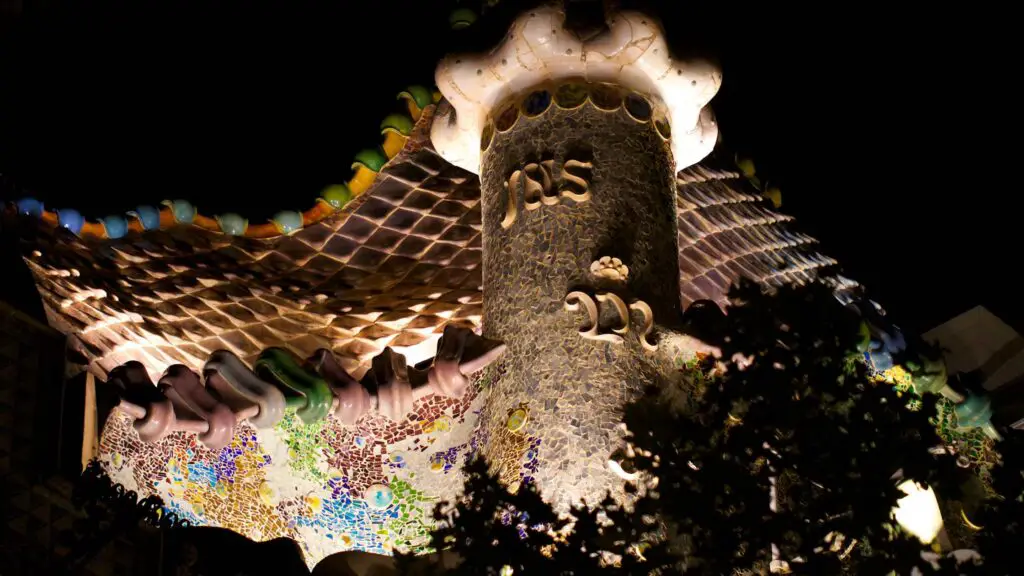 Its unique and alluring appearance adds an extra layer of intrigue to this already remarkable experience.
Please note that performances may be canceled in the event of rain, although such occurrences are rare during the peak holiday season. 
Plan your visit accordingly to savour the magic of Casa Batlló's musical evenings. Check out these tours to book your musical Night.
UNLEASH YOUR INNER CHEF AT A PAELLA COOKING CLASS
Embark on a culinary adventure in Barcelona, where Spain's exceptional cuisine takes centre stage.
From mouthwatering Spanish omelettes to tantalizing seafood and meat dishes, one iconic delicacy steals the spotlight: Paella! 
In this vibrant city, you can savour a variety of paellas and learn the art of cooking this traditional Spanish masterpiece, one of the fun things to do in Barcelona at Night.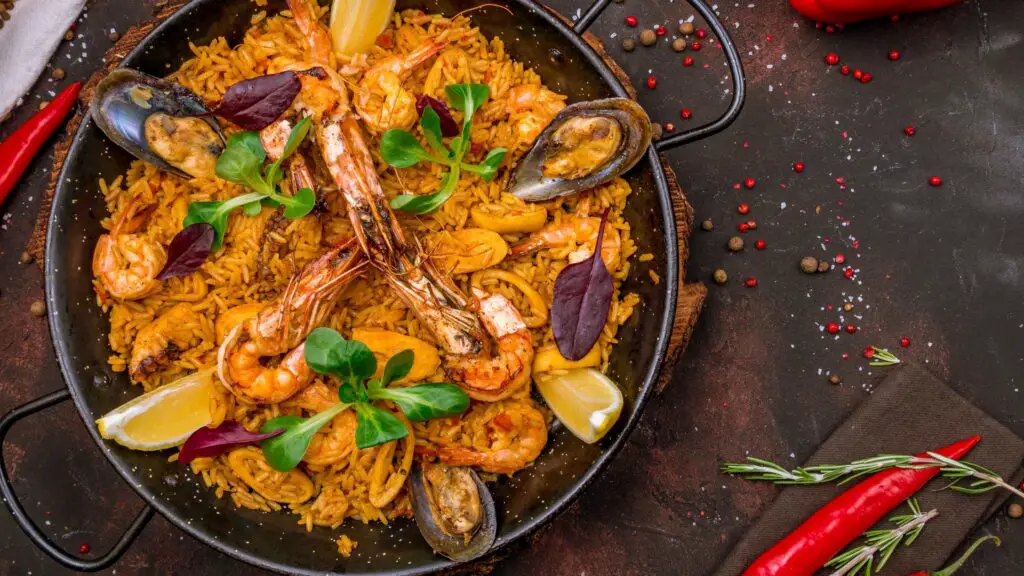 It's an unforgettable experience shared with fellow culinary enthusiasts as you dive into the world of paella and try out its rich flavours.
Paella, a symbol of Spanish gastronomy, boasts regional variations across the country. 
In Barcelona, you can learn the secrets of preparing and cooking the Catalan version during an evening class.
While some classes may involve shopping for fresh ingredients, others offer a convenient set-up with all supplies provided.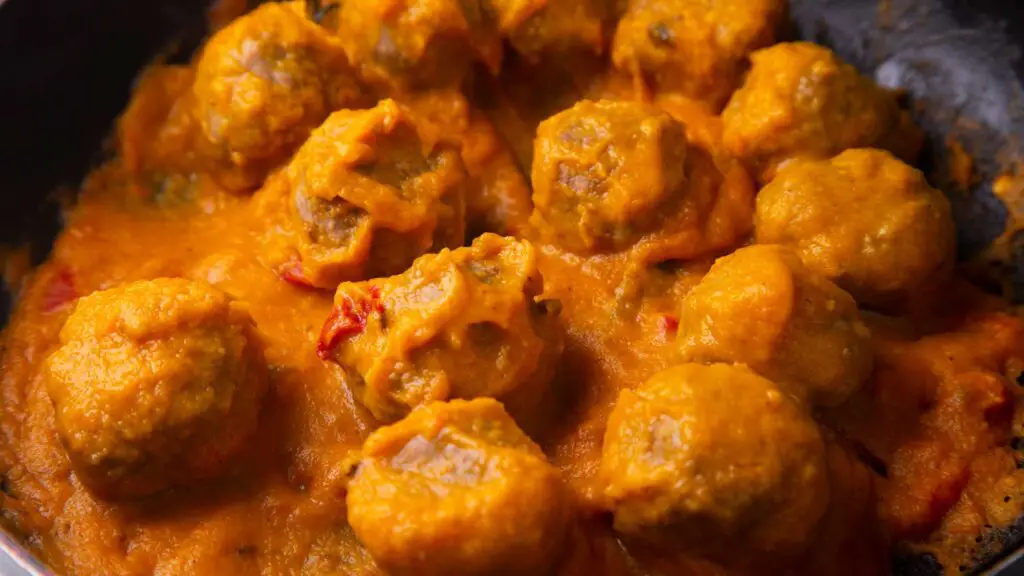 Picture yourself strolling through the bustling Mercado de la Boqueria, handpicking the finest ingredients for your paella creation. 
Alternatively, you can explore classes that delve into your favourite tapas or teach you how to prepare a delightful three-course dinner for your family. 
Recommended Tour:
JOIN A TAPAS TOUR
When it comes to Spanish cuisine, two words are heard frequently: Tapas and Paella. While you already know how to impress your loved ones with a mouthwatering paella, it's time to dive into the world of tapas. 
And what better place to experience this culinary delight than in the coastal neighbourhood of La Barceloneta in Barcelona?
For an authentic Spanish tapas experience, visit La Cova Fumada, a local gem that will tantalize your taste buds.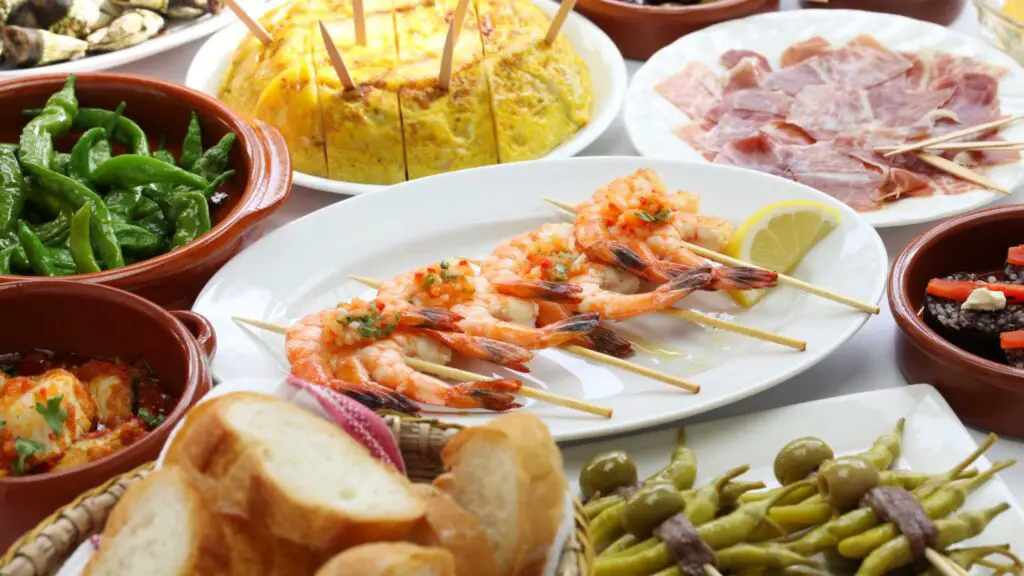 Head to Cervecería Catalana in Barcelona's bustling city centre, drawing in tourists and locals with its delectable tapas. 
Arrive early to beat the crowds, or join the waiting list and enjoy your favourite drink at the bar.
If you find yourself in the charming Gràcia neighbourhood, don't miss out on the globally influenced tapas dishes at La Pepita. 
Indulge in their variety of pepitas (sandwiches) and experience flavour combinations that will leave you wanting more. 
Another hidden gem in Gràcia is La Neura Bar Restaurant, offering a cosy ambience, friendly service, and a delightful selection of reasonably priced tapas.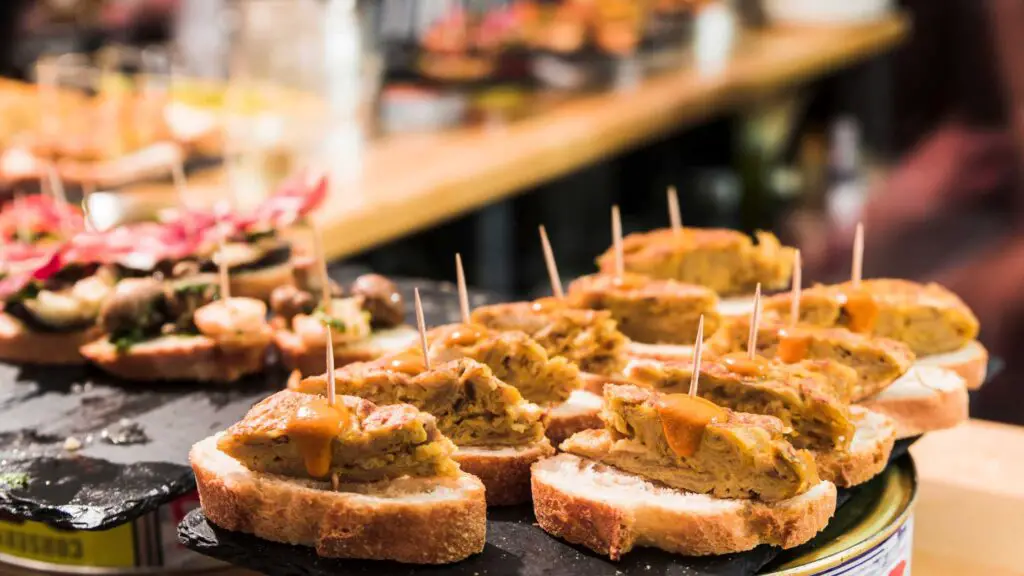 To fully explore Barcelona's tapas scene, consider taking a guided walking tour. 
Recommended Tour: Devour tours???
Roam the streets of La Rambla, immerse yourself in the vibrant La Boqueria food market atmosphere, and wander through the captivating Gothic Quarter. 
Your knowledgeable food guide will introduce you to various tapas, sharing insights and recommendations along the way. 
Some tours even include flamenco performances, adding a touch of traditional Spanish culture to your culinary adventure.
The beauty of tapas lies in their freshness, richness, and variety. With each bite, you will discover new flavours and textures complemented by a glass of wine. 
So, why settle for a traditional three-course meal when you can venture on a tapas adventure, soaking yourself in Barcelona's gastronomic delights?
Join a tapas tour and let your taste buds guide you through the vibrant flavours of this beloved Spanish culinary tradition.
EXPLORE BARCELONA'S VIBRANT NEIGHBOURHOODS
Discover the vibrant nightlife of Barcelona by going on an exciting journey through its diverse neighbourhoods, one of the fun things to do in Barcelona at Night. 
Embrace the electrifying ambience that ignites when the sun goes down and dive into Barcelona's vibrant and trendy social scene.
Begin your adventure along the famous Ramblas, taking in the bustling energy as you travel to Plaza Real. 
This central hub is a magnet for bars and restaurants, serving as a gateway to the charming Gothic Quarter and Raval.
Wander through the historic streets, soaking up the unbeatable ambience, especially in renowned locations like Robadors Street and Sant Ramon Street, known for their long-standing reputation as nightlife hotspots.
The Born neighbourhood is an excellent choice for a more relaxed atmosphere. 
Its pedestrian streets are lined with inviting terraces of bars and pubs that stay open until the early morning hours.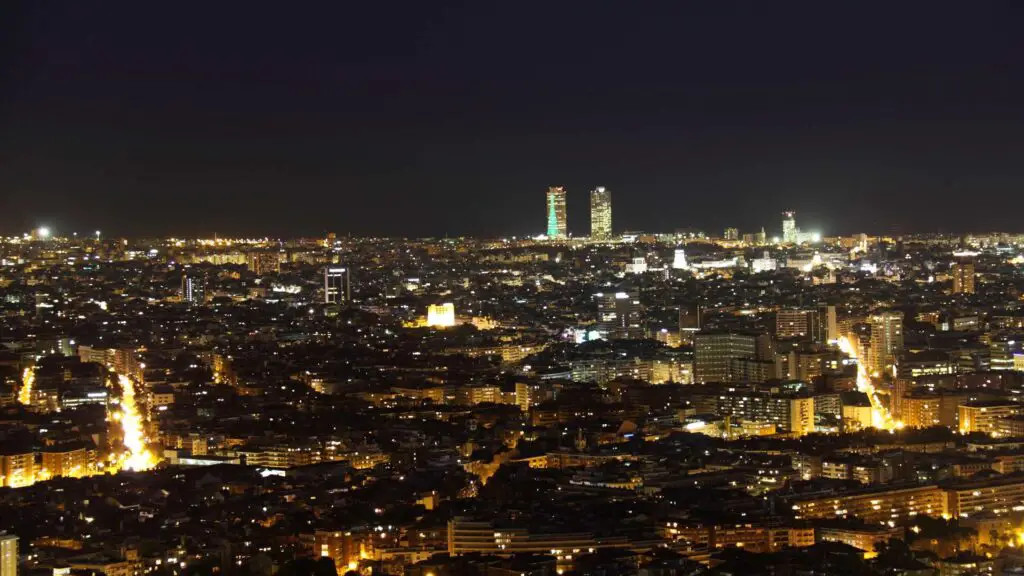 Stroll through the lively streets of Tantarantana and Allada Vermell, enjoy the convivial atmosphere and unwind with friends.
For a slightly slower pace, venture into the Gothic Quarter and discover El Paraigua, a cosy venue with an old-world charm. 
This hidden gem offers a refuge for those who prefer savouring a few pints or glasses of wine in a laid-back setting. 
RECOMMENDED – SPAIN NIGHTLIFE TOTAL GUIDE TO PARTYING AND FUN
The interior, reminiscent of an old wine cellar, creates an intimate ambience that perfectly complements the historic surroundings. 
Additionally, El Paraigua boasts a menu featuring delectable food options, so get ready to put your palate to work.
SOAK YOURSELF IN THE PASSION OF FLAMENCO
Prepare to be fascinated by the fiery energy and mesmerizing flamenco rhythm, one of the fun things to do in Barcelona at Night.
Flamenco is a Spanish musical genre deeply rooted in the South of Spain, with the dancer being accompanied by the soulful melodies of the Spanish guitar.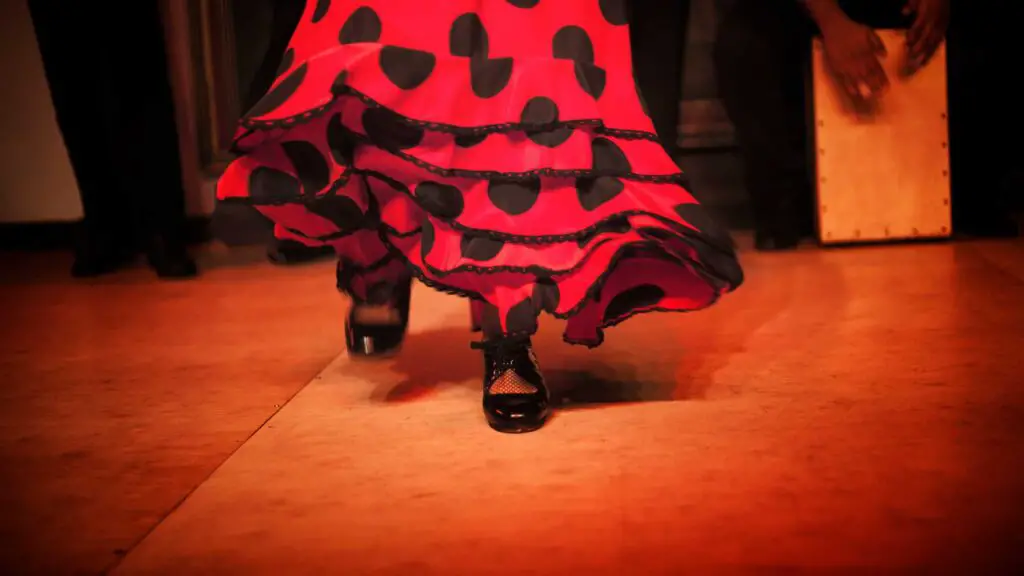 If you are wondering what to do in Barcelona at Night, without a second thought, head to witness this traditional dance form that epitomizes the spirit of Spain.
Flamenco, declared Intangible Heritage of Humanity by UNESCO, can transport you to a world of raw emotion and artistic expression.
Discover the numerous tablaos to witness this mesmerizing art form, brimming with passion and Duende. 
Barcelona may not be the birthplace of flamenco, but it boasts enchanting venues where you can experience its captivating allure.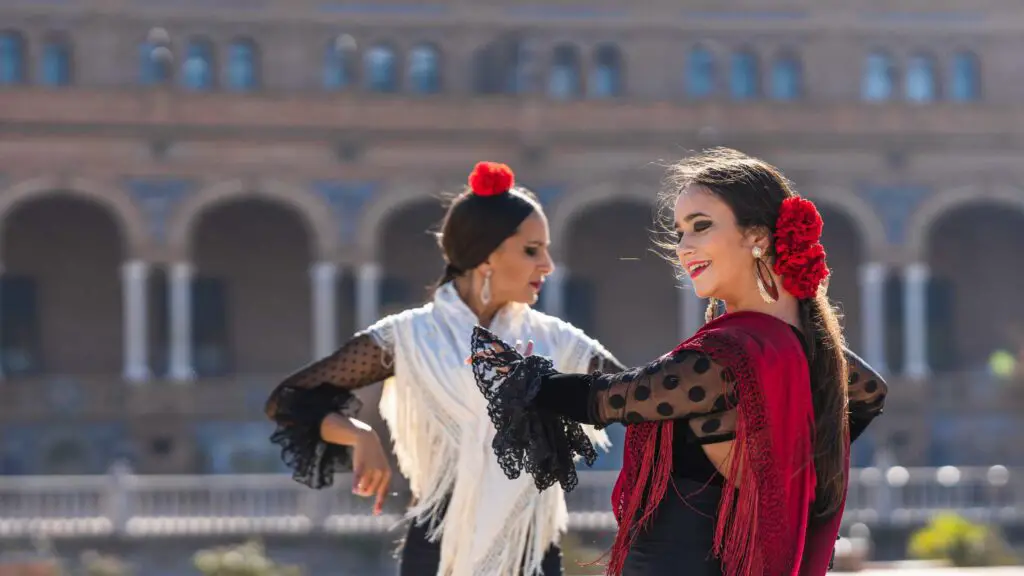 From the prestigious City Hall Theater to the renowned Tablao Cordobes and the historic Los Tarantos, the oldest tablao in Barcelona, founded in 1963, each venue offers a unique opportunity to immerse yourself in this extraordinary discipline. 
Some venues even offer the option of enjoying a delicious dinner alongside the show.
Los Tarantos offers three nightly performances and a taste of flamenco's energy and rhythm in approximately 30-minute shows. 
Be sure to book your tickets online to secure your spot, as seats are on a first-come, first-served basis.
Recommended Tour:
If you have spare time, check out El Tablao Cordobes in the vibrant Las Ramblas and El Patio Andaluz, the other two exceptional venues in Barcelona, for a cherishable Flamenco experience.
EXPERIENCE COOL VIBES AT ICE BAR
Looking for unique things to do in Barcelona at Night?
Check out Barcelona's Ice Bar. Step into a subzero chamber and enjoy a refreshing drink in Arctic-like surroundings.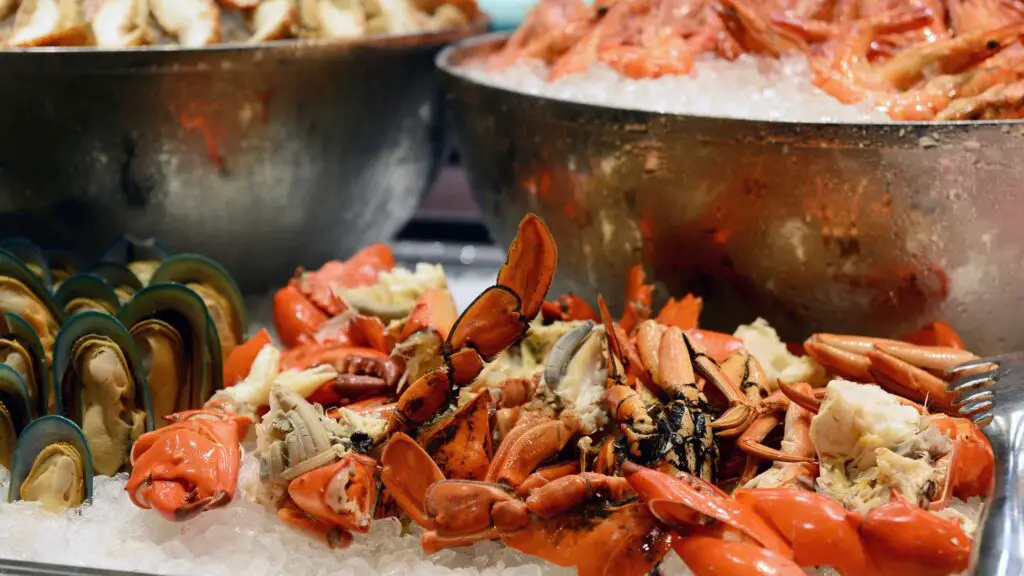 Marvel at the ice-themed decor surrounding you, including glasses crafted from frozen water. 
Have fun sipping cocktails on their beachside terrace, embracing the contrasting warmth. 
Don't miss out on this excellent and memorable experience! Secure your tickets in advance here and prepare to chill out in style!
Recommended Tour:
HAVE A BRAIN-BENDING FUN AT AN ESCAPE ROOM
Get ready to unlock your inner detective and experience an unforgettable night of puzzle-solving and adventure in an Escape Room, one of the fun things to do in Barcelona at Night.
Breaking an escape room is thrilling and offers a break from traditional Barcelona city night entertainment.
In these rooms, you will engage in a series of thought-provoking puzzles and riddles to escape within a given time limit. 
Barcelona boasts a variety of excellent Escape Rooms, many of which incorporate themes inspired by the city's rich history and identity.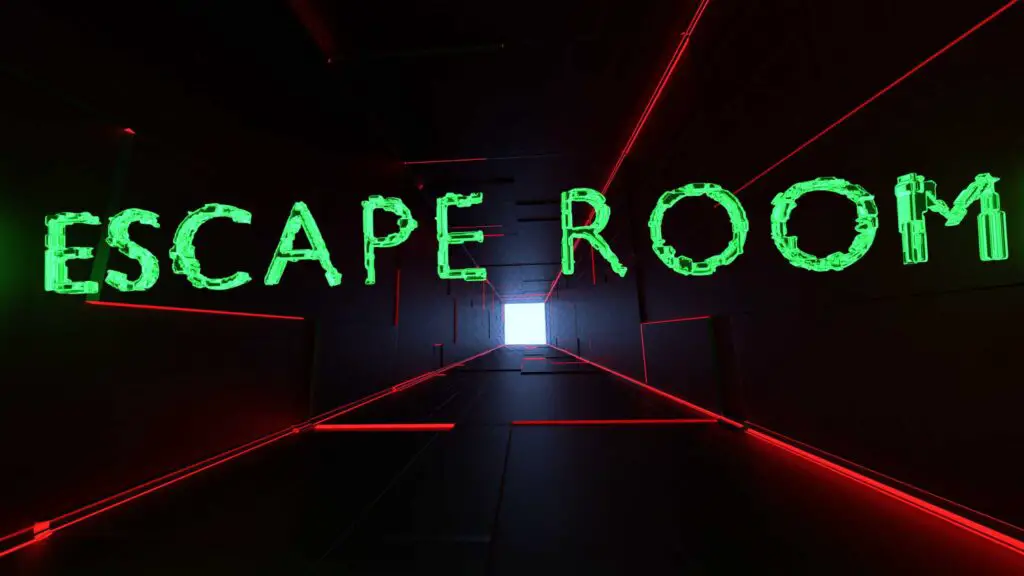 Picture yourself rescuing Gaudi's architectural blueprints from the burning crypt of La Sagrada Familia, immersing yourself in a cultural quest. 
With typically one hour to solve the intricate clues, it's a perfect pre or post-dinner activity that won't take up your entire evening. 
Additionally, Escape Rooms often offer cost-effective options, particularly for larger groups. 
Check out these recommended tours for Barcelona's top escape rooms:
SET SAIL ON THE ULTIMATE BARCELONA BOAT PARTY ADVENTURE
Prepare to unleash your wild side and embark on a high-energy escapade at sea, one of the cool things to do in Barcelona at Night.
While specific regulations and safety measures have toned down the unrestricted flow of beverages, you can still revel in the experience with plenty of ice-cold beers and sangria to quench your thirst. 
Prepare to dance your heart out, unleash your inner free spirit, and mingle with like-minded partygoers. Feel the rhythm of the music as you sway under the starry sky, letting go of all inhibitions.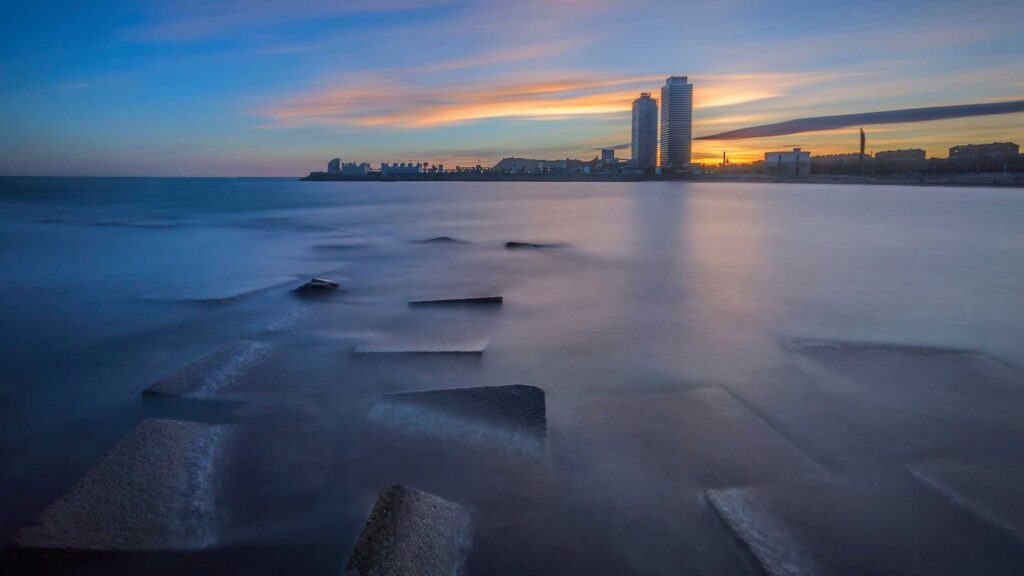 The excitement doesn't end when you step back on land because your ticket grants you entry to an exclusive club, where the party keeps going until the early hours.
This is an experience you won't want to miss, so make sure to secure your spot in advance, as tickets sell out fast. 
Discover more details and book your adventure here:
Recommended Tour :
GO SHOPPING
Be prepared to be amazed by a wide range of shopping outlets and get ready to go on an immersive retail shopping therapy, one of the fun things to do in Barcelona at Night.
Barcelona, often ranked among the top fashion cities globally, caters to all your shopping desires, whether it's ceramics, porcelain, fashion, jewellery or even authentic Catalan sauces, cheeses, and Cava. 
While tourist areas may be slightly pricier, Spain generally offers excellent value.
Recommended – 10 TOP PARTY CITIES IN SPAIN
Stroll on the Portal del Angel, a bustling street spanning 200 meters, dotted with shops including popular brands like H&M and Mango.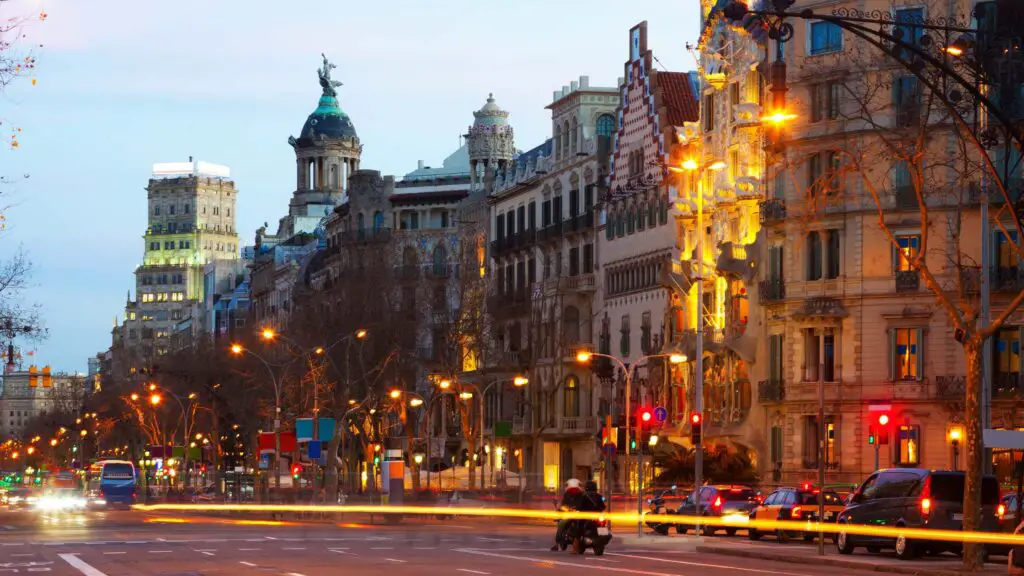 If you want more upscale boutiques and prestigious names like Armani, check out Passeig de Gracia.
Explore the local tourist shops in the charming Gothic Quarter for unique souvenirs.
If you prefer to support local artisans, the Born District offers a delightful selection of independent stores. 
The best part of these shops is that the taxes are already included in the price so North American shoppers can enjoy their shopping spree without additional calculations. 
So make the most of your evening in Barcelona by planning your shopping expedition wisely and ensuring you don't miss out on the best deals.
FREE THINGS TO DO IN BARCELONA AT NIGHT
EXPLORE THE CULINARY PARADISE: THE LA BOQUERIA MARKET
If you are a foodie, don't miss visiting La Boqueria Market, which features an abundance of diverse and tantalizing culinary options, one of the free things to do in Barcelona at Night.
Situated in El Raval, with a convenient entrance from the renowned La Rambla, La Boqueria Market, you can combine your visit with other local Barcelona night activities.
While you can simply explore the market without purchasing anything, the vibrant array of stalls and their unique takes on Catalonian classics will captivate your senses.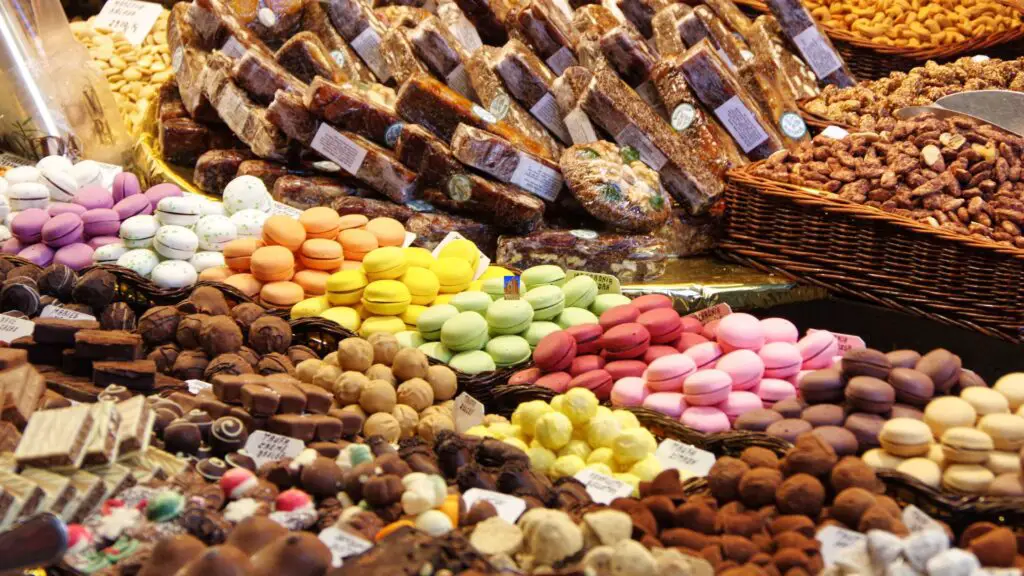 The market boasts an enticing display of colours, featuring an extensive range of cheeses, meats, fruits, vegetables, nuts, seeds, and delectable desserts. 
You can spend hours indulging in these unique foods and cuisines' aroma, taste, and visual appeal.
People from all corners of the world, regardless of age, are drawn to its offerings year after year.
The market operates from Monday to Saturday, from 8:00 AM to 8:30 PM. So, this is pretty much one of the Barcelona evening activites. It is advisable to arrive early to avoid stockouts and have access to the best selections.
ENJOY THE MAGIC OF PARK CONCERTS
One of the free things to do in Barcelona at Night is to enjoy a vibrant music scene with Musica als Parcs.
This is a gorgeous concert series organized by the Barcelona City Council, designed to unite people in the city's beautiful public parks.
The event showcases the talents of local bands, treating audiences to soul-stirring performances of jazz, classical, and gospel music.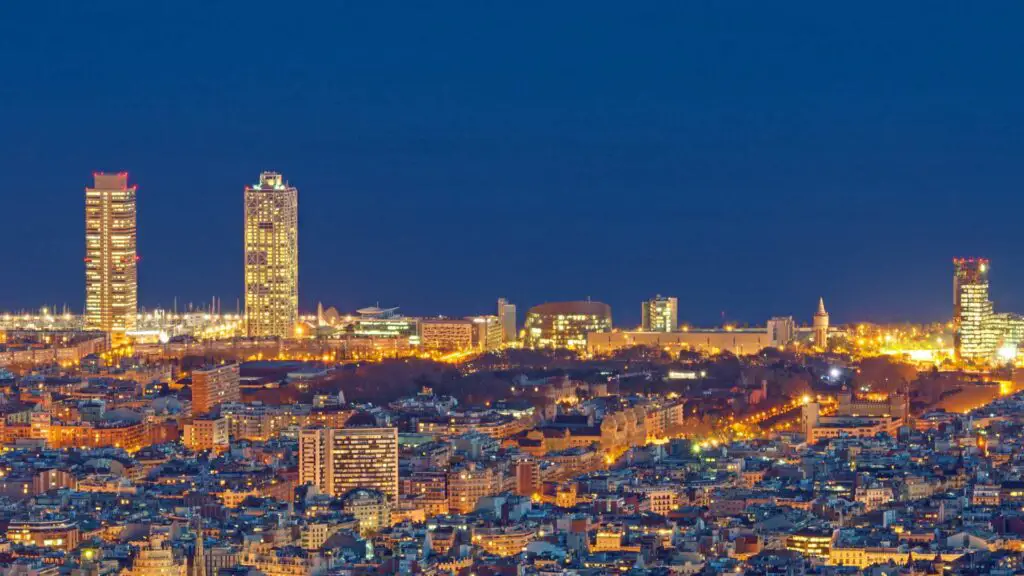 With numerous participating locations such as Parc de la Ciutadella, Parc de Joan Miró, Jardins de la Tamarita, and Parc de la Estacion del Norte, there are plenty of opportunities to enjoy these vibrant concerts. 
Be sure to arrive early, as concerts typically begin around 8:00 PM or 9:00 PM, allowing you to find a cosy spot and immerse yourself in the beautiful rhythms that fill the air. 
PHOTOGRAPHY MARVELS AT LA VIRREINA
One of the free things to do in Barcelona at Night is to step into the captivating world of visual storytelling at La Virreina Centre de la Imatge, a remarkable museum housed within an extravagant palace. 
This unique cultural gem showcases a diverse array of photography exhibits that are constantly evolving, offering visitors a fresh and dynamic experience with each visit.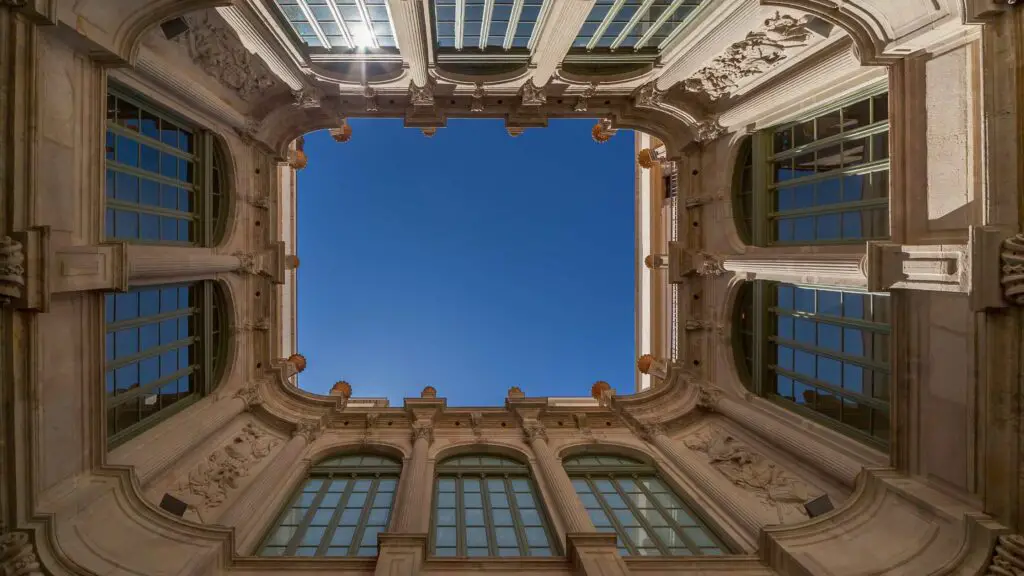 Witness the works of talented photographers and explore a wide range of mesmerizing subjects, from political commentary to artistic expression. 
As you browse the museum's collections, you will gain insights into the various stories behind the photographs.
Timings: Tuesday to Sunday, 11 AM to 8 PM 
STROLL IN PARK GÜELL
Soak in the beautiful world of Antoni Gaudí by visiting Park Güell, one of the free things to do in Barcelona at Night.
This is a must-see attraction for any admirer of Gaudí's architectural brilliance. 
During the summer, the park extends its opening hours until 10:30 PM, providing a unique opportunity to witness its beauty in a new light.
While exploring the outskirts of Park Güell for free is possible, the true gems of Gaudí's work require a ticket. 
You must reserve a time slot and purchase a ticket to capture that perfect snapshot of the iconic lizard or the famous balcony.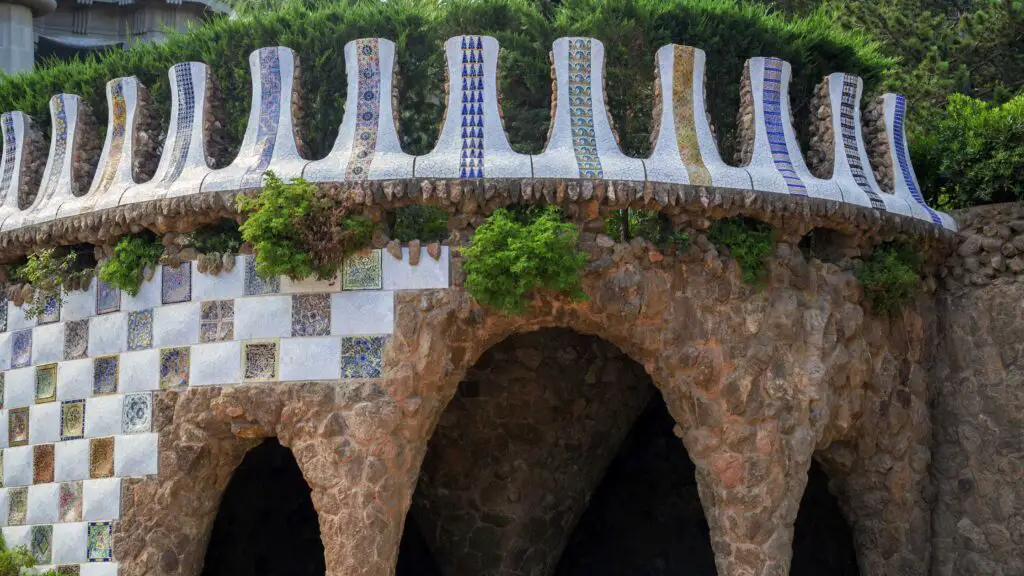 Recommended Tour:
It is worth noting that there is plenty to appreciate outside the ticketed Monumental Zone. 
The gardens offer a tranquil escape, and the dramatic views from the hill are simply stunning. 
If you are not in a rush to see Gaudí's architectural masterpieces or are accompanied by kids who may not fully grasp their significance, take your time to explore the free areas of the park and relish in its natural beauty.
During the peak tourist season from March to October, complimentary access is available before 7:30 AM or after 7:30 PM.
Please note that Park Güell may not have optimal lighting at Night, so if you prefer to appreciate Gaudí's work in detail, it is advisable to visit during daylight hours.
CLIMB THE BELL TOWER OVER THE GOTHIC QUARTER
Experience the Esglesia de Santa Maria del Pi's enchanting allure in a new light by venturing on a nighttime journey, one of the free things to do in Barcelona at Night.
This gothic-style church, nestled in the heart of Barcelona's gothic quarter and dating back to the 14th century, unveils its secrets after dark.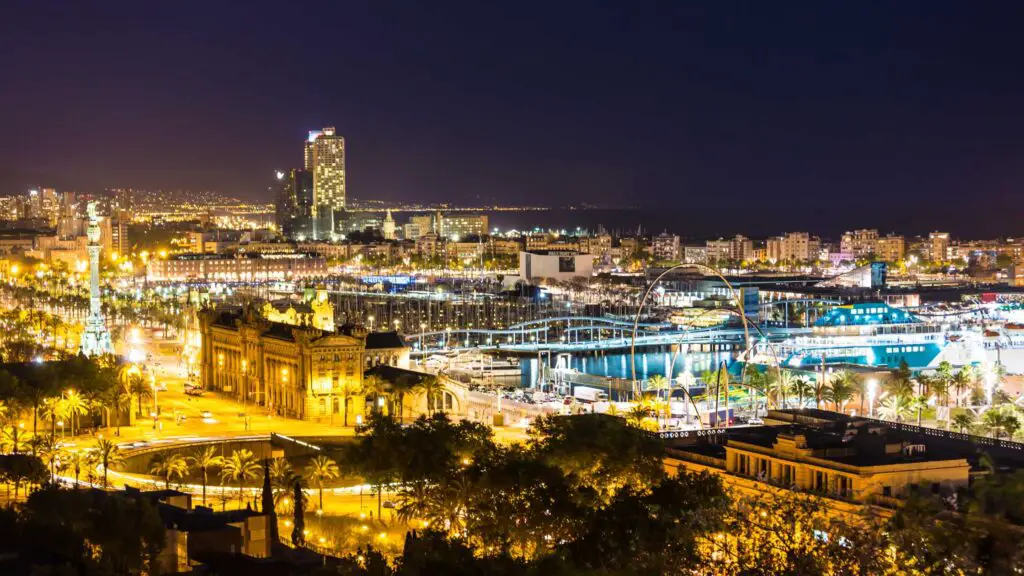 As the daylight fades, the church takes on a mystical atmosphere, with the soft glow of stained-glass windows and opulent gilded chapels casting an otherworldly charm.
But that's not all—your adventure continues as you ascend the bell tower, granting you a spectacular vantage point to behold the uneven patchwork of ancient rooftops that define Barcelona's iconic Barri Gótic.
BARCELONA AT NIGHT IN WINTER
If you are looking for places to visit in Barcelona at Night during the winter season, check out these places, which will be filled with festive charm and various exciting activities.
Fira de Nadal de la Sagrada Familia Christmas Market: Visit this cosy Christmas market near the iconic Sagrada Familia. 
While smaller in size, you can indulge in delicious churros and soak in the festive atmosphere.
Fira de Santa Llúcia Christmas Market: Immerse yourself in the traditional market at Barcelona's Cathedral in the Gothic Quarter. 
Explore stalls offering unique crafts, soaps, and quirky items like the famous poo log and crouching celeb figurines.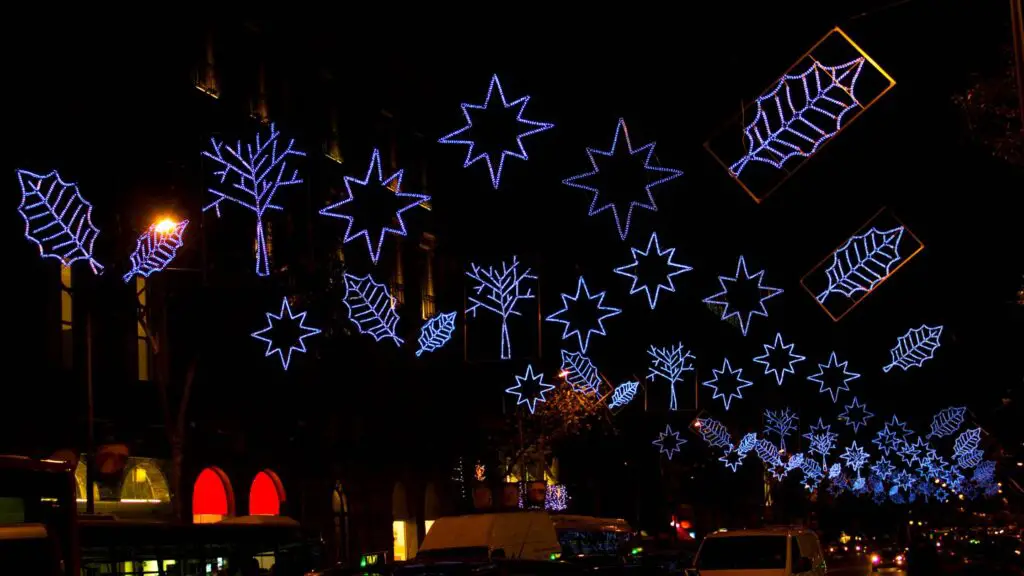 Port Vell Christmas Fair: Experience the magic of the waterfront at the Port Vell Christmas market. 
Delight in food stalls and hot chocolate, and admire the impressive illuminated Christmas tree. Be entertained by live shows happening throughout the month.
Christmas Lights in Barcelona: Wander along Passeig de Gràcia and Portal del Angel, two main shopping streets adorned with spectacular lights. 
The icicle-like lights on Passeig de Gràcia and the vibrant illuminations of Portal del Angel create a mesmerizing sight.
New Year's Eve: Join the lively celebrations on December 31st at Plaça d'Espanya and Plaça Catalunya.
Witness the thrilling cava bottle toss and fireworks synchronized with music, and see the tradition of eating grapes as the clock strikes midnight.
WHERE TO STAY IN BARCELONA?
MAP OF THINGS TO DO IN BARCELONA AT NIGHT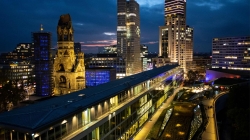 Latest posts by Anna Owen
(see all)