There are a number of things to do in Boston at Night. As the sun descends below the horizon, Boston, the "Cradle of Modern America", transforms into an exquisite playground of nocturnal adventures.
Venture on a spellbinding journey through Boston's vibrant nightlife, where the possibilities are endless and the experiences are unique.
Boston is where Hollywood movies come to life, American history intertwines with the present, and clam chowder becomes a culinary masterpiece.
Beyond the glamorous veneer lies a city of profound historical, political, and intellectual significance.
Engage yourself in the tapestry of Boston's culture and heritage as you explore historical landmarks, museums, and hidden gems that reveal the city's true essence.
The city's cultural scene buzzes with life throughout the year, offering a kaleidoscope of experiences for all.
In this post, you will learn about the best things to do in Boston at night, the top attractions in Boston, romantic things to do in Boston at Night, Where to stay in Boston and other valuable resources needed for your trip.
So, get ready to dive into the magic of Boston after dark and create moments that will forever be etched in your memory.
Before starting off, I recommend you this Boston all inclusive Pass, which allows you to pick and choose from a wide variety of Boston's top attractions, over 40 in all, at any pace desired over the course of one, two, three, five, or seven consecutive days.
Looking for nightlife in the other USA cities? Check these guides.
If you are looking for rental cars to roam around at night in Boston, check out Discover Cars, one of my favorites in the US because of its ease of use, availability of cars and, of course, pricing! Alternatively, you can also go for another popular choice, Rental Cars.
TOP THINGS TO DO IN BOSTON AT NIGHT
If you are in a hurry check out these top tours in Boston for your trip!
GO ON A SIGHTSEEING NIGHT TOUR
If you are looking for one of the best things to do in Boston at Night I recommend you go on a sightseeing tour.
Extend your sightseeing experience into the night by indulging in intriguing activities. 
If you crave an atmosphere that is dark and dramatic, consider embarking on the Beacon Hill Crime Tour or hopping on a haunted bus for a captivating Boston night tour.
Immerse yourself in the captivating history of Boston by taking a self-guided tour along the Freedom Trail, and the best part is that it is absolutely free and is available both during the day and at night.
Do you that Boston boasts a fascinating past filled with historical richness, mystery, and unexplained phenomena?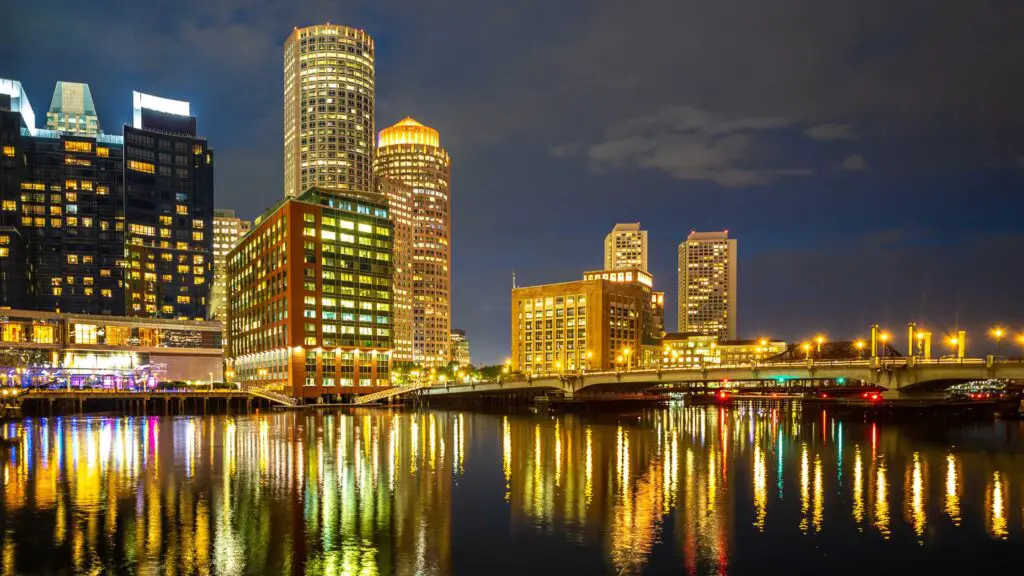 The city has earned a reputation for its abundance of ghostly encounters and paranormal events, making it an ideal destination for those intrigued by the supernatural.
Take a hop-on hop-off bus tour.
Uncover the grim chapters of Boston's history, such as the notorious Boston Strangler Massacre, and venture into its haunted corners. Try this self guided tour.
Exploring these eerie locations at night adds an extra level of spookiness to your Boston experience.
For a truly spine-chilling adventure, embark on the Ghost and Gravestones Tour, a 90-minute journey that guarantees goosebumps. 
Brace yourself as you board the Trolley of the Doomed, ready to encounter the unsettling stories that await you.
RECOMMENDED TOURS:
SIGN UP FOR A NIGHT WALKING TOUR
If you are wondering what to do in Boston at Night, sign up for a night walking tour, especially if you are with your loved ones.
Unlike nightlife in Europe, where you will find vibrant parties in old town squares and cobbled alleys preserved within a distinctive boundary, Boston seamlessly blends modern skyscrapers with majestic historical architecture, creating a diverse fusion of styles.
Take a walk to the Boston Common, the oldest public park in the United States and a bustling social hub at the heart of the city.
This echoing green space attracts an eclectic crowd, with people strolling, cycling and enjoying picnics.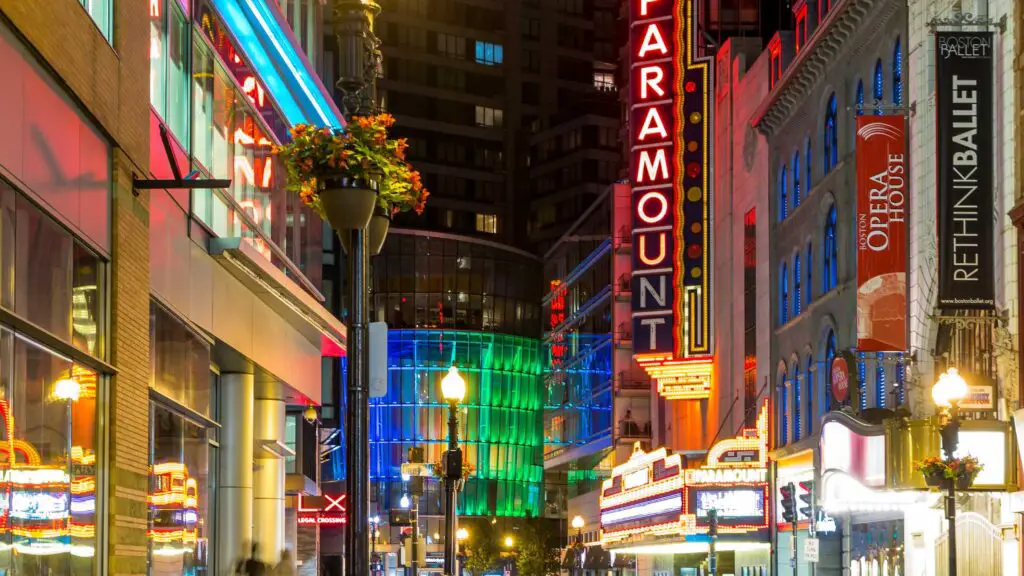 The park is also a renowned wedding location in the city. During the day you can capture insta-worthy pics featuring the lake and the surrounding gorgeous vistas and at night you can stroll along the public park sections to take in its vibrant atmosphere.
Boston's architectural landscape is rich in history, with many buildings carrying a storied past. 
Check out The Langham Boston, located just a few blocks away from Faneuil Hall, where America's first town meeting took place.
This remarkable hotel not only offers luxurious accommodations but also holds a significant place in Boston's history as it once served as the headquarters for the Federal Reserve Bank's New England division.
Within The Langham Boston, you will find the elegant BOND lounge, adorned with sparkling chandeliers, which has become a popular hotspot for Boston's stylish and glamorous residents. 
Looking for a guided walk? Check out these tours:
STROLL THE BLACK HERITAGE TRAIL
If you want to learn some history, take the black heritage or freedom trail self guided tour, one of the exciting things to do in Boston at night.
Immerse yourself in the city's history by taking a leisurely stroll along the Freedom Trail, which weaves through 16 important historical sites and monuments. 
Along the way, you will encounter notable landmarks such as the iconic Boston Common, the historic Paul Revere House, the charming Boston Public Garden, the elegant Beacon Hill, and the vibrant Faneuil Hall. 
These attractions are all conveniently situated within a half-mile radius of the Freedom Trail.
While exploring the Freedom Trail, take the opportunity to visit some of the city's renowned historic pubs, adding a touch of merriment to your journey.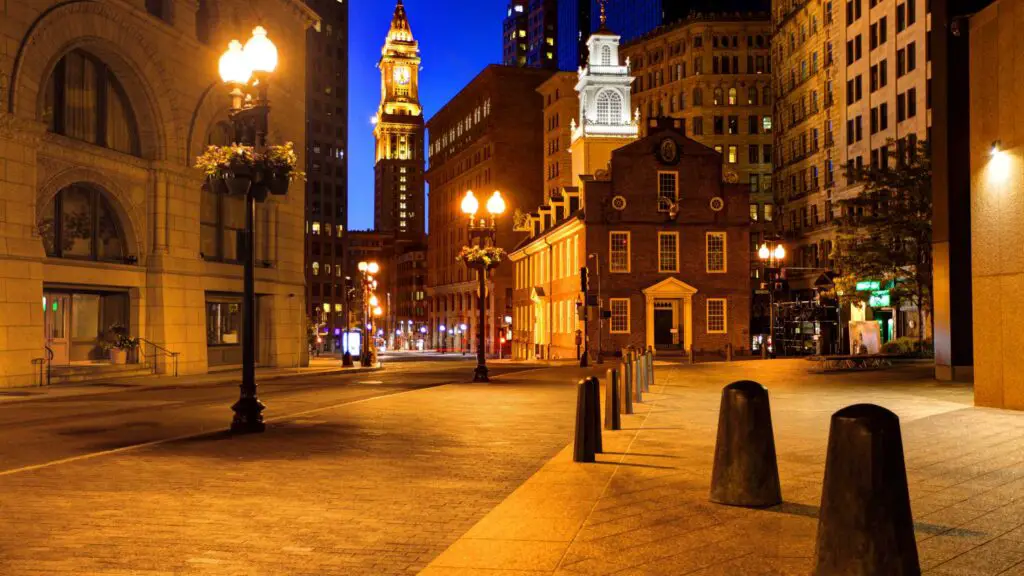 Did you know that the historic Boston Harbour played a pivotal role in the American Revolution, notably as the site of the infamous Boston Tea Party in 1773? 
This event ignited the revolutionary spirit and led to the British Navy's invasion of the harbour. 
In response, Paul Revere embarked on his renowned "midnight ride" to alert American Revolution leaders Samuel Adams and John Hancock of the impending attack.
Take a journey back in time to the Boston Tea Party, an incident that changed the course of American history on this tour.
Consider booking a fun-filled guided tour to make the most of this engaging experience.
Recommended Tours:
TOUR OF HARVARD UNIVERSITY
Visiting Harvard is undoubtedly essential on any Boston itinerary, offering an unforgettable glimpse into one of the world's most prestigious academic institutions.
You might be wondering what to do in Harvard at night. But trust me, this is one of the best things to do in Boston at Night. 
Although there are many day tours, you might find students who will take you through this oldest institution in the US.
With its establishment dating back to 1636, Harvard University has consistently attracted the brightest minds from across the globe. 
Gaining admission to Harvard is as challenging as hitting the jackpot. But on the guided tour, you can glimpse this world-renowned institute and feel like a student for a day.
During the tour, you will have the chance to interact with engaging students who engage visitors with amusing anecdotes about Harvard's unique culture, remarkable architecture, and its ongoing rivalry with Cambridge. 
Did you know that the acceptance rate at Harvard is a mere six per cent? It is often said that those who graduate from this esteemed institution are likely to achieve millionaire status before turning 30. 
Of course, this data was utterly shattered by the groundbreaking success of Mark Zuckerberg, who revolutionized social media with the creation of Facebook and is now a multi-billionaire.
Such intriguing stories add to the allure of Harvard University. Book your Harvard University tour in advance to ensure you don't miss out on this remarkable experience.
Recommended Tours:
STROLL AROUND BOSTON COMMON AND PUBLIC GARDENS
If you are wondering what to do in Boston at night, stroll around Boston Common and Public Gardens, especially with your loved ones.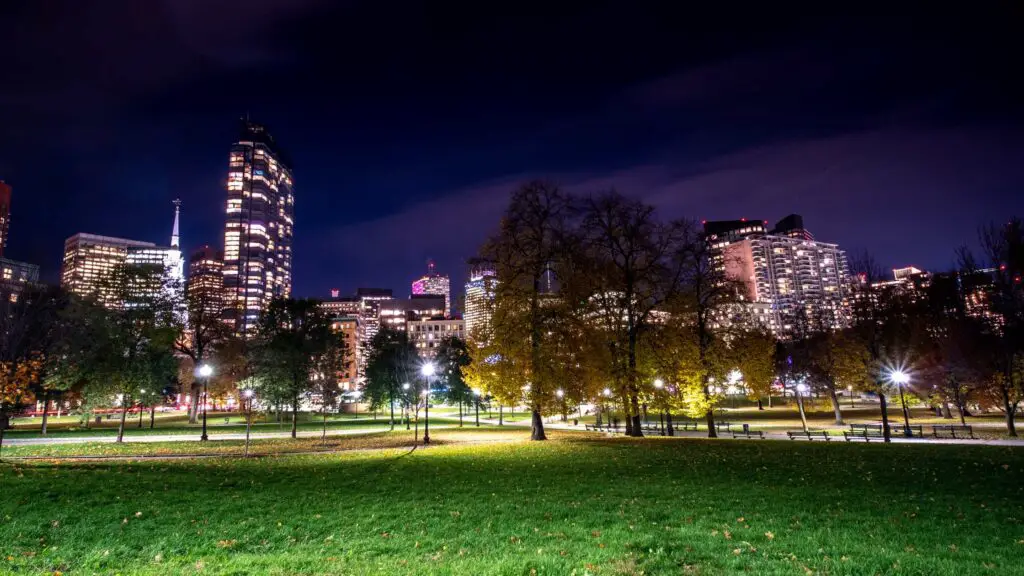 Unlike nightlife in Europe, where vibrant parties are often found in preserved old town squares and cobbled alleys, Boston offers a unique blend of modern skyscrapers and majestic historical architecture, creating a diverse fusion of styles.
Start your evening by walking to the Boston Common, the oldest public park in the United States and a bustling social hub at the heart of the city. 
Created in 1634, this iconic green space spans 50 acres and is part of the Emerald Necklace of parks in Boston. 
It is a peaceful retreat during the day and one of the most popular night attractions in Boston. 
In winter, the park even features a skating rink for added enjoyment.
Adjacent to the Boston Common is the Boston Public Garden, the city's first public botanical garden, established in 1837.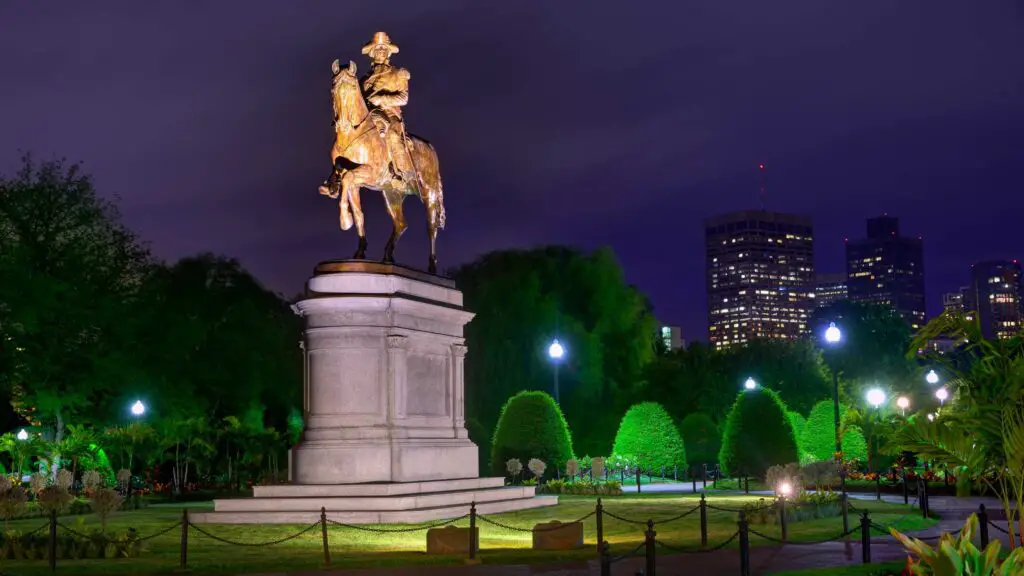 Here, you can immerse yourself in the enchanting beauty of the gardens, complete with a lagoon, ponds, and the iconic swan boats that operate from April to September.
Don't miss to click candids along with the stunning array of flora; the garden features 80 species of plants and flowers planted twice yearly, along with around 750 varieties of trees and shrubs.
As you explore the park and gardens, you will be captivated by their historical significance. 
The Boston Common was once owned by William Blaxton, the first European settler in Boston, and it served as a British camp during the Revolutionary War. 
The Boston Common and Public Gardens are listed on the National Register of Historic Places, showcasing their cultural and historical importance.
 See the Boston Common on tour.
SEE A SHOW IN THE THEATER DISTRICT
Don't miss the opportunity to be captivated by the artistic wonders of Boston's Theater District, one of the best things to do in Boston at night. 
Immerse yourself in the vibrant cultural scene of Boston by catching a show in this renowned Theater District, which boasts several venues and offers an array of world-class performances.
One of the standout venues is the Boston Opera House, a stunning architectural gem dating back to the 1920s.
With its grandeur, it sets the stage for rotating Broadway musicals, including beloved classics like Wicked, Hairspray, and many more.
Another notable venue is the Cutler Majestic Theatre, a captivating space adorned with Beaux-Arts interiors dating back to the turn of the century. 
Managed by Emerson College, this theatre hosts captivating productions. 
Additionally, Emerson College presents shows at the Paramount Center, a former movie theatre transformed into a hub for diverse performing arts genres.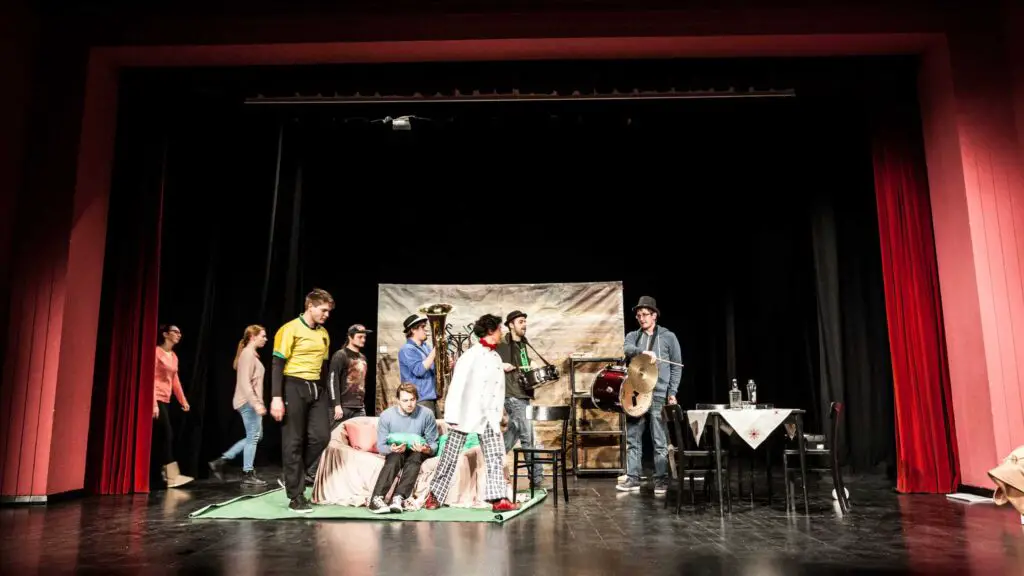 The best thing about the Theater District is its location; it sits within walking distance of popular downtown destinations like Boston Common and Copley Square. 
This proximity makes it easy to add this to your Boston itinerary. Moreover, the area offers a range of accommodations that provide excellent value for your stay.
If you are traveling from another part of Boston and utilizing public transportation, you can easily reach the Theater District by taking the T (subway) to Downtown Crossing, Chinatown, or Boylston stations, all of which are conveniently situated.
Ticket prices for shows vary depending on the performance and venue. 
Musical tickets at the Boston Opera House typically range from $70 to $150, whereas the smaller-scale productions at other venues generally offer more affordable options.
VIEW EXQUISITE ART AT THE ISABELLA STEWART GARDENER MUSEUM
If you have a passion for art, visiting the Isabella Stewart Gardner Museum is one of the top things to do in Boston at Night.
The museum opened to the public in 1903 and owes its existence to the vision of Isabella Stewart Gardner, an American art collector, philanthropist, and devoted arts patron.
Isabella Stewart Gardner's love for art blossomed when she inherited a substantial fortune from her father. 
With her newfound means, she became the first American to acquire a painting by Renaissance master Botticelli. 
Following her husband's passing, she acquired land in the marshy Fenway area of Boston and enlisted architect Willard T. Sears to construct Fenway Court, which would become the museum's home. 
Isabella dedicated a year to meticulously curating her collection, ensuring that each piece evoked an intimate and emotional response from visitors.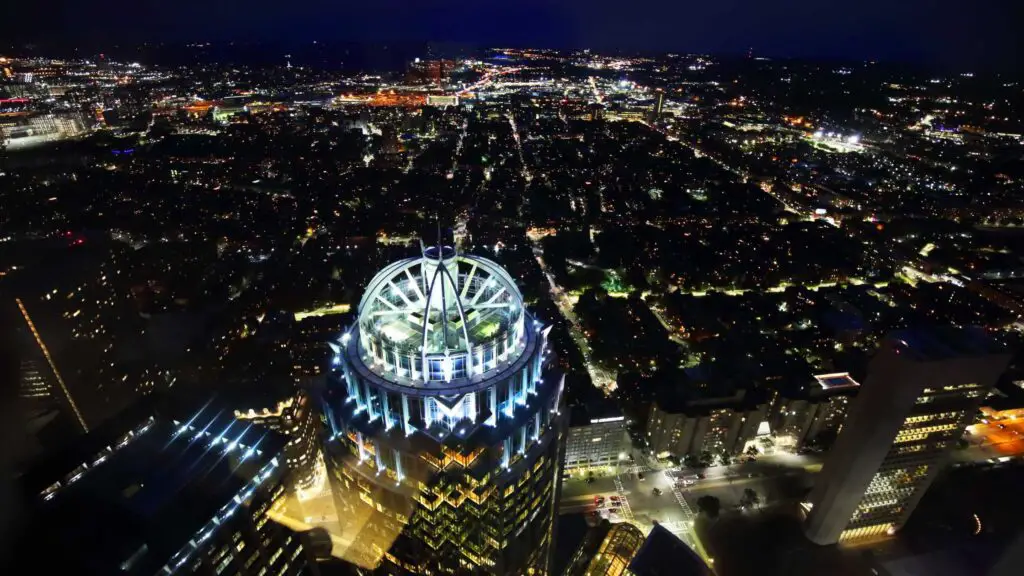 Take a guided tour of this museum to browse its exquisite collection of over 7,500 works, including European, Asian, and American art, featuring captivating paintings, sculptures, tapestries, rare books, ceramics, and more. 
You will also witness the unique collections and remarkable works of esteemed artists such as Rembrandt, Manet, and, of course, Botticelli. 
Don't miss to check out the mesmerizing self-portrait by Rembrandt, created in 1629, and the profound and poignant Colonna Pieta by Michelangelo, sculpted in 1538. 
These masterpieces are just a glimpse of the wonders that await you at the Isabella Stewart Gardner Museum.
As you explore the museum, don't forget to take a moment to admire the serene beauty of the surrounding gardens. 
Isabella Stewart Gardner's passion extended beyond the confines of the museum walls as she carefully crafted stunning landscapes that further enhanced the visitor's experience.
For those who crave an evening of art appreciation, the Isabella Stewart Gardner Museum extends its hours until 9 PM on Thursdays, allowing you to immerse yourself in the enchanting ambience of the museum after dark.
THE BOSTON MUSEUM OF FINE ARTS
Whether you are a seasoned art aficionado or have a curious spirit, the Museum of Fine Arts in Boston promises an extraordinary journey into human creativity.
Ranked as the 20th-largest art museum globally, the Museum of Fine Arts (MFA) is a treasure trove of artistic wonders and is one of the cool things to do in Boston at Night.
Established in 1876, initially at the Copley Square location, the MFA museum first showcased a modest yet remarkable assortment of 5,600 artworks.
Later over the years, with its gain in popularity, the museum was shifted to its current grand home on Huntington Avenue.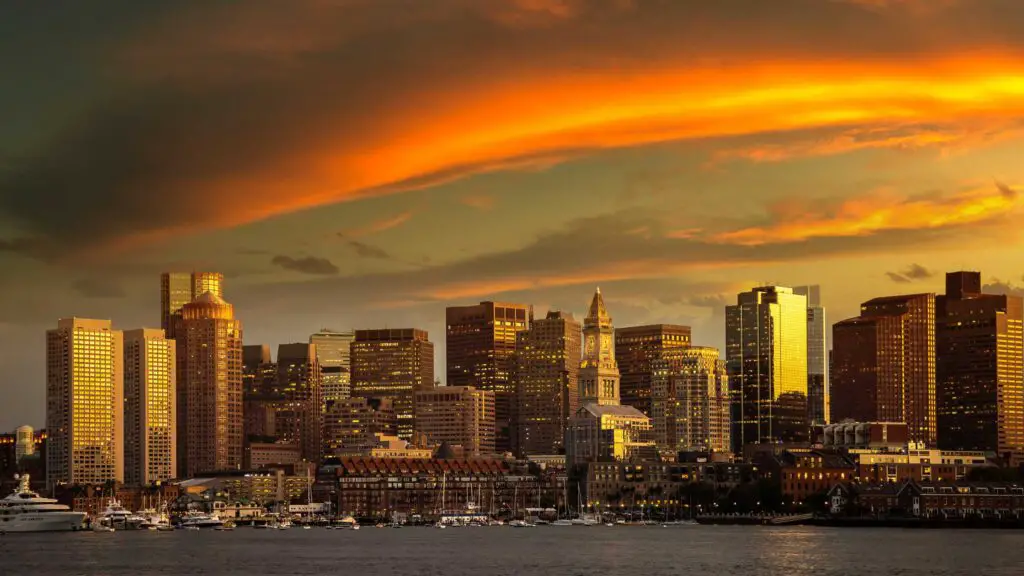 Today you can witness an impressive collection of 8,161 paintings and over 450,000 works of art, and it stands as a beacon of creativity and cultural significance.
Take a tour to browse the breathtaking array of artistry, from the delicate beauty of The Bunworth Harp, crafted in 1734, to ancient Egyptian artefacts that whisper tales of distant civilizations.
The main draw of the MFA museum is its largest collection of Monet paintings in the world.
This museum is typically open until 10 PM on Friday nights, making it one of the top Boston attractions at night.
EXPLORE THE WONDERS OF THE MUSEUM OF SCIENCE
Located in the heart of Boston, the Museum of Science is a prominent cultural institution and one of the largest science centres in the world. 
Established in 1830, the museum has grown from a modest collection to a comprehensive facility with over 100 exhibits, making this one of the interesting things to do in Boston at night.
The museum welcomes nearly 5 million visitors annually and offers diverse exhibits and attractions that guarantee an enlightening and entertaining experience.
In addition to the exhibits, the Museum of Science houses an indoor zoo, providing a home for over 100 rescued animals. 
Enjoy observing their daily routine and learn about these adorable creatures in a comfortable environment.
The museum also offers a captivating array of other attractions beyond the exhibits and zoo.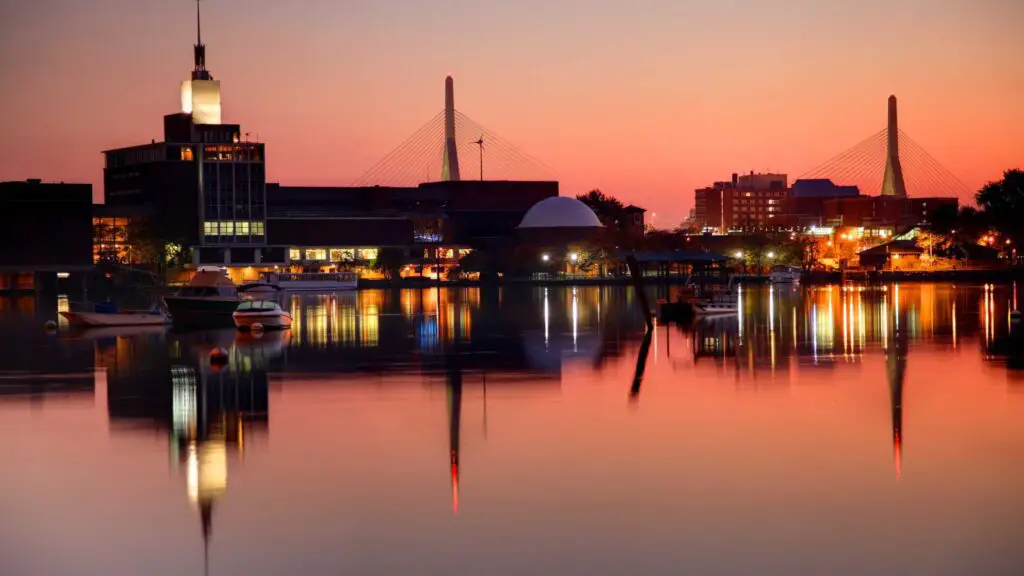 Check out the awe-inspiring Omni Film, projected onto a five-story-high domed screen with titles like Ancient Caves and Superpower Dogs. 
Visit the Charles Hayden Planetarium for a captivating Planetarium Show to descend through Jupiter's atmosphere or gaze at the night sky with twinkling stars. 
For a truly multi-sensory experience, indulge in a 4-D Film that incorporates special effects to make you feel and even smell the action. 
Check out the live presentations led by dynamic educators, which cover a wide range of topics, from quantum physics to the vastness of the expanding universe.
The best part of the museum is it will be open until 9 PM, so you can comfortably add this to your Boston night attractions.
 Join a tour to see the Museum of Science.
SHOP AT PRUDENTIAL CENTER
Shop at Prudential Center, a renowned mall in the heart of Boston's Back Bay neighborhood, one of the fun things to do in Boston at night.
The mall is housed in Prudential Tower, the city's second-tallest building, which adds to its distinctive skyline. 
This expansive mall offers a wide selection of 75 retailers, including popular brands like Pandora, Kate Spade and Oakley.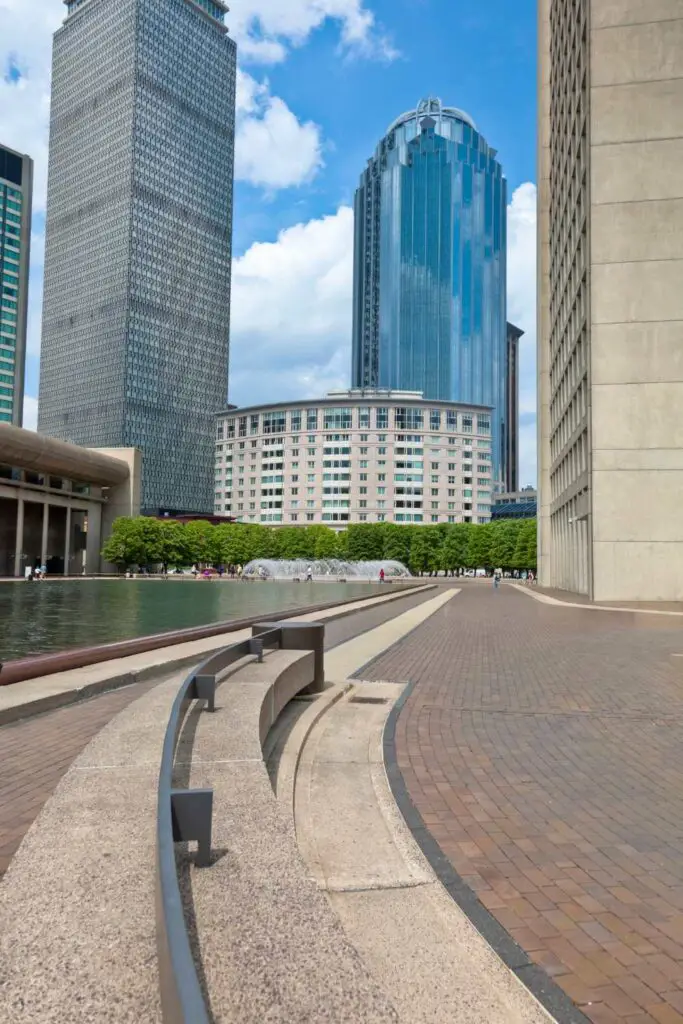 If you are not in the mood for shopping, don't miss the vibrant atmosphere of Eataly to indulge in authentic Italian cuisine and products reminiscent of a bustling covered market.
Watch for special events and seasonal sales to maximize your shopping experience. 
The mall operates until 9 PM from Monday to Saturday each week.
SIP AND HOP ON A BREWERY TOUR
Go on an unforgettable Boston brewery tour, immersing yourself in the city's vibrant beer scene, one of the fun things to do in Boston at night.
You will witness the best breweries, distilleries, and cider houses as you hop from one location to another, sampling various beers and enjoying complimentary pretzels along the way.
Start your beer adventure at the renowned Samuel Adams Brewery, a Boston icon known for its exceptional beer and exclusive VIP tour.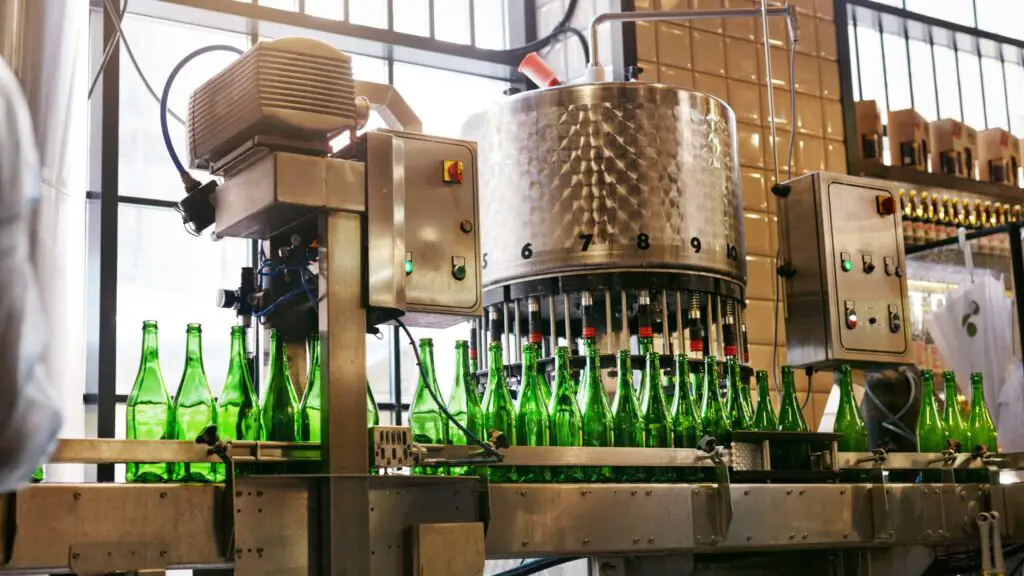 For a nominal fee of $10 per person, you can access this unique experience and delve into the world of Samuel Adams.
Continue your journey to Night Shift Brewing Company, the largest craft brewery in New England and one of America's first certified organic breweries. 
Join their engaging tours, held every Friday and Saturday at 7 pm, and witness the beer-making process in action within their expansive open tasting room.
It's an excellent opportunity to deepen your knowledge of beer production while savouring their delicious brews.
With a Boston VIP Brewery tour, you can indulge in the rich flavours of the city's craft beers while gaining insights into the art of brewing. 
Check out these tours:
LEARN TO COOK ITALIAN FOOD
One of the fun and laid-back things to do in Boston at night is to go for Italian food cooking classes.
Learn to make mouthwatering Italian delicacies in this class. You will be under the guidance of a trained professional chef and may learn some fascinating facts and stories about these foods while you cook.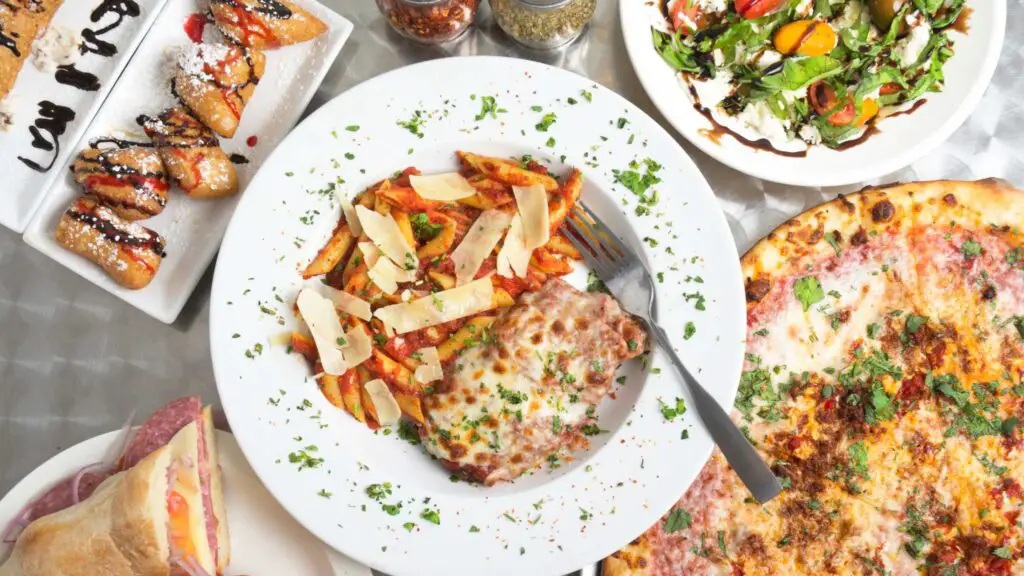 You might become a pro at making famous Italian dishes like Italian-style salad, ravioli, pasta, Gelato, Risotto and many others.
The best thing about these classes is all of them end with participants making the traditional Italian dessert Tiramisu.
Recommended tour: Italian Dinner with Tiramisu Finale in Boston
DIVE INTO BOSTON'S DELECTABLE SEAFOOD DELIGHTS
Soak in the culinary delights of New England by joining a seafood lovers' food tour, one of the best things to do in Boston at night.
On this tour, you will discover the region's finest seafood dishes as you explore the city's top seafood restaurants.
Prepare your taste buds for an array of delectable treats, including the iconic lobster rolls and creamy clam chowder, showcasing the best of New England's coastal cuisine.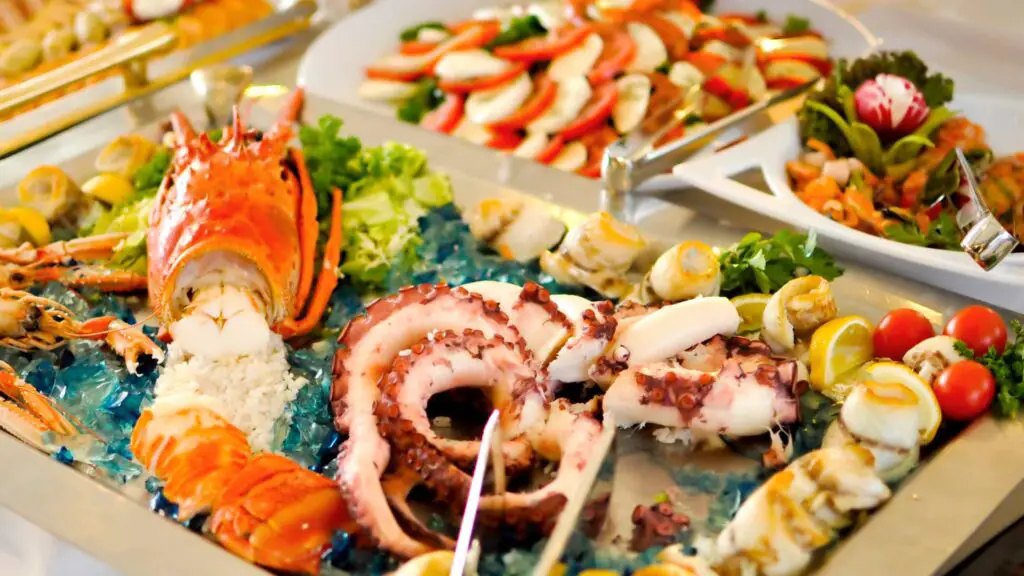 Each bite will transport you to seafood heaven, savoring the fresh flavors and succulent textures.
As you journey through the tour, not only will you tantalize your palate with mouthwatering seafood, but you will also have the opportunity to admire Boston's rich history and charm. 
The route will guide you past numerous historic landmarks, adding an extra layer of fascination to your culinary adventure.
Recommended Tours:
SAVOR THE LEGENDARY CLAM CHOWDER 
Don't miss visiting Boston's rich history and culinary heritage, Ye Old Union Oyster House, a world-renowned place and one of the best things to do in Boston at night.
Located at 41 Union Street on the iconic Freedom Trail near Faneuil Hall, this historic restaurant is the oldest continuously operating restaurant in the United States and is a designated national historic landmark.
The restaurant's legacy stretches back to 1826, when it first opened as the Atwood and Bacon Oyster House.
Over the years, it has welcomed notable figures, including John F. Kennedy, who frequented the establishment for its delectable lobster stew. 
The must-try delicacy at the Old Union Oyster House is its clam chowder, which is widespread across the globe.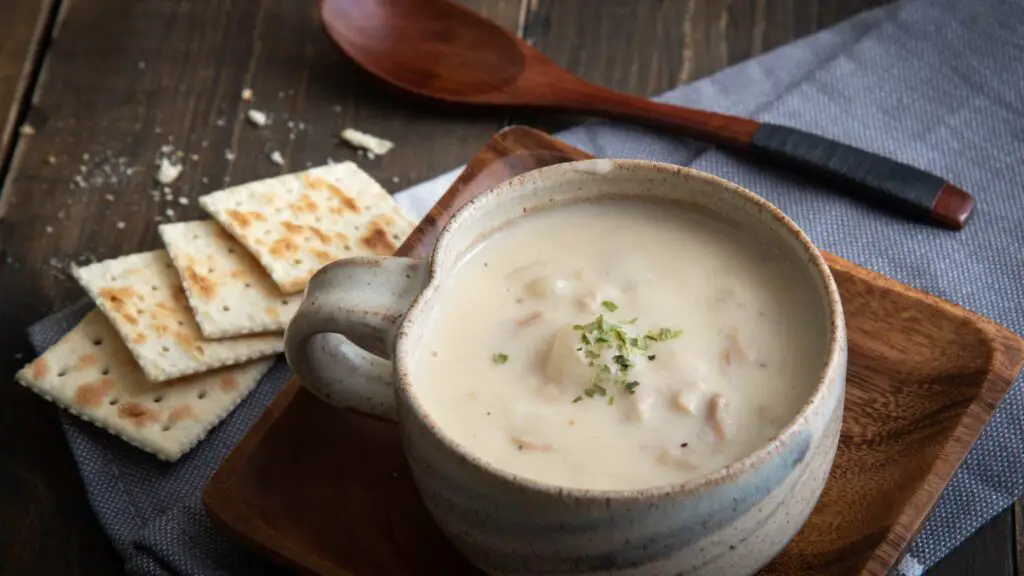 As you step inside this lovely place, you will immediately sense the timeless charm of the building, which has a fascinating history. 
Its historic charm is evident in the dark wood interior, dim lighting, and vintage-style booths, creating a warm and cosy ambience that transports you to another era.
Previously a stage for charming tales, the restaurant's walls proudly display a photo of former US President Barack Obama, who has delighted in the flavors of Ye Old Union Oyster House.
If you feel nostalgic, dine in "The Kennedy Booth," but be prepared for curious tourists to snap a photo of you.
For an authentic seafood experience, try their oysters from the raw bar, perfectly complementing your meal.
Due to its popularity, it is advisable to reserve a table at this legendary establishment in advance.
Recommended Tours:
DISCOVER THE LITERARY HAVEN AT THE BOSTON PUBLIC LIBRARY TOUR
One of the free things to do in Boston at night is to visit the Boston Public Library, a treasured institution filled with books and knowledge that has been serving the city since its establishment in 1848. 
Take a guided tour that will lead you through the hallowed halls of the historic building, unveiling its rich heritage and fascinating past.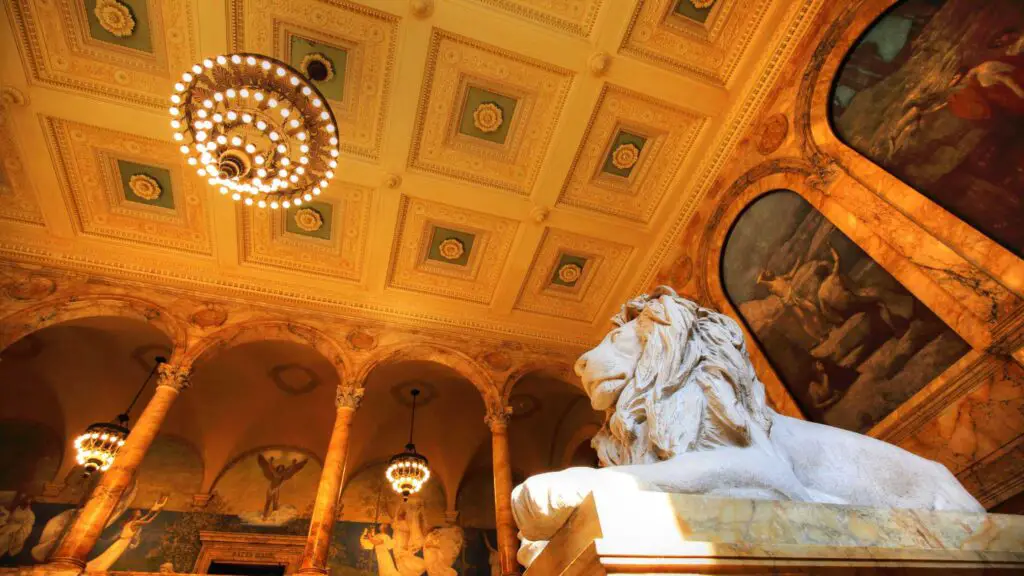 Marvel at the stunning neoclassical architecture adoring the library, transporting you to a realm of timeless beauty. 
Don't miss the opportunity to gaze upon the magnificent rotunda, a centerpiece of architectural splendor that will leave you in awe.
It's a perfect way to spend a stormy evening in Boston, enveloped in the warmth and comfort of literature.
BROWSE THE INSTITUTE OF CONTEMPORARY ART
Nestled in the vibrant Seaport district of Boston, the Institute of Contemporary Art has been a thriving centre for art and culture and is one of the exciting things to do in Boston at night.
The institute was established in 1936 and is renowned for its diverse contemporary artworks, including thought-provoking paintings, exquisite photography exhibits and mesmerizing sculptures.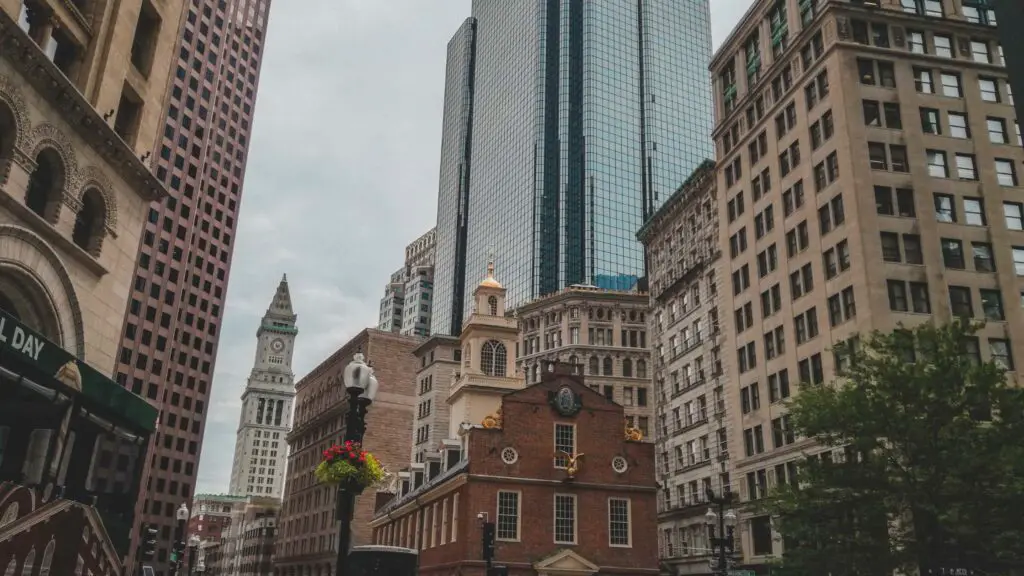 As you venture into the Institute of Contemporary Art, you will be greeted by its striking architectural design, resembling a folded-up ribbon. 
This distinctive structure stands as a landmark against the backdrop of the scenic Charles River, providing a beautiful setting for art lovers. 
Take a moment to enjoy the spectacular views of the Boston skyline while engaging yourself in the stunning art housed within.
The Institute of Contemporary Art showcases established artists and serves as a platform for emerging talents. 
Check out one of these gallery tours to gain deeper insights into the artistic process and discover the stories behind the works. 
FUN THINGS TO DO IN BOSTON AT NIGHT
ENJOY LATE-NIGHT FOOD IN CHINATOWN
Boston may have early closing hours for restaurants compared to other American cities, with everything shutting down by 2:00 AM. 
This can leave you wanting more if you are not ready to call it a night or want to munch something for a midnight snack craving.
Don't worry, because Chinatown comes to the rescue, one of the best exciting things to do in Boston at Night.
In the heart of Boston, Chinatown offers a variety of restaurants that stay open until 4:00 AM, providing the perfect late-night dining experience.
While Chinatown is known for its delicious Chinese cuisine, you will also find diverse culinary delights from Malaysia, Vietnam, and more. 
So after a night of clubbing or exploring the city, why not indulge in delicious dumplings or comforting wonton soup?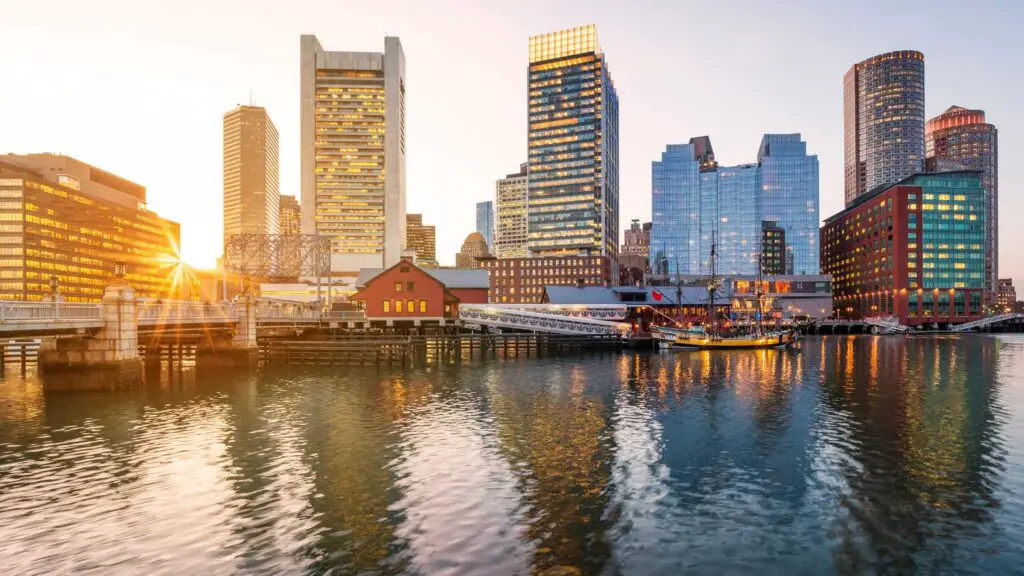 Now, if you are not ready for the party to end and want to keep the good times rolling, here's a little secret. 
You can discreetly ask your server for something known as "cold tea." It's a bit of a gamble, as it depends on the staff and the atmosphere of the night. 
But if luck is on your side and it's a quiet evening without police patrol, you might be served with a teapot filled with beer.
It's a hidden pleasure that adds an extra level of excitement to your late-night escapades.
However, it is essential to remember that 4:00 AM is the absolute cutoff. Boston may be known for its early nights, but it eagerly awaits the sunrise adventures.
Recommended Tour: Boston: Chinatown Culture and Cuisine Walking Tour
STAR GAZE AT COIT OBSERVATORY
One of the exciting things to do in Boston at Night is to join the cherished Boston tradition that has captivated stargazers since 1967 at the Coit Observatory in Boston.
Located on the rooftop of the CAS building at Boston University and managed by the Boston University Astronomical Society, it is a fitting tribute to the university's first astronomy professor, Judson Coit.
Immerse yourself in the wonders of the night sky at Astrolab, which offers free and accessible public observatories during the summer months.
Every Wednesday night, from 8:30 to 9:30 PM (weather permitting), the Judson B. Coit Observatory opens its doors to visitors.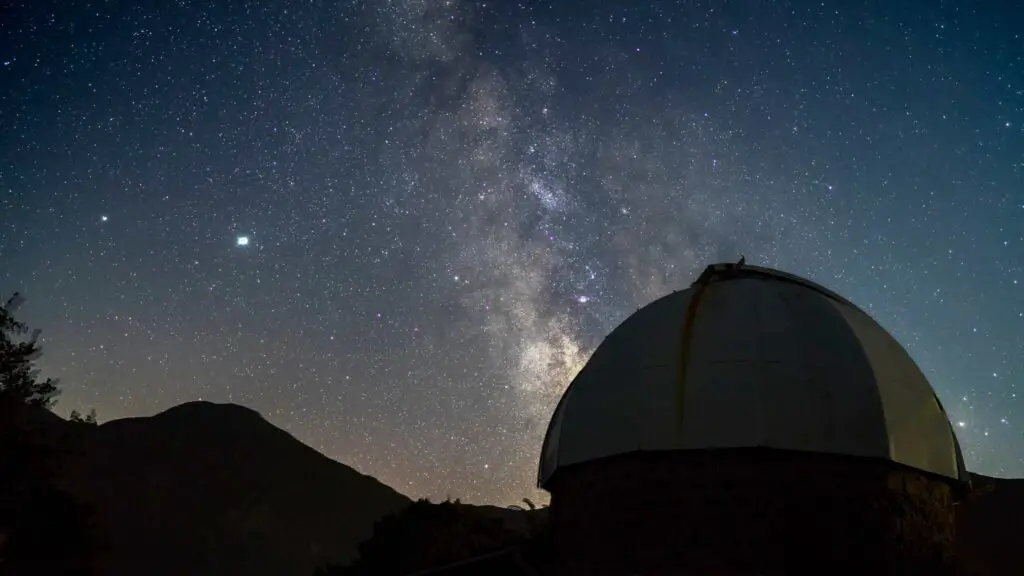 Through their Schmidt-Cassegrain telescopes, you will have the opportunity to marvel at Saturn, the moon, and many other captivating celestial objects. 
You can also explore the collection of vintage telescopes and gain insights about astronomy from the knowledgeable staff at Coit Observatory during the Summer months.
Please note that during the other months of the year apart from Summer, you need to buy a ticket. 
They are released on Thursday mornings for the following Wednesday and tend to be in high demand, so be sure to secure yours promptly. 
Also, please remember that clear weather is essential for optimal stargazing experiences. 
In the event of unfavourable weather conditions, the open nights may be cancelled at the last minute.
Wear warm clothes or in layers, as you will spend time outside. Punctuality is key, as you won't want to miss a moment of this incredible event.
SHOP AND EAT AT FANEUIL HALL MARKETPLACE
Get ready to shell out some dollars since one of the fun things to do in Boston at Night is to go on a shopping spree and try various delicacies at Faneuil Hall Marketplace.
Established in 1743, Faneuil Hall Marketplace holds a significant place in history as both a marketplace and a meeting hall. 
Notably, it has been recognized by Forbes as one of America's 25 Most Visited Tourist Sites.
With its impressive selection of over 80 stores, including renowned brands like Coach, Sephora, and The Black Dog, Faneuil Hall Marketplace has emerged as one of Boston, Massachusetts' top attractions.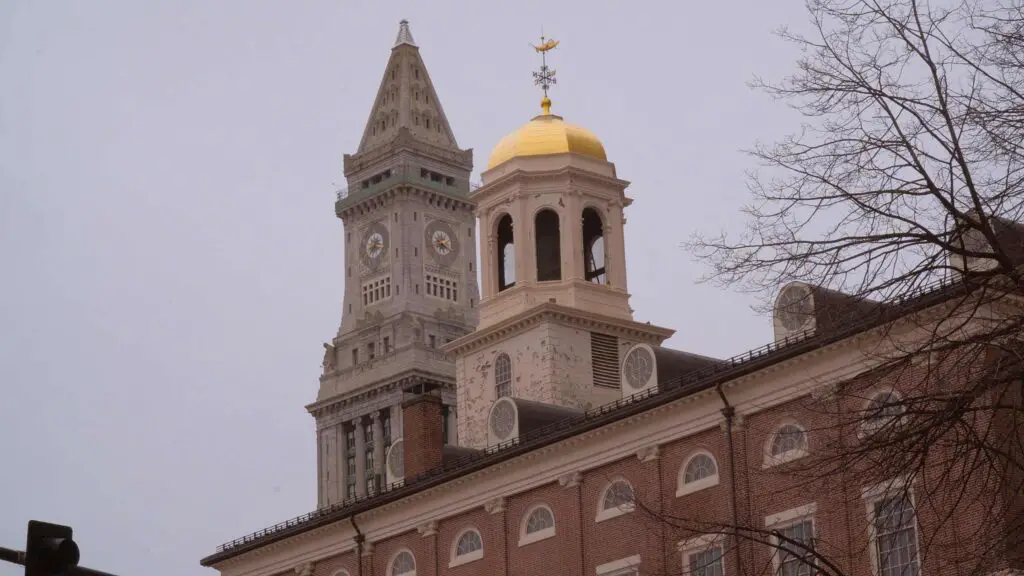 As you explore the marketplace, you will be spoilt by the multitude of options. Whether you are searching for chic boutiques or souvenir shops, there is something to cater to every taste and preference. 
From clothing, accessories, and gift shops to various snack stalls, oyster bars, and bakeries, there is no shortage of delightful culinary experiences to complement your shopping endeavours.
Don't miss to check out and click pictures of the murals on the street walls, a visual delight and an additional charm to the nightlife in Boston.
What's more, Faneuil Hall Marketplace extends its operating hours until 9 PM on most days, allowing you to indulge in shopping and dining well into the evening.
VISIT THE LANGHAM BOSTON
To further enhance your Boston night experience, consider visiting The Langham Boston, one of the cool things to do in Boston at night.
Langham is a remarkable hotel just a few blocks from Faneuil Hall, where America's first town meeting occurred. 
This elegant establishment offers luxurious accommodations and holds an important place in Boston's history as it once was the headquarters for the Federal Reserve Bank's New England division.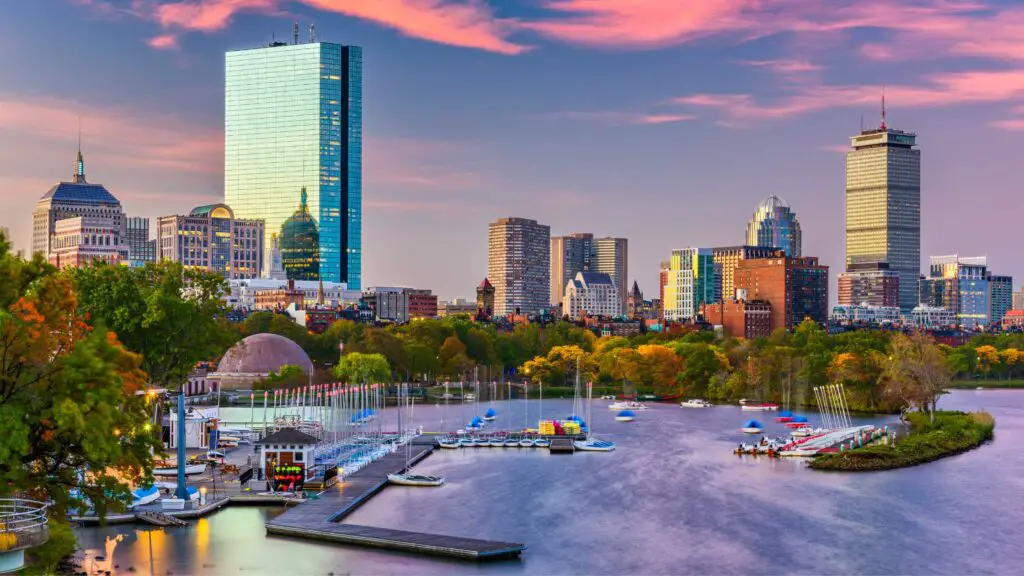 Within The Langham Boston, you will find the sophisticated BOND lounge, adorned with sparkling chandeliers, which has become a popular hotspot for Boston's stylish and glamorous residents.
Enjoy the vibrant atmosphere and embrace the captivating blend of history and modernity that defines this remarkable city.
CAPTURE SOME GORGEOUS SKYLINE PHOTOS
Don't miss the breathtaking view of the city skyline at night in Boston.
For the best vantage point, visit the iconic Bunker Hill Monument, one of the fantastic things to do in Boston at Night.
Towering approximately 221 feet tall, this obelisk offers an incredible photo opportunity. Although there are about 294 stairs to climb, the effort is well worth it when you capture a mind-blowing selfie from the top.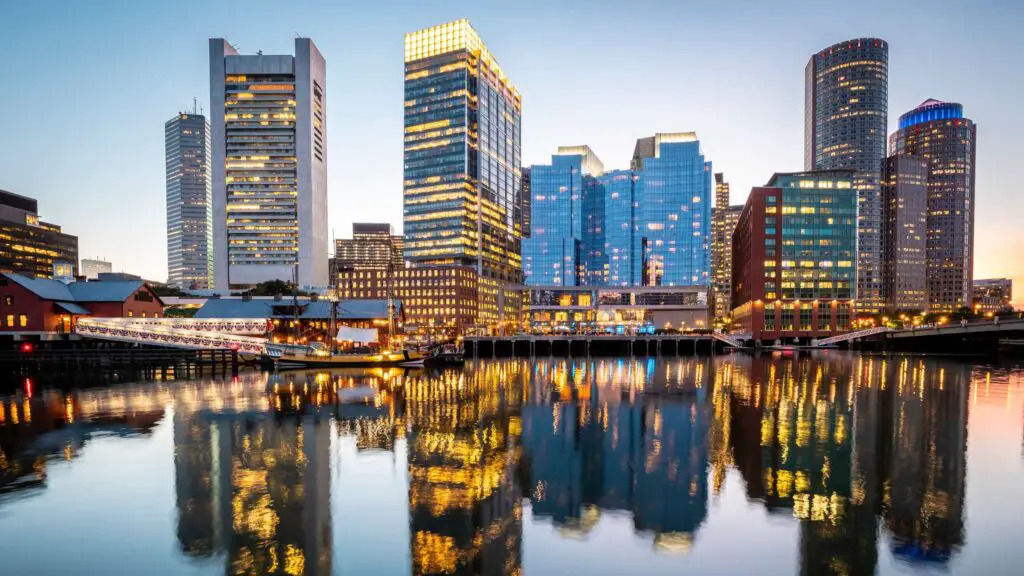 Alternatively, head to the waterfront in East Boston to enjoy another beautiful view of the Boston skyline from across the water.
Another historic location that provides remarkable views is the Bunker Hill Monument. To access the top, you will need a free pass, which you can obtain at the Bunker Hill Museum. 
If you are up for a slightly longer journey, consider visiting Mount Auburn Cemetery in West Cambridge. Here, you will find unparalleled views of the city skyline that are hard to beat.
DIVE INTO TRIVIA NIGHTS
Flex your mental muscles and join a trivia night, one of the fun things to do in Boston at night. 
With its reputation as an intellectual powerhouse, Boston offers a plethora of trivia nights that are sure to test your knowledge and provide an unforgettable experience.
Venture beyond downtown Boston to immerse yourself in the vibrant neighbourhoods and feel like a local. 
Head to The Burren in Davis Square, Somerville, on Monday nights for an authentic Irish pub experience combined with trivia challenges. 
If you are in the mood for the distinctive South Boston atmosphere, visit Local 149 in Southie for their "exceptionally local" trivia night, where you might catch some accents reminiscent of Good Will Hunting.
For an outstanding trivia experience, make your way to The Druid in Inman Square, Cambridge, on Wednesday nights.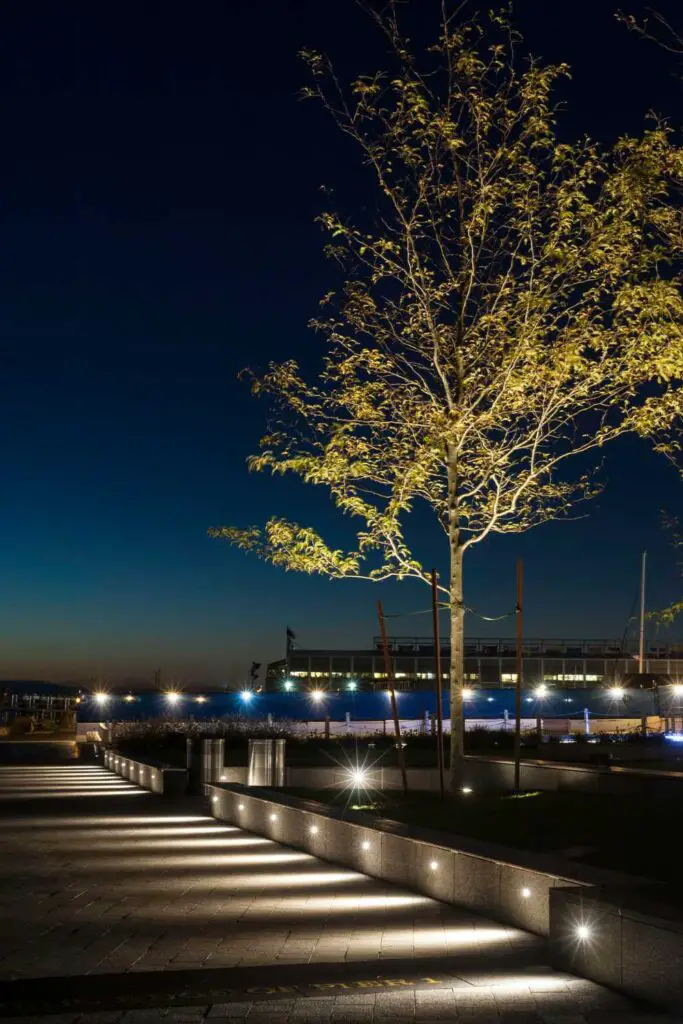 This neighbourhood gem promises an evening filled with provocative questions and an opportunity to enjoy the area's excellent dining options.
Whether you are a fan of The Office or Star Wars or crave some weird trivia, King's Boston has got you covered.
If you are seeking a trivia night with a twist, don't miss King's Boston every Tuesday, where each month brings a new theme to keep things exciting. 
And if you are a die-hard F.R.I.E.N.D.S fan, mark your calendar for their "Friends-Giving" trivia held on Thanksgiving in November.
Another fantastic trivia destination is Bella Luna & the Milky Way, where Monday nights come alive with a live DJ and their famous Stump Trivia. 
Test your knowledge, have fun with friends, and get rewarded with incredible prizes, including discounts on delectable dishes like their mouthwatering Wings of Desire.
HANG OUT AT BOSTON'S ICONIC BAR
Step into the world of the iconic TV show "Cheers" at the original bar that inspired it all, one of the fun things to do in Boston at Night.
Located in Boston's Beacon Hill neighbourhood, this historic establishment offers a unique experience for fans and newcomers alike.
And even if you have yet to see the show, the Cheers Bar in Boston is still a must-visit destination.
Indulge in a pint of beer, savour delicious bar snacks, and immerse yourself in the lively atmosphere.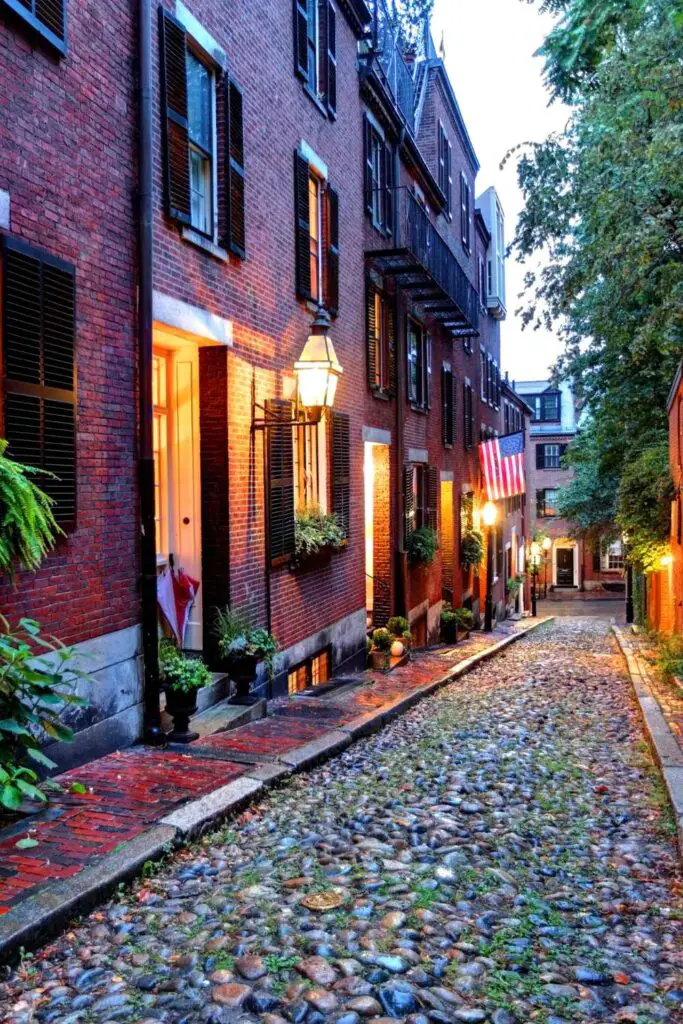 Don't forget to grab a Cheers mug as a souvenir to remember your visit.
For those seeking a challenge, take on the legendary Norm Burger Challenge and earn your spot in the hall of fame. 
Discover why this American classic has stood the test of time and find out why it's truly a place "where everybody knows your name." 
Join the Cheers community and create unforgettable memories in the heart of Boston.
EXPLORE BOSTON'S THRILLING GHOST TOURS
Uncover the chilling secrets of Boston's haunted past on an unforgettable ghost tour, one of the most exciting and fun things to do in Boston at night.
Get ready to immerse yourself in captivating tales of ghostly encounters, mysterious phenomena, and chilling murder myths.
With a variety of options to choose from, these tours offer a spine-tingling experience that delves into the city's paranormal activity.
Embark on a journey through the dark corners of Downtown Boston on the Trolley Ghosts and Gravestones Tour.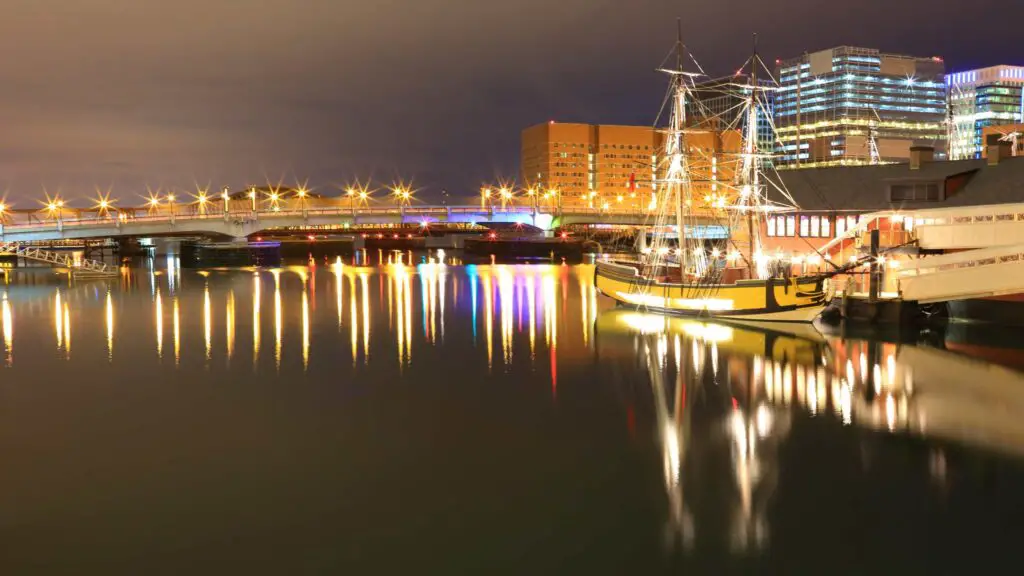 Discover the eerie paths once traversed by the infamous Boston Strangler and explore the historic Copp's Hill Burying Ground, the final resting place of prominent figures like Samuel Adams, Paul Revere, and John Hancock. 
Along the way, you will hear captivating stories of the Salam Witch Trials and early colonists and encounter various other ghostly apparitions that haunt the city.
For a truly unforgettable night adventure, join the Ghosts of Boston Tour, a fascinating walking tour that unveils the most notorious and spine-chilling histories of this renowned city. 
Experience the magical atmosphere as you wander through haunted sites and learn about the dark secrets that only come to life after sundown. 
This tour promises an unparalleled thrill that is best enjoyed under cover of the night, making it a favourite among Boston's nighttime activities.
Recommended Tours:
ROCK THE NIGHT AWAY AT THE HOUSE OF BLUES
Immerse yourself in the vibrant music scene of Boston by attending a concert at the renowned House of Blues, one of the amazing things to do in Boston at night.
This southern-style bar and music venue offers diverse performances, ranging from country music and blues to various other genres.
Check their events calendar to find the perfect show for your taste. Indulge in the lively atmosphere as you tune in to live music in a venue with rock and blues vibes.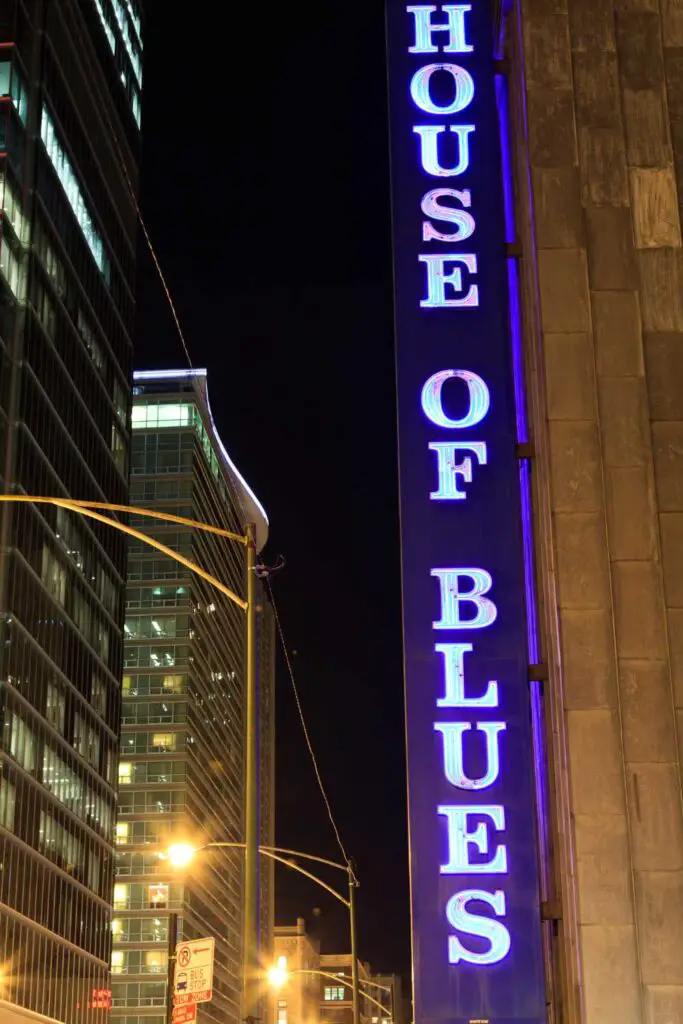 The House of Blues holds a special place in Boston's nightlife, and it's no wonder—it was established by the co-founder of Hard Rock Cafe.
Savour delicious drinks and snacks from the bar while engaging in captivating performances.
I am sure that attending a concert at the House of Blues is an experience that will leave you with unforgettable memories.
TRY $1 OYSTERS
Enjoy affordable oysters at State Street Provisions (255 State Street) with their $1 oyster deal, one of the fun things to do in Boston at Night. 
Available from 4 PM to 6 PM on weekdays, this offer is perfect for those looking to save money. 
Indulge in various oyster options, including East Coast favourites such as Island Creek, Wellfleet, First Lights, Northern Cross, Moon Shoals, and West Coast varieties like Kusshi and Hama Hama. 
Don't miss out on this opportunity to savour delicious oysters without breaking the bank!
EXPLORE BOSTON'S PIZZA PARADISE
Explore the charming streets of Little Italy, immersing yourself in the city's oldest neighbourhood while enjoying slices from award-winning pizzerias, one of the exciting things to do in Boston at night.
Indulge in Boston's famous pizza scene by joining the final tour of the North End Pizza Tour.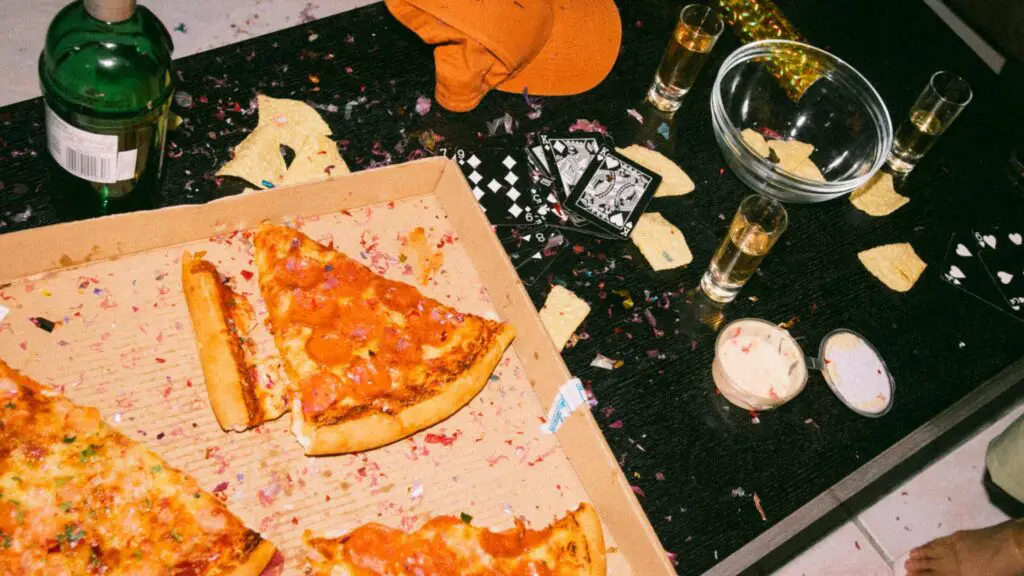 With a rich history dating back to 1883, North End boasts authentic pizza experiences. 
Opt for the dinnertime tour to make it a memorable Boston night activity. Little Italy offers around 50 pizza parlours, serving locals and tourists with delectable pizzas. 
Additionally, neighbourhoods like Charlestown, Beacon Hill, and the Blackstone Block also offer excellent pizza options. 
Simplify your pizza exploration by considering an Italian food tour around the North End.
RECOMMENDED TOUR: Boston's North End Pizza & History Walking Food Tour
EXPLORE QUINCY MARKET
Check out Quincy Market, located in Quincy Market Square, where history meets foodie fun, one of the awesome things to do in Boston at night.
Whether you have a passion for food, appreciate various art forms, or simply want to enjoy the city skyline at night, : bustling marketplace is the place to be.
This historic building was designed by architects John Smibert and Charles Bulfinch in 1743.
As part of the National Mall's Freedom Trail, it offers visitors a glimpse into the country's founders and their significant sites.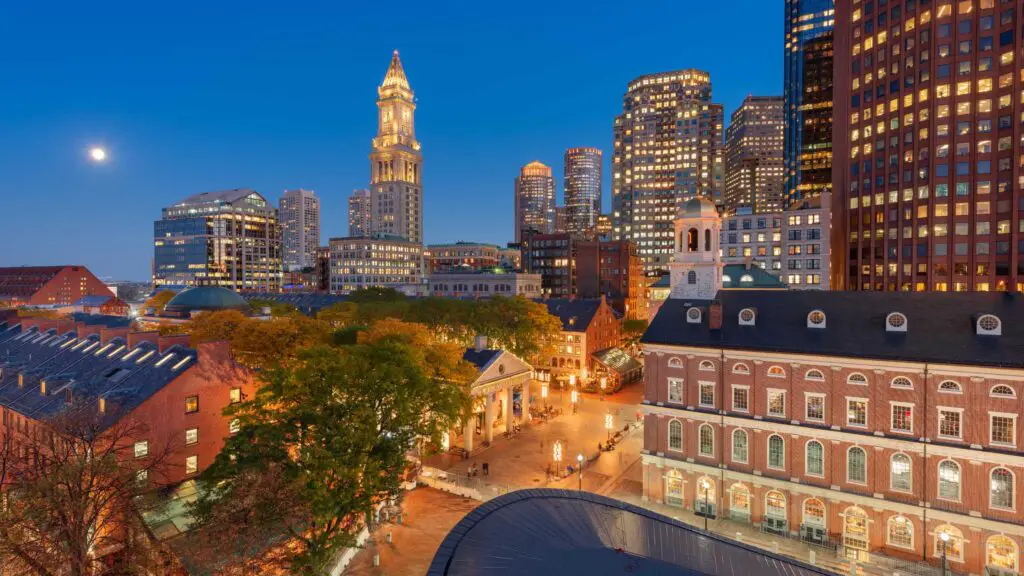 Today, this Boston's culinary landscape offers an enticing blend of food, shopping, and people-watching. 
With over 70 vendors in this place, you will witness various cuisines from across the globe; from classic clam chowder in a bread bowl to tasty lobster rolls, lobster macaroni and cheese, Boston cream pies, pizza, doughnuts, candies, and ice cream, this place offers a wide range of delectable options.
Check out this night food tour to have one of the best night experiences in Boston.
GO ON A PAINT NIGHT EXTRAVAGANZA
Get ready to express yourself, sip on refreshing beverages, and create a one-of-a-kind work of art during a paint night experience, one of the cool things to do in Boston at night.
At these paint bars, a skilled instructor will guide you through creating your masterpiece, from mixing colours to employing various painting techniques. 
I recommend trying this with your loved one or friends for a perfect date night idea in Boston. You will also have a beautiful painting to take home and adorn your walls.
To ensure your spot, make sure to register online in advance and select the painting you would like to create.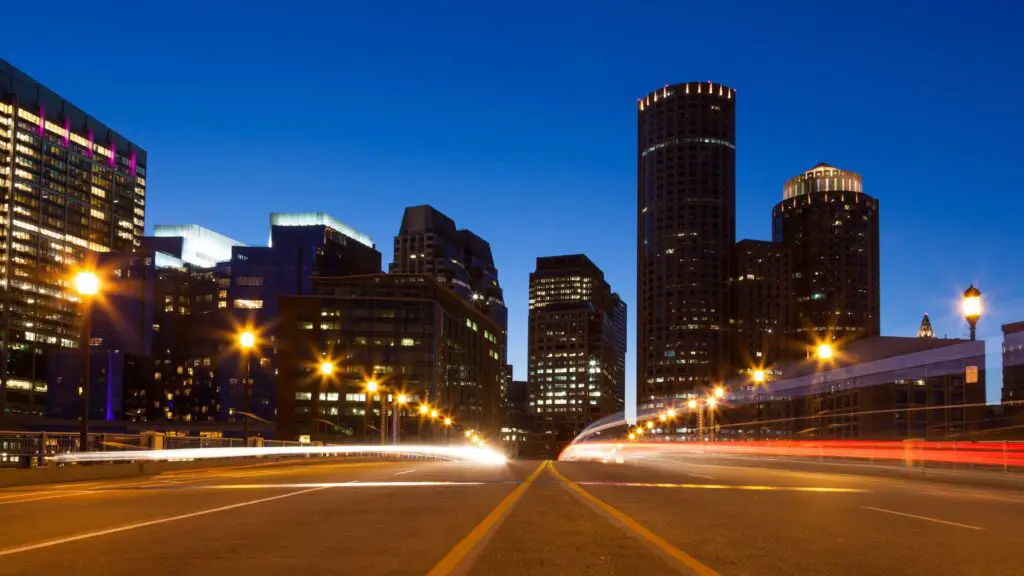 The cost typically ranges from $30 to $55 per person, offering excellent value for a unique artistic experience.
One recommended venue is Muse Paintbar, conveniently located at Assembly Row in Somerville. This place is prime, so you can explore the cute souvenir shops nearby or have a nice romantic dinner.
For an alternative paint night option, venture to the Artist Bar on the North Shore. This fantastic establishment hosts paint parties. 
Alternatively, check out The Paint Bar on Newbury Street. Sip on beer or wine as you unleash your creativity and craft your masterpiece to cherish as a lasting memento.
CHECK OUT BOSTON SPORTS
Immerse yourself in the electric sports culture of Boston, a city renowned for its passionate fans and top-tier teams. This is one of the top things to do in Boston at night.
From the iconic Fenway Park to the TD Garden, plenty of options exist to catch a game and ignite your Boston nightlife experience.
Cheer on the legendary Boston Red Sox at Fenway Park, the oldest active ballpark in the MLB. 
Join the enthusiastic crowd, indulge in Fenway Franks and cold beers, and learn about the rich history of this iconic team.
In addition to baseball, Boston offers a range of other sports to enjoy. Catch the fast-paced action of the Boston Bruins (hockey) or the skilful plays of the Boston Celtics (basketball).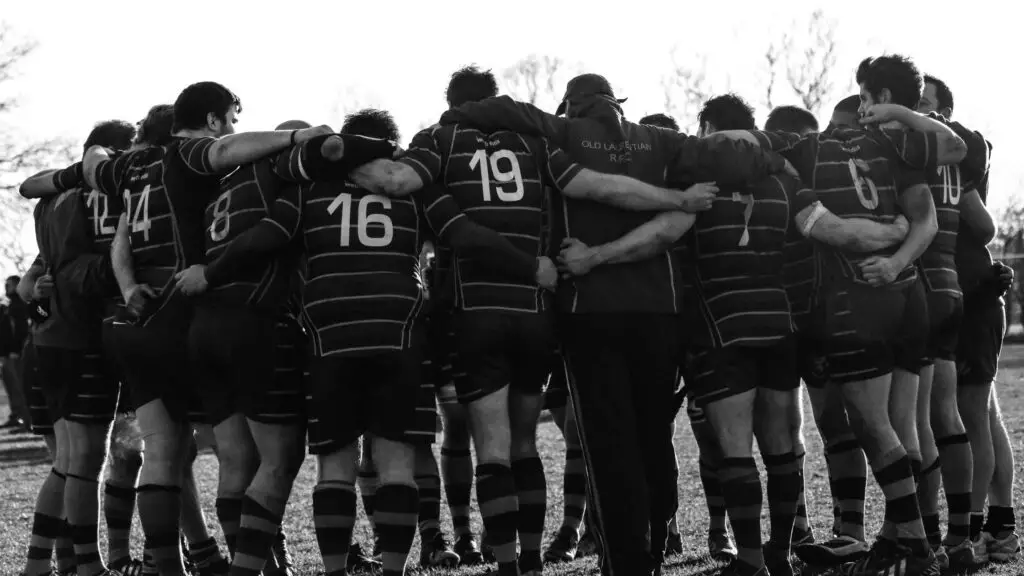 If football is your passion, head to Foxborough to support the New England Patriots.
Boston's sports scene extends beyond the major leagues, with minor league and college teams adding to the excitement.
Depending on the season, you may witness different sports in Boston. Basketball season is from October to April, Hockey is from October to June, and football is from September to January.
Ticket prices vary depending on the sport, team, and seat location, but affordable options suit every budget ranging from $30 to $130.
Recommended Tours:
CONQUER THE ESCAPE ROOM CHALLENGE
Step into the thrilling world of escape rooms in Boston and embark on a night of adventure and teamwork, one of the fun things to do in Boston at night.
Escape rooms provide an immersive experience, making you feel part of a horror movie fueled by adrenaline and the need to survive.
For a truly unique and well-produced escape room, head to Trapology, meticulously designed by a team of artistic experts.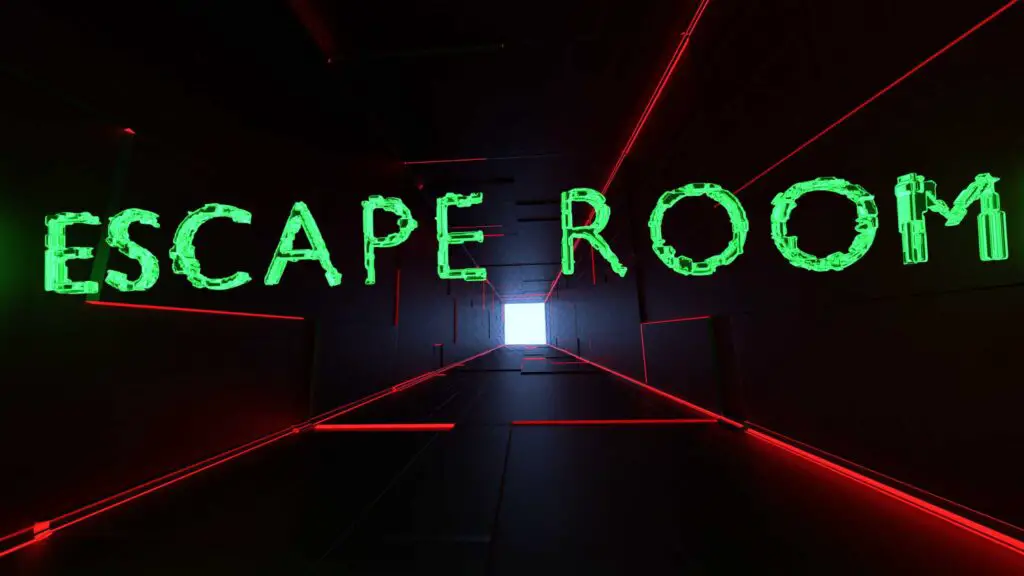 Prepare to be captivated by "The Retreat," a challenging room filled with brain-draining puzzles and innovative twists. 
Gather your friends or family for a thrilling night out in Boston. Children can enjoy the fun, as "The Retreat" offers a child-friendly haunted house atmosphere.
Escape rooms are ideal for a Saturday night activity, as they are typically open until 10 PM. 
Remember that most escape rooms require a group of at least 2-3 people. It usually costs in the range of $30-$50 per person.
Check out these other escape rooms if you have spare time:
Room Escapers (Downtown Boston)
Escape the Room (Downtown Crossing)
Room Escape (Chelsea)
Boxaroo (Government Center)
EXPERIENCE IRISH CHARM AT THE BLACK ROSE PUB
Indulge in the vibrant Irish atmosphere of The Black Rose during one of the popular things to do in Boston at night.
With over 40 years of history, The Black Rose offers an authentic Irish experience that will transport you to the heart of Ireland.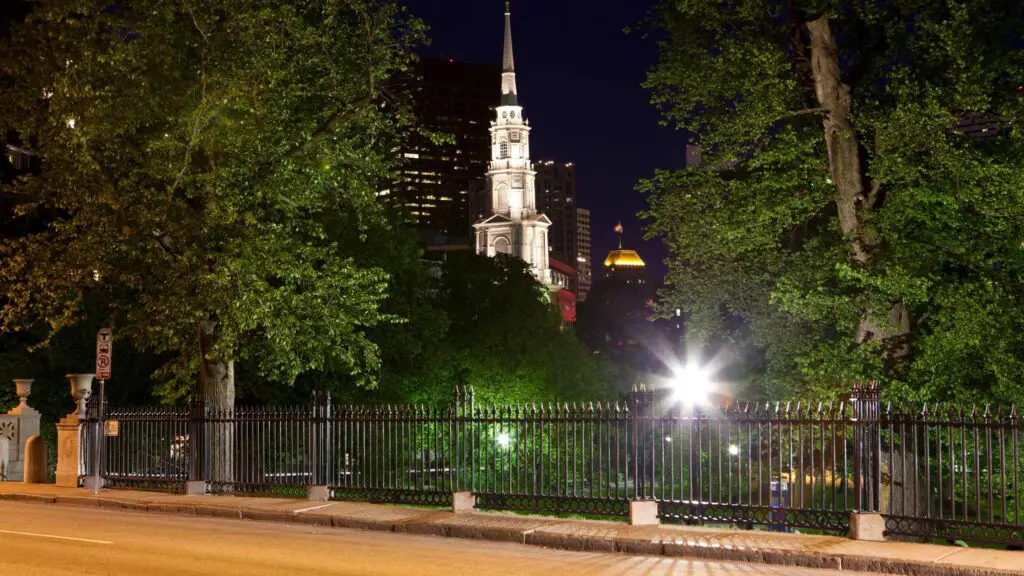 From its charming decor to the delightful selection of traditional Irish pub food and a wide range of beers on tap, including the iconic Guinness, The Black Rose promises an unforgettable visit.
For a unique twist, try their Lucky Charms coffee, adding a touch of whimsy to your beverage.
Join in on the fun during the pub's live music nights, immersing yourself in the authentic sounds of Irish melodies. Check out this pub crawl tour.
Recommended Tour: Boston Haunted Pub Crawl
UNLEASH YOUR INNER ROCKSTAR AT WILD ROVER KARAOKE BAR
Let loose, have fun, and create unforgettable memories at Wild Rover, one of the popular karaoke bars, which will surely leave you with a memorable experience. This is also one of the fun things to do in Boston at night. 
Located in the heart of the city, this vibrant bar and club offer an electric atmosphere complete with live music, delicious drinks, and, of course, karaoke!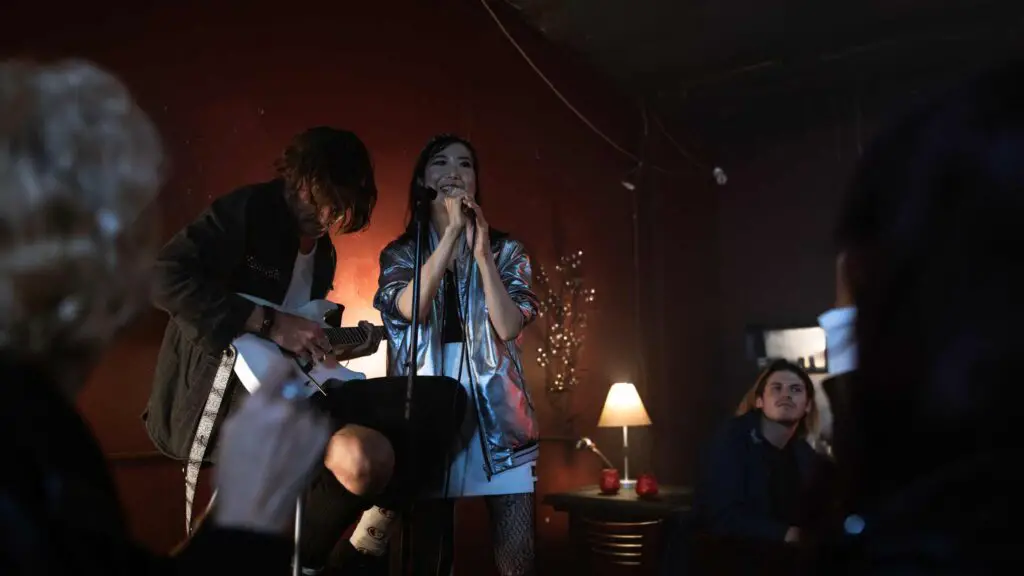 Grab the mic and showcase your talent; take the stage and serenade the crowd with your favourite tunes.
Guess what? Karaoke is just the beginning—this dynamic venue hosts a variety of other events to keep the party going.
From ladies' nights that celebrate the empowered women of Boston to thrilling DJ sets that get the dance floor pumping, there's never a dull moment at Wild Rover.
GO CLUBBING
Prepare for a night of excitement, music, and memorable moments as you dance the night away in this vibrant city, one of the top things to do in Boston at night. 
Boston offers an array of clubs that cater to every partygoer's taste, featuring renowned DJs, theme dance parties, and exclusive VIP experiences.
Hit the dance floor and make the most of your evening at these top-notch clubbing establishments such as Venu, Memoire, Big Night Live, Bijou, Hava, Icon, and Royale. 
These venues boast impressive lineups, creating a thrilling atmosphere that will keep you dancing until the early hours. 
Alternatively, if you prefer a more local vibe, head to the lively Faneuil Hall area to mingle with the Boston crowd and discover hidden gems.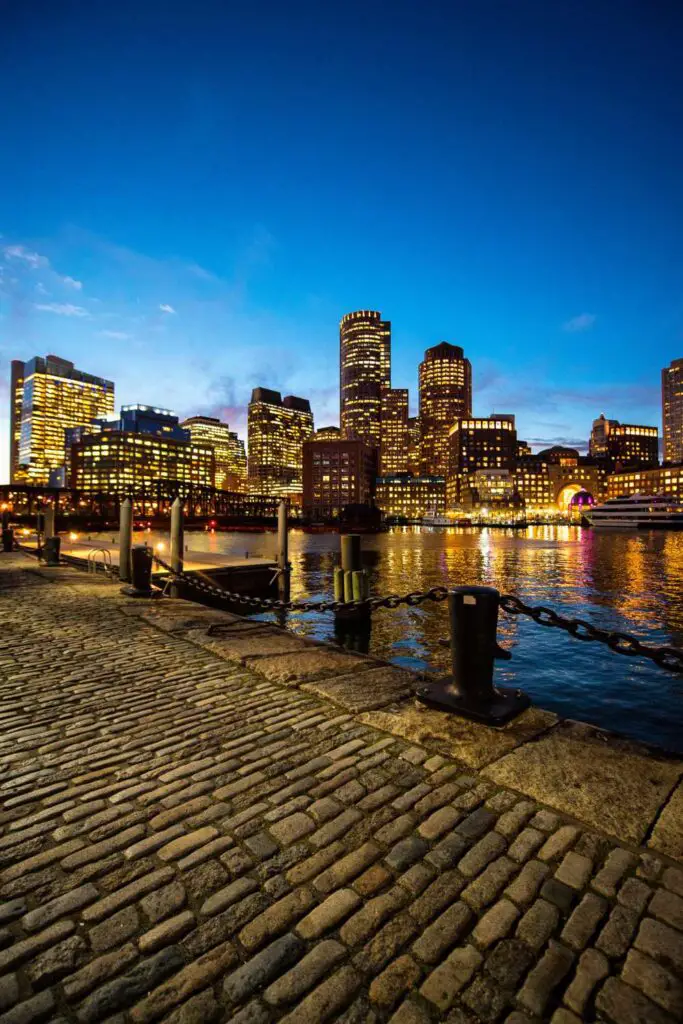 While the North End is known for its vibrant restaurant scene, it also offers cool bars to enjoy drinks and socialize. 
If you seek a more upscale ambience, the downtown/financial district has excellent high-end establishments that elevate your night out.
Don't miss to check out Harvard Square, which provides a unique setting to blend with the intellectual atmosphere of Ivy League students while enjoying the local nightlife.
ROLL WITH FUN, CHALLENGE YOUR FRIENDS TO A BOWLING SHOWDOWN
Gather your friends and head to Kings Dining and Entertainment for a fantastic bowling game, one of the most exciting things to do in Boston at night.
At King's, soak yourself in the excitement of bowling while sipping delicious drinks and indulging in tasty snacks. 
As you line up your shots, you can order from a wide selection of exciting cocktails, craft beer, and wine, perfectly complementing the playful atmosphere.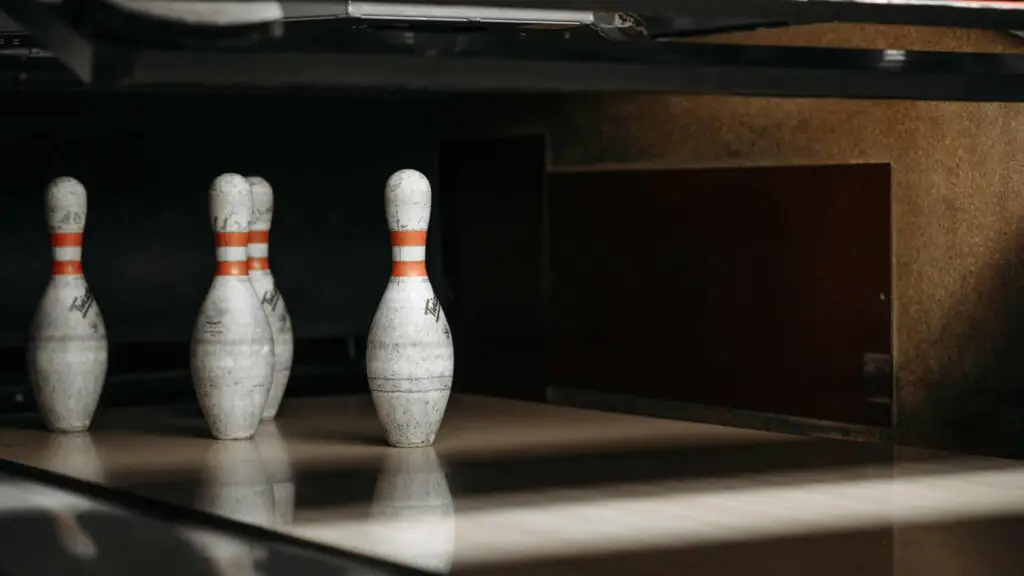 To satisfy your appetite, Kings offers a diverse menu of snacks and bites, including wings, tacos, nachos, salads, and more, ensuring you won't go hungry during your game. 
And if you find yourself waiting for a lane, check out the pool tables for additional entertainment.
If the night is still young for you, check out the other top bowling alleys in the Boston area, including Lucky Strike in Fenway and Somerville or South Boston Candlepin, to see how many strikes and spares you can rack up. 
ROMANTIC THINGS TO DO IN BOSTON AT NIGHT
DANCE THE NIGHT AWAY
Get your dancing shoes ready and prepare for an unforgettable night out in Boston's vibrant dance scene as this will be one of the fun things to do in Boston at night.
If you are craving a night out and want to dance until your feet can't keep up, this city has you covered.
Let me virtually take you on tour and give you recommendations to explore some of the best dance clubs and venues in Boston to unleash your inner dancer!
For a vibrant LGBTQ nightlife experience, head to Club Cafe in the South End. Here, you will find strong drinks and deep bass that will get you moving. 
This venue also hosts various exciting events, including Drag Race watch parties and Broadway singalongs, before transforming into a full-fledged dance club.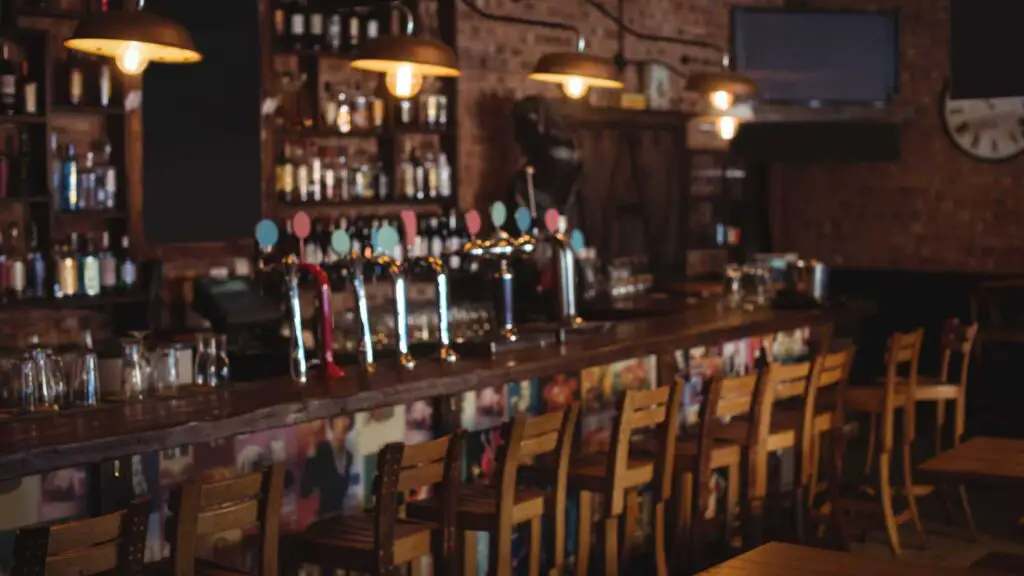 If salsa is more your style, make your way to Havana Club in Central Square, Cambridge. This hotspot offers Latin music six nights a week. 
Notably, Sundays, Mondays, and Tuesdays are alcohol-free and open to those aged 18 and above, creating a lively and inclusive atmosphere.
For those seeking a classic dance club vibe, consider checking out venues like Venu in the Theater District, The Grand in the Seaport, and Royale near Downtown Crossing. 
These clubs offer the perfect ambience to let loose and dance the night away.
However, the crown jewel of Boston's dance scene, in my personal opinion, is Soulelujah. Held on Saturday nights at The Sinclair in Harvard Square, Cambridge, this dance party is a haven for funk, soul, and R&B enthusiasts. 
The energetic atmosphere and incredible music make it a must-visit and a permanent fixture on my list of the best Boston things to do at night.
ENJOY BOSTON VIEWS FROM THE SKYWALK OBSERVATORY
Experience breathtaking views of Boston at night from the Skywalk Observatory, one of the city's tallest and most spectacular observation decks. 
Located in the iconic Prudential Tower, the second-highest building in Boston and New England, this 52-floor architectural marvel offers an impressive height of 749 feet (228 m).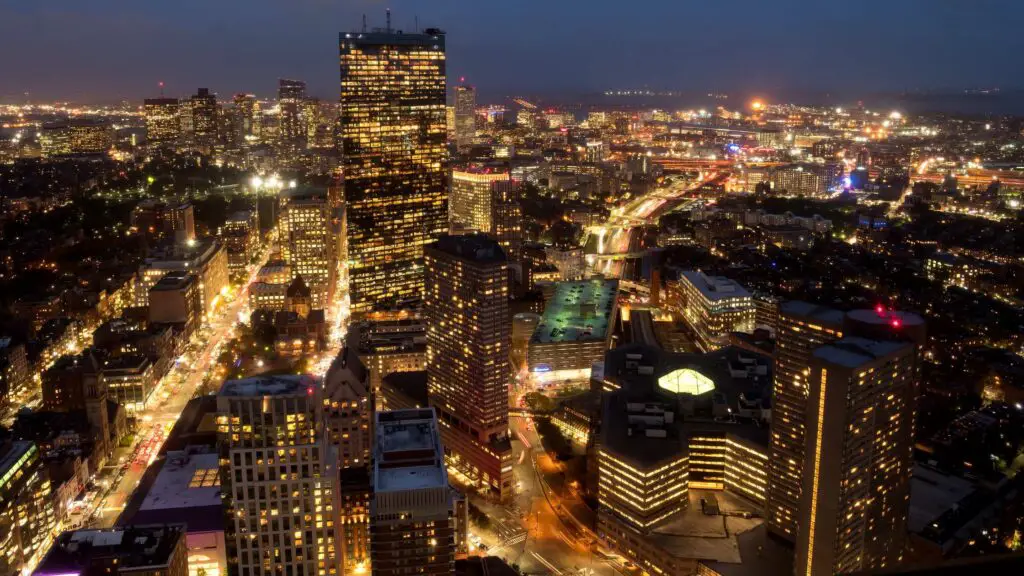 From the Top of the Hub on the 52nd floor, soak in panoramic vistas of the Charles River and numerous historical and cultural landmarks, creating a truly memorable experience.
This tower will be open until 10 PM, which creates a perfect opportunity to witness the shimmering city lights come alive after dark.
CREATE AN UNFORGETTABLE DATE NIGHT IN BOSTON
Go on a memorable date night in Boston and indulge in the city's romantic restaurants that offer a delightful late-night dining experience, one of the romantic things to do in Boston at night.
Discover the perfect ambience and cuisine at renowned establishments such as Eataly, Rosebud American Kitchen & Bar, Bukowski Tavern, Grotto, Euno, Deuxave, and Yvonne's.
Wine enthusiasts can embark on a sensory journey at Barcelona Wine Bar on Tremont Street, where Spanish-inspired tapas invite you to share a romantic and intimate dining experience.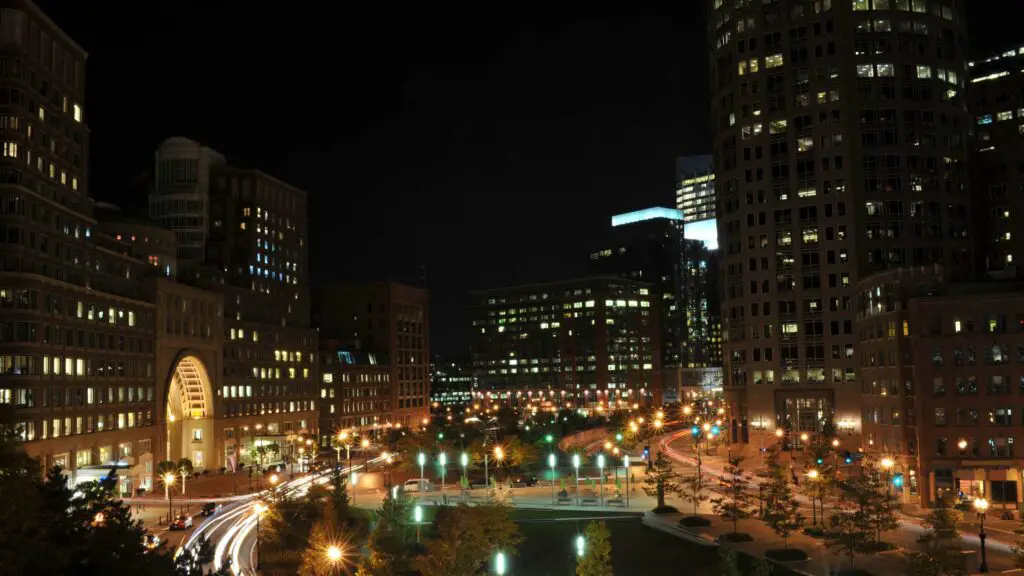 Consider booking a harbour cruise departing from Rowes Wharf for a unique twist on a date night. 
Delight in a three-course dinner accompanied by live music as you cruise along Boston's scenic waterways. 
Capture unforgettable moments on the outdoor deck of the Odyssey cruise, with the dazzling Boston skyline as your backdrop and iconic landmarks passing by.
Recommended Tour: Boston Premier Odyssey Dinner Cruise
To add a touch of nostalgia to your evening, visit the original Cheers Bar, a beloved Boston landmark.
Immerse yourselves in the atmosphere of the iconic show and take home a Cheers mug as a unique souvenir.
ENJOY BOSTON'S CAPTIVATING MUSICAL EXPERIENCE
Step into the enchanting world of musical theatre at the Emerson Cutler Majestic Theatre, the ultimate destination for theatre lovers in Boston and one of the cool things to do in Boston at night.
The Emerson Cutler Majestic Theatre showcases a diverse selection of shows and imaginative productions that goes way beyond traditional Broadway-style musicals. 
Each performance at this esteemed theatre is a truly memorable event, leaving you in awe of the talent and artistry on stage.
In addition to the Emerson Cutler Majestic Theatre, Boston offers a range of other exceptional venues for live music and concerts.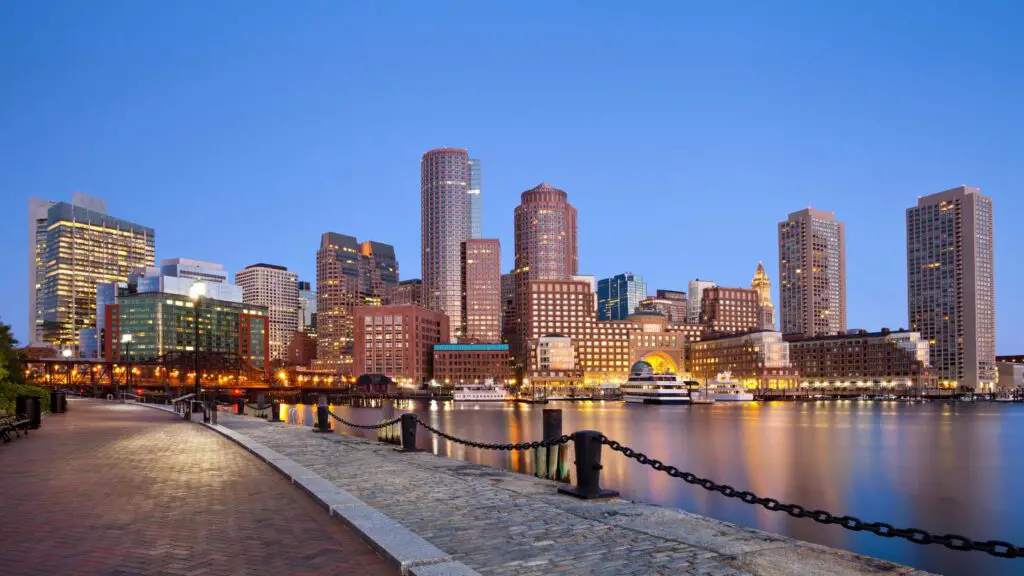 Check out the majestic Boston Opera House, also known as Citizens Bank Opera House, with its rich history dating back to 1929. 
Settle into the plush seats and admire the breathtaking rotunda above you at the Boston Opera House.
Don't miss the stunning performances held at the Charles Playhouse and Capitol Center for the Arts; you will find a plethora of options to suit your musical preferences.
These renowned theatres host grand productions like Hello, Dolly and Les Miserables, providing an extraordinary theatre experience.
So get ready to be mesmerized by the extraordinary vocal talents of the opera singers, harmoniously complemented by the stellar orchestra.
SET SAIL INTO THE GLOWING HORIZON
One of the best and most romantic things to do in Boston at Night is to go on a memorable sunset cruise.
Many tours are available in Boston, but I recommend choosing the renowned tour from Liberty Fleet Tall Ships. 
Conveniently departing from Long Wharf, located near the vibrant North End, reaching the boarding point is a breeze. 
You can easily access it by taking the T and enjoying a leisurely walk, or opt for nearby parking for enhanced convenience.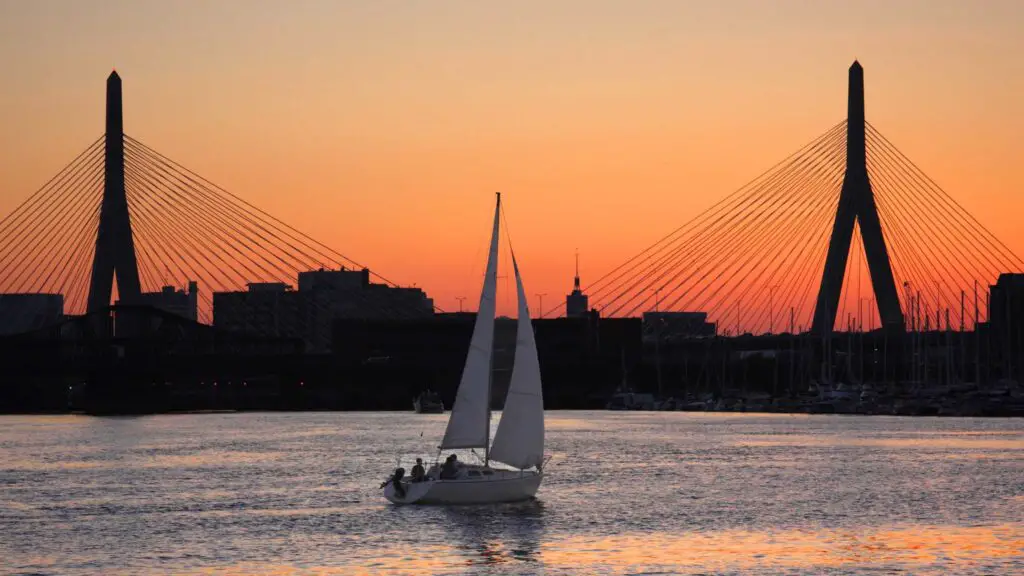 Step aboard the majestic ship and feel the gentle sway of the waves beneath your feet as you set off on this beautiful journey. 
Bask in the warm hues of the setting sun as it gracefully dips behind the iconic Boston skyline, casting a radiant glow across the water. 
Watch in awe as the city's lights come alive, painting a dazzling tapestry of yellow hues that dance between the towering buildings.
Whether seeking a delightful group outing, a tranquil solo adventure, or a romantic date night, this sunset cruise promises an experience like no other.
It offers exceptional value for an unforgettable evening at just $60 per adult or $55 per child (with guests under age 2 enjoying complimentary admission).
Ensure you are in layers or carry a jacket, as even during the Summer, the temperature can rapidly cool, mainly when you are on the water. 
Recommended Tours:
INDULGE IN A CULINARY JOURNEY ON A ROMANTIC DINNER CRUISE
One of the romantic things to do in Boston is to go on a dinner cruise on the majestic Odyssey.
This tour will let you enjoy a delightful culinary adventure that combines delectable flavours, stunning vistas, and an atmosphere of pure elegance.
While street food is undoubtedly amusing, this dinner cruise will elevate your evening to new heights and is a unique experience in Boston at night.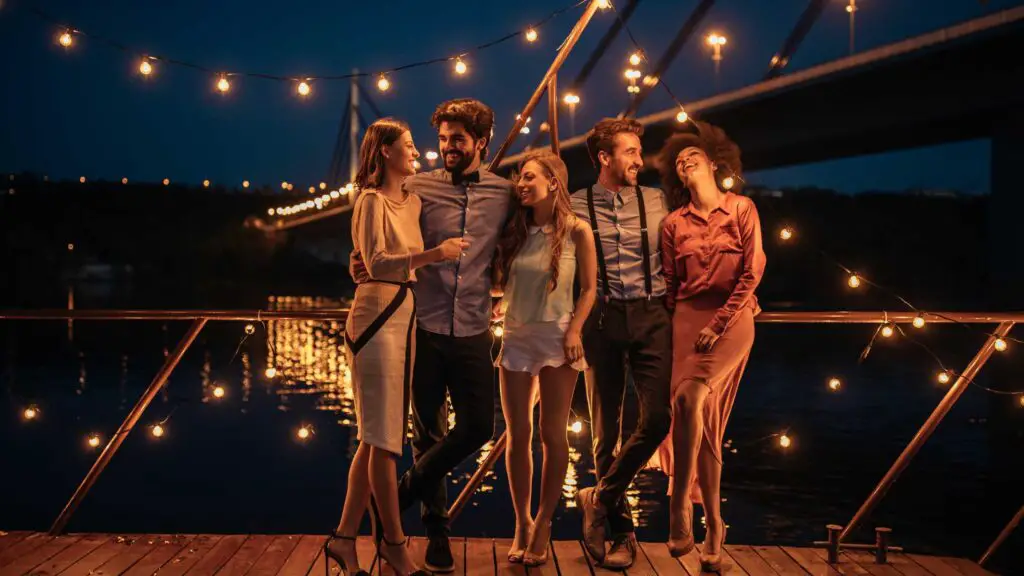 The cruise lasts for about two to three hours. As you set sail, grip yourself in the astonishing views that unfold before your eyes. 
Marvel at the iconic USS Constitution and behold the awe-inspiring Bunker Hill Monument, two historical gems that witness the city's rich heritage.
Indulge in a gourmet three-course dinner meticulously crafted by talented chefs, ensuring an exquisite culinary experience that will tantalize your taste buds. 
Each dish is thoughtfully prepared with the finest ingredients, promising a symphony of flavours that will leave you craving for more.
While you enjoy each delectable bite, a live guitar performance sets the ambience, adding a touch of elegance and serenity to your dining experience. 
Recommended Tours:
ENJOY A NIGHT OF LAUGHTER AND ENTERTAINMENT
Laugh till your sides ache at the wit of top-notch comedy acts at Improv Asylum, Boston's premier comedy club in the vibrant North End.
It is also one of the fun things to do in Boston at night.
Offering shows throughout the week, this improvisational theatre showcases a blend of sketch comedy and improvised scenes that will keep you entertained.
With performances featuring improv students, main stage actors, and surprise guest stars, each show promises a unique and hilarious experience.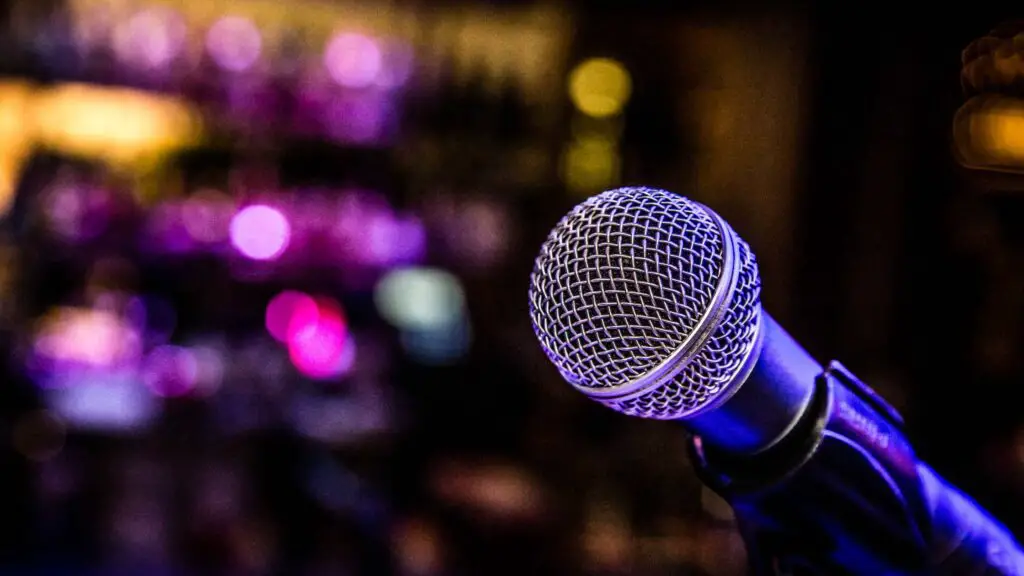 Prepare to be delighted by the spontaneity and wit of the performers. As the shows are based on improv comedy, no two shows are ever the same, ensuring that you will be treated to a one-of-a-kind performance each time you attend. 
Keep in mind that the content of the shows may vary, so it's advisable to check the descriptions beforehand, especially if you are with kids, as they may not always be suitable for all audiences.
Improv Asylum offers more than just a laughter-filled evening. If you find yourself inspired by the performances, you can even take improv classes at the theatre.
Recommended Tour: Mr. Swindle's Traveling Peculiarium and Drink-Ory Garden
You will also be spoiled by many delightful Italian restaurants and cannoli shop choices surrounding the Improv Asylum, making it the perfect destination for a fun night in Boston. 
It is easily accessible on foot from downtown Boston or a short walk from the North Station or South Station if you are arriving by train.
If you want more laughter-filled venues in Boston, check out Laugh Boston, The Wilbur, and The Comedy Studio. 
These establishments offer a variety of comedy shows, including stand-up performances, ensuring that you will find the perfect spot to unwind and enjoy a night of comedic brilliance in Beantown.
THINGS TO DO IN BOSTON AT NIGHT MAP
WHERE TO STAY IN BOSTON AT NIGHT?
HOTELS 
HOSTELS
ENTIRE APARTMENT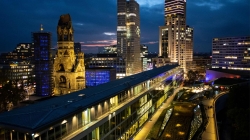 Latest posts by Anna Owen
(see all)