Whether you want to visit the best party cities in the US for your bachelor's or bachelorette's or holidays for unlimited fun and parties, to enjoy nights packed with all sorts of entertainment, the cities warrant more than one visit.
The best nightlife cities in the US offer something for everyone, provided you love loud music and nights full of activities, dances, entertainment, games, and more.
The best party cities are as diverse and distinct as the country, from rooftop bars to casino districts to themed pubs running all night. You may feel overwhelmed deciding your USA party cities, especially if you are unfamiliar with the country.
But we got you covered. This comprehensive post will list the best party destinations in the USA with what they offer, the best time to visit and the things to do to help you plan your fun trip.
BEST PARTY CITIES IN THE USA
LAS VEGAS, NEVADA
One of the best party cities in the USA is Sin City, the official part capital of the world.
Home to thousands of casinos, the most extensive collection of them in the US, excellent nightlife, tons of entertainment, fantastic lighting, renowned DJs, fabulous nightclubs, and glamour makes it one of the most attractive USA party cities for bachelors, bachelorettes, couples, and friends wanting to party hardest.
Las Vegas has also got the second most number of bars in the world after Prague city per a hundred thousand people. It is no surprise given its millions of visitors flocking the city everywhere for unending nights of fun and entertainment.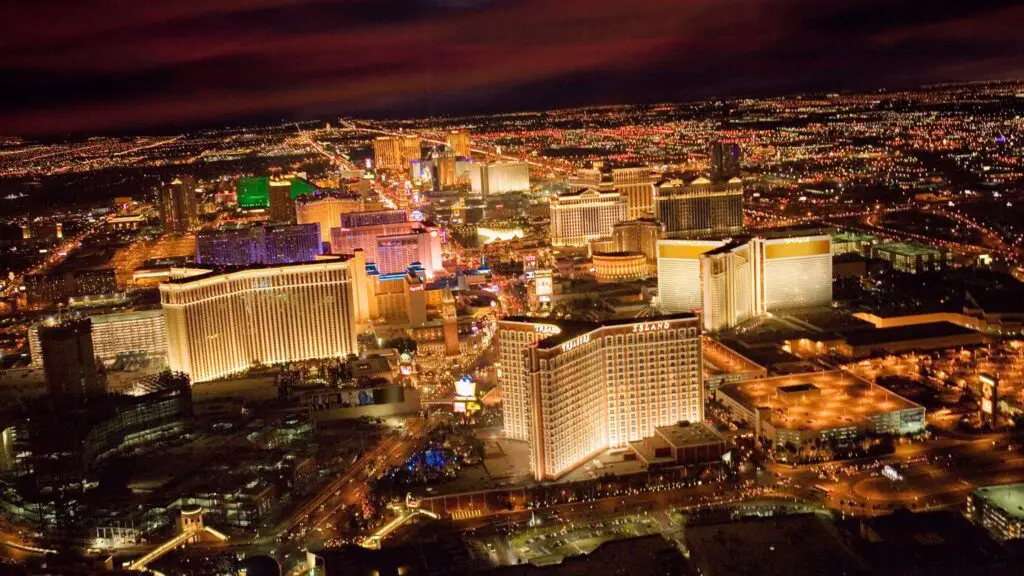 Everyone knows Las Vegas is the wildest city in America, but you may end up loving or hating the city. No matter what, it is one of the best party cities you should visit to see how you feel.
"What Happens in Vegas Stays in Vegas" – This famous phrase gives you glimpses of all the sin city offers for fun nights, making it America's adult playground.
Las Vegas is the city that never stops partying. Thousands of nightclubs, bars, casino centres, hotels, musical concerts, and pubs draw tourists to the city like moths to a flame on the illuminated Strip. 
It is one of the few cities where you will find a nightclub at every hotel on the Las Vegas Strip. 
You can eat a buffet at 3 AM and drive a race car around a track. Pool parties are known to go all day, sometimes even begin during the daytime, followed by decadent stage shows, strip clubs run in all possible themes, and slot machines run all day and night.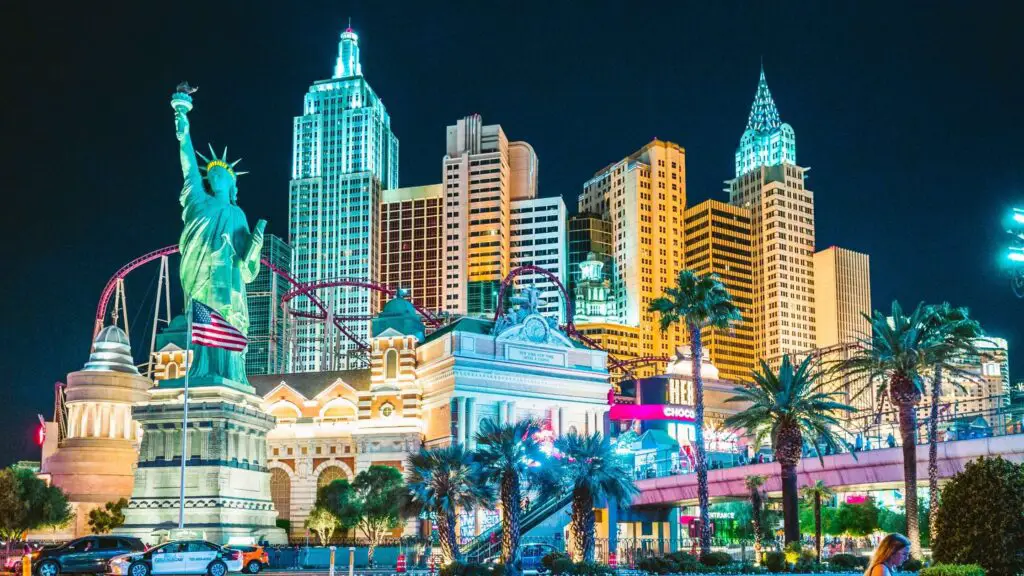 The classics top when it comes to experience the best nightlife in Las Vegas. Omnia at Caesars Palace, Bellagio Hotel & Casino and Hakkasan at MGM Grand is for you to spend luxurious nights. 
Get to know all about Las Vegas nightlife in this detailed guide here for other tons of experiences.
If you are not into partying, or your idea of parties does not resonate with any of the above, you are still guaranteed to have a blast in Las Vegas as there are many outdoor activities at night in Sin City. 
Opt for the night food, segway and drinks tours, hop on the bus, visit Neon Museums, and enjoy the landmarks basking in lights.
No matter what you choose, you will have a fantastic time in this best US party city.
RECOMMENDED TOURS
WHERE TO STAY?
SAN FRANCISCO, CALIFORNIA
One of the popular phrases in America you hear a lot is "The West Coast is the Best Coast." And we must admit, when it comes to the list of the best party cities in the US, this rings very true.
Suppose you want to experience a typical Californian night out involving a perfect blend of food, arts, nightlife, gorgeous lights and stunning city views. In that case, San Francisco is one of the top party destinations in the United States.
Whether you are a solo traveler, planning a romantic getaway or want to head out with kids, there is something for everyone to enjoy at night in San Francisco.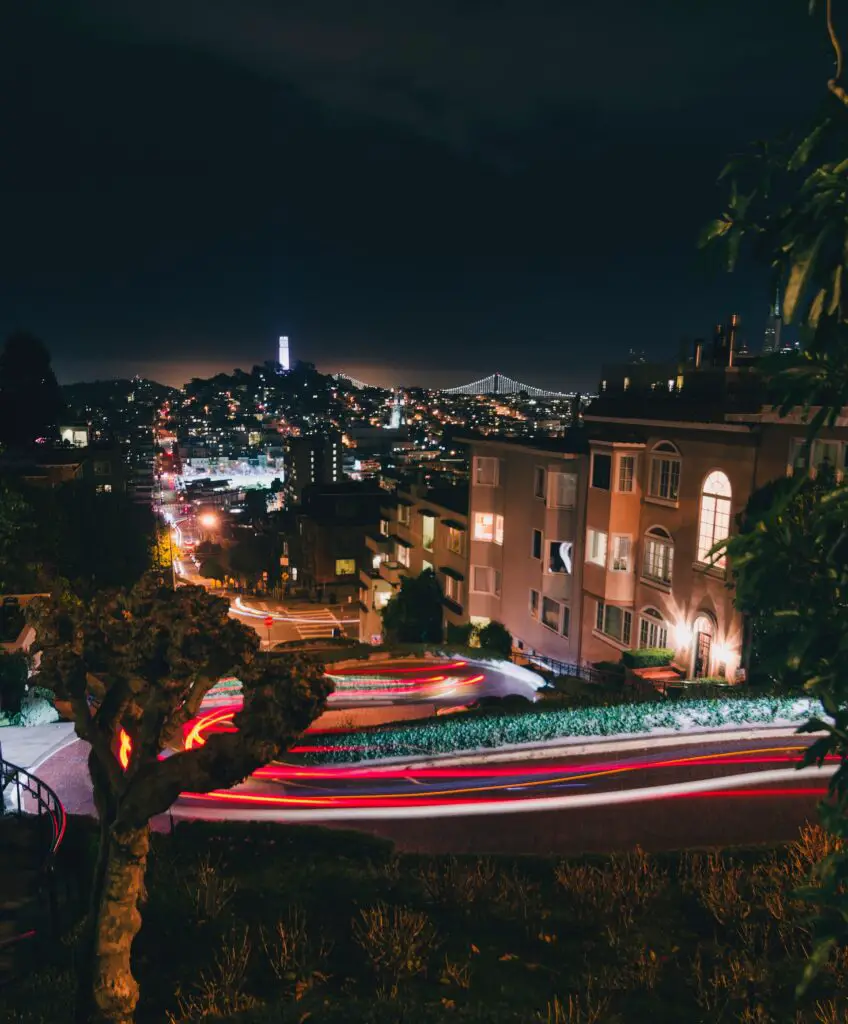 San Francisco is also one of the best LGBTQ-friendly cities in the US, home to some of the best gay bars and clubs, including drag shows.
The city offers a toned-down version of party hardest, perfect for those preferring something more subtle and less crowded. 
You can choose from a wide variety of themed wine bars, chic cocktail pubs, beer bars, luxurious nightclubs and quirky restaurants.
The SOMA, Downtown and Mission Districts are for you if you prefer loud and crowded ambiences, including hipster hideouts and neon markets.
North Beach is home to many rooftop bars open until the wee hours. Hop on the streetcar to The Castro district, where you can dance the night away.
There are tons of cool things to do in San Francisco at night apart from clubbing and pubbing. 
Watch movies under the stars, and take your inner child on a beautiful journey at the adults-only After Dark at the Exploratorium. 
Want to feel eerie? Take a ghost hunting tour or, better, take a night tour of the famous prison at Alcatraz Island.
RECOMMENDED TOURS
NEW YORK CITY
The most populous city in the country, New York is known for many things and is the mainstream destination for food, fashion and the arts, but it stands as one of the best party cities in the US consistently, drawing millions of partygoers every year.
There are plenty of awesome things to do in New York City at night as this cosmopolitan hub transforms into a party destination after the sun goes down and is one of the few cities that never sleep.
Whether you want to indulge in the big-city splendour, exploring some of the best high-end, luxurious strip clubs, pubs, bars, and gambling houses, or you prefer hitting the local and intimate night scenes. You can do both.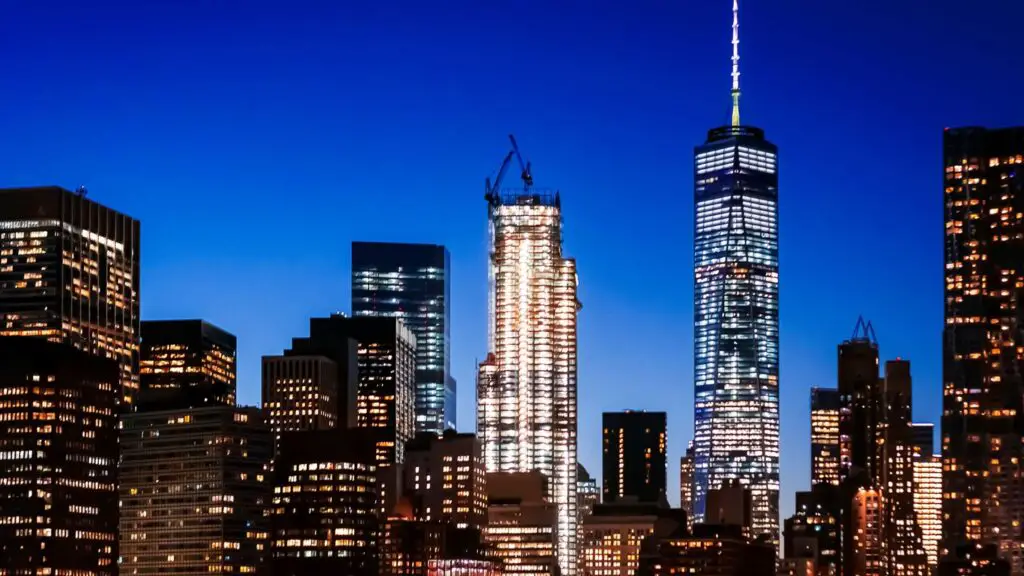 From the ever glittering lights at Time Square to trendy cocktail bars and pubs that run until the early morning hours, you can choose your ideas for fun.
The neighbourhoods famous for the best nightlife in NYC are The East Village, West Village, Lower East Side, and midtown in Manhattan and Brooklyn. 
But unlike the other party cities in the USA, New York has a diverse array of options for parties, nightlife, entertainment and fun.
There's stand-up, live music, Broadway shows, pub crawling tours, late-night TV, Karaoke bars, themed dive bars, bottle service blowouts, decadent cocktail lounges to budget-friendly bars.
Start your night by joining a pub crawl tour at the East Village when the happy hours begin, taking you to famous bars in the neighbourhood, including Doc Holliday's and The Library Bar.
If you are looking for fine dining, luxurious restaurants or proper clubbing, head to the Meatpacking District. Midtown is also packed with many bars and bouncing nightclubs. 
One of the best places for parties is the rooftop bars, offering gorgeous views of the night city skyline.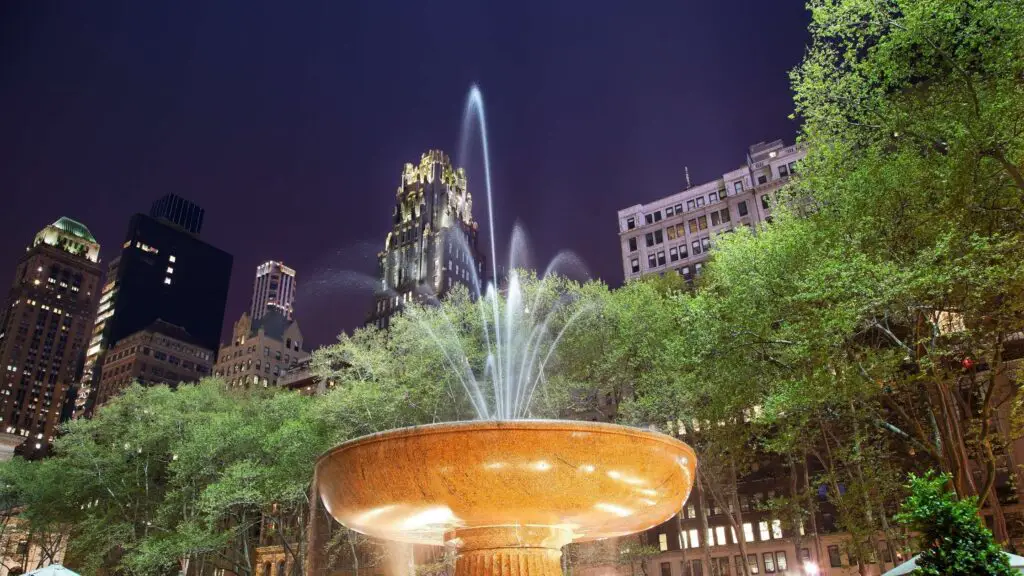 Manhattan midtown is home to many popular rooftop bars overlooking fantastic views. SoHo neighbourhood is best if you love cocktail bars, while Brooklyn is all about beer bars.
It is not just bars and pubs, though, as the boroughs and alleys of the neighbourhoods in the city also boast of trendy indie boutiques, iconic bakeries, night museums and cute coffee shops worth checking out.
Admire Gotham's iconic landmarks and towering skyscrapers on a guided night walking tour.
Shoppers should check out the fabulous Fifth Avenue, while the Metropolitan Museum is the best for art lovers.
RECOMMENDED TOURS
Here are our recommended tours, including late-night tours in NYC to make the most of your time.
CHRISTMAS AND NEW YEAR'S EVE SPECIAL TOURS IN NEW YORK AT NIGHT
From Manhattan: 4-Hour Dyker Heights Holiday Lights Bus Tour
New York City: Christmas Lights Horse Carriage Ride
From New Jersey: NYC New Year's Eve Fireworks Dinner Cruise
From Manhattan: Private Brooklyn Christmas Tour by Limousine
NYC: Holiday Yacht Cruise with Jazz, Cocoa & Carols
NYC: Christmas Spectacular Starring the Radio City Rockettes
From Manhattan: 3.5-Hour Brooklyn Christmas Magic Tour
From Manhattan: 4-Hour Christmas Lights Luxury Bus Tour
OTHER TOP TOURS(THROUGHOUT THE YEAR)
Central Park: Short Loop Horse Carriage Ride
From Westchester: Shared Helicopter Tour over New York City
NYC: SUMMIT One Vanderbilt Experience Ticket
Central Park NYC: Horse and Carriage Ride
New York City: Manhattan Helicopter Tour
NYC: New Year's Day Gourmet Brunch or Dinner Harbour Cruise
New York: The New York Pass with 100+ Attractions and Tours
WHERE TO STAY?
LOS ANGELES, CALIFORNIA
What better place than the La-La Land for seemingly never-ending fun-filled nights? 
A city synonymous with dismantling stereotypes, a melting pot of culture based on liberal and laid-back vibes, Los Angeles is one of the best party cities in the US, loved by the free-spirited, adventure-seeking, young and young at heart.
If you have been to this dream city, you know why the music world and celebrities call it their home. 
One of the largest cities in the country, this sprawling metropolis is home to one of the most diverse sets of neighbourhoods in the United States.
Whether you want to visit high-end-packed clubs with the hottest DJs, attend underground techno shows in warehouses, or indulge in midnight street festivals and night raves, you can have it all in this dreamy city.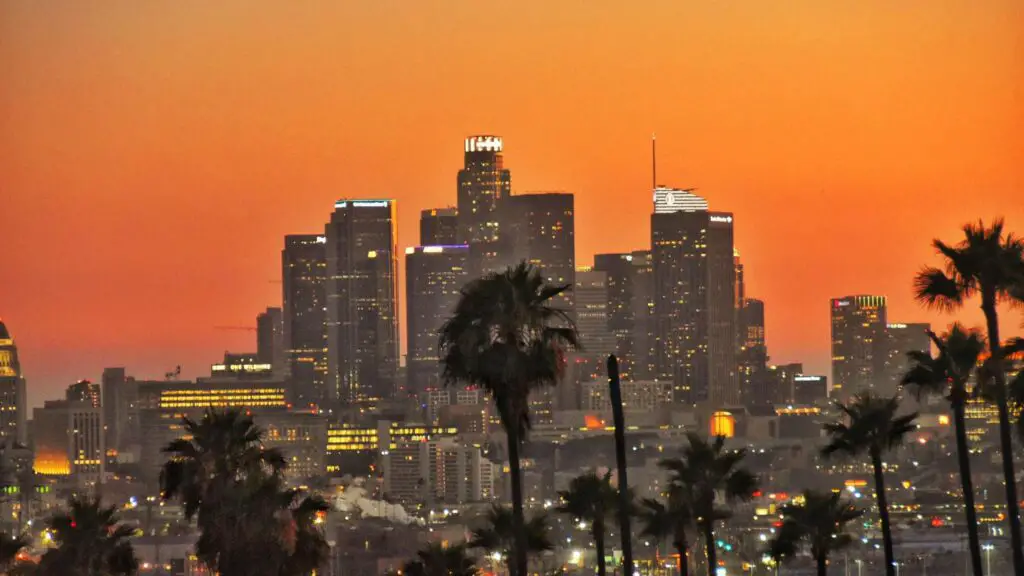 Looking beyond the quintessential traits of a large USA party city encompassing wild clubs, expensive drinks, and fancy clothes, you will find diverse activities waiting to be explored. 
LA is home to many fantastic comedy clubs, beautiful late-night restaurants, and hip music bars.
West Hollywood, Downtown LA and Beverly Hills are the best neighbourhoods for top nightlife. It is home to the trendiest rooftop bars, classy cocktail spots, top nightclubs, and luxurious restaurants.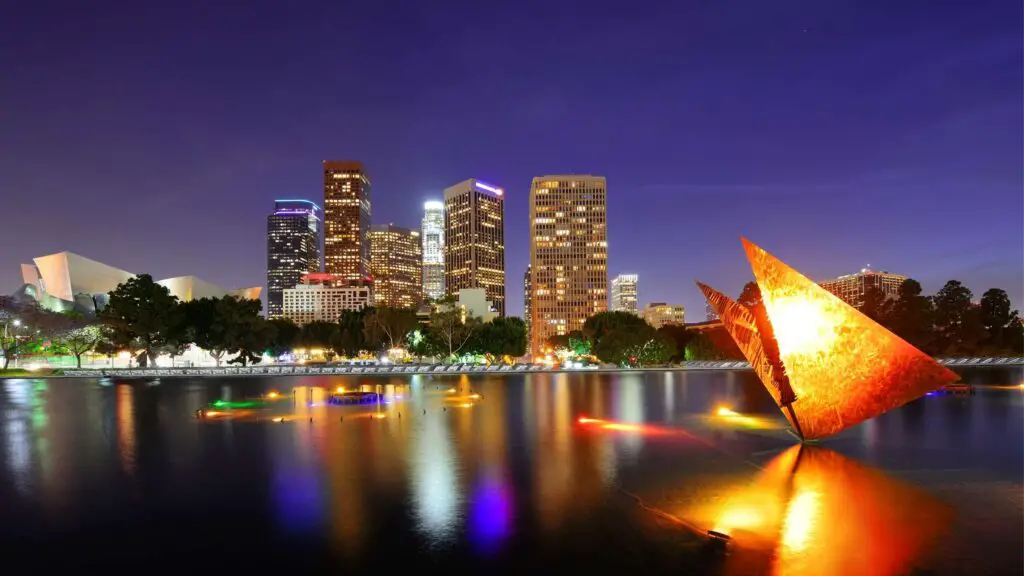 Looking closely at these districts, you might spot a few celebrities in the crowd. The famous Avalon is one of the top spots for celebrity spotting and excellent drinks.
Downtown LA is famous for its top EDM and Latin clubs, including the Exchange LA.
If you want something more laid-back, head to the shores at Santa Monica for beach-side bars or Silver Lake for rooftop restaurants.
RECOMMENDED TOURS
WHERE TO STAY?
NEW ORLEANS, LOUISIANA
New Orleans is one of the best party cities in the USA, known for its French-influenced culture that goes beyond its European-style architecture.
New Orleans is famous for its wild parties, which give the city a distinct identity drawing thousands of travelers looking to party all night and day.
If you want to witness the city's maximum wildest levels, head to New Orleans during February or March. In this extravagant carnival, the costumed revellers from around the world flock to the streets for one of the year's biggest parties.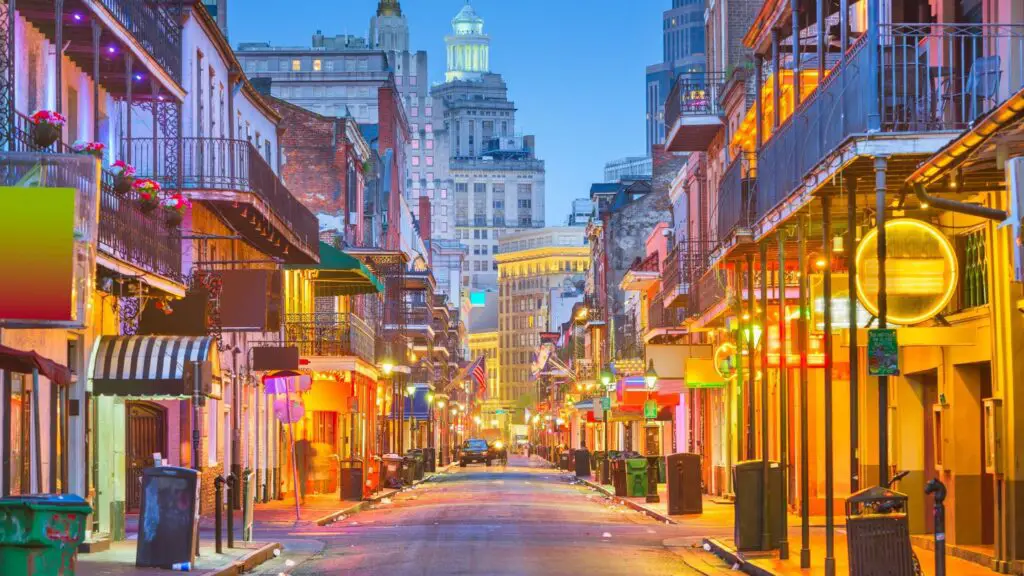 There are people with masks everywhere, music, colourful floats of all shapes and sizes floating around, and endless forms of merriment and rowdiness typical at this carnival.
Although New Orleans draws millions during Mardi Gras season, this southern Louisiana city east of the Rockies keeps the fun and frolic going.
If you want to experience the best Louisiana nightlife, there is no better city than New Orleans. 
New Orleans has more bars per capita than any other American city. It transforms into a spectacular place with its wild nightlife comprising jazz-soaked streets, bars that are open late, a festival of some sort almost every weekend, and hip-hop havens amidst renaissance-style buildings.
The French Quarter is the heart of New Orleans for its indulgent nightlife. The city is home to one of the most famous party streets in the USA -Bourbon Street, located in the French Quarter.
It is where you will find most bars, restaurants and clubs, including beer bars, cocktail bars, strip clubs, sex clubs and underground pinball arcades. Bourbon Street is also home to authentic local bars and unique live music.
If you like Jazz and local bands, head to Frenchmen Street to watch local musicians jam to Jazz, blues, rock 'n' roll, and Zydeco tunes. The Spotted Cat and The Maison are popular bars for enjoying these genres of music when in New Orleans.
The fun-loving energy and people of the Big Easy will capture your heart, no matter where you go.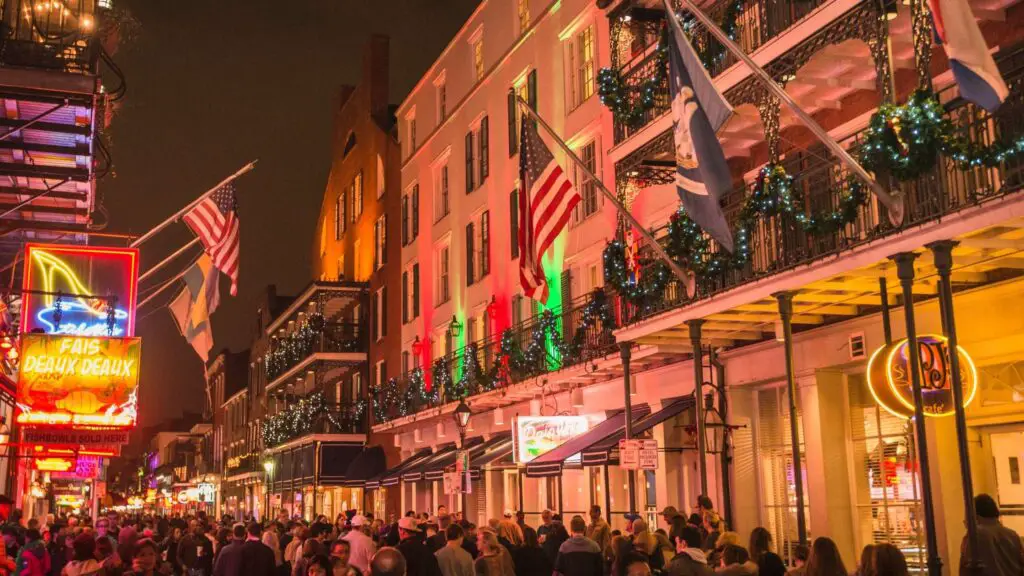 From the French Quarter to legendary Pat O'Brien's, Penthouse Club, and Lafitte's Blacksmith Shop, the nights in New Orleans are always loud and passionate, even on a Monday night.
Start your night in New Orleans with a walking tour through the French Quarter. Along with admiring its colonial heritage, check out the pubs and taste the best on a pub crawl tour, or if you want something spooky, join a ghost tour this quarter.
For more jazz-themed pubs, we recommend you go on a pub crawl tour in Frenchmen Street. The best bars include Snug Harbor Jazz Bistro and the House of Blues. 
For a more classy alternative, sip wine in the Bayou wine garden.
KEY WEST, FLORIDA
How do you like a tropical getaway for a trip packed with fun nightlife? 
Key West in Florida is one of the best parties in the US for a bit of a gorgeous beach holiday and wild nights.
Do not let the size of the island discourage you, as the city is packed with adventurous activities and fantastic nightlife.
Although it draws tourists and beach lovers all year, Key West is one of the most popular winter party places in the USA, drawing hundreds of party lovers from December to April, which are also the best months to be here.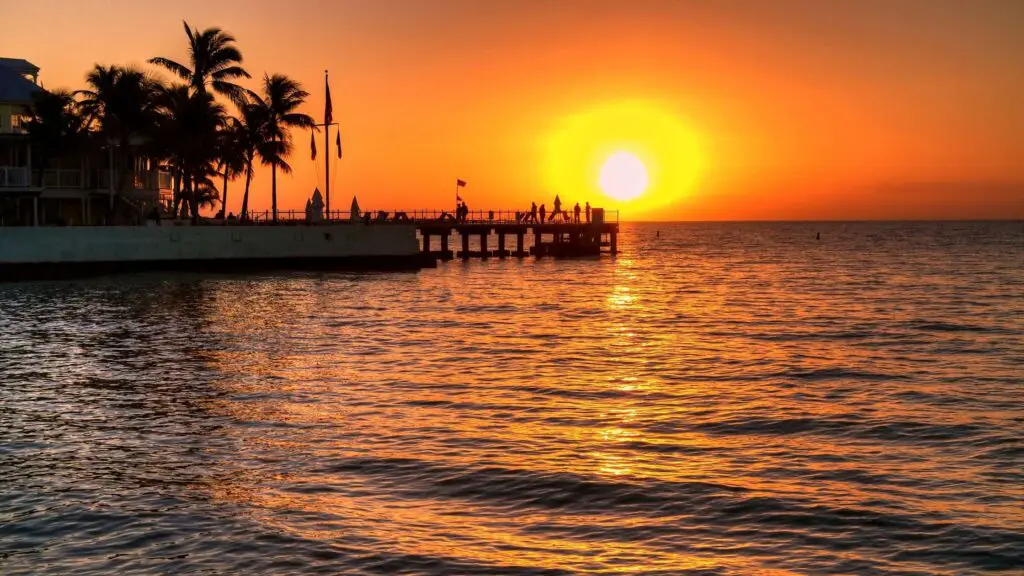 After watching the gorgeous sunset along the shores or at the beautiful Mallory square, head to Duval street, which transforms into a vibrant lane playing the latest hits. 
From classic Irish pubs to Saloon-themed Texas-style bars, you will find plenty of options to enjoy your nights. Do not be surprised if you find people dancing on the street as the hour passes. Take a pub crawl tour or a cocktail tour which will take you to amazing cocktail bars.
If partying in the ocean is more your type, which is what it should be when in Florida, join a party cruise. If you want a full boat to yourself, rent one and throw your private yacht party. 
AUSTIN, TEXAS
When nicknamed the "Live Music Capital of the World," it is undoubtedly one of the best party cities in the USA. 
The capital of Texas is known for many things, especially live music, but if parties are on your mind, it is a top USA party city for the youth, bachelor or bachelorette parties as this city is all things urban and hip.
Since the city is home to some of the most prominent universities in the country, the youthful crowd make sure that it stays one of the best party vacation destinations in the US.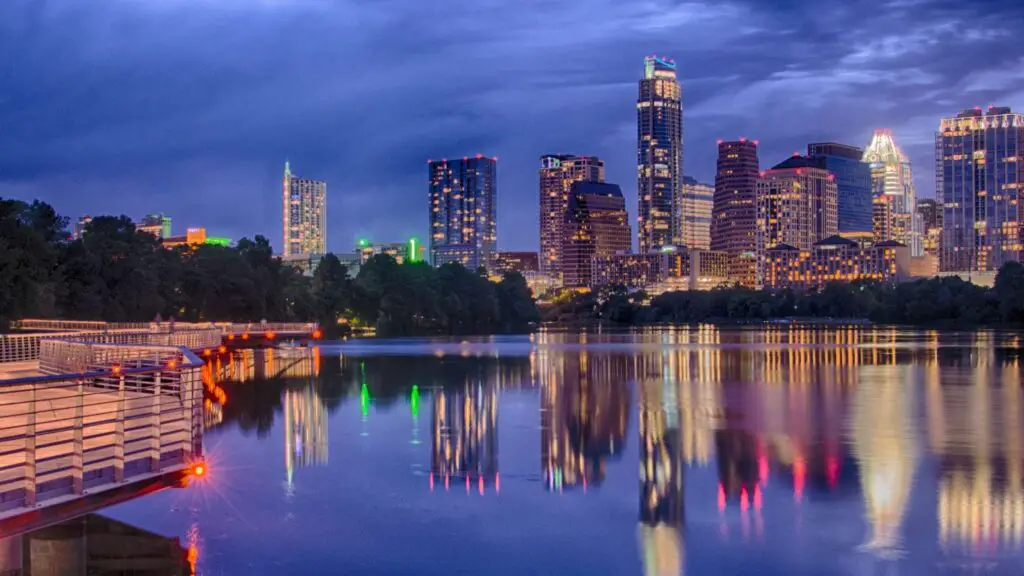 You can enjoy dancing away the night or go wilder at the many strip clubs, laugh until your belly hurts or take in the fantastic night views of the brilliantly lit Austin skyline from rooftop bars while sipping your favourite cocktails. 
Austin boasts more live music venues per capita than anywhere else in the nation, with over 250 live music spaces. 
So if music is your thing, Austin will keep you up into the wee hours of the morning at its tons of fancy cocktail bars, rooftop bars with views, country bars and everything in between. 
Head to Sixth Street in Downtown Austin, the ultimate nightlife street. This neighbourhood, known as the entertainment district, is packed with every beat you can imagine, as some of the best DJs in the country light the fire at night, from pop to rock to hip-hop.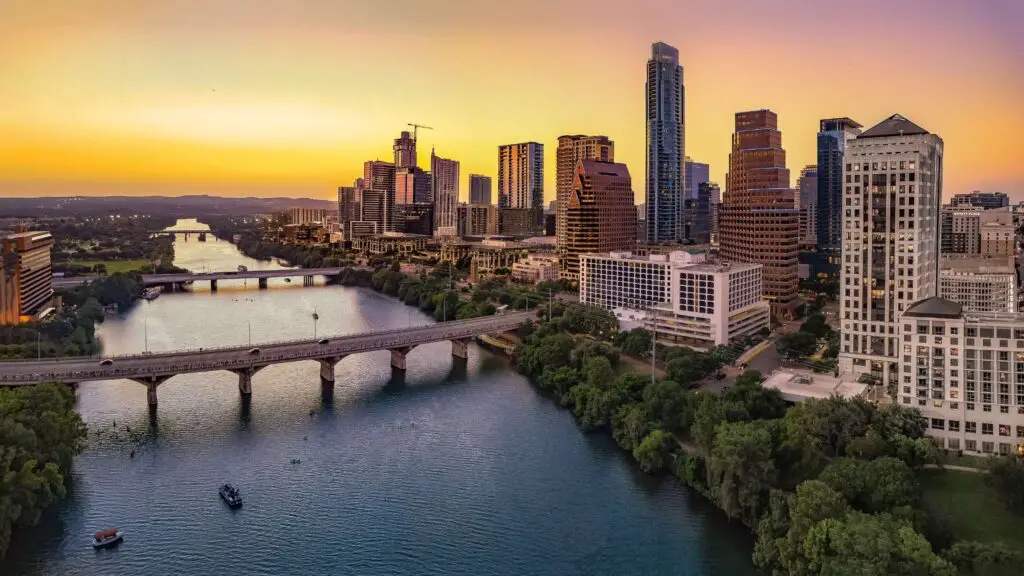 Join a pub crawl tour to explore western-themed bars, including cocktail lounges and cowboy bars. Or if you prefer something classy, various nightclubs await you.
Drink at a speakeasy and enjoy some great dancing and partying. Join line dancing or throw back a few beers at a cowboy bar.
Rainey Street is a popular stop worth checking out for quirky restaurants, little pop-up bars, and many excellent rooftop bars housed in ancient heritage buildings. If you want to do it the local's way, the quieter East Austin is the place to go.
MIAMI, FLORIDA
One of the best party cities in the US that needs no introduction is Miami, known for its stunning coast packed with amazing beaches whose shores turn into a party paradise after sundown.
The renowned shores of "America's Riviera" is the perfect destination for people looking for sunshine, cocktails on the beach and pool parties.
Between Miami and Miami Beach, you can get your nightlife thrills in many ways with something available to every type of partygoer.
South Miami is the heart of nightlife, with tons of entertainment options. You will see the neighbourhood open until the morning hours no matter the time of the year on its glorious beaches packed with beautiful people revelling in all-night dance parties bumping beats 24/7.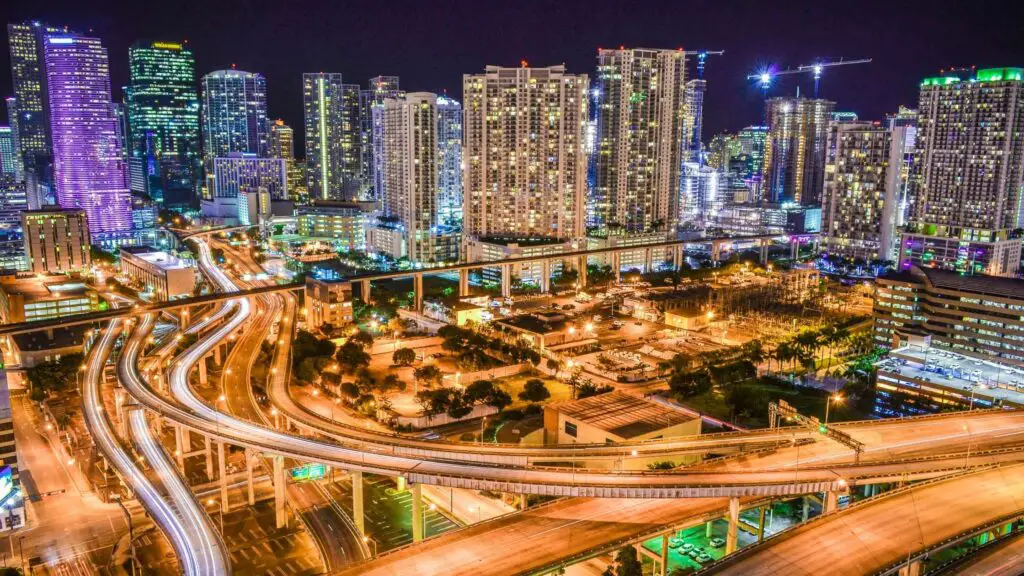 Eat the best delicacies at the best beach-side barbeques while taking in the glitz and views. Head next to shiny neon dance clubs.
The rich and famous aren't the only ones who will enjoy their time in South Miami in fancy nightclubs like Story. You can have the best nights of your trip hopping bars on pub crawl tours or enjoy gorgeous views from the rooftop cocktail bars.
Do you know? Miami is the unofficial capital of electronic music and home to legendary EDM venues, including Club Space and LIV, which are the best places to party in Miami.
Downtown Miami offers more local vibes with many cocktail bars in festive markets like Bayside Marketplace, home to unique cocktail bars. You can enjoy live music and yummy food downtown.
You will find many bars and restaurants along Ocean Drive and the art deco district. Ocean Drive is home to some of Miami's best bars, upscale boutique lounges, and beach clubs, including its renowned fantastic luxury hotels.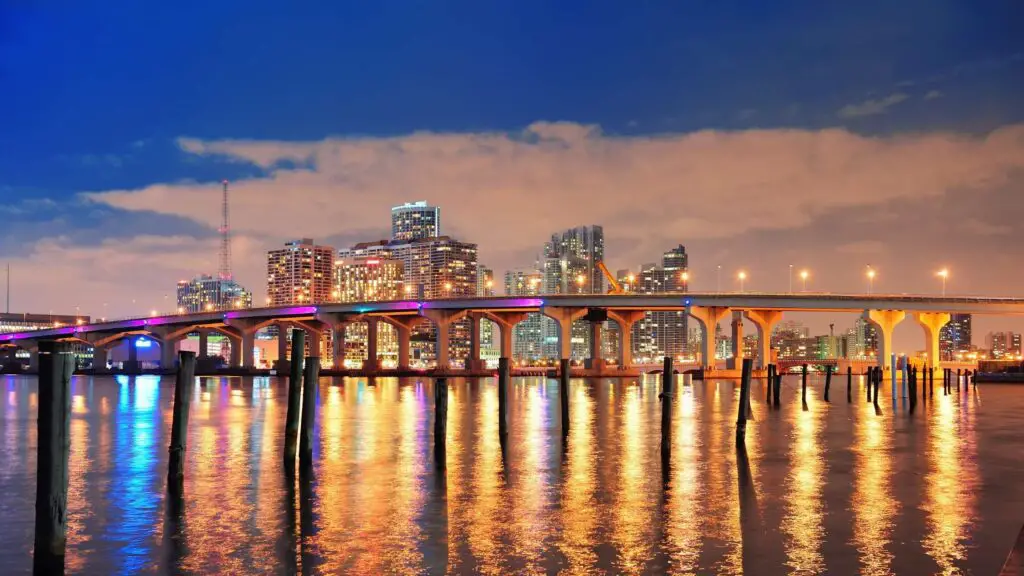 If you prefer something less wild, less glamorous and artistic nights, you should check out Wynwood, Miami's arts district drawing hipsters, home to outdoor and indoor art-themed bars and beautiful street art. It is also famous for many quirky cocktail bars offering fantastic night views.
Lincoln Road is another strip" in Miami Beach that you will love for more laid-back nightlife.
Brickell is where you must go to a party with the younger crowd at the fancy clubs.
There are many other awesome things to do in Miami at night. Head to Haulover Park or Lummus Park, learn a little about architecture on an art deco tour, join a Night Tour with Big Bus Miami or start your night with a Sunset Cruise. No matter where you go, you will love partying in Miami with your friends.
NASHVILLE, TENNESSEE
Many bachelors or bachelorette parties book in Nashville for a reason, as only a few other party streets in the USA, can live up to the legacy of the city streets.
Nashville is one of the best party cities in the US, thanks to the city's love for country music and its fantastic Broadway street. But there are loads of activities, events and experiences Nashville offers, making it one of the most versatile party destinations in the United States.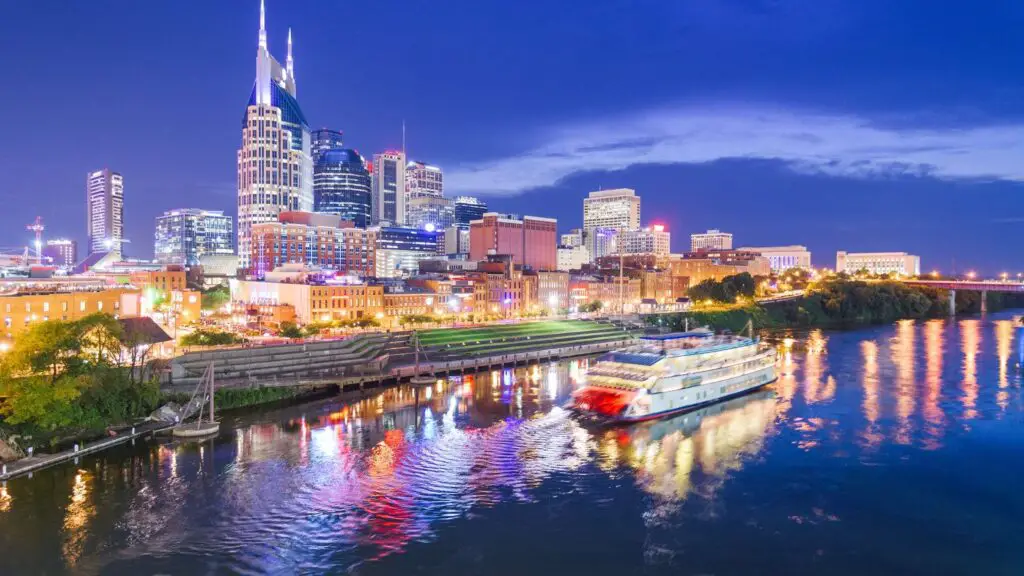 Do you know? Nashville stood as the highest-ranking city in the south for nightlife. The Music City is one of the best places to stay up, dance and drinks until the very early morning hours, bar hopping for more cocktails, beer, and dances.
A paradise for musicians, Nashville is home to the most famous country artists in the world. You can enjoy all types of live music that fill the Tennessee night sky.
Famous as Honky Tonk Highway, Broadway in Nashville is where you start your part nights after sundown.
From downhome honky tonks to live blue music spaces, you will enjoy music performed by talented musicians cheered by the friendliest locals.
There are plenty of bars on Broadway in the 12South area, which has the city's best nightclubs, cocktail bars, Jazz and live blues, and some of the country's best beer.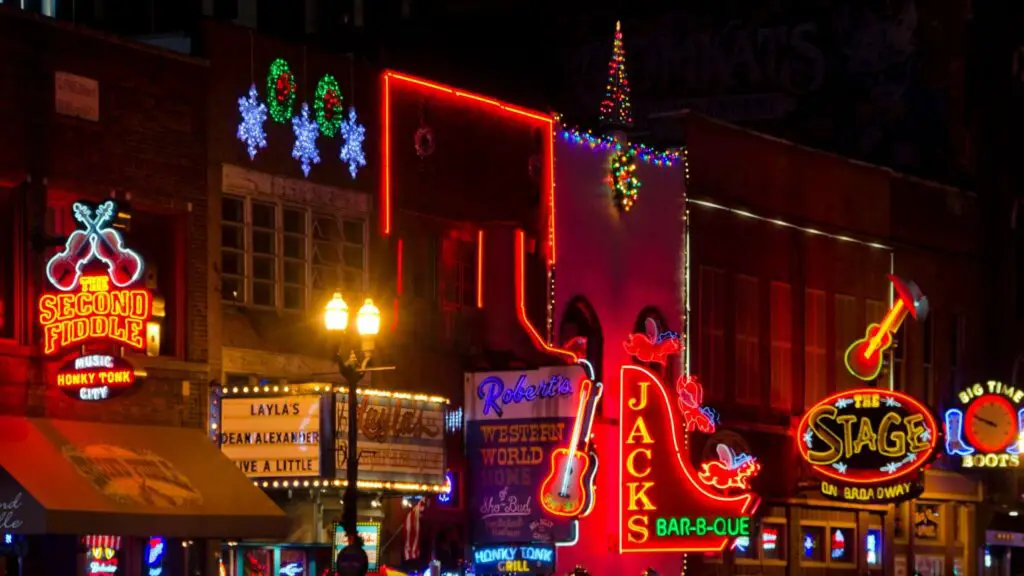 Go for a pub crawl with craft beers and cocktails, as local experts recommend, especially if you are new to the city.
Downtown Nashville is another spot for excellent food, music, drinks, and dancing. Head to Golf Bars for an exciting golf game along with drinks.
If you are a die-hard fan of country music, you must watch a show at Grand Ole Opry, one of the most famous country music venues in the world in Nashville.
BOSTON, MASSACHUSETTS
Many Americans feel that you haven't truly experienced nightlife until you've seen the sunset in Boston. We agree that this Massachusetts city is one of the best party destinations in the USA, known for its thumping nightlife.
Boston during daylight attracts hundreds of thousands of history buffs and food enthusiasts, but after sundown is when nightlife wanderers love here.
The Boston nightlife has the perfect mix of everything as the university city draws its youthful crowds to bars, clubs, comedy, theatres, dinner cruises and delicious food.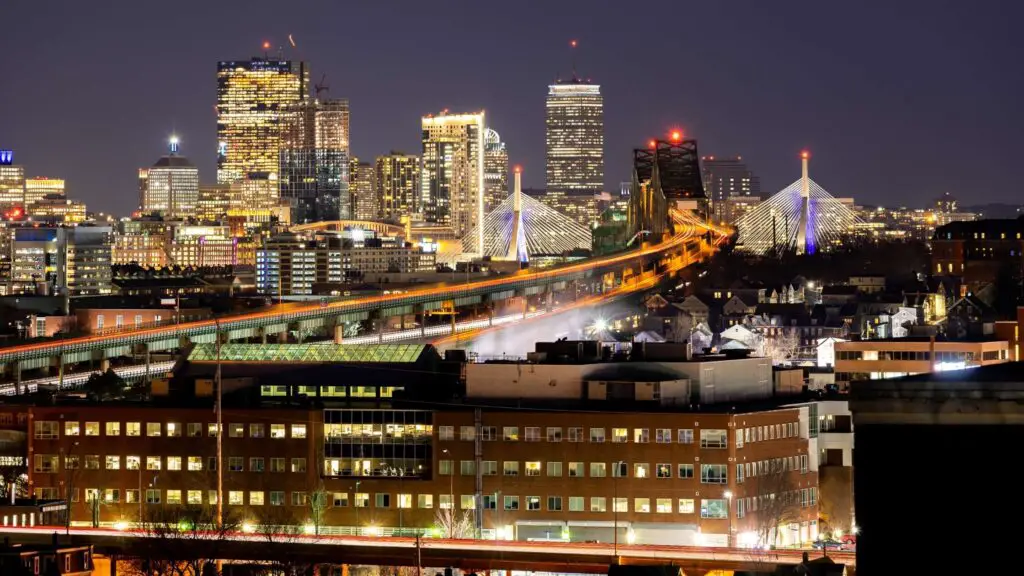 Whether it is a game night, a weekend or any day in between, it is common to find the bars and pubs packed at night.
You will love Boston if you are an EDM fan, as many bars host EDM artists for blood-pumping EDM nights at some of the best-loved local bars.
If you're looking for something funny to spice up your evening, check out the comedy clubs at North End, one of the entertainment centres in the city, also home to swanky nightclubs and gorgeous rooftop bars.
BEST PARTY CITIES IN THE USA – UNDERRATED
SAN DIEGO, CALIFORNIA
One of the best party cities in the US, if you are looking to go away from the famous destinations, is San Diego. 
This Californian city is known for its excellent weather throughout the year, but it is also blessed with a magnificent coastline dotted with pretty beaches, making it one of the best USA beach party destinations, especially if you want your bachelor or bachelorette party by the beach shores.
This underrated city offers happening nightlife and entertainment, from live music to dive bars and flamenco dancing.
If you are a foodie, you will love San Diego as a party destination in the US, as it is known for its many excellent restaurants and local eateries serving diverse exquisite cuisines, from Mexican to Italian and Indian.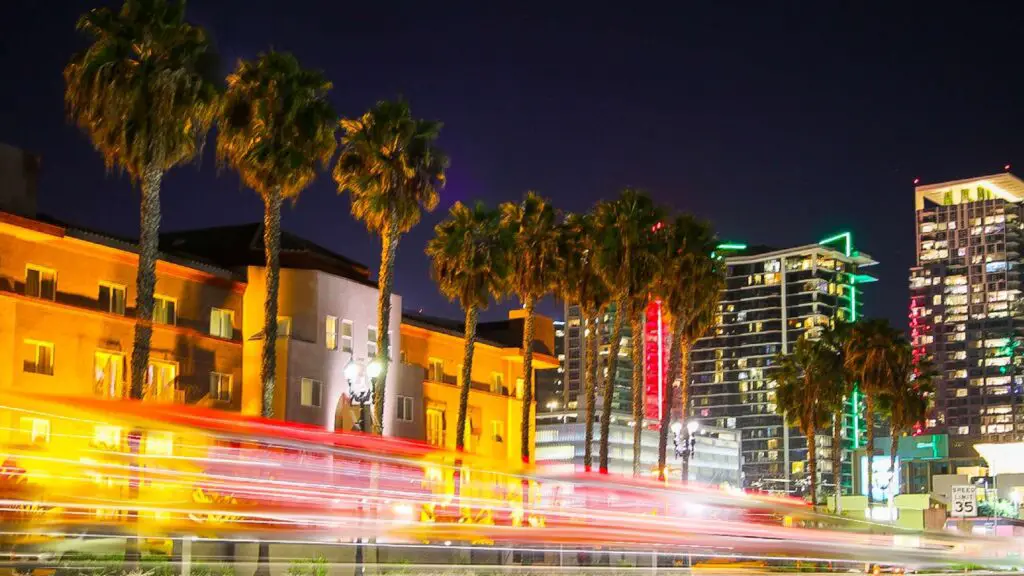 San Diego is an ideal destination for a party-themed trip with friends. Start your night by watching stunning sunset at one of the many beaches and hopping the beach-side bars.
Head next to the famous Gaslamp Quarter, the heart of the city nightlife, home to hundreds of bars, restaurants and nightclubs.
Sip on fancy cocktails at rooftop bars with your friends, admiring stunning views of the impressive San Diego bay. 
Next, you can choose to explore the thriving local craft beer scene, which makes the city famous for its abundance of excellent breweries. 
Or, check out the modern nightclubs drawing eclectic crowds throughout the year. 
Among the trendy nightclubs of San Diego, Onyx Nightclub is the perfect place if you want to do late-night parties as their musical nights go on well past midnight hours.
RECOMMENDED TOURS
WHERE TO STAY?
TAMPA, FLORIDA
Tampa is one of the best party cities in the US in Central Florida if you want to get away from the Miami beach area but still prefer partying with your friends in the sunshine state.
A famous stop for artists and creative souls, Tampa is the city where the excitement skyrockets as the colourful city open to partygoers once the golden colours of the sky start fading.
If you love EDM, Tampa is one of the best US party cities after LA that you will love as it is where the new, famous and aspiring DJs come to entertain the crowds as they dance away the nights.
The best places for nightlife in Tampa are the Riverwalk, Downtown and Ybor City. You have many options to party and explore the nightlife in this city, from house music to fancy nightclubs and luxurious restaurants.
The options are endless, from rooftop bars with wide dance floors to mesmerizing views of the skyline from those smaller, more intimate get-togethers in Ybor, Tampa's artistic district.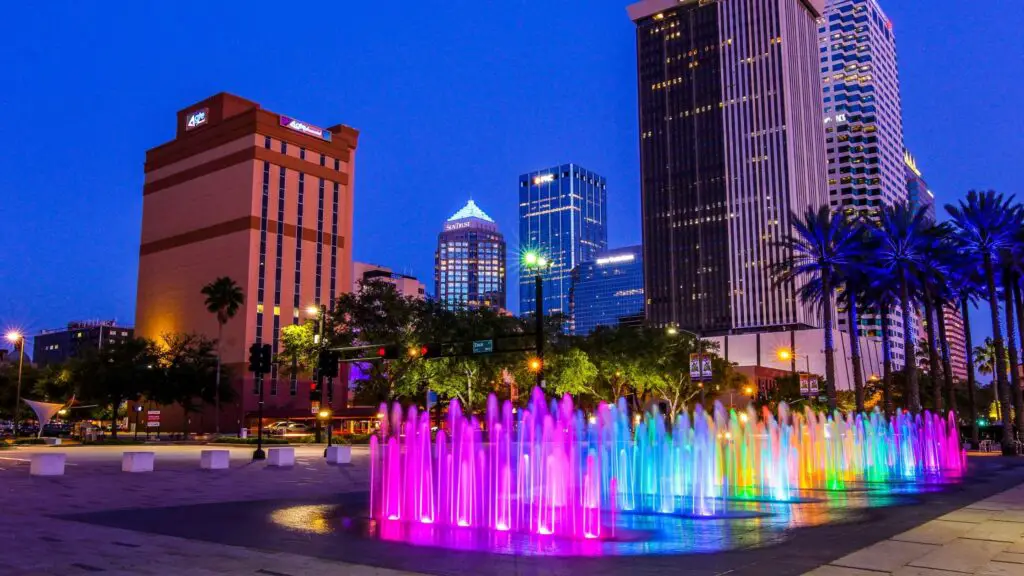 You will love the Riverwalk if you prefer dining or partying outdoors, as many night events like games, live music, and DJ nights are held in its themed bars and pubs.
Ybor City is where you should go for a unique nightlife experience involving glimpses of Cuban culture, where you can taste delicious cuisines at the many fantastic Cuban restaurants, enjoy a cocktail or a martini at chic bars, and hop dive bars.
Tampa is the best place if you love party cruises. Plan a day trip to neighbouring Clearwater Beach or St Pete and end the days by joining party cruises where you can dance, drink, and dine overlooking gorgeous views.
SEATTLE, WASHINGTON
One of the best party cities in the US that is highly underrated is Seattle, one of the most beautiful cities in the country.
There is more to find in Seattle beyond Starbucks and the rainy days. Seattle can become your favourite US party city if you know where and how to see it.
The Emerald City may not entice you in LA or Vegas style, but over 200 bars, nightclubs, and thousands of restaurants promise you fun-filled nights. 
Plus, thanks to fewer people, you get to party to your heart's content without having to wait in line for hours to get into venues or get tickets.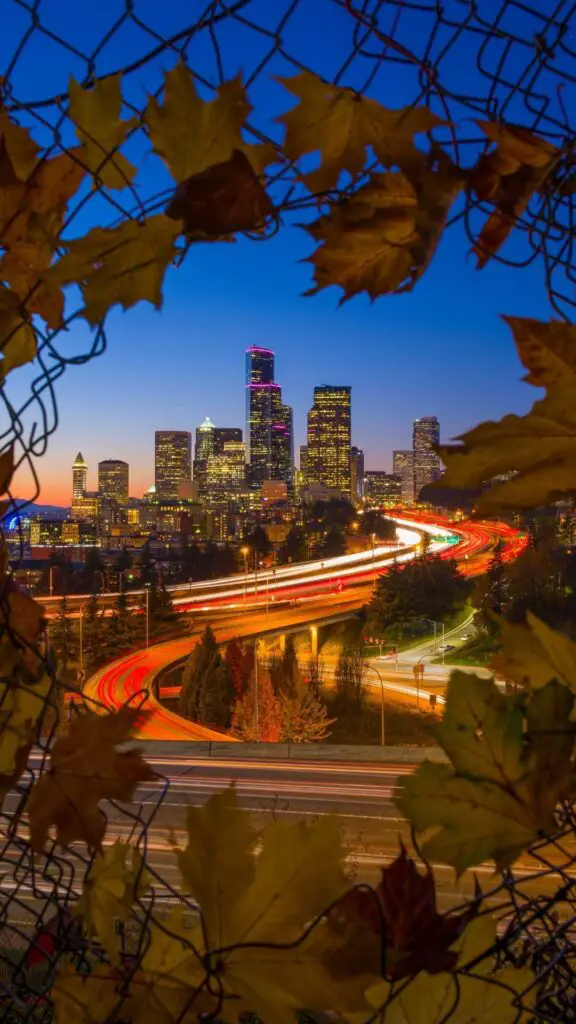 The Seattle nightlife has something to give anyone, whether that includes dancing the night away surrounded by stunning views or trying some finger-licking good bar food, so pick your pleasure.
Head to Capitol Hill for grungy rock bars, artistically themed bars, and excellent night views. Belltown is the place to go for dance clubs.
Your nightlife in Seattle is incomplete without checking out its best microbreweries scattered around downtown and Pioneer Square.
Some popular ones include Pike Brewing Company and Pyramid Ale House next to the Mariners ballpark.
CHICAGO, ILLINOIS
If you know anything about the Midwest, you know that it's too cold for outdoor activities most of the year, so it is mostly indoors. But Chicago knows how to party.
Regarding party cities in the US, Chicago is still a pretty underrated destination, known for its deep-dish pizza, an influential art and culture scene, neighbourhood festivals hosted during the summer, beer gardens, patio bars and many pretty beaches.
If you love theatre, live music, delicious, diverse cuisines, stunning city views and beer gardens, you will love your nights in Chicago spent partying.
The fun doesn't stop at sundown in this metropolis of culture and America's third-largest city.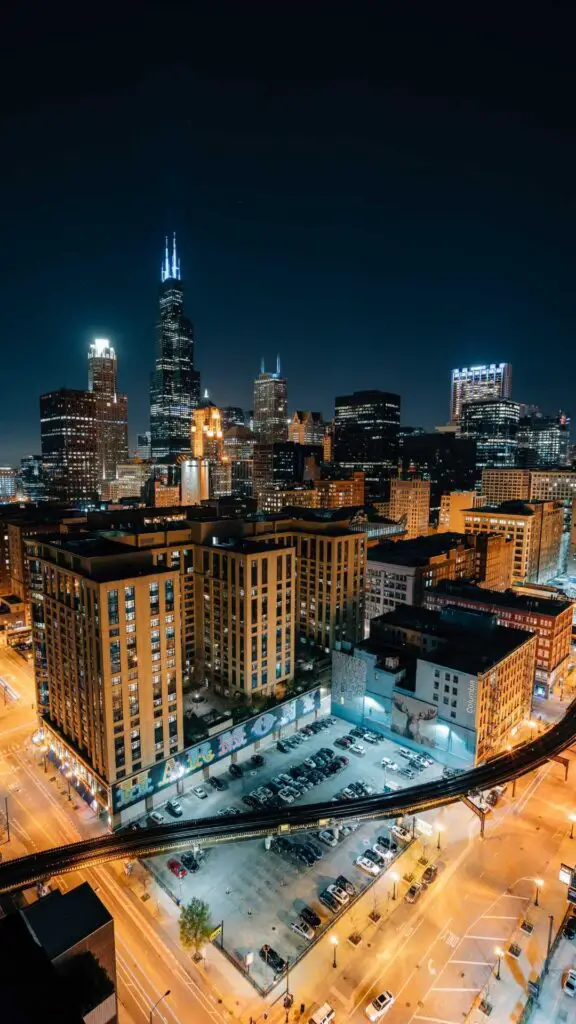 Nightlife begins earlier than you expect with a bang as many rooftop lounges, swanky hotel bars, traditional blues bars, famous jazz clubs, modern up-and-coming hipsters and a famous house music nightclub scene will keep you entertained.
Chicago is heaven for foodies as you can taste diverse delicacies after filling deep-dish pizzas. 
Start your night at River North, the most famous neighbourhood in Chicago for nightlife, especially Hubbard Street.  
You are in for a wild night on this street known for its extraordinary Chicago nightclub scenes, late-night bars, swanky cocktail bars, and world-class dance clubs you can dance in until the early hours. 
Drink like a local in Wrigleyville on pub crawl tours. If you are looking for hipster or cocktail bars, Milwaukee Avenue is an excellent choice.
Do not miss witnessing the spectacular views of this stunning city at night. Head to Skydeck Chicago at Willis Tower or the John Hancock Center's 360 CHICAGO Observation Deck for gorgeous night views.
MEMPHIS, TENNESSEE
One of the best party cities in the US adored by Rock and Roll fans is Memphis, which draws millions of music fans every year thanks to its musical festivals, concerts, and band performances.
If parties do not feel complete without delicious food, excellent drinks, and happening music that speaks to the soul, the home town of Elvis Presley is where you will have a fantastic party trip and fun.
Summer is the most popular time for traveling to Memphis when most musical nights and performances are held for partying until dawn.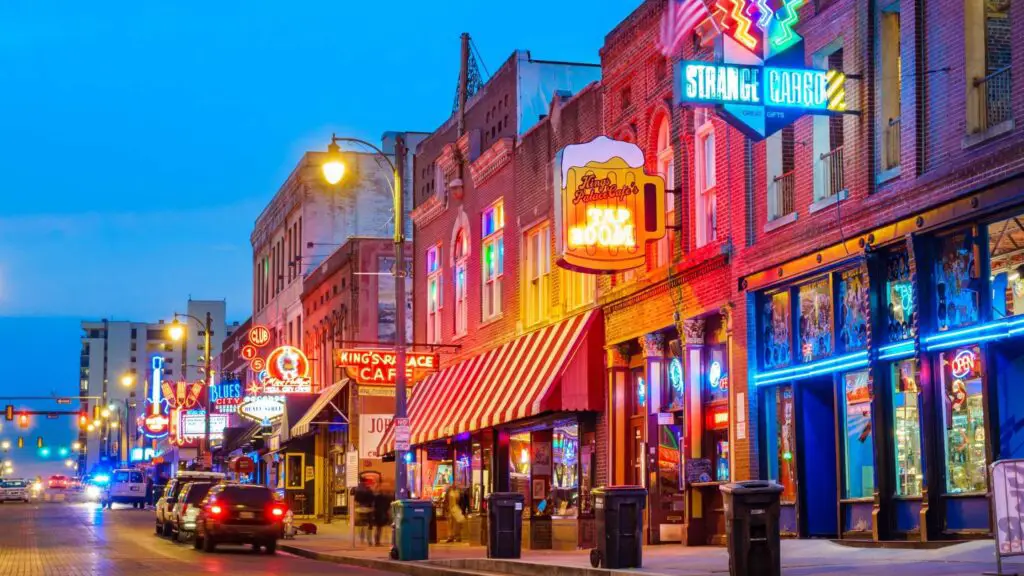 If you are new to the city or have loads of options, overwhelm you, start your party night Downtown, in the heart of Memphis, or best, join a pub crawl tour where expert locals will take you to the best bars and pubs.
If you love spooky, how about a haunted pub crawl? Listen to the stories and legends of ghosts of Memphis as you hop pubs with your friends.
Head next to Beale Street, home to excellent bars, lovely restaurants and high-end clubs. The best part is most popular hangout places are within walking distance, which means easier hopping around and lots of time to explore many tours and activities.
ATLANTA, GEORGIA
Whether you love exploring swanky nightclubs, appreciate art, or love watching the glamourous night views, one of the best cities to party in the USA is the capital of Georgia, Atlanta.
This southern city, known for its art, culture and music, also hosts over a hundred different types of festivals here, which means nights in Atlanta are anything but quiet or mild.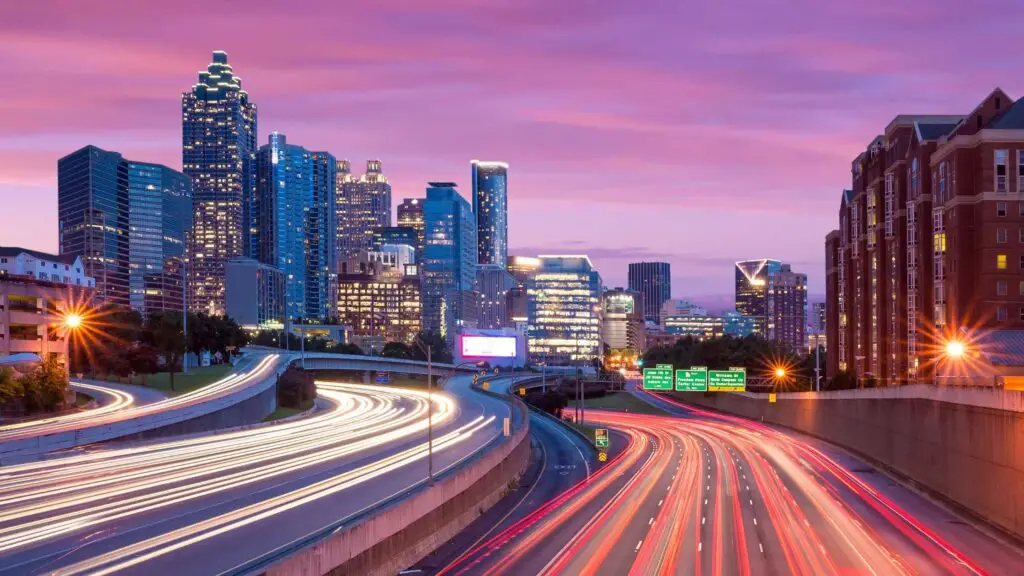 After sightseeing in the sun, there is nothing better than cooling off by partying in its best districts, where music dominates the scenes, as you will see world-class DJs turning the crowds into party beasts with their hits.
From Latin nights to southern-themed bars and sleek lounges, revel away your nights amidst glitzy neon lights-packed skyscrapers in Atlanta.
TUCSON, ARIZONA
When a city is dominated by a student community, you can expect it to be a great city for nightlife. And it is true in the case of Tucson, one of the best party cities in the US if you are looking to enjoy Arizona.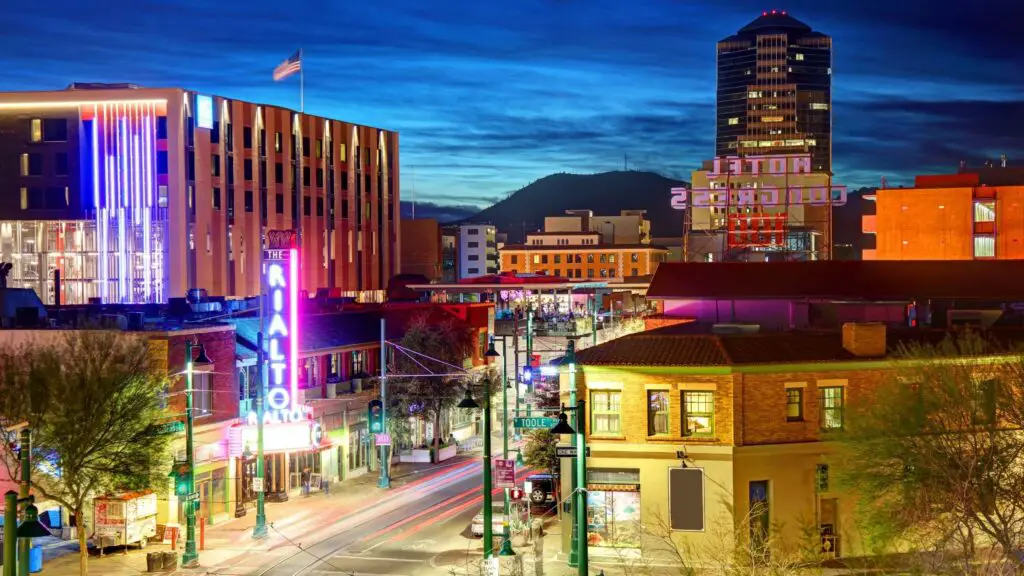 Home of the University of Arizona, the city is home to many bars, nightclubs, and pubs that get packed with the young crowd as the evening gives away for a bustling night.
Did you know? Tucson also has one of the largest numbers of strip clubs, so you will be surprised at how well the entertainment is in the city.
HOUSTON, TEXAS
Houston may not be Las Vegas or New York, but it is one of the best party cities in the US if you are looking at Texas. If you are looking for EDM night scenes or to shake things up from night to night or love their nights weird.
Houston is all about urban, exotic nightclubs, stunning restaurants, glamorous bars and gorgeous night lights that allure the partygoers that want something not raunchy but keeps them alive all night with unlimited options for fun.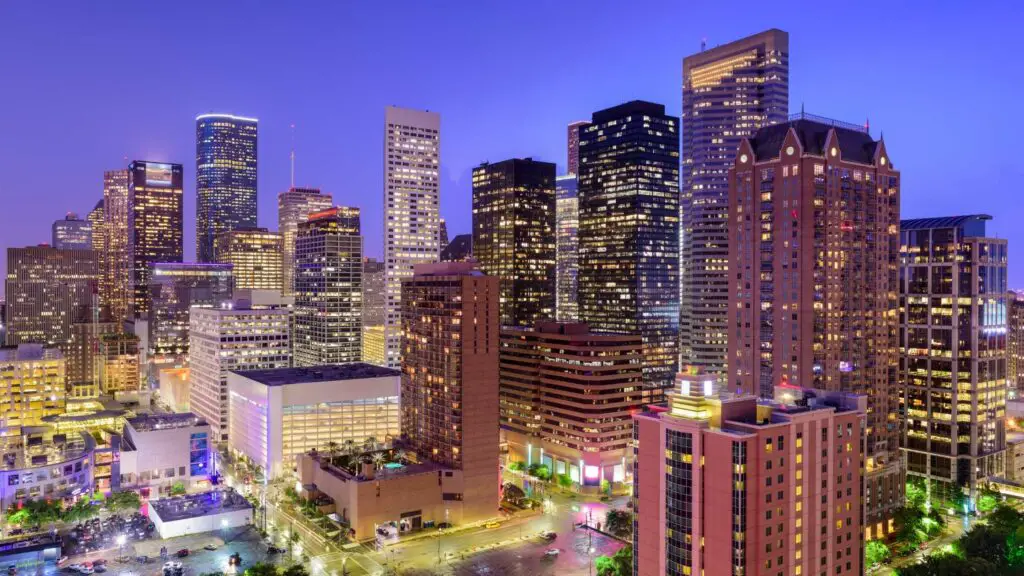 The Houston central business district transforms into a part haven as the neon lights draw crowds heading to its many rooftop bars and fancy nightclubs.
Go to a line dancing saloon if you want to experience the Texan quirky side. For dance clubs and themed cocktail bars, head to midtown. 
To get glimpses of the countryside, check out the whiskey bars, or taste the fresh brews overlooking the glitzy night skies at its beer pubs.
If you want to join locals for a more relaxed evening, head downtown for its plenty of music bars and excellent restaurants serving a variety of cuisines.
FORT WORTH, TEXAS
Fort Texas may not be one of the places to party hardest in America, but if you are willing to go off the beaten path, it is one of the best party cities in the US for wild nights.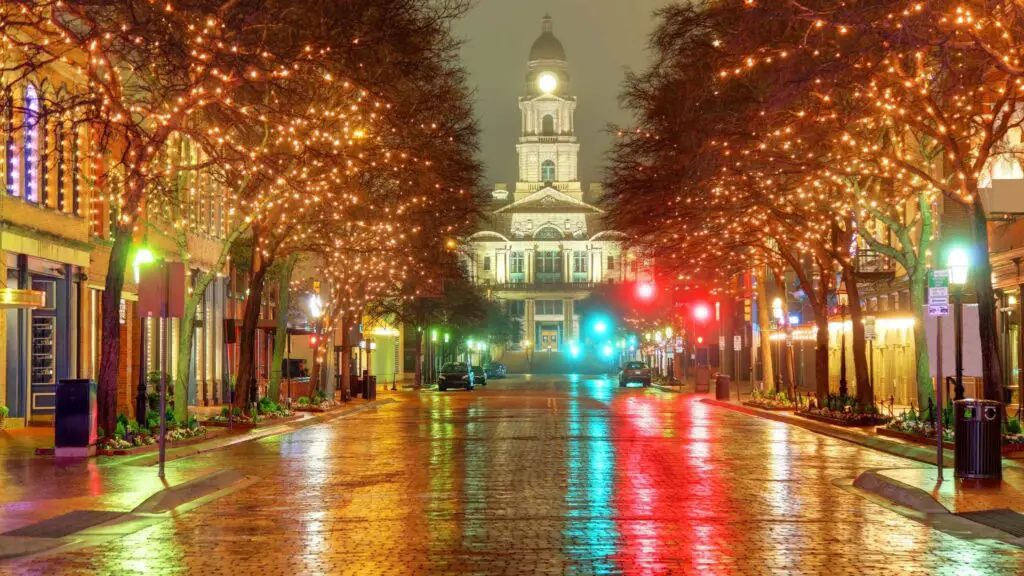 If you like partying in cities with the vibes of a closely knit community and experiencing Cowboy parties, nightlife in Fort Worth will be exciting and intimate. It has become a popular venue for hundreds of bachelor and bachelorette parties around The Stockyards.
From strip clubs to dive bars to fancy rooftop restaurants, you are guaranteed fun in this university city.
CHARLOTTE, NORTH CAROLINA
One of the cities that has been getting on the radar of partygoers in the USA in recent years is Charlotte, one of the biggest cities and the most populous in North Carolina.
Charlotte is one of the best party cities in the US for younger crowds, thanks to the city's love for all things music. No matter when you plan your trip, you will witness at least a few music festivals.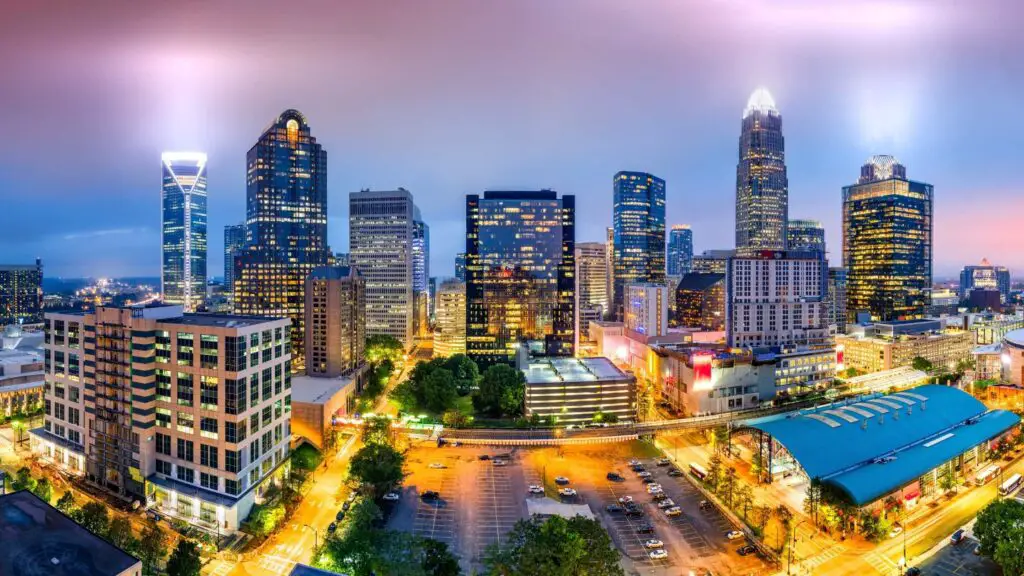 From comedy nights to disco bars and dance clubs, night comes with loads of fun activities with something for everyone.
Whether you want to party harder by hopping arcade bars, trying brews, or being a foodie looking for the best cuisines, you can pick your pleasures for nights.
It has more strip clubs per a hundred thousand people compared to bigger cities on either side of the country, which not many party people are aware of, surprisingly.
WASHINGTON DC
Although it is one of the biggest cosmopolitan cities in America, Washington DC does not strike as a party destination, but if you are willing to go beyond the skyscrapers, you will see that it is one of the best party cities in the US.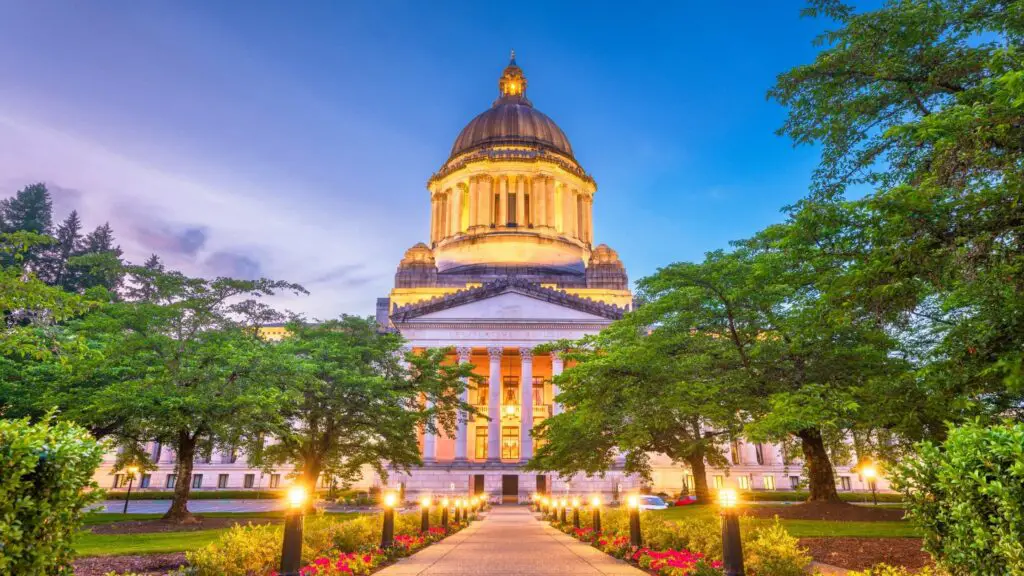 For the best nightlife in Washington, head downtown, where you will be spoilt for choice regarding house music, rock bands, EDM and themed night events.
PHILADELPHIA, PENNSYLVANIA
Philadelphia in Pennsylvania is one of the best party cities in the US if you want to get away from the bigger cities but still want wild nights.
Music is a prominent part of the entertainment at night in Philadelphia. One of the most exciting cities in the United States, Philadelphia is home to many fantastic rooftop bars, fancy nightclubs, and many dance clubs where you can dance to the latest numbers until the early morning hours.
It is also a favourite city among foodies as the city is known for its local eateries open late at night, perfect stops in between visiting Irish bars or sipping cocktails.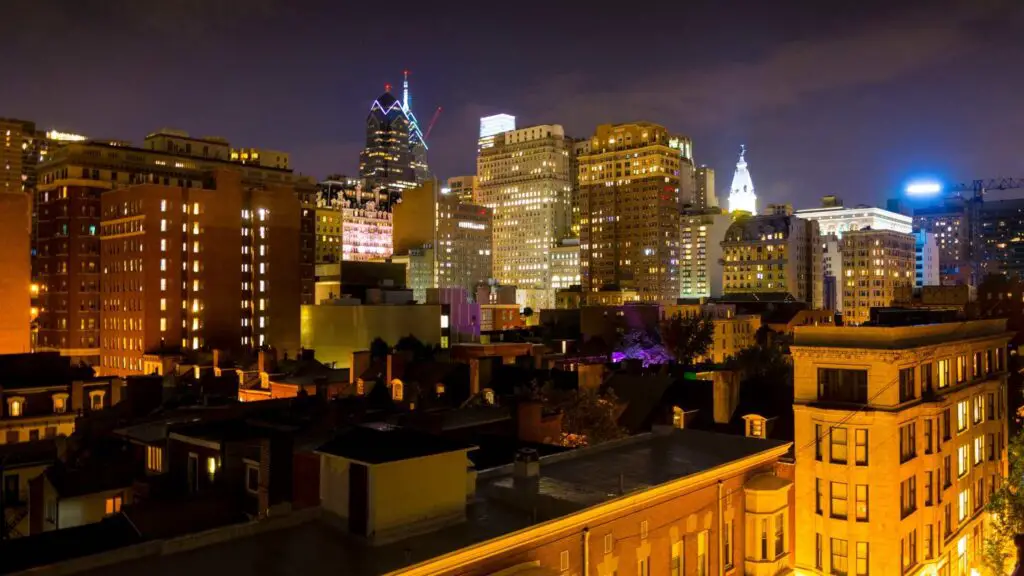 Whether you want a delicious multiple-course meal at the lavish restaurants, prefer admiring the gorgeous city views from rooftop bars, or go pub crawling or laugh in comedy shows, you have plenty of ways to party in Philadelphia.
East Passyunk, Kensington, Fishtown, and the Old City are the best neighbourhoods for happening nightlife in Philadelphia.
The Library Bar and the Graffiti Bar are known for their lively ambience and best cocktails.
BEST PARTY CITIES IN THE USA – FOR SMALL TOWN LOVERS
DENVER, COLORADO
One of the best party cities in the US, if you are looking for an underrated destination, is Denver. The Mile High City in Colorado has been gaining. popularity among bachelors and bachelorettes in recent years, thanks to its growing list of many types of bars, nightclubs, and entertainment options, offering something for every type of partygoer.
Start your night at Blake Street, the heart of Denver nightlife, where you will find cocktail bars, beer pubs, fancy nightclubs, high-end restaurants, and breweries.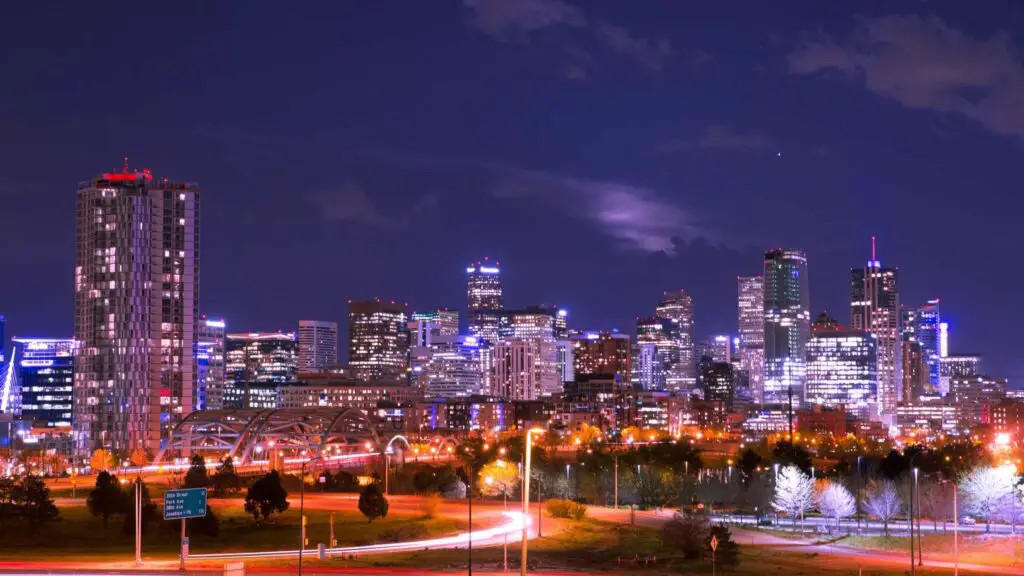 There are many options when it comes to entertainment as well, from arcade games to tournaments and karaoke nights. To enjoy the fabulous night lights, head to one of many rooftop bars that invite famous DJs and musicians.
If you are looking for something less wild, check out Larimer square, where you can watch comedy shows, enjoy live music or attend the theatre.
HONOLULU, HAWAII
Honolulu on the island of Oahu's south shore may be a popular romantic getaway drawn to its gorgeous beaches, lovely landscapes, and excellent seafood. Still, it is one of the best party cities in the US if you want to get away from beautiful beaches and fun nightlife.
The capital of Hawaii knows how to party wildly, whether drinking along the shore or dancing away all night in Downtown Honolulu's hot nightclubs.
Head to the famous Waikiki neighbourhood, the centre for dining, drinking, games, nightlife and shopping.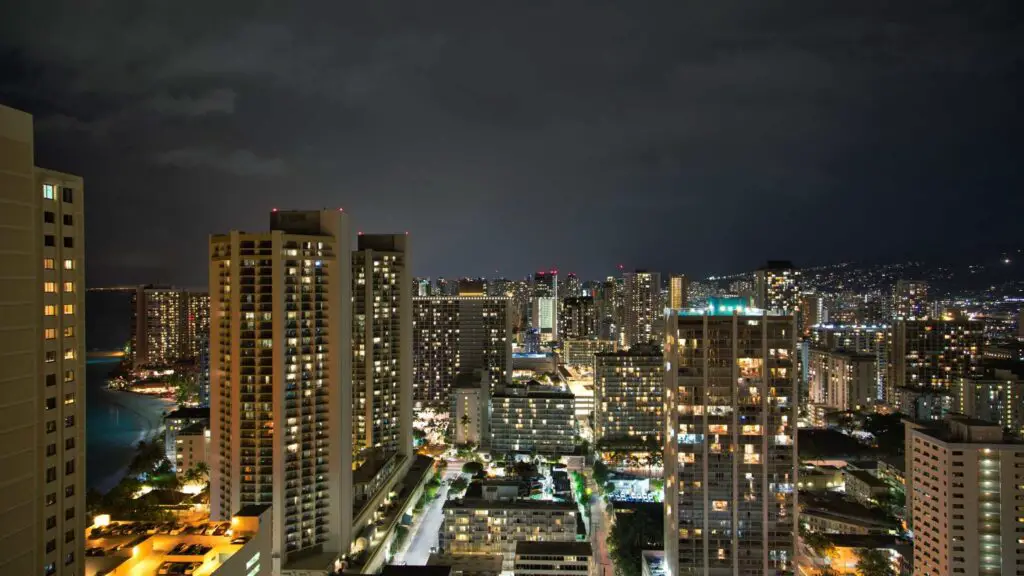 Head next to Kaka'ako, the city's newest entertainment district known for and most unique lounges, rooftop restaurants and fancy bars.
The shores of crescent beach turn into a party paradise at night as the clubs, pubs, and bars begin their entertainment, from live music by local artists to dance floors getting packed by travelers.
For excellent food, music and dance, head to Chinatown's underground venues.
PITTSBURGH, PENNSYLVANIA
One of the best party cities in the US to visit if your idea of parties means hopping bars is Pittsburgh in Pennsylvania, known for the most bars per population.
Downtown is where all the action happens after sundown. Start with local bars that come alive with live musical evenings, best enjoyed with cocktails or fresh brews.
If watching games at night sounds like a party to you, head to nightclubs screening the matches that you can watch with their hit music and delicious food and drinks.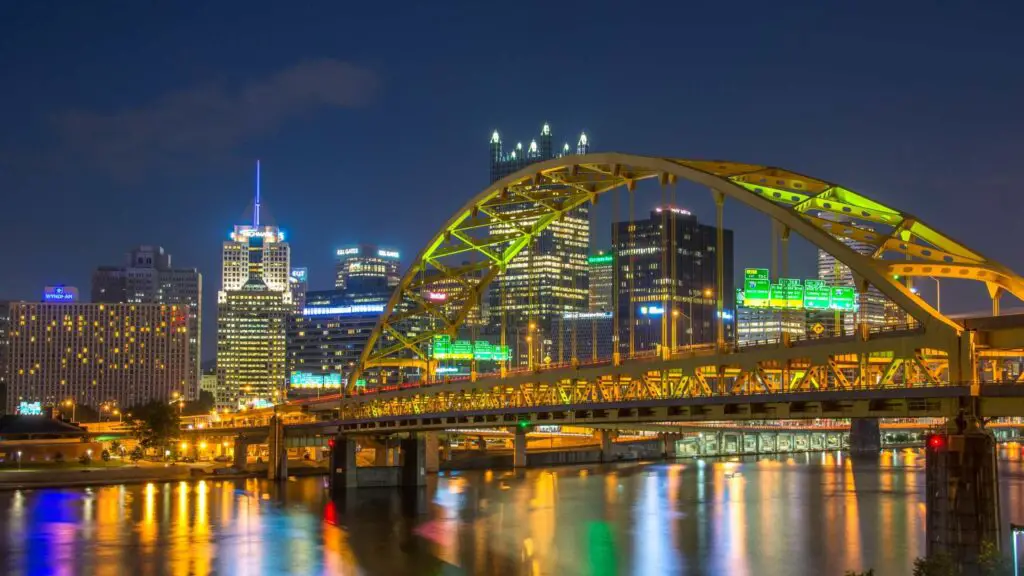 The city takes its love for music seriously. Its nightclubs, bars, and pubs invite the best DJs and artists for incredible performances that travelers enjoy with the best wines and tasty cuisines.
For the best restaurants and rooftop bars offering stunning views of the night skyline, check out Bloomfield and North Side.
COLUMBUS, OHIO
If you want a unique city in the US not just offer bars and dancing when it comes to nightlife, Columbus in Ohio is one of the best party cities in the US.
The largest city in the Buckeye state may not appear to offer the wildest nights, but you will surely love the city for its spectacular shows, a night filled with visiting comedy clubs and laughing till it hurts kind of late nights.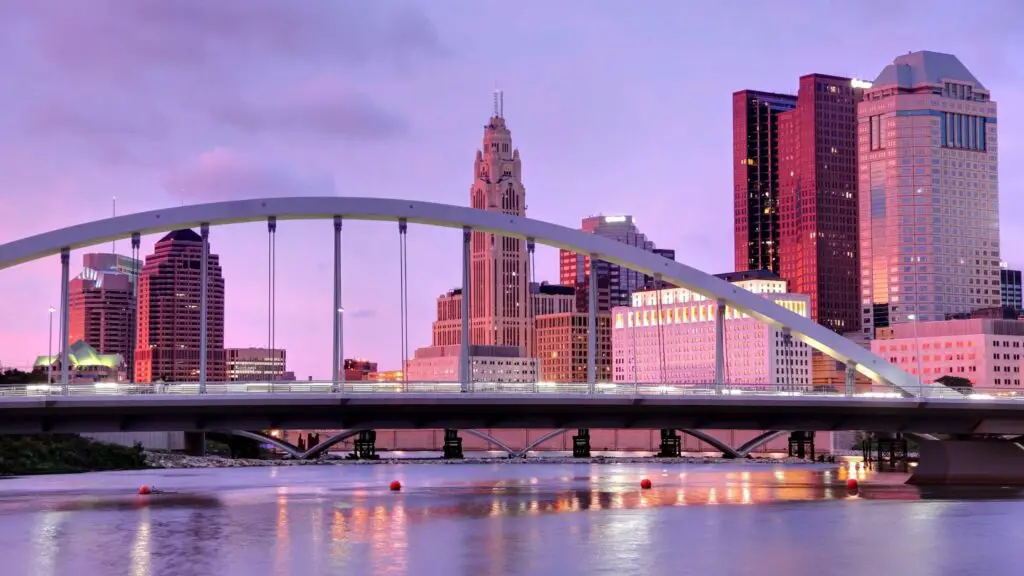 Columbus is an excellent choice if you want a good mix of unique things to enjoy each night of your trip – from checking out its unexpected abundance of strip clubs to enjoying the gorgeous views of the city from rooftop bars sipping your favourite cocktails.
MILWAUKEE, WISCONSIN
Milwaukee, the city in Wisconsin known for beers, should be on your list of nightlife destinations. Milwaukee is one of the best party cities in the US if you want to go offbeat and prefer less populated destinations.
Although you may not see many bachelor or bachelorette parties happening on every other street in the city, the best bars and the best brews offer you fun nights with your friends.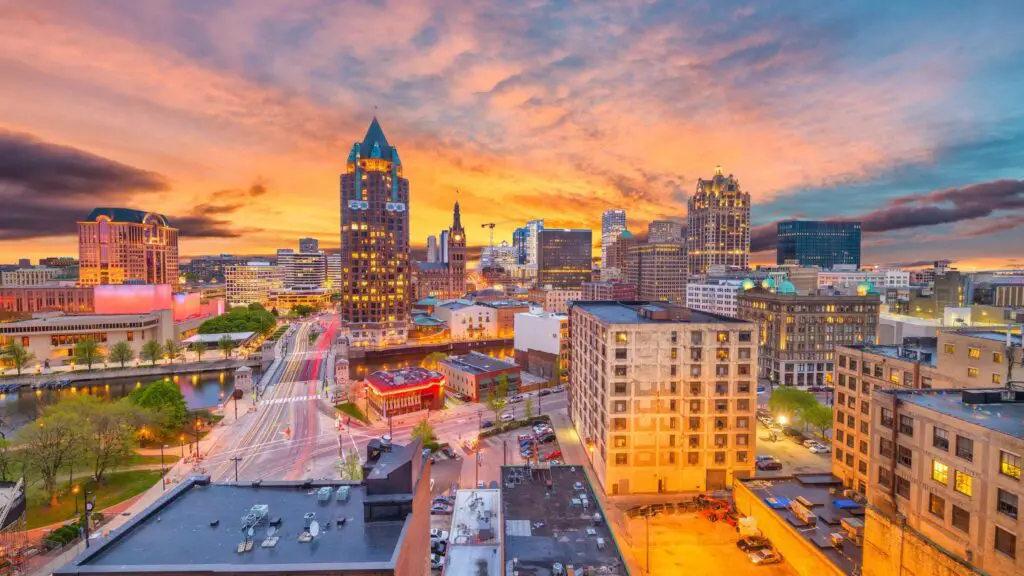 While Milwaukee, Wisconsin, is considered one of the best small party towns in the USA, you'll see that the city knows how to party wildly, offering you all the fun and unlimited entertainment through its rooftop bars, comedy clubs, best breweries in the country offering tasting and stunning city views, and music and theatre for artistic souls.
ATLANTIC CITY, NEW JERSEY
The east coast may not boast of many cities with excellent nightlife as compared to the west, but there are a few best party cities in the US on the East Coast as well, one among them being Atlantic City.
This city in New Jersey is one of the popular destinations for bachelor parties, with many also planning an add-on trip after days and nights of endless fun in the bigger, neighbouring New York City.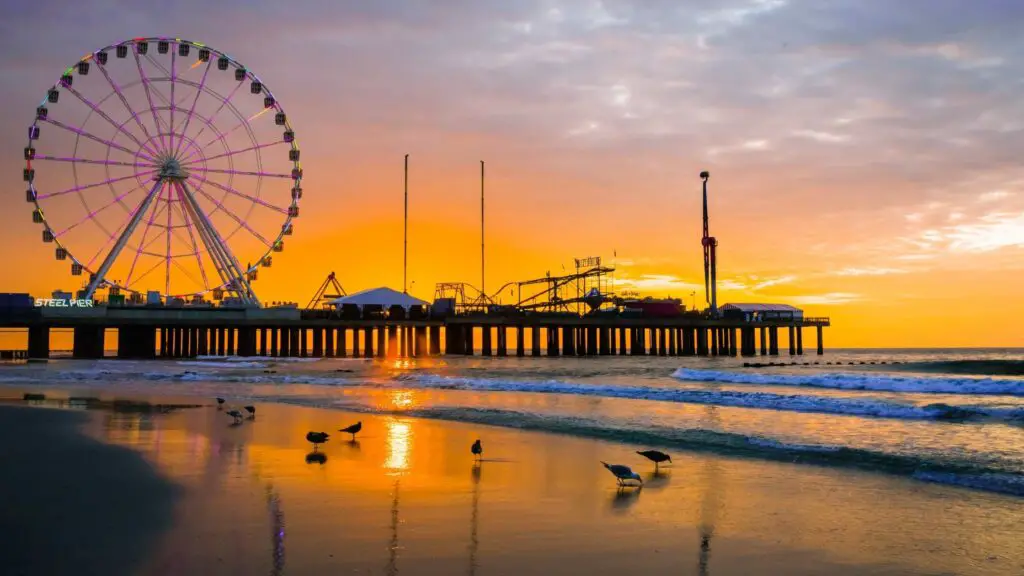 Atlanta City is known for its many big casino clubs, so if you prefer partying, playing casinos or hopping to gambling centres, you will love Atlanta City.
Apart from gaming, Atlanta is home to many disco nights as the parties are not enticing without dances. One of the top places to dance all you want is at Boogie Nights.
If you love beer, head downtown for many breweries, rooftop beer bars, or the classic Irish pub to enjoy the brews and the views.
MESA, ARIZONA
One of the best party cities in the US that is underrated is Mesa, located close to the capital Phoenix.
While Phoenix draws most travelers, Mesa also provides plenty of options if you want to party until the early morning hours.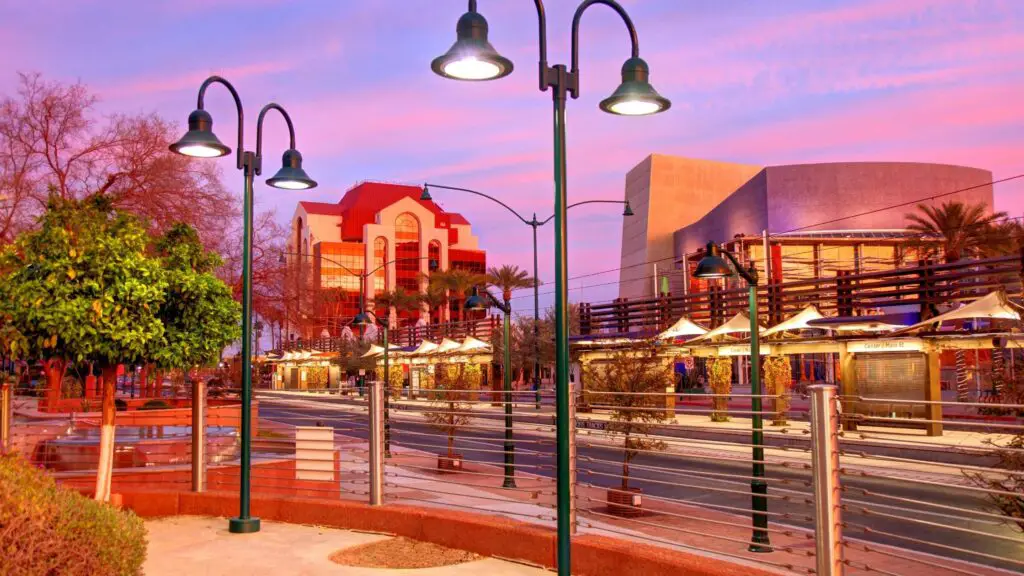 While it may not be the city you want to go to strip clubs or casinos, there are many things to do in Mesa at night, from comedy shows to rooftop bars and nightclubs.
If you want to enjoy partying in the USA on a budget, Mesa has the perfect nightlife.
CHARLESTON, SOUTH CAROLINA
If you are looking for an offbeat destination for partying on a budget, one of the best party cities in the US is Charleston.
You may not find nightlife going all night or until the early morning hours, but it is a favourite bachelor and bachelorette party destination if you want something intimate and bustling, minus the high prices or heavy crowds of the big cities.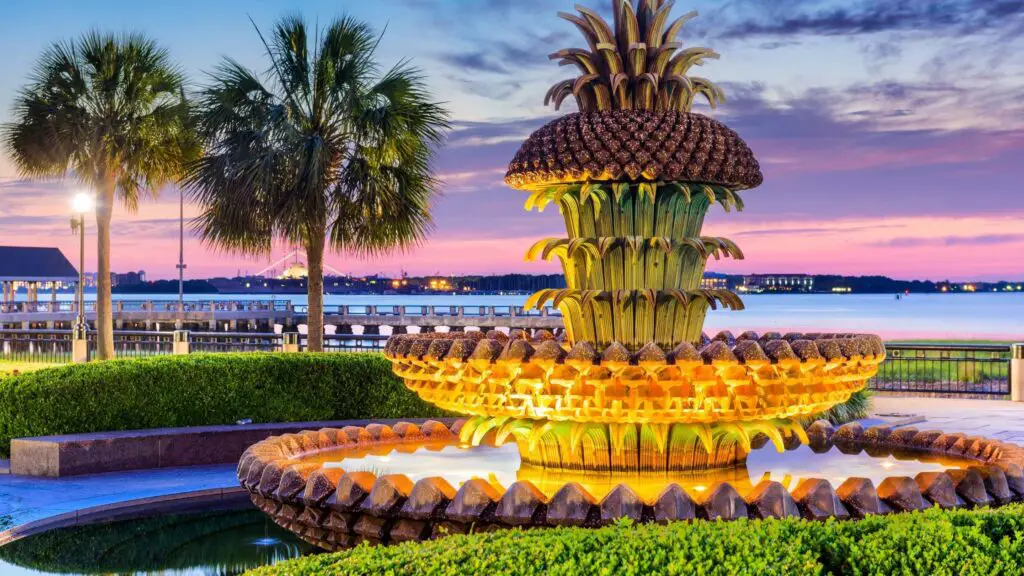 Live music, arcade games, rooftop bars, and trendy nightclubs await you after sunset to enjoy the nights.
Head to Market Street and Upper King Street, both the centres for nightlife in Charleston.
INDIANAPOLIS, INDIANA
It may not be your dream bachelor or bachelorette party destination or a city for idling away the nights hopping the casinos, but Indianapolis is one of the best party cities in the US if you want a small-town charm and fewer crowds but wilder nights.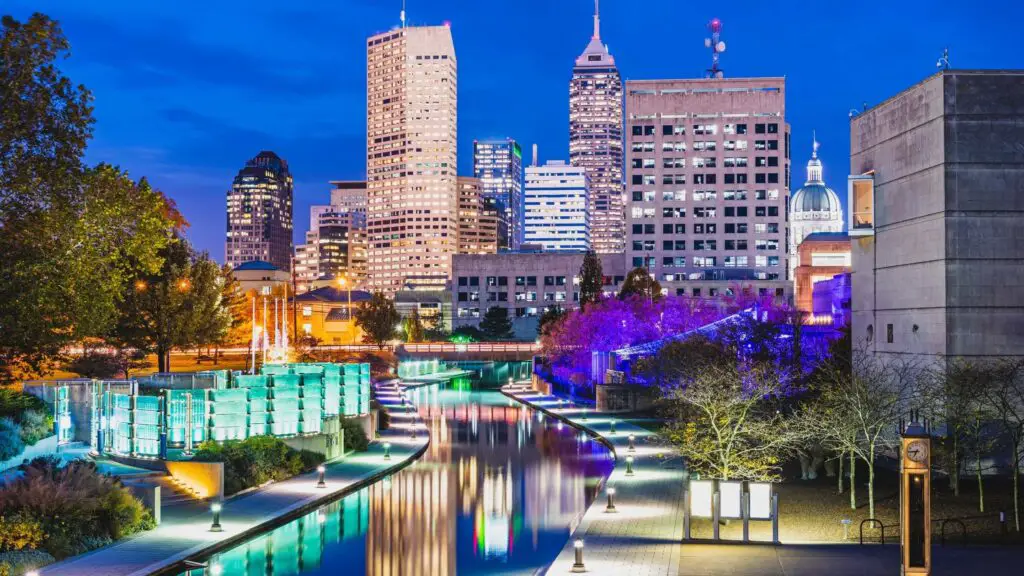 You may find few bars to choose from, but Indianapolis compensates by offering plenty of strip clubs, many fine-dining restaurants and some high-end nightclubs.
PORTLAND, OREGON
For a smaller city, Portland is one of the best party cities in the US, which draws a lot of bachelors thanks to its strip club culture.
Portland is known for its eccentric and wild nights, transforming into a nightlife Mecca for those wanting to hit pubs and dance floors.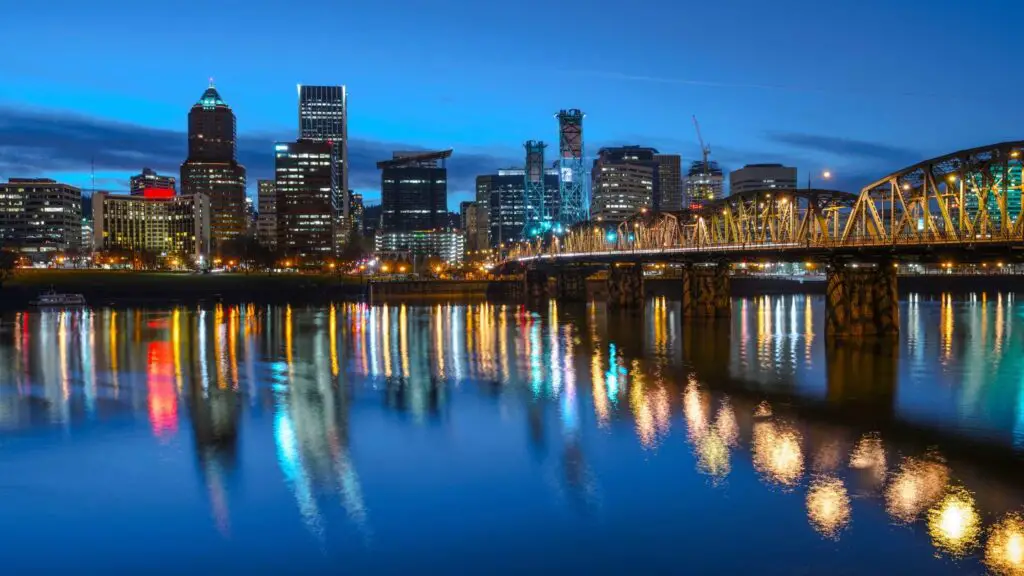 If strip clubs or dance floors are not your things, go hopping the famous karaoke bars singing to your heart's content with friends, which is one of the fun things to do in Portland at night for sure.
Portland is one of the most unique cities with the best nightlife in the US, where themed pubs and parties are common and popular things, and so are tasting tours, be it wine or city brews.
BEST PARTY CITIES IN THE USA MAP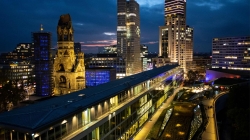 Latest posts by Anna Owen
(see all)