There are so many fantastic things to do in LA at night, the cultural hub and the entertainment capital of the world. Los Angeles needs no introduction when it comes to fantastic nightlife.
Known for its fabulous weather, the City of Angels has many nighttime activities, events and attractions that can easily keep you up all night, even if you are not into partying.
Because there are many amazing things to do in LA at night besides clubbing, especially a lot of family activities at night in Los Angeles that guarantee a great fun time for people traveling with kids.
So if you are wondering what to do in Los Angeles at night, whether you are a couple or a solo traveler or a group of friends looking for fun-packed nights, this sprawling Southern California city has it all.
If you're visiting Los Angeles at night, you can choose from night tours to pub crawls and everything in between.
In this post, we have covered all the fun things to do in LA at night. Bookmark this post to enjoy the top LA night tours.
Check out this guide to the awesome San Diego night activities, and 25 Cool Things to Do In San Francisco at Night.
Or if you are traveling up north, how about the guide to the 25 Fantastic Things To Do In Seattle At Night?
Also, if you want to explore LA and its surroundings by car and looking for rental cars, check out Discover Cars, one of my favourite car rentals in California. Thanks to their many options and affordable prices. Book here.
Alternatively, you can check out another popular choice, If you are looking for rental cars to roam around at night in Boston, check out Discover Cars, one of my favorites in the US because of its ease of use, availability of cars and, of course, pricing!
Alternatively, you can also go for another popular choice, Rental Cars.
Before starting off, I recommend you to check these Flex passes, which will save you big time to explore the LA attractions without breaking the bank!
If you are looking for trains from Los Angeles for a day trip, I recommend you to check out BEST Santa Barbara via Amtrak Coast Starlight Train Day Trip from Los Angeles, one of the gorgeous train journeys that I have ever had in the US.
TOP THINGS TO DO IN LA AT NIGHT
EXPLORE SANTA MONICA PIER
One of the free and top things to do in LA at night whether you are a first-time visitor or visiting the entertainment city dozens of times is the iconic Santa Monica Pier.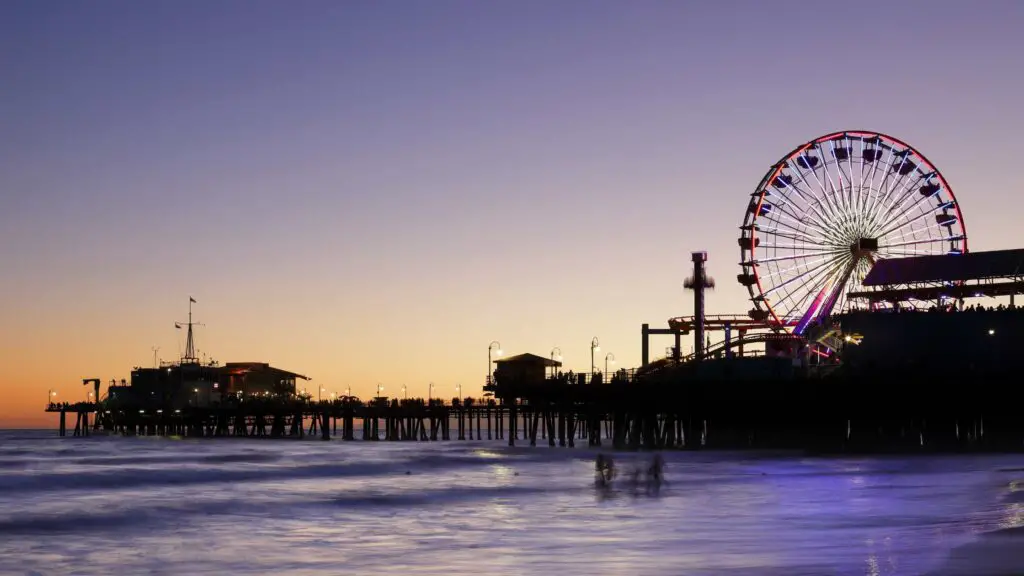 Open every day of every year all around the clock, Santa Monica Pier is one of the top landmarks, and although you can have a fantastic time no matter when you visit, it is one of the best things to do in Los Angeles at night for many reasons.
Constructed in 1909, the Santa Monica Pier is one of the most crowded spaces in the city and it is no surprise. 
You will see the glitz of LA through the series of neon lights around the pier, music of all types, lots of eateries, street performers, and romantic couples strolling the pier taking in the blissful, vibrant night views of Los Angeles against the Pacific Ocean.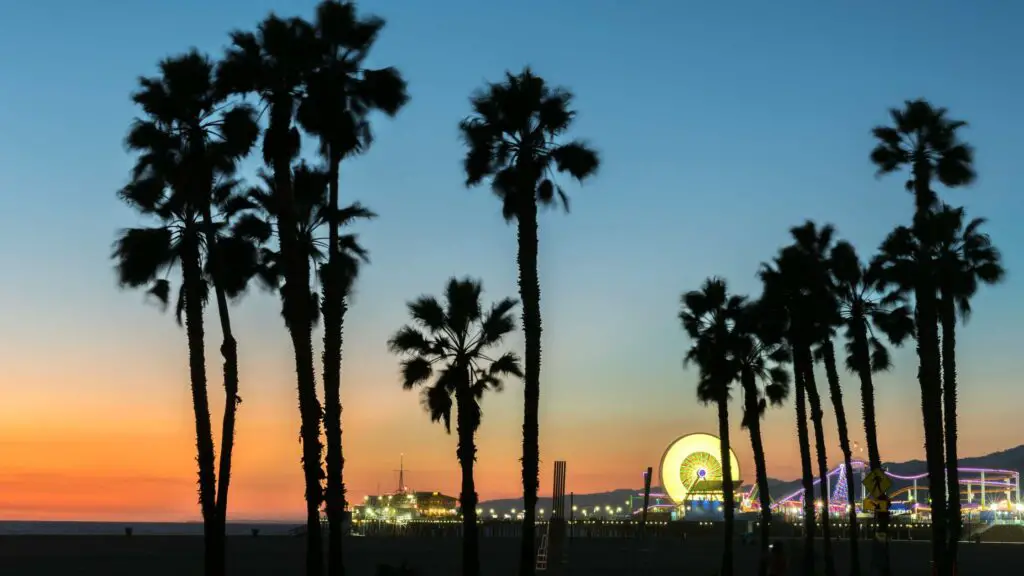 Watch the stunning views of the night skyline of LA from the top of the iconic Santa Monica Pier Ferris Wheel, the world's only solar-powered Ferris wheel, and the centre of an attraction along the pier.
You can take the City highlights guided bus tour, to witness this gigantic wheel.
Hopping on thrilling rides and games at the amusement park Pacific Park at night is one of the most fun things to do at night in Los Angeles.
There are many fun night tours of Santa Monica Pier. Here are our top recommendations!
TOUR THE QUEEN MARY
A fantastic attraction in California, The Queen Mary is a former British Ocean Liner moored in Long Beach. It is one of the top things to do in Los Angeles at night
Once a 1930s transatlantic Ocean Liner, the ship hosted plenty of renowned leaders and celebrities over the world from 1936 until 1939 when World War II began.
The Queen Mary is today a spectacular venue, packed with fine dining restaurants, bars, tours, and spooky attractions, including the famous Sir Winston's Restaurant and Lounge.
If you're into spooky experiences, do not miss one of the many night tours of the Queen Mary where you will be taken to the haunted spots on the ship.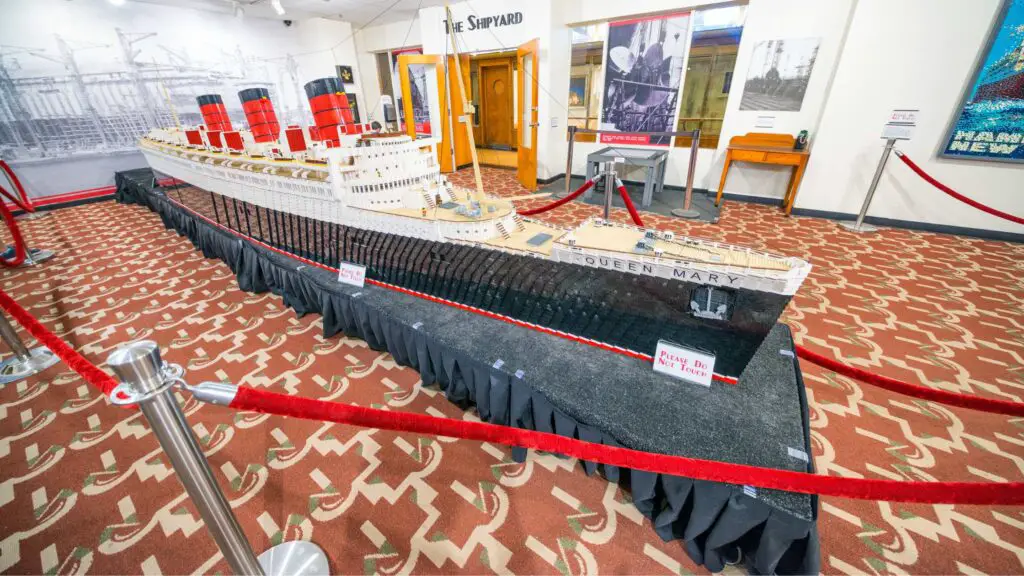 Considered to be the most haunted place in the world, with over 150 ghosts, you will get to listen to the rich history of the ship and tales of the most famous other-worldly inhabitants believed to be aboard the ship for hundreds of years on one of their tours.
Check out this fascinating audio tour of the beautiful sunny and vibrant Long Beach to witness the magnificent RMS Queen Mary and the famous Long Beach Grand Prix.
Here are our recommended tours to experience the best of the Queen Mary:
If you have spare time, don't miss to take the Long Beach Glass Bottom Boat Eco-Tour in which you will get a close up view of sea lions, seals and many other marine friends.
CHECK OUT UNIVERSAL CITY WALK 
Universal City Walk is a three-block-long commercial fantasy promenade located next to Universal Studios Hollywood. 
It is one of the top things to do in LA at night as the glamour and glitz of the city come alive as the restaurants, cafes, street trucks and shops are adorned with neon lights.
But the best part is it is free to stroll through Universal City Walk, and if you are here for the first time, you can feel overwhelmed!
You can easily spend at least a few hours at this unique Los Angeles night-time event shopping, dining, and enjoying entertaining activities.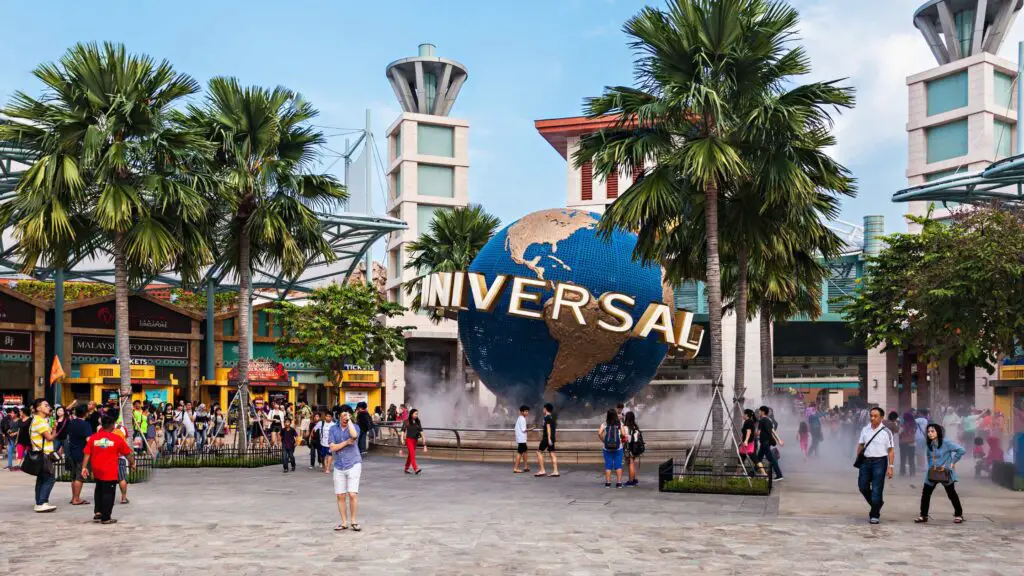 During summer evenings, there are plenty of events happening here, from musical concerts by stars to talented street performances, IMAX theatre, and more.
Buy a movie ticket to experience the best picture at the seven-story IMAX located here. 
If you want more choices, head to the 18 screens of CityWalk Cinema.
Opening Hours – Daily 11 AM to 8 PM; Weekends till 10 PM
CHECK OUT THE SUNSET STRIP
The Sunset Strip is a 1.5-mile-long part of the famed Sunset Boulevard in West Hollywood and is one of the top attractions in Los Angeles at night. 
Exploring the Sunset Strip is one of the fun things to do in LA at night as the neighbourhood bustles with crowds heading to nightclubs, bars, theatres, and entertainment hubs.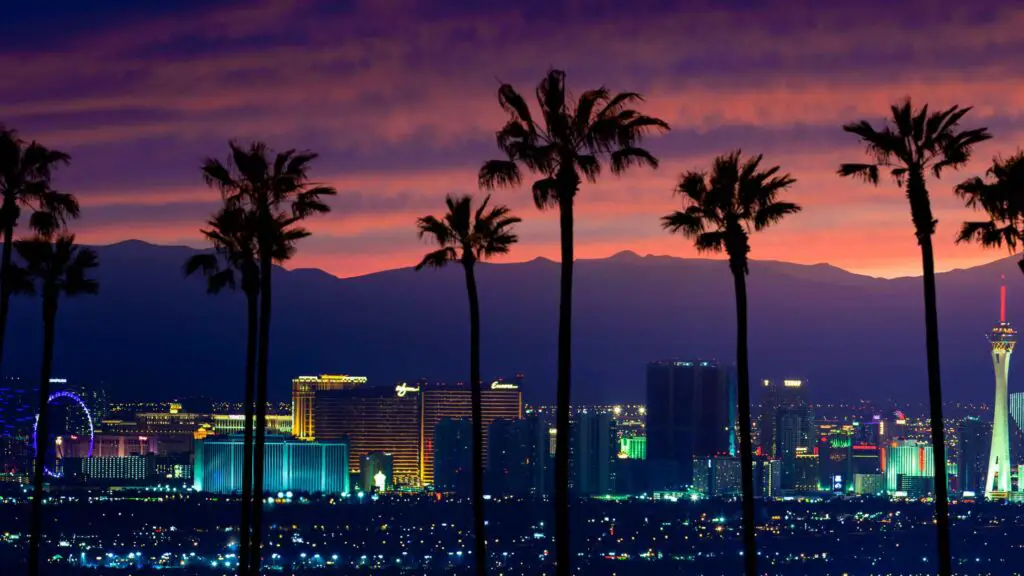 There is something for everyone, from the raunchiest pubs and clubs in LA, like the Viper Room, to the famous Comedy store, one of the top stand-up comedy houses in Los Angles, to rooftop bars with pools and everything in between.
If you are in the mood to party and are new to LA, head to the Sunset Strip for one of the most memorable nights of your life.
Learn the stories behind the iconic Sunset Strip in Los Angeles during this self-guided audio tour. Explore the neighborhood at your own pace, pausing and re-starting the app-based narration wherever you wish.
Many musical performances are happening almost every night in themed pubs and bars, and you can even spend the night gambling away at one of the many top bars with casinos.
Recommended Tour: The Sunset Strip: A self-guided audio tour of Tinseltown's playground
JOIN GHOST HUNTING TOURS
One of the quirky things to do in LA at night is hunt for ghosts in the many eerie neighbourhoods of the city. 
Join one of the guided night tours, where you will listen to the tales of horrors, massacres, haunted places including hotels, and the dark past of the streets.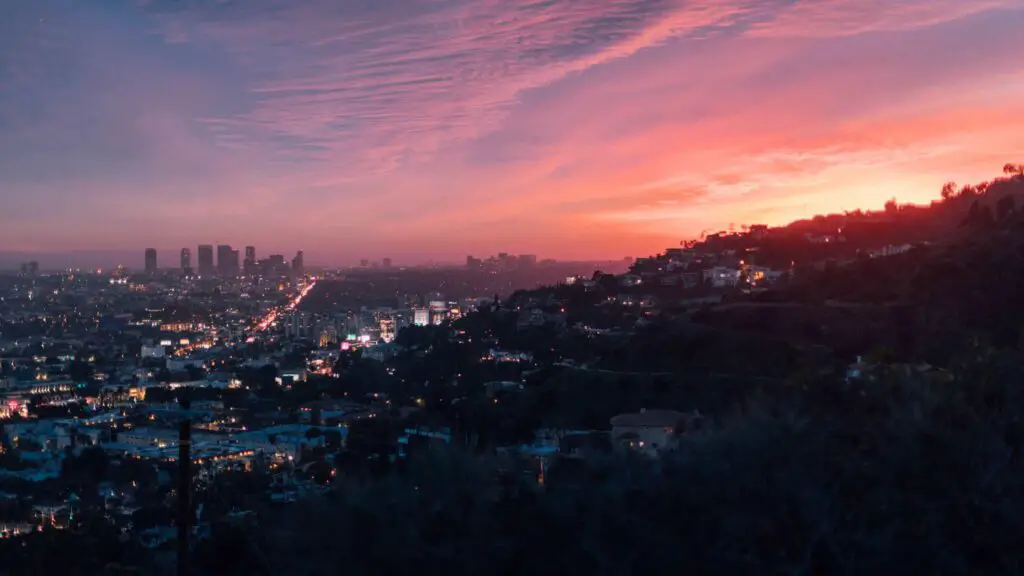 Apart from the Queen Mary, you can enjoy paranormal activities and unique ghost tours that will take you to haunted locations like Union Station and North Hollywood.
Here, you can have a paranormal experience that takes you through the ship, where you can hear unique and spooky stories about its past.
Recommended Ghost Tours in LA:
WATCH A SHOW AT EL CAPITAN THEATRE
Among the top cultural landmarks in Los Angeles is El Capitan Theatre, known for its fantastic Spanish colonial architecture.
This 1922 movie palace, now owned by Disney, was the site of the first Robinhood movie premiere and has been the frequent host for red-carpet premieres and Hollywood movie screenings even to this day.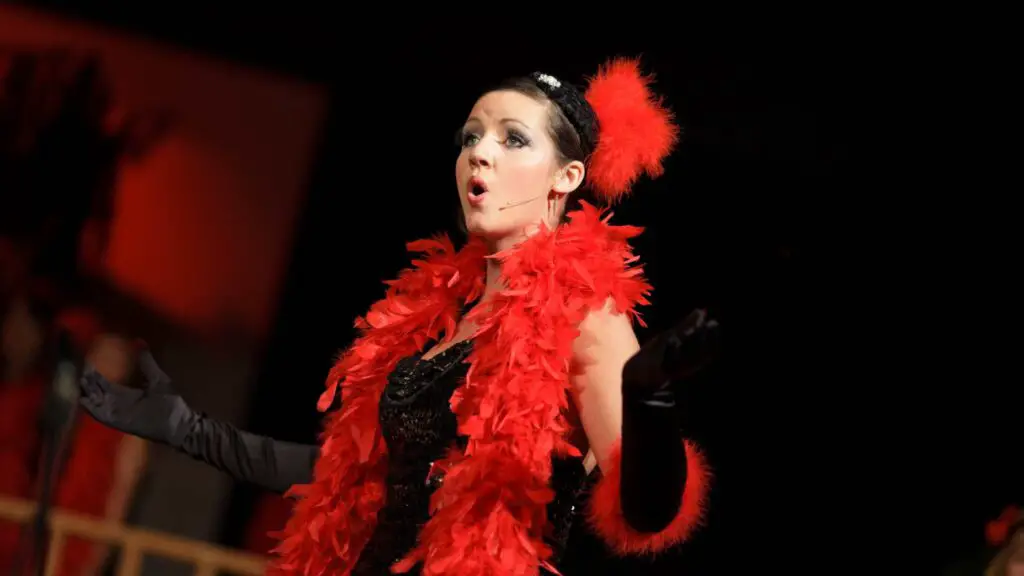 Even if you are not a theatre fan, it is worth checking out El Capitan Theatre for its stunning architecture featuring large columns, traditional murals, and spectacular lighting that give a magical outlook.
Learn about the history and architecture on one of the fun guided tours. Attend the periodic exhibits to learn about your favourite Disney characters. 
Recommended Tours:
EXPLORE L.A LIVE
An all-under-one-roof that best defines the culture and vibes of the city is L.A. Live, the premier destination for live entertainment, sports and limitless fun in the city centre.
Located near Crypto.com Arena and Microsoft Theater, it is one of the top things to do in L.A. at night to experience the good side of the bustling city.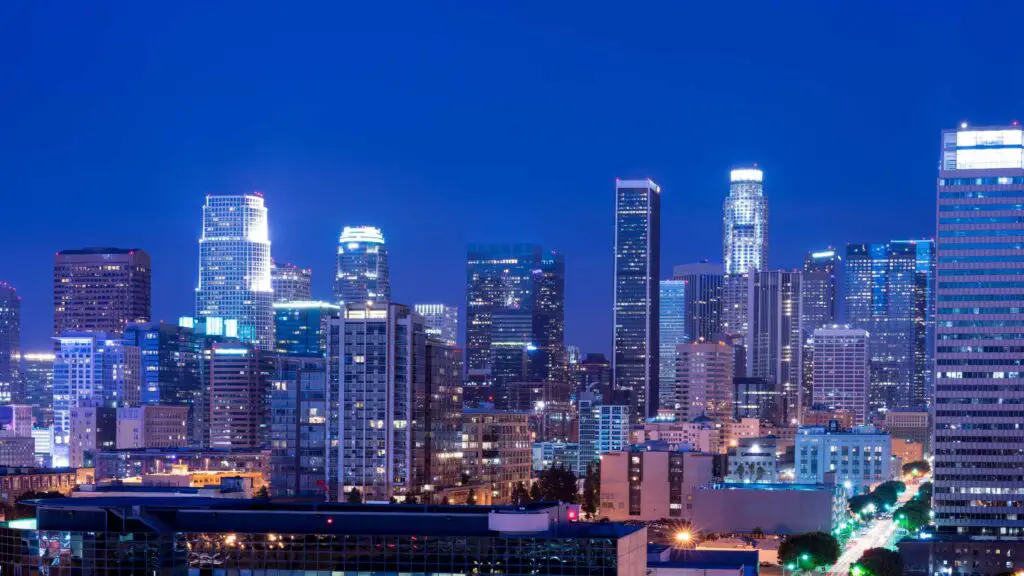 With a wide range of restaurants, bars, cafes, and clubs, you will be spoilt with choices for events and activities at L.A. Live, one of the most luxurious neighbourhoods in the city.
Famous stops here include The Conga Room, Nokia Centre, and Grammy Museum.
There are plenty of sports bars to catch a game, enjoy live musical performances, savour the city's best cuisines, go on romantic date nights or go pub hopping all night with your friends here.
Don't miss the Christmas Lights Tour, to witness all the city decked up in lights and festive spirits.
EAT AND DRINK AT LITTLE TOKYO
If you want to go beyond the regular Chinatown for something more exotic, Little Tokyo is the place to be.
One of the top things to do in L.A. at night for foodies, this commercial street, as the name implies, boasts hundreds of Japanese food stalls, restaurants, and boutique shops.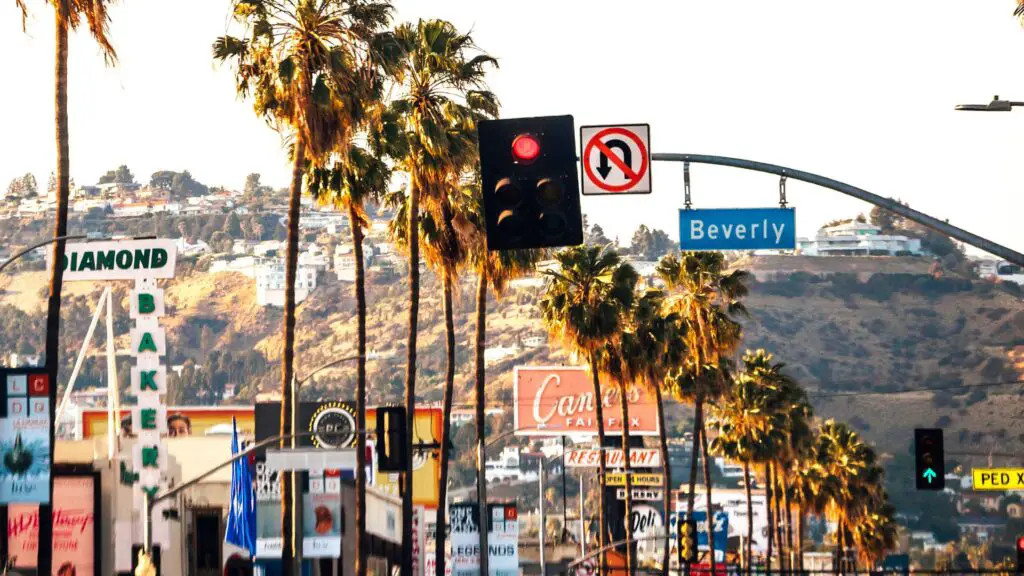 Did you know? Only three historic areas belong to the Japanese in the United States, and Little Tokyo is one of them, another reason for you to add this gem to your itinerary(if delicious Japanese food doesn't excite you already!).
Check out the oldest food purveyor in L.A., or attend one of the many comedy and improv shows. Art lovers will love the unique art spaces, apart from the many delicious items and drinks.
We highly recommend checking out these fun guided tours to explore Little Tokyo for a hassle-free, fun night.
CHECK OUT THE LOS ANGELES FARMER'S MARKET
If you crave some country experience amid the concrete and neon jungle, Los Angeles Farmers Market will give you precisely that.
It is one of the best things to do in L.A. at night for families, open until 8 PM and featuring over a hundred shops, cafes, restaurants and bars.
Opened to the public in 1934, the L.A. Farmers Market is the best place for homegrown experiences of fresh food and produce. 
Like this one, there are many fantastic tours to enjoy the Farmer's Market led by local experts.
Discover the iconic Original Farmers Market on a 2.5-hour walking tour full of delicious food, facts, and fun. Sample food at different merchants' stalls and enjoy the ultimate foodie experience.
Opening Hours – Sunday to Thursday, 10 AM to 8 PM; Friday & Saturday, 10 AM to 9 PM
Recommended Tour: Tour of Hollywood, Sunset Blvd, Farmer's Market, Miracle Miles and Beverly Hills
HEAD TO THE LOS ANGELES COUNTY MUSEUM OF ART
Located along the Miracle Mile area of Los Angeles, the Los Angeles County Museum of Art is one of the fun places to visit in L.A. at night, especially if you are looking for perfect Instagram spots.
The LACMA, the bright art gallery on Wilshire Boulevard, is the largest art museum in the West. It is known for its massive collections, exhibits, and artefacts comprising a broad range of art history.
The entrance is a beautiful L.A. nighttime attraction, with its golden, white pillars that glow against the backdrop of the palm trees and L.A. skyline.
The Museum is open until 9 PM, so you can enjoy the gallery after dark, which receives more than a million visitors annually.
From paintings by legendary artists like Rembrandt, Picasso, and Monet to contemporary Urban Light sculpture, hundreds of thousands of exhibits are waiting to be explored here, which can easily keep you occupied for a few hours.
Take this guided audio tour; you will be guided through the permanent collection of contemporary art and the gems of great artists such as Pablo Picasso, Henri Matisse, and René Magritte.
Visit the Los Angeles County Museum of Art on these tours for the best experience.
CHECK OUT RIPLEY'S BELIEVE IT OR NOT MUSEUM
For a fun night with your kids, check out Ripley's Believe It or Not Museum, one of the worldwide locations featuring quirky and exciting collections by its founder Robert Ripley over the years.
If you have ever visited one of his museums anywhere, you already know how fun it is! For those of you who have not, we highly recommend visiting this Museum as it is one of the fun things to do in L.A. at night.
This vast Museum has over 150,000 exhibits featuring many categories across its two floors, some very bizarre.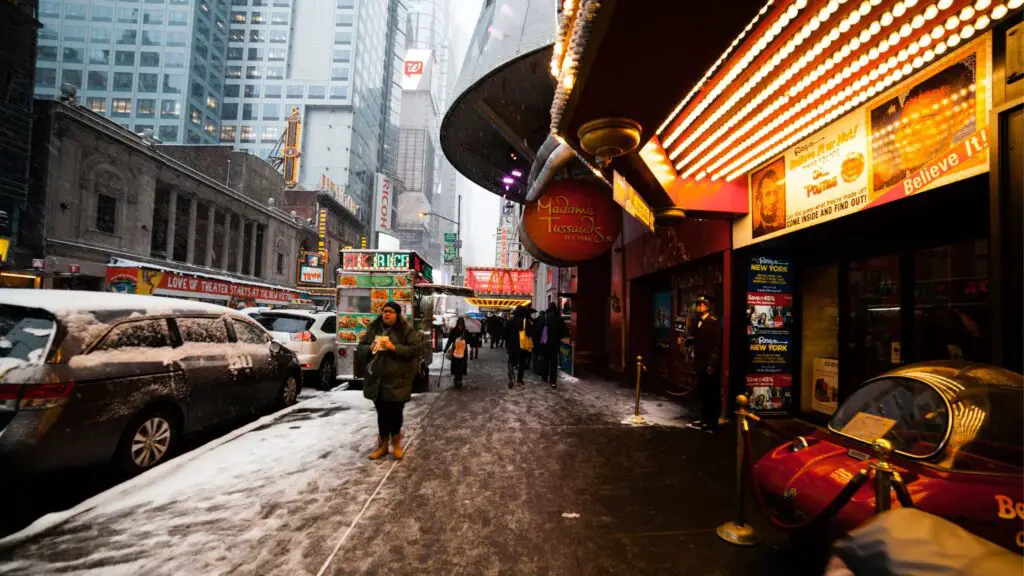 Some of the most popular items include a vampire-killing kit, a cow with two heads, shrunken heads, eerie illusions, and a sheep with one eye. 
Check out this LA All-inclusive Pass which covers 40+ LA attractions.
One of the best ways to include this in your L.A. night activities is by joining a combo tour that includes other museums like the Museum of Neon Art and Madame Tussauds.
Opening Hours: Sunday to Thursday, 10 AM to 11 PM; Friday & Saturday, 10 AM to 12 PM
CHECK OUT GRAMMY MUSEUM
One of the world-famous museums and a favourite among music lovers, Grammy Museum is a top LA attraction.
Spend an hour or two at the Grammy Museum for an interactive and educational experience on one of the guided tours to learn about the history of music and the achievement of Grammy winners worldwide.
Or better, attend one of the live events that you can plan by checking their calendar.
It is one of the top places in the world to discover history of some of the best musicians in the world at the Grammy Museum.
VISIT GUINNESS WORLD RECORDS MUSEUM
One of the top L.A. attractions at night is visiting Guinness World Records Museum since it is one of the few museums open until midnight.
Guinness Museum is the best place in the world if you love trivia or want to educate your little ones in a vibrant visual way.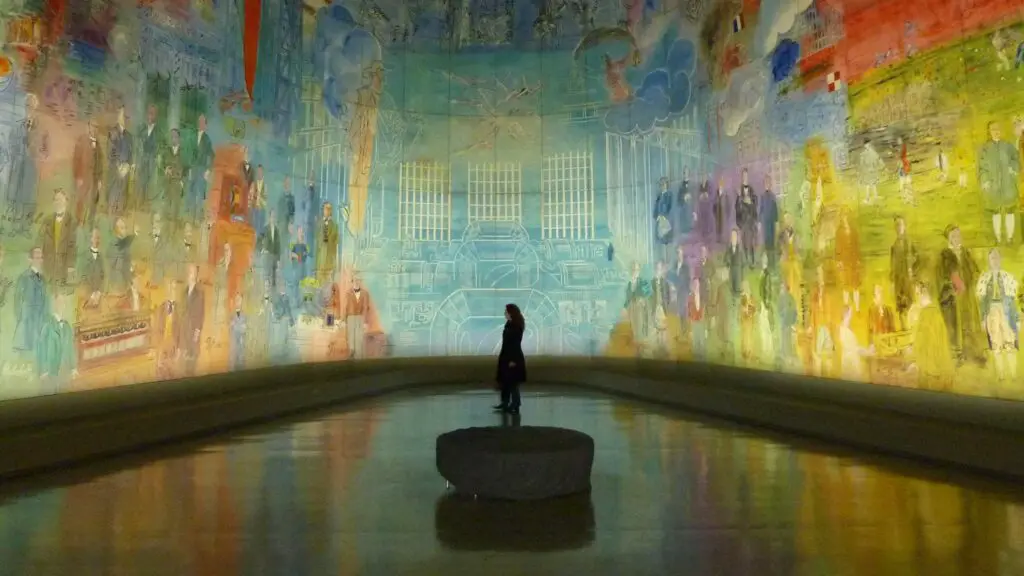 From learning about the largest and the minor places to people to culture to quirky food facts, there are so many things to check out at this world-famous Museum that you certainly need more than one visit.
Whether you love pop culture, geography, physics, or astronomy, it is the perfect place to visit at night for families.
WATCH A GAME AT THE STAPLES CENTRE(CRYPTO.COM ARENA)
In Los Angeles, there is a new attraction you should not miss checking out. 
The Staples Center, now called Crypto.com Arena, is California's famous entertainment hub. 
It hosts many championship games and musical concerts during different times of the year, and do keep an eye on its calendar to attend one of the concerts or games, one of the fun things to do in Los Angeles at night for sports lovers.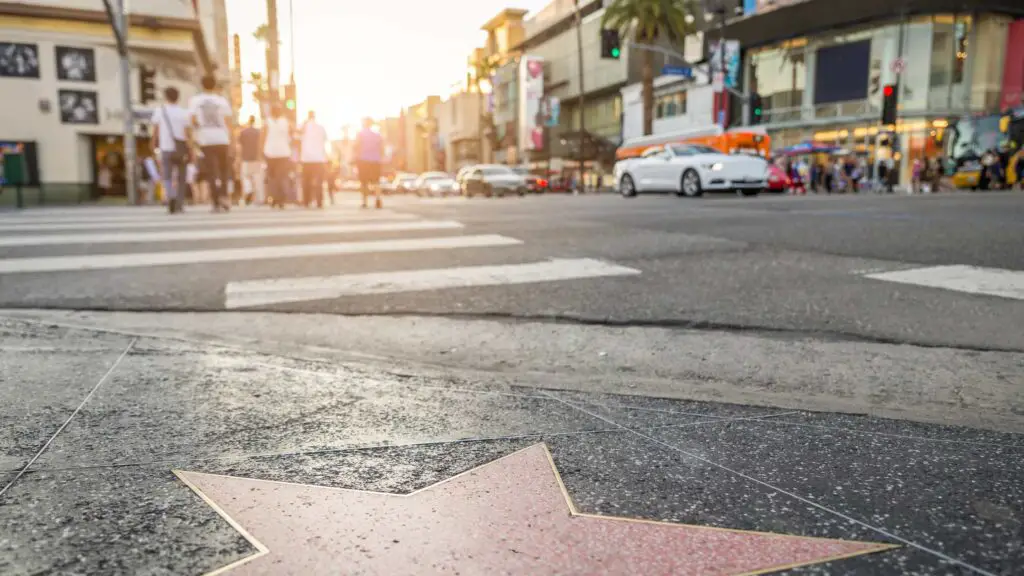 This massive stadium, which can accommodate over 25000 people, is best explored on tour at night as you can see the glistening glass windows and the night views of L.A. city.
Get an aerial glimpse o this stadium and other prime LA attractions of this helicopter tour.
You can enjoy basketball or hockey games at the Staples Center, primarily home to the Los Angeles Lakers and Clippers.
Recommended Tour: Los Angeles at Night 30-Minute Helicopter Flight
EXPLORE UNIVERSAL STUDIOS HOLLYWOOD
Among the dozens of attractions on your L.A. bucket list is the magnificent Universal Studios Hollywood, one of the renowned theme parks and entertainment centres for people of all ages.
Whether you are a Harry Potter or Jurassic Park fan, Universal Studios Hollywood will keep you hooked for hours.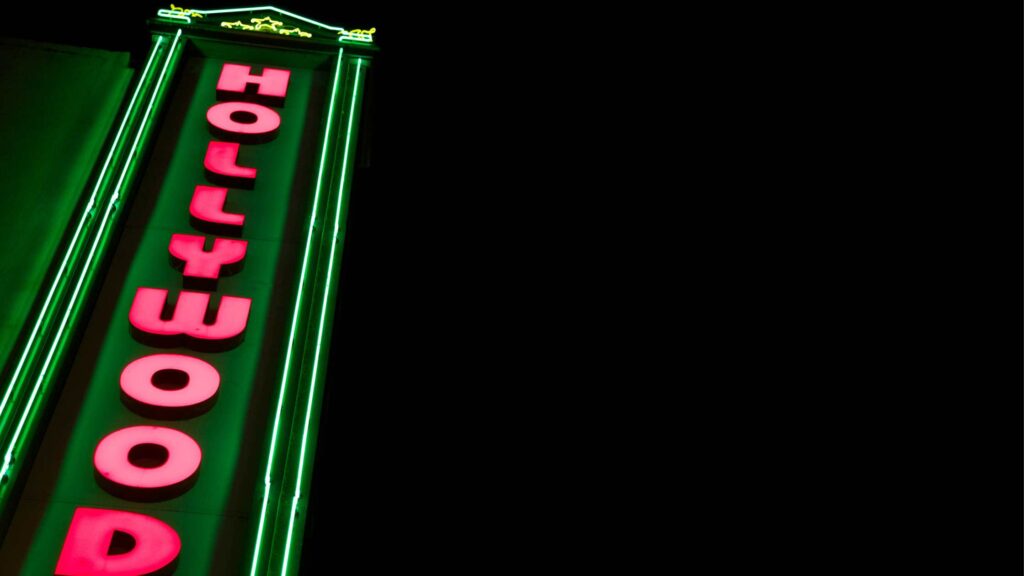 This theme-park cum film studio has plenty of activities, fun events and many exciting tours taking you to Hollywood, no matter when you visit.
Book your ticket here. Also, check this tour if you want to skip the long lines at all the attractions and get exclusive access to VIP areas.
If you are in L.A. around Halloween, make sure to stop at Universal, as the theme park, hosts the popular and fun event Halloween Horror Nights in October.
Recommended Tours:
STROLL ALONG VENICE BEACH
Whether you want to shop until you drop along the sea or enjoy board walking at night, admiring the glitzy views and watching street performances, there are plenty of things to do in L.A. at night at Venice Beach, famous for its hipster vibes and vibrant murals.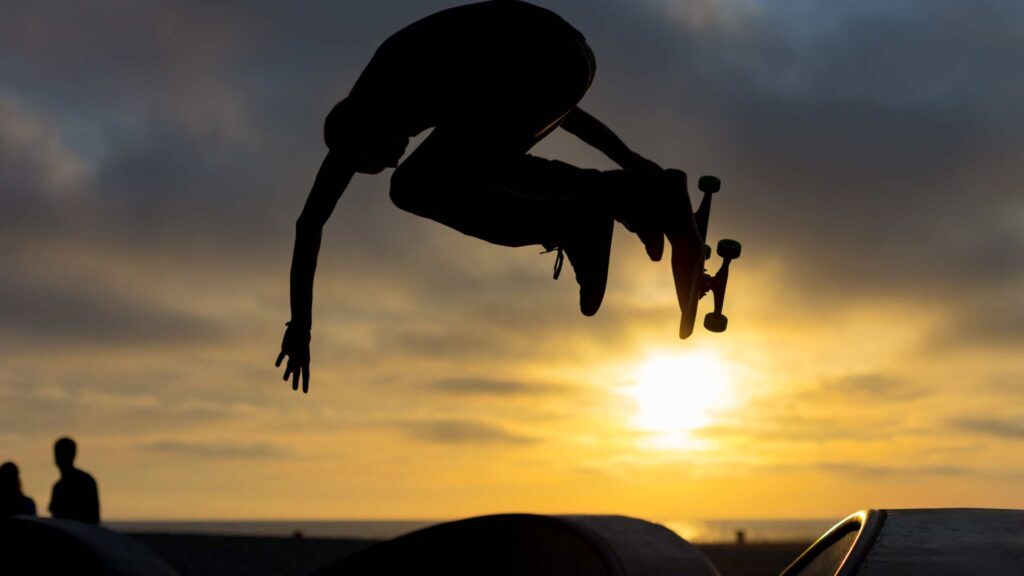 The best time to be here is around sunset, as you will be treated to spectacular views of the setting sun painting the skies in yellow, orange, bright red, pink and purple.
After sunset, you can indulge in delicious cuisines ranging from desserts to burgers and more at the many food trucks at Venice Beach.
Don't forget to take the Funky photography tour where you will get to witness the vibrant murals, graffiti and street art.
Recommended Tour: Los Angeles Street Art Photoshoot: Funky Venice with a Personal Photographer
VISIT THE MUSEUM OF NEON ART
If you love Neon, one of the top things to do in L.A. at night for you is head to the Museum of Neon Art, the only Museum in the world devoted exclusively to art in Neon and the electrical world.
The fantastic Museum of Neon Art has been known for its exquisite collections of electric and kinetic fine art worldwide for over three decades.
You can see historic signs like Grauman's Chinese Theater, Brown Derby, and Western Motel. 
There are plenty of exciting tours where the guiding experts will take you through the history as you explore the collections of neon lights set amidst a fabulously-styled building.
SHOP AT THE GROVE
The Grove Shopping & Entertainment Complex has been the paradise for shoppers and fashionistas for decades, and whether you are looking to shop until you drop or want a slice of the glamour of the city, one of the fun things to do in LA at night is exploring this mammoth shopping complex.
The Grove, spanning 57,000-square-foot, boasts hundreds of branded outlets, cafes, bars, movie theatres, and restaurants, all in an open space.
If you want to do some of everything, we highly recommend beginning your LA night activities at The Grove.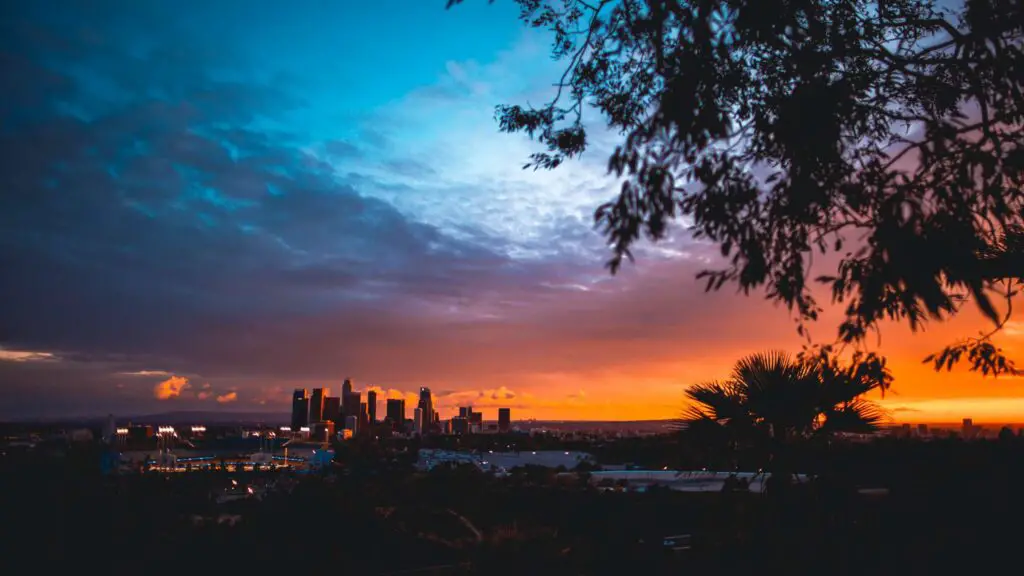 See a movie at the AMC theatre, and snap your best pictures against the iconic Grove fountain. 
Shop with your favourite brands, or savour a delicious meal at one of the many fancy restaurants – you can easily spend many hours enjoying your time.
With independent shops and boutiques plenty on the stone-paved streets of the Grove, you'll find hours upon hours of entertainment to satisfy all your needs.
Opening Hours – Monday to Thursday, 10 AM to 9 PM; Friday to Saturday, 10 AM to 10 PM; Sunday 11 AM to 8 PM
SHOP AT BEVERLY HILLS SHOPPING CENTRE
Another spot for shopaholics when visiting LA is the famous Beverly Center Shopping, home to over a hundred shops including high-end brands the customized companies catering to select elite clientele.
The 8-story shopping mall first opened in 1982 is one of the favourite hangout places among the locals and fashionistas, and it is no surprise why given all these choices.
Don't miss to check out this private Beverly Hills shopping tour which will take you through the Rodeo drive and Melrose Avenue and will offer you a luxury experience to match the high-end designer stores you will visit.
Recommended Tour: Private V.I.P Hollywood Shopping Tour from Beverly Hills
ATTEND A SHOW AT DOLBY THEATRE
The prestigious Dolby Theatre, home to the Academy Awards is one of the top things to do in Los Angeles at night for entertainment lovers, especially theatre fans.
Famous for celebrity glamour, venue of global premiere shows and rich history, one of the best ways to experience this spectacular theatre is by buying tickets for top musical concerts by top artists like Celine Dion, and Alicia Keys, watching plays like Annie or The Nutcracker, and other beautiful live performances and stand-up comedy shows.
Prebook this theater and guarantee your visit with an included admission ticket. Buy your tickets here.
Recommended Tour: Dolby Theatre Admission Ticket and Tour
FUN THINGS TO DO IN LA AT NIGHT
HIKE AT GRIFFITH PARK
Spanning across 4,100 acres of wilderness, Griffith Park is one of the best things to do in LA at night.
Hiking around sunset or after dark is a popular activity at LA at night for families.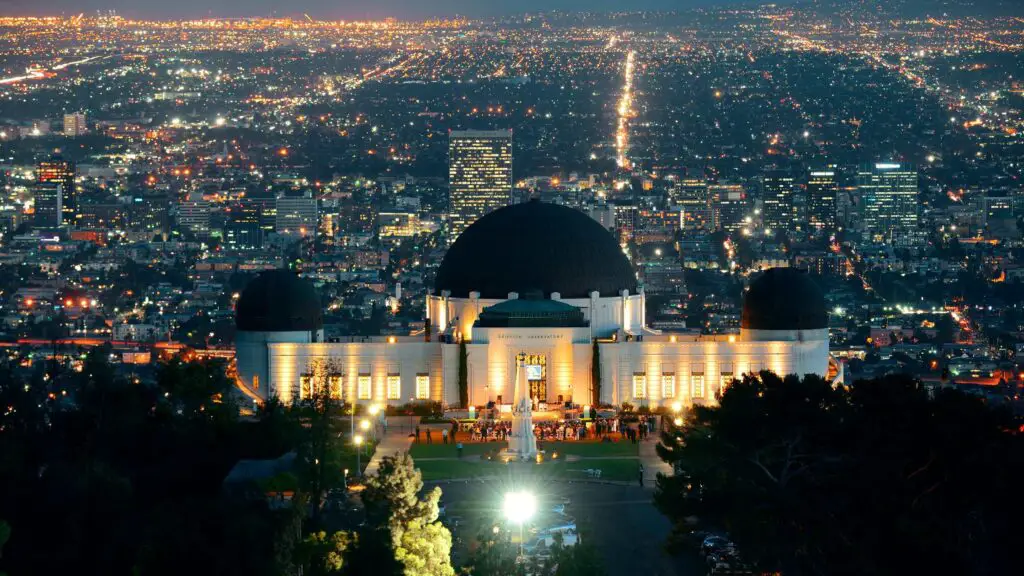 There are many guided walking tours that we highly recommend that take you through the sights at the park and also enjoy stunning views of the city.
If you are game for a long and romantic walk at night, hike through Griffith Park to the observatory to admire the night sky. (more below).
You can hike to the famous Hollywood sign from the park on this guided tour.
Recommended Tours:
ENJOY STARGAZING AT GRIFFITH OBSERVATORY
One of the free things to do in LA at night that is fun for people of all ages is head to the famous Griffith Observatory to admire the spectacular views of the skyline of LA and the planets and stars in the distant galaxies in the sky.
Located in Griffith Park in Hollywood, you can also see the iconic Hollywood sign from the Griffith Observatory. 
Did you know? Griffith Observatory has been the world's most-visited public observatory since it opened in 1935.
Open until 10 PM every night, you have over 60 exhibits, a planetarium, and daily programs waiting to be explored at one of Los Angeles's best nighttime attractions.
Skip the que and book your observatory and planetarium tickets in advance here.
Recommended Tour: Griffith Observatory Guided Tour and Planetarium Ticket Option
It is also one of the best spots to watch a stunning LA sunset if you come here early.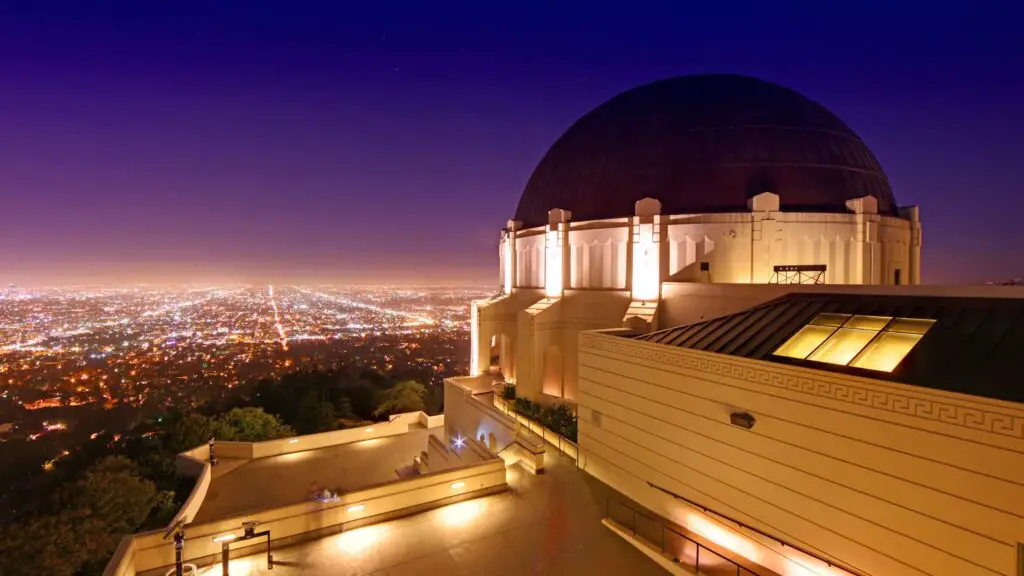 From Thursday through Sunday in the evenings, you can soak in blissful views of the night sky with the 12-inch Zeiss refractor-free public telescopes at the late-night observation deck.
Alternatively, you can attend a star party, held once a month(check their calendar for dates every month). 
Recommended Tour: Private Tour of Griffith Observatory
There are also many free events held at the observatory that you can plan to attend by checking for them on their site.
Opening Hours: Thursday to Friday, 12 PM to 10 AM; Saturday to Sunday, 10 AM to 10 PM
Recommended Tour: Santa Monica Sunset and Griffith Observatory Night View Award Sedan Private Charter 6 Hours Japanese Limousine Driver (1-3 people)
ENJOY MOVIE OUTDOORS
One of my favourite things to do in LA at night is catch a classic or the latest hits at one of the outdoor theatres scattered throughout the city.
Street Food Cinema, known for its fantastic street food and great outdoor ambience for watching movies, is where you should visit LA at night, especially during summer.
Located in Exposition Park, it hosts outdoor parties during the spring, summer, and fall at different locations around Los Angeles.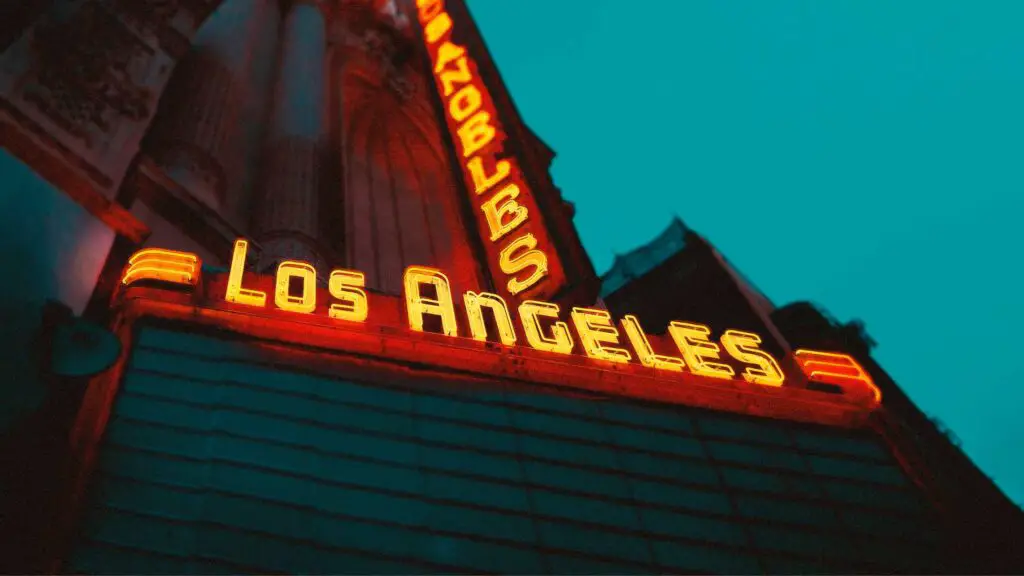 Plus, Street Food Cinema is packed with food trucks serving cuisine from all over the world. During summer, you can enjoy concerts and other entertainment too.
The best part is this is one of the more popular free things to do in Los Angeles at night!
The other popular spot to have a fun movie night with your friends at night in LA is Rooftop Cinema Club, to grab your popcorn and catch some latest movies at their cosy rooftop location.
If you have spare time check this Cinematic Photoshoot Guided Tour in Downtown Los Angeles. You will be guided with different poses, which you can flaunt on your social media.
ENJOY INDOOR SKYDIVING
One of the unique, fun things to do in LA at night is skydiving indoors at one of the many fantastic locations in the city.
Located in the Universal CityWalk, iFLY is the top indoor skydiving location, and you can enjoy the adrenaline rush and thrill of diving here with your kids.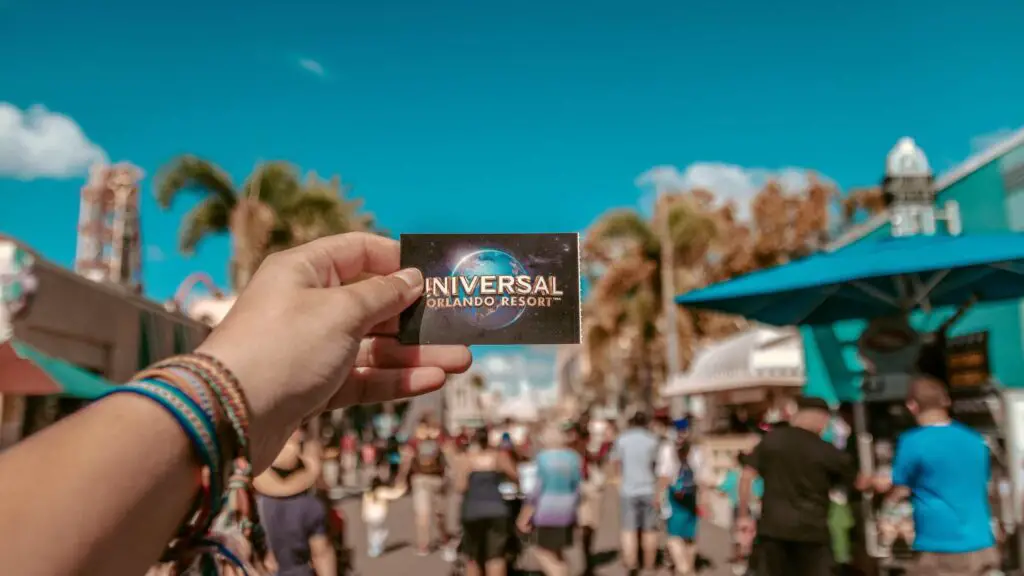 With wind speeds of up to 175mph, it is a thrilling ride as you float in a purpose-built wind tunnel.
Often used by professional skydivers for training, now's your chance to freefall without jumping out of a plane.
Opening Hours: Thursday, Friday & Sunday from 12 PM to 7 PM;
SPEND A NIGHT AT TCL CHINESE THEATRE
If you want movie nights, head to the iconic TCL Chinese Theatre for one of the most classic LA things to do at night. 
The TCL Chinese Theatre, located on Hollywood Boulevard, is known for its distinct Chinese pagoda type of architecture and has been the venue for loads of movie premieres since 1927.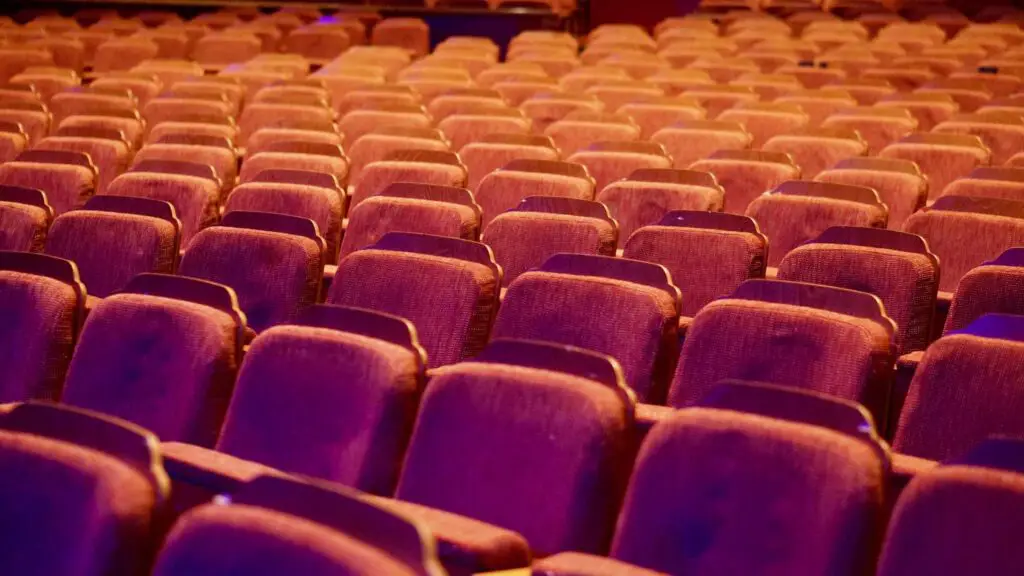 It's the only IMAX theatre in Hollywood, and if you are a movie buff, your trip to LA is incomplete without watching a movie or two here.
Join one of their many guided tours to traveling back in time to know about the journey of Hollywood and its stars; check out the costumes, artworks and history of the theatre.
Recommended Tour: TCL Chinese Theatre VIP Tour
MEET YOUR FAVOURITE CELEBRITIES AT MADAM TUSSAUDS
Among the top attractions in Los Angeles for entertainment industry fans is the trendy Madame Tussauds museum, which receives hundreds of thousands of visitors daily.
One of the fun things to do in LA at night, you can click the best shots of yours with your favourite celebrities being immortalized in life sizes at Madame Tussauds.
You can stand shoulder-to-shoulder with more than a hundred celebrities from around the world, ranging from Leo Di Caprio to Beyonce, Lady Gaga, Iron Man and Spiderman.
Recommended: Madame Tussauds General Admission Ticket with Meal at Hard Rock Cafe
Other things you should check out are the Marvel 4D movie and Jimmy Kimmel Live.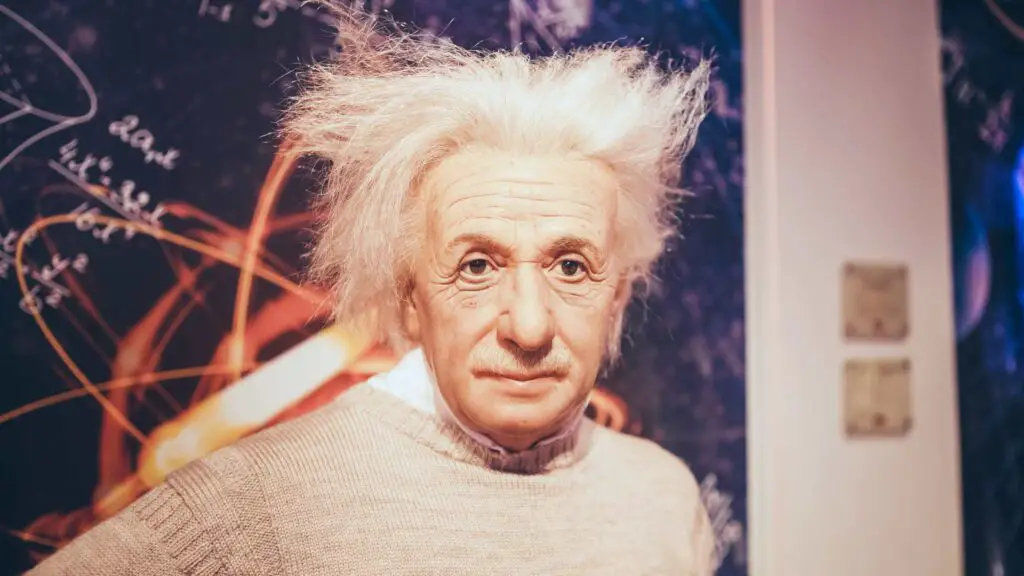 Book your Madame Tussauds Hollywood entry tickets here for the best evening ever amidst the stars.
Another venue to pose with the stars is Hollywood Wax Museum located on Hollywood Boulevard, which has been drawing large crowds since its opening in 1965.
Opening Hours of the Hollywood Wax Museum are between 9 AM to midnight daily.
Opening Hours: Sunday to Thursday; 11 AM to 6 PM; Friday & Saturday 10 AM to 8 PM.
Buy your ticket here.
DOWNTOWN LOS ANGELES ART WALK
If you are in Los Angeles on the second Thursday of any month, one of the free and fun things to do in LA at night is experiencing the Downtown Los Angeles Art Walk.
This is a monthly event and a self-guided walking tour to explore the historic streets of LA.
These streets come alive with plenty of artist galleries displaying the works of talented artists like installations, and art pop-ups from many local communities.
ROMANTIC THINGS TO DO IN LA AT NIGHT
ENJOY THE FANTASTIC BIRD VIEWS OF LOS ANGELES
What is better than exploring Los Angeles at night? Checking out the city on a Helicopter! One of the romantic things to do in LA at night, and our favourite, is soaking in the blissful views of the glamourous city from above.
A night aerial view or sunset tour, when the city offers surreal, magical views, is a once-in-a-lifetime experience.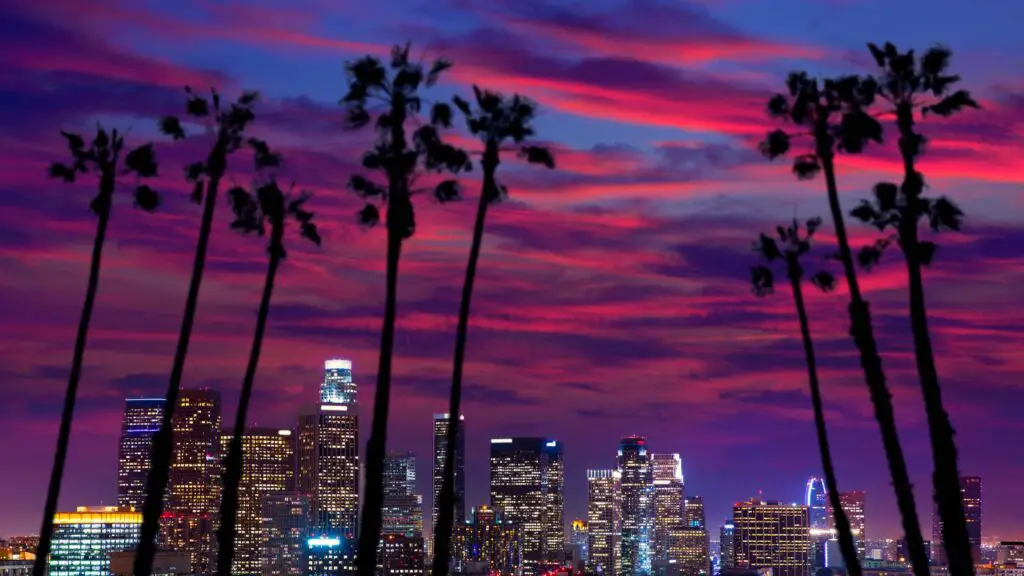 Take a helicopter tour around the city, ranging between 30 minutes to an hour of spectacular experience at night, admiring the colours, the skyscrapers and the magic of Los Angeles along the coast, downtown, and get up close to the charming Hollywood sign.
Here are our best recommendations for a romantic night tour in LA:
ADMIRE THE SKYLINE VIEWS
If you have not had your fill of admiring the glowing city of Los Angeles at night, head to the fabulous Jerome C. Daniel Overlook located above the Hollywood Bowl.
The Jerome C. Daniel Overlook is one of the fantastic places to see the Hollywood Sign, the Hollywood Bowl Amphitheatre, downtown L.A., and Griffith Park Observatory. 
Enjoy the amazing vistas of LA Skyline on this tour.
Recommended Tours:
TAKE A ROMANTIC WALK IN BEVERLY HILLS
The streets of Beverly Hills have that magical feeling that brings out the best romantics, and the famous Rodeo Drive, a two-mile-long shopping district known for its couture and luxury styles turns into a glamorous district for a romantic walk making it one of the best things to do in LA at night.
Recommended Tours:
WHERE TO STAY IN LA?
Hotels: Luskin Hotel, The Garland, Huntley Santa Monica Beach, Pendry West Hollywood
Vacation Rentals: Hollywood Homes minutes to everything SPACIOUS AND FREE PARKING, Double Suite Santa Monica, LA Retreat, Los Angeles Premium 2BR&2BT Suites
Hostels: HI Los Angeles – Santa Monica Hostel, Orange Drive Hostel, Melrose Hostel, Cheers Hostel
THINGS TO DO IN LA AT NIGHT MAP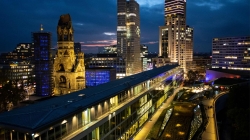 Latest posts by Anna Owen
(see all)